Hulu with Live TV is undoubtedly one of the best streaming services on the market—if you can figure out how to find something to watch. 
For those new to cord-cutting, Hulu with Live TV is exactly what it sounds like. The service adds more than 50 channels on top of its already impressive catalog of on-demand content and original programming for $44.99 per month. That's less than half of the average cable bill.
I've spent the last month and more than 100 hours using Hulu with Live TV. Here's what I've learned and what you need to know before getting started.

Out of all the live TV streaming services, Hulu has the most straightforward channel offerings. Aside from premium add-ons, there aren't different tiers to consider, and it's not bloated with a bunch of filler like some of its competitors (looking at you, Sling TV). 
You've seen the commercials: Hulu has live sports, and it's true. You'll get a full block of ESPN programming—ESPN, ESPN2, ESPNU, ESPNews, ESPN College Extra, ESPN Bases Loaded/ESPN Goal Line—a couple of college sports networks (Big Ten Network, SEC Network), FS1 and FS2, TruTV (for March Madness), Golf Channel, TNT, and MotorTrend. That said, Hulu with Live TV doesn't offer NFL Network, which means you'll either need Amazon Prime or Twitch to stream Thursday Night Football, or NFL RedZone, which is available as an add-on through Sling TV or PlayStation Vue.  
You'll get all of your local broadcast channels—ABC, CBS, Fox, NBC, and the CW, along with their related sports networks and live news offerings—but you'll need to double-check their availability in your area. In Washington, D.C., for example, a live feed of ABC isn't available, but I can stream ABC's original programming the next day on-demand. That's a drawback for live sports, but it's not a dealbreaker. Those events typically simulcast on ESPN3, which you can stream via the ESPN app after you enter your Hulu credentials.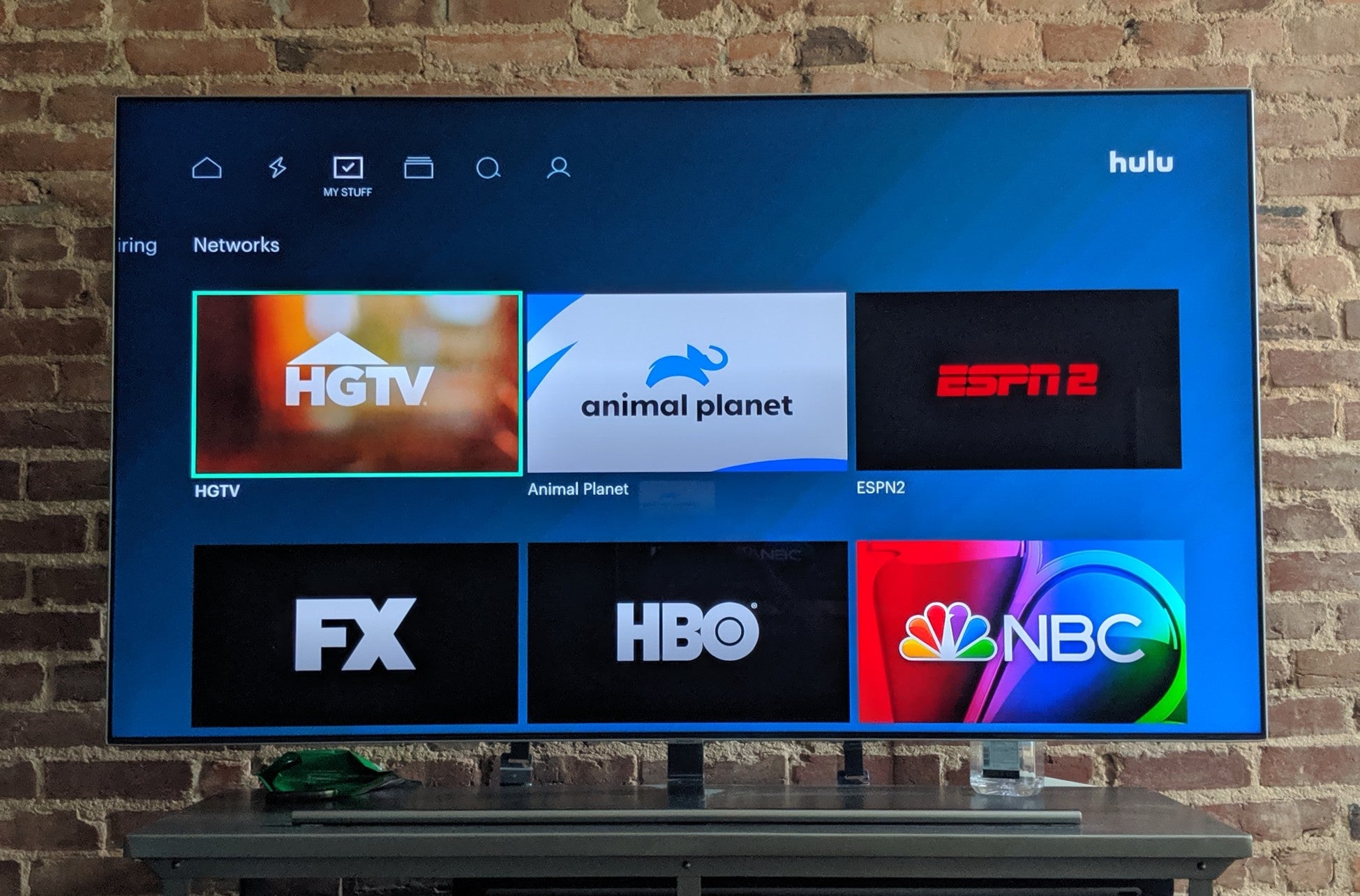 There are a few things notably missing. For starters, you won't find any Viacom channels. So if you're looking for MTV, VH1, or Nickelodeon, you'll need to look elsewhere. Ditto for AMC. But you'll find pretty much everything else you're looking for: three Disney channels, Cartoon Network/Adult Swim, CNN, HGTV, Fox News, Freeform, FX, and among others. Telemundo is included in the base package, but the Español add-on for $4.99 per month tacks on CNN en Español, Discovery en Español, ESPN Deportes, and Universo, among others. For more entertainment options, there's a $7.99-per-month add-on that unlocks Lifetime Movies, the Cooking Channel, and a handful of others, but it's hardly essential. 
Unlike Sling TV, FuboTV, and YouTube TV, Hulu offers HBO, in addition to Showtime, Starz, and Cinemax. You won't save any money—HBO costs $14.99 per month, the same as subscribing to HBO Now—but in an increasingly fragmented streaming space, being able to centralize all of your entertainment needs is paramount. 
Hulu with Live TV interface
There are many selling points to Hulu's live TV service. Its interface isn't one of them. The company's own CEO has likened it to jumping "from one side of the Grand Canyon to the other."
The home screen loads with tabs for Hulu's Picks and Live Now, but the latter offers only a curated selection of shows, most of which never appeal to me. (Impractical Jokes, Friends, or Keeping Up With the Kardashians? Really?)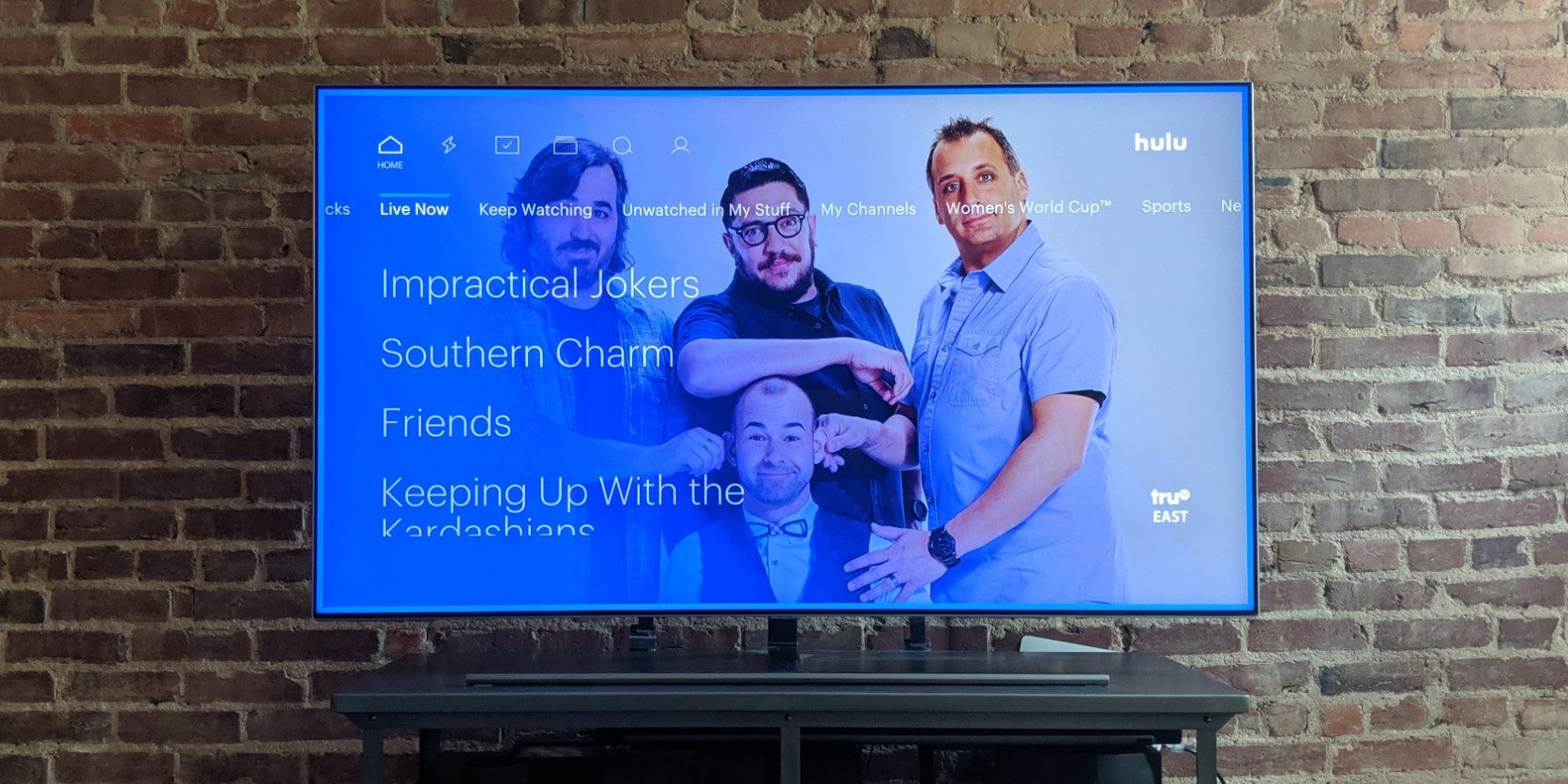 To start streaming, you'll actually want to select the thunderbolt icon at the top labeled Live TV. You'll be taken to the last channel you watched. From there, to find the channel guide, you have to press the down arrow on your remote. 
The channel guide is a disaster. Somehow, even with a 65-inch TV, I can only see what's on five channels at once, and you have to scroll to each individual channel to see what's coming up next or what recently aired. You can also filter by Recent Channels, All Channels, News, Sports, Kids, and Movies, but no matter which option you choose, you're going to be disappointed by the experience.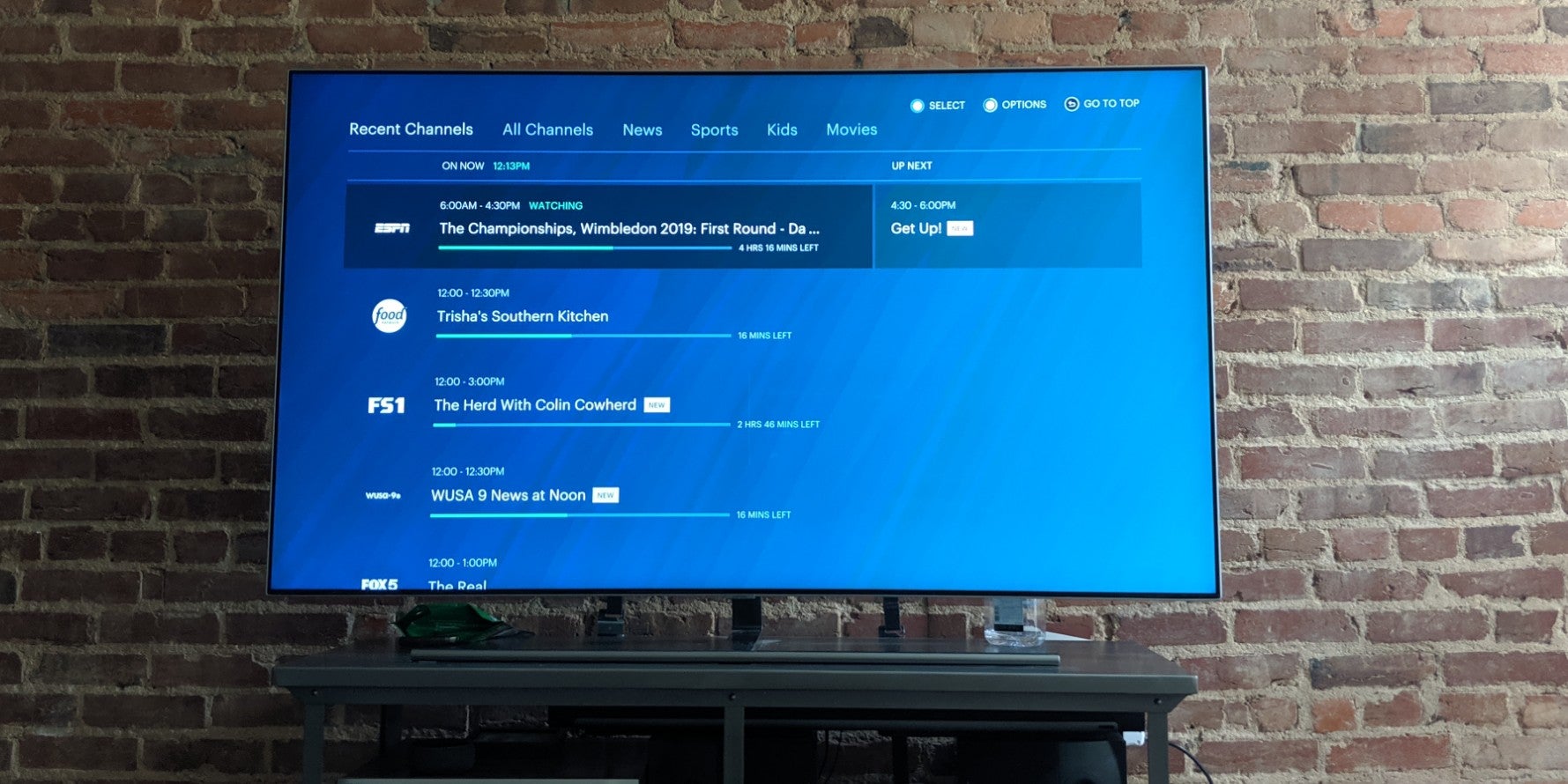 It used to be just as bad on desktop. When you'd click on the Live TV tab, it would overlay a list of your other recent channels on top of the one you're currently watching. You couldn't even make the guide go full screen. On mobile, your screen will be divided, with your most recent channel up top and the guide on the bottom half of the screen.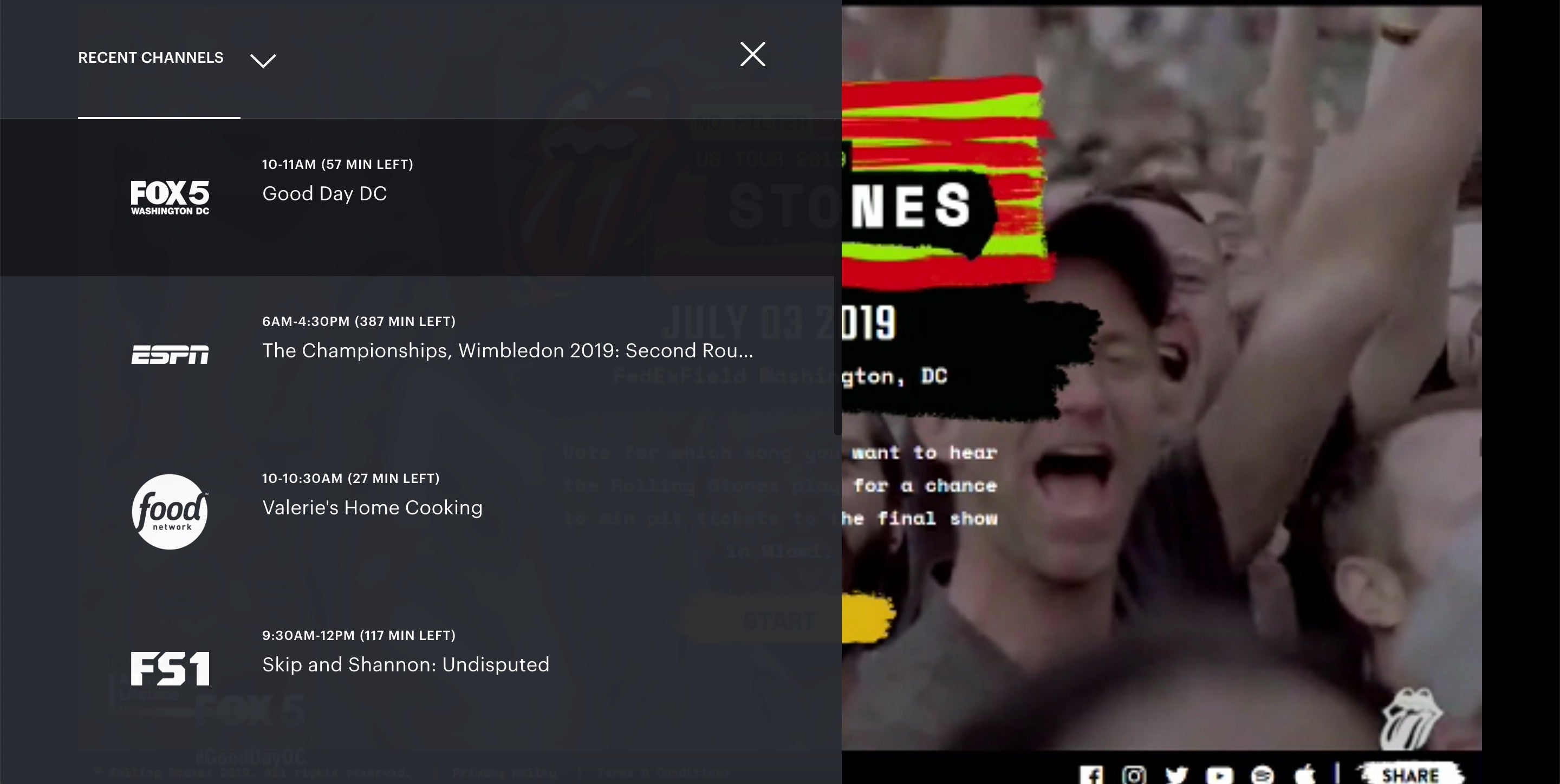 Part of what makes it so frustrating is that you can't just channel surf using your remote. You have to navigate through the guide. That's the case with all of the major live TV streaming services—and one of their major shortcomings—but it's especially irritating with Hulu. 
Hulu is prioritizing an upgrade to its interface—the desktop version went live between when this article was written and when it published—and a new channel guide is slated to roll out this summer. Here's how it will look: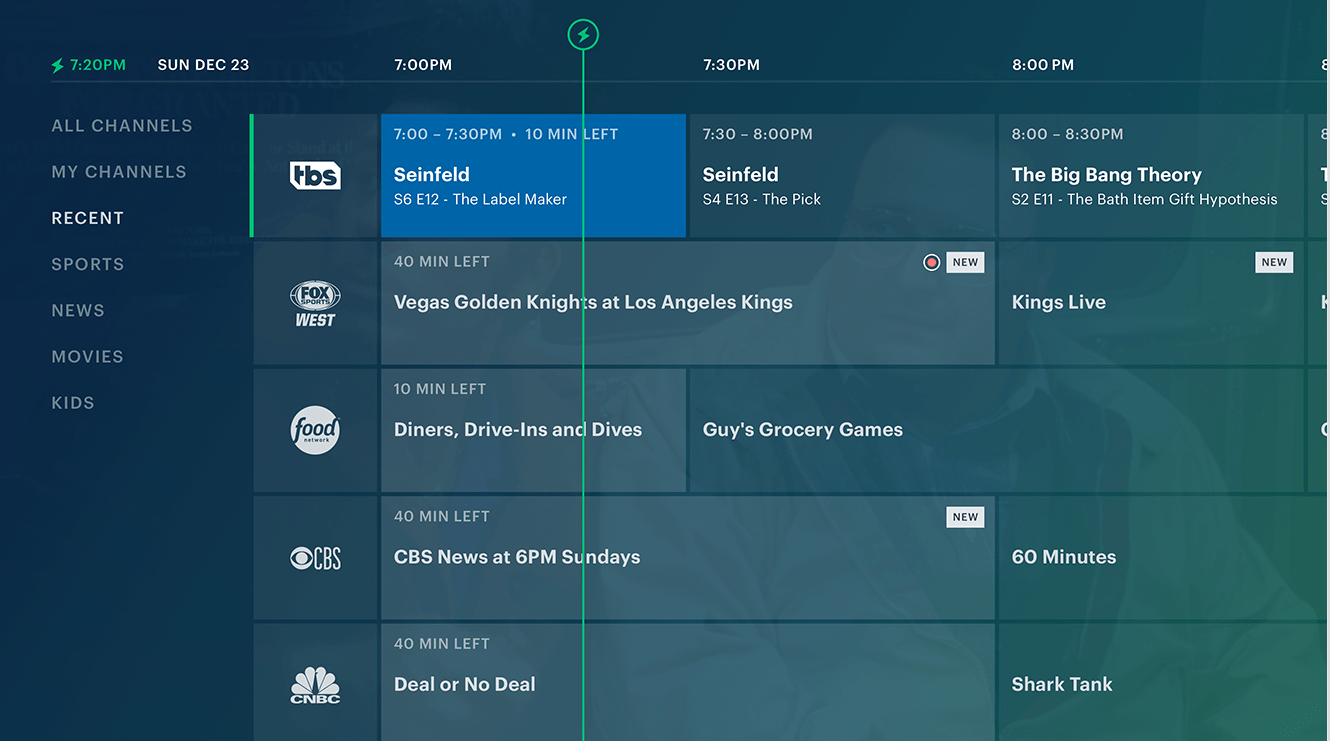 Honestly, it can't come soon enough.
Hulu with Live TV features
Hulu with Live TV's defining feature is that it comes with a complimentary Hulu account (a $5.99 value). The only catch is that you'll have to sit through commercials during the on-demand catalog. You can upgrade to the ad-free experience of Hulu for an extra $6 a month, bringing your monthly total to $50.99. 
1) A deep on-demand catalog
Hulu offers the best catalog of on-demand TV shows in all of streaming—and it's not even close. You can watch any current network show the day after it airs, and you'll find entire seasons of longtime favorites available to stream, whether you're looking for Rick & Morty, 30 Rock, the underrated AMC series The Terror, or Treehouse Masters. Hulu is the exclusive home of Seinfeld and your best option for adult cartoons. Every episode of King of the Hill and Futurama series is available on-demand, and Hulu boasts the exclusive post-broadcast streaming rights to Bob's Burgers, Family Guy, and American Dad! Thanks to an expanded partnership with Funimation, Hulu is one of your best options for streaming anime. You can stream all subbed and dubbed episodes of My Hero Academia, Attack on Titan, and Tokyo Ghoul, and plenty more.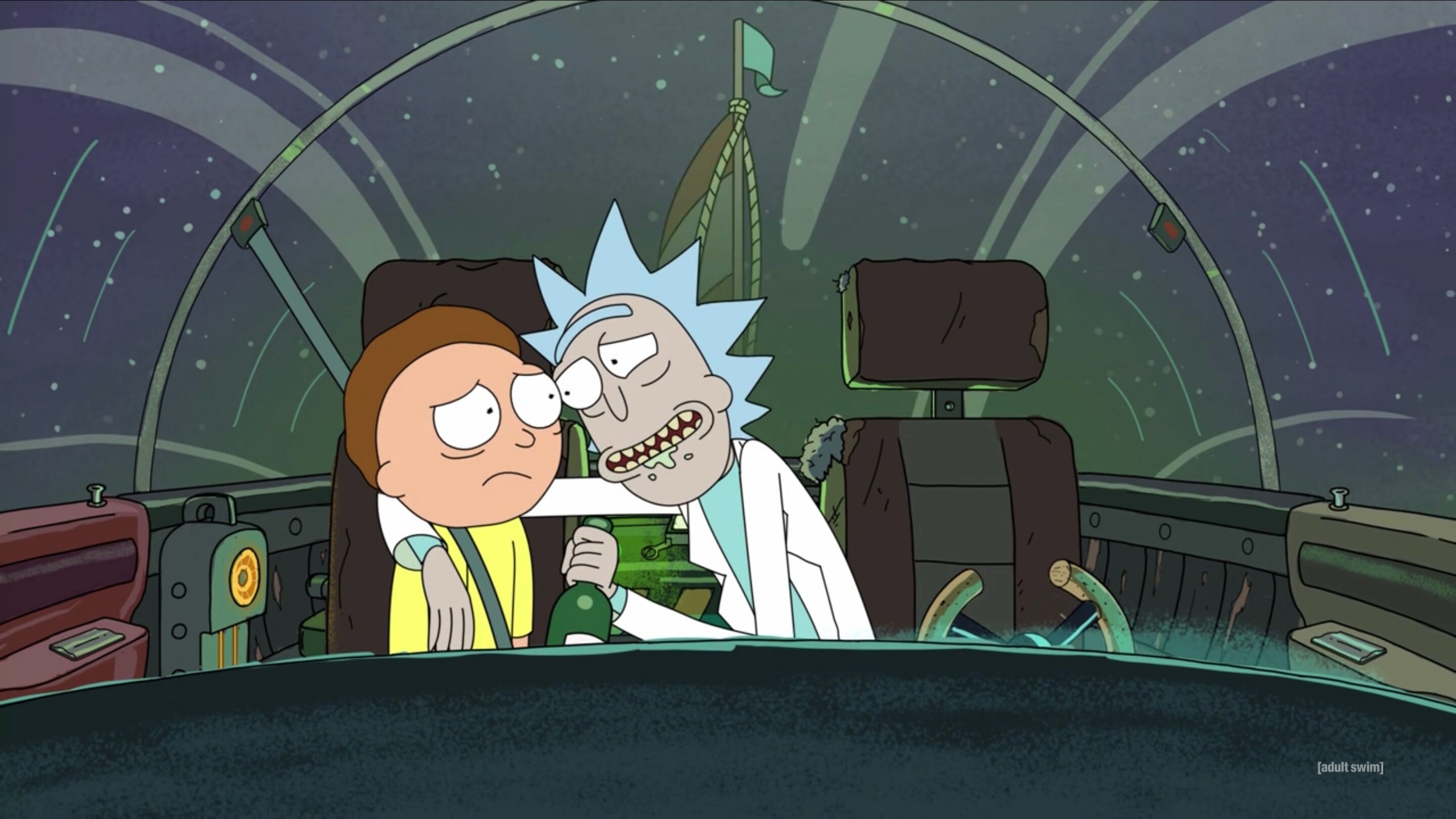 Hulu's on-demand movie offerings overlap significantly with Amazon Prime. They both pale in comparison to Netflix or specialty services like the Criterion Collection, but there's still plenty to enjoy. The entire Star Wars saga is available at the moment, for example, along with other modern sci-fi classics like Annihilation and Arrival. (Here are our picks for the best movies on Hulu and what's new.)
Even when there's nothing interesting on live TV, Hulu ensures you'll always have something to watch.
2) Original programming
Hulu has taken huge leaps in terms of its original programming. The Emmy-winning The Handmaid's Tale earns most of the acclaim, but there's plenty more to check out. I thoroughly enjoyed the Oscar-nominated doc Minding the Gap, an intimate look at what happens to a group of teen skaters as the pains of adulthood fully set in, and I've added Catch-22, starring George Clooney, to my queue.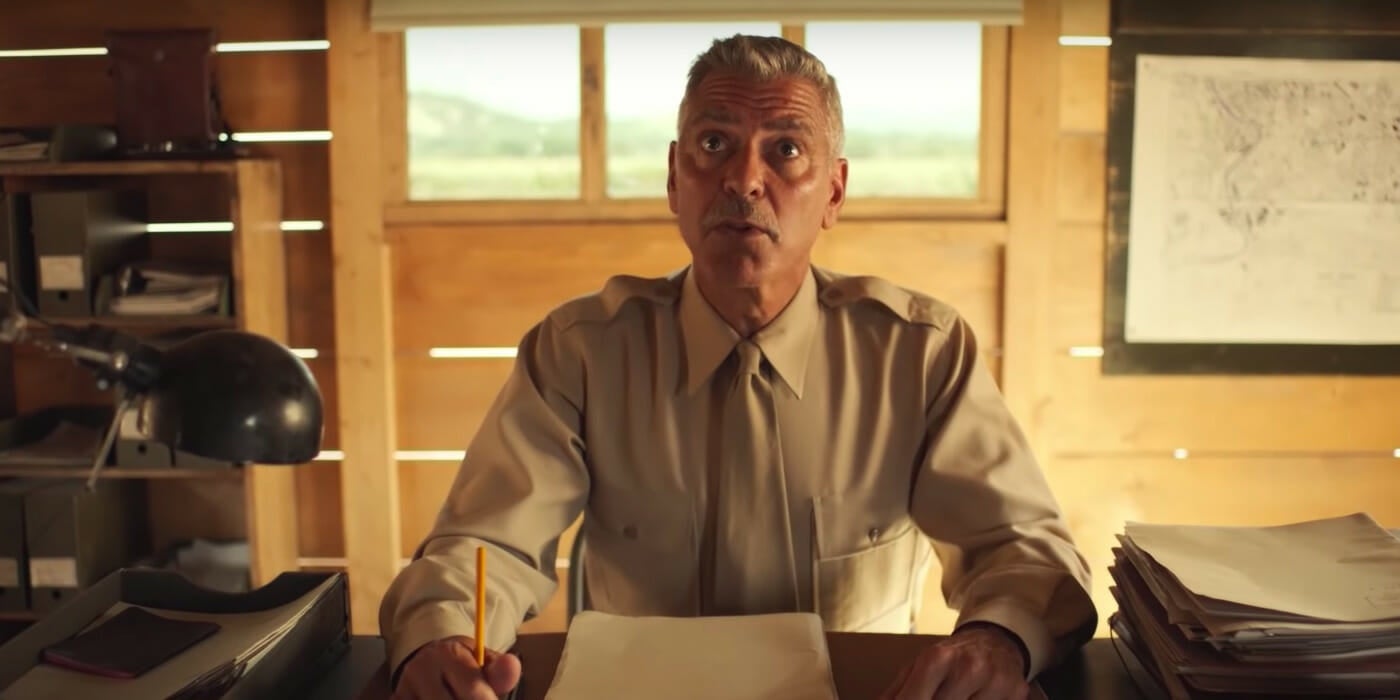 Hulu also boasts a promising trio of bold new original comedies (Shrill, Ramy, and PEN15) and a hit horror anthology movie series, Into the Dark. The best is likely still to come, with Reese Witherspoon and Kerry Washington set to star in Little Fires Everywhere, an exclusive limited series based on Celeste Ng's massively popular book. 
Every Hulu with Live TV subscription comes with 50 free hours of cloud DVR, but for $9.99 per month, you can upgrade to Enhanced Cloud DVR, which unlocks another 150 hours and the ability to fast-forward through commercials on your recordings. Alternatively, for $14.99 per month, the Live TV Add-on bundle combines Enhanced Cloud DVR and Unlimited Screens ($9.99 per month as a standalone feature). 
Enhanced Cloud DVR makes more sense in the bundle than on its own. Hulu with Live TV only lets you stream from two devices at once. If you're sharing with multiple family members, you'll likely want Unlimited Screens, and from there, it's just $5 more per month to add the DVR upgrade. Otherwise, 50 hours should be plenty. After all, Hulu's known for its on-demand catalog. Why waste DVR space if the show you're planning on recording is going to be available on the service the next day anyway? 
One weird thing I noticed about Hulu's DVR: There's not a way to add a program to your favorites without also scheduling it to record. Here's what happened when I tried to add HBO's new series Euphoria.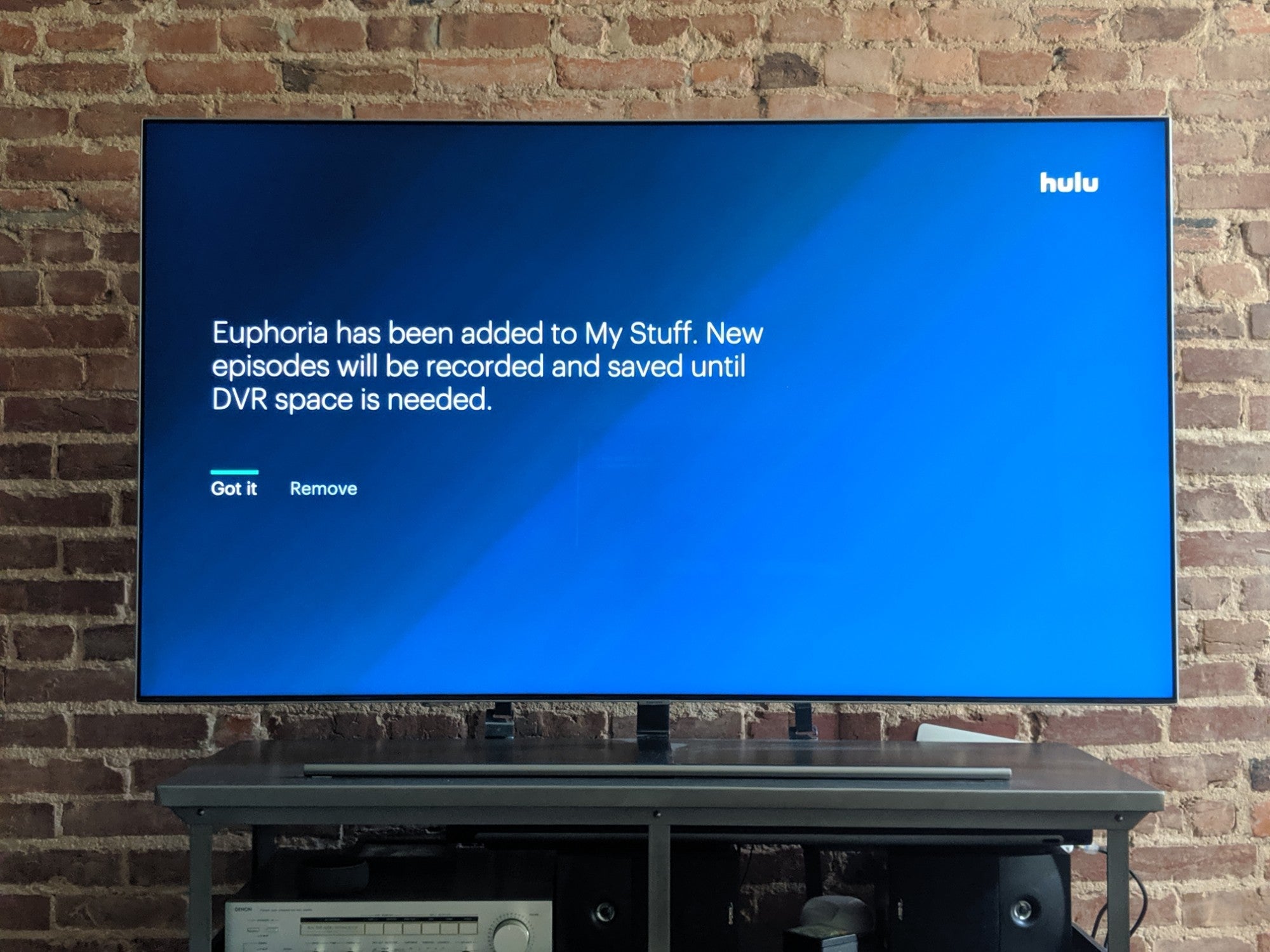 You'll see it automatically schedules it to record when I favorite the program, which is helpful to do because it makes it much easier to find and watch. The problem is that HBO content is already available on-demand as soon it premieres, so the DVR function is wholly unnecessary and a waste of limited recording space. 
4) Picture in Picture
Despite the pains of its interface, the desktop version of Hulu does have one nice feature. If you back out to the main menu to explore Hulu's on-demand catalog, the last channel or show you were watching will automatically appear in the bottom right-hand corner while you browse. It's convenient when you're trying to find something else to watch or want to stock your queue during a commercial break.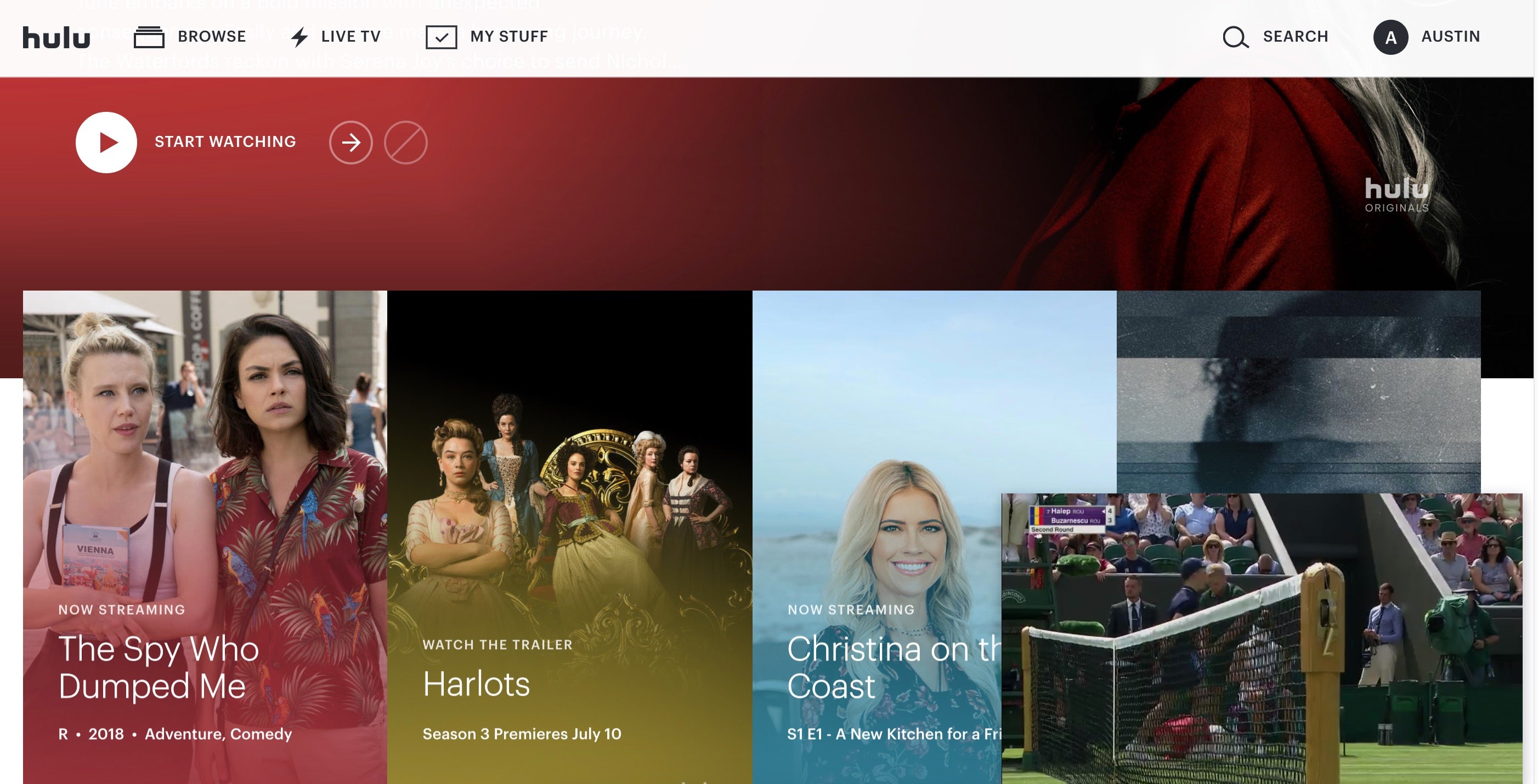 5) Night Mode
This is a small feature, one that's exclusive to desktop, but it's worth noting for those who will be primarily streaming from their laptop. There's a toggle under the main menu for Night Mode, which makes the site's white background turn dark. It's much easier on the eyes, and perhaps more importantly, it shows how Hulu listens to its users: The feature was originally requested in a Reddit thread.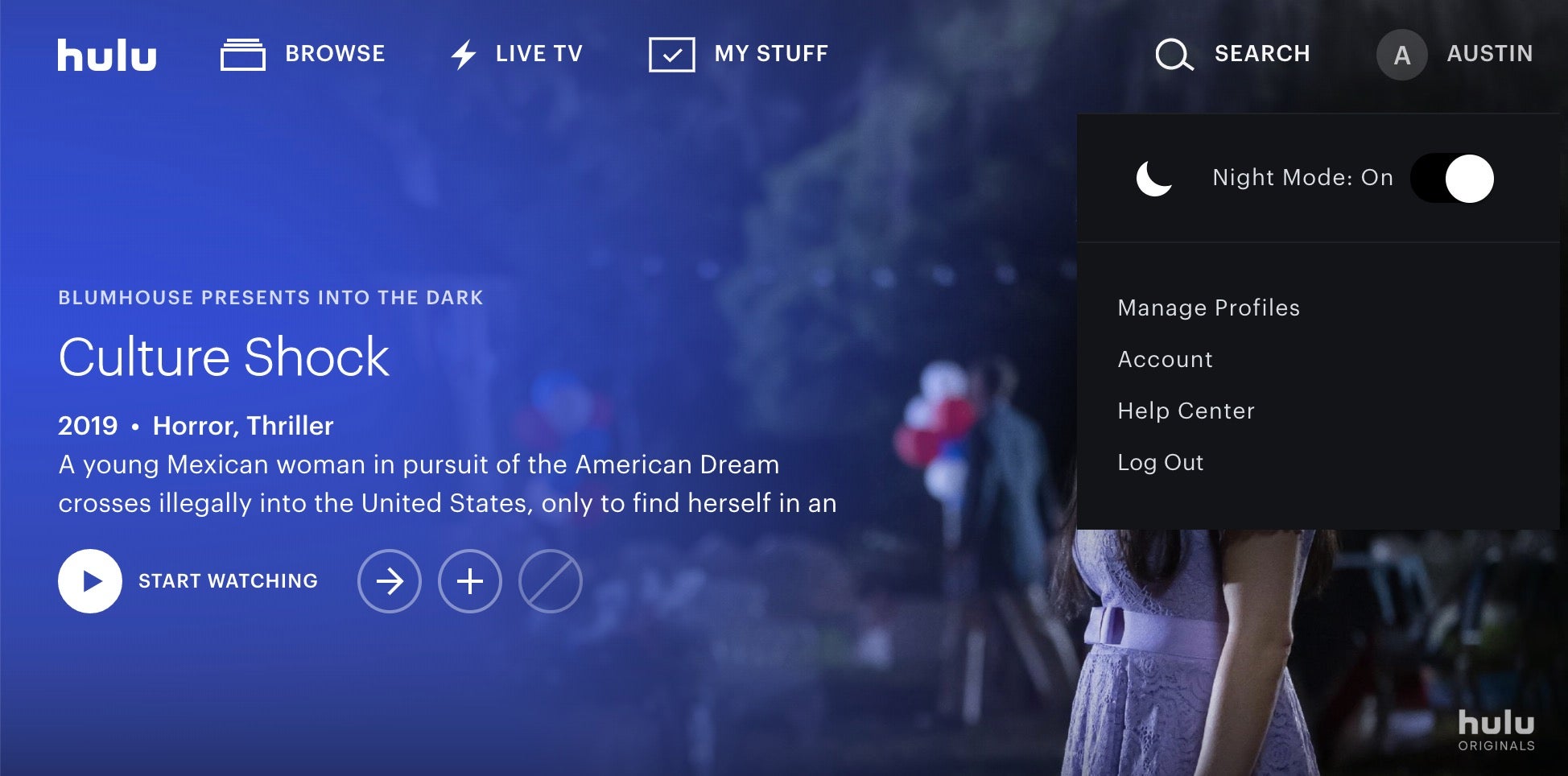 Hulu with Live TV review: The final verdict
I tested Hulu primarily on a new Samsung QLED TV, though I also streamed using my smartphone (a Pixel 2) and laptop (a MacBook Pro). While Hulu quietly abandoned its 4K efforts in early 2018, the picture quality for its on-demand content was always pristine, and I had no trouble watching events like the 2019 FIFA Women's World Cup no matter which device I was using. I was also pleasantly surprised to learn I could not only pause, rewind, and fast-forward through most live programs, but I could restart most of them as well. 
When it comes to cost, Hulu is arguably the best deal in the market right now. Sure, Sling TV offerings start at $25 per month, but if you want a complete channel package and cloud DVR capabilities, you're still going to end up paying $45 per month. That's the same as Hulu, which boasts the ultimate trump card of its on-demand offerings and original content. On that front alone, the competition doesn't even come close. 
Of course, every live TV service has a downside. Sling TV can be overly complicated. PlayStation Vue makes you upgrade to unlock add-on packages. FuboTV has an ESPN-sized hole in its channel offerings. And YouTube TV lacks premium options like HBO. 
Hulu's obvious Achilles heel is its live TV interface. Put simply, people who are accustomed to cable are going to struggle navigating its channel guide. But that's ultimately a short-term problem. Hulu is committed to upgrading its navigation in the near future, and most users will figure it out with enough trial and error. It's worthwhile to do so. 
My complimentary trial account included the Live TV Add-on bundle, and I would trade it in an instant for Hulu (No Ads). The commercials could certainly be worse with Hulu—you'll sit through 90-second breaks in a popular new program like The Bachelorette, or twice as many watching on ABC's app. But it's still a pain to fast-forward through the blocks if you're watching from the DVR, and even that's not an option for back-catalog content like my current Veronica Mars binge. 
Do yourself a favor and upgrade to Hulu without ads. You'll save almost as much time as you do money from quitting cable. 
Update 8:51am CT, July 20: Shortly before this article was scheduled to go live, Hulu released a redesigned interface for its desktop version. The review has been updated to reflect that.
The Daily Dot may receive a payment in connection with purchases of products or services featured in this article. Click here to learn more.