As of January 30, 2020 the Playstation Vue service is discontinued. Subscribers could no longer keep their accounts after 1/30/2020.
Don't let the name fool you: PlayStation Vue isn't just for gamers. Not only do you not need a PlayStation console to use Sony's live TV service, but it's quickly become one of the best options on the market. I spent two weeks binging as much TV as I could for this PlayStation Vue review, analyzing its channels, features, and overall user experience. Before you sign up for streaming TV, here's what you need to know about PS Vue.
Each PlayStation Vue package includes a five-day free trial to test out the service, but you only get one free trial. You might as well test out the most expensive package. You can always downgrade if you decide you like the service. Each PlayStation Vue package offers local channels, though what channels are available depends on where you live. That's why the screenshots below might look a little different for you. It all depends on your ZIP code.

CHANNELS:
50-85+
COMPATIBLE DEVICES:
PlayStation 3 and 4, Roku, Amazon Fire Stick and Fire TV, Google Chromecast, Kodi, iOS and Android devices
PROS:
Incredible interface, unlimited cloud DVR, great features, and streaming on up to 5 devices at once.
CONS:
Poor formatting for on-demand content and lacking Viacom channels and poor on-demand.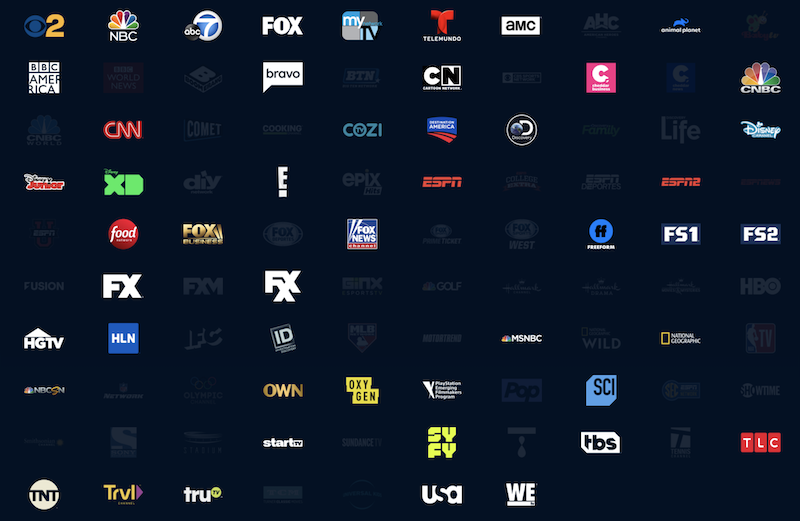 The basic PlayStation Vue package is the 50-plus channel Access option, which collects almost all of the classic basic cable options users have come to expect. Favorites like Cartoon Network, MSNBC, ESPN, and the Food Network live alongside hidden gems like SCI and Oxygen. It's a solid collection, but considering how much more you get with the Core package, it's worth considering the next step up.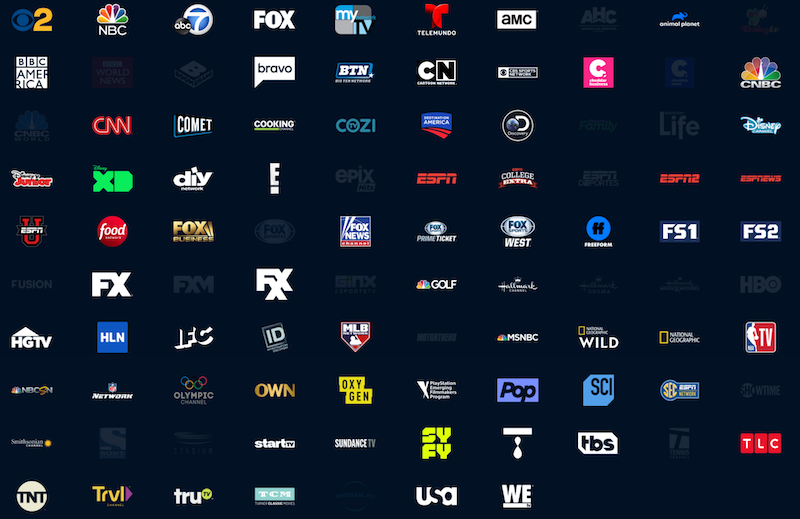 While Vue's Access package includes channels like ESPN and ESPN2, the 70-plus channel core package is a must-have for sports fans. Core adds 14 channels and they're almost exclusively focused on sports. That means you get specialty channels NFL Network, NBA TV, MLB Network, and a collection of regional sports networks (NBCSN, CBS Sports Network), not to mention Big Ten Network. Along with sports channels, users get new entertainment options like Hallmark and Sundance TV.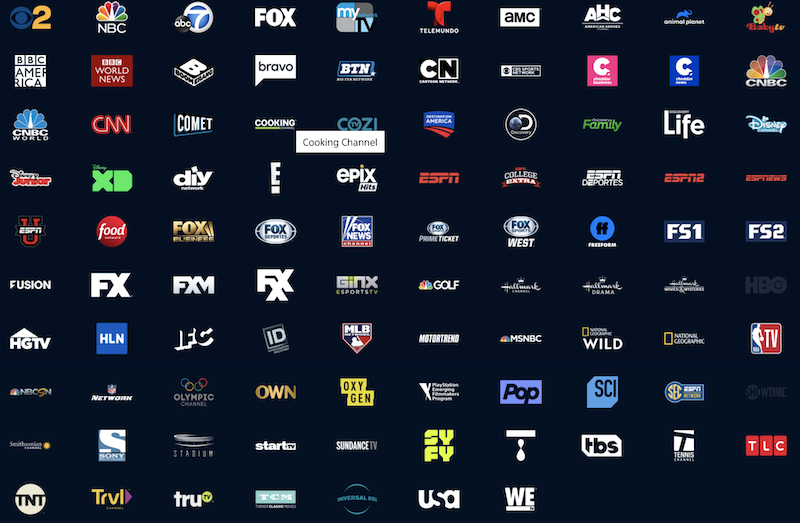 It used to be a cliché that cable gave you a hundred channels with nothing on. While you won't be able to channel surf the way you're used to with cable, the 85-plus channel Elite package gives you plenty to search through. FXM and Epix Hits serve up movies all day. Family viewers will appreciate the extra channels from Hallmark and Discovery. And if you're missing Comedy Central, IFC and Tru TV will help soften the blow. Of all the packages, Elite is the only one that comes close to feeling bloated, but after a few years of just Netflix, I'm not complaining.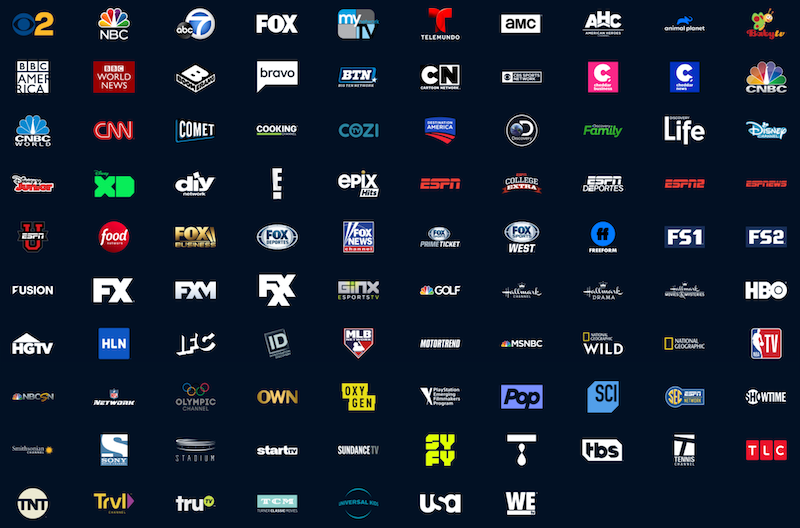 The 85-plus channel Ultra package offers the same options as Elite with two big exceptions. Ultra's increase over Elite may seem steep for just two channels, but those channels are Showtime and HBO. 
PlayStation Vue interface
PlayStation Vue has one of the best interfaces on streaming TV. I can't emphasize that enough. If you're new to cord-cutting. PlayStation Vue offers a walkthrough, explaining how features work and where to find content. But it's all pretty intuitive. Vue's channel guide uses the familiar grid system that's been the cable standard for decades. Channels are loaded alphabetically rather than by channel number, with one exception, Favorites, which you can tag to customize. Favorite channels appear at the top of your channel listing, regardless of where they'd be alphabetical. Especially for listless afternoons where you just want to see what's on, it's nice to be able to find your most-watched channels in one place.  
PlayStation Vue features
Every PlayStation Vue subscriber gets access to unlimited cloud DVR space, albeit one that comes with a timer. Shows are only available for 28 days before they're automatically deleted. While this can be frustrating if you're trying to save a favorite show, for most viewers this will provide plenty of space. If you forget to record something, PlayStation Vue has a feature called three-day replay. Users can go back up to three days to view almost any program, even if they didn't schedule a recording.
PlayStation Vue is also one of the only services that allow users to rewind and fast forward on most DVR recordings, with the noted exception of Fox, FX, and FXX programming.
Rewinding is another aspect I love about PlayStation Vue. During sign up, Vue makes sure you know that 30 minutes of your recent viewing will be stored for the rewind feature to function. In an era of book-long terms and services, it's nice to see a tech company being upfront with how its service works.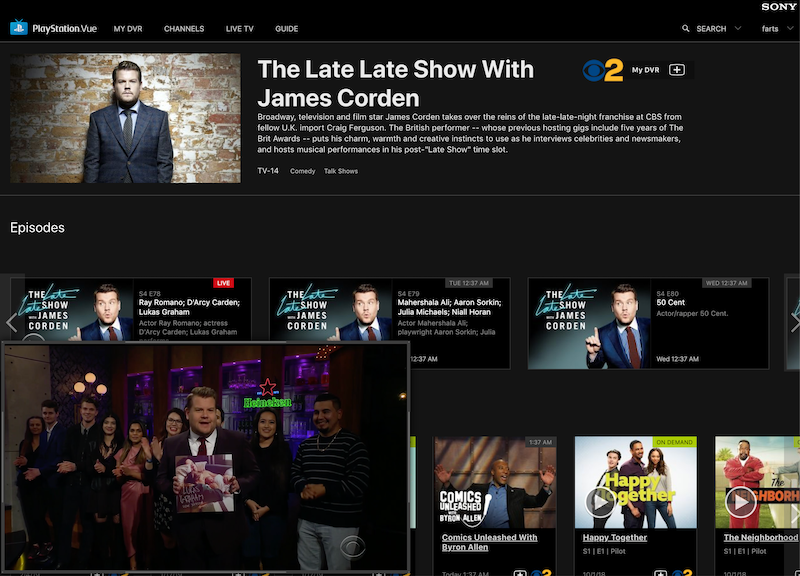 2) On-demand content
Subscribers get thousands of on-demand movies and TV shows, but they way Vue separates them is frustrating. The on-demand section of the Roku app, for example, has themed categories instead of channels. That's great if you want to find "Throwbacks" or "Primetime TV," but you can't just scroll through movies or TV shows. To search for on-demand options for a channel, you have to go to that channels page in the guide. It's overly complicated and a bit of cluster.
3) Multiple streams
Large families looking to share one streaming TV account will love PlayStation Vue. Up to five users can stream simultaneously on the same account. That's more than any other live TV service, and it doesn't even cost extra. That means, if you have a kid upstairs, one at college, and someone watching in the living room, you'll never get an "end one stream to start watching" notice. 
4) PlayStation 4 exclusive features
PlayStation 4 users have plenty of reasons to use PlayStation Vue—not least of which is the fact that it's the only paid live TV service available on the console. But PS4 users get a sweet bonus feature: picture-in-picture viewing. PS4 owners can watch multiple channels at the same time using Vue. It's ideal when there are multiple sporting events on at the same time, or if you like juggling the news and a sitcom.
PlayStation Vue add-ons and premium channels
Along with Vue's robust channel packages, subscribers can add even more channels.
Premium movie and TV channels
PlayStation Vue offers the most premium movie and TV channels of any service.
Sports Pack
The Sports Pack is one of the cheapest ways to get NFL RedZone, and frankly, if that's all it came with, it'd still be a bargain. But you'll also get MLB Network Strike Zone, ESPN Goal Line, ESPN Bases Loaded, ESPN Classic, Fox College Sports Atlantic, Fox College Sports Central, FOX College Sports Pacific, Longhorn Network, NESN, Eleven Sports, Outside TV, 16 regional Fox Sports networks, seven regional NBC Sports networks, and three Stadium channels. Soccer fans sadly don't get the same royal treatment. The Fox Soccer Plus subscription just provides that one channel. Still, it's a solid (if expensive) premium network for fans of international soccer.  
Español Pack
While PlayStation Vue doesn't offer a special package for Spanish-speaking viewers, the Español Pack delivers a blend of Spanish-language sports, news, and entertainment channels. Channels include Baby TV, CINE SONY, CNN Español, Discovery en Español, Discovery Familia, Fox Deportes, Fox Life, Nat Geo Mundo, and Universo. If you're looking for more foreign language options, Sling TV and FuboTV and better suited for your needs.
PlayStation Vue review: The final verdict
I've spent dozens of hours over the last couple of weeks with PlayStation Vue. I tested the service on a PS4, Roku, MacBook Pro, and iPhone SE. In each case, Vue ran fast with crystal-clear picture and sound. Even when watching over a mobile connection, Vue provided incredible clarity. Vue also excels in its speed. Channels load quickly, more specifically, faster than competitors DirecTV Now and Sling TV. This is particularly true on the Roku platform, so if that's your main streaming source, take note.
It was my first time using the service in over a year, and it's dramatically improved since it launched. From a user standpoint, PlayStation Vue has one of the most responsive and easy-to-use interfaces around. The only real weakness is the way it organizes on-demand content, but the cloud DVR features provide a nice consolation.
PlayStation Vue's features hold their own against the competition. AT&T TV Now offers significantly less DVR space. YouTube TV doesn't have as many add-ons. doesn't have ESPN. Hulu with Live TV has a frustrating interface. Ditto for Sling TV. And it's competitively priced: While slightly more expensive than Sling TV's combo package (the $45-per-month Sling Orange + Blue), it starts at the same price point as Hulu with Live TV ($54.99 per month) and offers a better value than YouTube TV—not to mention the ability to add NFL RedZone and Spanish-language channels. 
The only real knock on PlayStation Vue is that it's missing Viacom channels: MTV, VH1, Comedy Central, BET, Nickelodeon, and all of their various offshoots. That might be a deal-breaker for some, but for everyone else, PlayStation Vue offers plenty of value.
Would I recommend PlayStation Vue? Indeed. From its great channel lineups to add-ons and features, PlayStation Vue delights. Its charms weren't enough for me to cancel my DirecTV Now membership, but PlayStation Vue made a compelling argument (and if I wasn't grandfathered into DirecTV Now, I would certainly reconsider).
If you're new to streaming TV, I recommend taking advantage of a free trial to see if the service is right for you. No matter what, it's better (and cheaper) than cable. 
The Daily Dot may receive a payment in connection with purchases of products or services featured in this article. Click here to learn more.