The Criterion Collection is debuting a new streaming service, the Criterion Channel, which will include thousands of titles from its library and Janus Films' catalogue, original programming that previously aired on the now-shuttered FilmStruck, and daily themed series.
Here's everything you need to know about the Criterion Channel, including what to watch, how it works, and how much it costs.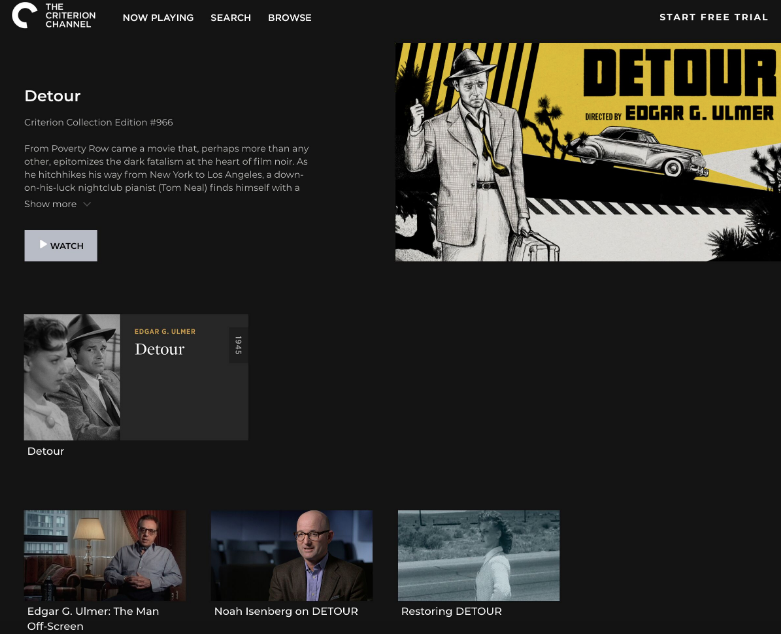 What is the Criterion Channel?
The Criterion Channel launches April 8 and brings films from directors Agnès Varda, Chantal Akerman, David Lynch, Wim Wenders, and many more. Subscribers will also have access to spotlight series on Columbia Pictures' noir films and French actress Simone Signoret. The Criterion Channel was announced in early 2019 after the closing of FilmStruck, a collaboration between Criterion and Turner Classic Movies. It aims to serve the same audience—cinephiles and classic movie buffs—and fill a void for streaming classic cinema. 
READ MORE:
How does the Criterion Channel work?
To subscribe to the Criterion Channel, sign up at criterionchannel.com. The monthly service is currently only available in the U.S. and Canada.
How much does the Criterion Channel cost?
A Criterion Channel subscription costs $10.99 a month or $99.99 a year. 
What devices can you use to watch the Criterion Channel?
The Criterion Channel is available on desktop, Amazon Fire, Roku, and Apple TV, as well as iOS and Android devices.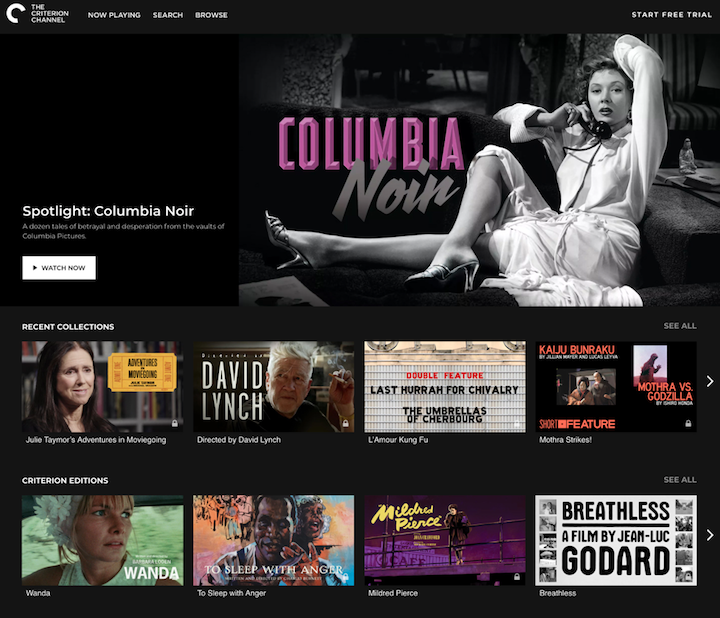 READ MORE:
What can you watch on the Criterion Channel?
The Criterion Channel offers access to more than 1,000 feature films, 350 shorts, and special weekly programming. FlimStruck programs Meet the Filmmakers, Adventures in Moviegoing, Observations on Film Art, and Split Screen will be available, as will films from Alfred Hitchcock, Federico Fellini, Luis Buñuel, Jean-Luc Godard, Kelly Reichardt, François Truffaut, Orson Welles, and more. If you're looking for a place to start, check out the Agnès Varda collection and Barbara Loden's Wanda.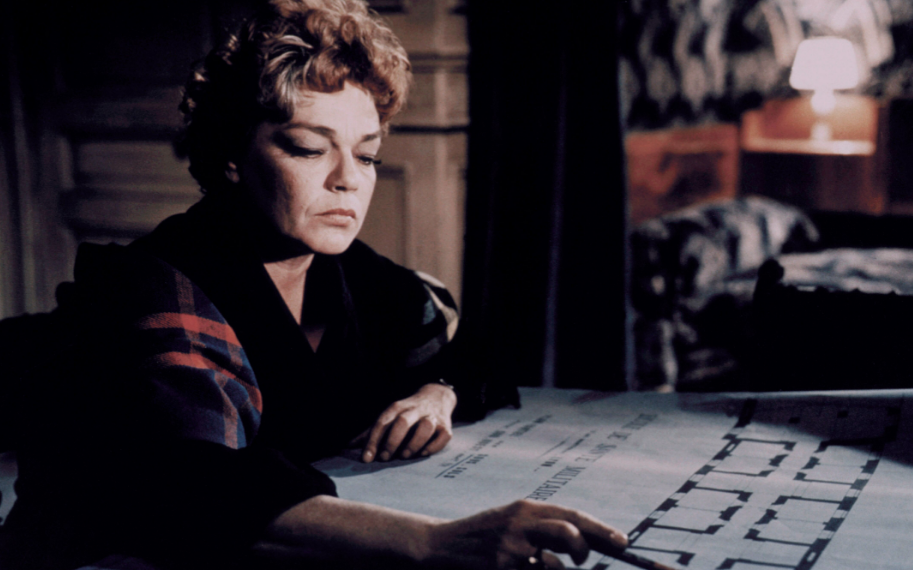 Here's what's coming to the Criterion Channel in April.
What to watch on the Criterion Channel: Movies, shorts, and special features in April 2019
April 8
Spotlight: Columbia Noir
My Name Is Julia Ross, Joseph H. Lewis, 1945
So Dark the Night, Joseph H. Lewis, 1946
The Big Heat, Fritz Lang, 1953
Human Desire, Fritz Lang, 1954
Drive a Crooked Road, Richard Quine, 1954
Pushover, Richard Quine, 1954
Nightfall, Jacques Tourneur, 1957
The Burglar, Paul Wendkos, 1957
The Lineup, Don Siegel, 1958
Murder by Contract, Irving Lerner, 1958
Experiment in Terror, Blake Edwards, 1962
Mildred Pierce, Michael Curtiz, 1945
April 9
Short + Feature: Yearbook and Y tu mamá también
April 10
Wanda, Barbara Loden, 1970
Screenwriter: Suso Cecchi d'Amico
Bicycle Thieves, Vittorio De Sica, 1948
Senso, Luchino Visconti, 1954
Le amiche, Michelangelo Antonioni, 1955
Le notti bianche, Luchino Visconti, 1957
Big Deal on Madonna Street, Mario Monicelli, 1958
Rocco and His Brothers, Luchino Visconti, 1960
Salvatore Giuliano, Francesco Rosi, 1962
April 11
Directed by David Lynch
Eraserhead, 1977
The Elephant Man, 1980
Twin Peaks: Fire Walk with Me, 1992
Mulholland Dr., 2001
Shorts
Six Men Getting Sick, 1967
The Alphabet, 1968
The Grandmother, 1970
The Amputee Version 1, 1974
The Amputee Version 2, 1974
Premonitions Following an Evil Deed, 1995
Ace in the Hole, Billy Wilder, 1951
April 12
Double Feature: Last Hurrah for Chivalry and The Umbrellas of Cherbourg
Jubal, Delmer Daves, 1956
April 13
Saturday Matinee: Bugsy Malone
April 14
Julie Taymor's Adventures in Moviegoing
Baby Face, Alfred E. Green, 1933
Great Expectations, David Lean, 1946
Rashomon, Akira Kurosawa, 1950
Sawdust and Tinsel, Ingmar Bergman, 1953
Nights of Cabiria, Federico Fellini, 1957
The Cranes Are Flying, Mikhail Kalatozov, 1957
April 15
Eight Hours Don't Make a Day, Rainer Werner Fassbinder, 1972
April 16
Short + Feature: The Silence and Taste of Cherry
April 17
Directed by Susanne Bier
Brothers, 2004
After the Wedding, 2006
In a Better World, 2010
April 18
Kaili Blues/The Poet and Singer
April 19
Double Feature: Hamlet and To Be or Not to Be
April 20
Saturday Matinee: The Kid
April 21
Meet the Filmmakers: Charles Burnett
My Brother's Wedding, 1983
To Sleep with Anger, 1990
Hollywood Shuffle, Robert Townsend, 1987
Shorts
Several Friends, 1969
The Horse, 1973
When It Rains, 1995
The Final Insult, 1997
Quiet as Kept, 2007
April 22
David Simon on Paths of Glory
April 23
Short + Feature: Fauve and The Wages of Fear
The Hidden Fortress, Akira Kurosawa, 1958
April 24
The Virgin Suicides, Sofia Coppola, 1999
April 25
Killer Couples x 3
The Honeymoon Killers, Leonard Kastle, 1969
Eating Raoul, Paul Bartel, 1982
Sightseers, Ben Wheatley, 2012
April 26
Double Feature: Murder by Contract and Le samouraï
April 27
Saturday Matinee: Mon oncle
April 28
Spotlight: Simone Signoret
La ronde, Max Ophuls, 1950
Casque d'or, Jacques Becker, 1952
Diabolique, Henri-Georges Clouzot, 1955
Room at the Top, Jack Clayton, 1959
Adua and her Friends, Antonio Pietrangeli, 1960
Army of Shadows, Jean-Pierre Melville, 1969
The Widow Courdec, Pierre Granier-Deferre, 1971
April 29
Observations on Film Art No. 26: The Revolutionary Subjectivity of Memories of Underdevelopment
April 30
Short + Feature: Surface Tension and News from Home