Hulu Live TV is one of the best ways to stream live TV, offering over 65 channels in one easy-to-use plan. From your favorite cable offerings to local channels in most markets, plus access to the Hulu streaming library.
When you add it all together you get all the best parts of cable with the largest on-demand library of movies, shows, and originals to explore in streaming. All for only $64.99 a month. Still have questions? Let us walk you through everything you need to know about Hulu Live TV.
---
What plans does Hulu Live TV offer?
Hulu Live TV plans are incredibly simple to understand. Perhaps the hardest thing to remember is that Hulu and its Live TV service are two different things. When it comes to Hulu Live TV, there are only two packages to worry about, with or without ads.
Here's where that might be confusing; Hulu Live TV without ads only removes ads from shows you stream on the Hulu service. Streaming TV on Hulu Live TV will still have commercials, but the shows you stream on-demand won't (with some rare exceptions for CBS shows).
The good news is you don't have to worry about picking a package. Rather than bundling your favorite channels into a higher cost package, Hulu Live TV has one flat rate for live streaming TV. There are add-ons for things like HBO and Showtime, more obscure channels like Crime + Investigation and Destination America, or Spanish language channels. However, there's only one basic Live TV package.
What is the difference between Hulu vs Hulu Live TV?
Hulu isn't just the name of the company, it's also the name of its most basic service. If you want streaming TV only sign up for the Hulu basic account. That starts at just $5.99 per month.
Hulu Live TV is a live streaming TV service that aims to replace your cable package for one low monthly cost. Subscribers get 65+ channels of live TV, on-demand programming from those channels, along with access to the basic Hulu package. Hulu Live TV starts at $64.99 per month. We like to think of it as the best of both worlds in streaming; live cable TV and a massive streaming service all on one bill.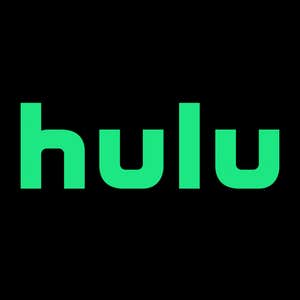 | | |
| --- | --- |
| Hulu with ads | $5.99/mo. or $59.99/yr. |
| Hulu with no ads | $11.99 |
| Hulu Live TV + Hulu with ads | $64.99 |
| Hulu Live TV + Hulu no ads | $70.99 |
---
What cable channels does Hulu Live TV offer?
Hulu Live TV will feel instantly familiar to anyone who has had a cable package in the last decade. This is the perfect middle ground for people transitioning into cord-cutting, great live TV and streaming in one.
Off the bat, you'll notice that Hulu Live TV only has one package availale unlike other service. Yet, it's an impressive lineup even without extras. Big names like Cartoon Network, Food, Discovery, FX, History, and Disney are all featured.
Sports fans get access to every major ESPN channel, including some you might not have known existed. No matter where you fall on the ideological spectrum, Hulu Live TV has you covered with CNN, MSNBC, and Fox News. You'll have to live without CSPAN.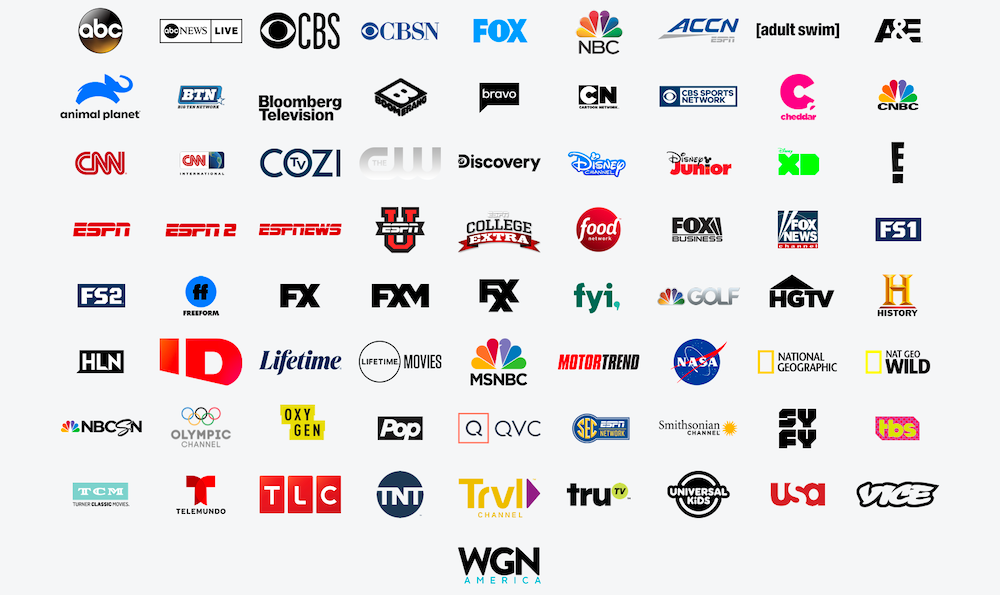 Parents looking for educational options, or just curious individuals, will love how many learning options there are. Beyond Discovery and History, you'll find NASA, National Geographic, Nat Geo Wild, TLC, TRVL, and more. There's even VICE for viewers looking to explore the psychedelic side of the world.
The only downside to this package is the lack of Viacom channels. There's no MTV, VH1, or Comedy Central, though you can find programming from those channels in Hulu's streaming section. These are minor complaints however. Hulu Live TV is one of the best options in streaming TV.
Hulu Live TV channels
---
What else is on Hulu and Hulu Live TV?
Hulu advertises that it includes 65+ top streaming channel. That's because the final number of channels you get depends on where you live and what local channels are included.
Hulu offers more local options than any other streaming TV service. Most of the country can get local stations on Hulu, including big names like ABC, NBC, CBS, Fox, and The CW. However, because of the way TV networks negotiate their local access, different parts of the country get access to different channels.
For example, when we set our location to Los Angeles, we got nine local channels in addition to everything included in the basic package. In Chattanooga, Tennessee, by contrast, you would get four local channels. It's a long list—so check this article for the full rundown of what local channels are available on Hulu where you live.
---
What is Hulu Live TV's on-demand content ?
Membership to the Live TV service comes with a standard Hulu membership and additional on-demand content. There are plenty of shows, from new episodes of Rick and Morty to USA original series that aren't available for standard Hulu members to stream. Having Hulu Live TV is like taking the already overflowing Hulu streaming library and super charging it.
---
What add-on's does Hulu offer?
| | |
| --- | --- |
| Entertainment Add-On | $7.99 |
| Spanish Language Add-On | $4.99 |
| HBO Max | $14.99 |
| Cinemax | $9.99 |
| Showtime | $10.99 |
| Starz | $8.99 |
You could spend a year straight exploring the content that comes with a standard Hulu membership, but that doesn't mean it limits your options. Hulu offers HBO, Cinemax, Showtime, and Starz as add on premium channels to the standard package.
Subscribers can also add extra channels via the Entertainment and Español add-ons.
Entertainment Add-on
| | | |
| --- | --- | --- |
| American Heroes Channel | CNBC World | Cooking Channel |
| Crime + Investigation | Destination America | Discovery Family |
| Discovery Life | DIY Network | Great American Country |
| Lifetime Movie Channel | Military History Channel | Science Network |
Spanish-Language Add-ons
| | | |
| --- | --- | --- |
| CNN en Español | Discovery en Español | Discovery Familia |
| ESPN Deportes | Fox Deportes | History Channel en Español |
| NBC Universo | | |
What streaming devices are supported?
Hulu Live TV works with Roku, Apple TV, Google Chromecast, Amazon Fire TV, select smart TVs, as well as Apple and Android devices, and the Xbox One and Xbox 360. You can also stream it on Nintendo Switch. That's one more reason Hulu is one of the best options for streaming live TV.
The streaming quality is solid across all apps. I watched on both a 55-inch 4K TV using the Xbox One Hulu app, Nintendo Switch, PlayStation 3, Chromecast, Roku streaming stick, Roku TVs built in-app, Apple TV, and on an iPhone SE.
In each case, live TV looked good. When streaming live, channels vary between 720p and 1080p. When we originally reviewed the service, it occasionally struggled with picture quality. However, since its launch, the picture has improved dramatically. Unless you've got a weak connection, you'd never notice a difference from broadcast HD.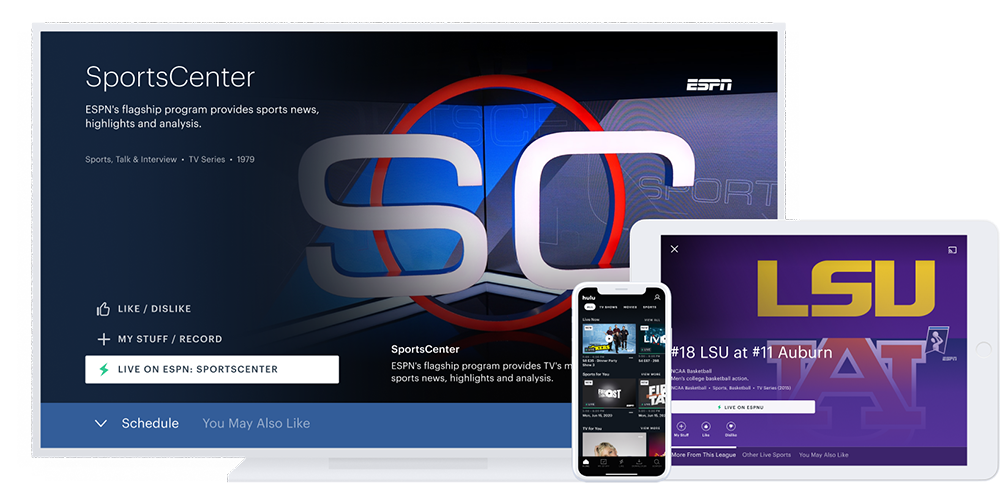 ---
Does Hulu Live TV have DVR or allow streaming on multiple screens
Every Hulu Live TV subscriber is given 50 hours of cloud DVR upon signing up. An Enhanced Cloud DVR option is available for an extra $9.99 a month, giving you 200 hours of Cloud DVR recording and the ability to fast-forward through commercials on your recordings.
The service also offers a $9.99 a month "unlimited screens" add-on for Live TV subscribers that lets an unlimited number of people stream over a wi-fi connection. If you have subscribers outside of the home, the "unlimited screens" options allows up to three people to stream at once on mobile.
You can combine those two features—Enhanced Cloud DVR and Unlimited Screens—for $20 a month.
---
Hulu vs. The Competition
Hulu Live TV vs. Sling TV
Choosing between the Live TV version of Hulu and Sling TV is a difficult proposition that mostly depends on your needs. Hulu Live TV costs $64.99 a month. That's significantly more than the $30 you'd pay for Sling Blue or Sling Orange, and $45 per month more than Sling Orange + Blue.
There are advantages to both services, but Sling TV has roughly the same channel package with minor exceptions. The biggest advantage Hulu Live TV has over Sling TV is access to the Hulu streaming service. However, since that can be had for $5.99 per month, Sling TV is currently a better deal. You could subscribe to Sling TV and Hulu streaming for less than the cost of Hulu Live TV.
However, Sling TV's interface is significantly worse. For the average user, Hulu is easier to understand and simply better to use. If the user experience is worth paying for, it wins out. If you're living on a budget, you may want to consider Sling.
Hulu Live TV vs. FuboTV
When it comes to basic cable, the channels for both services are comparable, and neither one has access to Viacom. After a recent price hike, FuboTV now costs $64.99-$79.99 per month. That actually tips the scale FuboTV's direction if you don't factor in the Hulu streaming library.
What FuboTV has that Hulu doesn't have, outside of sports, is extra channels. The baseline Fubo package gives you 115 channels with over 130+ sporting events per year in 4K HD as an added bonus. FuboTV users also get 250 hours of free cloud DVR storage.
If you're a soccer fan, FuboTV is decidedly your best option. The sports streaming service offers more soccer-related channels than any other streaming service on the market, making it easy to follow games from around the world. It's also one of the better ways to watch NFL RedZone online, which is available as part of a 26-channel Sports Plus package for an additional $10.99 per month.
While FuboTV has more channels, it's missing some big names that might be a deal-breaker for families. You don't get Cartoon Network for example. But if you're a TV fan, or part of a sports family, FuboTV has vastly more to offer subscribers. Hulu has a better streaming library, but FuboTV offers more for the same price.
---
Is Hulu Live TV worth it?
Hulu's live TV package is a delightful melding of live broadcasting and a traditional streaming experience, but it's far from perfect. Learning its menu system can take a little bit of time, especially if you've just recently made the switch from cable to streaming. However, if you've been using Hulu as your primary viewing option for a while, the user experience is quick to pick up.
If you can afford $64.99 a month and don't mind learning a new system, Hulu with Live TV is one of the best options on the market for streaming live TV. Hulu has the most channels, great on-demand options, and comes with a standard Hulu subscription. Each service has its charms, but at the moment, Hulu's is the killer app for live TV.
---
How to sign up for Hulu and Hulu Live TV
Don't stress if you're new to cord-cutting. Becoming part of Team Hulu, whether you want just the Hulu library access or the full Live TV package, is a breeze. Here's what you need to do.
Go to Hulu's website.

Select the "Start Your Free Trial" banner.

Now it's time to select your plan. Hulu offers new subscribers a free trial, but the length of your free period depends on what service you're trying. The standard Hulu streaming service offers users one full free month to try out the service before being charged.

Hulu Live TV, on the other hand, only comes with a seven-day free trial before you start getting charged. Select the plan that's right for you, from Hulu to Hulu Live TV (No Ads).

Enter your email, billing address, and select a password. We highly suggest making a unique password for your Hulu account, especially if you plan on having multiple users. Different members of your household can have their own unique Hulu profiles.

This allows parents to set content restrictions for their kids, and also lets each person have an individualized viewing list. However, this also creates a security issue when users log in on their own devices.

You don't want a child (or worse, a roommate) having your bank password, so make sure your Hulu logins aren't also used for something important. It's just smarter that way.

Choose your designed payment method. You will not be charged by Hulu until the end of your trial period.

Start watching your favorite shows.
---
The Daily Dot may receive a payment in connection with purchases of products or services featured in this article. Read our Ethics Policy to learn more.