Rue was born right after 9/11, and the mental health issues soon followed. It's one of many things she tells us as Euphoria's unofficial narrator. But she's also an addict, so can we believe her?
That's not the premise of HBO's new teen drama Euphoria, but it's where the pilot episode starts. Seventeen-year-old Rue (Zendaya) survived an overdose and made it through rehab, but she's not ready to quit. Did her birth, days after a national tragedy, set her and her generation up for a lifetime of anxiety? Or is it something more intangible?
"You probably really hate me right now," she tells us mid-relapse.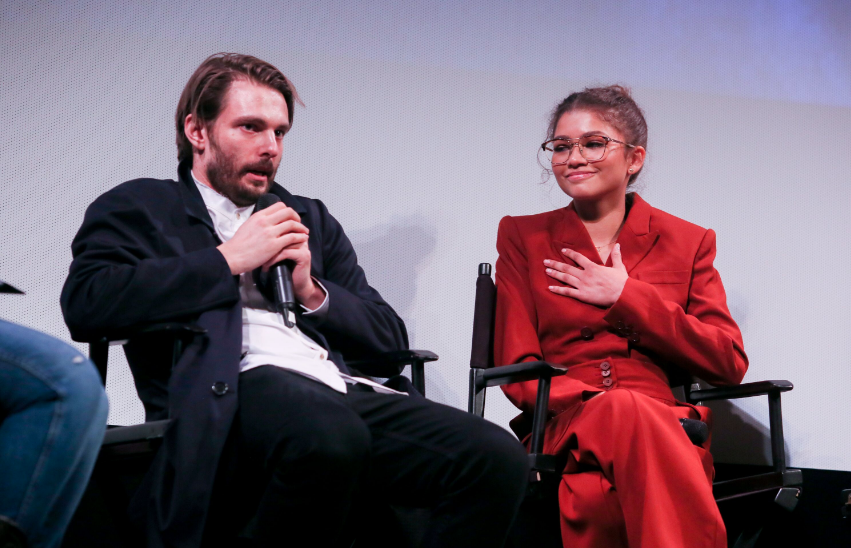 Euphoria's boundary-free portrayal of teens will be divisive, especially if you're not a teen yourself. While 13 Reasons Why tried to put a filter on teen suicide and Sex Education cast teen sexuality in a wickedly funny light, Euphoria doesn't concern itself with trigger warnings. It's going to show you the stuff you never wanted to know—or maybe blocked out.
The series was adapted from an Israeli drama of the same name, but writer and creator Sam Levinson (Assassination Nation) said in the post-screening Q&A at ATX Television Festival that the addiction storyline came from his own struggle with depression, anxiety, and addiction. Now 14 years sober, Levinson wants to get at the "pain and shame" of being an addict. Rue tries to escape her brain and feel "two seconds of nothingness," as she says in the pilot. The drugs are a safe space.
Levinson implied that Zendaya was always his choice to play Rue, even though, as Zendaya put it, "There's nothing you watched in my career," that could have made Levinson want to cast her. But the project also came at a time when Zendaya wasn't sure what to do next. She's joined by Hunter Schafer, who plays Jules, a new girl at school who bonds with Rue. Kat (Barbie Ferreira) is Rue's longtime friend, who also has her own crew. Rue, Jules, and Kat all have different personalities and aesthetics, and if HBO is trying to reach a younger audience here, they've provided some aspirational archetypes. (Ferreira and Schafer said they made mood boards for their looks; Zendaya did not.)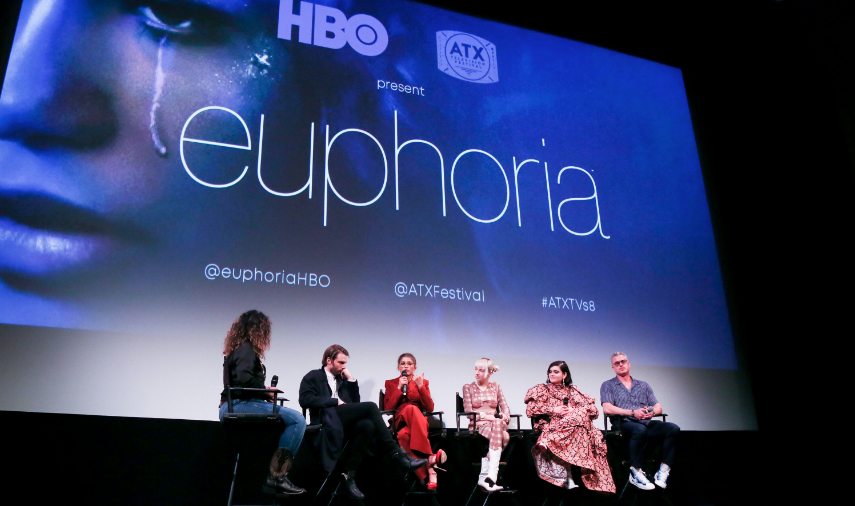 This is a breakout role for Zendaya, and the fact that Spider-Man: Far From Home and Euphoria will both be out this summer is a delightful parallel. Euphoria boasts unnerving scenes of how teens connect now, interactions that will make you squirm because the gender imbalance and threat of violence are clear. "Nudes are the currency of love," Rue narrates.
There's an ominous shot of shirtless teen boys watching porn on someone's phone. Nate (Jacob Elordi) tells his friend that women like to be choked and demeaned—it's popular on porn sites, after all. Jules meets up with older men she finds on apps. During one encounter between Jules and married man Cal (Eric Dane), the audience braces for something awful to happen to her from the moment she arrives at the hotel. Dane said he and Schafer worked with HBO's intimacy coordinator to make sure both actors were comfortable and no one influenced the scene to go in another direction.
Euphoria certainly has the HBO aesthetic, existing somewhere between Girls and Sharp Objects. Everyone seems to be haunted by something, or perhaps that's just part of the teen experience now. Promos portrayed Euphoria as a hell-yeah-summer's-here exploration of teen life, but it makes Riverdale look like a Disney show. If you just finished Chernobyl, you might not be ready. In fact, Zendaya looked shocked to learn that a young girl who stood up during the Q&A had watched the first episode. (The first question of the night came from a dreaded "more of a comment" guy, who asked Zendaya on a date. She expertly deescalated.)
The pilot is also visually stunning, with disorienting camera work and warm framing from director Augustine Frizzell. In one scene, Rue snorts something and then walks down an ever-shifting hallway, a solid approximation of that sudden drug rush. Rue's face serves as the show's map, and the pilot alone provides several close-up shots of her shifting moods and chemical states. Levinson said that while he didn't try to glamorize addiction, he did want Euphoria to show the "helplessness" of drug abuse and why people keeping going back. 
https://www.youtube.com/watch?v=vuAzkZIiGxI
Euphoria debuts June 16 on HBO.