FuboTV is widely regarded as one of the best TV streaming services for live sports. While it originally launched in 2015 with an emphasis on international soccer, FuboTV has significantly expanded its reach and appeal. Earlier this year, the service inked a deal with Viacom that added MTV, Nickelodeon, VH1, Comedy Central, and more to its already robust collection of channels. Does the mean that FuboTV can hold its own against competitors like Sling TV and Hulu with Live TV?
I've spent the last three months and well over 100 hours streaming the service on a complimentary account, which included premium channels and add-ons like NBA League Pass. Here's what I've learned and what you should know before signing up for a free trial.
FuboTV
COST:
$54.99 per month
CHANNELS:
90+
COMPATIBLE DEVICES:
Roku, Apple TV, Amazon Fire Stick and Fire TV, Android TV, iOS and Android devices
PROS:
Incredible channel selection for live sports, 4K streaming, and a great interface.
CONS:
Pricey, can only stream on 2 devices, and lacking ESPN channels.
After a recent price hike, FuboTV now costs $54.99 per month. That's significantly more than the competition—Sling TV packages start at $25 per month, and YouTube TV costs a flat $49.99 per month, for example—but you're also getting a robust channel package that includes a couple of specialty channels—NFL Network and NBA TV—you'd have to pay extra for elsewhere. FuboTV's base package offers nearly 100 channels, and it includes almost all of the cable standards you're used to: AMC, BBC America, CNN, FX, TBS, TNT, HGTV, and plenty more.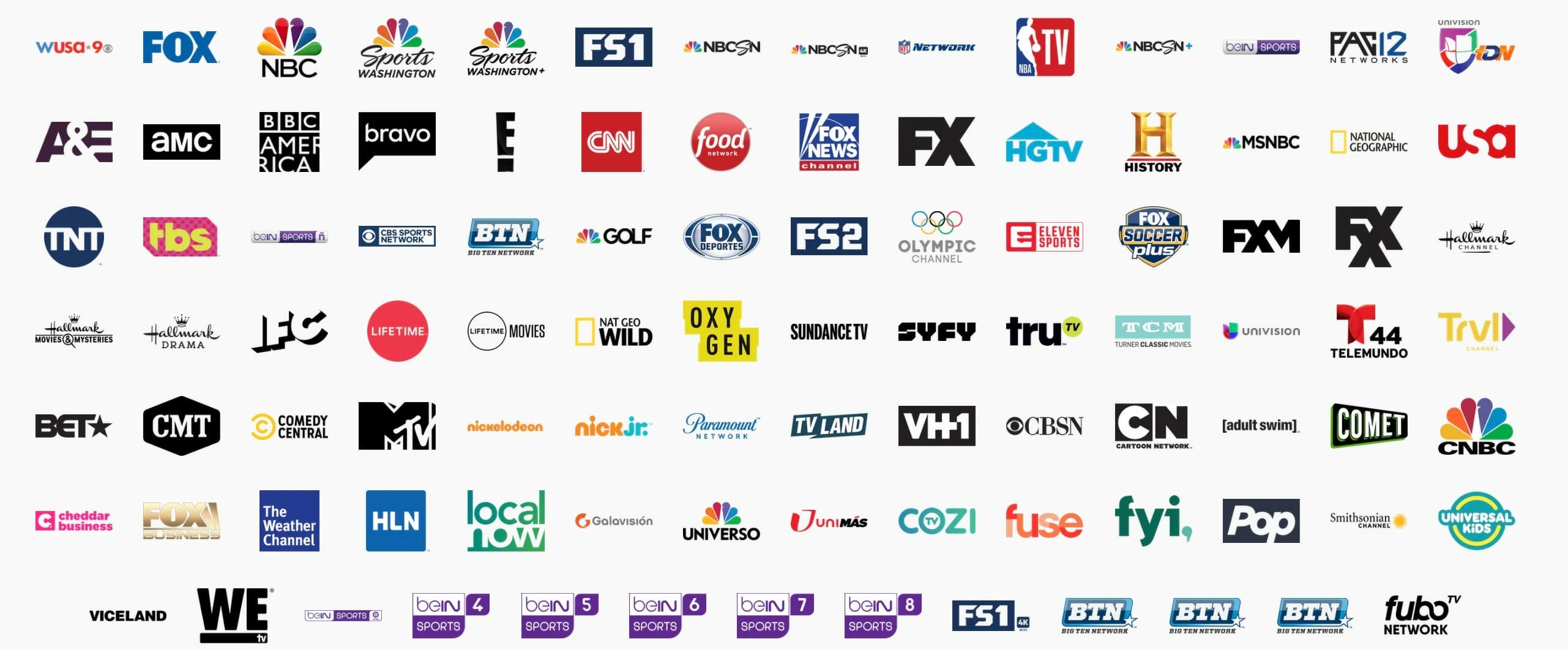 Some of that is filler: Even the most ardent La Liga fan doesn't really need eight separate beIN Sports channels. Ditto for the four Big Ten Network channels. But FuboTV is one of the few live TV streaming services that offers Viacom channels like MTV, Comedy Central, and Nickelodeon. For $5.99 per month, you can get another 30 channels with Fubo Extra that cover world news (BBC World News, CNBC World, CNN International), light entertainment (Cooking Channel, PeopleTV), and more Viacom properties (TeenNick, MTV2, BET Jams).
FuboTV caters to bilingual families better than most services. Each subscription comes standard with UniMás, Galavisión, NBC Universo, beIN Sports, Univision, and Fox Deportes. The $7.99-per-month add-on Latino Plus expands your options further with CNN en Español, TyC Sports, and more.
As far as premium channels are concerned, you can add Showtime for $10.99 per month, AMC Premiere for $4.99 per month, and FX+ for $5.99 per month. NBA League Pass is also available for $28.99 per month. That's the same you'd pay directly or with Amazon Prime, but it's convenient having all your streaming in one place.
If you're a sports fan, FuboTV will seem tailored to you. You'll get FS1 and FS2, Fox Soccer Plus, Pac-12 Networks, NBC Sports, and CBS Sports Network, among others. It was my preferred service for streaming March Madness this year, thanks to its inclusion of TBS, TNT, TruTV, and CBS. You can unlock NFL RedZone, Tennis Channel, and regional Fox Sports and Pac-12 channels with the Sports Plus add-on for just $8.99 per month. That's an incredible deal, and there are other packages tailored to cycling, the outdoors, and international sports.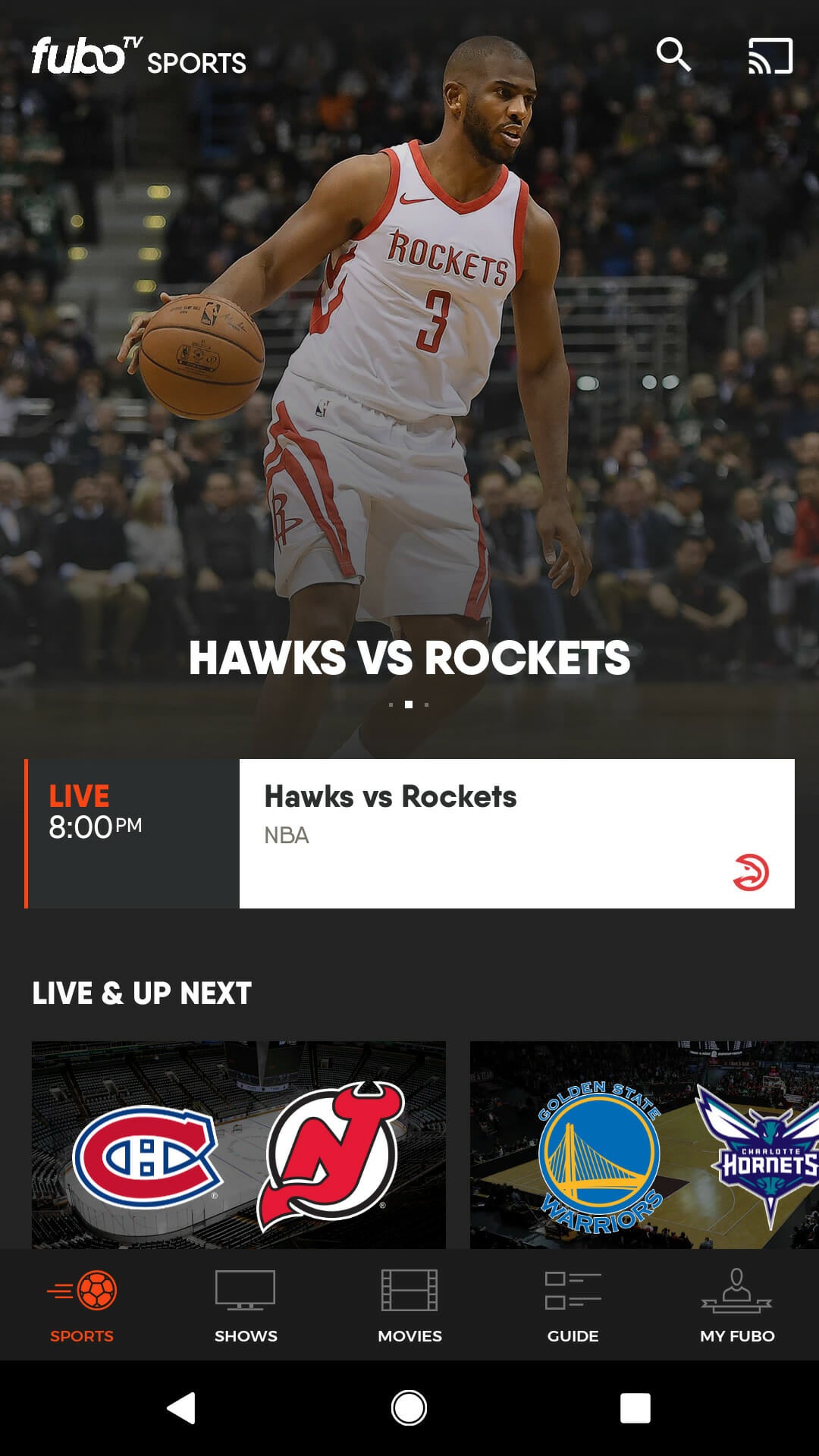 But a sports streaming service that doesn't include ESPN is like the '90s Chicago Bulls without Michael Jordan, Pink Floyd without Roger Waters, or ER after George Clooney left: It's solid but obviously lacking.
You can soften the blow by subscribing to ESPN+, the network's new standalone subscription service, which costs just $4.99 per month and offers a ton of live sports programming (250 MLS games, 180 MLB games, 180 NHL games, 20 UFC Fight Night events, for starters). Or you can try DAZN—the boxing service that has exclusive rights to Canelo Alvarez, Gennady "GGG" Golovkin, and Anthony Joshua fights—for $19.99 per month. Even with both of those, you're still paying significantly less than you would for a traditional cable package.
But without ESPN proper, you won't be able to watch Monday Night Football, SportsCenter, the College Football Playoff National Championship, or dozens of other must-see sporting events. I felt ESPN's absence regularly. In the last week alone, I would've missed the game 6 showdown between the Portland Trail Blazers and Denver Nuggets and game 1 of the Western Conference Finals. Instead, I turned on Sling TV.
FuboTV interface
FuboTV has a slightly different interface depending on what device you're streaming from. On mobile and with the Amazon Fire app, you're greeted by a collection of current and upcoming sporting events. You can swipe right to see everything that's on right now or scroll down to filter based on the sport you're interested in. You'll also see a list of replays available for recent events. It's a fantastic layout for sports fans, lending further credence to FuboTV's reputation as a sports streaming service first and foremost. But if you're looking for live TV—or anything other than live sports—you'll have to click into a different tab to get started.
I actually prefer the interface on desktop. It opens with a more well-rounded menu of options that includes current live TV highlights, featured programs, news, and sports, before delivering an assortment of trending collections. (Right now, it's Superhero Movies, Popular on Showtime, Popular on AMC Premiere, Popular Shows, and Popular Movies). If you aren't sure what to watch or are just looking to veg out, you're bound to find something that catches your interest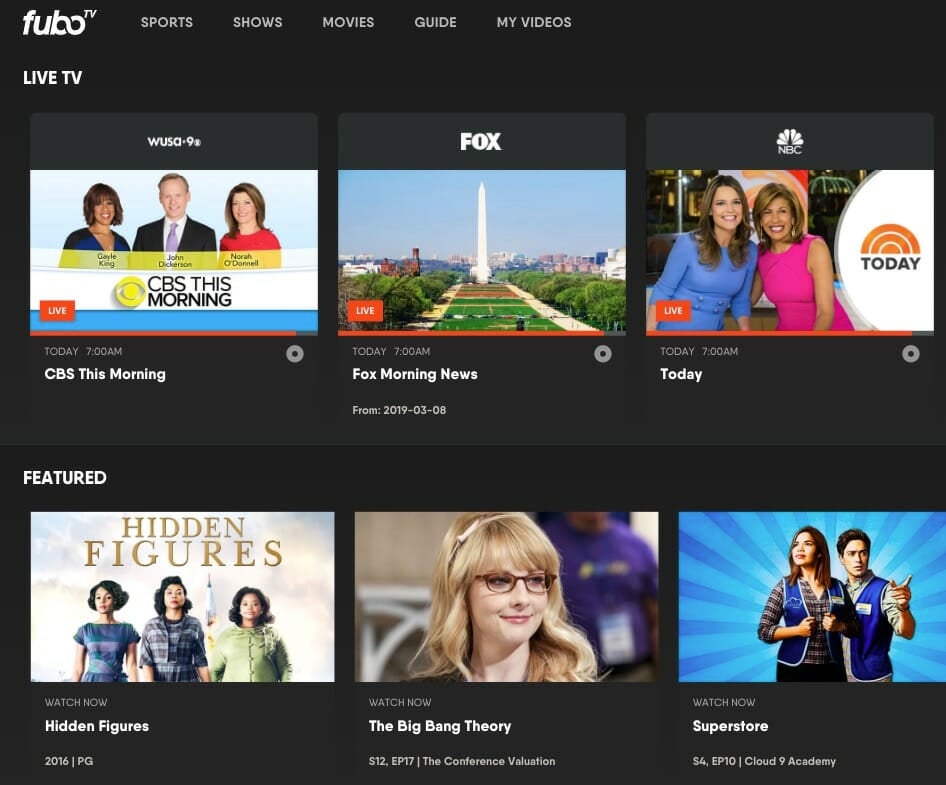 No matter which app you're using, the Guide tab functions the same way, and it's FuboTV's best feature. You can scroll down to see everything that's playing right now or scroll forward to see what's coming later. The formatting is clean and intuitive, and new episodes are clearly identified. You can also browse by network, which makes it easy to see all of the on-demand content available for a specific channel.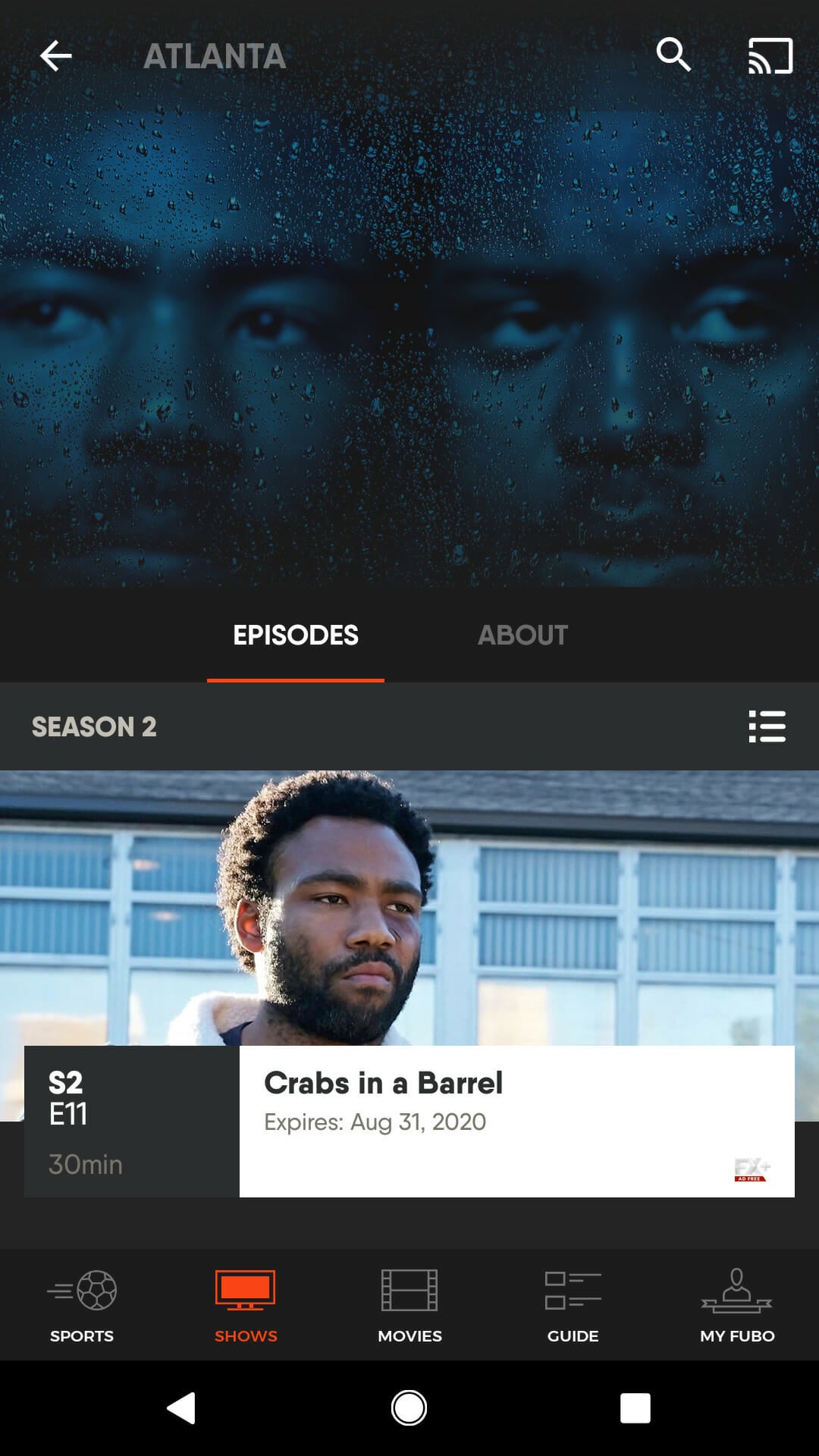 You can also favorite channels (as seen below), which prioritizes them in the channels guide and helps you channel-surf much more efficiently. Unfortunately, the feature doesn't carry over to TV shows. When I wanted to watch season 2 of Atlanta on-demand, for example, I had to search for it from the home screen. Every. Single. Time.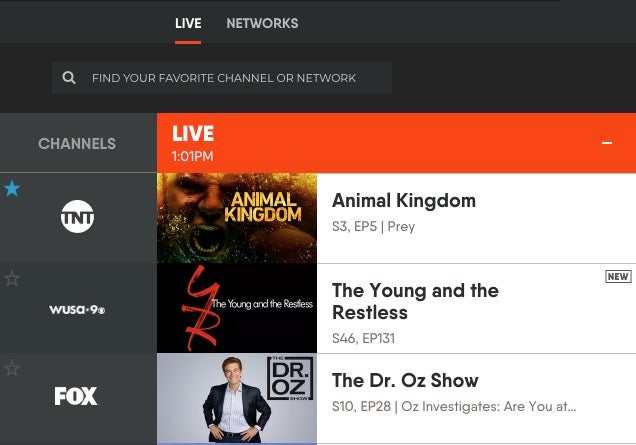 FuboTV features
Cloud DVR
FuboTV generously includes 30 hours of free cloud DVR with your subscription, and you can upgrade to 500 hours for an extra $9.99 per month. Until recently, there wasn't an easy way for you to schedule recurring recordings, which meant you had to remember to manually schedule recordings for your favorite programs or events on a weekly basis, which is obviously not ideal. Thankfully, in the last few weeks, FuboTV launched a Record Series feature that solves that issue. It's still in beta and only works with Apple TV devices and on desktop, but it's a good sign that the company is working toward improving the service.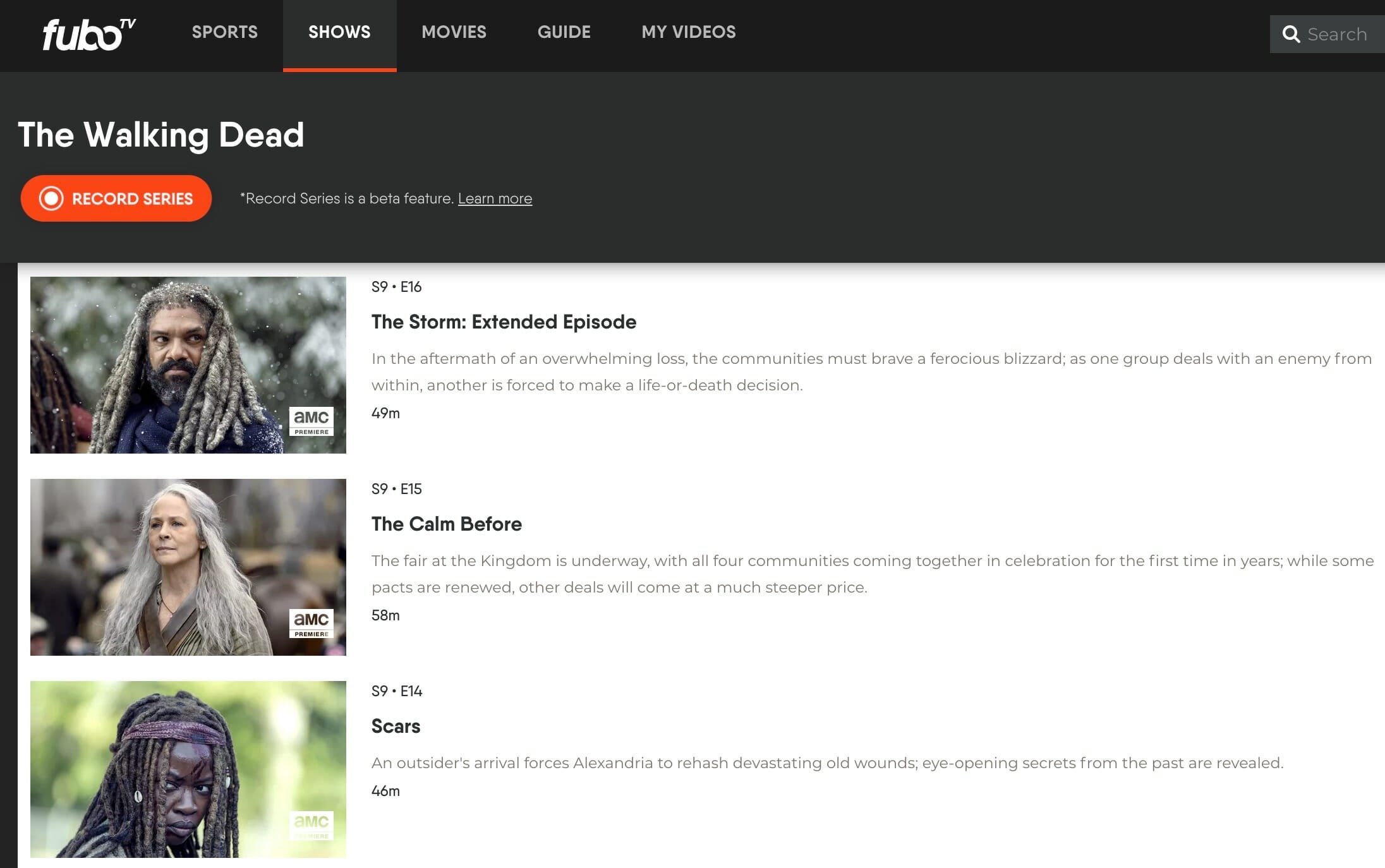 Lookback
For the times you tragically forget to record a program, there's Lookback, a feature that lets you start from the beginning of a program up to three days after missing it. You won't be able to fast-forward or rewind, but it's still a valuable safety net.
4K streaming
If you've upgraded to a 4K TV, you might've noticed that your picture isn't always as crisp as what you've come to expect from cable or satellite, especially when it comes to live sports. There's nothing worse than shilling out for a 65-inch flat-screen only to feel like you're watching an old VHS tape. Part of the problem might be your internet connection. It takes incredible bandwidth to stream live TV, after all. But the larger issue is that none of the major live TV streaming services offer channels in 4K—except FuboTV.
The feature isn't widely available on the service, but you'll regularly be able to stream sports events in 4K on FS1 and NBCSN. That includes Premier League matches and the 2019 MLB All-Star Game in July. (You can find a list of upcoming 4K events here.) There's more progress that needs to be made, but FuboTV is leading the industry right now.
FuboTV review: The final verdict
I streamed FuboTV mostly on my TV, first using an Amazon Fire Stick, then with an Amazon Fire TV, which enables 4K streaming, after I upgraded to a new Samsung QLED smart TV. (FuboTV was the only major live TV service that didn't have an app readily available in the Samsung app store when I first signed up, but it recently added a beta version.) I also logged considerable hours on my laptop (a Chrome browser on a MacBook Pro) and my smartphone (Google Pixel 2). It's worth noting you can only stream from two devices at one time, though you can a third for an extra $5.99 per month.
The streaming quality was quite remarkable for the most part, and I didn't run into any of the formatting issues I occasionally found with Sling TV. But there were at least five separate occasions on mobile where the screen froze and the audio continued playing. It wasn't that big of a deal: I just had to refresh the page or rewind 15 seconds for it resync, but it's worth noting, especially for those who might have a weaker Wi-Fi signal.
The biggest selling point for FuboTV isn't actually its live sports offerings—it's the service's compelling and customizable channel guide. For those accustomed to cable, it offers the simplicity that most new subscribers will be looking for and makes it easy to look ahead on the calendar or browse by specific channels.
Still, pitching FuboTV as a family-oriented streaming service is a bit like calling Die Hard a Christmas movie: It's technically true but also slightly misleading. While there's something for everyone in FuboTV's channel lineup, the overall experience is still very much geared toward sports fans. But if you're looking to cut the cord to watch international soccer or other live sports—and you can live without ESPN—FuboTV is as good as it gets.
The Daily Dot may receive a payment in connection with purchases of products or services featured in this article. Click here to learn more.