Sling TV is one of the most cost-conscious streaming services, providing three plans for its base Sling TV channels. Its packages start at $35 a month, for either Sling Blue or Sling Orange. A merged Sling TV plan, Orange + Blue, costs $50 a month. Sling TV also has a robust international package, featuring channels from around the globe, organized by language.
Want to learn more about Sling TV? Here's what we'll cover:
What is Sling TV?
Sling TV packages each offer their own selling points. Here are the basics of what each plan offers in the way of channels and cost.
Sling TV is billed as an à la carte streaming service, allowing you to pick and choose the Sling TV channels you really want to see. The packages might not be as robust as you'll find with other streaming service packages, but you'll also see low prices and big value for what it does have.
There are some hard choices you might make in selecting your Sling TV package. Do I opt for Sling Orange, with the Disney Channel and ESPN channels, or Sling Blue, which has more channels overall? You can, however, "why not both" it and still come in at a price that beats its closest rivals.
---
Sling TV Streaming Devices
Sling TV works on virtually every major streaming platform out there. Those include:
---
DVR and multiple screens
Every basic Sling TV membership comes with a paltry 10 hours of free cloud DVR storage. For an extra $5 per month, you can expand your cloud DVR to 200 hours. This still isn't much storage, but should be plenty for light use. However, you should be aware that Sling DVR doesn't work on SEC Network+, Local Now, ACC Network Extra, or ESPN3.
When it comes to streaming on multiple devices, Sling TV's policy is as complicated as its add-ons. Sling Orange subscribers can watch their content on one device at a time. Sling Blue subscribers, on the other hand, can stream on three screens at one time. If you sign up for Sling Blue + Orange, you get access to four streams. Sling's reasoning is that you're paying for two separate services, so it combines the streams of both.
On-demand and offline content
Sling TV's on-demand options are on par with those of every other major streaming TV service. Programs become available the day after they air and can usually be streamed for about a month. One nice added bonus of Sling TV is the ability to rewind and fast forward through on-demand programming.
One thing you won't be able to do with Sling is watch content offline. Sling TV is strictly a streaming service, so you'll need an internet connection to watch.
Sling TV vs. The Competition
Sling TV vs. Hulu Live TV
Where there are a few different routes for arriving at your Sling TV channels, Hulu Live TV banks on a single simple plan. For $54.99 per month, Hulu Live TV provides users up to 69 of the top channels on TV and access to Hulu's massive streaming service. Effectively, this gives Hulu Live TV the biggest on-demand section of any streaming TV service. That being said, not everyone wants to be paying $54.99 per month for TV. Unless you need a big TV package, Sling TV's $30 per month baseline cost is hard to beat. Even if you splurge for Sling Orange + Blue, you'll be paying $9 less per month for roughly the same amount of channels. You just won't get a free Hulu membership.
Sling TV vs. AT&T TV Now
Regardless of how Sling TV stacks up against AT&T, we can't currently recommend AT&T TV for new subscribers. Once known as DirecTV Now, AT&T TV has experienced the sort of two years that drives away customers. Case in point, this writer used to be a subscriber. Thanks to massive price increases, lost channels, and an app that has gotten worse over time, AT&T has taken the best streaming TV service on the market and made it as expensive and annoying as cable. Its baseline package does at least include HBO, but only offers 45+ channels for $65.
Sling TV vs. FuboTV
The question of which service to choose between Sling TV and FuboTV ultimately comes down to sports and channels. Between the two, FuboTV can't be beaten in channel selection, offering more than 100 channels for $59.99. You get 500 hours of cloud DVR, 130+ 4K sporting event streams a year, and more with your membership. FuboTV also has more local channels. By comparison, Sling TV starts at $30. If you're trying to save money, Sling TV is great, but FuboTV edges it out by offering significantly more channels, more DVR space, and 4K sporting events.
Sling TV vs. YouTube TV
Sling TV is a great service for when you want to stream TV on a budget, but it has some issues stacking up when money isn't an issue. For $64.99 per month, YouTube TV subscribers get 70+ channels, including local channels. That includes unlimited cloud DVR for each individual member of your family. If money is no object, you may want to consider springing for YouTube TV.
Is it worth it?
Sling TV is an incredible service. While there are cheaper options out there like Philo, Sling TV is the cheapest way to watch streaming TV that gives you major news, sports, and entertainment options for under $30. We like the app and it's easy to use.
There are a few cons to go along with all the pros. Paying to get more than 10 hours of DVR space is frustrating, especially when other services offer so much more. Though some customers will love the customization possible through Sling, others may find it frustrating and even confusing to work through the multiple Orange vs. Blue extra packages. If you're looking for a simple, affordable, and feature-packed streaming TV experience and don't mind spending extra, there may better options out there for you.
For many families, though, the service is going to be exactly what they need, a perfect middle ground between over-the-air TV and cable.
---
How to sign up for Sling TV
Signing up is as simple as creating an account, picking your package, and entering your payment information. Even better, you can sign up for Sling TV even if you don't have a computer.
Signing up online
For most people, the easiest way to sign up for the service is to go to www.sling.com and hit the Start Watching button. Here's what you do.
Enter your email address and desired password.
Select the channel package you want and then scroll down the page. Here you'll find Sling TV's extras, from added channels to bonus DVR space. Pick the add-ons that you want then scroll to the bottom of the page, and select "Continue."
Enter your billing information and hit "Finish & Submit." The app will let you know exactly when your next bill will hit, how much it will be for, and will walk you through your contract before you're done.
Signing up on Roku
Roku makes it easy to signup for Sling TV right from your streaming device. Here's how it works.
Download the Sling TV app on your Roku.
When you launch the app you'll see a notice offering seven days of free service for new subscribers. Select this button.
Enter the email and password you'd like to use for your Sling TV subscription.
On the next page, you'll select your services. Choose between Sling Blue, Sling Orange, or Sling Orange + Blue, and then move on to the extras section.
To add an option to your subscription, hit the Add button next to your selections.
Once you have your package sorted out select "Finish & Submit." Your Sling TV subscription will be charged to the card on file with your Roku account once your free trial is finished.
Signing up on Amazon Fire
Much like Roku, users can sign up from within the Amazon Fire app. Here's how.
Download the Sling TV app to your Amazon Fire device. Upon launch, select the "Sign Up" button.
On Fire, your first order of business is to select your channel package; Sling Orange, Sling Blue, or Sling Orange + Blue. If you'd like to add more in-language options, such as Spanish language channels, select the "View More Languages" option on this screen. Otherwise, when you've got your package picked out, select "Continue."
On the next page, you'll add on your Extra features. Select your favorite add-ons and then hit "Continue."
Now create an account for Sling TV. Enter your email and desired password, then hit "Continue."
Review your channel package and hit "Finish & Submit."
At this point, Amazon will ask to give Sling permission to use your zip code. This is used to figure out what local channels you'll get. Hit "I agree" to move on.
Sling will ask you if you'd like to set Parental Controls. If so, hit "Enable;" otherwise, select "No Thanks" to move on.
Now Sling will ask you to confirm your subscriptions. It will ask you to confirm each extra service you added during sign-up. Yes, this is a little annoying.
Finally, enter your Amazon password to authenticate the transaction. You're now ready to watch on your Amazon Fire device.
Signing up on Android TV, Android, LG TV, Windows 10, or Xbox One
Signing up for here is the same on Android TV, Android, LG TV, Windows 10, and Xbox One devices. Here are the steps you'll take.
Download the Sling TV app to your device and open it. On the start-up page, select the "Sign Up" option.
First select your base package, Sling Orange, Sling Blue, or Sling Orange + Blue, then hit "Continue."
On the next page, you'll find Sling TV's extra services. Click "Add" on the options you'd like to add to your subscription. Then select continue.
Now you'll make your account. Enter the email and password you'd like associated with your Sling TV account and hit continue.
Enter your billing and payment information then hit "Finish & Submit." You're now ready to start streaming Sling TV.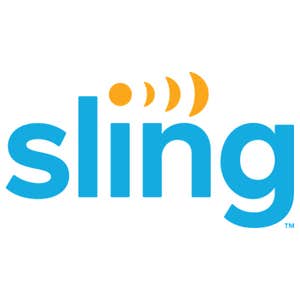 | | |
| --- | --- |
| Sling Orange | $35 |
| Sling Blue | $35 |
| Sling Orange & Blue | $50 |
For a more à la carte service, look to Sling TV. It offers two cable packages, Sling Orange and Sling Blue, each of which costs $35 per month. If you grab them both (Sling Orange + Blue) you can save $10 per month. Sling Blue offers more bang for your buck with over 40 channels, including sports necessities like FS1, NBCSN, and NFL Network. You'll also gain access to the usual cable mainstays like Food Network, Discovery, Cartoon Network, SYFY, and FXX. Whichever package you choose, you can save $10 on your first month. Here's the complete guide to Sling TV channels.
---
The Daily Dot may receive a payment in connection with purchases of products or services featured in this article. Click here to learn more.