If you aren't streaming your media off of a game console, there's a war for a spot on your TV's HDMI port. There are three main options if you're not ready to invest in a smart TV right now—Roku, Amazon Fire Stick, and Google Chromecast—and they each have distinct strengths and weaknesses. Here's everything you need to know about Chromecast; what Chromecasting is, how to "cast," and how it stacks up to the competition.
What is Chromecast?
Google Chromecast is a streaming media player that casts video content from apps on your phone to your TV. Originally, Chromecast devices were controlled solely via your smartphone. There was no traditional guided interface, you merely launched content from your phone. That meant if you were looking for a standard remote, you'd need to look elsewhere. However, the latest update to the line, Chromecast with Google TV changes all of that.
Chromecast with Google TV includes a smart remote and the Google TV interface for navigating content. This allows users to navigate apps on their TV, change the volume, TV input, and even voice search all from the remote. Users can still "cast" with Chromecast with Google TV, it's just not the only method available to you.
It also supports every major streaming service, including Disney Plus, Netflix, Amazon Prime Video, Hulu, and HBO Max. For a long time, Chromecast has been an interesting way to stream on a budget. Now that it has a traditional remote and user interface with the Chromecast with Google TV, it might be the best streaming device around.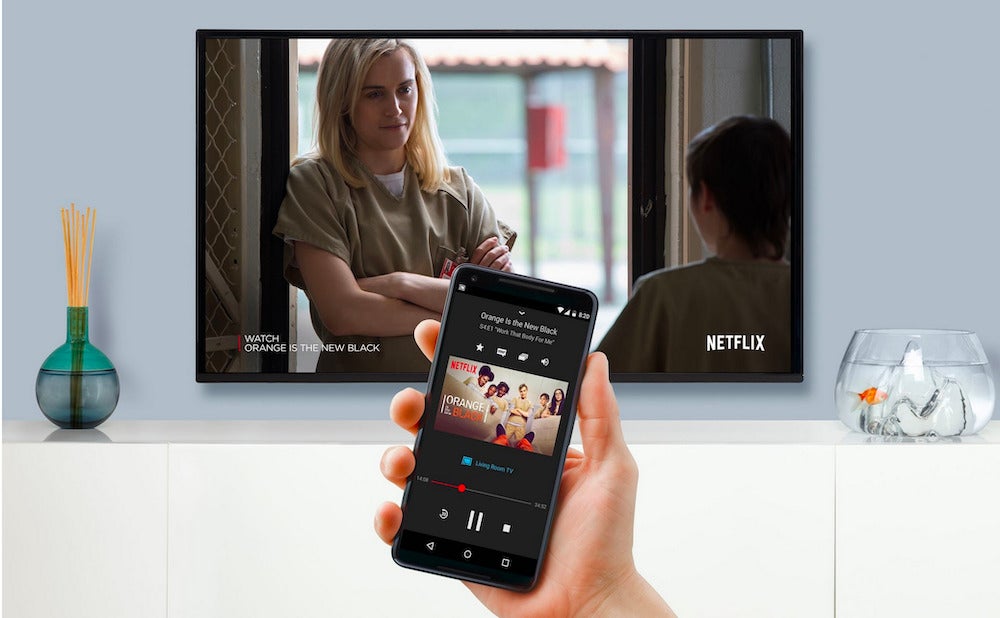 How does Chromecast work?
Each Chromecast model requires an internet connection. How it works depends on which model you get.
The original Chromecast only works with your phone or tablet. Once you connect the device to your TV or stereo, you can stream content directly from your devices. "Casting" works by playing content on your phone over the same Wi-Fi your Chromecast is connected to. When the content plays on your device you'll see a little screen icon appear. Just tape that to "cast" what you're playing on your smartphone to your TV.
Whether it's a Netflix original series or your photo gallery, it's now on your TV with ease. Unlike Amazon Fire TV Stick or Roku, with the original Chromecast, you're not navigating on your TV screen. Instead, users navigate the apps on their phone or tablet. That's a boon for some users and a curse for others. The upside is you never have to worry about losing your remote between the sofa cushions. But it also means if you have children or house guests who want to watch something on Netflix, they'll need a smartphone and the app to start viewing.
Chromecast with Google TV is an entirely different experience. While you can still "cast" from your smartphone, perfect for showing off family photos on the fly, most of your navigation will be through the Chromecast remote. Google TV is a wonderful interface that we'll get into more a little later.
How much does Chromecast cost?
Chromecast
Chromecast's basic model is a great all-purpose video player and media center, capable of streaming a movie in 1080p HD or playing your favorite songs from Spotify. Unless you've already upgraded to a 4K Ultra HD television set, the basic Chromecast is all you'll ever need. The only major drawback is for the same price you can get a Roku with a remote. Still, if your entire life is on your phone and you already use it for streaming, Chromecast is a good deal.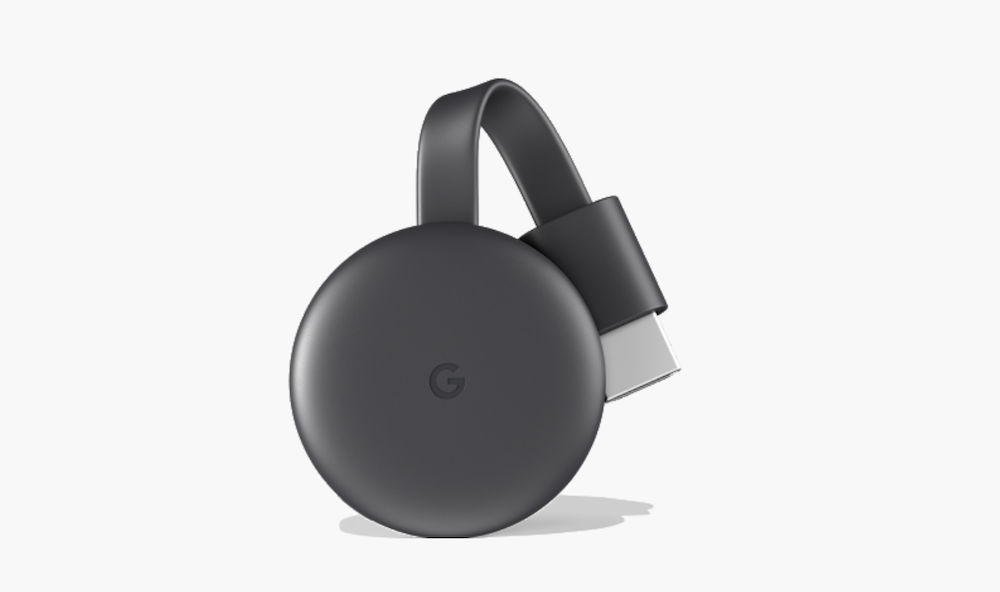 Chromecast with Google TV
At $49.99, Chromecast with Google TV is everything the original Chromecast isn't, with all the same features that made it great. This 4K ready streaming device fits snuggly behind your TV out of sight, features a small yet might remote, and the incredible Google TV interface for navigation. It can also still cast media from your phone, tablet, or computer to your TV with ease. So what sets it apart from other streaming devices? The main thing is the ease of use.
While testing the new Chromecast with Google TV, we were able to set up the device with our entire system in less than 10 minute. When we say our "entire system" we mean just that. By following a handful of prompts we were able to login to the Wi-Fi, login to our services, and connect the Chromecast remote to both our TV and soundbar for expanded control. In many cases Chromecast already knew the logins for our favorite apps like Netflix because we use those apps on Chrome. Having used every major streaming device on the market, Chromecast blows them all away. Your grandparents could set this device up on their own.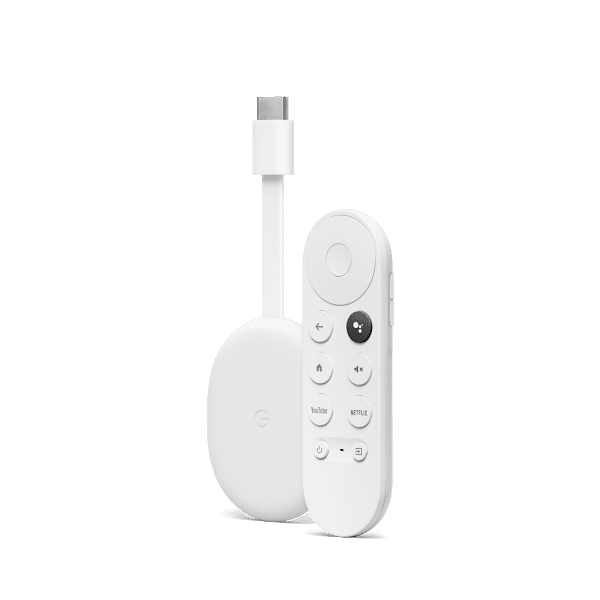 Why you should buy the Chromecast with Google TV
When it comes to the user experience, Google TV might be the best user interface around. Unlike Roku which can feel clunky and Amazon Fire which centers Amazon content, Google TV focuses on what you watch. Your home page pulls shows from across the services you already use, from Netflix to Disney+ and HBO Max.
Every other service makes you jump between apps to see what's new. Chromecast with Google TV pays attention to what you're watching and makes recommendations the moment you log in. It's incredible. Jumping from app to app is simple, fun, and quick. If you've ever spent more than thirty minutes setting up an older person's streaming set up the ease of Chromecast with Google TV will be a godsend.
We also can't sing enough praises for Chromecast's remote. Controlling our four year old TCL TV and our eight year old Vizio soundbar with a Chromecast remote was a life changing experience. After juggling a soundbar remote and a Roku remote for years, having everything in the power of one hand was magic. Chromecast also has the best voice search we've experience with a device remote. From YouTube videos to HBO shows, this is the first voice remote that actually gets regular use in our household.
The true test was having a house sitter for a week while testing the Chromecast with Google TV. They were able to instantly figure out the system and we didn't need to leave a long note saying "this is how the soundbar works." Chromecast with Google TV simplified my life in a way we didn't anticipate. That's the sign of great technology.
Best apps on Chromecast
While technically Chromecast itself doesn't host any apps, it can be your conduit to all of the services know and love. Here are our five favorite services that support Chromecast.
Chromecast and Chromecast with Google TV both support HBO Max. Catch your favorite Warner Media shows like Big Bang Theory and Friends, alongside HBO's deep archive of content. We particularly love how TMC has added hundreds of classic movies to the service.
We're happy to report that Disney+ offers full support for Chromecast. Catch up on the MCU, your favorite Disney movies, and NatGeo all from your phone.
Once upon a time Chromecast couldn't play nice with Prime Video. Thankfully those days are over, letting any Prime member watch Amazon's full library on Chromecast. Check out all the movies, Amazon Prime Video originals, documentaries on Amazon Prime, 4K Ultra HD movies, and what's new on Amazon waiting for you each month.
Already a Netflix subscriber? Chromecast makes it easy to stream right from the app. Here are our guides to the best movies on Netflix, and the must-see Netflix original series, documentaries, docuseries, and original movies.
Whether you choose Hulu with Limited Commercials, upgrade for Hulu with No Commercials, or sign up for the Disney+/Hulu/Espn+ bundle, there's an incredible amount of great movies, shows, documentaries, anime, and the must-see originals on Hulu. Hulu Live TV even lets you turn your phone into a streaming cable box.
If you're using Chromecast there's a good chance you're on a budget. Thankfully Crackle is a free service that allows you to watch great Hollywood movies and TV shows in exchange for sitting through some ads. It's a small time investment in return for free content.
Live TV streaming on Chromecast
If you're on a budget Sling TVs flexible pricing is hard to beat, with packages starting at $30 per month. Sling TV has truly set itself apart from the pack in the streaming TV wars at a time when everyone seems to be randomly raising their prices. Each packages has slightly different channels so you might have to sacrifice ESPN to get your favorite. Still Sling TV gives you that option, and feature-packed service to boot. We highly recommend it.
YouTube TV recently raised its price to $64.99 per month. This makes it one of the most expensive streaming TV services around. However, if you can afford it, YouTube TV still has plenty of value to offer. Subscribers get 85+ major channels, including ESPN, Comedy Central, and the big three news networks. However, when you add unlimited cloud-DVR for up to six users, that deal sweetens. YouTube TV is attractive for large families that love TV.
For $54.99 per month, Hulu Live TV subscribers get 60+ channels, including the big three news networks, Bravo, ESPN, and more. It also includes access to the basic streaming Hulu package, giving Hulu the largest on-demand library of any streaming TV service. Hulu Live TV has a slightly complicated interface, making it a little difficult on a phone. However, if you've mastered the Chromecast it shouldn't be a problem.
How does Chromecast stack up against the competition?
The $29.99 basic Chromecast is among the cheapest streaming options on the market. The problem is it lacks important features like a remote or the ability to work if your phone is dead. For the same price, you can get Amazon's Fire TV Stick Lite with a voice remote, hundreds of thousands of movies, and 1080p picture with HDR support. If you only have $30 Fire TV Stick Lite is the move.
That being said, if you want a 4K, a remote that can control your TV, voice search, and incredible streaming Chromecast has the Fire TV 4K beat. That's because while they can do basically the same things, Chromecast with Google TV has a slightly better interface and easier set up than the Firestick. Chromecast's voice search is also notably better than Amazon's, something we were surprised to discover.
Roku's basic HD model starts at $29.99 with a remote and a user interface that doesn't require your phone. That's the exact same amount of money the basic HD Chromecast will set you back. If you want 4K, it becomes a question of money and features.
Roku can give you 4K picture for just $39.99 with the Roku Premiere. That's $10 less than the $49.99 Chromecast with Google TV. But here's the things, Chromecast with Google Chrome earns that extra $10 from your wallet. It has a better remote, easier set up, a better interface, better voice remote, and support for HBO Max.
The one area Roku really puts up a fight is its channel library. If you love using niche services, Roku has more free streaming niche channels than anyone else. But none of them are things you couldn't also use on Chromecast via casting. After years of being a Roku loyalist, we're surprised to say Chromecast with Google TV beats Roku.
In what world would your options be between a $149 streaming device and a $29.99-49.99 streaming device? This one. This is one of the rare situations where we would recommend a Chromecast, though with a heavy caveat. No streaming device is worth $149, let alone one that can't do 4K.
Thankfully in a battle between Apple TV and Chromecast you can save $100 and get all the same great features you want from Apple TV. Chromecast has a powerful remote, great voice search, support for HBO Max, Ultra HD 4K picture, and a simple set up.
You know how Apple fans always say "it just works?" about Apple products? Experience what "it just works" truly means by setting up your new Chromecast with Google TV in just ten minutes. It's no contest. Apple should be embarrassed by how overpriced its streaming devices are. Particularly when other companies like Google, Amazon, and Roku are eating their lunch.
Google is a name practically synonymous with the internet and has its fingers in just about every facet the world wide web is known for, from search engines to document creation and of course, video. Chromecast is a works like Roku and Amazon Fire, and offers access to endless channels and streaming destinations. Plus, you can even seamlessly "Cast" from any screen, be it a laptop, smartphone, or tablet directly to your Chromecast enabled device with the touch of a button.
---
Streaming Device Guides
Live TV Service Guides
Editor's note: This article is regularly updated for relevance. The Daily Dot may receive a payment in connection with purchases of products or services featured in this article. Click here to learn more.