For new cord cutters, there's no easier way to do it than with Amazon's Fire TV line. From live TV streaming, to HBO, Hulu, and Netflix, Amazon Fire Stick makes it easy. Here's everything you need to know before getting started, including how much it costs and how Amazon Fire TV works.
What is Amazon Fire Stick?
The Amazon Fire Stick is part of Amazon's Fire TV brand, launched in 2014 with Fire TV. These digital media players allow you to stream video content to your television via your internet connection. Imagine a DVD player you never had to load and that regularly updates with new content.
---
Fire currently comes in three different models, including the Amazon Fire Stick, but each one has a couple of key things in common. Each device can access over 15,000 apps and games, including Disney Plus, Netflix, Amazon Prime (obviously), Hulu, HBO Now, YouTube, and ESPN Plus.
Fire Stick can also help you stream live TV. Fire TV supports live sports and TV programming through services like Sling TV and Hulu Live TV. Whether you're looking for the best in on-demand streaming, or a replacement for your cable package, Amazon Fire TV has the options you need.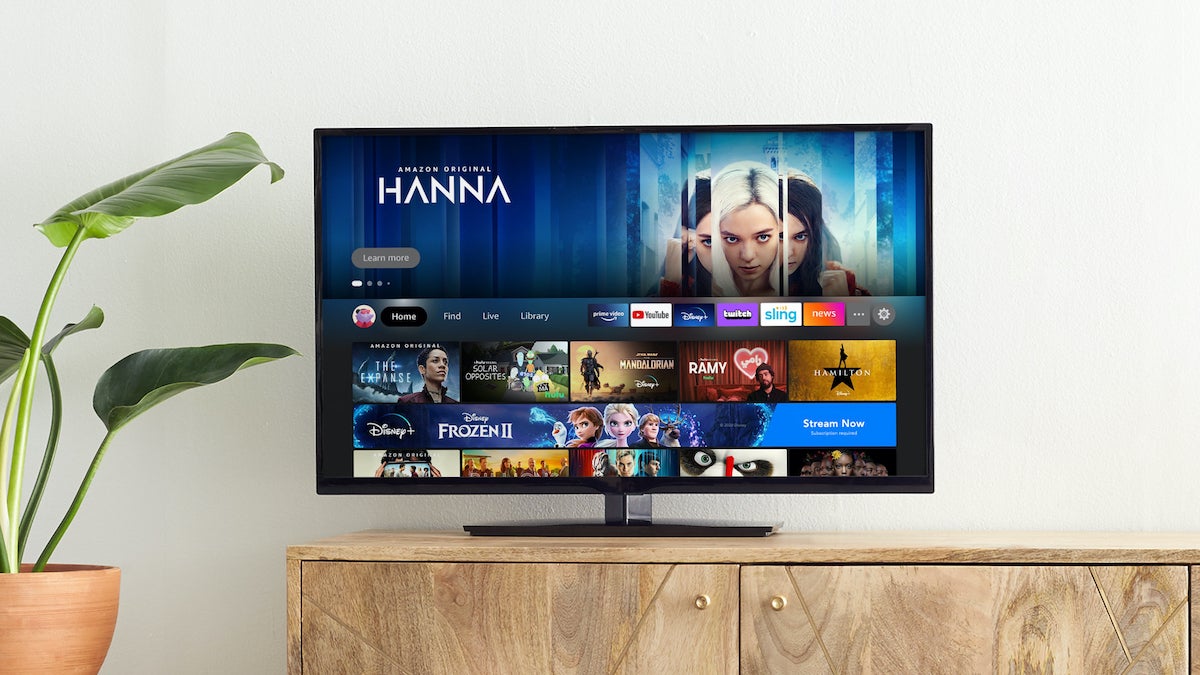 How does Amazon Fire TV work?
Each Amazon Fire Stick product requires an internet connection, which you connect to via Wi-Fi. An Ethernet cable adapter is available if you don't have Wi-Fi, or you need a faster connection.
The device connects to your TV through an HDMI port and a small power adapter. Once activated, it will walk you through the setup process, logging into your pre-existing services and connecting to your Amazon account.
As demonstrated in the image above, you can start streaming your favorite shows in a matter of minutes with a quick and easy set-up.
How to install your Amazon Fire TV Stick
Plug your Amazon Fire TV Stick into your HDTV, or use the included HDMI extender
Plug your Amazon Fire TV stick into wall outlet
Turn on your TV and select the correct HDMI port
Follow the on-screen instructions to connect your Amazon Fire TV stick to your home internet
Enjoy!
Any digital video or music you've purchased through Amazon will automatically be available to use when you've logged on. Also, photos you've uploaded to your Amazon Cloud Drive will be available for viewing.
During set up, you'll have the opportunity to download your most-used apps and log in. You can always add to services later.
The magic of the (new) Alexa voice remote
Since the day it hit the market one of the aspects of the Amazon Fire Stick that set it apart was its top shelf remote. In an era where Chromecast launched with no remote and an attitude about it, Fire Stick gave everyone a great remote.
(Here's our complete guide on how to use Alexa, which includes Alexa's Flash Briefings for news updates as well as how to manage your smart home products, calendar, and to-do lists.)
Previous Fire remotes were nothing to scoff at. They offered bluetooth support, Alexa voice search, could control your TV volume, etc. You could pull up a show by saying "play Scrubs." Yet somehow the new version improves on what was already basically perfect.
How? By adding a smart channel guide button and quick select app buttons.
Smart Channel Guide Button
The biggest of these changes is the smart channel guide, which works like a streaming version of the cable guide button. With the press of a button your Fire TV will pull up a handy guide that aggregates all the live content currently streaming on your device.
Not just paid live Sling TV, YouTube TV, or Philo. This bad boy also pulls up your favorite live channels from free services like Tubi, Pluto TV, or IMDB TV. This feature has technically been available on Fire TV Sticks since 2020, but lets be real. Having the guide button on your remote means you'll actually use the feature.
Quick Select App Buttons
Now, lets talk about quick select app buttons. How much mileage you'll get out of this feature will wildly depend on personal preference. Any Roku owner whose remote has a PS Vue app button on it will tell you how annoying they can be.
Personally, we love these buttons. You can't pick which apps are on your remote, you can't reprogram the buttons. To be honest, you've just got to pray the services on your remote don't go under. However, their inclusion here are important for streaming.
First they drive home a sense of common design that takes the stress out of picking up a remote at a stranger or your in-laws house. Every streaming device should largely follow the same pattern, and this brings Amazon Fire Stick's remote into the same design space as Roku.
How much does Amazon Fire TV cost?
The cost of Amazon Fire TV ranges from $29.99 for a LITE version all the way up to $119.99 for the highest quality sound and vision. You can find out more about all of the available models below.
Fire TV Stick Lite
Amazon finally enters the world of budget streaming devices with the Fire TV Stick Lite. While its $29.99 price tag might give the impression of a no frills device, the TV Stick Lite is a feature-packed device.
It features incredible true 1080p HD picture, with support for HDR 10, HDR10+, HLG, H.265, H.264, and Vp9 if your TV can handle it. You also get support for Dolby Digital and Dolby Atmos sound via HDMI audio passthrough.
Of course, the great picture and sound aren't the only selling points. This little marvel also includes an Alexa Voice remote which allows you to pull up shows, check the weather, set alarms, play music, and more from your sofa.
We were also impressed to see it has a lower profile than Roku's basic $29.99 intro model. While you don't get the TV controls that come with the other models, the TV Stick Lite is an unbeatable deal at $29.99.
Fire TV Stick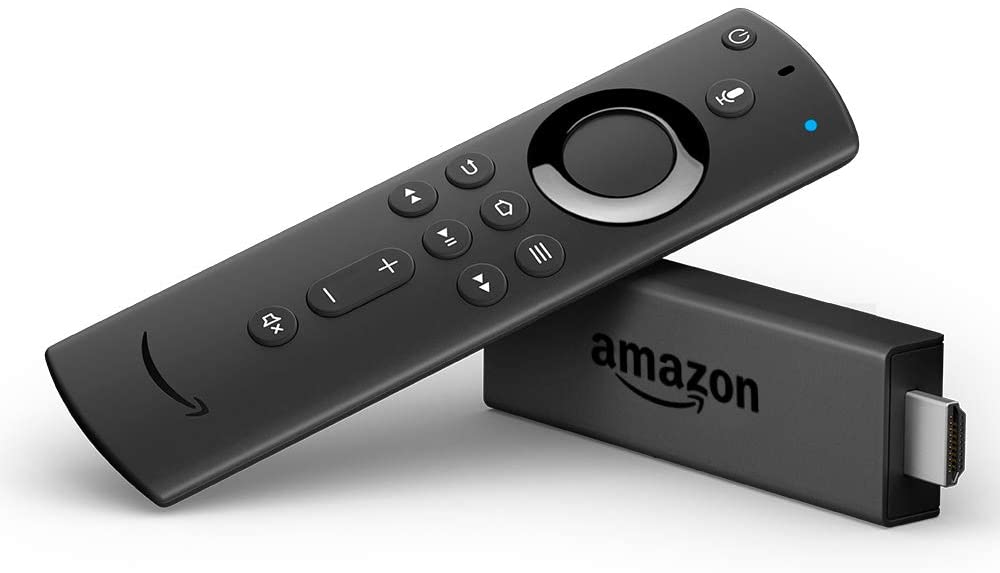 The Fire TV Stick is Amazon's mid-range model, serving up 1080p HD streaming in a tiny HDMI stick about the size of your standard USB flash drive. At just $39.99, and including Alexa Voice remote, the Fire Stick is a remarkable bargain.
You get access to all of the same apps and channels as the Stick's more expensive cousin, Fire TV Stick 4K. Thanks to a product refresh in Fall 2020, this device is more powerful than ever.
The Stick delivers a crisp 1080p Full HD with support for HDR, HDR 10, HDR10+, and HLG. It also supports Dolby Atmos on select apps, including Prime Video, Netflix, and Disney+ delivering lifelike sound to your favorite movies and shows.
Best of all, the Alexa Voice remote has built-in TV controls, allowing you to stop switching between remotes while binging.
If you haven't upgraded to 4K yet, the All-new Fire TV Stick is one of the best streaming devices around. The Quad-core 1.7 GHz processor makes it 50% faster than the previous model for the same great price.
If you want the best home theater experience at 1080p reach for the All-new Fire TV Stick.
Fire Stick 4K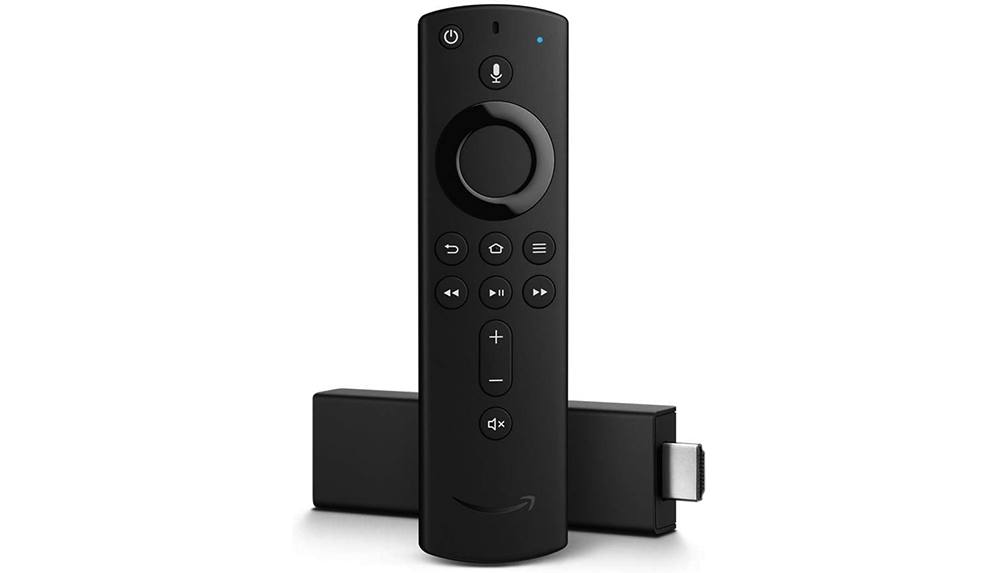 Amazon's Fire TV Stick 4K brings a top-tier 4K streaming experience in a budget package. This $39.99 wonder has all the features of the standard Stick, with a few important exceptions.
The 4K version supports Dolby Vision, HDR 10, HLG, and HDR10+, delivering the richest colors and darkest blacks from your Ultra HD content. This device also has Dolby Atmos sound for the most sonicly satisfying experience your sound system can deliver.
With a maximum output resolution of 2160p and support for up to 60 frames per second, Fire TV Stick delivers crystal clear Ultra HD at a budget price.
Add a voice-activated Alexa remote that can connect to your TV to control your shows and volume from one remote, and this the Amazon product to beat. If you want an excellent 4K experience at a budget price Amazon Fire TV Stick 4K is a workhorse.
Fire TV Cube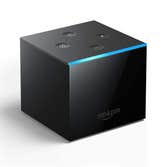 If you need to have the highest quality picture and sound for your daily viewing, Fire TV Cube is your best option. The basics are still the same, including access to all of the same apps and channels found on the 4K model. Fire TV Cube costs $119.99 and brings some extra features with that price.
Fire TV comes with the ability to output 4K video, 2 GB of memory, 16 GB of internal storage, and a MicroSD slot to store your videos, apps, and games.
Also, Fire TV has an Ethernet port that allows you connect it directly to your modem and a USB port to connect an external storage device for streaming your existing music and video content off of a hard drive.
The Fire TV Cube also has a built-in microphone and speaker, allowing it to work as an Alexa home hub. Control your smart devices, pull up your favorite show or music without your remote, or even call a friend.
Of course if you're privacy-minded, this might be a deal-breaker. After all, not everyone wants an 24/7 microphone in their home. The Fire TV Cube costs more than other Fire TV options.
However, its mix of power and features make it a great choice for streamers looking to build a smart home media center.
How much does it cost to use Amazon Fire Stick TV per month?
There are no monthly fees associated with Amazon's streaming devices. All you need to buy is the device itself and you're good to go. Where things can get expensive is when you start adding various channels (like HBO) or subscription services like Netflix.
Your Amazon Prime subscription, which costs $119 per year and comes with a host of benefits, is a separate expense. In other words, the Fire TV ecosystem gives you a way to stream your favorite content.
However, you'll still need to pay for subscriptions for the services you want to access using your Amazon Fire Stick.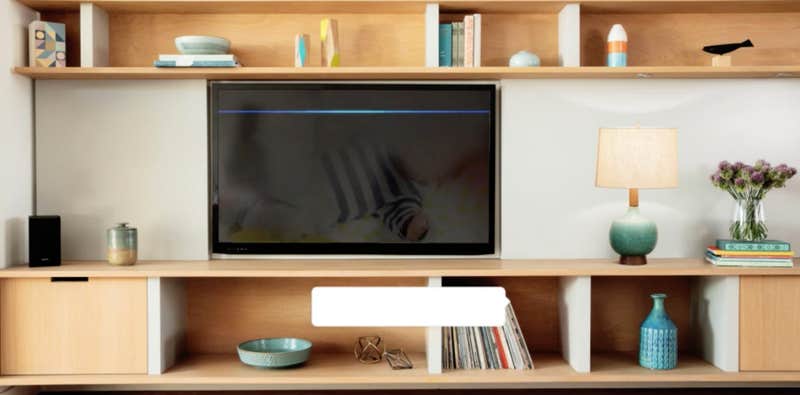 ---
Best channels on Amazon Fire Stick
There are countless free channels and apps available via Amazon Fire Stick and Amazon Fire TV, but many of them require additional subscriptions. Here our five favorites. If you'd like to explore further you can find the best of the rest here.
The wait is over. After feuding between Amazon and HBO kept HBO Max off Amazon Firestick for most of Max's first year, the service is available. Stream all your favorite HBO, Adult Swim, TCM, and Studio Ghibli content from one app with HBO Max.
Almost all Amazon Fire devices support Disney Plus. Full list of compatible devices here.
If you're already a Prime member, you'll have access to Amazon's full library. That includes thousands of movies, Amazon originals, documentaries, 4K Ultra HD movies, and what's new on Amazon each month.
Already a Netflix subscriber? Amazon Fire Stick makes it easy to stream. Here are our guides best movies on Netflix, and the must-see Netflix original series, documentaries, docuseries, and movies.
Hulu and Amazon streaming devices go hand in hand. Offering a wealth of great movies, shows, documentaries, anime, and the must-see Hulu originals, Hulu is a must have. Hulu with Live TV is also a popular way of watching live TV online.
This free service allows you to watch a fun list of movies and TV shows that rotate monthly, but you'll have to sit through some ads.
Live TV streaming on Amazon Fire TV
With it's affordable, flexible pricing starting at $30 per month, Sling TV has set itself apart from the pack in the streaming TV wars. While everyone else races to cost as much as cable used to, Sling TV still remains an affordable and feature-packed service.
YouTube TV's recent price hike to $64.99 has made it one of the most expensive streaming TV services around. However, it still has plenty of value to offer.
With more than 85 major channels, including ESPN, Comedy Central, and the big three news networks, YouTube TV has all your favorites waiting. Add to that unlimited cloud-DVR for up to six users and it's a tempting package for big TV-loving families.
Sitting between Sling TV and YouTube TV in the price wars is Hulu Live TV. This $54.99 per month package delivers 60+ channels, including the big three news networks, Bravo, ESPN, and more.
Subscribers also get access to the basic streaming Hulu package, giving Hulu the largest on-demand library of any streaming TV service.
---
How does Amazon Fire Stick and Fire TV stack up against the competition?

If you want an intro model, Fire TV Stick Lite is the best option on the model. Costing $29.99 the TV Stick lite has a low profile and includes a Bluetooth Alexa voice remote. The $29.99 Roku Express takes up more space, is slower, and doesn't have a voice remote.
At $39.99, Amazon Fire TV Stick costs exactly as much as Roku's $39.99 Roku Premiere. On paper that's not a problem, but Roku Premiere has a hidden trick; 4K for the same price as Amazon's limited to HD Fire TV Stick.
Roku also currently offers more streaming channels than Amazon, 30,000 to Amazon's 15,000. How much mileage you will get out of those channels depends.
A large chunk of them are are niche channels focused at genre movies. Users looking for a more organized user experience will enjoy how easy Fire Stick is. One important thing to consider is voice remotes.
If you want a voice remote with Roku you'll need the $49.99 Roku Streaming Stick+. That's the same price as the Fire TV 4K. This is a close call. If money is tight, get the Roku Premiere, otherwise give the Fire TV Stick 4K a serious look.
At $29.99, Chromecast is among the cheapest streaming options on the market. But it lacks important features like a remote or the ability to work if your phone is dead. The same price, you can get the Amazon Fire TV Stick Lite.
It doesn't just have a remote, it has a voice remote. At the risk of sounding harsh, the Chromecast is an awful system to buy right now. Its highly niche functionality make it deal for a handful of people, but basically useless for your average user.
We still commend Google for a creative product, but when you just want to stream TV Chromecast is an unwieldy pain. Even on the tightest budget, there's no reason to buy a Chromecast.
Fire Stick vs. Apple TV
Apple TV's cheapest model will set you back $149, and it doesn't even offer you the ability to play video in 4K. Getting the 4K model starts at $170 for a 32GB version and tops out at $199 for the 64GB edition.
Unless you've already invested lots of money into your iTunes movie collection and simply must have an app that can stream it, Apple TV is simply too expensive to compete with Amazon or Roku's collection.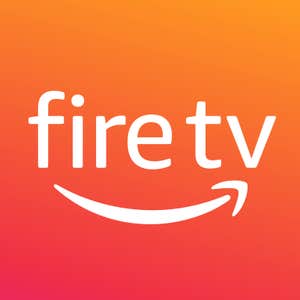 Amazon Fire TV is Amazon's line of digital media player consoles, which cover whatever your streaming needs may be. Not only are these devices one of the easiest ways to stream Amazon's massive Prime Video library, but it hosts a large number of channel apps including Netflix, Hulu, Disney+, HBO Now, Crackle, Showtime, YouTube, iHeartRadio, and many more. Fire TV comes with an easy-to-use remote complete with voice commands. It's a great first-time cord-cutter's must-have.
---