The Dillian Whyte vs. Derek Chisora heavyweight boxing matchup wasn't originally supposed to be on Showtime, but that's good news for you because there are plenty of easy ways to get a free live stream.
Since it's a Matchroom Boxing-promoted event, and since most Matchroom Boxing events are now on the new sports streaming service DAZN, most thought Whyte vs. Chisora would find a home on last weekend's most-downloaded free Android and iOS app. Instead, Showtime swooped in at the last moment, bought the international rights to the rematch, and said it'll show the event on its network and app.
"This network has televised all of the most important heavyweight fights during the division's renaissance and we are proud to join Matchroom Sports in delivering Whyte-Chisora II to our audience," Stephen Espinoza, Showtime Sports' president, said. "Their first fight was action-packed from bell to bell. Now, with the stakes as high as they have ever been for both men, this bout promises to be even better. I hope that the boxing pundits have not yet cast their vote for Fight, Knockout and Round of the Year. Saturday's matchup may challenge some of this year's best."
READ MORE:
He's right: Their first fight in 2016 was one of that year's best. Neither Whyte nor Chisora is at the top of the heavyweight division (though Whyte is largely considered a top-five contender). But there's a reason why 13,000 tickets were purchased the day they went on sale and that it was expected that the 20,000-seat O2 arena would sell out. The last time these two stepped into a ring against each other, it was the knockdown drag-out fight we wish every boxing match would be. Whyte was victorious in their first fight. This time, both are convinced they'll win.
Even if you've given up on cable, you still have plenty of ways to watch the Whyte vs. Chisora live stream for free.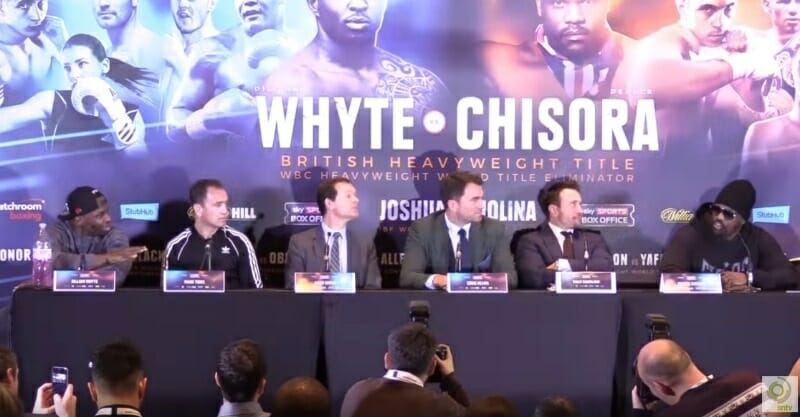 Whyte vs. Chisora
When: 5:30pm ET on Saturday, Dec. 22
Where: O2 Arena in London
Streaming: Showtime
---
Whyte vs. Chisora live stream: How to watch for free

Cost:

$7.99-$11.99 for Hulu and $44.95 per month for Hulu with Live TV . Showtime comes with a 7-day free trial, then costs $10.99 per month afterward

Hulu devices:

Roku, Apple TV, Google Chromecast, Amazon Fire Stick and Fire TV, Xbox One, Xbox 360, Nintendo Switch, and iOS and Android devices
Hulu provides plenty of ways for you to be entertained, either through TV and movies on-demand or by allowing you to stream live TV. It also provides the best deal for people who miss first-run TV. Here's the complete list of Hulu Live TV channels.
---
The great thing about Sling TV is that delivers a la carte channel packages, basically meaning you have a choice in how much you want to pay (between $25 and $40) depending on what channels you want. To get Showtime, though, you'll need to pay a $10 add-on fee after a seven-day free trial. Here's a complete guide to Sling TV channels.
---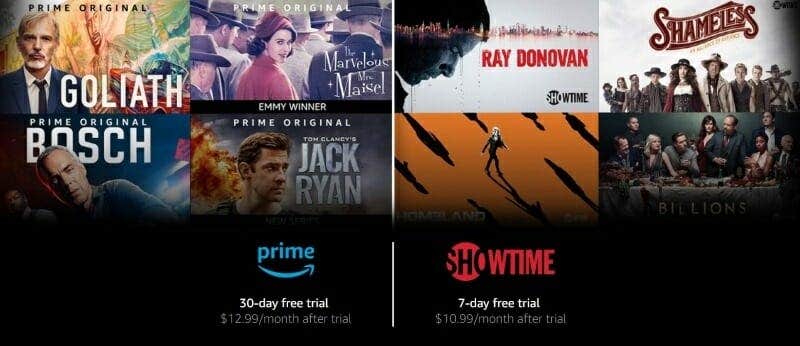 Cost: $10.99 per month (after a 7-day free trial) for Showtime | 

$119.99 per year for Prime

Devices:

Amazon Fire Stick, Fire TV, Fire tablets, and Fire phone; Roku, Google TV, TiVo, Nvidia Shield, PlayStation 3 and 4, Xbox One, Nintendo Wii
You can watch Amazon Prime video on your TV, tablet, phone, or computer, and you get a free seven-day trial to test it out. Essentially, Amazon Prime is one of the best deals on the internet, particularly considering how much comes with the $119 annual fee. The fact you can also watch Whyte vs. Chisora is a nice little perk as well.
---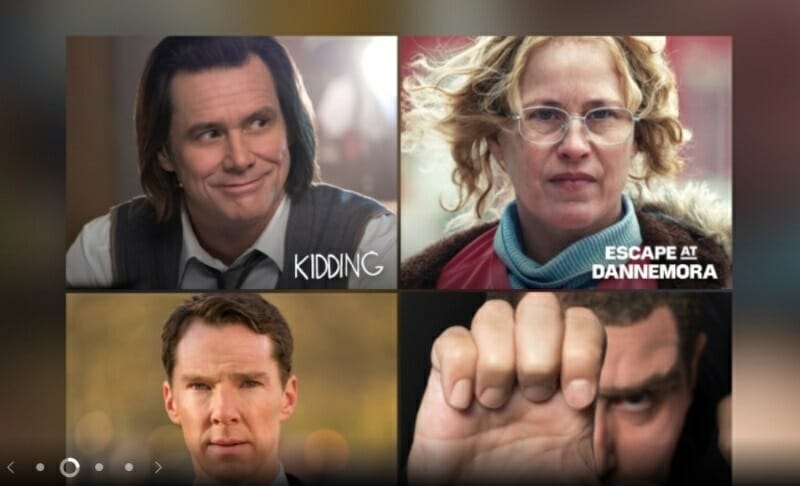 If you download the Showtime app through Showtime, you get a free 30-day trial on the app. After that, it's $10.99 per month, but you can cancel any time. If you want to stream the fight directly through its main source, this is the way to do it.
---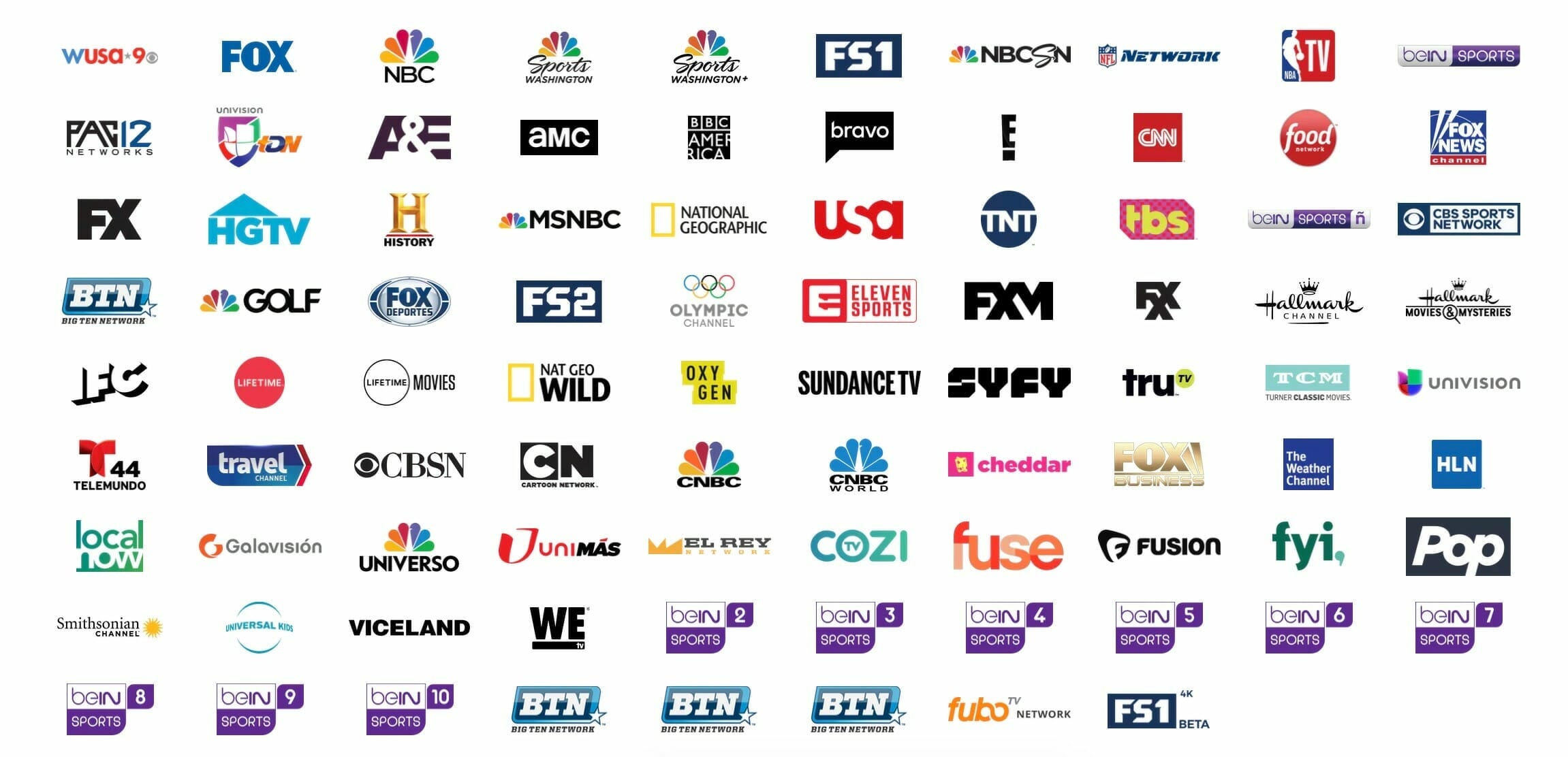 Cost:

$10.99 per month for Showtime | Cost: $44.99 for your first month and $54.99 per month thereafter for FuboTV

Devices:

Roku, Apple TV, Amazon Fire, Android TV, iOS and Android devices
If you're an international sports fan, FuboTV has become one of your best options, and it continues to get even better throughout time, especially if you love global soccer. It's got some of the best local TV coverage of any online streaming service, and now that you can watch Showtime, it's become a good place to watch movies as well. Here's the complete FuboTV channels list.
---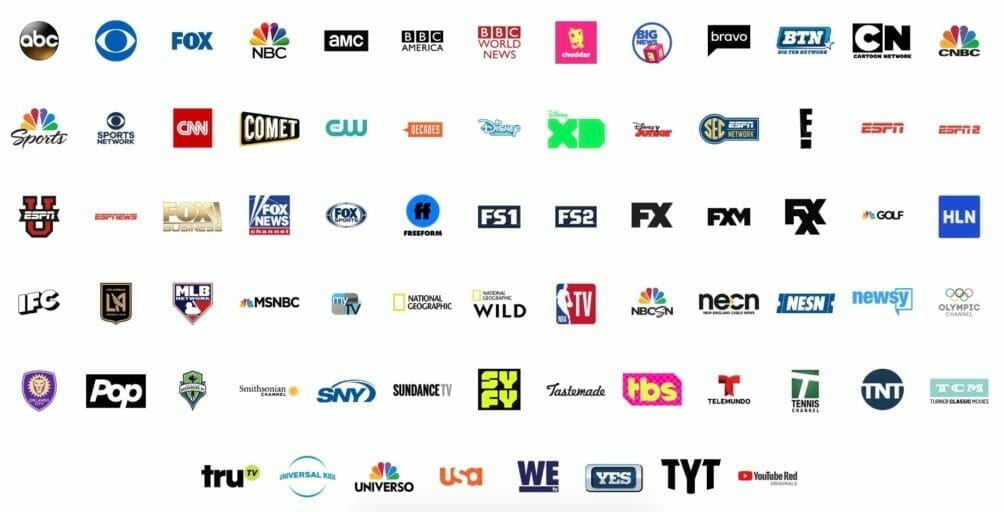 YouTube TV might be the best streaming deal you haven't yet considered. The streaming quality is top notch. Multiple viewers can stream on the same account at one time. And perhaps best of all, you get an unlimited cloud DVR. At $7 per month, it's also the cheapest option for watching Showtime in all of streaming.
---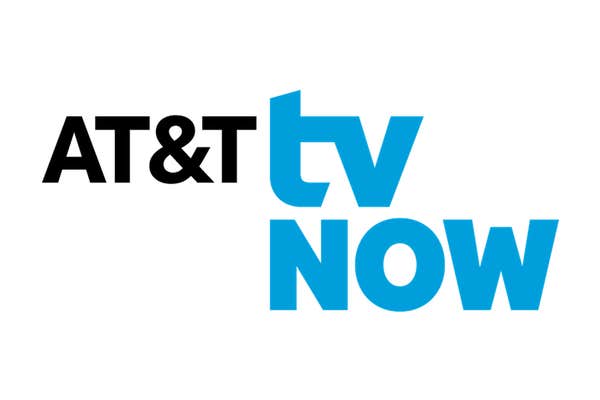 Cost:

$50-$135 per month 

Hulu devices:

Roku, Apple TV, Google Chromecast, Amazon Fire Stick and Fire TV, iOS and Android devices

Local channels:

NBC, CBS, Fox, ABC, the CW (

enter your ZIP code here

to check your availability)
There's a good chance that you're already looking to AT&T for your wireless needs. The second you sign up you'll gain instant access to 45+ channels, including local channels and even free HBO on PLUS and MAX channel suites. Plus, it comes with CloudDVR which lets you record up to 20 hours of TV per month. One account works on two devices, but you can add more devices for only $5.
---
Whyte vs. Chisora: Why it matters
The first time these two met in 2016, it produced one of the best fights of the entire year, as these two heavyweights walloped each other all over the ring and all night long before Whyte won by split decision.
Here's a sampling of what the first fight provided.
https://www.youtube.com/watch?v=aoW3rr3F3WM&feature=push-u-sub&attr_tag=_WhbnSGL0EGrJNbT%3A6
Whyte (24-1, 17 knockouts) said Chisora (29-8-1, 21 KOs) is in even more trouble this time. "Derek will see how strong I am," Whyte said, via Sky Sports. "I'm used to people trying to get into my head. I don't think even Derek himself knows what he is doing. …There will be blood on Saturday night."
Before their first fight, Chisora was so incensed by Whyte that he threw a table at him during the pre-fight press conference.
This time, Chisora said, via Metro: "We don't want to use judges, he has to get knocked out. We have to knock him out, we are coming there with a knockout mentality. We're not going to come to box, we're coming to fight. How I feel right now is war, war, war. I'm going to pound him and pound him and pound him."
This fight is probably more important to Whyte's career. He badly wants another shot at heavyweight champion Anthony Joshua, a fight he lost the first time. A potential rematch vs. Joshua would net Whyte millions of dollar, but a loss to Chisora would badly hurt those chances. Chisora, meanwhile, is a veteran who has never won at the highest levels of the sport, but he's exciting enough that he continues to be a good draw and get good opportunities.
Either way, this should be a fun fight to watch. Whyte is a -350 betting favorite (meaning you'd have to bet $350 on him to win $100), but Chisora certainly could pull off an exciting upset.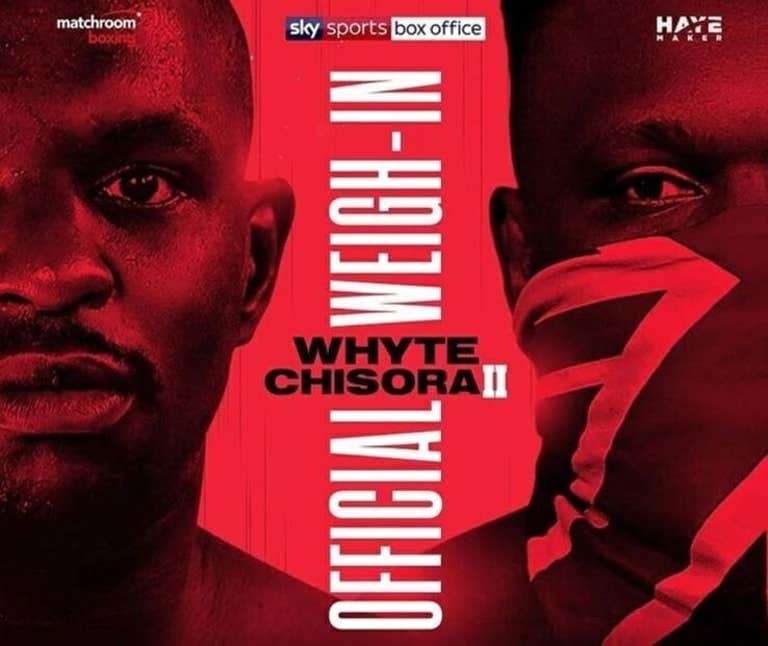 ---
Whyte vs. Chisora live stream schedule
There's a two-hour broadcast window on DirecTV for Whyte vs. Chisora, but Showtime will only be streaming the main event. The rest of that window will be devoted to pre- and post-event coverage. Here's the full fight card for the evening:
Dillian Whyte vs. Derek Chisora, rematch, 12 rounds, heavyweights
Cristofer Rosales vs. Charlie Edwards, 12 rounds, for Rosales' WBC flyweight title
Ryan Walsh vs. Reece Bellotti, 12 rounds, for Walsh's British featherweight title
Joshua Buatsi vs. Renold Quinlan, 10 rounds, light heavyweights
David Price vs. Tom Little, 8 rounds, heavyweights
Linus Udofia vs. Pavol Garaj, 6 rounds, middleweights
Fabio Wardley vs. Phil Williams, 4 rounds, heavyweights
New to cord-cutting? Here are our picks for the best movie streaming sites of 2018 and free live TV apps and channels. If you're looking for a specific channel, here's how to watch HBO, Showtime, Starz, Sundance TV, ESPN, ESPN2, ESPN3, ESPNU, AMC, FX, Fox News, Freeform, MSNBC, CNN, CNBC, FS1, TBS, TNT, Golf Channel, Syfy, HGTV, Cartoon Network/Adult Swim, Bravo, Lifetime, Discovery, PBS, the CW, BBC, CSPAN, NBA TV, MTV, Comedy Central, Food Network, TLC, HLN, A&E, Animal Planet, National Geographic, the Weather Channel, the History Channel, and NFL RedZone without cable, as well as free movies on YouTube. If you're on the move, here's how to watch Fox Sports Go and live stream NBC Sports.
The Daily Dot may receive a payment in connection with purchases of products or services featured in this article. Click here to learn more.