This year's most competitive, heart-pumping, gut-wrenching, culture-defining, and fuzziest sports event is happening this weekend. The 2019 Puppy Bowl will pit the cutest doggos against each other in an ultimately futile game of football. If you're picturing something unbearably adorable in your head right now, just know the real thing is 10 times more precious. Super Bowl, Schmuper Bowl.
The Puppy Bowl celebrates its 15th year running, and this year's competition will be the biggest one yet. Team Ruff will butt heads with Team Fluff, in a battle for the "Lombarky" Trophy at Geico Stadium. And as if the whole event couldn't be more heart-rendering, each puppy playing is looking to be adopted. In past years, 100 percent of athletes have found loving homes.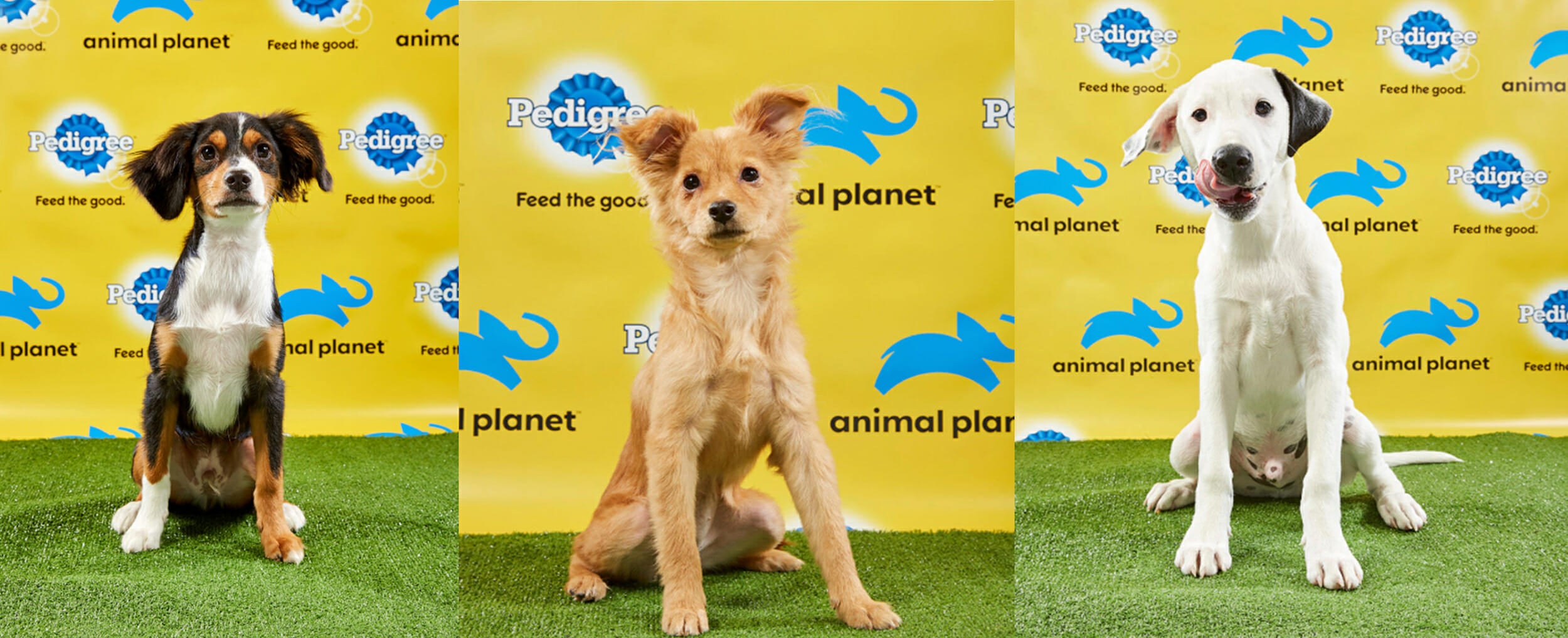 Puppy Bowl 2019 starting line-up
The starting lineup of Puppy Bowl XV is a diverse mix across different breeds. Here are a few of the standouts and their stats
Team Fluff
Ace/Chihuahua/Cocker Spaniel/19 weeks
Astro/Labrador Retriever/Siberian Husky/16 weeks
Dawn/Beagle/Dachshund/16 weeks
Team Ruff
Alexander/Great Pyrenees/17 Weeks
Bee/Chihuahua/Pekingese/14 weeks
Bella/Shih Tzu/Chihuahua/24 weeks
When is the Puppy Bowl?
Puppy Bowl XV takes place 3pm EST on Sunday, Feb. 3. It's ahead of the big game, so you can tune in before you watch the Super Bowl.
What channel is the Puppy Bowl on?
The 2019 Puppy Bowl will air on the Animal Planet, which you can watch using any of the live TV streaming services below.
How to watch the 2019 Puppy Bowl online for free
Each of the services below offers a one week trial, allowing you to watch the Puppy Bowl online for free. We've included all the details you'll need to know to figure out which service will work best for you.
Philo is the least expensive streaming service, but it has some limitations. You won't find the sports channels that dominate other packages or local channels you'd need to actually watch the Super Bowl online. But you will find the most important sports event of the year: the Puppy Bowl on Animal Planet. You will also find the best deal on popular channels like AMC, IFC, Lifetime, and even deep cuts like IFC and ID. You also get free cloud DVR, but shows recorded are deleted after 30 days, so binge responsibly.
---

Cost: $40 per month (after a 7-day free trial)
Hulu devices: Roku, Apple TV, Google Chromecast, Amazon Fire Stick and Fire TV, Xbox One, Xbox 360, Nintendo Switch, and iOS and Android devices
Local channels: ABC, CBS, Fox, NBC, the CW (check your local availability here)
Hulu with Live TV not only gives you access to on-demand content, but you'll also be able to stream live TV, including local networks. This is a good option for those looking to stream the Puppy Bowl and Super Bowl. You get tons of on-demand movies, classic programs, and of course, original series available exclusively on Hulu. You'll also get access to almost 60 channels, including Lifetime, ESPN, USA, Animal Planet, and plenty more. (Here's the complete list of Hulu Live TV channels.)
READ MORE:

---
While you don't need a PlayStation console to use Sony's PlayStation Vue streaming service, it certainly wouldn't hurt. It looks fantastic on a PS4 and lets you jump from gaming to streaming on one device. One subscription lets you stream on up to five devices, all with unlimited cloud DVR storage. (Here are all of PlayStation Vue channels.)
---
DirecTV Now is DirecTV's answer to online streaming. If you simply must have the most channels, DirecTV Now offers upwards of 125 of them in its most expensive package. Of course, its basic $40-a-month Live a Little plan will get you access to Bravo, where you can get your fix of the Puppy Bowl. (You can find the full list of DirecTV Now channels here.)
---
How to watch more Puppy Bowl games
One bout between puppies may not be enough. If you're looking to watch more Puppy Bowl action, here are a couple of options.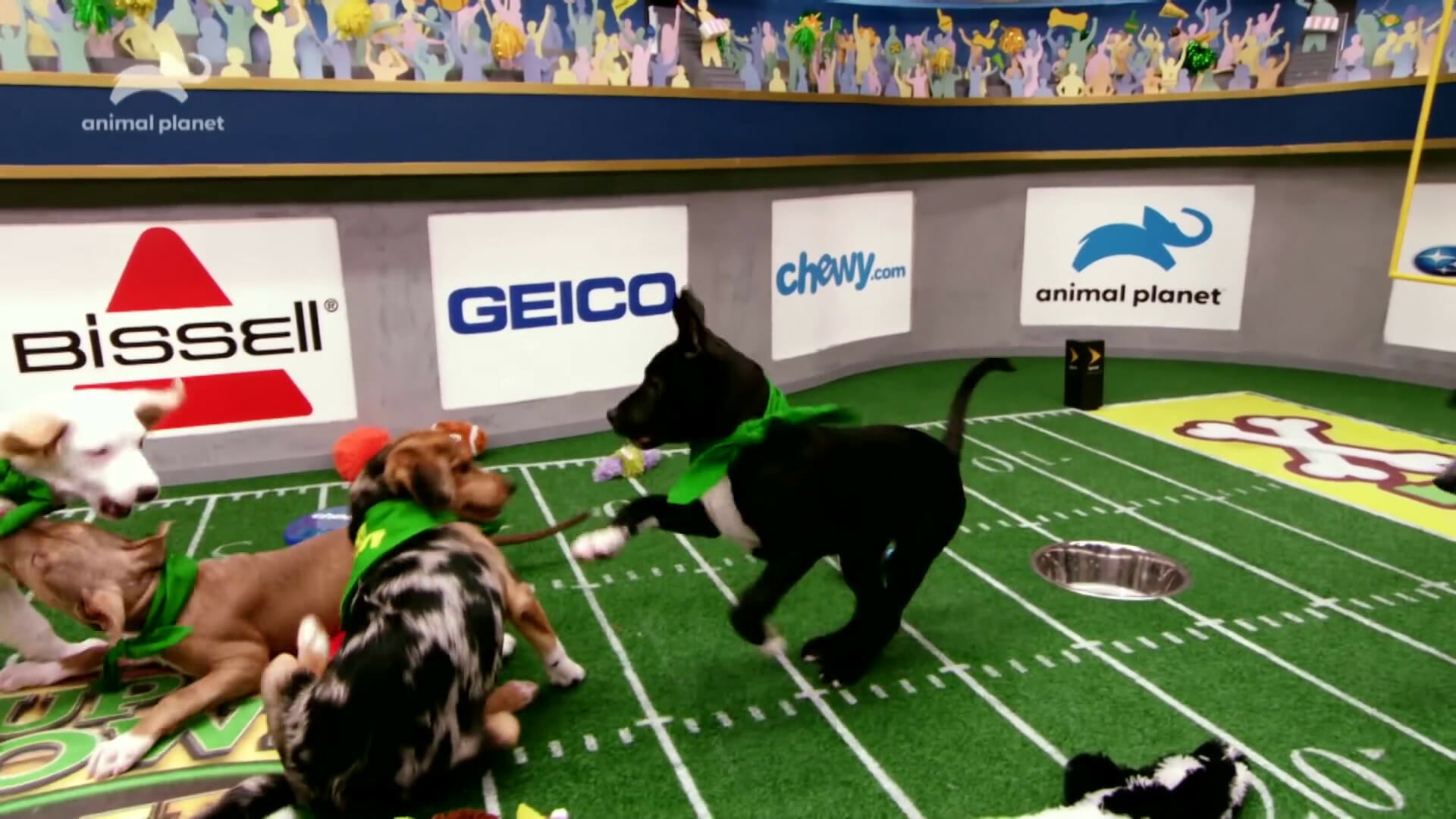 Cost: $2.99/game
Devices: Amazon Fire Stick, Fire TV, Fire tablets, and Fire phone; Roku, Google TV, TiVo, Nvidia Shield, PlayStation 3 and 4, Xbox One, Nintendo Wii
You can watch past Puppy Bowl games on your TV, tablet, phone, or computer with Amazon Video. Individual games cost the standard $2.99 each.
---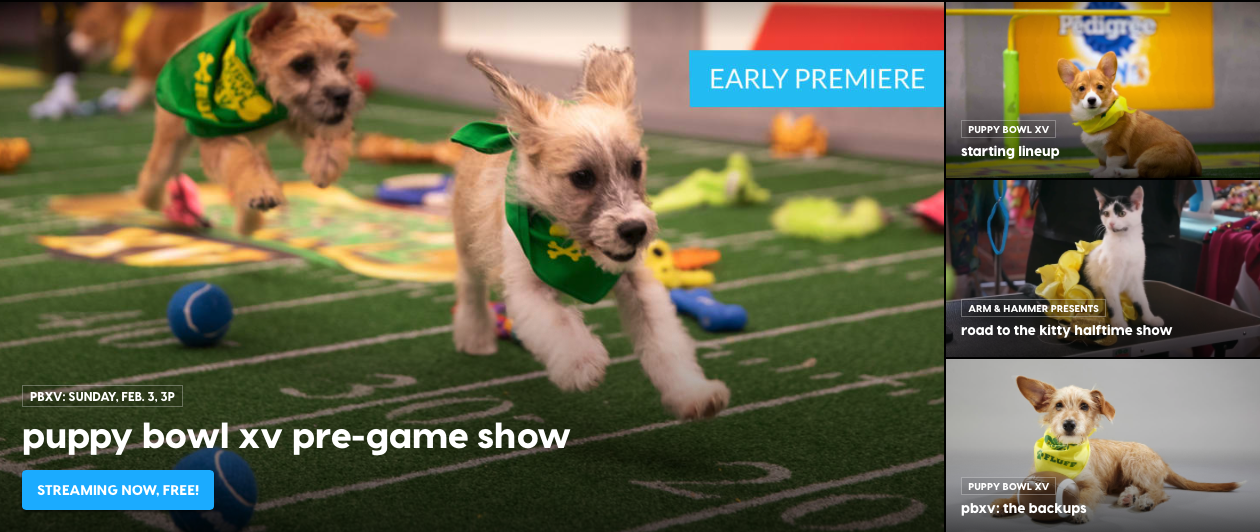 Like any great sporting event, there are tons of great hype and commentary for the upcoming Puppy Bowl on the Animal Planet website.
New to cord-cutting? Here are our picks for the best movie streaming sites of 2018 and free live TV apps and channels. If you're looking for a specific channel, here's how to watch HBO, Showtime, Starz, Sundance TV, ESPN, ESPN2, ESPN3, ESPNU, Willow, AMC, FX, Fox News, Freeform, MSNBC, CNN, CNBC, FS1, TBS, TNT, Tennis Channel, Golf Channel, Syfy, HGTV, Cartoon Network/Adult Swim, Bravo, Lifetime, Discovery, PBS, the CW, BBC, CSPAN, NBA TV, MTV, Comedy Central, Food Network, TLC, HLN, A&E, Animal Planet, National Geographic, the Weather Channel, the History Channel, and NFL RedZone without cable, as well as free movies on YouTube. If you're on the move, here's how to watch Fox Sports Go and live stream NBC Sports.
The Daily Dot may receive a payment in connection with purchases of products or services featured in this article. Click here to learn more.