Alex Garland's last project, the brilliant sci-fi/horror movie Annihilation, was hard to discuss in simple terms. Hulu decided to compound this problem for critics reviewing his new miniseries Devs by implementing such an extensive list of forbidden spoilers that we can't really explain what it's about. On the surface, it's an 8-episode drama set in Silicon Valley, following a tech worker called Lily Chan (Sonoya Mizuno) whose boyfriend goes missing while working for the quantum computing company Amaya. It's "about" this in the same sense that Annihilation is "about" an alien incursion, which is to say: technically that's the plot. Thematically, Devs is concerned with grief, surveillance, and the way world-changing technological advances are shaped by the messy human emotions of their creators.
Devs

RELEASE DATE:
March 5, 2020
CREATOR:
Alex Garland
STREAMING:
FX/Hulu
'Annihilation' and 'Ex Machina' director Alex Garland returns with another original sci-fi thriller, this time set in the heart of Silicon Valley. Sonoya Mizuno stars as a computer engineer searching for her missing boyfriend, a mystery with disturbing and far-reaching consequences.
Devs expands on themes from Garland's recent sci-fi movies, with key roles for some recurring collaborators: Sonoya Mizuno, cinematographer Rob Hardy, production designer Mark Digby, and composers Geoff Barrow and Ben Salisbury (who share their Devs credit with The Insects.) At this point, Barrow and Salisbury's vibrant, occasionally nauseating music is as important to Garland's brand as John Williams is to Star Wars, blasting us with a score that ranges from jazzy flourishes to choral hymns to ominous orchestral thrums. Combine that with dreamlike visuals and a giant statue of a toddler, and the show is as stylish as you'd hope. It doesn't quite hold up to the gut-clenching intensity of Garland's feature films, but this isn't the first time a filmmaker had teething problems when making the jump to episodic drama. While Devs is more intellectually ambitious than the bulk of prestige sci-fi TV, I still kind of felt like it didn't go far enough.
---
Devs (Hulu) | Our Spoiler-Free Review:
---
Central to Devs' mystery is a machine. It's represented onscreen as a looming mothership of golden circuits and blinking lights, a helpful visual for the show's philosophical conceit—which, of course, I can't fully discuss. This machine is the brainchild of Amaya's CEO, Forest (Nick Offerman), a familiar figure for a Silicon Valley drama: rich and secretive, with occasional flashes of cultish ruthlessness. Amaya is prosperous enough that he can focus his attention on "Devs," the company nickname for his top-secret development department, managed by an unnerving physicist called Katie (Alison Pill). Her team's research involves data-gathering and predictive modeling, technology that impacts our lives to a frightening degree but is still kind of a hard sell for a TV drama.
Alongside Vienna Teng's "The Hymn of Acxiom," Devs is the only media I've seen that successfully illustrates the disturbing, godlike power of tech companies knowing everything about your life. (CBS's underrated Person of Interest came close in a more mainstream, Bourne Identity kind of way.) Religious awe is a useful way to view this topic, which is why the Devs building resembles a temple, with its gleaming machine as a towering reliquary inside. In "The Hymn of Acxiom," Vienna Teng combined the language of worship with the alarming Big Brother ramifications of data-gathering: "Someone is gathering every crumb you drop/these mindless decisions and moments you long forgot." God sees all, and so does Google. The more tech companies spy on our lives, the more they can predict about our future choices, both personally and as a society. That's the horror story at the core of Devs, foreshadowed by Annihilation's monsters echoing images generated by a neural network. Those entities were trying to replicate Earth's ecosystem, but they hadn't gathered enough information to get it right.
This makes Devs sound more abstract than what it actually is: a corporate espionage thriller with an engaging hero and a killer soundtrack. Sonoya Mizuno isn't a household name (yet! yet!) but in her limited résumé, she's already shown impressive range, almost unrecognizable between roles: an impassive android in Ex Machina, a dorky scientist in Netflix's surreal sci-fi comedy Maniac, and a charismatic socialite in Crazy Rich Asians. Here she's playing an unassuming young woman who lives the definition of a quiet life, clad in the same featureless loungewear as everyone else in her circle of tech employees. But like so many great thriller protagonists, her steely resolve shines through once she's pushed to extremes. When Lily's boyfriend goes missing, she kicks off her own investigation, running straight into the brick wall of Amaya's private security.
Deceptively friendly when he's sitting behind a desk at Amaya's minimalist campus, security chief Kenton (Zach Grenier) is the kind of stone-cold attack dog that big corporations hire to protect their interests. So here we have a classic set-up: a powerful business with an expensive secret, bearing down on an underdog hero. But with the exception of Kenton's straightforward, sneering brutality, the show avoids using stock characters. Forest is particularly unexpected, both because Nick Offerman is so distinctive and because we have certain expectations for a probably-malevolent tech CEO. Instead of going full supervillain, Forest is downbeat and thoughtful. The point is that he's a normal guy with normal trauma, whose colossal wealth allows him to warp the world around him. It's an interesting choice for the usually-comedic Offerman, but the show might actually have benefited from making Forest weirder and more dynamic.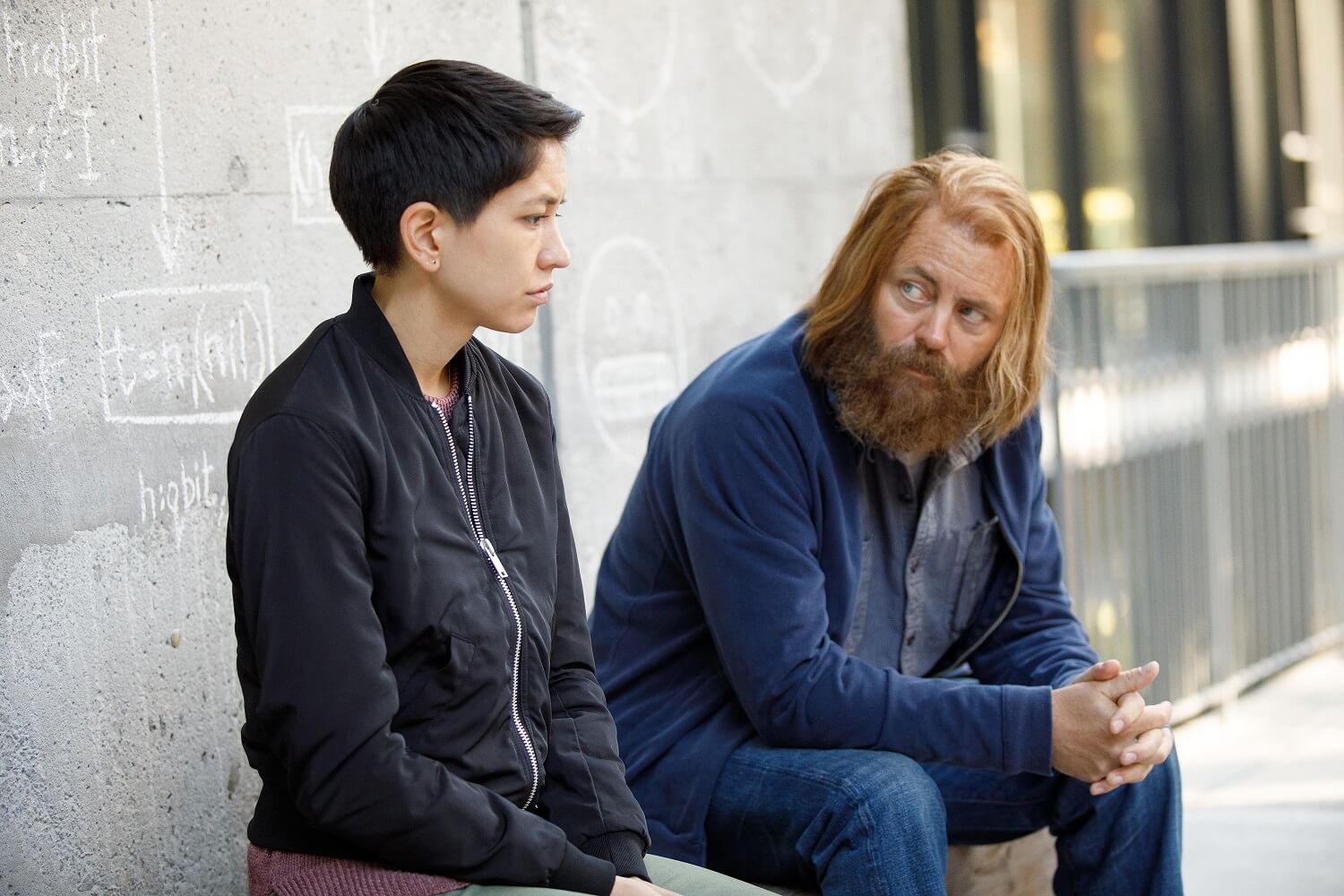 Then there's Forest's sidekick Katie, who initially feels like a background player, but becomes one of the most compelling characters. Alison Pill (who currently stars as an AI specialist on Star Trek: Picard) plays her as a restrained, subtly unpleasant figure, avoiding the usual mad scientist stereotypes. She and Forest lead a team of offbeat geniuses including Stephen McKinley Henderson and Pacific Rim: Uprising star Cailee Spaeny, an entertaining duo marred by the bafflingly tone-deaf choice to cast a cisgender actress (Spaeny) as a trans man.
There's a surprising amount of overlap between Devs and the masterful second season of The OA: Its Silicon Valley setting, its acknowledgment of homelessness (a rarity on American TV), its deeper philosophical conceits, and even coincidental details like casting British actress Liz Carr in a similar expository role. Fortunately, it doesn't feel like a rehash, because while Devs and The OA cover some of the same territory, they travel in opposite directions. The OA has a New Age sensibility, with a more fantastical tone and a hopeful message about people overcoming trauma by embracing emotional vulnerability and working together. Both stories are tense and character-driven, but "hopeful" really isn't a word you'd use to describe Alex Garland's work. Occasionally funny, sure. Beautiful in a shiver-down-your-spine kind of way, yes. But optimistic? Not so much.
Running at a well-paced 45-50 minutes per episode, Devs keeps a conventional thriller storyline ticking along while gradually sinking into weirder and more enigmatic ideas. While some people won't be excited to watch quantum physicists discuss determinism while standing in front of glowing lightbox walls, I for one was into it. Plenty of shows offer accomplished style or gripping drama or an original, politically relevant concept, but you rarely get to have all three at once.
Daily Dot Hulu Guides
---
Daily Dot Best Hulu Movies
---
Daily Dot Best Hulu Shows
---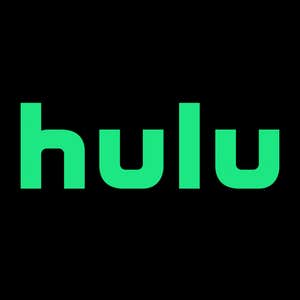 | | |
| --- | --- |
| Hulu with ads | $5.99/mo. or $59.99/yr. |
| Hulu with no ads | $11.99 |
| Hulu Live TV + Hulu with ads | $64.99 |
| Hulu Live TV + Hulu no ads | $70.99 |
---
The Daily Dot may receive a payment in connection with purchases of products or services featured in this article. Click here to learn more.