Starring Emma Stone and Jonah Hill, directed by True Detective's Cary Joji Fukanaga, Maniac is a quintessential Peak TV product. With its high-concept dream sequences and accomplished visual style, it's a magnet for adjectives like "weird" and "trippy." But amid all the musical numbers and surreal dives into the subconscious mind, it's surprising how familiar this all feels.
Following Stranger Things, The OA, Sense8, and The Innocents, this is actually the fifth Netflix drama where people connect while battling mind-bending experiments from a creepy, patriarchal scientist. Maniac is more comedic than the others, falling more in line with FX's Legion—another hallucinatory show whose characters meet during group therapy. In this case Annie (Emma Stone) and Owen (Jonah Hill) both volunteer for a clinical trial that sends them into Inception-like dream universes, designed to help them untangle their deepest traumas.
Annie is self-destructive and weighed down by private grief, while Owen is the black sheep of a wealthy family, diagnosed with schizophrenia and bullied by his overbearing father and brother. Their relatives and fellow test-subjects reappear in new forms throughout their dreams, which are mostly framed as genre parodies: a Lord of the Rings pastiche, a gangster drama, a 1940s heist. Stone is noticeably better suited to the material, leaning into the wackiness of her surroundings. I found it rather harder to swallow Hill as a suave confidence trickster.
Both characters struggle with inner demons, but while Owen's real life is downbeat and depressing, Stone's frenetic meanness packs more of a punch. She's the kind of actor who can literally chew gum and make it look interesting. This carries over into their dream lives, where Hill often retains Owen's inherent sad-sackness, but Stone revels in her new role a vampy femme fatale or an alcoholic elf. Maniac is at its best when it's being silly, and Hill spends too much time in indie drama mode.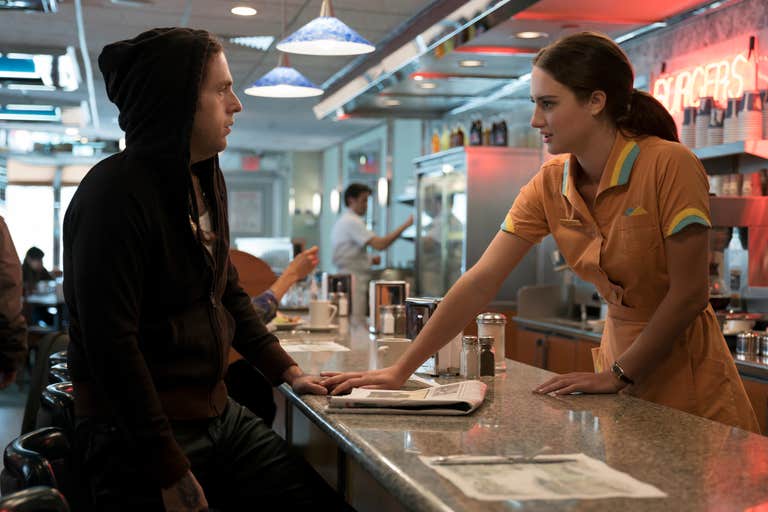 There's plenty to love about Maniac, but its more serious moments prevent it from being truly great. Annie and Owen's emotional problems are too predictable, providing a framework for the dream sequences without being as enjoyable to watch. We know they'll eventually resolve their IRL issues; what we don't know is how Elvish Emma Stone will escape the evil queen (or whatever). This may explain why the scientist characters are more consistently entertaining: we're not expected to take them seriously.
While Owen and Annie explore their subconscious lives, they're observed by a group of scientists outside. Dr. Mantleray (Justin Theroux) is their amusingly sleazy and petulant leader, with Dr. Fujita (Sonoya Mizuno) as his more academically respectable partner. Rather than being scary, controlling figures like their counterparts in Sense8 or The OA, they're as goofy and messed-up as their patients. I particularly enjoyed how the show downplays the actors' attractiveness in that regard. We're used to Theroux being hunky in The Leftovers, and Mizumo is probably best known for playing the beautiful android prototype in Ex Machina, but Maniac hides her behind huge glasses and nerdy mannerisms, while Theroux is a twitchy buffoon with a toupee and a masturbation addiction. Going into this show, I wasn't surprised to love Stone and feel indifferent toward Hill, but Theroux and Mizuno were an unexpected gift—along with Sally Field, whose main (hilarious) role arrives later in the serious.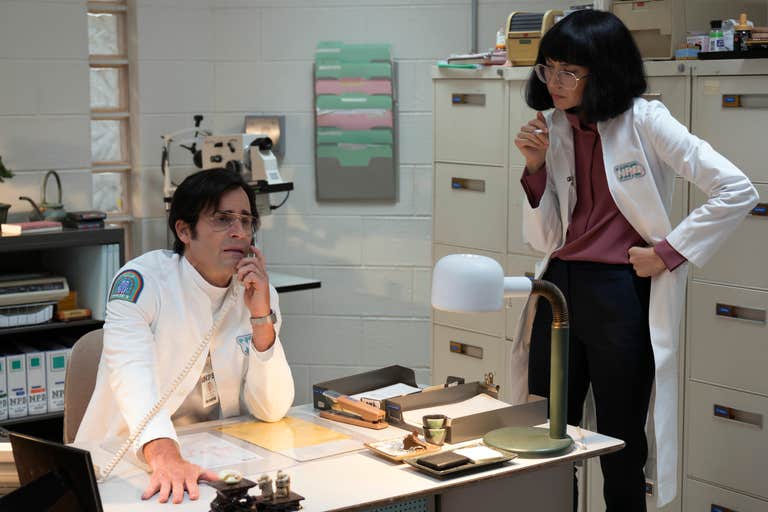 Looking back over my favorite moments from Maniac, I'm not struck by any deep insights into the human condition, but by the show's comic details and clever visual worldbuilding. Mostly unmoved by Annie and Owen's sincere emotional issues, I did burst out laughing when the show introduced Hill's crime drama love interest: a starry-eyed waitress who abandoned a modeling career due to "chronic hypothermia," parodying the godawful female leads in films like Baby Driver. 
It's unfortunate that Maniac's deeper moments don't quite measure up to its comedic scenes because this is exactly the kind of balance I'd like to see more often in so-called prestige TV. Maniac aims to tell a story about mental illness and fractured family relationships, but it also embraces humor and ridiculousness over lofty, self-serious dialogue. Fukanaga (who, incidentally, turned the show around on a surprisingly tight budget) avoids the tiresome "10-hour movie" catchphrase of many movie/TV crossover directors, resulting in a show with short, serialized episodes. The whole thing wraps up in one standalone season, with no intentionally unexplained mysteries. In short, a collection of highly desirable attributes that put Maniac several steps above the style-over-substance success of Legion, without being quite substantial enough to achieve its full potential.
Still not sure what to watch tonight? Here are our guides for the absolute best movies on Netflix, must-see Netflix original series, documentaries, docuseries, and movies.
Need more ideas? Here are our Netflix guides for the best war movies, documentaries, anime, indie flicks, true crime, food shows, LGBT movies, gangster movies, Westerns, film noir, and movies based on true stories streaming right now. There are also sad movies guaranteed to make you cry, weird movies to melt your brain, old movies when you need something classic, and standup specials when you really need to laugh. Or check out Flixable, a search engine for Netflix.