The Haunting of Hill House team returns with another spine-chilling show about ghosts and grief, this time based on the classic 19th-century horror novella The Turn of the Screw. Differing from previous adaptations, this version takes place in the 1980s and stars a more diverse cast, making some drastic changes to the plot—a choice that fleshes the story out to nine episodes, with plenty of juicy material for every character. A gripping blend of human drama and bloodcurdling supernatural horror.
The Haunting of Bly Manor
RELEASE DATE:
Oct. 9, 2020
CREATOR:
Mike Flanagan
STREAMING:
Netflix
Starring several actors from 'The Haunting of Hill House,' this new limited series is a 1980s retelling of the Victorian gothic horror story 'The Turn of the Screw.' A spine-chilling show with equal skill for bloodcurdling jump scares and sensitive drama.
Like so many gothic horror stories, we begin with an optimistic young woman getting a new job at a country house. The Haunting of Bly Manor swaps The Turn of the Screw's English governess for a perky American nanny named Dani (Hill House's Victoria Pedretti), moving to the luxurious Bly estate. There she will care for the two Wingrave children, Flora (Amelie Bea Smith) and Miles (Benjamin Evan Ainsworth), whose parents died a couple of years ago. Their uncle Henry Wingrave (Hill House's Henry Thomas, with a convincingly plummy upper-class accent) is unwilling or unable to raise the kids himself, leaving them with the house's staff: housekeeper Hannah Grose (T'Nia Miller), cook Owen (Rahul Kohli) and gardener Jamie (Amelia Eve). They're lovely people who do their best to make Flora and Miles happy, but as we'll soon discover, they're trapped in a nightmarish situation.
Showrunner Mike Flanagan is fast becoming one of the biggest names in American horror filmmaking, directing (among others) Hush, Oculus, and the two Stephen King adaptations Gerald's Game and Doctor Sleep. Having seen a few of his movies, I think he's actually better with the long format of TV—a rare talent in a genre that usually works better in short, shocking bursts. With Hill House, Flanagan and his collaborators developed a deeply upsetting tale of family trauma, offering supernatural dread alongside screaming breakdowns about grief, addiction, and mental illness. Bly Manor doesn't pack quite as much of a punch, but it's still an excellent show with a couple of notable exceptions: An unnecessary voiceover that keeps interrupting the tension, and a totally pointless bottle episode (you'll know it when you see it) that I would happily have reduced to a five-minute montage.
Like Hill House, Bly Manor's haunted nature is something like a swamp, sucking people in and drowning them by increments. The ghosts are just as trapped as the living, and the more time a person spends on the Bly estate, the more detached they become from time, space, and reality. The house's adult inhabitants aren't aware of their predicament when Dani first arrives, but the children very clearly are.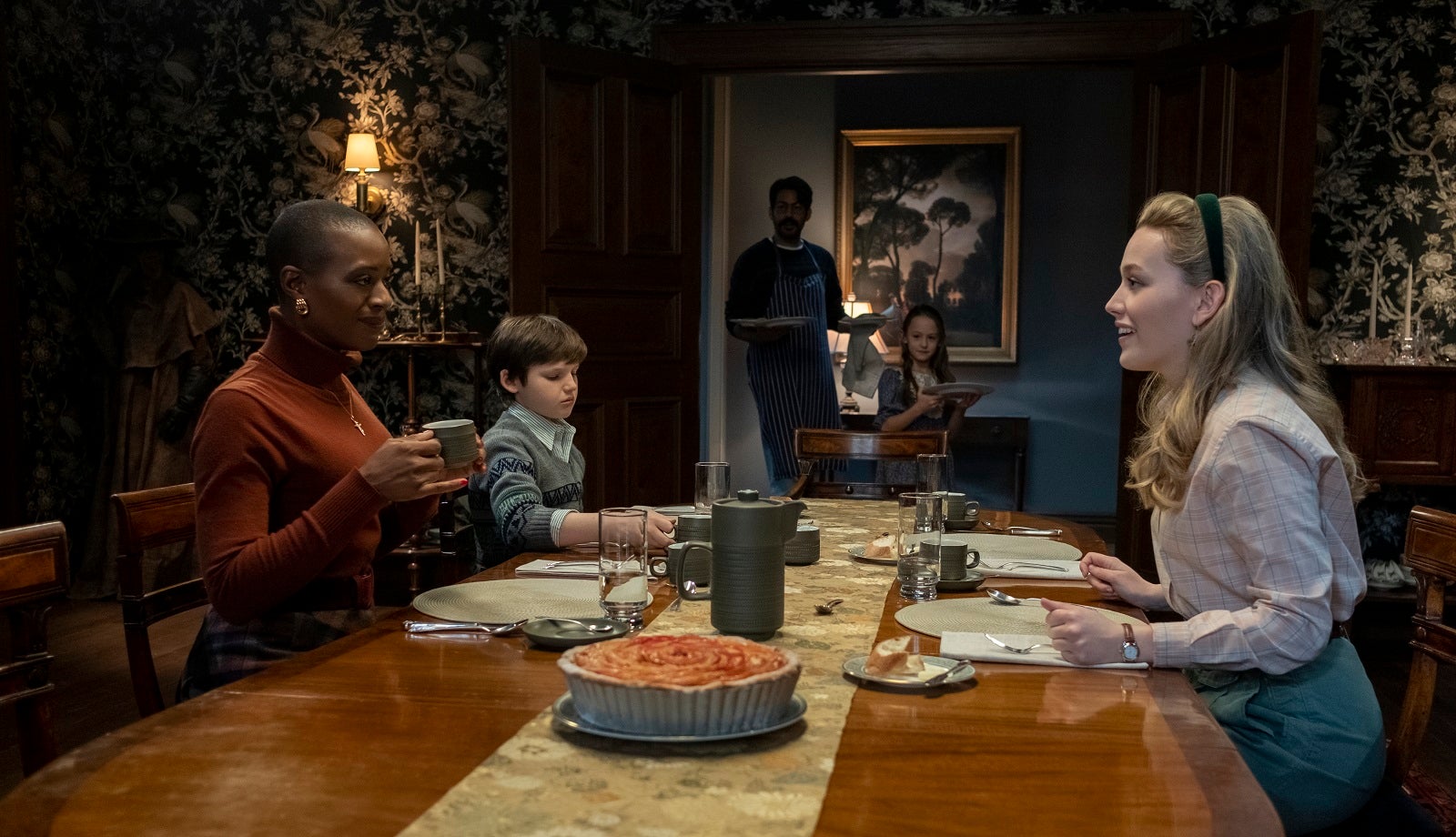 The two child actors give engagingly weird performances as a pair of kids who are simultaneously creepy, traumatized, and clearly rooted in the British upper classes - a background that adds to the timelessness of the story. The costume choices (and Dani's role as the American interloper) are unmistakably 1980s, but life in an English country manor hasn't changed much in the past 150 years.
With Miles we have a boy who sometimes acts like a polite young gentleman, and other times seems like a total monster: a familiar combination for pupils of aristocratic English boarding schools. And with Flora we have a sweet-natured girl who talks in the affected tones of a 1930s children's novel, pronouncing everything to be "perfectly splendid" with brittle optimism. She's the owner of a detailed dolls' house replica of Bly Manor, a toy that the adults naturally fail to realize is important. "Oh, the adorable child is playing with ghoulish homemade dolls that keep materializing unexpectedly around the house? Just part of the grieving process, I guess!" Well, it wouldn't be a ghost story if you weren't occasionally yelling at the characters to stop acting like idiots.
While Hill House kept its main characters amped up into a constant state of conflict, Bly Manor's cast are friendly and upbeat; a refreshing choice for this kind of horror story. They're all beset by personal traumas that gradually emerge over the course of the series, but at their heart they're a family who just want to protect each other. Mrs Grose the housekeeper, resplendant in a series of jewel-tone skirts and turtlenecks, displays an odd combination of dignified formality and peculiar absent-mindedness. Owen the cook is a jovial purveyor of dad jokes and twinkly-eyed charm, while Dani makes for an immensely sympathetic protagonist, haunted by terrors of her own. Victoria Pedretti has been wonderful in everything I've seen her in, here playing a more fleshed-out version of a familiar horror archetype: a lovable ingenue who displays impressive survival instincts under pressure.
Without going into spoilers, I think I can briefly mention our one human antagonist, Peter Quint. Echoing his role in The Invisible Man, Oliver Jackson-Cohen (another Hill House alum) exudes menace and dangerous sex appeal as a former employee of the Wingrave family; a compelling performance that's only somewhat undercut by his dubious Scottish accent.
Mike Flanagan loves to use classic ghost story tropes as direct metaphors for grief and trauma, forcing characters to repeatedly revisit the horrors of the past. Trauma can also pollute a physical location, and create feedback loops in people's memories. The magic of Bly Manor and Hill House is that while Flanagan makes these ideas very obvious, he also discourages us from finding logical explanations for everything we see. We can easily digest the concept of a ghost lurking round a darkened corner, and Bly Manor delivers this kind of jump scare to great effect. But it's also an immersively unsettling environment, dropping in surreal little details whose purpose only becomes clear several episodes later. The sumptuous production design and smart costuming play an essential role, overshadowing several other big-budget Netflix productions that placed style over substance.
While Bly Manor isn't as hard-hitting as its predecessor, it's still a moving and consistently terrifying example of the haunted house genre. It's also a welcome change to see this kind of Victorian gothic drama revamped with queer characters and people of color in the foreground. A lot of the general ideas are a little corny (spooky kids; haunted dolls; ghostly ladies emerging from misty lakes), but with such a strong cast and well-drawn characters, is corniness really a problem? The Haunting of Bly Manor deserves to be a hit with the Halloween horror crowd - best viewed over the course of several days, because it's surely too scary to watch all in one go.
The Haunting of Bly Manor arrives on Netflix on Oct. 9.
---
Daily Dot Netflix Guides
---
Best Movies on Netflix
---
Best Shows on Netflix
---
---