Superstar showrunner Ryan Murphy moves to Netflix with The Politician, a dramedy co-created with longtime collaborators Brad Falchuk (Glee, Pose) and Ian Brennan (Glee, Scream Queens). Set in a wealthy Santa Barbara high school, season 1 replaces Glee's cringeworthy sincerity with a healthy dose of cynicism. Ben Platt stars as Payton Hobart, an ambitious teen with long-term plans to become U.S. president. Each eight-episode season will follow a different political campaign in his career, beginning with student elections. It's just as well they're planning to skip forward a few years, because Platt and his "teen" co-stars are clearly in their mid-twenties already.
The Politician
RELEASE DATE:
9/27/2019
CREATORS:
Ryan Murphy, Brad Falchuk, Ian Brennan
STREAMING:
Netflix
The creative team behind 'Glee' delivers a ripping political satire about a teenager running for class president.
The Politician is a Rorschach test for your attitude toward authenticity in American politics. On one hand, Payton often seems genuinely invested in "the issues" and "making a difference," proclaiming a hodgepodge of progressive values. His campaign team is passionately loyal, keen to follow him all the way to the presidency. On the other hand, Elizabeth Holmes inspired similar levels of devotion. So did Charles Manson. Payton himself wonders if he's a sociopath, struggling with whether he's actually a good person or just projecting an image of one. His opponents may want to win a high school election, but Payton's career aspirations go way beyond a normal teen obsession.
As you'd expect from a Murphy show, The Politician is witty, fast-moving, and addictive, with so many plot twists per episode that I truly pity the recappers. While the candidates debate issues like gun control and gender equality, the election is mostly decided by scandal, ranging from love triangles to assassination attempts. One darkly funny subplot involves a young cancer patient (played with comical childishness by Zoey Deutch) being exploited by her manipulative grandmother (Jessica Lange) so they can scam freebies from sympathetic businesses. They're a rare couple of middle-class characters in a world of extreme wealth, highlighting the absurdity of Payton wanting to win on his own merits. He's determined to get into Harvard without resorting to bribes, but it won't escape your notice that Payton is already a privileged white guy. His meritocratic goals are a fantasy.
One of the most intriguing details of The Politician is the presence of Gwyneth Paltrow as Payton's mom, Georgina. She's a fount of sly one-liners and chic outfits, but it's impossible to ignore the simple fact that this is GWYNETH PALTROW. On TV, playing a comedic side character! In recent years, Paltrow has shifted away from acting, filming a handful of Marvel movies while mostly focusing on her lifestyle empire Goop. This unexpected TV comeback has a personal backstory—she's married to co-showrunner Falchuk—but whatever the reason, it's a pleasure to see her engage in such blatant self-parody. Georgina is modeled on Paltrow's own public image: stunningly rich but utterly disconnected from reality. Living in palatial luxury, she's a California hippie princess who at one point tries to cure a dangerous illness with crystals. Who knew Paltrow could be so self-aware?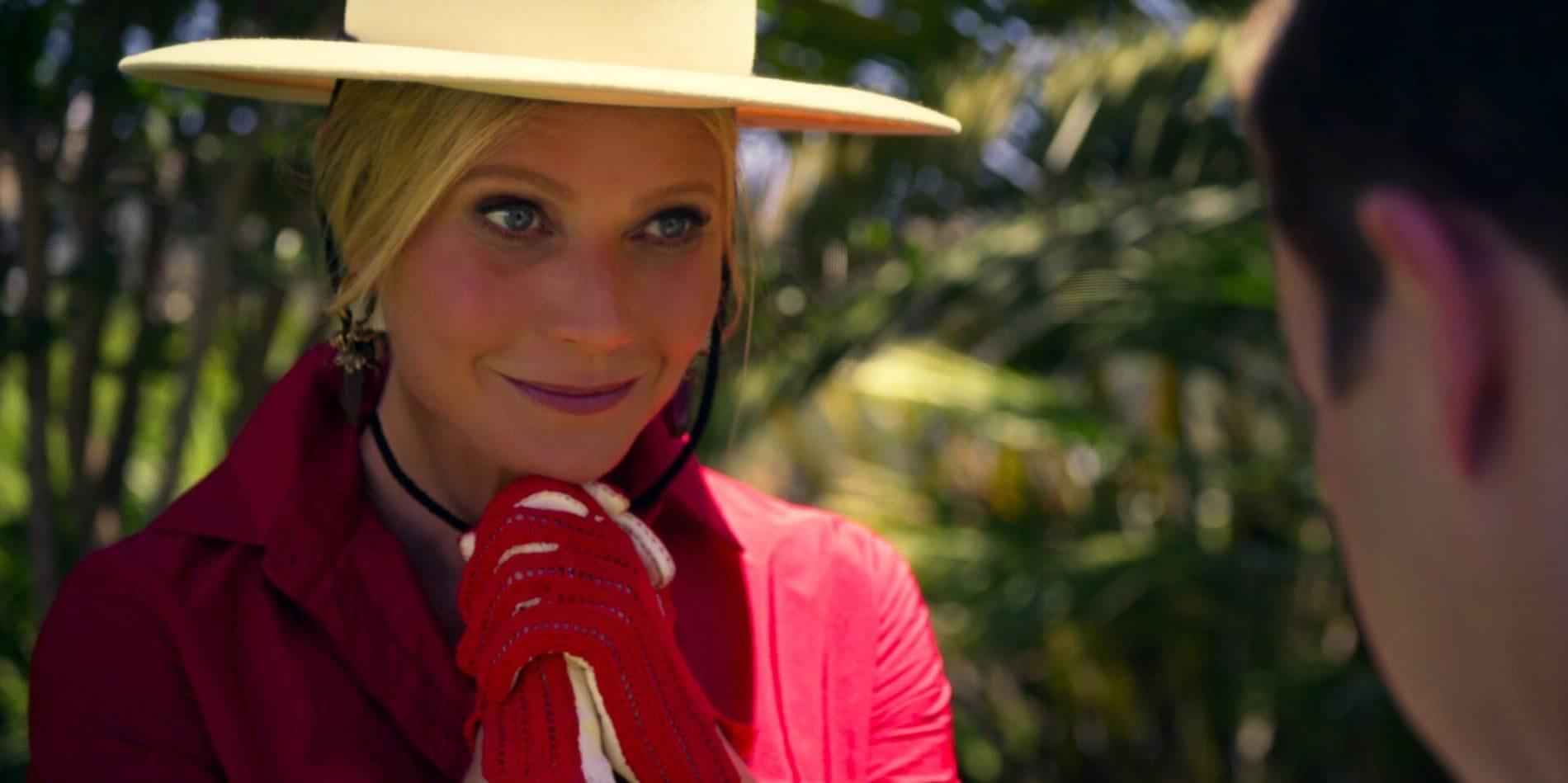 Glee is somewhat infamous for combining diverse casting with potentially stereotypical content, and it's interesting to see this play out in a more intentionally cynical context. Not to mention how much has changed in America since Glee made its perky debut in 2009. For instance, at first I was puzzled by the lack of MAGA kids in Payton's school. Most of the main characters are LGBTQ—Payton himself is infatuated with his charismatic opponent River (David Corenswet)—and the candidates compete to seem as progressive as possible, using identity politics as a weapon. Conservatives and Republicans don't even appear on-screen. While this initially seems like a bizarre oversight for a political satire, The Politician is less about "politics" than it is about the theater of American election campaigns. The main characters' progressive values cater to the show's target audience, but they're not actually relevant to the satire at hand.
Like most teens, Payton explores his identity by copying role models—in this case U.S. presidents, mining their biographies for ideas. By following their educational paths and campaign strategies, he aims to become the ultimate candidate. However, he clearly isn't invested in any particular cause. There's an obvious contrast between Payton (who wants to Do Good as long as it aligns with his career plans) and an opponent like Skye (Rahne Jones), a Black lesbian with a personal investment in changing their school's political makeup. Musical cues and schmaltzy monologues invite us to see Payton as a sympathetic figure, but the overarching narrative portrays him as totally self-serving. He has no interest in grassroots activism or interning for an adult candidate. If he's not leading the campaign, he's not interested.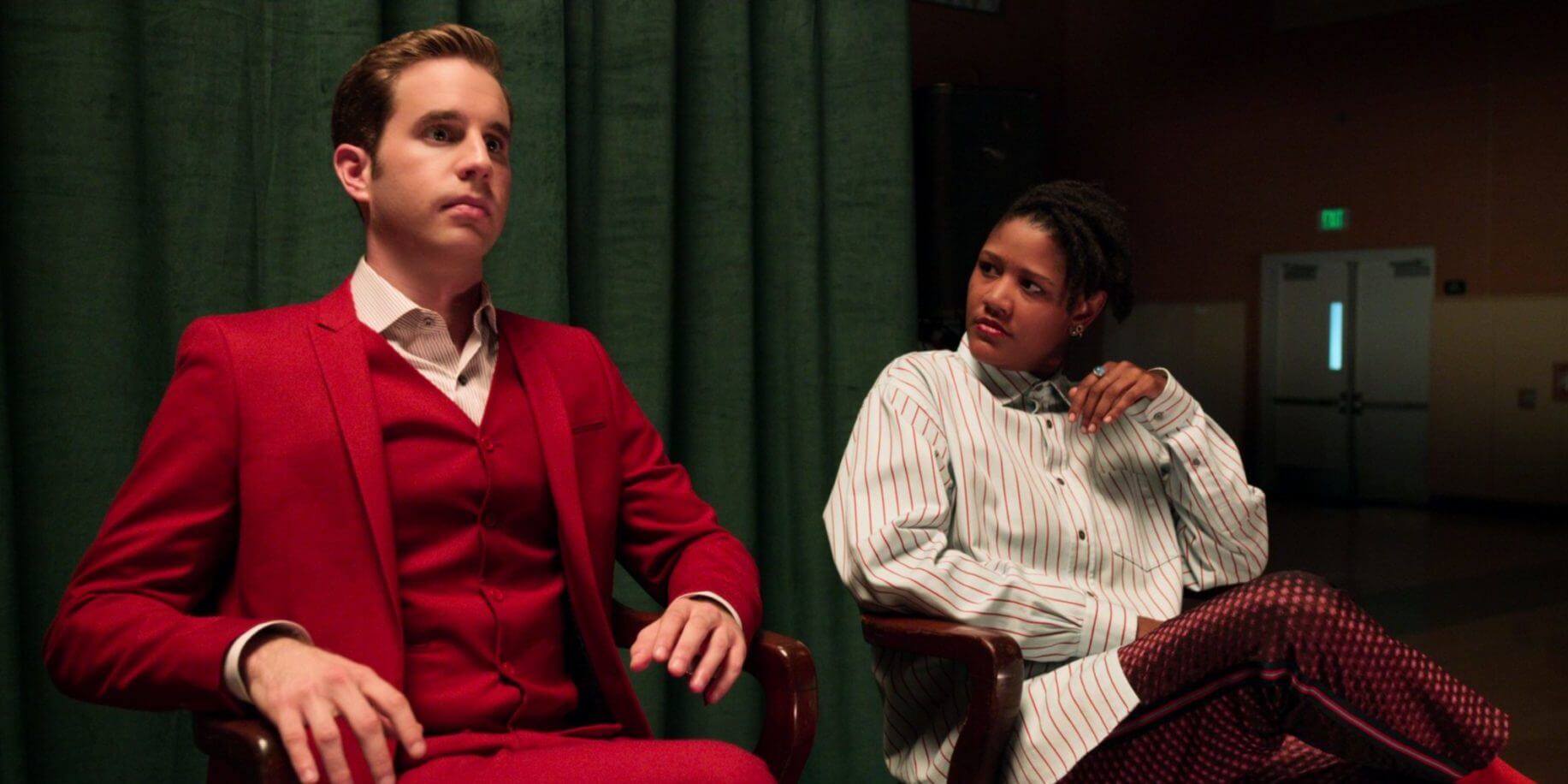 Only egomaniacs run for president, but Payton is neither a Machiavellian villain like the president in House of Cards, nor an inspirational fantasy like the leaders of The West Wing. He's not even very charismatic. Platt gives an intriguingly ambiguous performance as a guy who isn't a clean-cut monster, but whose most intense emotions always center around his own ambition or self-pity.  Yet his friends promise lifelong commitment because they've bought into the cult of American election campaigning. Payton's single-minded drive is attractive in itself, and his team members place themselves in familiar roles: His sidekicks James (Theo Germaine) and McAfee (Laura Dreyfuss) are strategists, while his girlfriend Alice (Julia Schlaepfer) embraces the job of blandly supportive spouse—an underdeveloped character in a cast of big personalities.
As a foreigner, I'm always fascinated by this kind of American political drama. Every country has its own flavor of corruption and horrible leadership, but only America has two-year presidential campaigns. This infrastructure of debate prep and opposition research and full-time punditry is a uniquely American phenomenon, and The Politician uses high school melodrama to illustrate how shallow it all is. Every character accepts without question that this is the only way to run an election, with teenagers aping the professional rituals of opinion polling and crisis management.
I'm curious to see how this evolves in later seasons, because for now, the main characters are all obsessed with following rules that are no longer relevant in real life. Whenever Payton agonizes over some scandal "ruining" his future, it feels absurdly hollow. Minor setbacks can feel like the end of the world when you're 18, but we all know that rich white guys can get away with anything and still win national elections. So while it makes sense for a group of sheltered teens to play-act an idealized version of electoral politics, this attitude can't continue once Payton grows up. It'll seem woefully out of touch for the show to position him as a genuinely inspiring figure—or to keep pretending scandals actually matters—so here's hoping The Politician sticks to its cynical, darkly comedic roots.
Still not sure what to watch tonight? Here are our guides for the absolute best movies on Netflix, must-see Netflix original series, documentaries, docuseries, and movies.
Looking for something more specific? Here are our Netflix guides for the best war movies, documentaries, anime, indie flicks, true crime, food shows, rom-coms, LGBT movies, alien movies, gangster movies, Westerns, film noir, and movies based on true stories streaming right now. There are also sad movies guaranteed to make you cry, weird movies to melt your brain, old movies when you need something classic, and standup specials when you really need to laugh. Or check out Flixable, a search engine for Netflix.