If you're looking for live TV streaming options online, you have no shortage of options: Hulu with Live TV, Sling TV, DirecTV Now, YouTube TV, and FuboTV each offer a variety of channels and packages with their own perks. But if you want to live stream TV for free, there's only one option: Pluto TV.
Pluto TV is a free internet TV service, boasting 26.5 million monthly users and 100,000-plus hours of content, that provides users with the same sort of experience provided to subscribers of paid streaming services like Sling, Fubo, and Hulu. Pluto doesn't offer you all the channels you might expect from a streaming service, but you will see a lot of familiar options alongside some upstart channels you've never heard of before.
Here's everything we'll cover in this article.
---
Pluto TV plans and pricing
While most streaming services make most of their money with subscriptions, Pluto pays the bills with advertisements that run during their programming. Surprisingly, Pluto isn't inundated with ads, featuring basically the same amount you would expect on broadcast TV.
---
What is on Pluto TV?
Once you start to dig around, there's actually plenty to discover on Pluto TV. And it's easier than you might think.
Beyond the price, Pluto's best feature is how familiar it is. Utilizing cable's familiar grid-style channel guide makes it easy for new users to jump right into Pluto TV.
Pluto divides its content into blocks of channels. Those are organized by categories, including Movies, Entertainment, News, Binge Watch, Comedy, Sports, Explore, Life + Style, Tech + Geek, Kids, Latino, Music, and a block of Featured channels that leads the grid.
Pluto TV channels
These blocks are mostly made of great channels you've never heard of. There are some familiar surprises, like the feeds for CBSN, NBC News, CNN, Fox Sports, and Impact Wrestling. In November 2018, Pluto TV gave an overhaul to its channel lineup and user interface, making it easier to navigate and a lot easier on the eyes.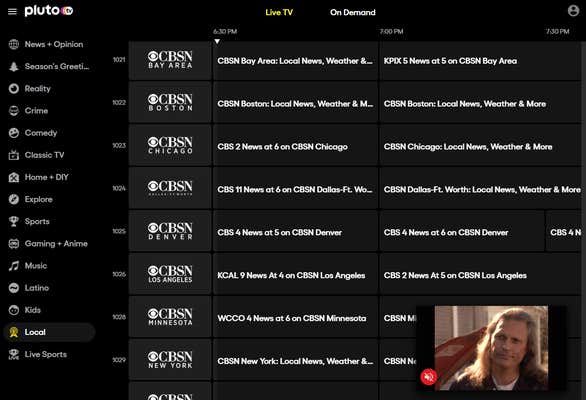 Beyond those marquee names, you'll need to learn which of the hundred-plus Pluto TV channels meet your interests. Thankfully, Pluto's channels make it clear exactly what you're in for in their names. If you want a martial arts movie, tune into Flicks of Fury, while horror hounds will want to stop by Horror 24/7. Fight serves up pummeling MMA action all day long, while the NFL Channel and Major League Soccer's channel allows fans of those sports to do deep dives. Binge Watch is appropriately named, inviting viewers to go on a Doctor Who marathon, a RuPaul's Drag Race marathon, or visit the RiffTrax and MST3k channels to mock movies.
Whether you're a news junkie, movie historian, foodie, science nerd, or sports fan, Pluto has something to strike your interest. The Entertainment section showcases a mix of reality TV, movies, classic cartoons, and true-crime shows. During my testing period, I found classic movies like There Will Be Blood, studio hits like Shutter Island, and copious episodes of No Reservations With Anthony Bourdain. Food TV will never replace your beloved Food Network, but for free TV, it provides a lovely alternative when you're on a budget.
In November 2019, Pluto TV announced a multiyear deal with the Discovery, Inc. that will lead to a channel that's essentially a best-of collection from the network, culling your favorite programs from Discovery Channel, Animal Planet, ID, Discovery Life, Science Channel, and TLC.
Parents will also appreciate the multiple channels of programming for children, including educational shows. Pluto even offers a host of internet music stations to listen to via Dash Radio.
Picture quality is for the most part very good. Channels that show public domain movies have the worst quality, but the majority of these channels feature at least 720p picture. For a free compromise, Pluto can often make you forget it isn't the real thing.
List of Pluto TV Channels
NEWS
| | | |
| --- | --- | --- |
| TV Election 2020 | Today's Top Story | TV News |
| NBC News | CBSN | CBSN New York |
| CBS Los Angeles | CNN | The First |
| Today | Weather Nation | Bloomberg |
| Cheddar News | Top Stories by Newsy | Newsmax TV |
| TYT Netowrk | Sky News | RT America |
| Court TV | | |
SPORTS
| | | |
| --- | --- | --- |
| Pluto TV Sports | Fox Sports | NFL Channel |
| PGA Tour | Major League Soccer | Stadium |
| TV Surf | TV Winter Sports | Red Bull TV |
| Pursuit Up | Fight | Glory Kickboxing |
| Impact Wrestling | Sports Grid | Eleven Sports |
| TYT Netowrk | Sky News | RT America |
| Big Sky Conference | | |
MOVIES
| | | |
| --- | --- | --- |
| TV Spotlight | Pluto TV Movies | Pluto TV Movies 2 |
| TV Action | TV Comedy | TV Romance |
| TV Drama | TV Horror | TV Terror |
| TV Thrillers | Black Cinema | TV Documentaries |
| TV Indies | Paramount Movie Channel | CMT Westerns |
| Classic Movies | 80s Rewind | TV Cult Films |
| Flicks of Fury | The Asylum | Gravitas Movies |
COMEDY
| | | |
| --- | --- | --- |
| Comedy Central Pluto TV | Comedy Central Stand-Up | Wild'n Out |
| Tosh.O | Crank Yankers | TV Land Sitcoms |
| Funny AF | Stand Up TV | Cats 24/7 |
| Dogs 24/7 | The Pet Collective | Inter Net Gold |
| Fail Army | | |
TECH & GEEK
| | | |
| --- | --- | --- |
| TV SciFi | TV Science | TV Tech |
| TV Gamer | 4K TV | Naruto |
| Anime All Day | C|Net | IGN |
| NASA TV | Minecraft TV | Gameplay Roblox |
ENTERTAINMENT
| | | |
| --- | --- | --- |
| MTV Pluto TV | MTV Dating | MTV Teen |
| ET Live | VH1 I Love Reality | VH1 Hip Hop Family |
| BET Pluto TV | BET Her Pluto TV | Spike Pluto TV |
| Spike Outdoors | American Gladiators | Baywatch |
| TV Land Drama | TV Animals | Crime Network |
| CMT Pluto TV | TV Celebrity | TV Reality |
| TV Lives | Nosey | Fuse |
| Complex | Awesomeness TV | Degrassi |
| British TV | Classic TV | Buzzr |
| Shout! TV | Classic Toons | |
LIFESTYLE
| | | |
| --- | --- | --- |
| Food TV | Lively Place | Frontdoor |
| MTV Cribs | TV Her | TV Her Dramas |
| Logo Pluto TV | MTV Are You the One? | TV Weddings |
| Faith TV | TBN | Hillsong Channel |
| People TV | | |
BINGEWATCH
| | | |
| --- | --- | --- |
| The Addams Family | MTV Guy Code | MTV The Hills |
| VH1 Love and Hip Hop | MTV The Challenge | VH1 Black Ink Crew |
| VH1 RuPaul's Drag Race | CMT Dallas Cowboys Cheerleaders | Unsolved Mysteries |
| Forensic Files | The New Detectives | Cold Case Files |
| Fear Factor | Leverage | Criss Angel: Mindfreak |
| Dog the Bounty Hunter | Hell's Kitchen | WPT |
| This Old House | Antiques Roadshow UK | Doctor Who Classic |
| Midsomer Murders | Wipeout | MST3K |
| Rifftrax | | |
---
Pluto TV local channels
While Pluto TV doesn't offer local channels, viewers in cities like Los Angeles and New York can access local CBS affiliate news feeds for those markets in the News section.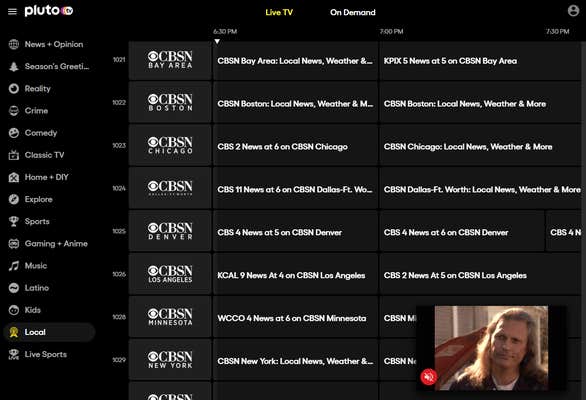 ---
Pluto TV add-ons
While Pluto TV doesn't offer add-ons; again, with the service being free, supplementing this with HBO Go for $15 a month could go a long way toward keeping you entertained.
---
Pluto TV devices
No matter how you connect to the internet, you can watch Pluto TV. There's an app for Windows and Mac on desktop, and both Android and iOS on mobile. You can also download the Pluto TV app for select smart TVs from Vizio, Samsung, Sony, and more.
Here's the list of available devices:
iOS mobile & tablet
Android mobile & tablet
Android TV (various)
Google Chromecast
Chrome Web App
Amazon Kindle/Fire Tablets
Amazon Fire Tv + Fire Tv Stick
Roku Devices + Roku TV
Apple TV (4th Generation)
I tested the browser, desktop, Roku, and iOS versions of the Pluto TV app. Of them, Roku works the best, but each one provided a clear picture without skips and jumps.
It's also possible to activate your smartphone as a remote on certain devices, including on Roku, Amazon Fire TV, and Android TV.
If you have one of the above devices, activation can be accessed by following these steps.
Visit Channel 02 on the guide or click "Activate" on the left side of the guide
You'll see a six-digit code displayed at the top of the screen
There are two ways to enter that code, depending on your account and device
Logged in: click "MyPluto" on your phone > activate > enter digit code
Logged out / No account: Visit My.Pluto.Tv/activate and follow prompts
---
Pluto TV DVR and multiple screens
Pluto TV lacks DVR or multiple screen capabilities, though considering a free service where you can easily log in and watch, that's not the deal breaker that it might be for a paid service.
---
Pluto TV on-demand catalog
Pluto TV also comes with an impressive on-demand catalog. I was able to watch old episodes of Bizarre Foods With Andrew Zimmern, Death Note, House Hunters and the trash classic Flavor of Love without a hiccup. Pluto's on-demand movie selection is a more mixed bag. You'll find Hollywood blockbusters like Clear and Present Danger or Valkyrie living alongside direct-to-DVD titles like American Warships. Treasure awaits those who search for it. Digging through the service's catalog uncovered classics like Bill and Ted's Excellent Adventure, Cheech and Chong's Up in Smoke, and more.
Note: Not all devices support Pluto's on-demand content. I couldn't use it on my web browser using Chrome or the desktop app, but my tests found it worked on the Roku, iOS, and Apple TV.
---
Pluto TV vs. the competition
Pluto TV vs. Philo
Though Pluto TV's not quite like anything else out there, Philo's probably closest to Pluto TV in what it offers, with 63 entertainment-focused channels for just $20 a month. Like Philo, Pluto TV has a considerable on-demand catalog of movies and shows. However, whereas Philo offers an array of entertainment channels as they appear on cable or other streaming services, Pluto's got a more curated experience and relies on advertising for revenue. But Pluto does have Philo beat when it comes to news and sports.
Pluto TV vs. WatchTV
WatchTV is also in the neighborhood of what Philo offers. At just $15 per month for 40+ channels, WatchTV is a pretty great deal. But, like Pluto, WatchTV doesn't include cloud DVR or multiple screens. If you're living on a budget and not sharing your streaming service, or you don't need DVR, WatchTV is a solid choice, and might be your right-priced supplement to Pluto TV—it does offer 15,000 on-demand movies.
Pluto TV vs. Sling TV
Sling TV was the first budget streaming TV solution on the market. Though its price has gone up over time, it still could be the streaming experience you're looking for to accompany Pluto TV. Sling TV comes in three packages, Orange, Blue, and Orange + Blue. The 32-channel Orange and the 47-channel Blue packages each cost $30 per month, while the 53-channel Orange + Blue package is $45.
Sling TV offers a well-rounded package of channels for the price; for instance, it includes ESPN, which isn't a given on all services. Sling TV also includes local channels in your lineup, meaning that its Orange or Blue packages might just deliver the budget-priced cable of your dreams.
---
Pluto TV: Is it worth it?
Pluto TV shines because it accepts what it is and strives to make that great. The service offers a diverse range of content for free and doesn't ruin it with too many ads. It's obvious from the amount of action, stoner, and extreme sports content that this is service is currently aimed at college-age viewers. However, that doesn't mean you shouldn't check Pluto out if you aren't in that demographic.
Over the hours I tested the service, the plucky nature of its content grew on me. We all have ingrained biases about free content, but Pluto puts forth a first-rate product. Its menus are easy to navigate and clear, so you can always find something that's right for you. Even areas I never anticipated checking out managed to pull me in for a few episodes. Part of the fun is discovering content you never thought you'd watch.
Pluto TV won't replace your beloved Hulu or Netflix, but if you can't afford those services, this is a great alternative. We pay to use plenty of services each month, but Pluto is keeping a place in my Roku library.
---
How to sign up for Pluto TV
While you can just navigate to the Pluto TV website and watch, you can also create an account with an email address quickly and stream on a number of different devices. Here are the simple directions for how to sign up:
Visit this page.
Enter your email address.
Then, enter the password that you want to use.
Then, insert the year you were born.
Finally, click "Create Account."
You'll then have the ability to customize your channel display and specify what devices you use.
---
The Daily Dot may receive a payment in connection with purchases of products or services featured in this article. Click here to learn more.