The Daily Dot may receive a payment in connection with purchases of products or services featured in this article. Read our Ethics Policy to learn more.
Streaming TV is somewhat of a luxury. While originally launched as an alternative to expensive cable packages it's only taken a few short years for streaming TV costs to rise. Now your average streaming TV package costs less than basic cable thanks to Philo.
While there are exceptions on the market, most of them require you to sacrifice features. But there's a dark horse on the market, offering big features and an incredible channel selection for just $20 per month. Is Philo too good to be true? Here's everything you need to know about Philo before subscribing.
---
How does Philo work?
Plans and cost
Philo keeps things simple by only offering one plan for subscribers. The service costs $20 per month and comes with over 60 channels focused on entertainment. In a market where the number of plans can be overwhelming, Philo's pricing is as refreshingly simple as it is affordable.
Channels
Scanning Philo's channel listing makes it becomes abundantly clear this service got its start as a crowd-pleasing package for college kids. Its 60-plus channel package contains all the pop culture and entertainment options you could want. It is, however, also decidedly lax on news and sports options.
However, if you only watch TV for entertainment, the service is understandably tempting. Subscribers get VICE, VH1, AMC, Animal Planet, Food, Comedy Central, and more for less than a movie ticket.
Sure, your only real news channel is BBC World News, but in a world of online news, that's a minor sacrifice. You can read more about what channels come with a subscription here.
Epix and Starz: How much do add-ons cost?
For much of its existence, Philo didn't offer any channel add-ons. While this kept things simple, it might have been too simple. Thankfully they've added extra options for movie fans in the form of Epix and Starz. Here's what you should expect to pay.
---
How does Philo work: Devices, multiple screens, Cloud DVR, and on-demand
What streaming devices does Philo support?
Philo works with pretty much every major streaming-focused device on the market, though it has a few odd exceptions. Most notably, even though it started on college campuses, Philo doesn't have an app for Xbox or PlayStation. Still, there are plenty of ways to watch. Here are your options.
Roku
Apple TV
Fire TV
Amazon Fire Stick
Android TV
Android
iOS
Philo multiple screens and profiles
Each membership can be streamed on up to three different devices at the same time. Currently, there's no way to add extra screens to your account, but three is a generous number for the price.
However, you can have up to 10 different profiles on one account. Each profile gets its own especially viewing experience, watch history, and DVR. Share it with your roommates and family if you want. Or just make yourself multiple profiles for your different moods. You've got options.
Cloud DVR and streaming rewind
Philo has one of the most generous DVR set-ups on the market, a fact made all the more remarkable by the service's budget price. Every Philo account gets unlimited DVR space. In fact, each profile on your account gets its own DVR.
Of course, unlimited space comes with a catch. While you're free to record and watch all of your favorite shows, after 30 days they disappear. This can be frustrating if you're trying to save a favorite obscure episode but otherwise is a small sacrifice.  
Especially when you consider Philo lets you fast forward through almost all the ads in your DVR shows. You'll have to watch the final ad break on your recordings, but that's a small compromise in the grand scheme of things.
72-hour rewind
Philo can afford to be generous with its DVR thanks to the incredible 72-hour rewind feature. It almost doesn't matter if you forget to record your favorite shows, because Philo subscribers can play almost everything that's aired in the last 72 hours on demand.
Just scroll back in the listings in the guide and press play. This unsung feature sets Philo apart from every other horse in the streaming races.
Philo on-demand content
There is a massive amount of on-demand content to be found on Philo drawn from across its channel lineup. The service estimates it has over 60,000 titles to choose from in its on-demand library, and it feels like it when you're browsing it.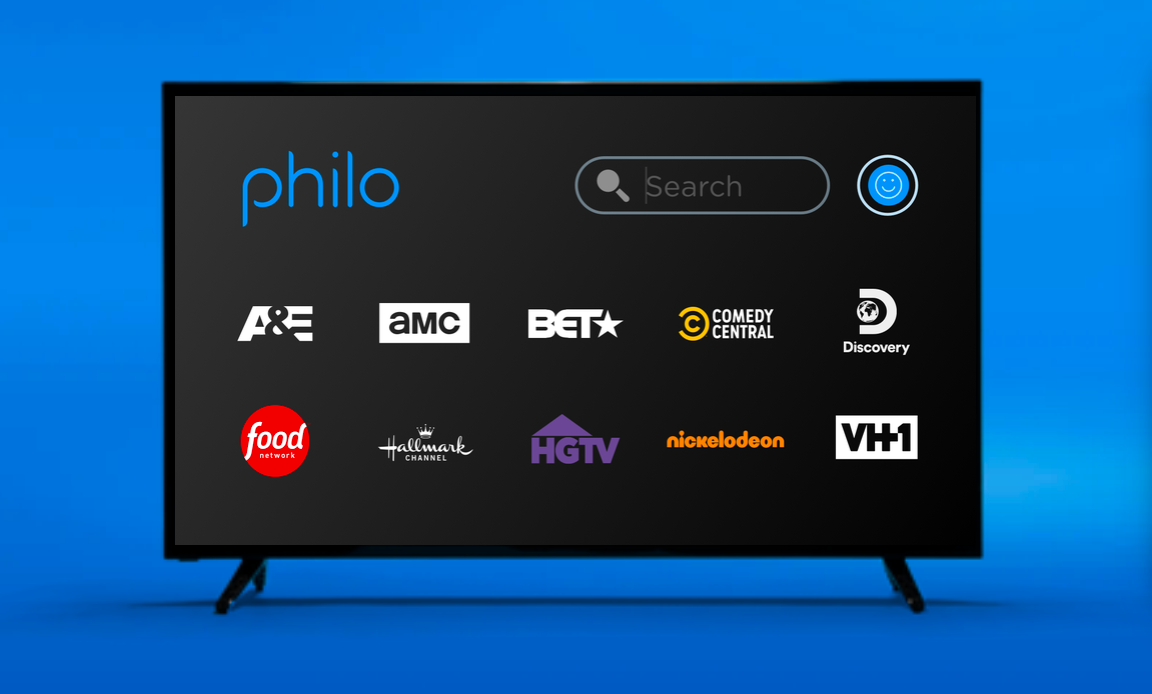 ---
Philo vs. The Competition
Pluto TV's another option if you're looking for entertainment, and since Pluto's free, we take a "why not both" philosophy and bounce between the services.
We use Pluto to catch up on news and sports viewing, without paying extra. It's also got an appreciable on-demand library to supplement what you'd get on Philo.
Meanwhile, when we want to watch our favorite cable shows we turn to Philo. If anything, we don't see Pluto TV as Philo's competition. We see it as an unrelated extension that enhances the experience.
Sling TV was the first budget streaming TV solution on the market, but over the years, its prices have gone up. However, depending on what kind of streaming experience you're looking for, Sling TV may still be the most attractive option.
Sling TV comes in three packages, Orange, Blue, and Orange + Blue. The 33 plus channel Orange and the 44 plus channel Blue packages each cost $35 per month. You can also combine them into the 50-plus channel Orange + Blue package is $45.
Given that Philo comes with 60 plus channels for just $20, it may seem like Sling TV has nothing to offer. But here's the thing: Sling TV offers a far more well-rounded package of channels than Philo.
Philo might have more channels, but it doesn't have ESPN, MSNBC, or TNT, for starters. Sling TV also includes local channels in your lineup, giving viewers even more sports options.
Philo is a perfect package if all you ever want to watch is basic cable. But if you have an extra $10 to spare, Sling TVs Orange or Blue packages might just deliver the budget-priced cable of your dreams.
Only two streaming TV options on the market make it incredibly easy to share your account with multiple friends—Philo and YouTube TV. Of the two, the $64.99 per month YouTube TV has a few more options and features.
The service comes with 85 plus channels, including ESPN, MSNBC, Fox News, and local channels. Interestingly, when it comes to simultaneous streams and DVR, they're the same. Each offers unlimited storage and three simultaneous streams at once.
The question, when choosing between Philo and YouTube TV, comes down to the needs of the people you're sharing it with. $64.99 per month is over three times as much as Philo, but if you split it three ways, it's pretty reasonable.
Especially if you live in a house with people who care about sports, local channels, and news. Philo is ideal for a very specific kind of entertainment-focused TV fan, but when you stack of cost, features, and channels, YouTube TV is hard to beat.
This is a case where your economic reality will be the biggest decider.
Finally, we have Hulu Live TV, the service that perfectly combines the best of streaming services with the best of streaming live TV. The only catch is its expensive $64.99 price tag.
Much like YouTube TV, your economic situation really is what matters most here. Hulu Live TV is easily one of, if not the best, paid streaming TV services. Along with a massive 65-plus channel package it includes access to Hulu streaming, giving it the biggest on-demand library in streaming TV.
Still, you might be surprised to learn Philo offers more features than Hulu Live TV. Hulu Live TV subscribers only get 50 hours of DVR to Philo's unlimited DVR. Want to watch on three screens on one account? You'll need to pay extra to do that with Hulu.
That being said, Hulu Live TV's package offers far more content than Philo, particularly for news fans. The question for your home is "does it provide $44.99 per month worth of extra content."
Given how much overlap there is between the two services' channel packages, that might be a tough call.
---
Is Philo worth it?
Philo is a truly wonderful streaming TV solution, but that doesn't mean it's for everyone. Ask yourself what your favorite channels are. Do you mostly watch MTV, Comedy Central, Comedy Central, Discovery, Food Network, and Vice? Then Philo could be the perfect package for you, with all the entertainment you could ever want.
However, if you care about watching the news, sports, or local channels, Philo will leave you wanting. This is a great service with a competitive price and big-name channels. But if you're looking for a budget option that includes sports, the news, and local channels, Sling TV might be your best option.
But if you get your news online and go over to a friend's house for the big game, Philo suddenly makes a lot of sense. For the cost of a movie ticket, you get a basic cable package that would've cost $50 a decade ago.
Every deal comes with sacrifices, but the ones Philo asks you to make aren't hard. Philo would be an amazing deal at $30 per month. It's a steal at $20.
---
How to sign up for Philo
Signing up for Philo is unlike any other streaming TV service in you can use either just your email or phone number to get started. Here's how it works.
Visit the Philo website and find the "Start Your Subscription" box on the homepage.
Enter either your cell phone number or email address
On the next page, enter your payment information and any coupons you might have. 
Start watching. 
---