Did anyone involved in this movie understand what Rebecca is actually about? Filmed with a glossy, Instagram-friendly sheen, Ben Wheatley's adaptation ditches the novel's gothic tension for a soupy kind of romantic drama, with two woefully miscast actors in the lead roles. Actually, the entire cast—including the otherwise brilliant Ann Dowd and Kristin Scott Thomas—is awkward, suggesting that Wheatley is some kind of Bad Performance Whisperer.
Rebecca

RELEASE DATE:
Oct. 21, 2020
DIRECTOR:
Ben Wheatley
STREAMING:
Netflix
Lily James and Armie Hammer star in this adaptation of Daphne du Maurier's classic novel, about a young woman who marries a wealthy English widower. With stilted performances and a clumsy screenplay, it's a horribly misguided new interpretation.
Lily James plays the protagonist, an unnamed young woman who marries the recently-widowed Maxim de Winter (Armie Hammer) after a whirlwind romance overseas. He's rich and worldly, while she's naive and middle-class. In the novel, he's also about twenty years older. There's only a three-year difference between Hammer (34) and James (31), but that's a minor issue compared to their shallow, stilted performances. James (best known for Mamma Mia! Here We Go Again) brings the same level of wide-eyed perkiness to every role, which is basically the opposite of what we want for the second Mrs. de Winter: a mousy and self-conscious girl who gets swept up by Maxim's cool, suave confidence.
Meanwhile, Armie Hammer is a total stuffed shirt. Elsewhere, he's been convincingly cast as a rich douchebag (The Social Network; Sorry to Bother You) and a charming romantic lead (Call Me By Your Name), but his version of Maxim de Winter bears no resemblance to the character in the book. The film even removes any hint of sexual energy; an impressive feat considering Hammer's rather horny public persona. Mostly, he just looks constipated.
Co-written by Jane Goldman, Joe Shrapnel, and Anna Waterhouse, Rebecca relies on a clumsy script where characters constantly state the obvious out loud. In other words, a truly wild way to adapt Daphne du Maurier's subtle, well-observed novel, whose unreliable narrator twists herself into knots by misinterpreting the behavior of those around her. This version of Rebecca even feels weirdly clueless about the intricacies of the British class system; an inexplicable problem because the writers and director are all English. We get all the trappings of a 1930s drama set in a posh country house, but the film sucks the personality out of characters like Maxim's sister Beatrice (Keeley Hawes), who ought to represent a highly specific upper-class archetype.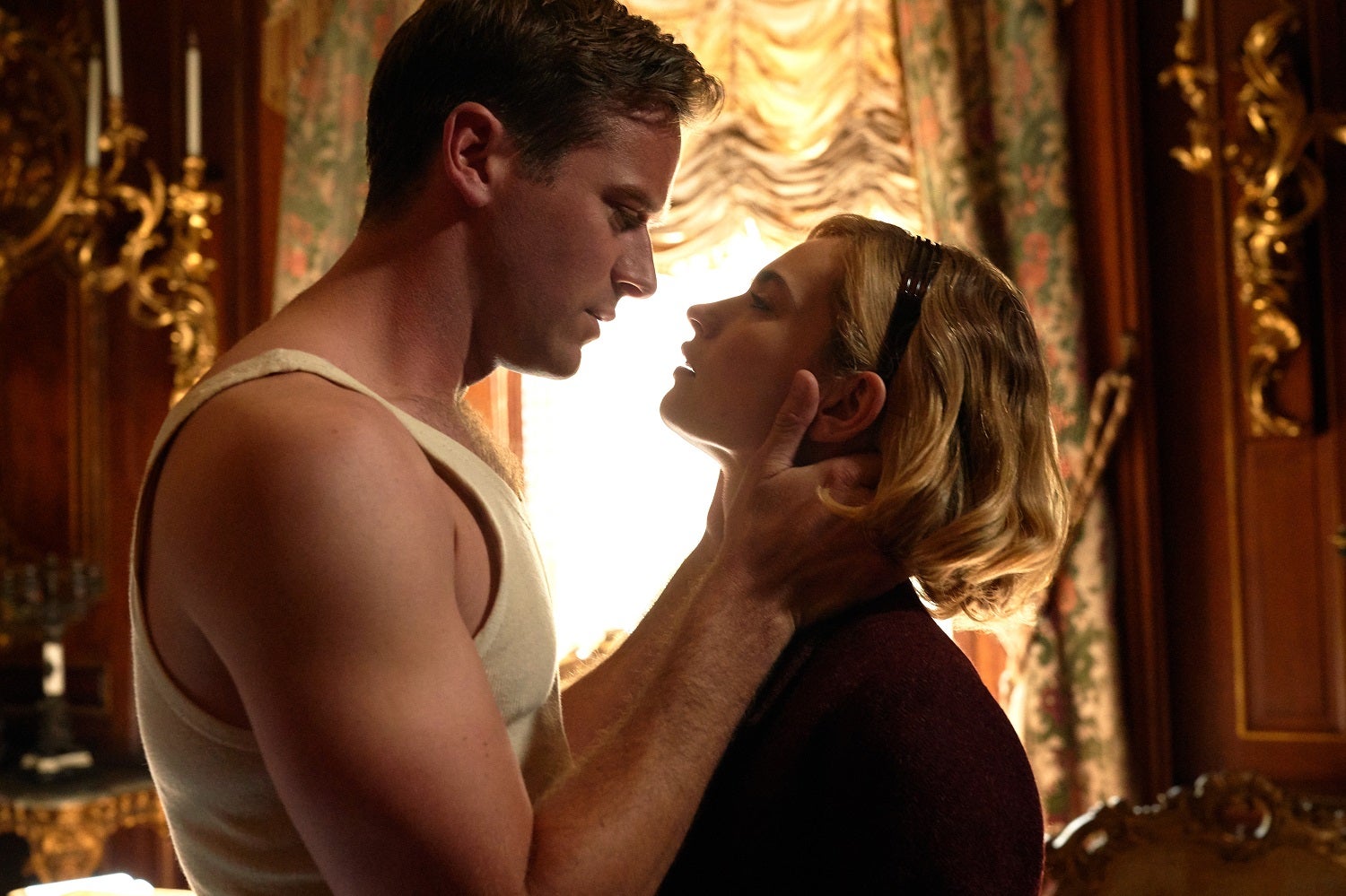 There are a whole host of reasons why Ben Wheatley's Rebecca doesn't work, but it's all rooted in a fundamentally misguided view of the book. Rebecca is the ultimate gothic romance; a story about a clueless young woman who moves into a massive old house, where she's tormented by family secrets and the specter of death. Everyone around her seems obsessed with Maxim's previous wife Rebecca, and so the second Mrs. de Winter becomes obsessed as well.
Isolated and ignored by her standoffish husband and the cruel, snobbish housekeeper Mrs. Danvers, her self-confidence dwindles. For the first half of the book, we assume that Maxim is a controlling bastard who targets our heroine as an easy mark: a young, malleable girl with no family ties, who he can easily install in his home. She's no match for the memory of Rebecca, a famously charming socialite. The second Mrs. de Winter grows increasingly self-conscious and neurotic until she finally learns the truth about Rebecca, at which point she begins to take charge of her life.
Netflix's Rebecca follows the same general plot but ignores Daphne du Maurier's emotional arc in favor of rewriting the second Mrs. de Winter as a plucky heroine. She charms Maxim with her quirky interests and knowledge of cars, and they enjoy an affectionate courtship. Instead of depicting the very plausible emotional distance between an inexperienced young bride and a repressed 40-something aristocrat, Ben Wheatley's Rebecca opts for a more equal and modern partnership.
About halfway into this two-hour marathon of bad ideas, I began to formulate a theory. The people behind Netflix's Rebecca wanted to modernize the story by giving the second Mrs. de Winter "more agency" as a protagonist. A feminist update of a classic tale! Of course! Except by changing the dynamic between Maxim and his wife, they destroyed all the emotional tension. There's no sense of menace at Manderley, or from Maxim, or from Mrs. Danvers. And by casting Lily James as a proactive go-getter who struggles to make the best of a difficult situation, the film rejects the basic underpinnings of its gothic roots. She's meant to be helpless and scared, leaving the audience to speculate about the unbalanced, potentially abusive dynamic between her and Maxim de Winter. Otherwise, what's the point?
Ben Wheatley was always a puzzling choice for Rebecca: an indie filmmaker who specializes in bloody horror movies and thrillers, and whose films rarely turn a profit. His last movie was a country house drama (Happy New Year, Colin Burstead), but the rest of his filmography is populated by psychopaths and assassins. Also, he's not exactly known for his insight into female characters. Rebecca is not in his comfort zone, and it shows. The lead actors are working at odds with the material, and there's an atmosphere of fakeness throughout. With its bright lighting, faux-historical costumes and oddly modern makeup design, the film bears more resemblance to Netflix originals like Hollywood than to "real" historical dramas. In fact, there's a definite air of Netflix branding to this whole production. A sense that Rebecca was designed so you can watch it easily on your phone, and you don't have to pay much attention because the characters are constantly explaining the plot out loud.
It feels brutal to give Rebecca a one-star rating, but one has to ask oneself: Where are the redeeming features? It certainly doesn't work as an adaptation. Nor does it work as a romantic thriller in its own right, because there's no chemistry between the leads. Ben Wheatley draws one-dimensional performances from a talented supporting cast, and puts a heavy checkmark in the "NO" column for whether Armie Hammer deserves to be a movie star. Lily James just bobs along doing the same thing she always does. The best I can say is that Netflix's Rebecca is often very pretty, but what does that prettiness serve? Mostly it tells us that Netflix has money to burn, encouraging us to focus on the attractive production design, ignoring the lack of substance underneath.
---
---
Daily Dot Netflix Guides
---
Best Movies on Netflix
---
Best Shows on Netflix
---
---