Netflix's Hollywood is fully on-brand for showrunners Ryan Murphy and Ian Brennan: Soapy, glamorous and full of scandal, espousing a modern political outlook that cheerfully clashes with the 1940s setting. I devoured all seven gloriously trashy episodes in one sitting, like an ice cream sundae on a hot summer day. Is it "good"? Debatable, considering some of the choices it makes with real historical figures. But like most Ryan Murphy shows, it's fast, funny, and very easy to watch.
Hollywood

RELEASE DATE:
May 1, 2020
CREATORS:
Ryan Murphy and Ian Brennan
STREAMING:
Netflix
From the creators of 'Glee,' a fast-paced melodrama about a diverse group of actors and filmmakers in 1940s Hollywood. Intentionally ahistorical, it's a soapy interpretation of the sleaze and sentimentality of the Golden Age studio system.
Set in post-war Los Angeles, Hollywood follows an ensemble cast of young actors and filmmakers trying to break into the industry. Many of them are queer or people of color, the foundation for our main storyline: an early attempt to make a racially inclusive studio movie. Anna May Wong (Michelle Krusiec) and Gone with the Wind actress Hattie McDaniel (Queen Latifah) are among several real-life characters in the cast, two women of color who made it big in Golden Age Hollywood but suffered due to racist typecasting. Their roles should be interesting viewing for cinema historians, as Hollywood offers an almost cartoonish view of discrimination in the 1940s —very much in line with the well-meaning but shallow attitude of other Brennan/Murphy productions like Glee and The Politician.
Like Once Upon A Time In Hollywood, this show stars fictional characters in an alt-history spinoff from real events, shaped by the creators' own style of wish-fulfillment. One of the pivotal roles is Camille Washington (Laura Harrier), the only Black actress on a studio contract among white ingenues, stuck playing servants despite being beautiful and talented enough to be a star. But while Camille is sympathetic, her role just isn't as entertaining as her bitchy white rival (a hilariously vampy Samara Weaving). Camille's journey is also frequently overshadowed by white savior figures, including a cameo from Eleanor Roosevelt (!), who gives an impassioned plea for a film to be made with a Black lead—something she almost seems to value above legislation, because Hollywood's creators are religiously attached to the inspirational power of film. Holland Taylor and Joe Mantello play the two main studio execs, whose understated and sincere performances offer a welcome contrast to the younger characters.
Longtime Ryan Murphy collaborator Darren Criss plays Raymond Ainsley, a biracial Filipino director who wants to resurrect Anna May Wong's career. He's charming but a little sanctimonious, serving to illustrate how his white-passing name and appearance give him an easier ride than Camille or Archie Coleman (Jeremy Pope), a gay Black screenwriter. (Pope, a Broadway actor, offers more charisma in his behind-the-camera role than some of the characters we're meant to believe are actual movie stars.) Hollywood's racial politics feel clumsily tailored to Gen-Z, sidestepping the complexities of the period to draw clear lines between bigoted villains and our diverse cast of heroes, whose white members are miraculously free from racism. The depiction of queer sexuality is a bit more nuanced, although it may be another divisive element for any history buffs in the audience.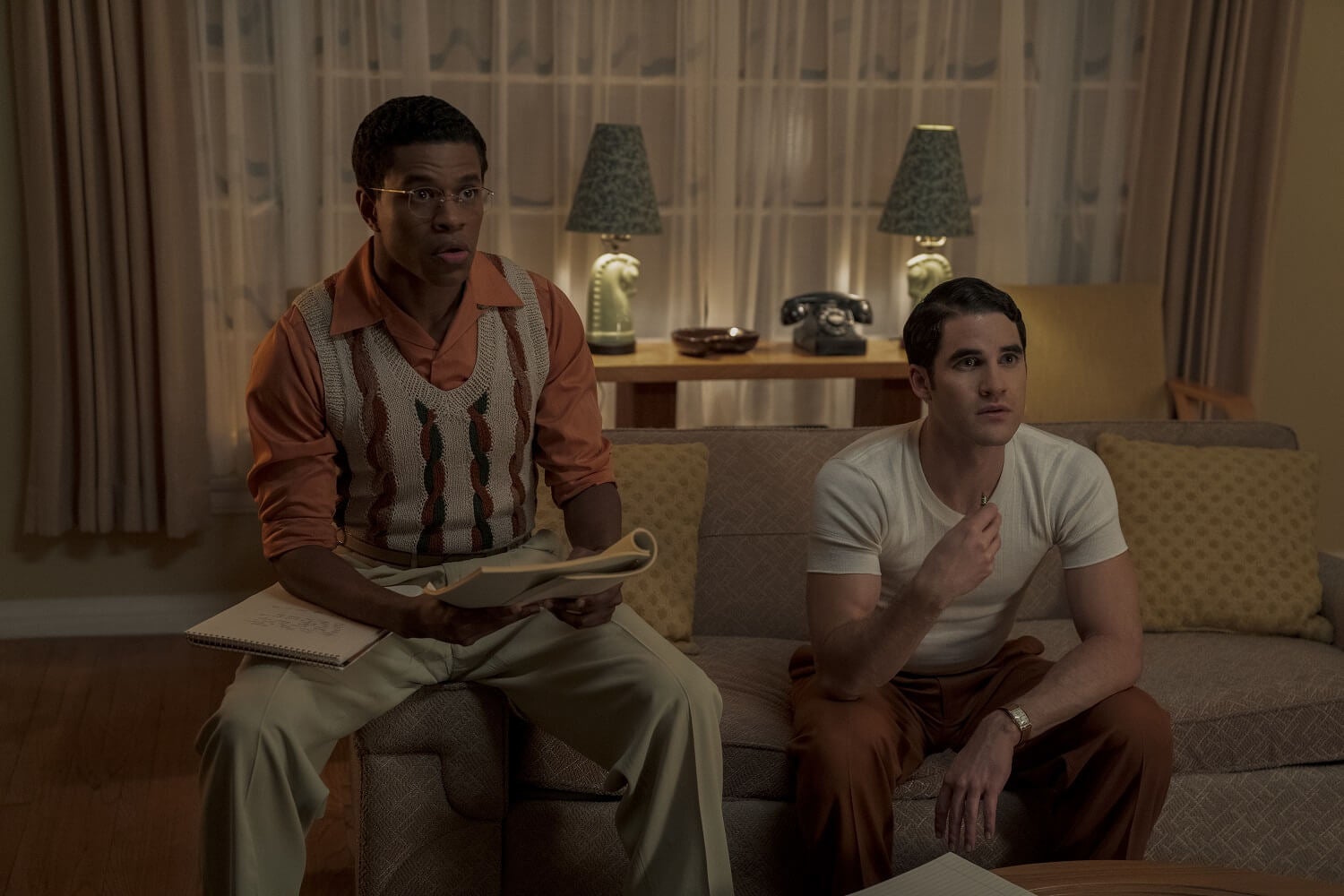 On the one hand, this will be many viewers' first introduction to the reality of queer people wielding power in 1940s Hollywood, with Rock Hudson (a rather wooden Jake Picking) and his infamous agent Henry Willson (Jim Parsons) as two of the major players. Willson and the iconic filmmaker George Cukor (The Philadelphia Story) invited hordes of young hunks to private parties with their cadre of powerful, closeted pals, a scenario reminiscent of Harvey Weinstein. But while the show does explore this seedy underbelly, it's ultimately a feel-good story with a snappy, comedic tone, so we view everything through a haze of schmaltz.
Instead of engaging with the early Civil Rights movement or post-war leftism, any social progress is of the "follow your dream!" variety. Which isn't necessarily bad in itself! Hollywood clearly isn't aiming for meticulous authenticity. In the same way that The Politician is a caricature of present-day Santa Barbara, this is a caricature of the 1940s, with gorgeous costumes, production design, and hairstyles that merely offer a casual nod to realism. You've got Jim Parsons delivering lines like "Ya big galoot!" and Patti LuPone swanning around in a Joan Crawford turban. There are so many plot twists that some are forced to unfold offscreen. It's pure entertainment; a Disneyfied view of reality… which helps to explain the show's fondness for white savior characters. The creators don't want to muddy the waters by admitting that most of the "good" white people would also have problematic values.
While the main story is all about overcoming discrimination, the top-billed character is a straight white guy: Aspiring actor and absolute himbo Jack Castello, played by David Corenswet (The Politician). After failing to get cast as an extra, he stumbles upon an unlikely new job: working as a gigolo at a gas station that exclusively hires hunks. It's exactly the kind of sanitized, comical sex work you'd expect from a Ryan Murphy dramedy, with a moustachio'd Dylan McDermott as his sleazily charming pimp/boss—one of the most entertaining characters in a show full of big, theatrical performances. Patti LuPone plays one of Jack's customers, the embittered wife of a studio boss. So while we do touch upon the dark history of figures like Henry Willson, this is also the kind of show where you get an uplifting gigolo fundraising montage.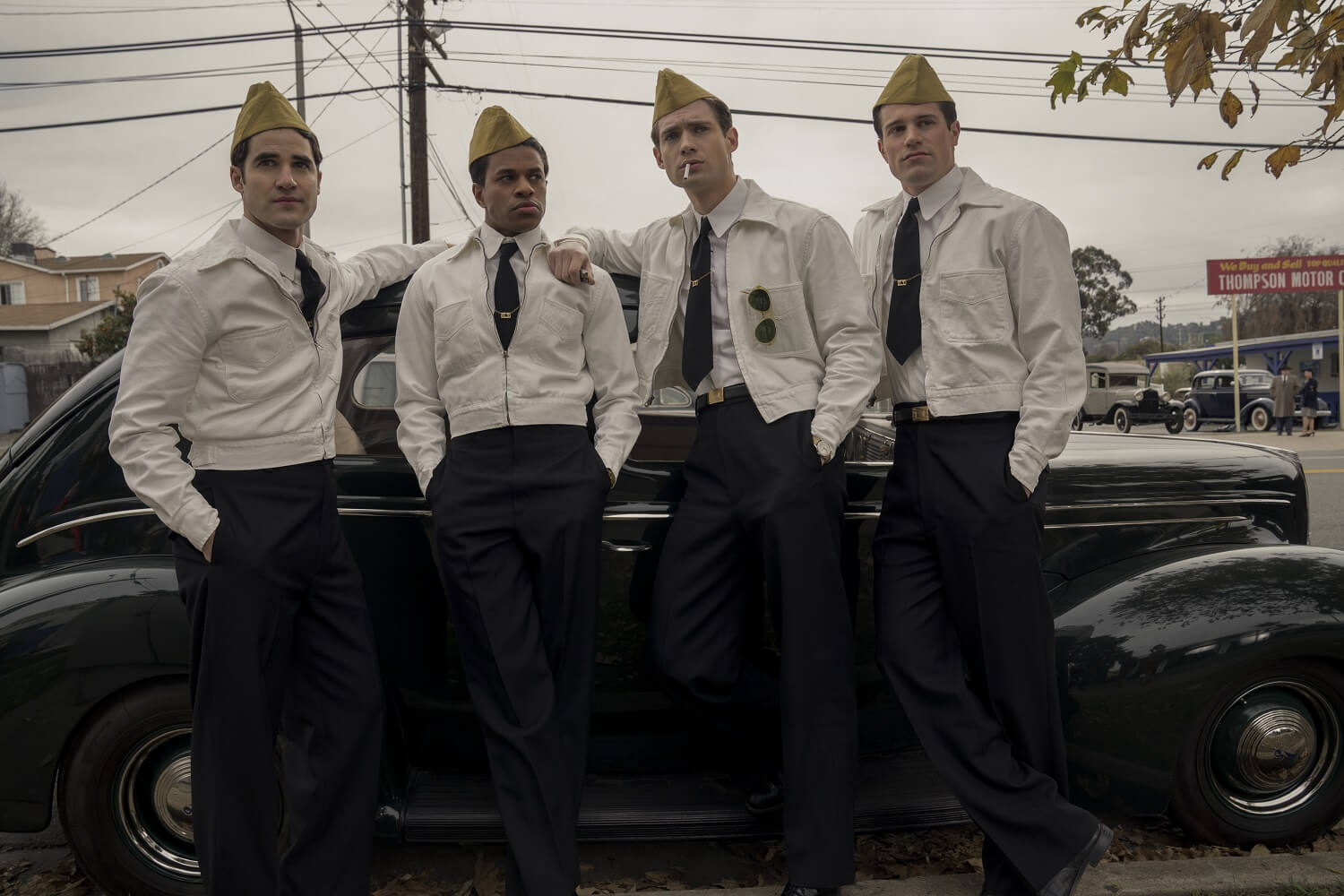 Expertly edited for maximum ridiculousness and sentimentality, Hollywood is destined to be a hit for Netflix. It's also a love-it-or-hate-it kind of deal, delivering historical reinterpretations that range from "lol" to "yikes." I ordinarily hesitate to compare any piece of media to fanfiction, because it's so often used as a clumsy and inaccurate shorthand for "bad." But here, the similarities are familiar. One of the key selling points of fanfic is the freedom to embrace total self-indulgence, unlike mainstream commercial entertainment where certain narrative guidelines and restrictions must be met. But Ryan Murphy and Ian Brennan are in a unique position to do whatever the hell they want. Aware that Murphy is a hitmaker, Netflix signed him up for a $300 million deal in 2018. His shows are famous for being flashy, sexy and/or absurd, and with Hollywood, all hint of restraint is gone. You want to use Rock Hudson and Anna May Wong in a fictionalized rewrite of history? Sure! You want to explore the exploitation of closeted gay men, while using it as an excuse for a pool party scene full of nude hunks? Go ahead! It's actually a welcome reminder of what types of wish-fulfilment are perceived as a big deal. There are dozens of shows about middle-aged straight men being superhumanly successful detectives or assassins or whatever, but they're completely normalized. Hollywood's overall concept is no less plausible than Sherlock—it's just aimed at a different audience, with shameless panache.
The wildest elements of Hollywood are too spoilery to discuss, but despite my qualms about certain choices, I found myself admiring the creators' chutzpah. If you're a fan of Ryan Murphy's style and you want to watch a silly historical drama that isn't all about straight white people, there's a good chance you'll enjoy it. But if you find yourself cringing already by episode 1, it's time to switch off immediately. Because oh boy, does Hollywood escalate.
Still not sure what to watch tonight? Here are our guides for the absolute best movies on Netflix, must-see Netflix original series, documentaries, docuseries, and movies.
Looking for something more specific? Here are our Netflix guides for the best war movies, documentaries, anime, indie flicks, true crime, food shows, rom-coms, LGBT movies, alien movies, gangster movies, Westerns, film noir, and movies based on true stories streaming right now. There are also sad movies guaranteed to make you cry, weird movies to melt your brain, old movies when you need something classic, and standup specials when you really need to laugh. Or check out Flixable, a search engine for Netflix.