"What if Sherlock Holmes had another sibling?" is such a simple question to pose as a thought experiment: What would it be like to grow up as the youngest Holmes sibling—and how would that dynamic play out? Would they want to go into the "family business" or follow their own path? (In Sir Arthur Conan Doyle's stories, Sherlock and Mycroft were the only Holmes siblings we ever met.) When the fourth season of BBC's Sherlock introduced a younger sister for Sherlock and Mycroft, she was a sexist caricature of a woman would've fit into the Victorian world that Sherlock created; she was depicted as mad and her motivations were wholly wrapped around Sherlock himself.
Enola Holmes

RELEASE DATE:
Sept. 23, 2020
DIRECTOR:
Harry Bradbeer
STREAMING:
Netflix
The younger sister of Sherlock and Mycroft Holmes escapes to London to follow a trail of clues from her missing mother, but along the way, she unravelss an intriguing plot and has to evade capture from her brothers who want her to become a proper lady.
In the case of Enola Holmes, which is based on Nancy Springer's The Enola Holmes Mysteries series, the titular Enola (Stranger Things' Millie Bobby Brown) is much more than a foil to Sherlock (Henry Cavill) and Mycroft (Sam Claflin). You know from the very first frame that it's Enola's movie and that her brothers are supporting players in a mystery that has little to do with them. While Enola Holmes gets caught up in some of the familiar pitfalls of a script by Jack Thorne (His Dark Materials, Radioactive), its charm and wit easily stand out.
But even before Enola begins to reference her famous family, Enola Holmes constantly breaks the fourth wall as she explains certain aspects of her life or gives us a look as if to say, "This guy, amirite?" Fleabag immediately comes to mind with the framing device, but that's not because Fleabag invented breaking the fourth wall. They both share a director in Harry Bradbeer, who manages the frequent switch between Enola's inner-perspective and what's happening with her with ease. (Fortunately for Enola, Sherlock can't sense when she goes into that headspace as the Hot Priest did with Fleabag.)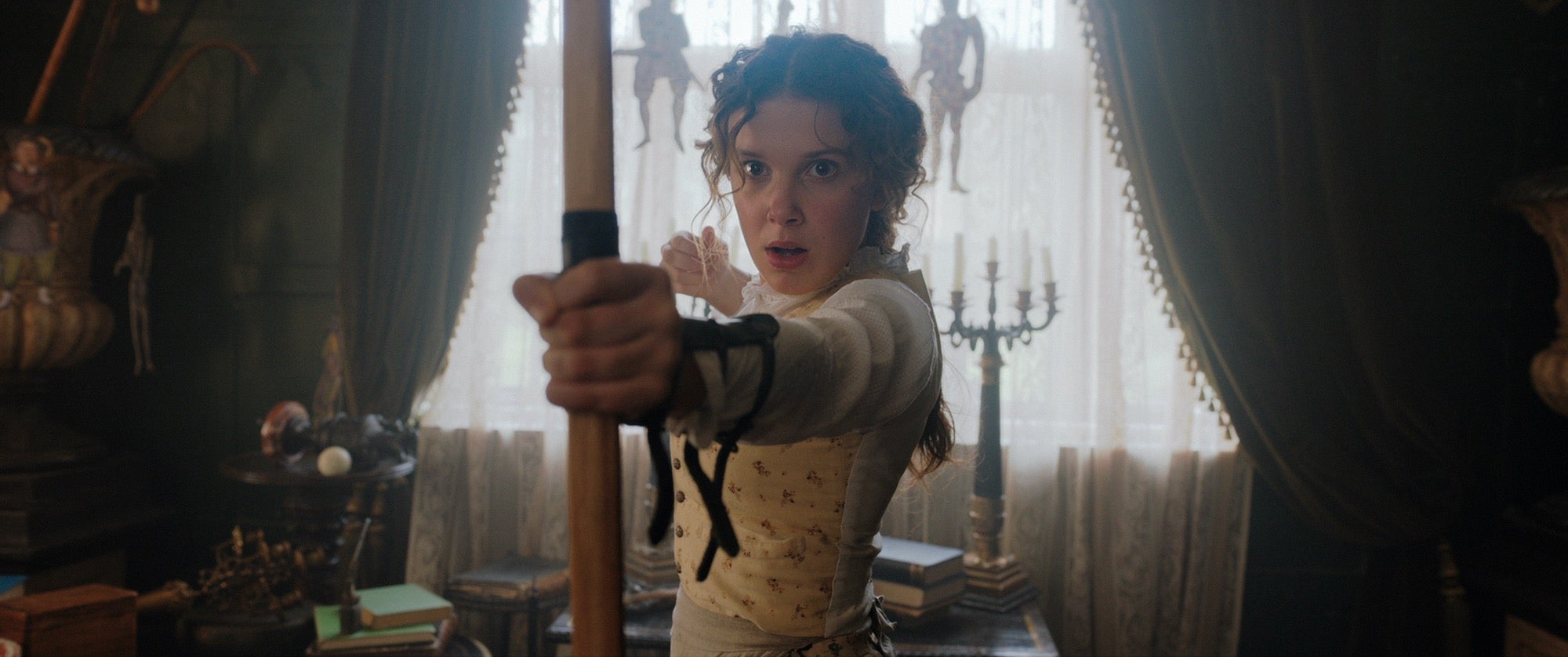 It's a helpful framing device, especially as Enola runs through the complexities of her family dynamic. She quickly rattles how she essentially grew up in the country with her mother Eudoria (Helena Bonham-Carter), a woman who loved playing word games, puzzles, and leaving hidden messages. (Eudoria is responsible for the name Enola, which is "alone" spelled backward, a factoid that Enola brings up no less than three times throughout the film.) Without a father, who died when Enola was young, and two brothers who left home, Eudoria was able to give Enola what she saw was a proper education: One that included history, science, sports, weapons usage, and several methods of self-defense. But when Enola turns 16, her mother disappears with only a few small clues placed for Enola to follow.
While Sherlock and Mycroft are invested in locating their mother, they're even more worried about the other situation at hand: Despite the education that Eudoria gave Enola, Enola is wholly uneducated in being a "proper" Victorian woman. Sherlock is shocked to an extent, but Mycroft, who's a bone-cut example of what you'd expect a man who lived during the Victorian era to be like, nearly has an aneurysm after discovering what Enola might have learned under their mother's tutelage. ("Oh, good God! Feminism," he says in downright horror upon finding one of his mother's books.) His solution is to send Enola off to a finishing school so she has any sense of independence or individualism knocked out of her and can become a proper lady whose only job is to get married. Enola doesn't want that, so when she sees her chance, she takes it and runs off.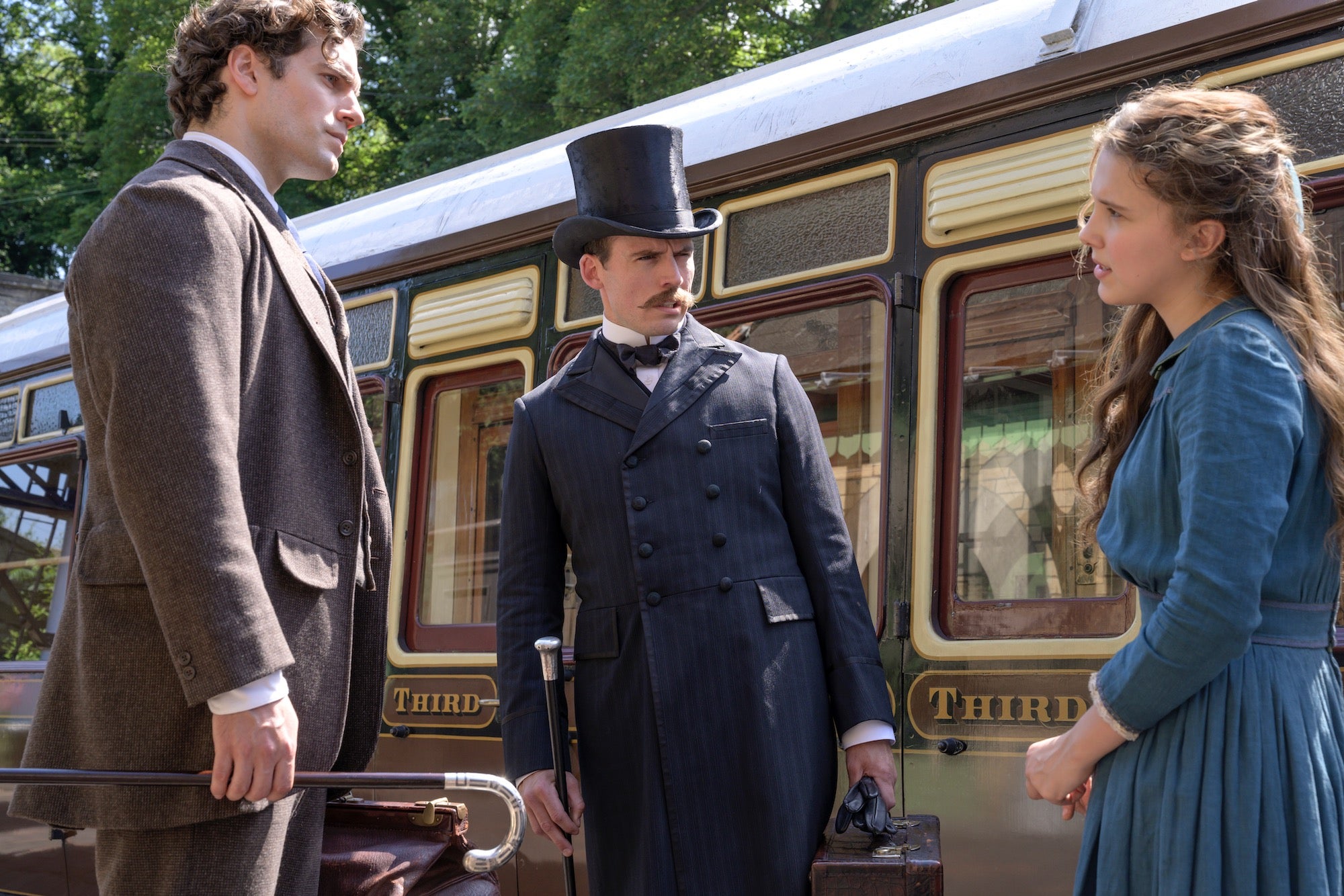 As Enola sets off on her first foray into the outside world, Enola Holmes ticks off several boxes in your typical adventure film. She meets a young Lord (Louis Partridge) who's much more than meets the eye and dons an array of lavish disguises that fool fully grown adults; at one point, Enola notes the distinction being forced to wear a corset by society versus choosing to wear one on her own. By including breaking the fourth wall, Enola is able to flash back to important clues or lessons her mother taught her, a device that can get repetitive but is nevertheless useful.
At times, the film resorts including delightful animation to convey messages or ciphers to solve. And as Enola delves further into the mysteries at hand, Enola Holmes takes a look at challenging the system, how many women were treated at the turn of the 20th century, and how being apolitical can still be a political stance.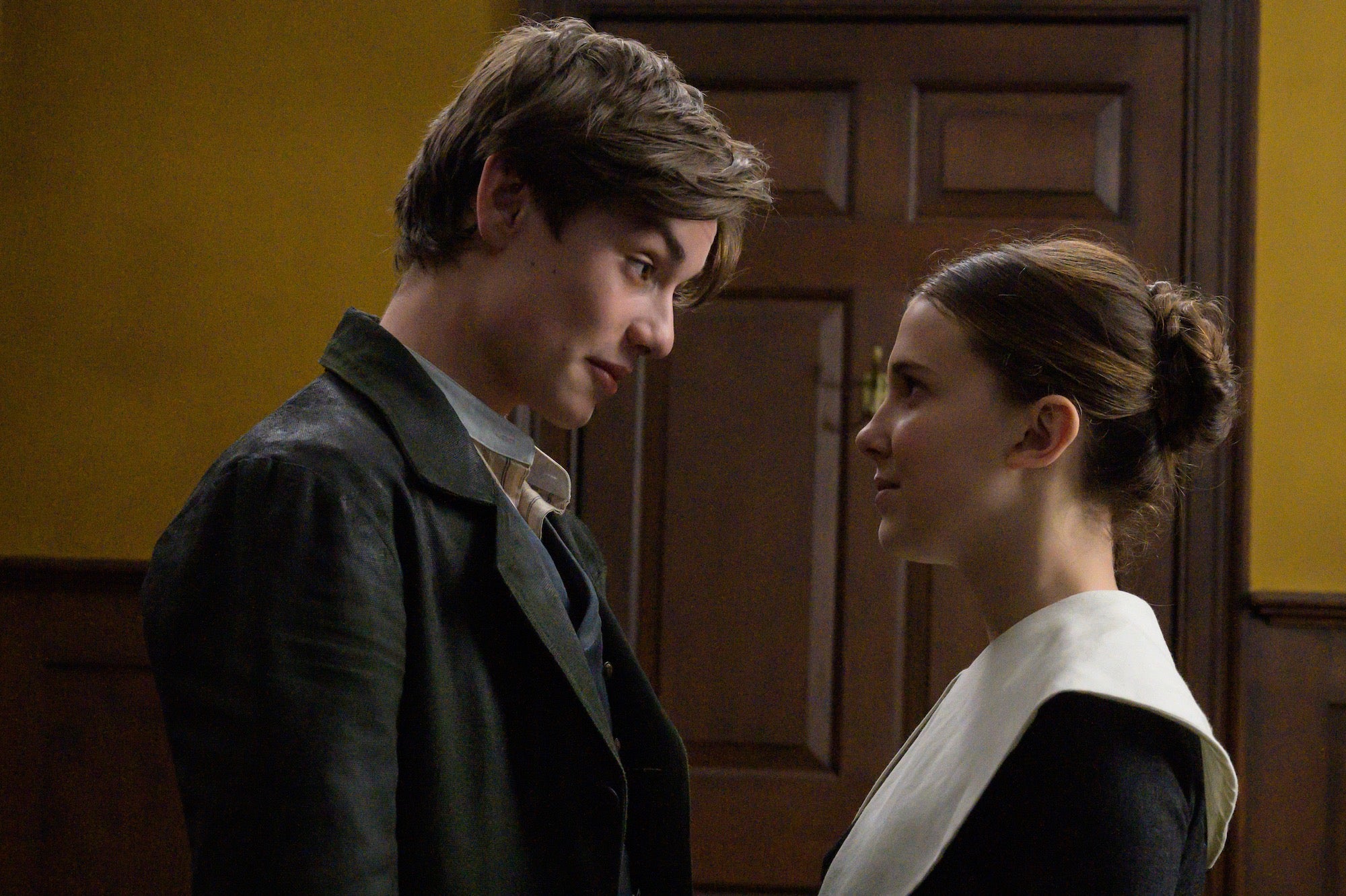 Brown shines as Enola, bringing charm to the roll without being over-the-top, and Cavill's Sherlock—whose emotions and capability to "respect women" are the subject of a copyright infringement lawsuit against Netflix—doesn't hide the soft spot he holds for his sister.
Enola Holmes is just a touch too long; lags in the middle and the script suffers from an overabundance of characters stating the obvious, a component that's evident in several of Thorne's other recent screenplays. But it's a delightful entry to the mystery genre for younger audiences, giving them both a mystery that's resolved within the movie and an entryway for a potential movie franchise.
Enola Holmes arrives on Netflix Sept. 23.
Daily Dot Netflix Guides
---
Best Movies on Netflix
---
Best Shows on Netflix
---
---