Oppenheimer, Christopher Nolan's character study of the man later named the "Father of the Atomic Bomb," operates on all cylinders, sometimes to an overwhelming extent. A who's who of famous scientific figures with lengthy Wikipedia entries come and go quicker than you can write their names down while giving way to the mesmerizing and horrifying beauty of the creations that J. Robert Oppenheimer (Cillian Murphy) and his fellow scientists will one day help bring to life. At several points, quick edits (courtesy of editor Jennifer Lame) juxtapose the wonders of space and physics with Murphy's piercing blue eyes staring directly into the camera. These scenes suggest he's haunted by what his work has done or will do.
Oppenheimer

Release Date:
July 21, 2023
Director:
Christopher Nolan
Release:
Theatrical
Based on the Pulitzer Prize-winning biography by Kai Bird and Martin J. Sherwin, Christopher Nolan's character study delves into the life of a man whose rise and fall is partially by his own hand but who's perpetually astounded and haunted by the implications of what his work can do. While some of Nolan's shortcomings are still on display, it's powered by charged and dueling performances from Cillian Murphy and Robert Downey Jr.
That awareness and private guilt are on top of Oppenheimer's mind—and underneath the surface—in a film that's part courtroom drama, part psychological thriller, and part academia-tinted. It's a warning about the hubris of mankind's ability to destroy itself, held together primarily by Murphy's commanding presence.
Based on Kai Bird and Martin J. Sherwin's Pulitzer Prize-winning biography American Prometheus (and a script written by Nolan), Oppenheimer is set across three different timelines. One takes us through the 1954 secret hearings that resulted in Oppenheimer's security clearance being revoked because of his left-leaning politics, Communist sympathies, and his association with several former card-carrying members—which the U.S. government already knew about during World War II—a humiliating process that more or less saw Oppenheimer's entire life being put on trial with a biased judge, jury, and executioner working against him.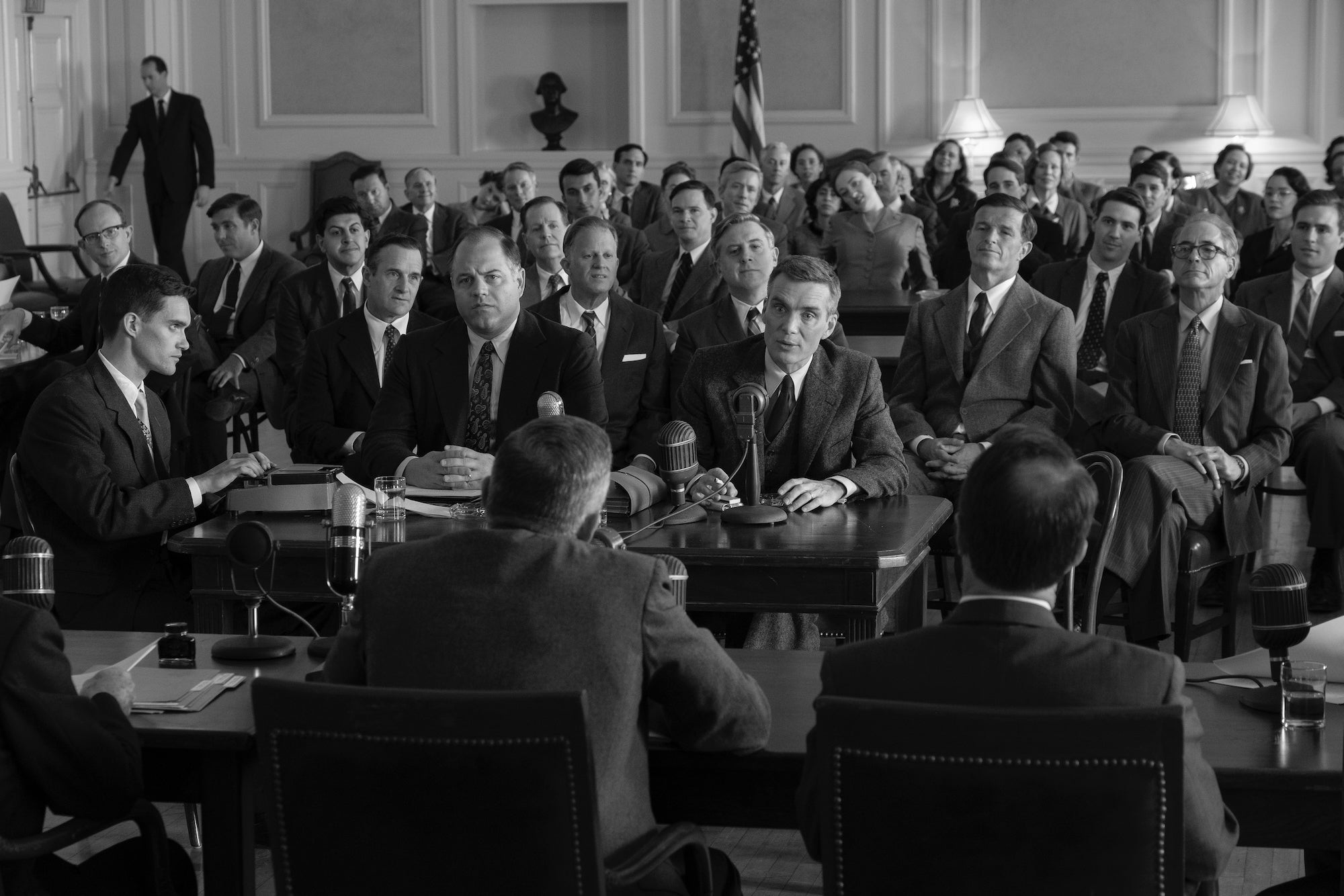 Another is mainly linear, taking us through decades of Oppenheimer's life, shading in the lines and contours that Oppenheimer's hearing testimony outlines. Some characters barely make an impression on us and Oppenheimer himself, while others more than leave their mark as time wears down a man seldom without his porkpie hat or a cigarette; sometimes, it's a pipe instead.
And the third, filmed in 65mm black-and-white IMAX film that Nolan's production team engineered for the movie, is the grueling 1958 Senate confirmation hearing of Lewis Strauss (Robert Downey Jr.), the former Atomic Energy Commission chairman who President Dwight D. Eisenhower nominated for a cabinet position. What's supposed to be a smooth and mostly painless process—only a handful of cabinet nominations had ever been rejected to that point, and the last time it happened was during Calvin Coolidge's presidency—turns hostile as Strauss faces fierce opposition from members of the science community for his previous treatment of Oppenheimer.
His past with Oppenheimer is largely told through flashbacks and conversations with a Senate aide played by Alden Ehrenreich, who serves as a sounding board and the audience surrogate. Sometimes, the same scene plays out from different perspectives, such as a conversation between Oppenheimer and Albert Einstein (Tom Conti) that Strauss witnesses from a distance, leaving him to wonder what could have transpired. Downey Jr. plays Strauss' resentment with increasing gravitas, reminding us—perhaps for the first time since Zodiac—that he's got the goods.
Oppenheimer might not seem like a movie that shouts "IMAX treatment," but Nolan and cinematographer Hoyte van Hoytema (Nope, Interstellar, Dunkirk) use that space to grand effect. The lush landscape of Los Alamos, a remote part of New Mexico Oppenheimer found solace in that would later be one of the homes of the Manhattan Project, the classrooms of Berkeley, or the many shots that haunt Oppenheimer well before we watch the Trinity test play out all look incredible on the big screen. (I saw it in IMAX 70mm, Nolan's preferred viewing format, which is only available in 30 theaters worldwide.) Even subtler character moments, like Murphy's wordless stares that convey a thousand conflicting emotions or the bubbling frustration that Downey Jr. wears on his face, pop.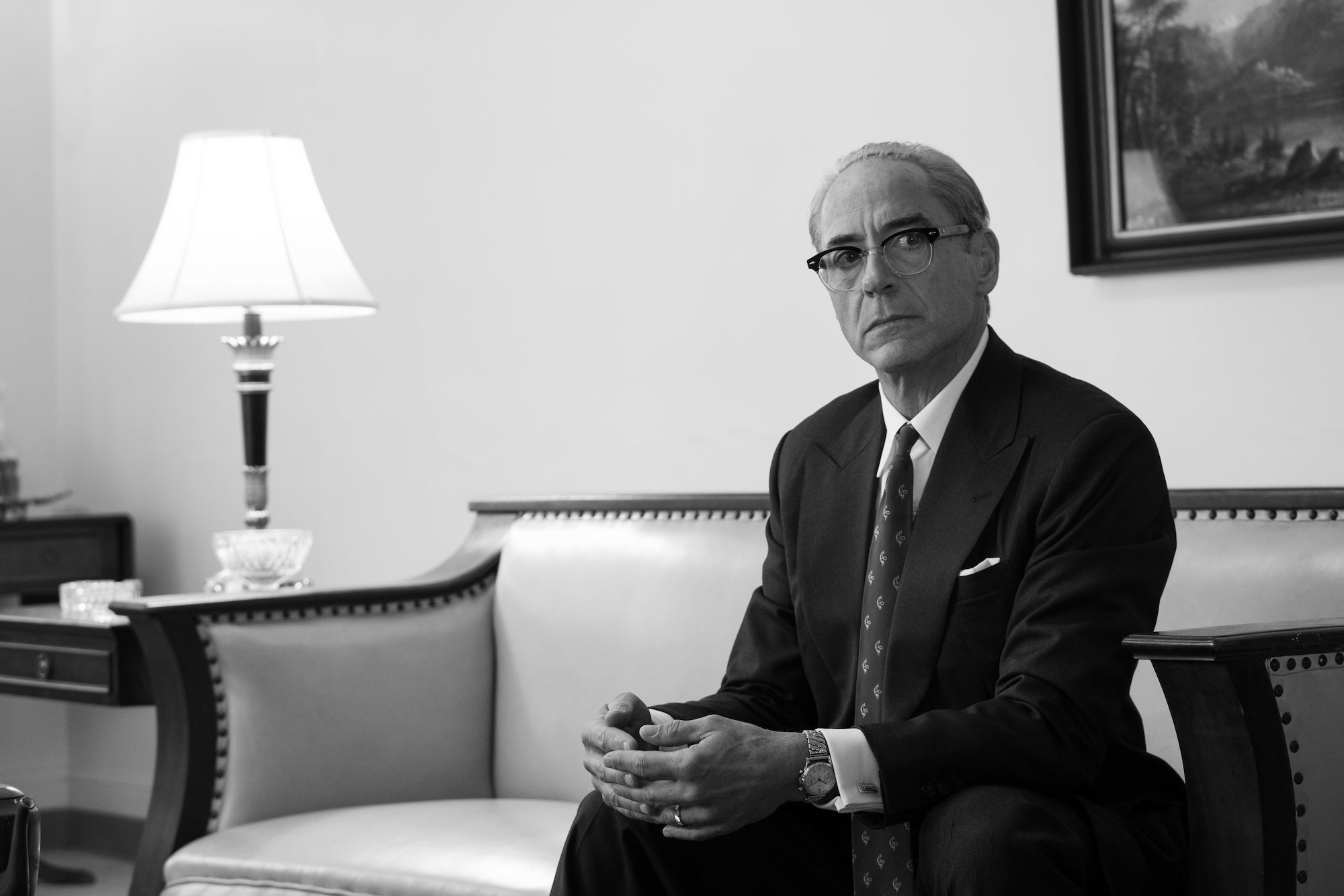 Oppenheimer is bursting to the seam with talent, a cast so stacked with A-listers and "Oh yeah, that guy!" character actors that there are three recent best actor Oscar winners with, at most, 10 minutes of screen time combined. (And they each make the most of it.) Matt Damon proves an effectively brusque foil as Leslie Groves, the military commander in charge of the Manhattan Project. But actors like Josh Hartnett, Benny Safdie, David Krumholtz, David Dastmalchian, and Kenneth Branagh all get moments to shine.
It also means that one of the bigger flaws in several of Nolan's films is even more apparent. Oppenheimer's wife, Kitty (Emily Blunt), a woman stifled by the role society expects her to fit into and who struggled with alcoholism, gets a standout moment in the final hour. Florence Pugh dazzles as Jean Tatlock, the young psychiatrist with whom Oppenheimer had an on-again, off-again affair over several years, during the brief windows we see her. But the women of Oppenheimer are thinly drawn, almost as if they exist only to operate and burn out in the orbit of men like Oppenheimer.
Although Oppenheimer boasts a three-hour runtime, it doesn't often feel it. Ludwig Göransson's score expertly ramps up the tension—even when we're watching a group of white men only toss verbal daggers at one another. One of its most harrowing moments arrives in a near-total absence of sound. There's no score frantically filling the scene, no environmental or man-made sound, and nobody is speaking. You can only hear the sound of people breathing.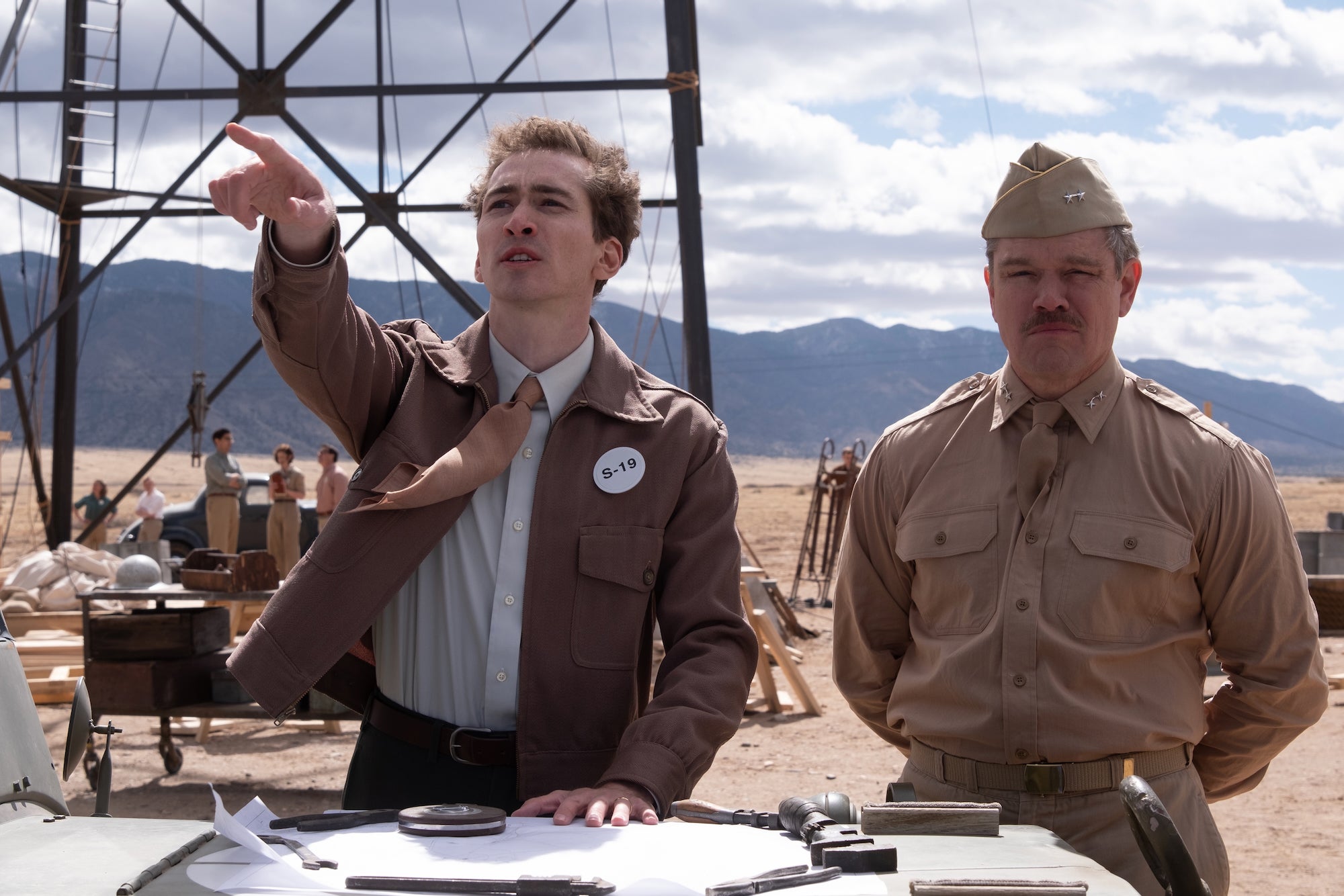 "You are the man who gave them the power to destroy themselves," Branagh's Niels Bohr tells Oppenheimer in a scene that only scratches the surface of what Oppenheimer helped unleash. The moral quandary at the center of his highest and most terrible achievement is steeped through every step of Oppenheimer: Some scientists morally objected to the bombs being built, while others argued against it being against Japan, who they felt had already been all but defeated. And even the moment of impact is never shown directly (a decision that may be controversial with some viewers). Nolan leans on other avenues to telegraph the horrors that Oppenheimer introduced.
The men who only see its glory might scoff at guilt or shame over the harm it caused. But amid celebrating his greatest achievement, Nolan and Murphy show us that Oppenheimer is more than aware of just how much blood is on his hands.
Oppenheimer arrives in theaters on July 21.


We crawl the web so you don't have to.
Sign up for the Daily Dot newsletter to get the best and worst of the internet in your inbox every day.