Taking aspects of Inside Out and Zootopia with a side of anthropomorphized elements, Elemental is one of Pixar's best in years.
Even through its recognizable parts (including a flawed allegory, similar to the one used in Zootopia), it's a simplistic story that largely works wonders due to the charms of its voice cast and its visuals.
Elemental

Release Date:
June 16, 2023
Director:
Peter Sohn
Release:
Theatrical, followed by Disney+
In a sprawling city where the four elements are living entities, a sweet and unlikely romance forms between a Fire woman and a Water guy. While it's similar to other animation stalwarts like 'Inside Out' and 'Zootopia,' it burns a path of its own as one of Pixar's best in years.
In theory, Element City is where people of all makes (Water, Earth, Air, and Fire) can live among one another. In practice, it's geared more toward some elements than others: For example, the subway system runs above the city and splashes water whenever the tube goes by Firetown, the part of the city that Fire people call home.
And we see that from Elemental's first scene, where Bernie (Ronnie del Carmen) and Cinder Lumen (Shila Ommi) arrive in Element City's version of Ellis Island, and the immigration officer gives them Anglicized names because he can't spell their actual ones. Their initial attempt to find housing is met with disdain and slammed doors, and it's far from the only way that the rest of Element City discriminates against Fire people.
But they find a home, a community, and a place to build their own shop—Bernie sells fiery treats and trinkets, while Cinder is a matchmaker who can sniff out true love—which Bernie hopes to pass to his daughter Ember (Leah Lewis) one day. But Ember hasn't been given the keys to the shop thanks to her temper, which manifests itself whenever she encounters demanding or entitled customers; during one outburst, two Fire regulars are happy to sit around and chart the color of her flame (a purple hue).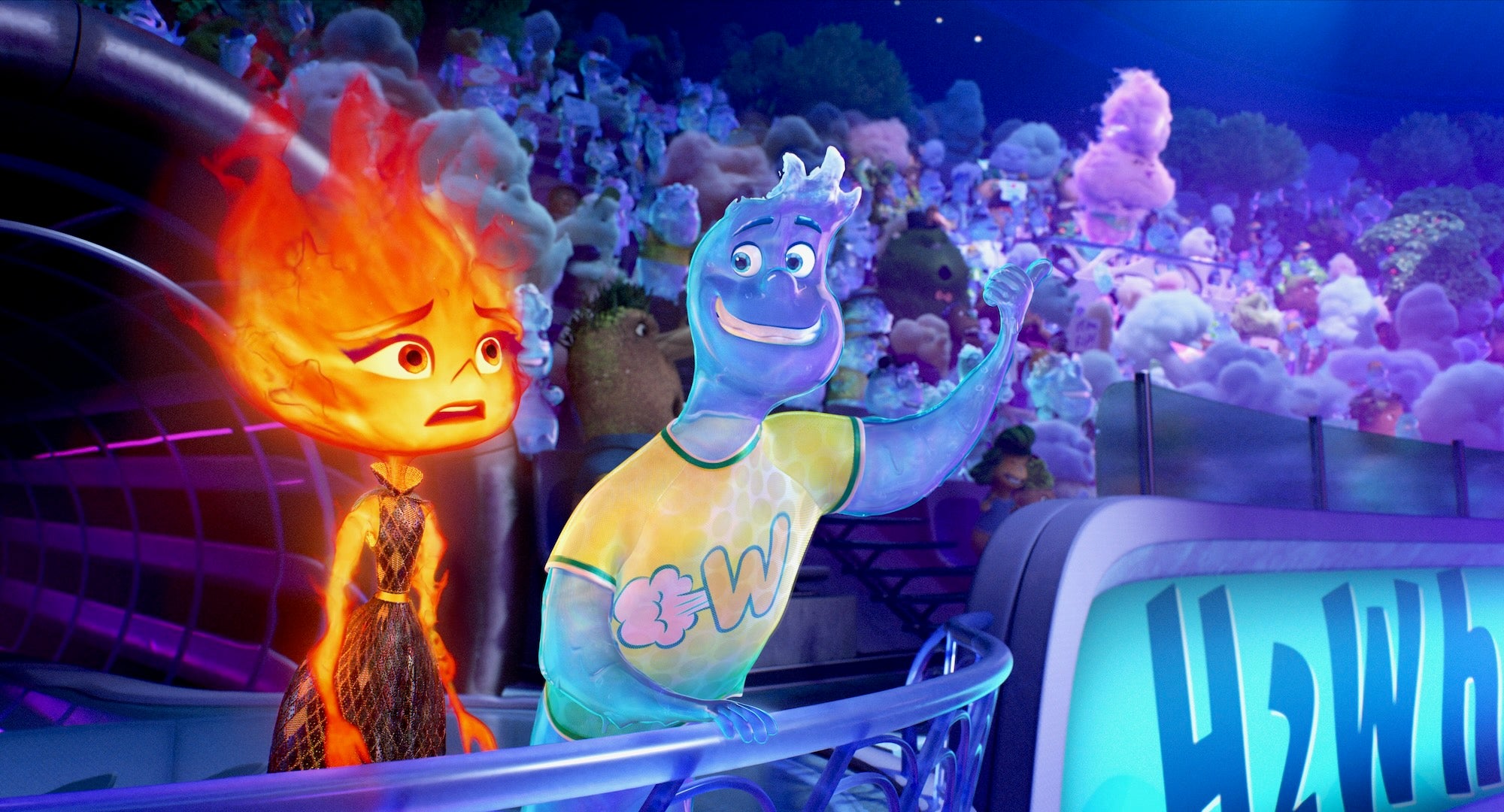 One such outburst puts her directly in the path of Wade (Mamoudou Athie), a Water city inspector who literally bursts through pipes underneath the Lumen family shop that have long since had running water through them. And while Ember is usually happy to stay within the confines of Firetown and never see Wade ever again, the fate of the Lumen family shop and a larger structural threat to Element City lead Ember and Wade to team up.
Where Ember is resistant, Wade is open and curious. On paper, Fire and Water don't mix—as almost everyone is apt to tell them—and if they ever touch each other, they could destroy the other: He could put her flame out, while she could boil him into evaporation. A lifetime of Ember's family facing discrimination in Element City—particularly by Water people—further fuels her wish to be done with Wade as soon as possible. Still, he slowly seeps his way into her life anyway, resulting in the kinds of laughs, tears (especially from Wade's boisterous and emotional family, who makes a sport of trying not to cry), and even cheers that Pixar movies are known for.
Lewis and Athie have an easy chemistry, which really helps to sell their budding romance (a genre Pixar hasn't touched all that much) filled with longing glances and near-touches. Wade sees Ember for who she is, perhaps the first to do so, but she's torn between what she might want to do if given the chance and what's expected of her. And she doesn't think that Wade, who grew up in privilege surrounded by family who supported his every whim, would get it.
"How do you pay a sacrifice that big?" Ember asks, referencing what her parents gave up to come to Element City to give her a better life.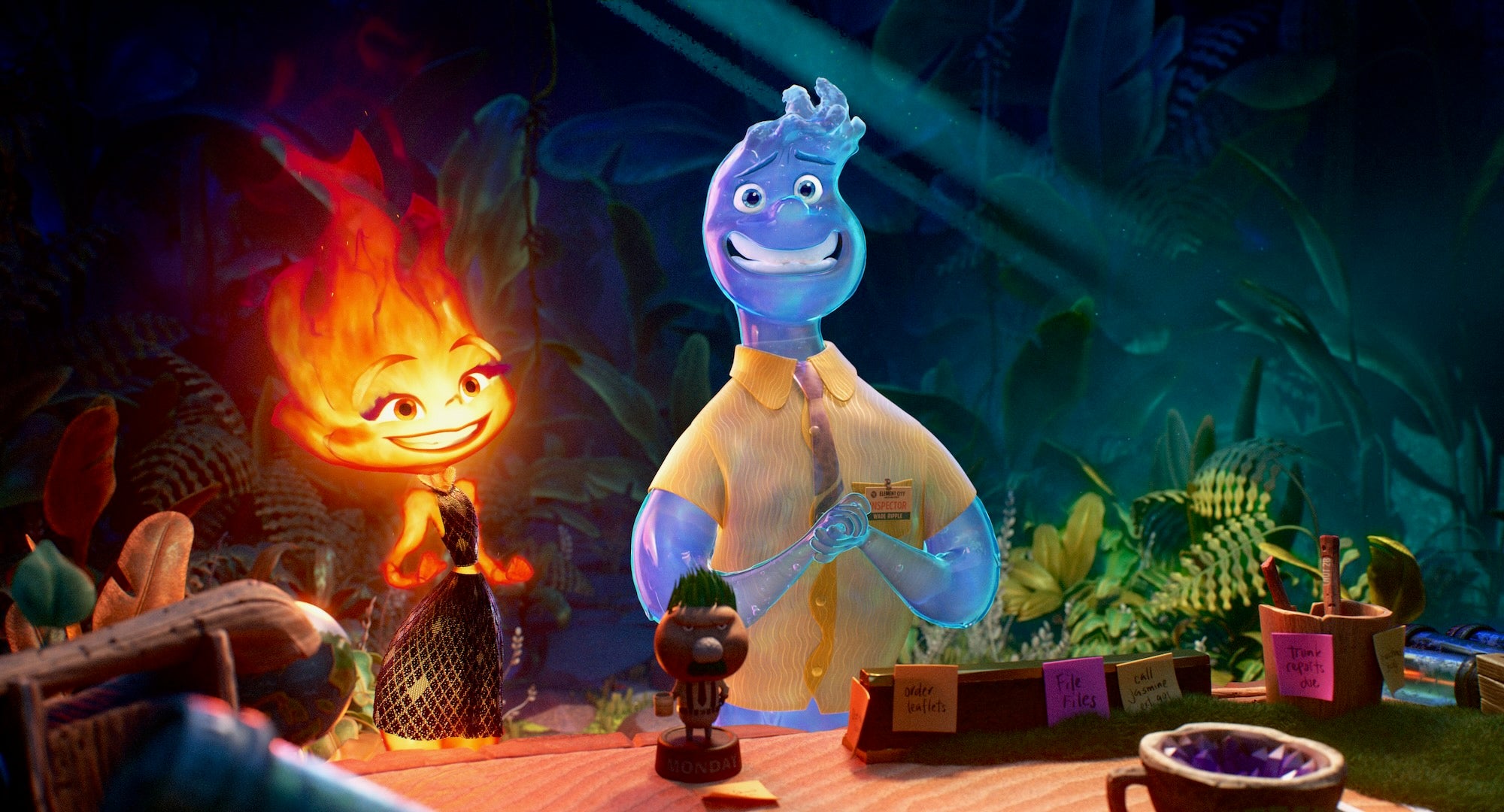 Every aspect of Element City comes to life on the screen. Director Peter Sohn (The Good Dinosaur) and the countless artists who worked on Elemental clearly spent a lot of time thinking about how those elements might come together or how they would affect the environment around them. The Air and Earth parts of the city are less developed, and using the elements to illustrate an immigration allegory gets muddied in the execution. It's a story that works better in the micro than the macro
Elemental is arriving in theaters—where you should watch it if you can—at an odd time for Disney. Once seen as an animation juggernaut (especially at the Oscars) whose visuals helped launch a distinct style of computer-generated animation that's still prevalent today, Pixar is now the one playing catchup: After Pixar's visuals dominated for so long, Sony Pictures Animation's Spider-Verse trilogy's new and enriching ways of telling a story in a limitless medium comes off as both refreshing and almost rebellious.
And at a time when Disney is in a warped feedback loop of soulless live-action remakes that keep making money and feel like they're trying to legitimize stories told much better in animation, IP mining its franchises for spare parts, and shunting most of Pixar's recent movies to streaming—short of Lightyear, which confounded and flopped—Pixar, once a Disney crown jewel, comes off as an afterthought to its parent company. We can only hope that Elemental is the start of a new era for Pixar that pushes its own boundaries on what's possible in animation.
Elemental premiered at the Tribeca Festival on June 10 and will debut in theaters on June 16.

We crawl the web so you don't have to.
Sign up for the Daily Dot newsletter to get the best and worst of the internet in your inbox every day.