The question at the center of Nicole Holofcener's excellent comedy, You Hurt My Feelings—Should you tell a white lie to the ones you love to protect them from a more hurtful truth?—is a persistent one that feels all too real. It manifests in several ways, most prominently when Beth (Julia Louis-Dreyfus) overhears her husband Don (Tobias Menzies) relaying one such truth bomb, a major emotional shakeup of what has otherwise been a long and happy marriage; they don't just love each other, they actually seem to like each other, too.
It's far from the most devastating thing one spouse can tell the other: We're well-used to seeing movies and shows with couples who resent one another, who hurt each other, who have a dynamic of one spouse (usually the husband) being more another child for the other (usually the wife) to take care of than an equal participant in that partnership, or where one of them is the primary instigator of their spouse's pain. But, time and again, we've also seen relationship crises become a matter of life and death, which often are so gargantuan that their resolution affects the fate of an entire universe. (Sometimes, even more than one universe because multiverses are having a moment.)
But in You Hurt My Feelings, Holofcener treats that question, however frivolous it might seem on paper, with proper gravitas. Even the film acknowledges that point: "The world is falling apart, and this is what is concerning you?" Don says toward the end of the movie in an argument that's been building up for days, if not years.
Well, yeah. The fear that you're not good enough and that your loved ones who've praised and complimented you only do it to be nice and placate your feelings when, in actuality, they hate what you're doing is enough to rattle just about anyone. More simply, if they hated this one thing and you found out they lied about it to you, what else have they been lying about?
By the time we meet Beth, she's already had some modicum of success. She's been a reporter, runs a writing workshop, and previously wrote a memoir about the emotional abuse she suffered during her childhood that only did OK. She's spent the past two years writing her first novel, and Don, a therapist who runs his own practice and whose opinion Beth trusts above all else, told her he loves it.
One day, when Beth and her sister Sarah (Michaela Watkins) go to surprise Don and Sarah's husband Mark (Arian Moayed), they overhear Don telling Mark just how much that sentiment is bullshit. He doesn't love her book; he hates it. He's read her manuscript over a dozen times, but no matter how often he's read it, it doesn't work for him—and he knows he can't actually tell Beth what he really thinks. And we see what happens in the immediate aftermath: Beth has a panic attack and feels like she's about to throw up, with passersby barely paying her any attention, which entirely affects how she interacts with Don. To name just one example, they've each lied about how much they love the other's anniversary gifts, which are much more grating in the aftermath of what Beth views as the ultimate betrayal.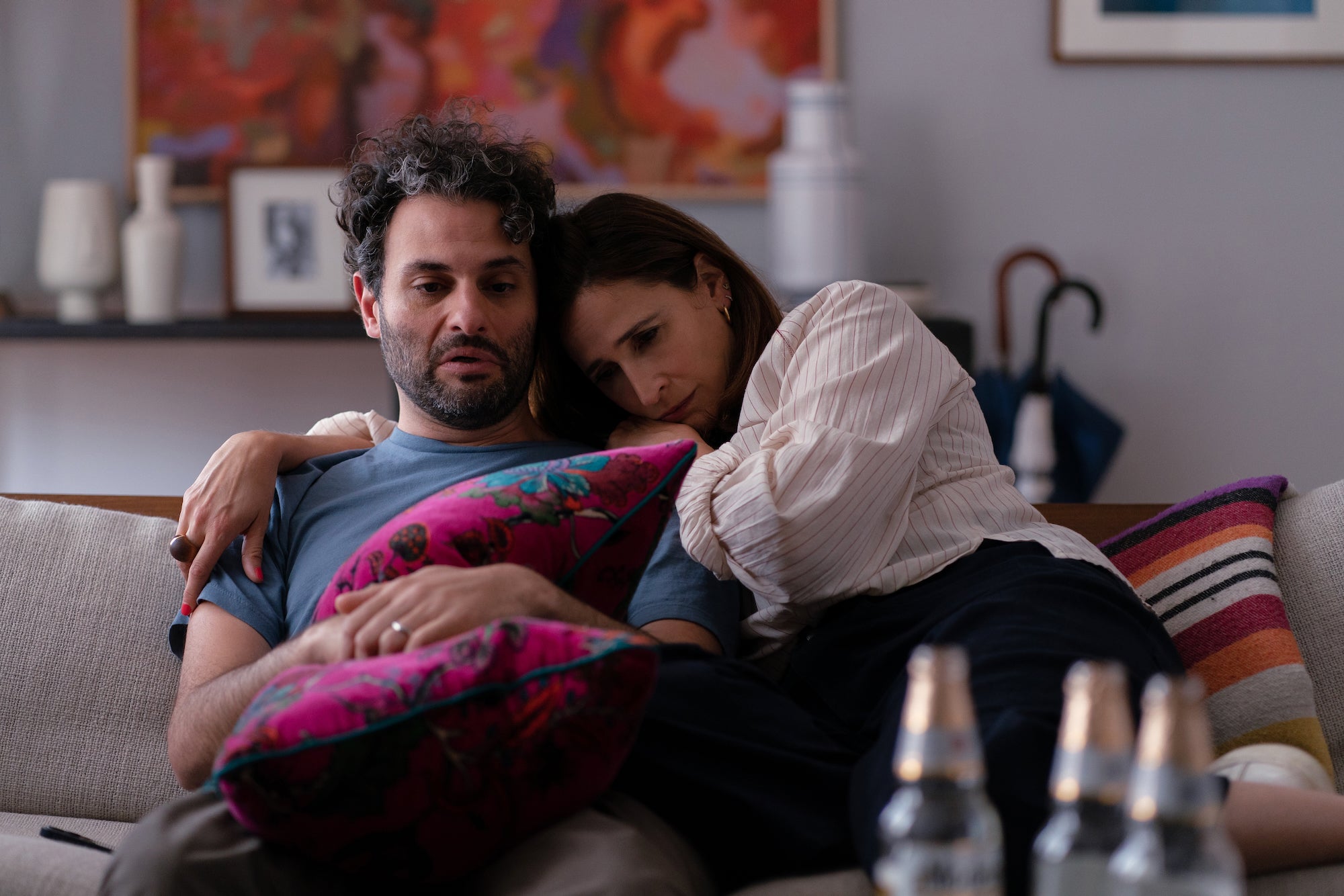 But it's not just Beth who faces this conundrum. Don questions his effectiveness as a therapist, most significantly with the ever-feuding couple Carolyn and Jonathan (scene stealers Amber Tamblyn and David Cross), and frets over the bags under his eyes. Mark, a struggling actor, questions whether he's talented enough to keep going, while Sarah's self-doubt creeps in with a demanding client. Beth's mother, Georgia (Jeannie Berlin), chooses brutal honesty, acknowledging on more than one occasion that Beth's memoir didn't sell as well as it could've. But Beth and Don go the opposite direction by encouraging their son Eliot (Owen Teague) in all of his endeavors, making Eliot's self-doubt arise in other ways; not knowing where he might improve as a budding writer hurts him in the long run.
You Hurt My Feelings spends more time exploring some of these avenues than others, but it never chooses a single side. Thanks to Holofcener's empathetic script, there's validity in telling some of those white lies to protect your loved ones, just as there's also validity in wanting to know the full truth, even if the potential shame and embarrassment last far longer. With Louis-Dreyfus and Menzies at the helm, what could be absurd feels tangible and world-shattering.
Whether it's about writing, another career, or something else entirely, the reality of those scenarios is never cut and dry. And even the solutions are messy: When Beth and Don get each other the same anniversary gifts after telling each other they hate receiving the same thing year after year, this time, they're in on the joke.
But in someone's most vulnerable moments, even after the existential crisis of it all, it might be better at that moment to grin and bare it.


We crawl the web so you don't have to.
Sign up for the Daily Dot newsletter to get the best and worst of the internet in your inbox every day.