You can now watch NFL Sunday Ticket even if you don't have a DirecTV satellite subscription. There's an online version of the popular service, meaning you can watch up to eight games at once on Sunday without having to go through your cable company, and there's one way to save some serious money. Here's how to stream NFL Sunday Ticket without a DirecTV satellite dish.
Note: NFL Sunday Ticket just airs the Sunday games in the 1pm ET and the 4pm ET block. If you're wondering how to stream NFL games from Thursday night to Monday night, check out our guide to NFL live streaming.
---
NFL Sunday Ticket live streaming: How to stream NFL Sunday Ticket
NFLSundayTicket.TV
Cost: $73.99 per payment for four months, or one single payment of $293.94
There are two—and only two—ways of acquiring NFL Sunday Ticket. There's NFLSundayTicket.TV, which costs $73.99 per payment for four months. It's everything you love about NFL Sunday Ticket but online-only. You can stream from pretty much any device that connects to the internet (a full list is featured below). However, unless you're an active college student, you do have to be living outside of an area that can't get service from the satellite TV provider. (If you live in a condo, apartment complex or other multi-residence building, that can help your cause.)
You can also upgrade to the NFLST.TV Max bundle for a total of $98.99 per payment for four months or one single payment of $395.99. That essentially means you're paying $25 per month for NFL RedZone, which is a pretty good deal. You can also add on NFL+, which allows you to watch replays of every game after they air, for $50 for the full season.
NFLSundayTicket.TV U
Cost: $29.99 per payment for four months, or one single payment of $119.96
If you're a college student, you're in luck: NFL Sunday Ticket streaming comes at a significantly discounted price in the form of NFLSundayTicket.TV U. (While it's pricier than it once was, recently costing under $100 a season, it's still clearly cheaper than other options available.)
If you're not a college student, well, maybe it's time to enroll in some night classes or hit up a relative who owes you a favor.
You get all of the same benefits as a traditional NFL Sunday Ticket package—out-of-market live games, Player Tracker stats, and Short Cuts—but at a fraction of the price. One-third to be exact.
In my experiment, using the personal information of a generous intern, I was not able to upgrade to the Max package. That means you'll need a different solution for streaming NFL RedZone. You can, however, add NFL Plus for $50 (more on that in a minute).
To get NFLSundayTicket.TV U, all you need to do is enter your school name, your full name, and your birthday.
If that doesn't work, you can also upload a document that proves your current enrollment, which means it's time to dig up your son or daughter's last tuition receipt or current transcript. NFL Sunday Ticket provides the following examples of acceptable documentation:
Current semester class schedule (must be dated for the current semester)

Official school letter (must be dated for the current semester)

A c

urrent term registration receipt

Your current term transcript

Current term tuition receipt

Any documentation issued by the educational institution that proves enrollment and includes your name, the institution's name and date issued/current term date will be reviewed and considered.
What is NFL+?
NFL Plus is a standalone streaming service that allows you to watch replays of every NFL game, even the ones that were originally subject to local blackouts. Even better: You can watch on-demand replays of every NFL game dating back to 2009—and all of it is HD quality.
You can also listen to live radio calls of every NFL game (the home or away version), and there are cool features that let you watch from different angles or condense the games to just highlights.
It costs $4.99 per month or $29.99 per year.
There are a few finer points that you should know before signing up. Games are available to stream shortly after their conclusion unless you're on your free trial or it's on NFL Network, in which case you'll need to wait 72 hours. Likewise, broadcast versions of Sunday morning and afternoon games are available by 8pm ET that evening.
Thankfully, Sunday night, Monday night, Thursday night and Saturday NFL games go live on NFL+ shortly after their conclusion.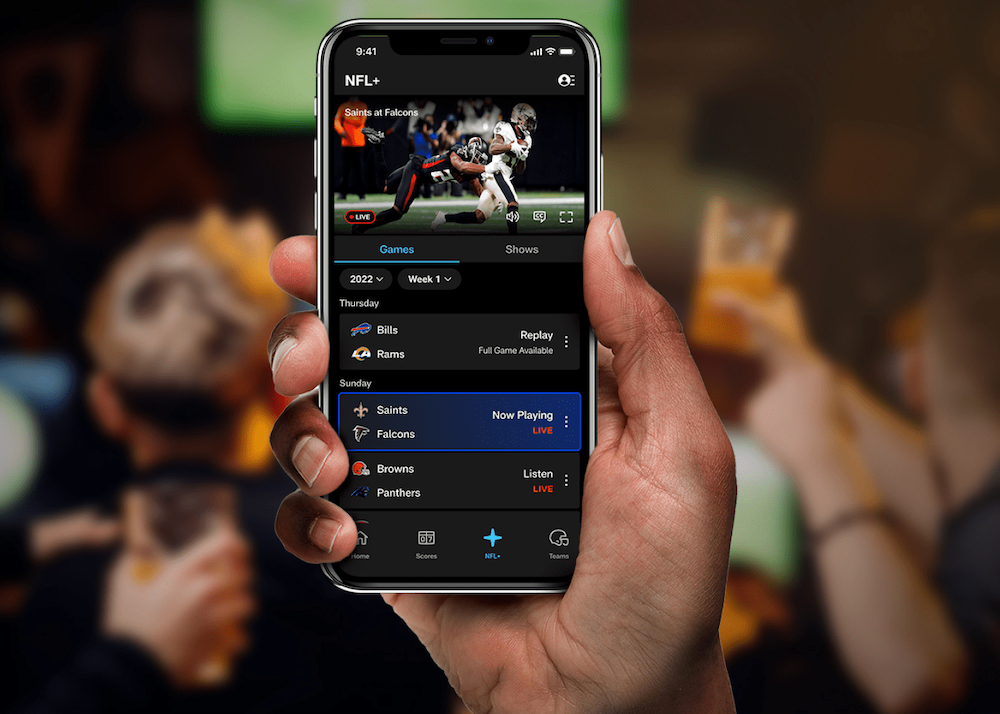 NFL Sunday Ticket streaming devices
One incredibly important thing to know about NFLSundayTicket.TV: You can only stream from one device at a time. That means if you start streaming NFL Sunday Ticket on your laptop but then you want to move to your living room and use Roku or your Amazon Fire Stick, you'll need to sign out on your laptop first for it to work.
With that caveat, here are all of the NFL Sunday Ticket streaming devices:
Xbox One

Apple TV (4th generation, OS 10.x and above)

Samsung Smart TV (2016+ Tizen OS only)

Playstation 4

Apple Watch (no live games)

Android and iOS smartphones

Apple, Android, Windows, and Kindle tablets

Web browsers
For a complete breakdown of compatible models and browsers, go here.
How to stream NFL Sunday Ticket on Amazon Prime
There's another way to watch NFL Sunday Ticket without DirecTV: Amazon Prime. While you can't pay for the package using Amazon Prime, you can at least watch all of the games on the service. To start, first download the NFL Sunday Ticket channel on Amazon Prime. It's free. From there, you'll just need to sign in with your subscription credentials.
You can also use this method to watch NFL RedZone on Amazon Prime, either by upgrading to the NFLST.TV Max bundle or through another channel that supports NFL RedZone streaming.
Need recommendations for what else to watch? We've got you covered. Here are the best movies on Amazon Prime, the best comedies on Amazon Prime when you need a laugh, sad movies to make you cry, kids' movies for the whole family, the best thrillers to get your heart racing, and the classic movies on Amazon Prime everyone should see.
---
Sports Channel and Streaming Service Guides
Live TV Service Guides
Streaming Device Guides
The Daily Dot may receive a payment in connection with purchases of products or services featured in this article. Read our Ethics Policy to learn more.