The 2019 NFL season is almost here. While it's easier than ever to cut the cord and binge on streaming platforms like Netflix and Amazon Fire TV, watching NFL games isn't as easy as one might think without cable. Not all hope is lost, though, as football fans can still watch ESPN without cable, and it's possible to watch NFL Sunday Ticket online, too.
NFL Sunday Ticket lets you stream out-of-market NFL games—in other words, the ones not playing on your local channels—every Sunday afternoon on your smart TV, your laptop, phone, or tablet, or via a streaming media device like Google Chromecast, Roku, or Amazon Fire. There's just one catch: Only one game can be treated remotely at any given time, so you won't be able to split the package with friends or family. NFL Sunday Ticket also unlocks DirecTV Fantasy Zone, a channel that gives you constant fantasy football updates. There's also NFL Game Pass, a paid add-on, which lets you watch preseason games and replays throughout the week.
Get your hot wings and beer ready: Here are two of the best ways to get the NFL Sunday Ticket on your flatscreen without cable. (And if you're interested in how to watch NFL RedZone online, we've got you covered there too.)
NFL Sunday Ticket online: How to watch without DirecTV
In 2015, AT&T announced it would expand streaming for the NFL Sunday Ticket to NFL fans who don't have DirecTV's satellite service through a special subscription package. To get an NFL package from DirecTV, just head to the website and subscribe to either the standard or max package. Plans start as low as $35 a month for 12 months, plus they wave the TV activation fee. DirecTV only offers the Sunday Ticket separate from its regular cable service, and users are eligible if you don't have cable or live in an apartment or condo.
The NFLST.TV package offers live out-of-market games that you can't watch locally on Sundays for $73.99 per month for four months, or a single payment of $293.96 to get it over with.
The NFLST.TV Max bundle has all of the above but adds in NFL RedZone and DirecTV Fantasy Zone for $99.99 per month or $395.99 for the entire season.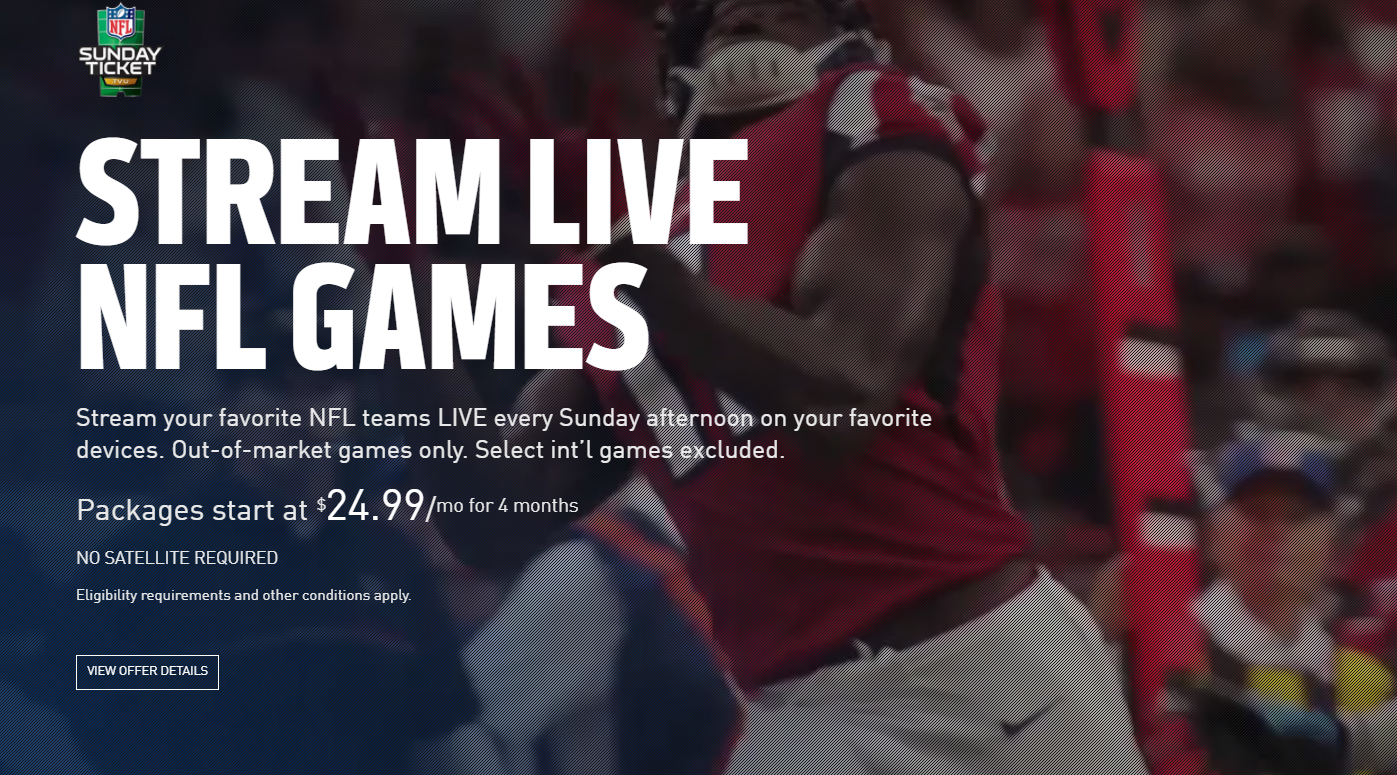 Students on a tight budget can get the NFL Sunday Ticket package at a discounted price.
Eligible students are those attending a two or four-year college at the time of subscription. Thinking about trying to game the system? Students do have to give a little information to verify that they are currently enrolled. The student subscription doesn't auto-renew, and once a student's record is completed or gone, the special bundle will return to normal pricing.
The NFLST.TV U package is $24.99 per month, or $79.97 for the entire season, and includes all of the same benefits as the Max package.
LIVE TV STREAMING:
How to watch the NFL Sunday Ticket online without cable
Streaming the Sunday Ticket is easy on almost every device that has WiFi connection. Watching the game on streaming boxes and consoles such as Apple TV, Roku, Chromecast, Xboxes, and PlayStations connected to a TV is also a good option.
So go ahead and cut the cord if you haven't done so, gather up your best friends with some grub, and hope that your team doesn't fall by the wayside this season.
Editor's note: This article is regularly updated for relevance. The Daily Dot may receive a payment in connection with purchases of products or services featured in this article. Click here to learn more.