With services like Netflix getting more expensive every year NBC's streaming service Peacock presents an interesting option for families. You would expect its extensive collection of classic NBC TV, Universal movies, WWE wrestling content and exclusives.
What will surprise you is its free starting price.
Before you sign up let us walk you through the basics, from how much it really costs to how you can watch WWE content. Here's everything you need to know about getting started with Peacock.
---
What is Peacock and why should I try it?
Peacock is NBCUniversal's entry into the ever evolving streaming service wars. Originally launching as an Comcast XFinity exclusive, the service became available for everyone in July 2020.
Drawing its content from the vast NBCUniversal library, Peacock offers a mix of new exclusive original programming, nostalgic classics, and modern hits.
Where it sets itself apart is cost. Peacock's basic service is free and ad-supported, offering a limited selection of its library. Paid subscribers can unlock additional shows and an ad-free experience.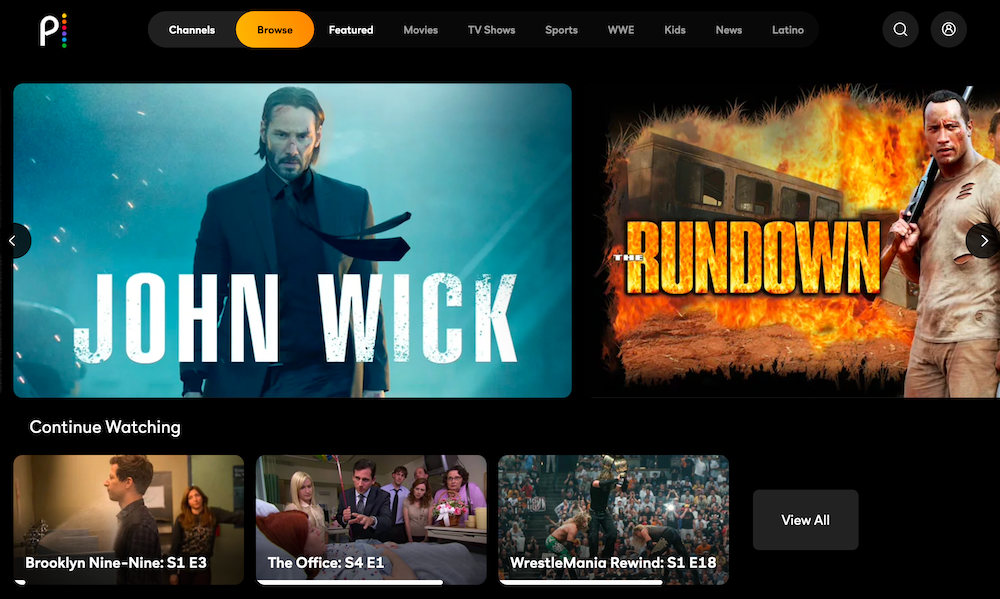 How does Peacock TV work: Plans
Peacock offers three plans, but they're separated by two categories: free and paid. Here's what you need to know.
How does Peacock TV Free work?
The most basic tier of NBC's streaming service is free. All you need to start watching in an email. Once you've logged you can get started watching, though there are limitations. Free users will quickly notice that some content is behind a paywall. For example, you'll be able to stream the first two seasons of Parks & Recreation for free.
However, when you go to play season three or beyond you'll notice a little feather icon. This icon indicates members-only content. That doesn't mean Peacock's free tier isn't worth using. In fact it might be the best free streaming platform for classic TV around. Provided of course you're just looking for the first few seasons.
The same is true for movies. You can watch the first three Harry Potter films for example but the rest is locked behind paid membership. But at least you can stream Peacock without breaking out your wallet.
How does Peacock TV Premium work and what does it cost?
When you're ready to start paying Peacock unlocks its true potential. Its most basic paid tier costs $4.99 per month or $49.99 for a whole year. This service works much like Hulu, unlocking everything on the service but with ad-breaks while you watch.
Peacock has more ads than Hulu's similarly priced basic level. TV shows have more ads than movies, with some movies having only one or two ad breaks per viewing.
Catch entire runs of classic shows like The Office, Everybody Hates Chris, Modern Family, and Law and Order: SVU. You'll also get original series like the rebooted Saved by the Bell or the incredible late night original series The Amber Ruffin Show.
It also features one of the best libraries of older streaming studio movies around, from John Wick to The Breakfast Club.
How does Peacock TV Premium Plus work and what does it cost?
Finally we have Peacock Premium Plus for $9.99 per month or $99.99 per year. You get all of the great content of Peacock Premium, just with almost all the ads taken away. Yes, we said almost. Due to licensing deals with some studios who produced content on the service, there are some shows that will still have ads.
We've found them during Brooklyn 99 and other legacy shows. Frustratingly some big name movies also feature ads. For example, we saw them during Harry Potter. While this isn't a deal breaker by any means, Peacock seems to have more shows with ads in its premium tier than Hulu does. Similarly you're going to find ads on content like WWE pay-per-views.
To its credit Peacock doesn't advertise Premium Plus as ad-free but as content with "fewer ads." However, unlike Hulu which also has some shows with ads, it doesn't publicly list which shows you'll find them on.
We love being able to watch The Office without ads, but that extra $5 per month doesn't feel worth it. Even with the service's massive NBC streaming library.
Does Peacock have live TV?
Yes, but not in the traditional sense. Rather than offering cable channels like Hulu Live TV or Sling, Peacock has live streaming channels. These have names like SNL Vault, WWE, NBC Sports, and Today All Day. Similarly to free services like Pluto, these channels stream content 24 hours a day with regular ad breaks.
Even if you're a Premium Plus member you should expect ads while watching channels on NBC's streaming service. Channels are handy if you don't know what to watch, but it's not a major feature.
---
Streaming devices
Peacock is available through Apple TV and iOS devices, Roku, Google devices including Chromecast, XBox One, and LG and Vizio smart TVs. It actually launched without Amazon Fire and Roku compatibility, similar to HBO Max's story. But now Roku users can experience the service.
---
What's on Peacock?
TV
One of Peacock's biggest gambles is that viewers will flock to the service for its exclusive deals to license shows. While the pandemic caused major delays with its first wave of original series, Peacock still has a powerful list of exclusives.
It's the only place to catch Parks and Recreation, the Office, Battlestar Galactica, A.P. Bio, the rebooted Saved by the Bell, Cheers and more. It's heavy on NBC content, but you should expect that from NBC's streaming service.
You'll also find new exclusives like Mr. Mercedes for adults and TrollsTopia for the kids.
Movies
Movie fans are also in for a treat with Peacock. If your biggest complaint about Netflix is the lack of classic studio movies Peacock is a dream come true. Check in with John Wick, the Harry Potter series, The Nutty Professor, Notting Hill, and The Breakfast Club in one of the best streaming movie libraries for older films around.
In fact the only problem with Peacock is its awful search and genre selections. Rather than let you look for Action or Horror you have to scroll through its menus to find "80s Flashback" or "If You Got It, Flaunt It" or "Family Movie Night."
Hopefully, they'll fix this issue in the future because Peacock often feels like a streaming old-school video store for $4.99 per month. However, given some movies still have ads with $9.99 per month plan, we suggest sticking to the basic membership.
WWE on Peacock TV
Peacock announced an exclusive partnership with World Wrestling Entertainment in 2021 to take over its streaming content in America. Here's what you need to know if you want to know how to stream Wrestlemania this year.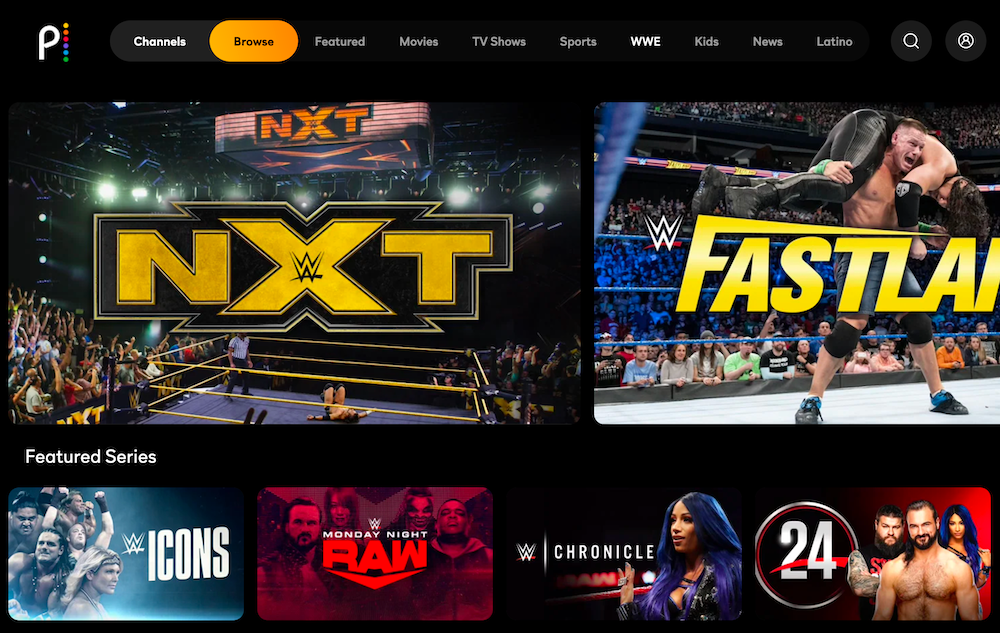 How does WWE content work?
For years WWE fans have been able to stream live pay-per-views, weekly events, and decades of old matches on the WWE Network. Starting in April 2021, the WWE Network will be closed in America, with Peacock being the exclusive home for new WWE pay-per-views.
Rather than an entire streaming service, the WWE's new home is the WWE tab in the Peacock app. It's here that you'll find access to live events like Wrestlemania and Summerslam, along with old episodes of RAW, Smackdown, and NXT.
This move comes with some downsides for wrestling fans. Not everything from the WWE Network has made its way over to Peacock yet. The company says most of it should be available in time for the 2021 Summerslam pay-per-view. However, longtime WWE Network subscribers who signed up for legacy content the loss matters.
Hopefully the blow is softened by the lower cost of access. While the WWE Network cost subscribers $9.99 per month, the WWE's content on Peacock is available starting at $4.99 per month.
That's a great deal for new fans, even with the compromises. Besides, you'll be able to watch ECW pay-per-views again later in 2021.
If I already subscribed to WWE Network am I now subscribed to Peacock?
Preexisting WWE Network subscribers will have their membership canceled on April 5, 2021 when the Network shuts down. You will need to sign up for a Peacock membership if you want to continue watching WWE pay-per-views.
The first WWE pay-per-view that will be exclusive to Peacock TV is Wrestlemania, airing over two nights on April 10 and 11.
Can free users watch WWE events like Wrestlemania?
WWE content is exclusive to Peacock Premium and Premium Plus members.
---
Peacock vs. The Competition
CBS All Access may be the most analogous service to Peacock on the market today: A network-driven streaming service bolstered by a parent company with additional media holdings. Part of the comparison breaks down to NBC's core shows vs. CBS's core shows—if you're a fan of shows like 30 Rock and Parks and Recreation, you're obviously going to find Peacock more appealing than if you gravitate toward CBS's offerings.
One factor going for Peacock, though, is the free option for about half its content. CBS All Access doesn't offer that currently.
Disney+ is obviously geared largely toward children's programming. Thanks to its Star Wars and Marvel holdings, there's a broader appeal to Disney Plus. It's a streaming service that does it right. Disney Plus's movie selection is more generally beloved than what comes out of Universal's stable. (Though, certainly, franchises like Fast & Furious have their devotees).
A number of Disney+ subscribers do, furthermore, bundle with Hulu and ESPN Plus, and can already access shows like Parks and Rec and 30 Rock on Hulu.
Netflix vs. Peacock
The battle between Peacock and Netflix comes down to cost, ads, and classic movies. If you're someone who loves watching old studio movies Peacock is a treat, full of legacy titles like The Breakfast Club, Big Lebowski, and John Wick. However, you're going to experience ads occasionally, even if you're paying for the almost ad-free experience.
Peacock also doesn't offer 4K content like Netflix does. That being said, Netflix makes you pay $17.99 per month for 4K, even though its 4K library is mostly its own in-house movies. Peacock doesn't have 4K but NBC's streaming service has far more classic movies.
Peacock is cheaper than Netflix, has incredible exclusives like Netflix's old top show The Office, a massive movie library, and the largest collection of pro-wrestling in streaming for $4.99 per month.
We're not sure it's enough to get Netflix subscribers to cancel their membership, but at $5 per month Peacock is a great addition to any streamer's life.
Hulu vs. Peacock
Of all the streaming services out there, Peacock's most direct competition is Hulu. Both services have a low entry level membership cost, with Peacock starting at $4.99 and Hulu at $5.99. Both services offer large libraries of classic TV shows, currently airing shows, and movies. The devil is in the details.
Peacock has more ads than Hulu, even if you pay for its premium $9.99 membership. Hulu on the other hand offers an almost entirely ad-free experience for just $11.99. What they don't do is offer a free service as Peacock does.
Interestingly both services are great for wrestling fans.
Hulu has new episodes of WWE Raw and Smackdown available to stream on day after they originally air. Those same episodes don't come to Peacock for over a month. While Hulu is a streamer's best bet to catch RAW or Smackdown without cable, Peacock is the only way to watch WWE pay-per-views.
For normal streaming families the question will ultimately be a matter of which service has the shows you want. They're very evenly matched, though Hulu has better exclusive movies and more exclusive TV.
However, if you are a wrestling fan, we suggest just subscribing to both services. Hulu and Peacock Premium together cost as much as you used to pay for the WWE Network.
We're as surprised as you wrestling fans get their own recommendation, but the modern world is fun sometimes.
---
How to sign up
Here's how to sign up for NBC's streaming platform Peacock.
Go to Peacock's sign-up website.
Enter your email, pick a password, and then enter the password again.
This will create your basic Peacock account.
You will now be asked to pick a tier, Free, Premium, or Premium Plus.
If you select Premium or Premium Plus you'll be asked to enter your payment info.
Hit pay and now you're ready to start streaming on the NBCUniversal service.
---
Is Peacock worth it?
Its free option and next-day accessibility to NBC shows makes it a welcome addition to the growing streaming universe. Seeing it in action in its paid tiers, though, will answer some lingering questions about the user experience.
Two that come to mind: How ad-free will the ad-free version truly be? And how will its originals compare to what HBO, Showtime, and even Starz are providing?
There's a lot to love on NBC's streaming service, even if it's originals are a little late to the party. After all, legacy shows are big business. Competitors like Netflix and Hulu have learned the importance of having re-watchable shows like The Office and Parks and Recreation.
Peacock makes revisiting your favorite shows cheaper than any other service. For TV fans it's a no brainer. We're not sure if it by itself is a Netflix killer. But if you bundle its basic service with Hulu you'll paying about the same cost as Netflix for a better TV library.
The addition of wrestling content might not be a big selling point for everyone, but we love the added value it brings. Hopefully it will inspire new audiences to discover the sport.
For $4.99 per month Peacock's biggest selling point is its sheer variety. If you don't know what to watch Peacock makes for a perfect "open it up and see what's playing app."
We really hope Peacock improves its consistency when it comes to its limited ad's experience because it's an incredible budget option for families.
---
---
The Daily Dot may receive a payment in connection with purchases of products or services featured in this article. Read our Ethics Policy to learn more.