One of the areas on-demand streaming services like Netflix can't compete with traditional cable is DVR. You can always hope your favorite show will be on Hulu or streaming, but nothing beats saving it yourself. Cord-cutters don't have to live without DVR, however. All of the major live TV streaming services offer cloud-DVR, allowing you to enjoy your recordings remotely. 
The question is: Which service has the best DVR? There are lots of factors to consider, from pricing to storage to how long your recordings last. Here's how each of the major streaming TV solutions stacks up when it comes to DVR.   
Cloud DVR: How every live TV service stacks up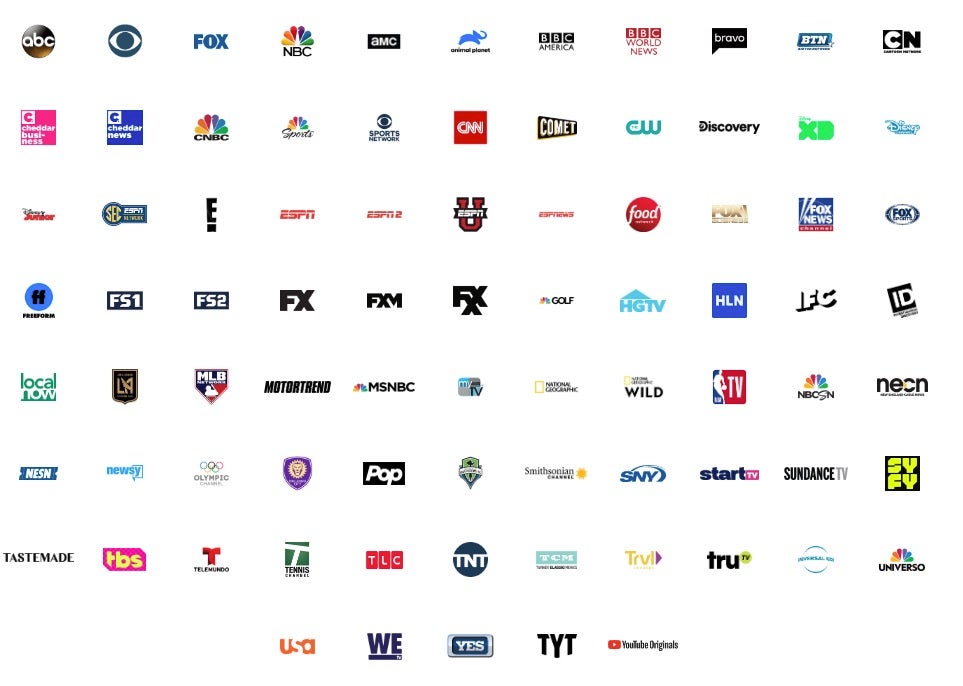 No one does DVR better than YouTube TV, especially if you have a large family or group of friends using your account. Every YouTube TV account comes with unlimited cloud DVR space, something only PlayStation Vue can rival. However, while PlayStation Vue gives you unlimited recording space, you can only store your recordings for 28 days. Recordings on YouTube TV, on the other hand, last up to nine months.
Even better, each YouTube TV account supports up to six individual profiles for different members of your family. Every single profile gets its own unlimited DVR. That means on top of never running out of recording space, with YouTube TV you'll also never have to worry about someone recording over your favorite shows. There are still things like channel packages to consider, but YouTube TV is hard to beat when it comes to DVR. (You can find the full list of YouTube TV channels here.)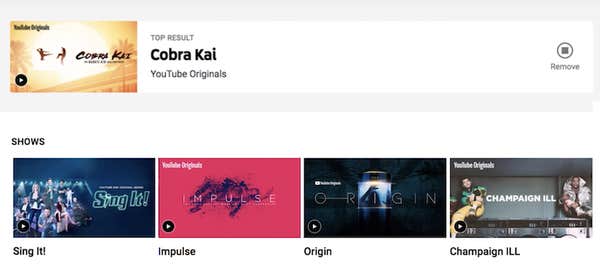 ---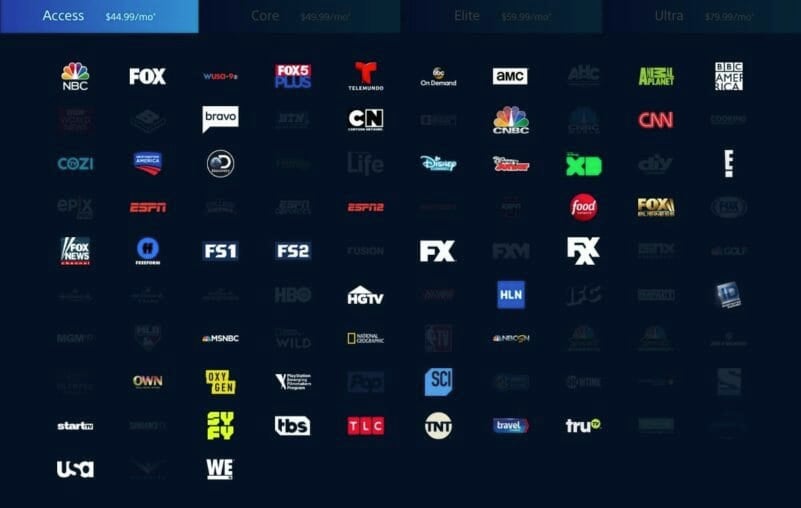 Sony's PlayStation Vue is the only paid live TV option on PlayStation, but thankfully it has a great DVR—and there are plenty of other ways you can use the service. Subscribers get unlimited DVR recording space. Your recordings are saved for 28 days, giving you plenty of time to catch up. That means you won't be able to save a whole series forever, but you'll never run out of storage.
PlayStation Vue is also one of the few services that let you fast-forward and rewind DVR content. The exception is recordings from Fox, FX, and FXX which, due to licensing, can't be navigated through. Still, PlayStation Vue offers a compelling set of DVR options. (Here are all of the PlayStation Vue channels.)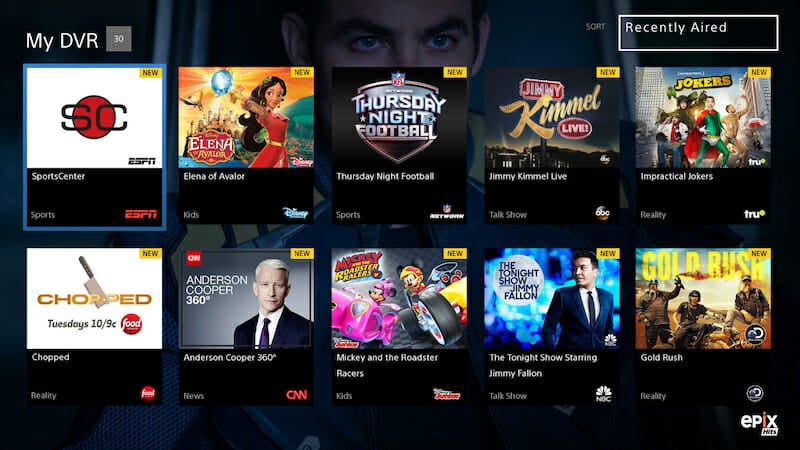 ---
Cost:

$44.99 for the first month, $54.99 per month thereafter (after a 7-day free trial)

FuboTV devices:

Roku, Apple TV,

Amazon Fire Stick

and

Fire TV

, Android TV, iOS and Android devices

DVR cost: Free for 30 hours, $9.99 per month for upgrade
Number of hours included: 30 hours with standard package, 500 hours with upgrade
Records deleted: Only when space limitations are reached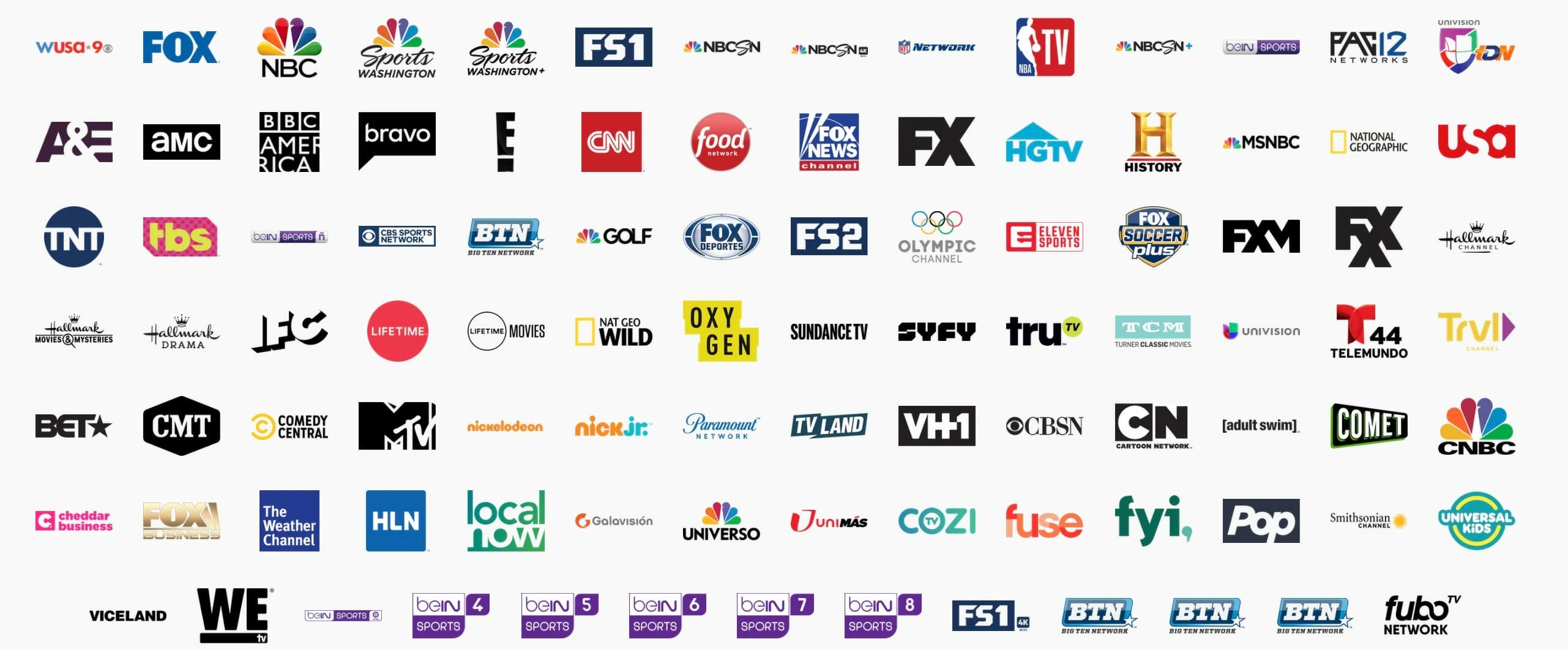 Every FuboTV subscriber gets 30 hours of cloud-DVR included with their subscription, and your recordings last until you run out of space or delete them. Families who need more DVR room than that can upgrade to 500 hours of storage for $9.99 per month.
FuboTV's DVR sets itself apart by giving users the ability to record shows that are already playing from the beginning. This comes in handy when you forget to set a recording reminder or if you stumble across a special event. (Here's the complete FuboTV channels list and our comprehensive FuboTV review.)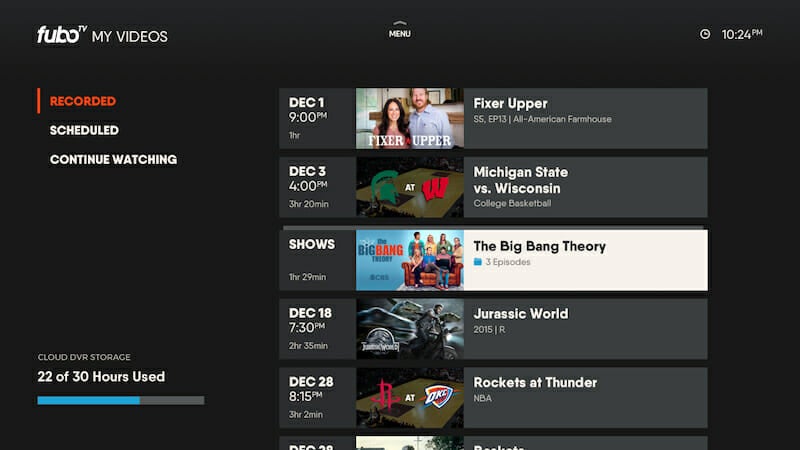 ---
Cost:

$44.99 per month (after a 7-day free trial)

Hulu devices:

Roku, Apple TV, Google Chromecast, Amazon Fire Stick and Fire TV, Xbox One, Xbox 360, Nintendo Switch, and iOS and Android devices

DVR cost: Free for 50 hours, $14.99 for enhanced cloud DVR
Number of hours included: 50 hours with standard subscription, 200 hours with enhanced cloud DVR
Records deleted: When capacity is reached

Hulu with Live TV is a fascinating middle ground in the world of streaming TV. Each subscription to Hulu with Live TV includes 50 hours of free cloud DVR storage. If you need more room, Hulu also offers what it calls "Enhanced cloud DVR" for $14.99 per month. The enhancement ups your storage to 200 hours and gives you the ability to fast-forward and rewind through ads during most recordings.
READ MORE:
What's interesting is the way the company bundles its streaming service with its live TV service. While 50 hours may not sound like much, but it's plenty when you consider just how much TV content Hulu puts up on its service the day after it airs. While the extra space and ability to scan through ads will save you some headaches, $14.99 per month is a lot to pay for enhanced DVR. That's as much as a monthly HBO Now subscription. For most Hulu users, the standard 50 hours and the included on-demand Hulu content will be more than enough. (Here's the complete list of Hulu Live TV channels.)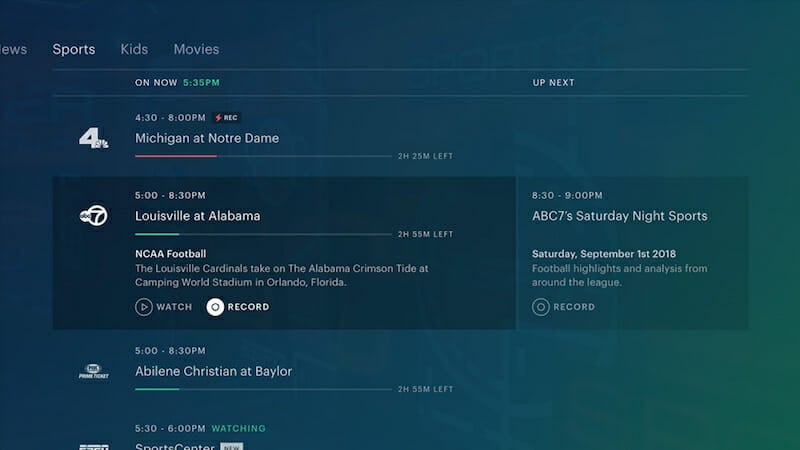 ---

Sling TV has built a solid fanbase by providing à la carte streaming TV for a low cost. The downside is you'll have to pay extra to get cloud DVR. Adding DVR to your Sling TV package adds an extra $5 per month, bringing the base cost up to $30 per month. For your money, you'll get 50 hours of DVR space. When you've hit your limit, Sling TV will automatically delete the oldest recordings you've already watched—unless you've chosen to "protect" them. Sadly, at the moment, it's not possible to add extra DVR time to your account.
At one point Sling TV offered up to 100 hours of cloud DVR, but that was part of a special beta. You may get lucky and discover you still have 100 hours of cloud DVR space on your account still if you were part of that beta. Just enjoy it while it lasts and don't tell anyone. (Here's a complete guide to Sling TV channels and our Sling TV review.)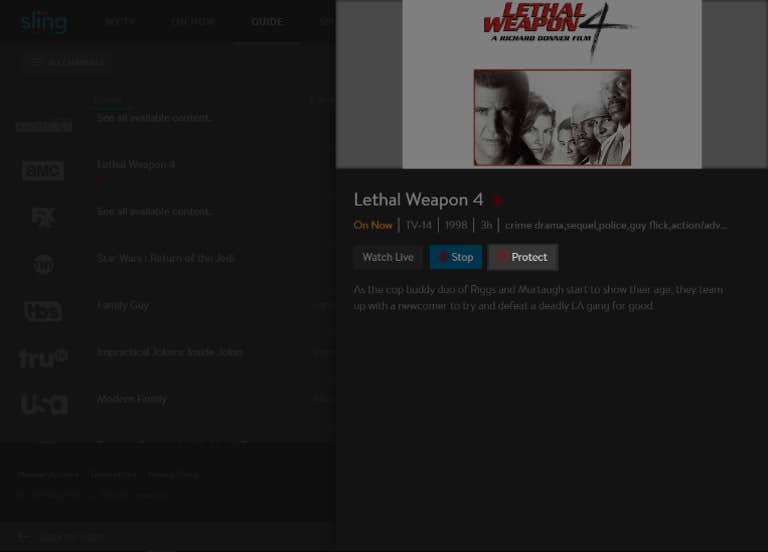 ---
Cost:

$16 per month (after a 7-day free trial)

Philo devices:

Roku, Apple TV, Amazon Fire Stick and Fire TV, iOS and Android devices

DVR cost: Free
Number of hours included: Unlimited
Records deleted: After 30 days

If you want streaming TV on a budget, Philo is one of the best in the business. Offering 58 channels for just $20 per month, Philo is already a frugal delight. What might surprise you is that even though it's cheaper than Sling TV, Philo comes with free cloud DVR. It doesn't even limit how much you can save. The only catch is that Philo cloud DVR recordings can only be saved for 30 days. Still unlimited DVR space for just $20 per month makes Philo a compelling option, particularly when compared to the competition.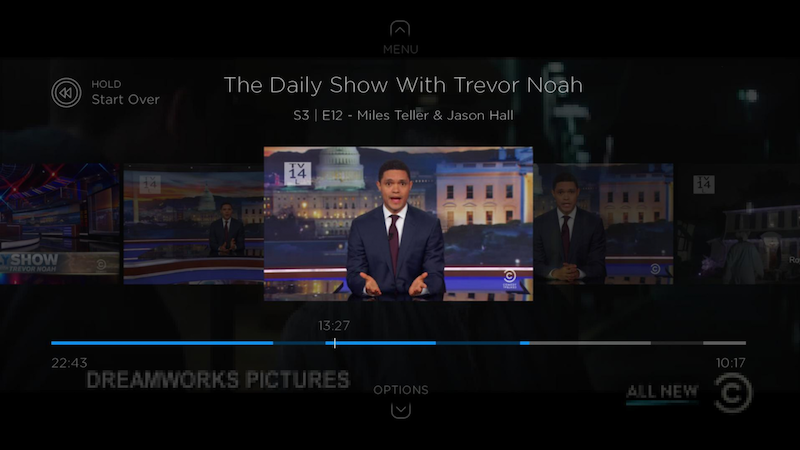 ---
Cost: $50-$75 per month
Devices: Roku, Apple TV, Amazon Fire Stick and Fire TV, Chromecast, iOS and Android devices, and Samsung smart TVs
DVR cost: Free
Number of hours included: 20 hours
Records deleted: When capacity is reached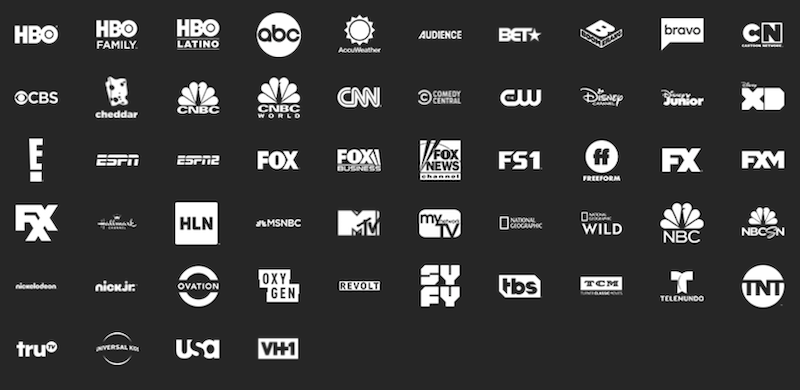 The good news is you won't have to pay extra to use cloud-DVR on DirecTV Now. The bad news is subscribers only get a stingy 20 hours of DVR recording space. When you run out of space, DirecTV will delete an old recording to make room, but it's still a paltry amount. The company is reportedly planning on rolling out extended DVR options in the future, but no date has been set.
While this can be a frustratingly small amount of space, DirecTV Now makes up for it by letting you navigate during recordings. Subscribers can fast-forward or rewind through almost all of your recordings, though a few special events are exempt. Still, it's nice that they make up for the lack of space with the navigation feature.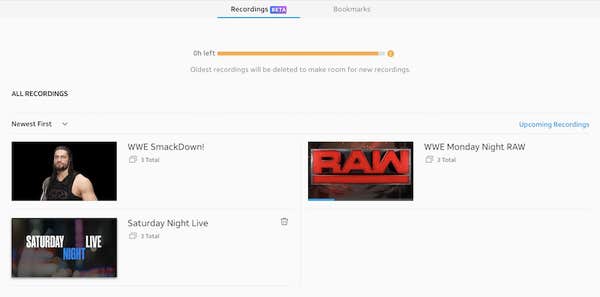 New to cord-cutting? Here are our picks for the best movie streaming sites of 2019 and free live TV apps and channels. If you're looking for premium services, here's how to watch HBO, Showtime, and Starz online.