You may be ready to cut the cord, but there's one feature you'll want to carry over from cable: DVR, which allows you to tape your favorite shows and sports for later viewing. Thankfully, Sling TV offers DVR, but it comes with a few catches.
Here's everything you need to know about Sling TV DVR: how much it costs, how it works, and its limitations.
While several live TV streaming services, including YouTube TV, and FuboTV, offer some level of DVR, it's an optional add-on with Sling TV.
Cloud DVR on Sling TV costs $5 per month for 50 hours of storage (after 10 free hours) . At the moment, there's no way to purchase additional space.
If you already have a Sling TV account and want to add Cloud DVR, you can do so by signing into your account at sling.com/account and hitting Change Subscription. From there, Cloud DVR will be listed under Extras. If you created your account through Amazon, you can add the DVR feature from the Sling TV app on your Amazon streaming device of choice: Amazon Fire Stick, Fire TV, or Fire tablet.
Some users, myself included, may see 100 hours of cloud DVR storage available. This is apparently a holdover from Sling's earliest Cloud DVR beta tests, which have long since closed. That the additional space is still available for some users may suggest the service is weighing an increase in storage in the future.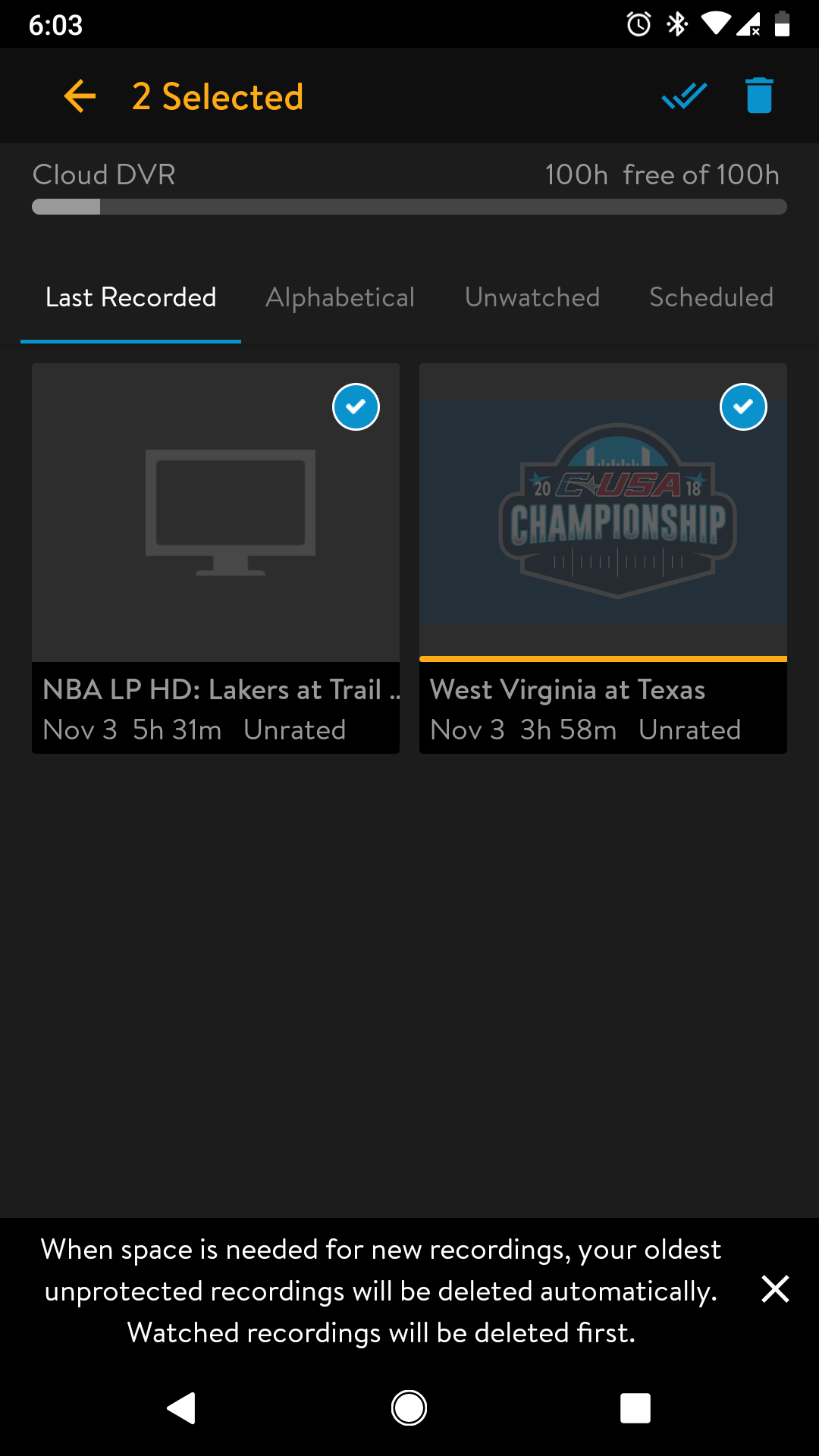 WATCH: Is SlingTV worth it? 
---
How Sling TV DVR works
With a few exceptions (noted below), you can record just about anything on Sling TV. All you have to do is select Record from the options on the title card of the show or event you want to watch. You can record multiple programs at once and watch a different channel while doing so. If it's a series you're saving, This Is Us or The Walking Dead, for example, you'll have the option of recording every episode when it premieres, so you won't have to remember each week.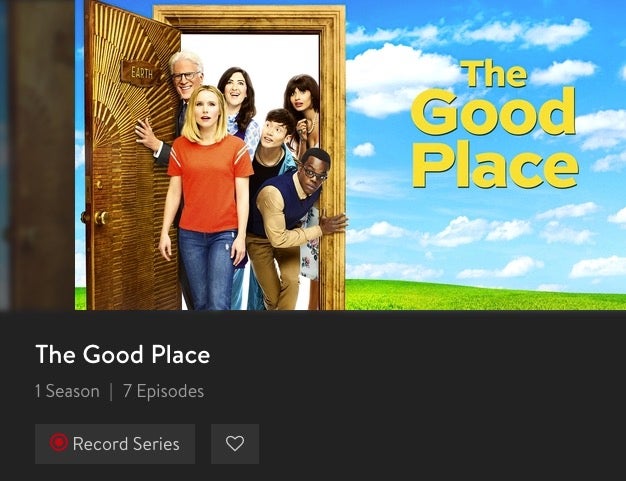 Pro tip: If it's a sports event you're recording, you'll want to also record the show that immediately follows your event. That way, if there's a delay or overtime, you won't miss the ending if it runs over. Sling TV doesn't currently allow you to extend your scheduled recording time, so this is your best workaround.
When you reach your 50-hour limit, Sling TV will automatically delete your oldest watched recording (emphasis on watched). However, if there's something specific you'd like to save, you can do so by selecting Manage in your My DVR settings, which will also provide a breakdown of how much storage space you have remaining.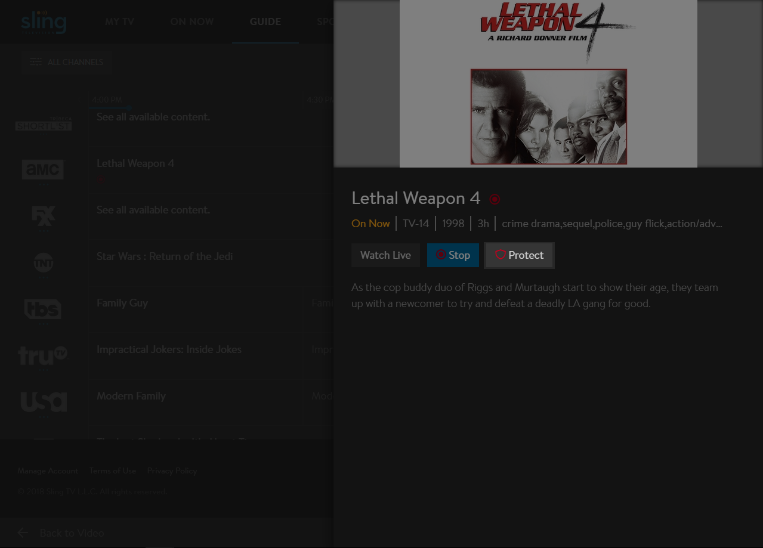 You can use Cloud DVR on almost every compatible device with Sling TV, including Roku, Apple TV, Google Chromecast, Amazon Fire Stick, Xbox One, and Android and iOS apps. (The exception is the Xfinity X1 platform.)
---
Sling TV DVR limitations
While Sling TV DVR works on the vast majority of channels, there are a few limitations. You can't record anything on on-demand channels like Local Now, and all of the Disney and ESPN channels are off limits. That includes: Freeform, Disney Channel, Disney XD, Disney JR, ESPN, ESPN2, ESPN3, ESPN Deportes, ESPN Goal Line, ESPN Bases Loaded, and SEC Network Extra.
MORE ABOUT SLING TV:
The best perk of DVR is being able to fast-forward through commercials on your recordings. However, you won't be able to do so for "select recordings" on Fox channels, including FX, FS1, FS2, and National Geographic. "For these select recordings," Sling TV notes, "FOX requires that Sling shows you a Video On-Demand version of your recording, which does not allow you to fast forward through commercials."
You cannot download recordings for offline viewing.
Sling Blue and Sling Orange + Blue subscribers will likely have local channels for Fox and NBC in their channel packages (you can check your availability here). You'll be able to use Sling TV to DVR anything on NBC channels, but there are some restrictions around Fox content (see above). If you're using an AirTV Player, you can also record local over-the-air programming using Sling TV DVR. You can find more info here.
New to cord-cutting? Here are our picks for the best movie streaming sites of 2018 and free live TV apps and channels. If you're looking for a specific channel, here's how to watch HBO, Showtime, Starz, ESPN, ESPN2, ESPN3, AMC, FX, Fox News, MSNBC, CNN, CNBC, FS1, TBS, TNT, Golf Channel, Cartoon Network/Adult Swim, the CW, BBC, CSPAN, NBA TV, MTV, the Weather Channel, and NFL RedZone without cable, as well as free movies on YouTube. If you're on the move, here's how to watch Fox Sports Go and live stream NBC Sports.
The Daily Dot may receive a payment in connection with purchases of products or services featured in this article. Click here to learn more.