For almost three decades (more than three if we're counting The Tracey Ulman Show shorts), Homer, Marge, Lisa, Maggie, and Bart have not only charmed their way into our hearts but into popular culture itself. Maybe you're humming the lyrics to "Mister Plow" while you wait in line at the movies. You might even cry "D'oh!" when life shafts you once again. At this point, The Simpsons have introduced more popular phrases to the modern lexicon than Shakespeare. And with infinitely more laughs, no less.
The Simpsons is the longest-running animated comedy, with 656 episodes under its belt by the time season 30 closes. And thanks to the internet, it's possible to stream every single one of them. 
Here's everything you need to know to watch The Simpsons online for free.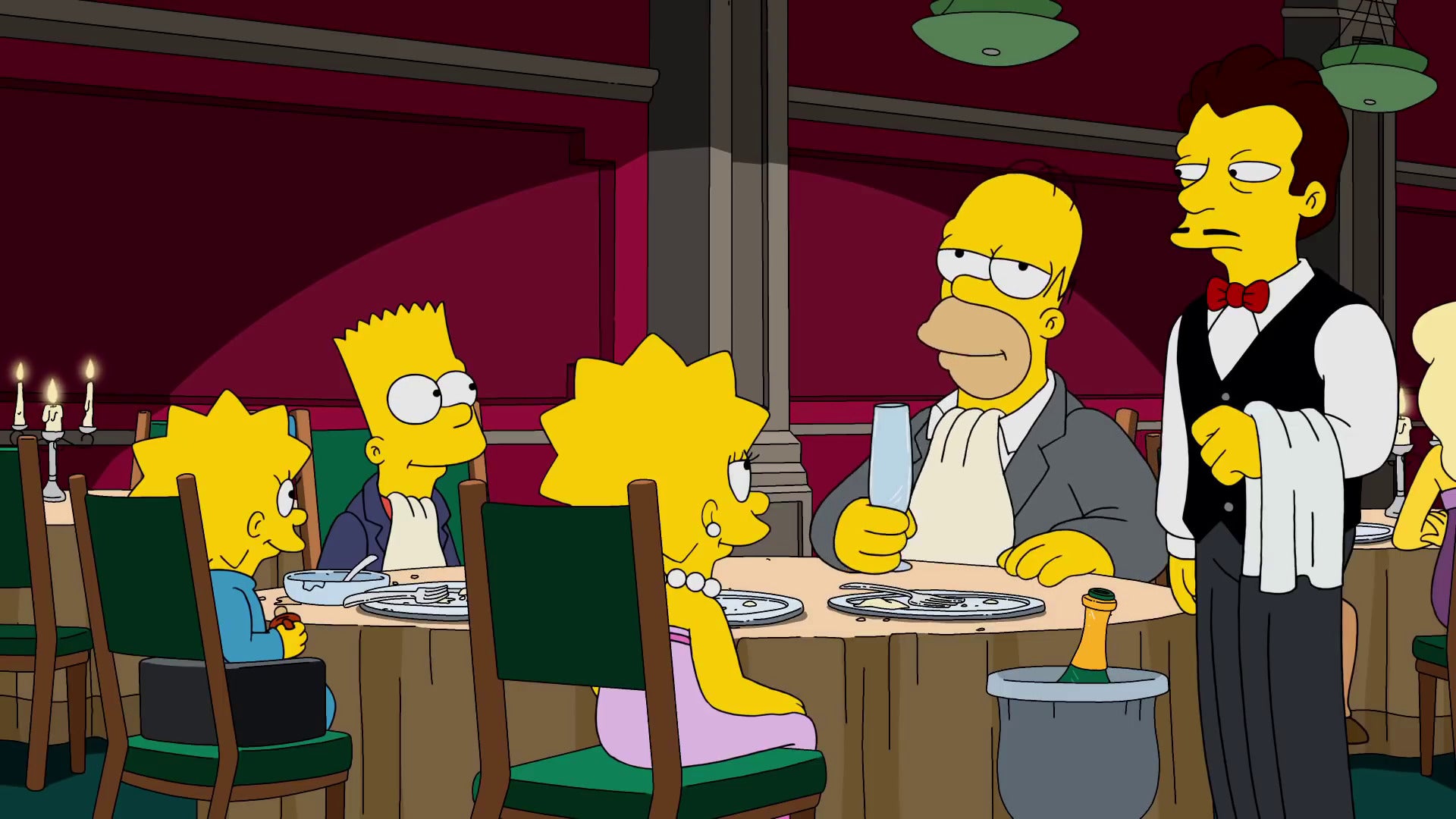 The Simpsons cast
Dan Castellaneta as Homer Simpson
Julie Kavner as Marge Simpson
Nancy Cartwright as Bart Simpson
Yeardley Smith as Lisa Simpson
What channel is The Simpsons season 30 on?
New episodes of The Simpsons air on Fox, but it's available in syndication on FXX. 
What time does The Simpsons season 30 start?
The Simpsons season 30 started Sept. 30, 2018. After a mid-season hiatus, it's back with new episodes every Sunday at 8pm on Fox.
---
How to watch The Simpsons season 30 online for free
Fox is available on all six of the major live TV streaming services. When deciding which one is best for you, you'll want to weigh the cost, the other channels you'll receive, and the compatible devices for streaming. Thankfully, no matter which service you decide to try, you'll be able to start with a one-week trial, so you can watch The Simpsons season 30 for free. For a more complete rundown of streaming services, check out our guide to Sling TV competitors.
If you live in New York City, Philadelphia, Chicago, Houston, Denver, Boston, Dallas, or Washington, D.C., you can also try Locast, a non-for-profit service that lets you stream all of your local channels through any web browser. It's a free service, but donations are encouraged.
For a more à la carte service, look to Sling TV. It offers two cable packages, Sling Orange and Sling Blue, both of which cost $25 per month. If you grab them both, (Sling Orange + Blue) you can save $10 per month. Sling Blue offers more bang for your buck with over 40 channels, including sports necessities like FS1, NBCSN, and NFL Network. You'll also gain access to the usual cable mainstays like Food Network, Discovery, Cartoon Network, SYFY, and FXX. (Here's the complete guide to Sling TV channels.)
---
Cost: $44.95 per month (after a 7-day free trial)
Hulu devices: Roku, Apple TV, Google Chromecast, Amazon Fire Stick and Fire TV, Xbox One, Xbox 360, Nintendo Switch, and iOS and Android devices
Local channels: ABC, CBS, Fox, NBC, the CW (check your local availability here)
Hulu with Live TV is one of the most popular ways to stream live TV, perhaps because you gain access to a massive library of on-demand content including classic and current TV shows, movies, not to menti0n Hulu's original programming. That includes all episodes of season 30 of The Simpsons. As far as live-streaming goes, you'll have almost 60 channels to flip through, including HGTV, a full suite of ESPN channels, Cartoon Network, FX, and even deep cuts like Nat Geo Wild and Syfy. (Here's the complete list of Hulu Live TV channels.)
READ MORE:

---
If you have a PS4 and are into the idea of having your gaming and streaming needs met in the same place, PlayStation Vue is made for you. Jumping from your favorite game to your favorite show is seamless, and controlling it is as intuitive as playing an actual game. Your PS4 controller is your remote, after all. Still, you don't need a PS4 to enjoy this service. You can also use a Roku, Amazon Fire devices, and even Kodi. Plus, you'll get awesome channels like AMC, BBC America, and Bravo in PlayStation Vue's entry-level package. One subscription works with up to five devices, all with unlimited cloud DVR storage making it one of the most binge-friendly solutions. (Here are all of PlayStation Vue channels.)
---
FuboTV was built from the ground up with sports fans in mind. There are different channel packages available whether you're looking for basketball, soccer, golf, and even outdoor sports like rock climbing. But no worries, all the great cable channels you're after are present too, including Viceland, Bravo, TBS, and IFC. Plus, It comes with Fox, so you'll be able to watch The Simpsons. (Here's the complete FuboTV channels list.)
---
Cost: $49.99 per month (after a 7-day free trial)
YouTube TV devices: Google Chromecast, Roku, Apple TV, Android TV, Xbox One, iOS, and Android devices
Local channels: NBC, CBS, Fox, ABC, the CW (enter your ZIP code here to check your availability)
YouTube TV is a great solution for families because one subscription can add up to six accounts. Each account comes with unlimited cloud DVR. There are sports channels like NBCSN, NBA TV, and four ESPN channels. Disney, Disney XD, Disney Junior, and Cartoon Network will keep any kid (or kid at heart) busy for hours. It also comes with a few Spanish-language channels like Telemundo and NBC Universo. AMC, BBC America, and IFC are there too, so you won't miss out on all that prestige TV. (You can find the full list of YouTube TV channels here.)
---

Cable giant DirecTV offers its own online streaming solution with DirecTV Now. For those who need a pile of channels, DirecTV Now offers upwards of 125 channels in its most expensive package, in case you want to relive the days of endless surfing. However, its basic Live a Little Plan will cover most of your live-streaming needs, including getting you access to Fox where you can stream The Simpsons. (You can find the full list of DirecTV Now channels here.)
---
How to catch up on The Simpsons episodes
If you're somehow new to the party, there are a couple of places you can catch older episodes of The Simpsons.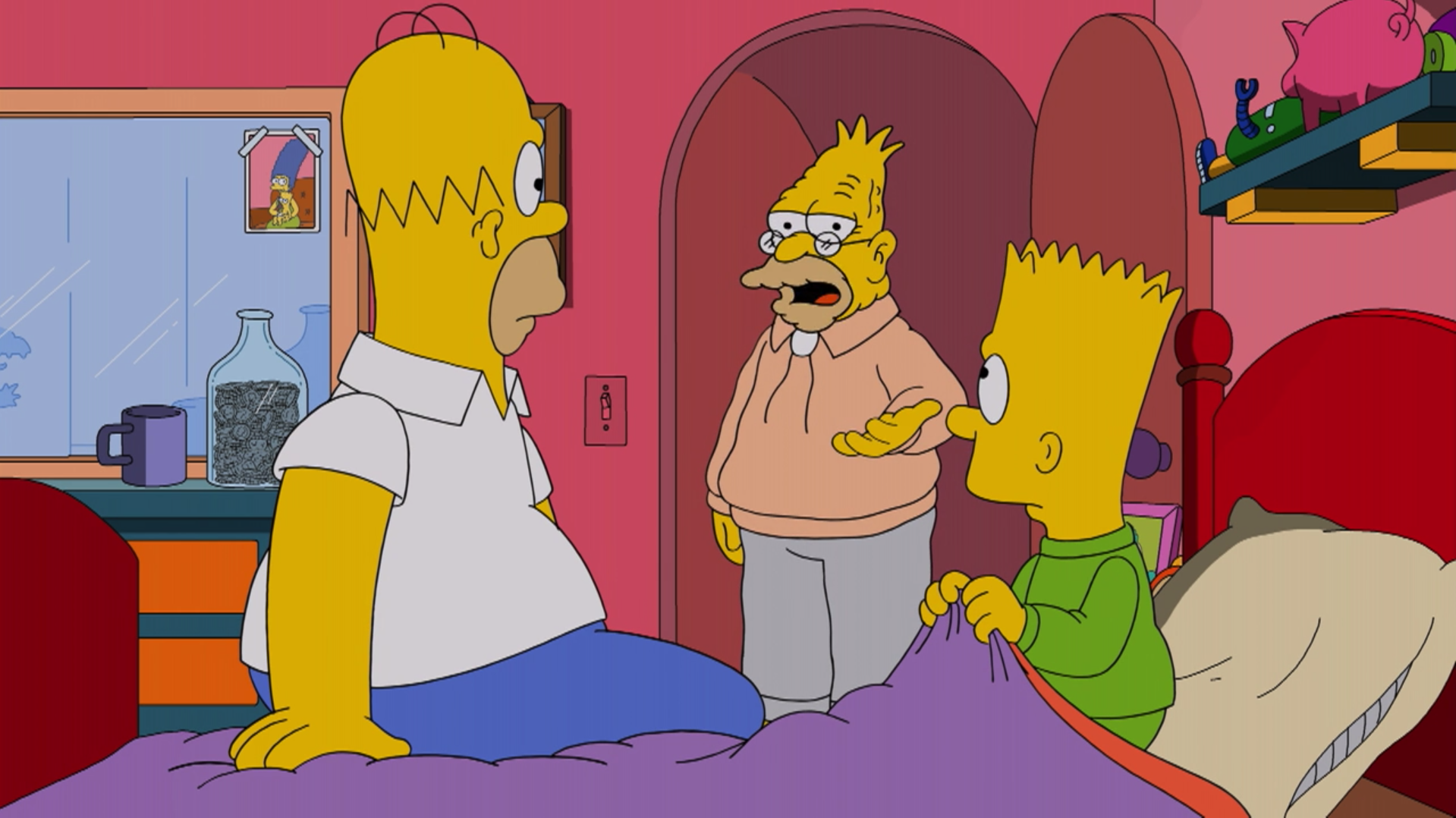 Cost: $5.99 per month (after a 7-day free trial)
Hulu devices: Roku, Apple TV, Google Chromecast, Amazon Fire Stick and Fire TV, Xbox One, Xbox 360, Nintendo Switch, and iOS and Android devices
If you want to watch episodes of The Simpsons or the day after they air, there's no better option than Hulu. The streaming service, which just slashed the cost of its ad-supported version to a mere $5.99 per month, and offers all episodes of The Simpsons season 30 on-demand.  When it comes to adult cartoons, you can't beat Hulu, which also offers Rick and Morty, King of the Hill, and plenty more. If you subscribe to Hulu with Live TV (featured above), you'll get the on-demand portion of Hulu included for free. (You can also upgrade to Hulu No Commercials for $11.99 per month.)
---
Cost: $2.99/episode, $14.99+/season
Devices: Amazon Fire Stick, Fire TV, Fire tablets, and Fire phone; Roku, Google TV, TiVo, Nvidia Shield, PlayStation 3 and 4, Xbox One, Nintendo Wii
Seasons 1-30 are available for purchase on Amazon Video starting at only $1.99 an episode. It's a great place to grab classics you want to have at a moment's notice, like "Last Exit to Springfield" or "Who Shot Mr. Burns." Entire seasons start at only $14.99. 
---
All episodes of The Simpsons, including audio commentary from the cast and writers, are available on this massive website. You need a cable login to access it, but luckily for you, all of the above live-streaming services will work. Simply visit the site, pick an episode, and you'll be prompted for your login information. Once you plug it in, you'll be free to stream every episode ever.
---
FX Now is the FX and FXX on-demand streaming service, which includes shows like Sons of Anarchy, Always Sunny in Philadelphia, Archer, and of course, The Simpsons. It works similarly to Simpsons World, where you plug in your credentials from one of the above cable streaming services (save for DirecTV Now). 
---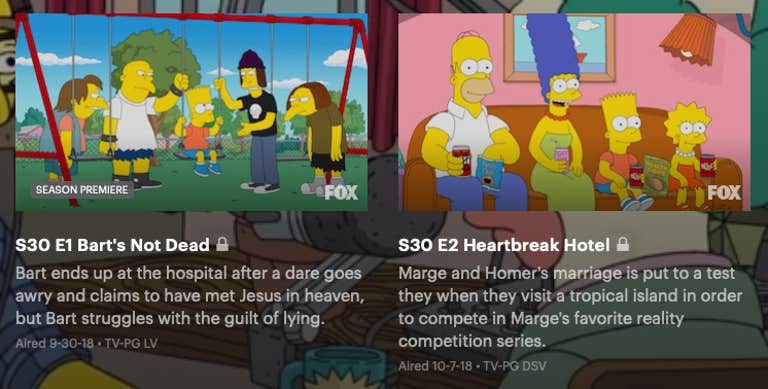 The  Fox website has episodes from season 30 along with selected clips and extras. If you want to watch full episodes, you will need a cable login, though, you are allowed free access for about an hour before that kicks in.
The Daily Dot may receive a payment in connection with purchases of products or services featured in this article. Click here to learn more.