The rivalry between the Boston Celtics and Los Angeles Lakers was bigger than basketball. It's the original East Coast vs. West Coast beef, defining a glorious decade of the NBA that established dynasties and defined the careers of two of the greatest players of all time, as Magic Johnson's Showtime battled Larry Bird and company. Produced by four-time Emmy winner Jim Podhoretz, 30 for 30's Celtics/Lakers: Best of Enemies unfurls the history between the two teams over three parts and five hours, with narration from celebrity fans—Ice Cube for the Lakers and Donnie Wahlberg for the Celtics—and interviews with Johnson, Bird, Kareem Abdul-Jabbar, Kevin McHale, Jerry West, and plenty more.
Here's everything you need to know to watch 30 for 30's Celtics/Lakers: Best of Enemies online.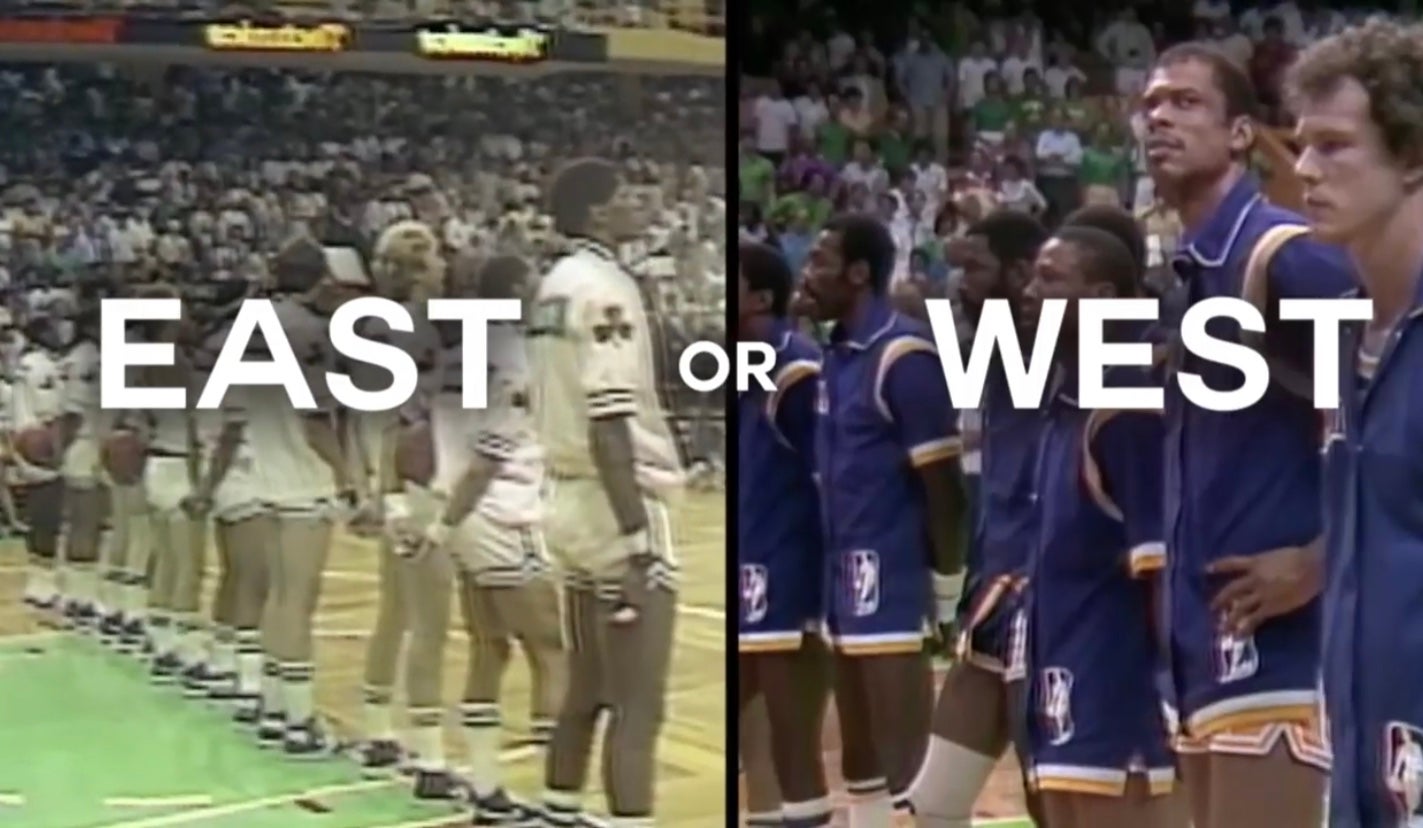 Celtics/Lakers: Best of Enemies credits
Director:

Jim Podhoretz

Released:

June 13, 2017

Featuring:

Magic Johnson

, Kareem Abdul-Jabbar, Jamaal Wilkes, Byron Scott, James Worthy, Kurt Rambis, Bob McAdoo, Jerry West, Paul Westhead, Pat Riley, Bill Russell, Larry Bird, Kevin McHale, Danny Ainge, Cedric Max

well

, M.L. Carr, Quinn Buckner, and K. C. Jones, among others.
"What I love about the rivalry is there are so many aspects to it," Podhoretz wrote. "You have legendary figures like Magic and Bird and Bill Russell and Jerry West. You have sublime basketball that is both unselfish and spectacular. And you have epic athletic conflicts. But what I've come to cherish in making the film are the personalities and passions of the players involved. The joy and the anguish and all of the other emotions that they express in telling their story are what bring the documentary to life. Their enthusiasm and recall for the rivalry was inspiring and we hope to capture that and take the viewers for a compelling and insightful ride."
How to watch 30 for 30's Celtics/Lakers: Best of Enemies for free
Cost: $4.99 per month or $49.99 for 12 months (after 7-day free trial)
Devices:

Chromecast, Amazon Fire TV and Fire Tablet, Apple TV, Android TV, Roku players and TV, Oculus Go, Xbox One, PlayStation 4, Samsung smart TVs, and iOS and Android devices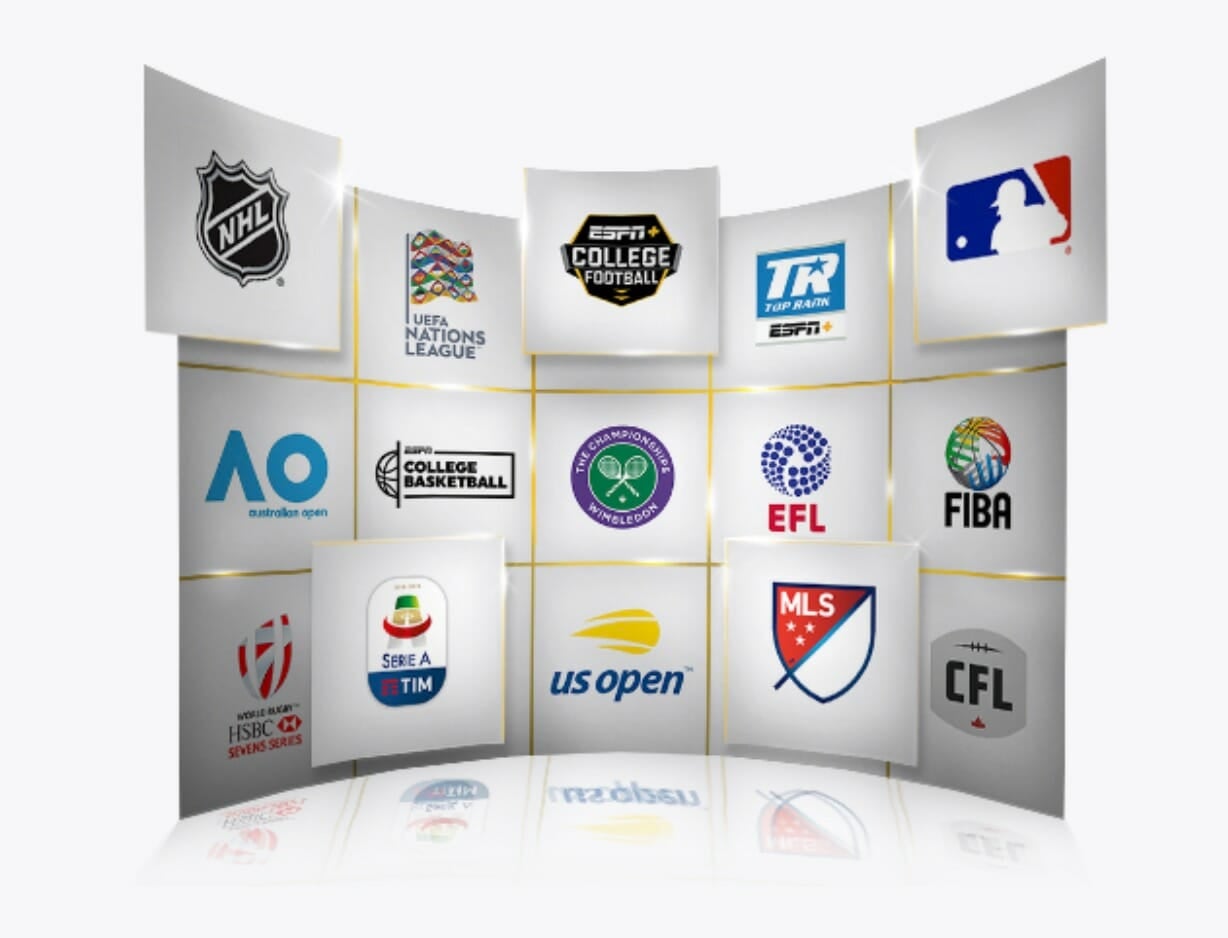 If you want to stream Celtics/Lakers: Best of Enemies, ESPN+ is your best (and only) option. Thankfully, your subscription comes with a free 7-day trial, and there are plenty of other reasons you'll want to subscribe. For one thing, you can watch the entire 30 for 30 catalog—all 156 entries and counting—and 30 for 30 shorts. You'll also get access to original series like Kobe Bryant's Detail and NBA: Year One, which follows prominent rookies from the draft through the end of their first season.
ESPN+ also offer a ton of live sports programming, including 20 exclusive UFC Fight Night events per year, every out-of-market MLS game, 180 NHL games, one MLB game every day for the entire season, coverage from more than 20 PGA Tour events, and loads of college sports.
ESPN+ functions as an extension of ESPN's site and app. The content that's marked with the golden "E+" logo in the corner is exclusive to the service and will be unlocked with your subscription. It's incredibly easy to use and, from our experiences, provides excellent service and value.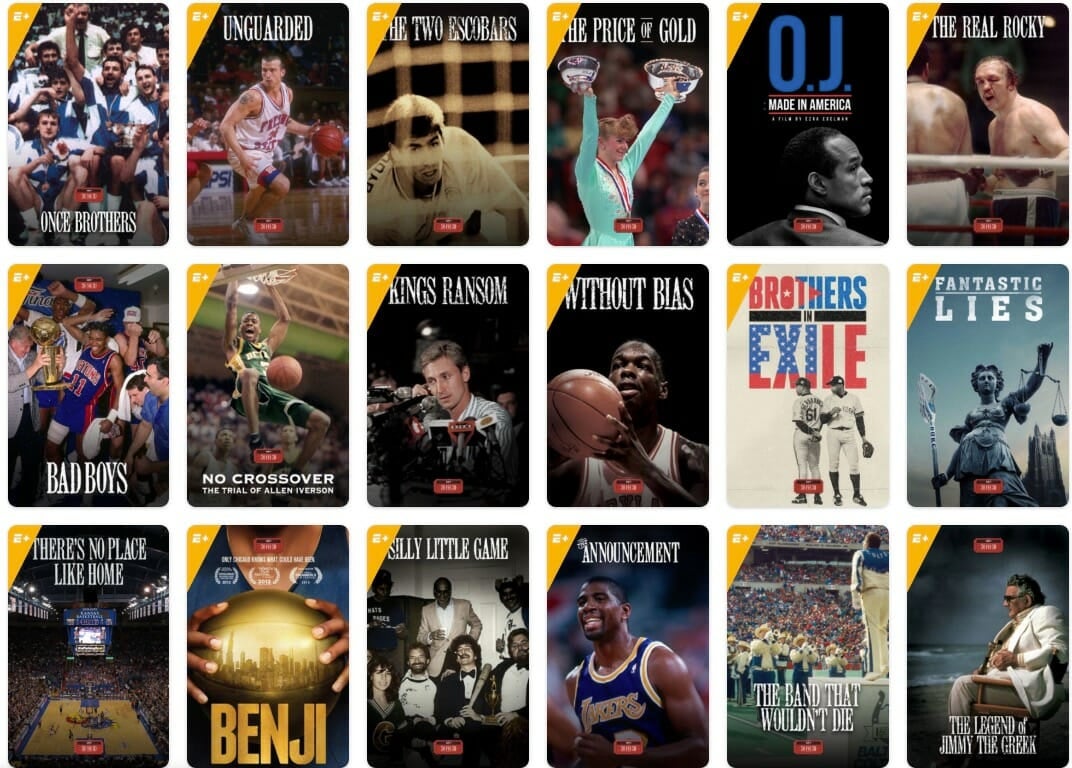 Other ways to watch 30 for 30's Celtics/Lakers: Best of Enemies
You can buy all three episodes of Celtics/Lakers: Best of Enemies on Amazon Video for $2.99 per episode or get all of 30 for 30 season 4 for $29.99.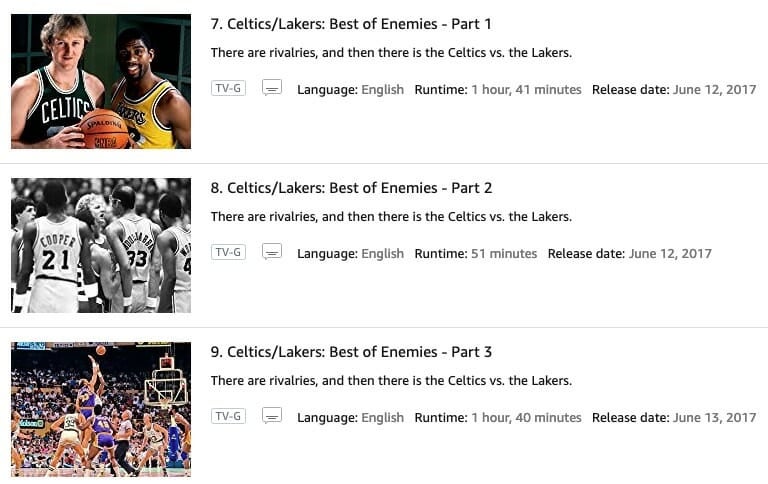 New to cord-cutting? Here are our picks for the best movie streaming sites of 2019 and free live TV apps and channels. If you're looking for premium services, here's how to watch HBO, Showtime, and Starz online. Want a specific channel? Here's how to stream A&E, AMC, Animal Planet, BBC, Bravo, Cartoon Network/Adult Swim, CNN, CNBC, C-SPAN, Comedy Central, the CW, Discovery, ESPN, ESPN2, ESPN3, ESPNU, Food Network, Fox News, Freeform, FS1 and FS2, FX, Golf Channel, HGTV, History Channel, HLN, Lifetime, MSNBC, MTV, National Geographic, NBA TV, PBS, Sundance TV, Syfy, TBS, Tennis Channel, TLC, TNT, the Weather Channel, Willow, and NFL RedZone without cable, as well as free movies on YouTube. If you're on the move, here's how to watch Fox Sports Go and live stream NBC Sports.
The Daily Dot may receive a payment in connection with purchases of products or services featured in this article. Click here to learn more.