Longtime UFC heavyweight contender Junior dos Santos (21-5) rarely loses, but when he does, he goes down dramatically. The Brazilian's two losses to Cain Velasquez, in 2012 and 2013, were bloody, one-sided maulings that together lasted nearly 50 minutes and probably took years off dos Santos' career. And his second-round knockout loss to Alistair Overeem in 2015 came as the result of a winging left hook he really should have seen coming (and probably would have in his pre-Velasquez glory days). Francis Ngannou (13-3), meanwhile, seems to do his best work against fighters who beat up dos Santos. He was able to crumple the former heavyweight champion Velasquez in just 25 seconds. And in 2017 he very nearly took Overeem's head off with an uppercut that seemed to come from off the cover of a comic book.
Luckily for Junior dos Santos, and contrary to popular belief, there's no transitive law in fighting. Just because A beats B and B beats C, that doesn't mean A will necessarily topple C. As former heavyweight boxing champion George Foreman said after knocking out Joe Frazier for a second time in 1976, "I could fight [Muhammad] Ali a hundred times, he would beat me a hundred times. I could fight Joe a hundred times, I would knock him out a hundred times. And yet Ali and Frazier could fight each other a hundred times and it would be life and death every single time." Don't be seduced by combat sports math, Foreman warns: Inside the ring, style is king.
And Junior dos Santos has the style to beat Ngannou—as long as he can keep his wits about him. Ngannou, who overcame crushing poverty in his native Cameroon and homelessness in his adopted Paris before striking it rich in the UFC, possesses otherworldly punching power that would give anyone pause, even an experienced heavyweight like dos Santos, but his striking technique and conditioning leave something to be desired. If he's smart, the Brazilian will stay on the outside, avoiding Ngannou's dangerous hooks and tormenting him with his long body jabs, overhand rights, and fencing-style footwork. But Ngannou has a way of scaring the intelligence out of even the best fighters. When he hits people, they forget themselves.
Here's everything you need to know to live stream Ngannou vs. dos Santos.
UFC Fight Night Minneapolis: Francis Ngannou vs. Junior dos Santos
When: 9pm ET, Saturday, June 29
Where: Target Center in Minneapolis, Minnesota
Streaming: ESPN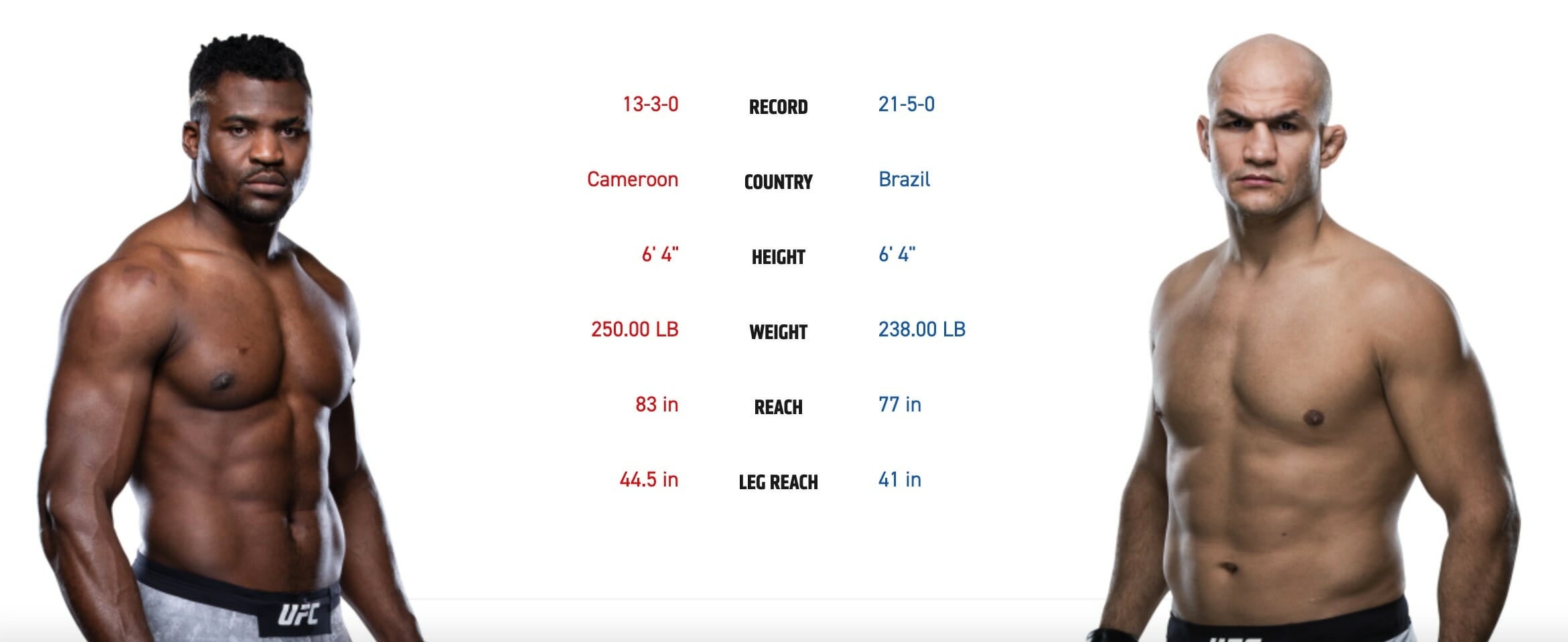 UFC Fight Night Minneapolis: How to watch Ngannou vs. dos Santos
UFC Fight Night Minneapolis is being broadcast by ESPN, which is available on most live TV streaming services. Here's what you need to know about each one, including which ones offer free trials.

Sling TV is one of the most affordable and flexible options for streaming live TV. You can choose between two basic plans, either of which costs $25 per month. Sling Orange offers three ESPN channels, Disney Channel, and Freeform, along with about 20 other channels. Sling Blue offers even more channels, including some local options, FS1, FX, and specialty sports channels like NFL Network. For $40 per month, you can combine the two packages in the aptly named Sling Orange + Blue. Sling TV lets you customize further with more than a dozen add-on packages for sports, comedy, and more. You'll also be able to rent movies or subscribe to premium channels like Showtime and Starz. (Here's a complete guide to Sling TV channels and our Sling TV review.)
---

Cost: $44.99 per month (after a 7-day free trial)
Hulu devices:

Roku, Apple TV, Google Chromecast, Amazon Fire Stick and Fire TV, Xbox One, Xbox 360, Nintendo Switch, and iOS and Android devices

Hulu local channels:

ABC, CBS, Fox, NBC, the CW (check your

local availability here

)
Hulu is already the best way to catch up on your favorite TV shows. The streaming service costs just $5.99 per month (with ads) and allows you to watch all of your favorite current (and classic) sitcoms and adult cartoons on demand, not to mention Hulu originals like The Handmaid's Tale. But now you can watch live TV too. For $44.99 per month, Hulu with Live TV offers more than 60 channels, including ESPN, ESPN2, the CW, HGTV, TNT, and CNN, in addition to all of the local channels you're used to seeing. (Here's the complete list of Hulu Live TV channels.) You can also add premium channels like HBO and Showtime. The best part? You'll get access to the rest of Hulu's on-demand catalog for free, though you may want to consider upgrading to watch commercial-free.
---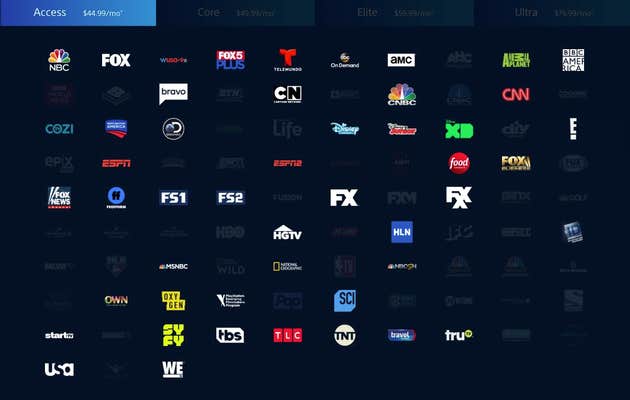 Don't let the name fool you: PlayStation Vue is a great live TV streaming option, and you don't have to own a gaming console to use it. PS Vue works with Roku, Amazon Fire, and even Kodi. (It's also the only live TV service available on PS4.) PlayStation Vue offers four different channel packages, starting at $44.99 per month. No matter which one you choose, you'll get great channels like ESPN and ESPN2, AMC, BBC America, TBS, Disney Channel, and plenty more. For bilingual families, Telemundo may be available as part of your local channels, and there's an Español Pack for $4.99 per month that includes NBC Universo, CNN en Español, Fox Deportes, and more. (Here are all of the PlayStation Vue channels and our PlayStation Vue review.) The great thing about PlayStation Vue is that you can stream on up to five devices at once, making it a great option for families, and you'll get unlimited cloud DVR.
---
YouTube TV strikes a perfect balance between sports (MLB Network, NBA TV, a whole suite of ESPN channels), news (CNN, MSNBC, BBC World News), and entertainment (AMC, HGTV, TBS). There are a couple of drawbacks: You can't add HBO or stream using Amazon Fire devices, and aside from Telemundo and NBC Universo, it's lacking in Spanish channels. But you can create up to six accounts with each subscription, and each of those receives unlimited cloud DVR. That alone makes the service with considering. (You can find the full list of YouTube TV channels here.)
---
UFC Fight Night Minneapolis schedule
All times ET.
Main Event | 9pm on ESPN
Francis Ngannou vs. Junior dos Santos
Jussier Formiga vs. Joseph Benavidez
Demian Maia vs. Anthony Rocco Martin
Roosevelt Roberts vs. Vinc Pichel
Drew Dober vs. Marco Polo Reyes
Alonzo Menifield vs. Paul Craig
Preliminary Card | 6pm on ESPN
Ricardo Ramos vs. Journey Newsom
Eryk Anders vs. Vinicius Moreira
Jordan Griffin vs. Vince Murdock
Jared Gordon vs. Dan Moret
Dalcha Lungiambula vs. Dequan Townsend
Emily Whitmire vs. Amanda Ribas
Maurice Greene vs. Junior Albini
The Daily Dot may receive a payment in connection with purchases of products or services featured in this article. Click here to learn more.