On December 31, just after 11:59 p.m., against all imaginable odds, the year 2020 mercifully came to an end. Of course, no one was out celebrating, really, since the world was still gripped in the global pandemic that was just part of the reason 2020 was widely considered to be a massive dumpster fire. And although the memes had been good, 2021 likewise started off with a bang—or, several, if we're being honest.
But with Trump's reign of terror over (along with the keys to his social media accounts taken away) and COVID-19 vaccinations rolling out, one would have to hope, if not assume, that 2021 will be less tumultuous than its predecessor. Will this be the year the internet becomes fun again? Time will tell. In the meantime, we're keeping a running tally of the best memes of 2021. This list will be periodically updated throughout the year so be sure to check back to see if your favorites made the list.
The best memes of 2021
1) Bean Dad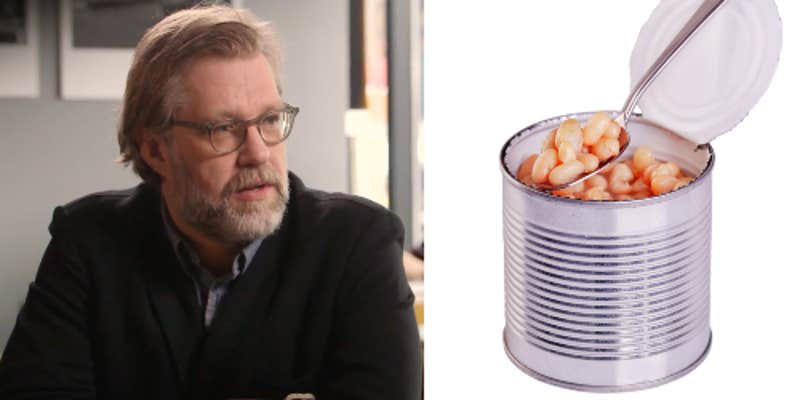 It didn't take 2021 long to find Twitter's first Main Character. On January 2, musician and podcaster John Roderick relayed an amusing anecdote about teaching his 9-year-old daughter how to open a can of beans using a can opener. Or, so he thought. Roderick's whimsical tale of tough love quickly drew the ire of the internet, as thousands accused him of abusing and starving the girl. And he initially made things even worse by jumping into the fray to defend himself.
One canceled podcast theme song later, Roderick is still making amends to repair his damaged reputation. However, after the initial wave of outrage washed over the internet, Bean Dad memes came out in full force. Some joked about forcing their dog to open a can of beans, while others evoked Lord of the Rings and Parks and Recreation. Maybe one day, like the rest of us, Roderick will be able to laugh at the situation, as well.
2) Short women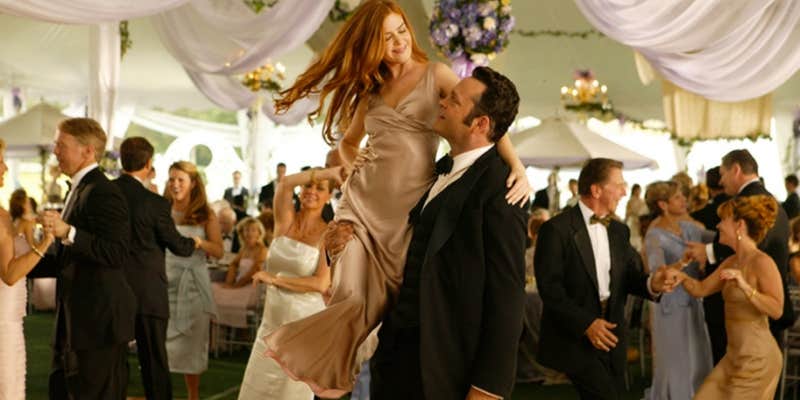 Right on the heels of Bean Dad, a viral debate caught the attention of Twitter. Prominent Black activist and writer Feminista Jones was swiftly ratioed after making some dubious claims about men who date short women.
"Do short women not know much of their attractiveness to men is related to perceived controllability? Is that a thing y'all aren't aware of? Lol cute," Jones tweeted on January 3. She then invited readers to ask women over 5'10 how they're treated by men, comparatively, and how they are "rarely treated with softness and tender gestures outside of being in a relationship … and even then."
"A smaller woman can more likely be physically dominated and controlled, like a child," Jones added. "Shorter women don't feel like 'mommy.' Slimmer women don't feel threatening. The smaller a woman is the younger she appears and that's attractive to many men."
Even if there was a valid point to be made here about problematic men, others agreed that Jones botched the execution by seemingly blaming short women for something they can't control. It didn't take long for the memes to bite Jones in the ass, and soon after she deactivated her account altogether.
3) John Dillermand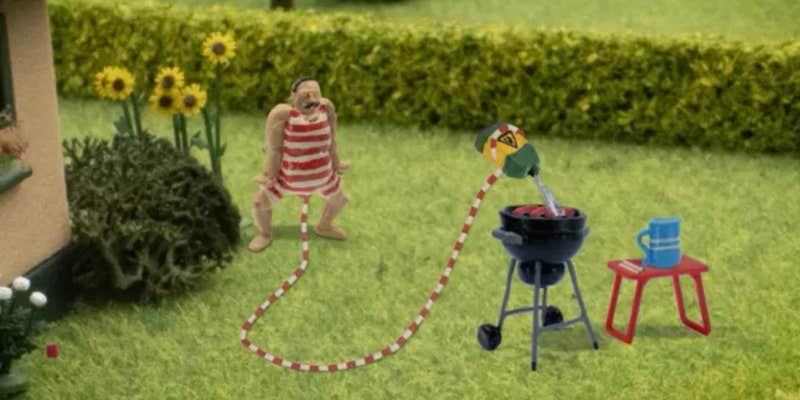 In early January, Denmark launched an animated children's program titled John Dillermand, about a man with an "extraordinary" prehensile penis that gets him into mischief. For those wondering if there might be some subtlety or nuance involved—surely, a show for kids couldn't really be about an actual penis—"diller" is Danish slang for penis, so the show's title literally translates to "penis man."
As Twitter got word of the scandalous show, people reacted with shock and horror—but mostly amusement, as people began tweeting jokes and memes. "I don't want to get overly sentimental about this but I just want to say how great it is to finally feel represented on TV," quipped animator Jon Bershad.
4) U.S. Capitol riot memes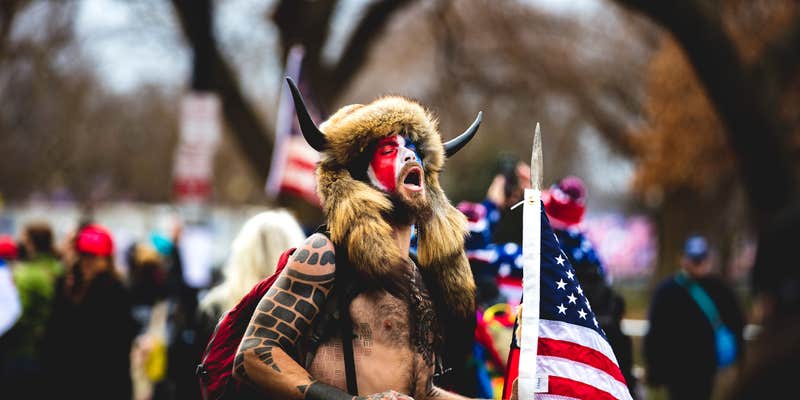 On a day that will not be soon forgotten, on Jan. 6, incensed supporters of former President Donald Trump stormed the U.S. Capitol building. The ensuing mayhem left five people dead, including a police officer. Watching the horror unfold left people speechless—but it didn't take for the dust to settle before jokesters began making light of the incident. From "QAnon shaman" memes to jokes about "Via Getty" and evoking 2019's "storming Area 51" event, there was no shortage of fun to be had at the expense of dangerous insurrectionists.
5) Trump replaced in 'Home Alone 2'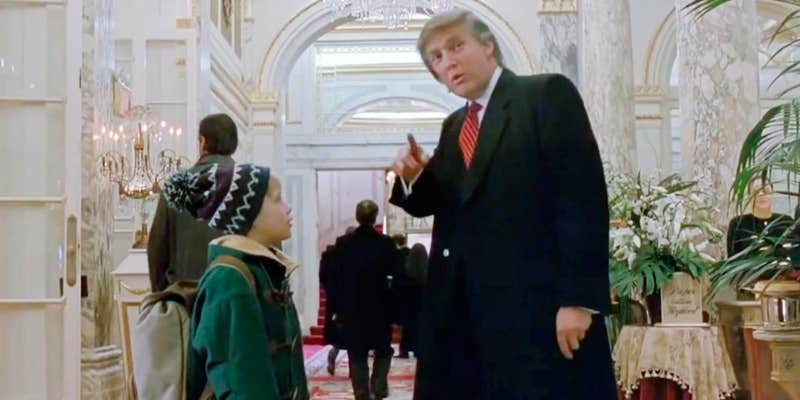 As a result of Trump's part in the deadly insurrection, the consequences were swift and unforgiving. In addition to being banned from Twitter and even some of his most staunch sycophants turning against him, people even began deleting him from Home Alone 2!
As you may recall, Trump made a cameo in Home Alone 2: Lost in New York, the popular 1992 sequel. When Kevin McCallister (Macauley Culkin) accidentally finds himself stranded in New York City, he heads to the Plaza Hotel where he encounters the real estate mogul in the flesh. Following the siege on the Capitol, Mel Magazine writer Joseph Longo issued a challenge on Twitter to digitally remove Trump from the film. As the tweet went viral, the masses began obliging Longo. People soon began replacing Trump with everyone from Christopher Plummer and Jabba the Hutt to virtual pop star Hatsune Miku.
6) Sea shanties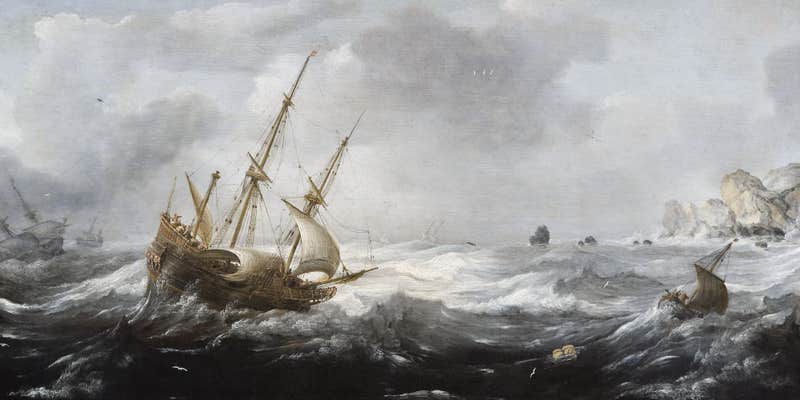 In times of stress, our minds tend to be drawn to simple pleasures and comforts to cope. That's the only way to explain why, in mid-January of 2021, TikTok became overrun with people singing a sea shanty about the New Zealand whaling industry, titled "The Wellerman."
The 19th-century nautical slang combined with a rousing chorus and jaunty rhythm gave off undeniably powerful vibes—so much so that a solo version by Scottish TikToker Nathan Evans snowballed in popularity as people began adding new harmony tracks. Sea shanties, man. It may not have been a meme we were expecting on our newly minted 2021 bingo card, but we're just glad it exists.
7) Bernie Sanders' Inauguration Day look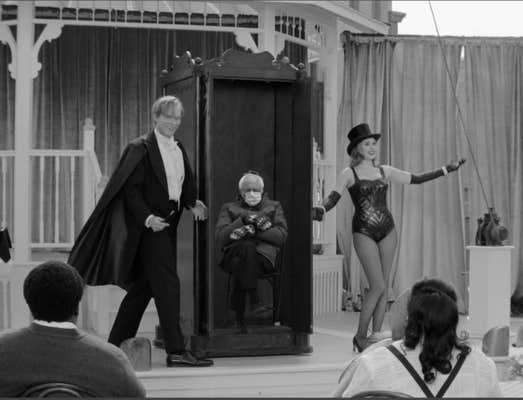 Bernie Sanders was a whole mood at the inauguration of President Joe Biden and Vice President Kamala Harris. While many attendees flaunted high fashion, the Vermont senator instead opted for his usual sensible coat and mittens knitted by a teacher out of repurposed and recycled materials.
Combined with Bernie's no-nonsense body language and a manila envelope clutched under his arm, it didn't take long for the former presidential candidate to become a full-blown meme. "Good morning to Bernie's mittens especially," tweeted New Yorker staff writer Rachel Syme. As the photos went viral, everyone and their mother, quite literally, began sharing Photoshopped images of Bernie in various fictional and historical locales.
8) 'Once COVID-19 is over'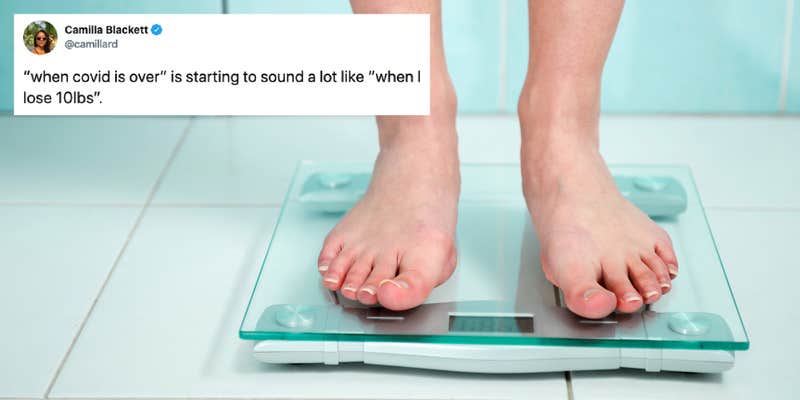 Even with COVID-19 vaccines being rolled out across the country, as we neared the end of January, it seemed like the pandemic would never be over. On days like that, "when COVID is over" seems as lofty a goal as any. This sentiment also became responsible for an acerbic Twitter meme to joke about other things that may not happen anytime soon—if ever.
Some users compared "once COVID is over" to meeting Harry Styles, the Cowboys winning the Superbowl, or Amy Adams finally winning an Oscar. Others used the meme to document wholly relatable struggles in our everyday personal lives. These ranged from empty promises of hanging out with friends and mental health struggles to finally losing 10 pounds, adhering to a sleep schedule, and so on.
9) Crotch pointing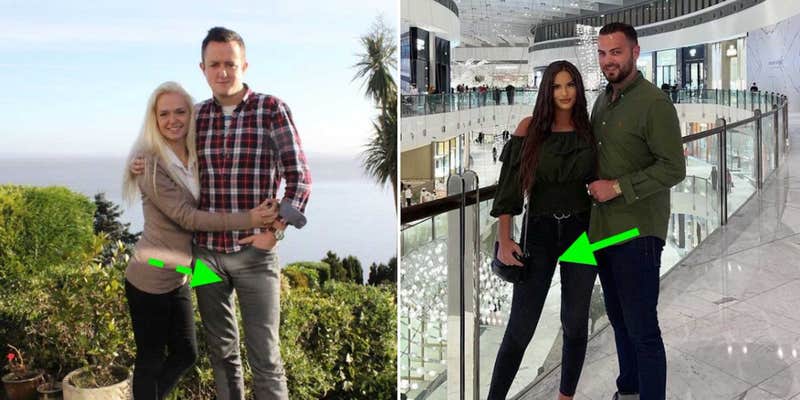 A Twitter user who goes by Rivelino the Artist caused quite the kerfuffle in early February with a very unscientific theory about how the relative direction of couples' crotches in photos somehow determines masculinity.
"LEFT PHOTO: Her pussy is looking to his cock. His cock is facing the world. This is correct," stated the tweet. "RIGHT PHOTO: His cock is looking to her pussy. Her pussy is facing the world. This is wrong."
No, we don't know why men are, either, and yes we're also exhausted. As the tweet went viral, people began riffing with their own jokes and memes. "Sir have you ever seen a vagina before," wrote one user. "Have you… ever spoke to a woman?" added another. Inexplicably and unfortunately, the act does not appear to be a piece of performance art.
10) The Weeknd looking confused at the Super Bowl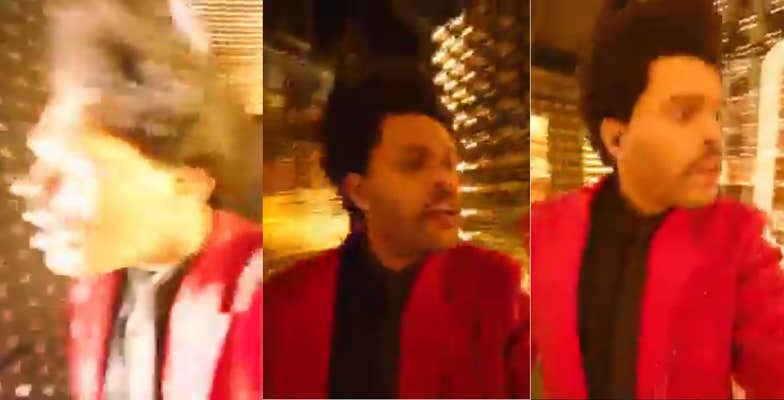 The Weeknd's performance at the Super Bowl halftime show became an instant meme thanks to the close-up camerawork. The Weeknd is seen looking around the maze of the stage design as the camera follows his face, and people used a clip of it to make memes about times when they are looking for something or someone, or perhaps trapped inside of a parking lot trying to figure out where they parked their car.
11) 'It's always what wyd and never'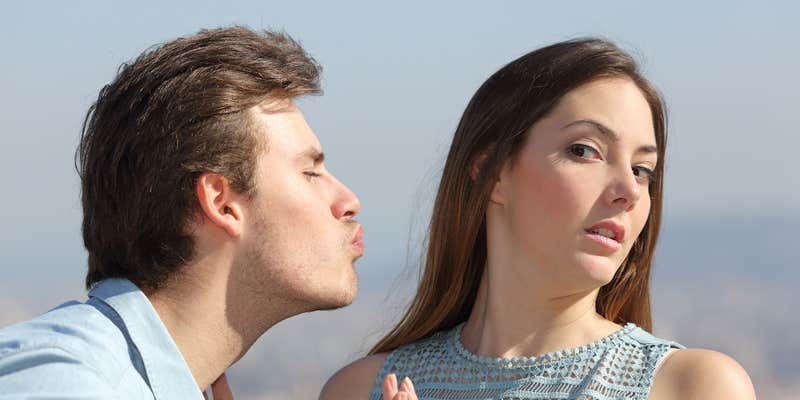 For some people, texting "wyd" is simply a way of asking your homie, "what [are] you doing?" But for others, the acronym is a much more loaded question—a more subtle way of asking if someone is "DTF," essentially. And in 2021, it became a meme on Twitter, as people completed the end of the sentence with what they would rather hear, such as fandom, quotes, and better acronyms people should use instead.
"It's always "wyd" and never 'I'll pay for your wig,'" quipped one user, while others joked about investing in businesses, talking about the moon, and so on. Hey, you do you, would-be Lotharios.
12) 'Still processing last March' memes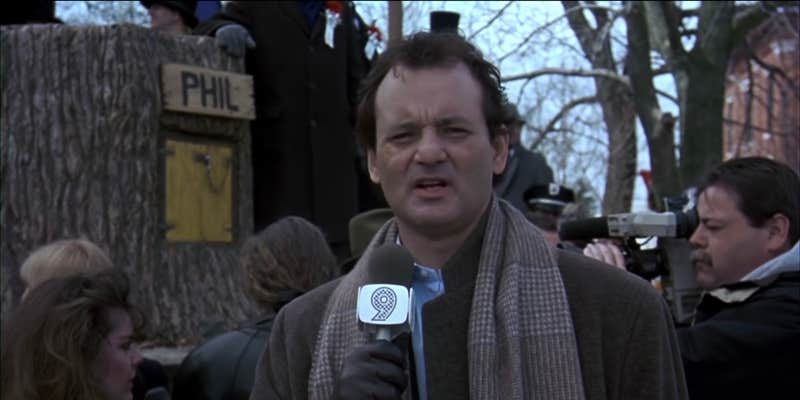 As we entered March 2021, it was incredibly difficult to believe that just last week it had been March 2020. Or that's how it felt, anyway, for those of us who were still processing last March.
And for good reason! The year that transpired between those months of March brought police violence against people of color, civil unrest, a tumultuous federal election, literally an insurrection against the United States government, and so on. And all the while we had not been able to hug family and friends, celebrate birthdays and holidays, or go on vacations.
It was all a lot to cope with, and as the milestone of March rolled around, there were plenty of jokes and memes to be made about how we were collectively still processing last March.
13) Agatha from WandaVision winking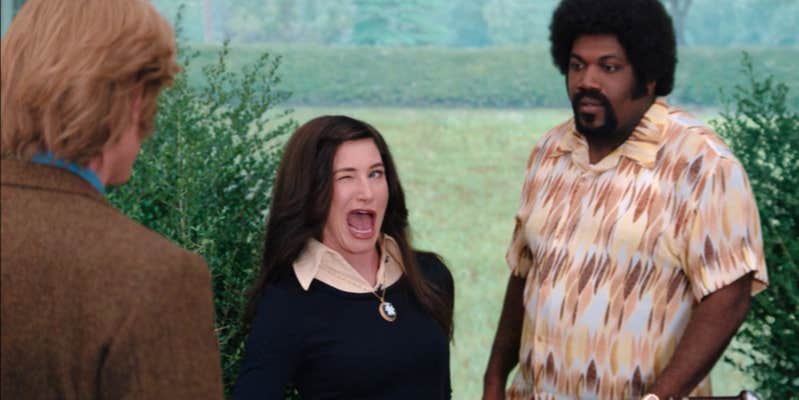 Marvel's WandaVision has gifted us no shortage of memes and viral moments—such as "Agatha All Along," which quickly set up shop as our collective earworm and refused to leave. But it was one moment in particular that because an instant reaction meme from the moment it graced screens.
Near the end of episode 3, "Now In Color," Vision had gone outside to chat with his neighbors after the birth of his twin sons, Tommy and Billy. His wacky neighbor Agnes questioned the presence of Geraldine (who we now know as Monica Rambeau) in Westview and in Wanda's home, pointing out that Geraldine doesn't have a family, a husband, or a home. While Vision's next-door neighbor Herb attempts to tell Vision why Geraldine is in town, Agnes stops him with a look.
"Well, I better get going, that macramé's not gonna hitch itself," Agnes said, before making an exaggerated wink, ringing the bell on her bike, and then laughing before taking off.
Images and GIFs of the wink caught on so all-encompassingly that even people who had no idea who Agatha was, had never seen an episode of WandaVision, or who didn't engage with the Marvel Cinematic Universe whatsoever quickly adopted the meme. Essentially, if someone is using it they're indicating that whatever they just said was an obvious lie, or that something is about to happen while another person remains unaware.
14) Prince Harry and Meghan Markle interview memes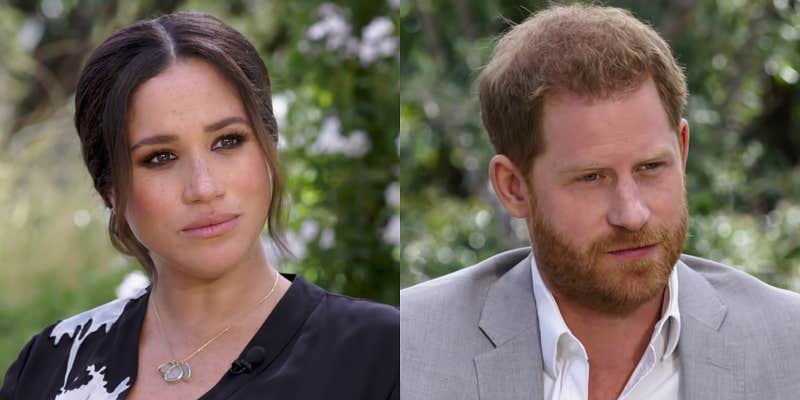 Viewers from around the globe tuned into Oprah Winfrey's must-see interview with Prince Harry and Meghan Markle in March 2021, in which less than flattering things were revealed about the royal family and institution of the British monarchy. Among the bombshells dropped were how little the couple were supported, even as Markle became the subject of nasty and often outright racist hit pieces by U.K. tabloids.
Winfrey was likewise visibly stunned after Markle revealed that immediate family members were concerned about the skin color of Markle's son Archie before he was born. The attacks became so bad that Markle admitted to having suicidal thoughts, and her pleas for help were subsequently refused.
But even if you weren't watching, the memes gave an illuminating picture of what transpired. Not only did Winfrey's expressions capture how we all were feeling, but also demonstrated how shocking the information must have been to have shocked Oprah Winfrey herself. As a result, many took to imagining fake questions or answers that would get those reactions. Among the jokes were Harry feigning to have discovered that "biscuits" are called "cookies" in America, and imagining that the conversation was a game of "fuck, marry, kill."
15) Adam Driver and Lady Gaga 'House of Gucci' memes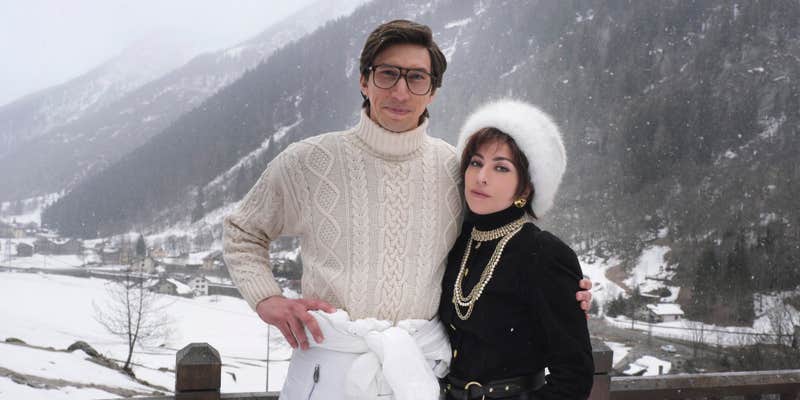 When Lady Gaga gave us the first look at her upcoming film with Adam Driver, Ridley Scott's House of Gucci, the photo sparked a great amount of interest and fervor online.
The photo, which features Gaga posing with Driver, is captioned "Signore e Signora Gucci" (Mr. and Mrs. Gucci), illustrates the impeccable thought and detail that went into the costumes. Driver was seen donning glasses, a white turtleneck sweater with lots of cables, and white ski pants with the matching coat tied at his waist. For her part, Gaga was clad in all black with flashy gold jewelry, a belt, and a massive white fur hat.
It was also the perfect meme-ready format, as people made jokes about Star Wars and Marriage Story. And likewise, there were plenty of Knives Out white sweater memes to be found.
16. Dream blunt rotation memes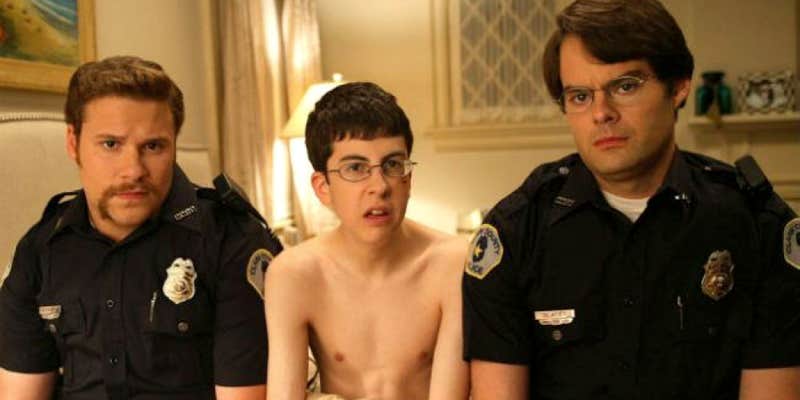 After the pandemic broke out in 2020, so-called "smoke circles" were effectively stamped out altogether. But when mass vaccinations began rolling out across the country, people began fantasizing about their "dream blunt rotation" scenarios—perhaps, as a reminder of simpler times.
Similar to "dream dinner party guest" ice-breaker games, the meme surfaced on Twitter as a popular way to caption an ideal group of celebrities or fictional characters that an individual would theoretically like to smoke marijuana with. In what shouldn't come as a huge surprise, many of these tweets included patron saints of weed-smoking Seth Rogen, Snoop Dogg, and rapper Wiz Khalifa.
17) Shrimp tails Cinnamon Toast Crunch guy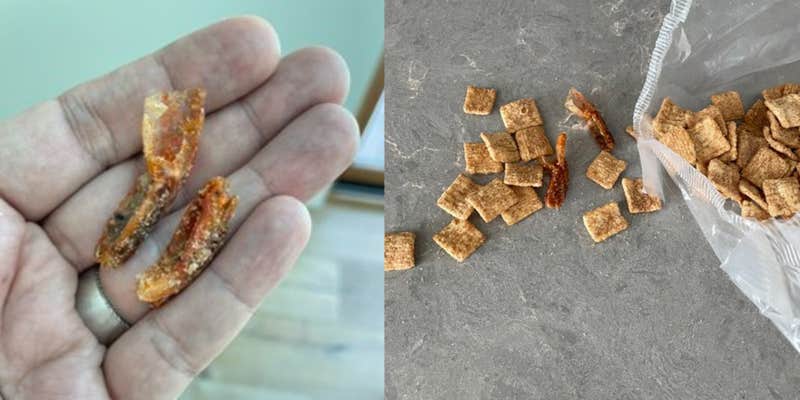 In March, comedian and writer Jensen Karp set off the internet after claiming on Twitter that he found shrimp tails in his cereal. In the viral tweet, Karp posted photographic evidence and even felt the need to clarify "this is not a bit."
After some back and forth with the brand, Cinnamon Toast Crunch denied any possibility that there could be any shrimp-related cross-contamination with its cereal—leading people to gleefully post jokes and memes about being gaslit by the popular cereal.
Unfortunately, Karp's reign was short-lived. Internet slueths quickly learned that he was married to "Topanga" from Boy Meets World, and it also came out that he had a history of gaslighting and abuse—both in his personal and professional relationships.
18) RIP, would have loved/hated
When coming to terms with our mortality, it's a huge bummer knowing that there are milestones, historical events, and people that we'll never have a chance to know or experience—which can be summarized by the "RIP, they would have loved" meme on Twitter.
The format was fairly simple, as a user named a historical figure, celebrity, or fictional character that has passed away, along with something or someone they "would have loved" if they were still alive today. Many examples of the meme were absurd and irreverent, focusing on puns—such as the popular example below that claimed Edgar Allen Poe would have loved the Disney Channel sitcom That's So Raven.
19) Lil Nas X 'Montero' memes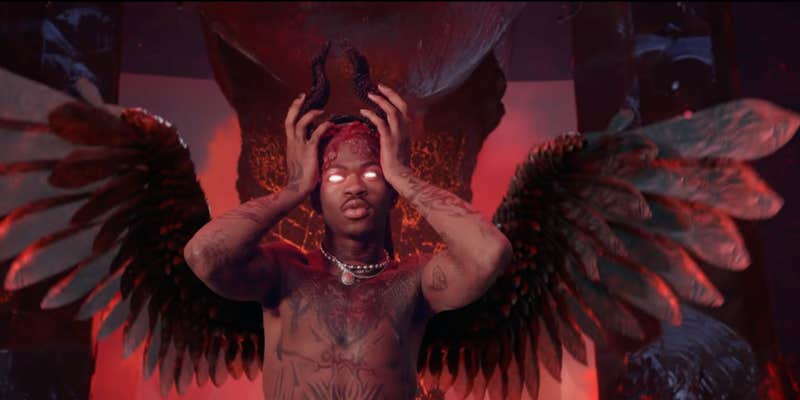 When Lil Nas X dropped his latest music video for "Montero (Call Me By Your Name)," a colorful and unapologetically queer fantasy full of Biblical and ancient Greek imagery, it was an instant hit on the internet. And, along with being an incredibly catchy song, it also quickly became a meme goldmine.
During the video, Lil Nas X encounters a snake at the Garden of Eden, put on trial in a Greek amphitheater as the judges and guards wear French court-inspired wigs, slides down a pole all the way to Hell, and seduces Satan himself before snapping his neck and putting on Satan's horns. While there was plenty in the "Montero" music video to analyze, Lil Nas X's lap dance with Satan himself, in particular, is what people honed in on, as you can see from some of the excellent memes.
20) White Boy Summer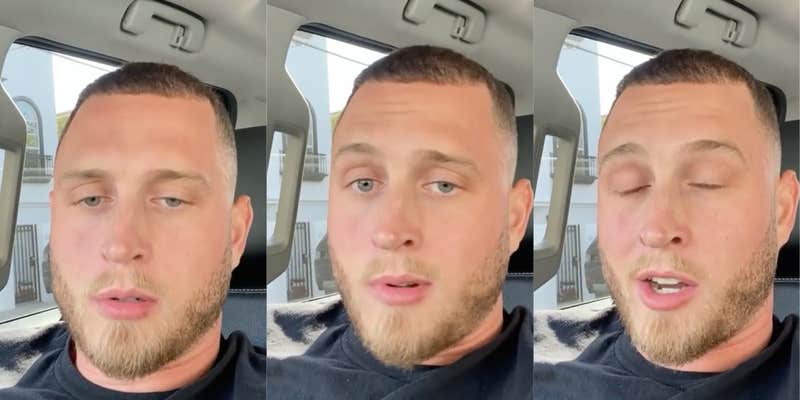 When Chet Hanks proclaimed that the summer of 2021 was going to be a "white boy summer," the memes were as ridiculous as the sentiment itself. Setting aside the reality that every summer, fall, winter, and spring has been set aside for white people, Hanks' colonizing use of the phrase, as some online pointed out, was both harmful and hilariously corny.
"Someone tell Chet Hanks that we're already several thousand years into a white boy summer," one user on Twitter pointed out. Others roasted the fact that Hanks' famous dad must be cringing at yet another embarrassment to the family name.
21) Falcon and the Winter Soldier arrogant white guy memes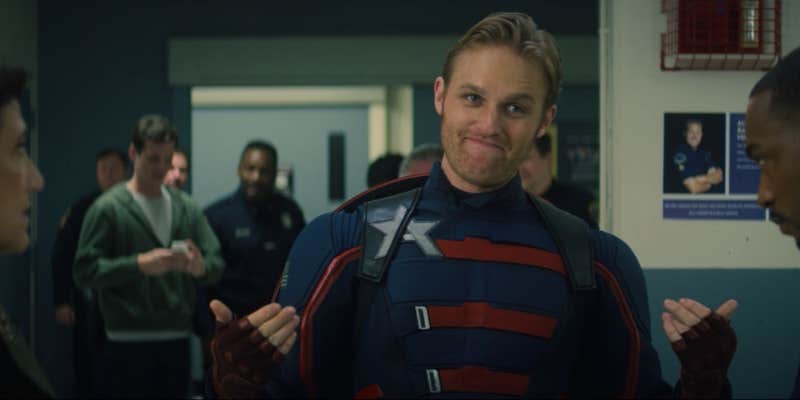 There's just something about John Walker (Wyatt Russell), the new Captain America in Falcon and the Winter Soldier, that immediately rubbed us the wrong way when he first walked out with Steve Rogers' shield. And while an early episode took great pains to show us the man behind the shield, it also transformed his meme status into something both entirely memorable and completely familiar.
As such, it didn't take long for Walker to become the MCU's poster child for a certain kind of white man: One who will use his privilege to help others as long as it also benefits him. Walker is a contrarian, someone who argues in favor of offensive talking points in a manner that suggests, "I'm just saying!"
22) Bodega lizard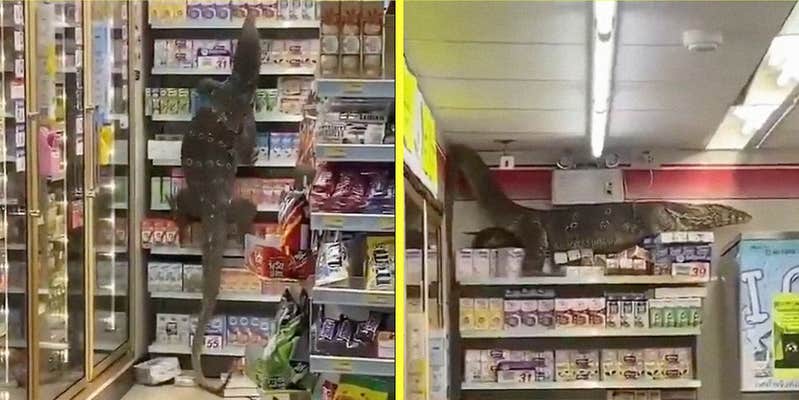 When a video surfaced on Twitter in which a monitor lizard climbed up a shelf in a Bangkok 7-11 and trashed products, it didn't take long for it to go catastrophically viral.
The video quickly gained more than 7 million views, as many commenters became certain it was taken in Australia or Florida. The video posted to Twitter has music over it, but in the original clip posted to Facebook, you can hear people's panicked reactions and see more of the lizard's ascent. In either case, people were absolutely gripped by the scene and the ensuing jokes and memes were more than worthy of a beast that size.
23) Being vaccinated does NOT mean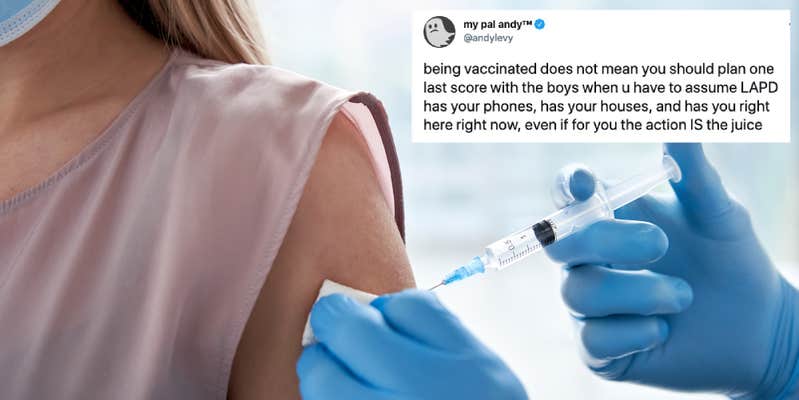 As people began to get their COVID-19 vaccinations, things got murky about what was and wasn't safe for vaccinated people to do. As such, a Twitter meme took the punch out of the judgemental eyes of society by posing theoretical questions of what being vaccinated does NOT mean.
Only, instead of what is or isn't safe behavior for vaccinated people to adhere to, the meme presents vague plot descriptions from film, TV, books, or other absurd scenarios. It's unclear how or where the "being vaccinated does NOT mean" originated, but its widespread popularity can likely be attributed to the following example that describes the plot of the 1985 film Clue.
24) 'You can be a different person after the pandemic' meme
Amid widespread COVID-19 vaccination rollouts, many people began to wonder just what a post-pandemic life might look like, and how we might change our appearances or personalities on the other side of it. The conversation was sparked by a New York Times opinion piece declaring: "You Can Be a Different Person After the Pandemic." 
Essentially, the piece examined some of the ways our personalities might shift and change after a year in lockdown. Some of us might strive to be more extroverted, while others may try to work on bad habits or be driven to experience new things after getting a new lease on life.
But predictably, it didn't take long for people to start riffing off the headline, which evolved into a meme as people began evoking films and TV shows that involve characters changing identities. One of the popular early examples was Matt Damon's character in The Talented Mr. Ripley, who pretends to be Jude Law's "Dickie," and things just spun out from there.
25) Different levels of a joint hitting meme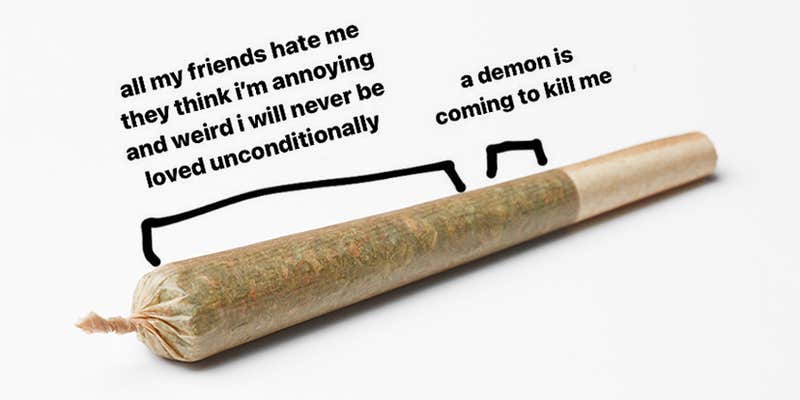 Just in time for the stoner holiday 4/20, a meme emerged from a photo of a joint that was tweeted to depict the levels of potential paranoia that come from getting high—starting with anxiety that nobody likes you to the terror of being killed by a demon.
But soon others began joining in to illustrate the various stages of smoking a joint. Simply by using brackets, people found a way to convey the different stages of anxiety, paranoia, and other assorted shower thoughts that might come to mind.
Eventually, the joint meme evolved so that it no longer needed the joint itself to convey the various iterations and stages of an entity. Basically, all you need are an image, some brackets, and a clever caption to play along—such as one user's summary of the popular Amazon original series Fleabag.
26) DJ Khaled standing up reaction meme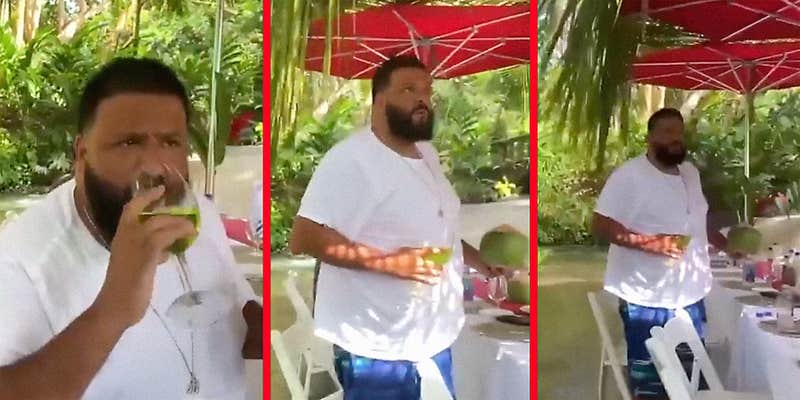 DJ Khaled inadvertently became a meme after a video circulated in which he was startled while drinking a concoction known as "Ciroc Kryptonite." Soon, it became a template for those "Did I…" moments. In the clip, Khaled is sitting at a table in a river when he abruptly stands up mid-sip, to look at something in the distance. We never see what it is—just his startled expression while he double-fists drinks.
In the days and weeks following the viral moment, Khaled's reaction was applied to more mundane daily remembrances, like forgetting an assignment was due or forgetting to cancel a free trial, and so on.
27) Matt LeBlanc 'Friends' reunion memes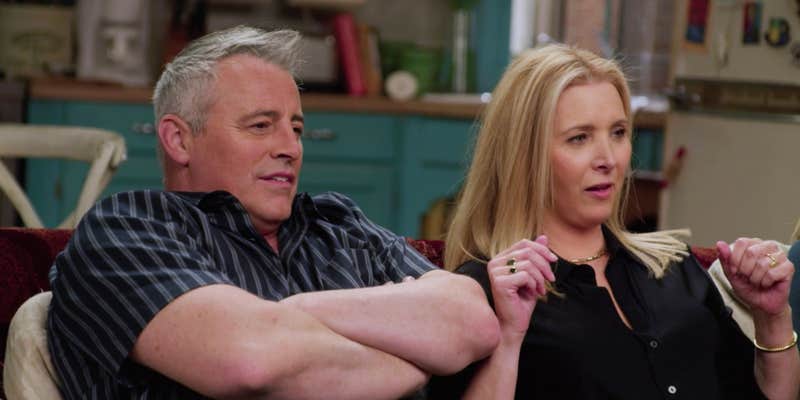 The highly anticipated Friends reunion special on HBO Max served up a dose of nostalgia for fans of the beloved NBC sitcom. But it also turned Matt LeBlanc into an Irish meme after a few screengrabs of the actor sitting on the couch with the rest of the cast went viral on Twitter. 
Essentially, the meme argued that he looked like someone's dad or uncle—between his relaxed posture and a striped button-down short-sleeved shirt. As such, people began sharing the images with a line of dialogue, creating a new, endearing Friends character.
https://twitter.com/WretchedMorgan/status/1398188108076695554"Every Irish family has at least one of those uncles or great uncles—extreme salt of the Earth characters, full of dry wit and just a drop of cynicism," Twitter user @noclarity74 wrote. "Matt looks like a typical Irish uncle in the photos from the reunion [and the way] his arms are folded, to his facial expressions."
28) For the better, right memes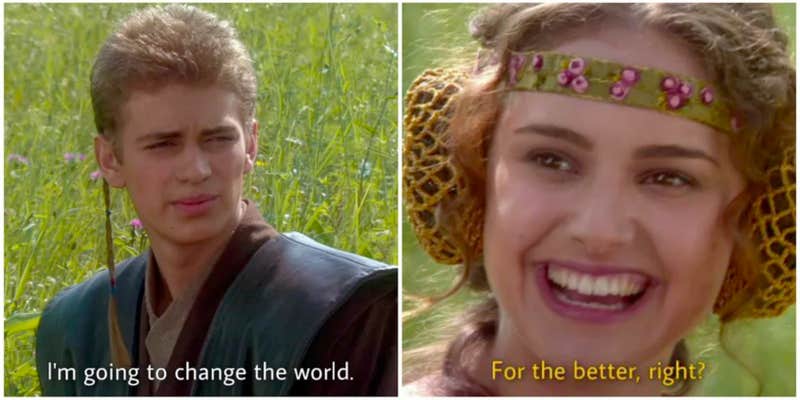 It's probably safe to say that 2002's Star Wars: Episode II—Attack of the Clones, the second installment of the Star Wars prequel trilogy, isn't exactly a favorite among fans. But the legacy of the film endures in a new meme that has people asking: for the better, right?
The meme in question was derived from a scene in the film in which the characters Anakin Skywalker (Hayden Christensen) and Padmé Amidala (Natalie Portman) are enjoying a romantic picnic while discussing politics. Though Padmé, a senator for the Galactic Republic, is optimistic about the system's ability to govern, Anakin casually lets loose that he's down with dictatorships.
The first known instance of it being mined as a meme occurred when redditor DaltarIT24 uploaded the following image to the r/memes subreddit. Instead of using the exact dialogue word for word, the meme summarizes the gist of the conversation.
"I'm going to change the world," Anakin is presumed to have said, as Padmé naively asks, "For the better, right?" And then more seriously, after a pause: "For the better, right?" The post gained more than 42,300 upvotes in one month and soon inspired tongue-in-cheek variations across various social media platforms.
27) G7 summit group photo memes
World leaders gathered in Cornwall, England in June for the first major international summit since the COVID-19 pandemic. But before getting down to business, the world leaders—from the United States, United Kingdom, France, Italy, Japan, Canada, and Germany, as well as representatives from the United Nations and European Union—posed for a group photo that quickly became a meme. 
For some reason, the group was photographed standing on an elevated platform on the beach, each at a distance from one another—despite the fact that vaccines are now readily available. As the photo op went viral, many people felt that the poses seemed more suited for a superhero movie, or the moment just before the cast of a musical bursts into song.