Well, it's finally the year 2020 and we don't have flying cars, yet. You never know what Elon Musk has up his sleeve, so this is naturally subject to change. Donald Trump is still the president, for now—speaking of things that are subject to change. Between his mishandling of the coronavirus pandemic and [waves arms] everything else, this seems all but likely as we approach November.
Thankfully, the one constant in all this is that we'll always have the internet to distract us—or otherwise attempt to make sense of it all. That's where memes come in. We're keeping a running list of the best 2020 memes, which will be regularly updated throughout the year and listed in no particular order.
The best memes of 2020
1) WW3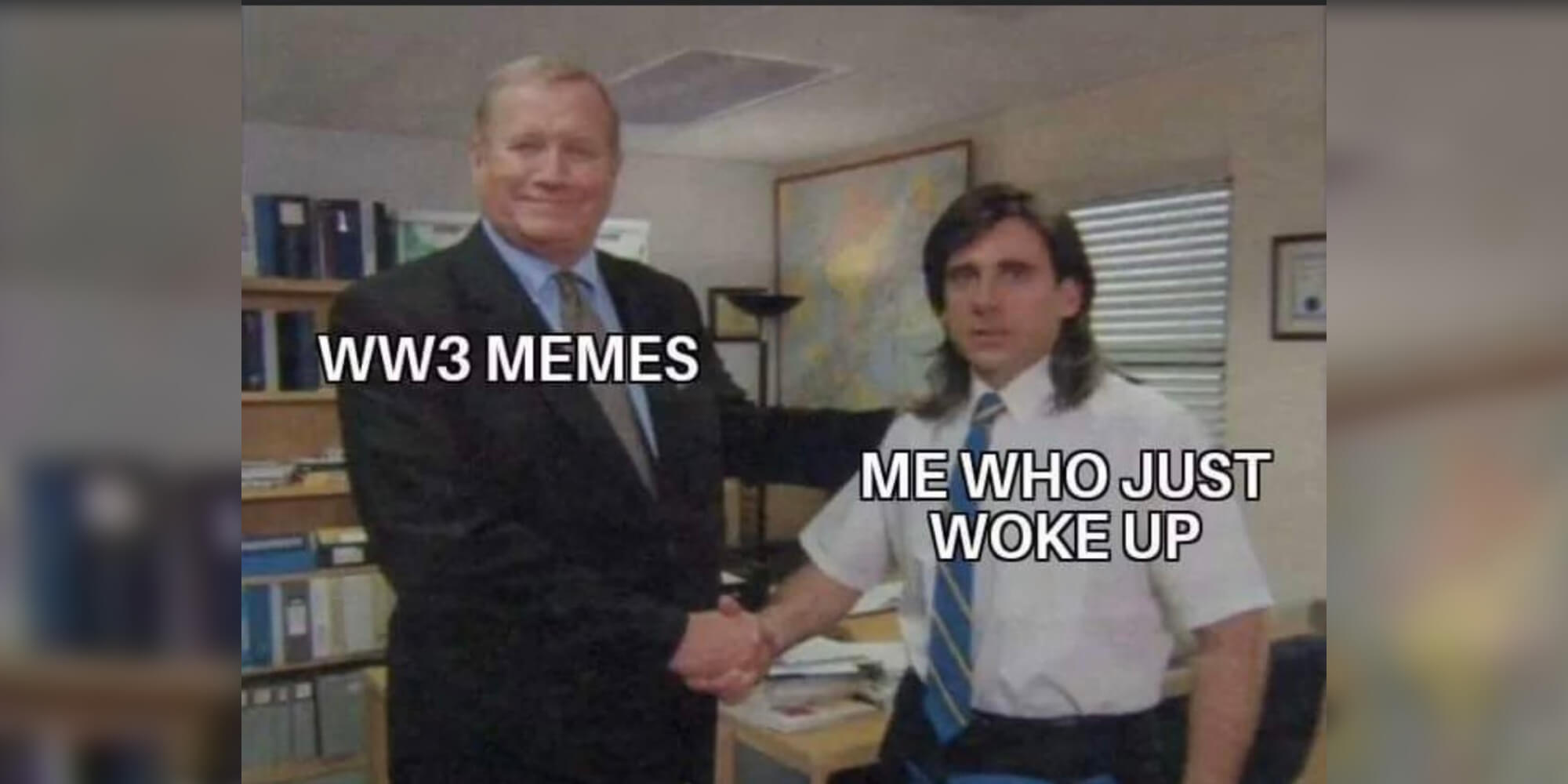 The year 2020 started off with a literal bang (sorry, I'm sorry, I'm trying to remove it) when President Donald Trump ordered a drone airstrike at Baghdad International Airport that killed Iran's top security and intelligence commander Qasem Soleimani. In turn, the totalitarian regime's Supreme Leader Ayatollah Ali Khamenei vowed for "severe revenge" against the United States—leading many to speculate if Trump was leading us straight into World War III.
Naturally, the internet took this threat with the upmost seriousness, and Twitter (particularly Black Twitter) was predictably soon proliferated with World War III memes. Many of the memes joked about the possibility or fear of getting drafted, while others roasted the very thought of millennials and Gen-Z having to fight in an actual war. Not everyone was so amused with the memes, however. Realistically, it's highly unlikely that such a war would be fought on U.S. soil, and some argued that the jokes were in poor taste.
2) 'Yeah, good. OK'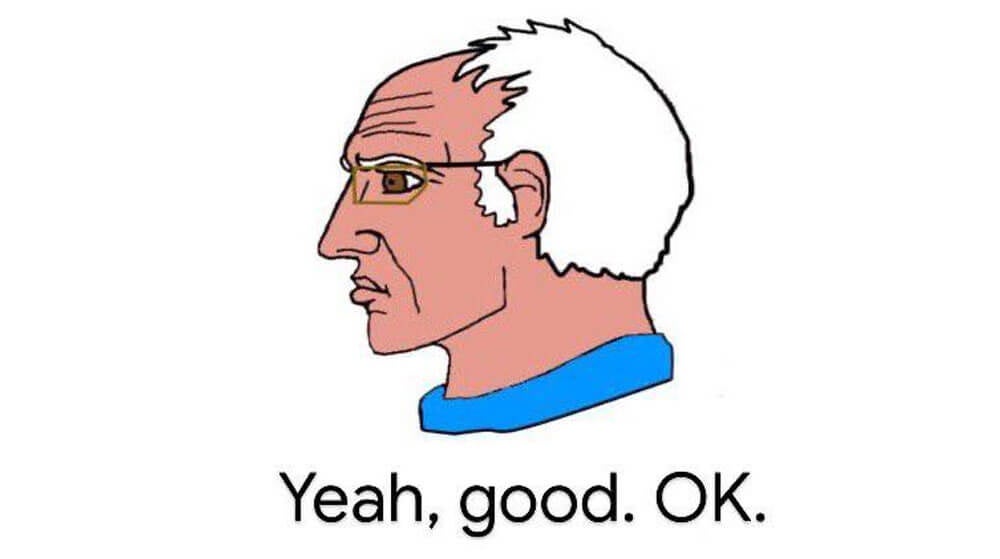 There was no love lost between Sens. Bernie Sanders (I-Vt.) and Elizabeth Warren (D-Mass.) during the January 2020 Democratic presidential debate, due to conflicting reports that Sanders may or may not have told Warren that "a woman couldn't be elected president" in a December 2018 meeting. And immediately following the debate, 2020 hopeful Tom Steyer made the mistake of getting mixed up in the fracas.
"I don't want to get in the middle of it—I just want to say hi to Bernie," said Steyer, inserting himself between the two candidates who were engaged in sniping at one another. "Yeah, good. OK," deadpanned Bernie, who could have not had less patience, at the time. It didn't take long for the moment to become a meme, as a way of being dismissive online—also drawing comparisons to the "OK Boomer" meme.
"Time to update your dismissive vernacular," posted one Redditor to the r/PresidentialRaceMemes Subreddit, comparing "Yeah, good. OK" to "OK boomer."
3) The poet and the poem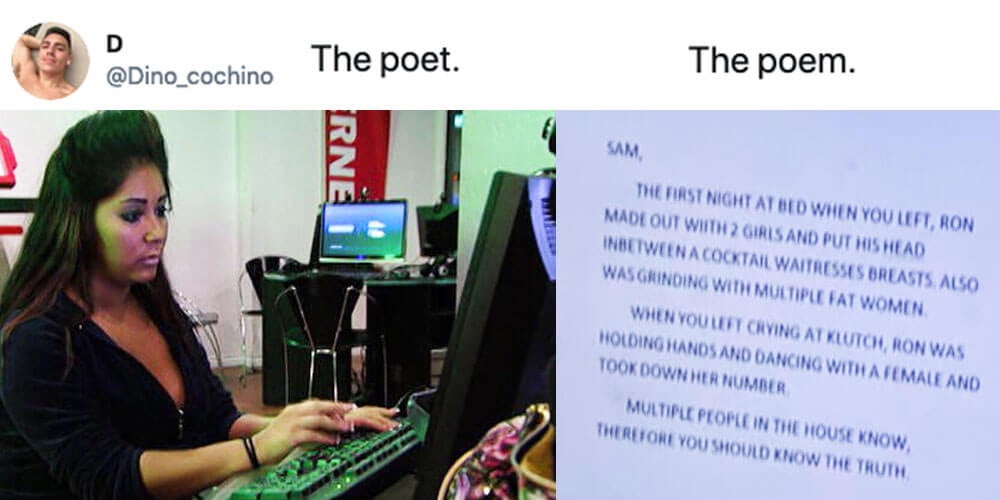 The setup for "the poet/the poem" meme—which began trending early in the year—is fairly simple. A user takes a quote—in either a sincere or (more often) ironic manner—and places it alongside the fictional or real character or artist who said the quote.
Variations vary from Phoebe Waller-Bridge's character in Fleabag announcing that she wants to "fuck a priest," to Snooki from Jersey Shore penning a heartfelt email to her housemate Sam that their fellow housemate Ronnie was caught cheating on her, or the blackmail note from the first season of Desperate Housewives. Really, it proves that anyone can be a poet!
4) Billy Porter's hat
The mood at the 2020 Grammy Awards was a somber one, considering the fact that earlier in the day Kobe Bryant, his 13-year-old daughter Gianna, and seven others died in a tragic helicopter accident. Providing some much-needed levity to the evening, however, was Broadway star and actor Billy Porter, whose outfit basically overshadowed everything else at the award show.
Porter literally shined in a dazzling combination turquoise jacket and jumpsuit, which was topped off with a matching, wide-brimmed hat with a crystal strand privacy "curtain" that could be opened and closed via remote control. "Get on my nerves, and the curtain closes!" tweeted Porter during the event.
The hat quickly became a meme, because how can such a bold fashion statement not turn into a meme?
5) 'As a treat'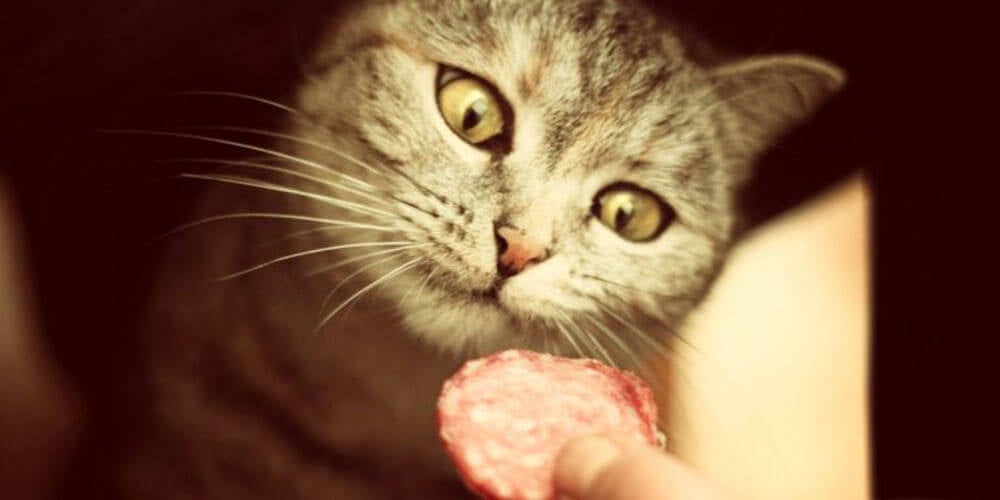 What began as a funny meme about cats eating salami evolved to another thing entirely, when—around the beginning of the year—the internet realized that enjoying treats was not exclusive to either cats or salami.
Twitter users began posting instances in which [blank] can have [blank] "as a treat," which quickly became an instant contender for the best memes of 2020. These could consist of the silly or absurd, such as boyfriends having a little of your fancy face wash or Twitter having a little sexy old picture of Alex Trebek—to the more depressing "treats," like "Americans can have a little health care," or that girls "can have a little a 78 cents on the dollar, as a treat." Oof.
6) Dolly Parton's 'LinkedIn, Facebook, Instagram, Tinder' meme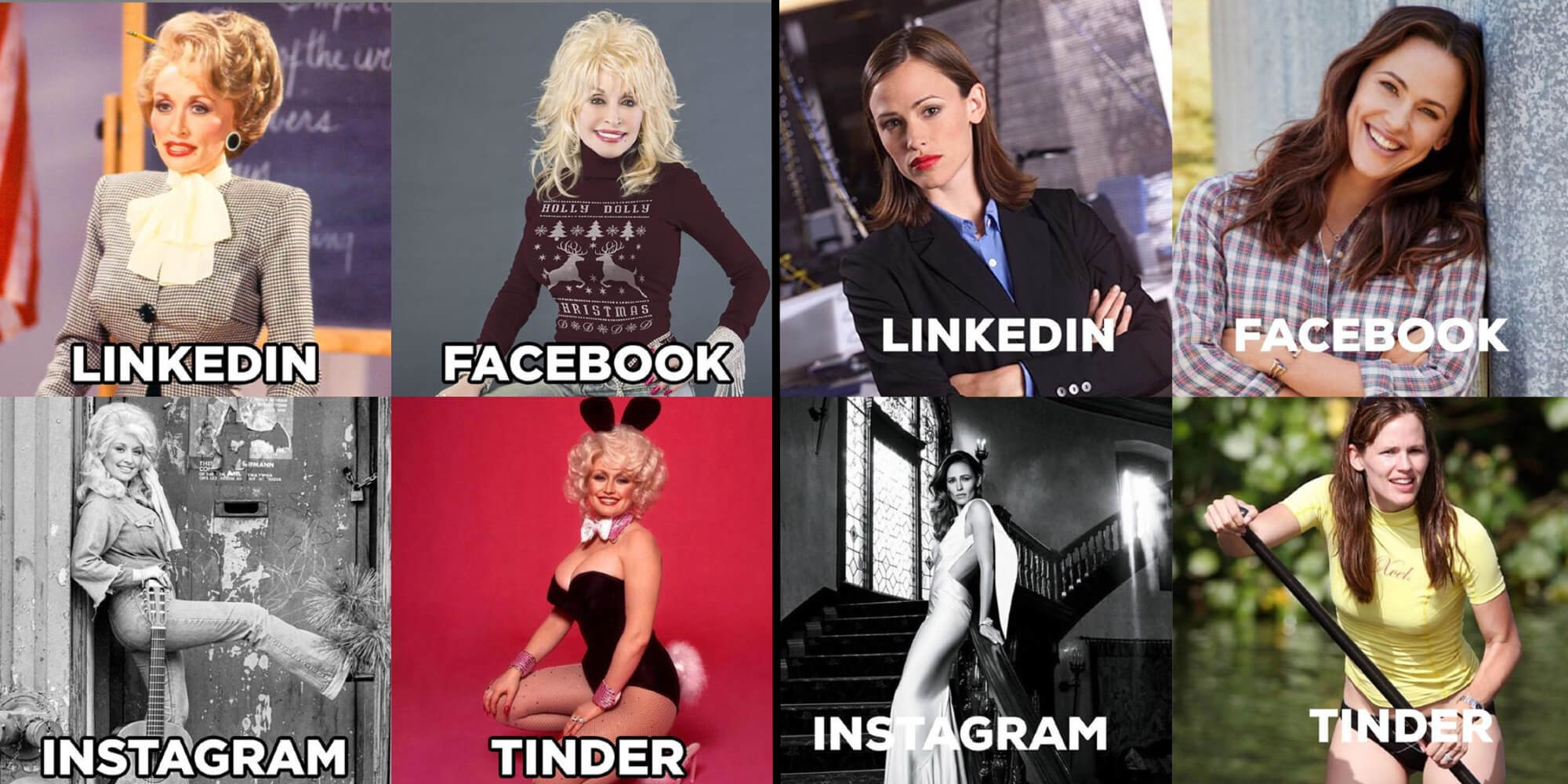 We all know that social media can and should be taken with a grain of salt, to put it lightly. This is why an individual typically has different presences on various social media formats. Shortly after celebrating her 74th birthday in January, legendary country singer-songwriter Dolly Parton turned this phenomenon into a meme.
On her Instagram account, Parton posted a composite of four photographs of herself: one in a smart tweed blazer, one wearing a "Holly Dolly" Christmas sweater, a black and white throwback with a guitar, and one as her dressed up like a Playboy bunny.
"LinkedIn, Facebook, Instagram, Tinder," she labeled the photos in order, with the caption, "Get you a woman who can do it all."
Whether or not it was her intention to start a meme—let alone one of the best memes of 2020—is unclear, but her post soon became a viral sensation. Other celebs, such as Ellen DeGeneres, Jennifer Garner, and Kerry Washington, among others, were happy to play along, as well as your average non-celebrity types.
7) Bernie Sanders' 'once again asking for your financial support' meme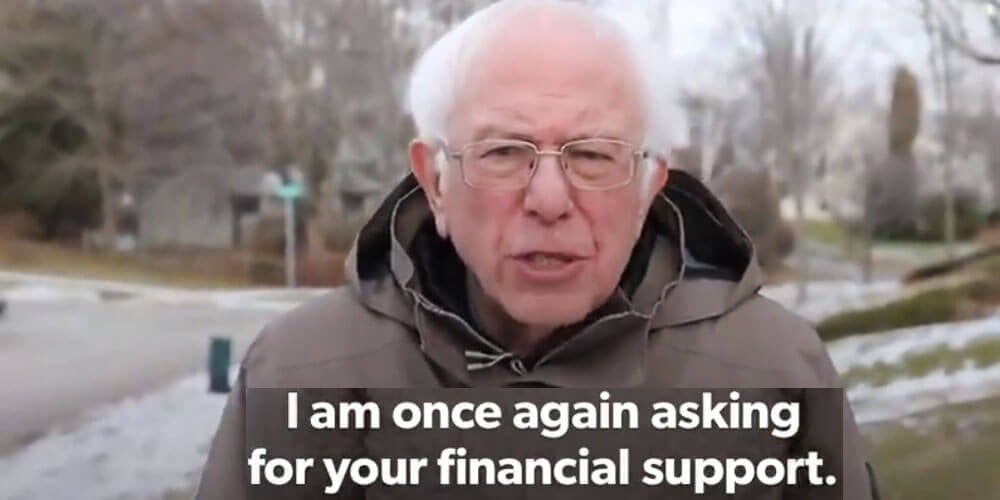 Sen. Bernie Sanders (I-Vt.) has always run his respective presidential campaigns on the platform that he is the only candidate who relies solely on grassroots donations. And in late January, this steadfastness to his principles earned Sanders yet another indelible status as a meme. In this instance, the senator went viral for "once again asking for your financial support."
Just before the new year, Sanders posted a fundraising video across his various social platforms to make a plea for a last-minute contribution. "As the FEC fundraising deadline for 2019 approaches, I am once again asking for your financial support," Sanders said to the camera, dressed in a smart khaki parka.
It didn't take long for the video snippet to be cemented as a meme, as people used it to riff off of any situation where one might be imposed upon for money—from poor college students to that friend or relative always pushing some kind of multi-level marketing scam, and so on.
8) President Trump's extremely orange face memes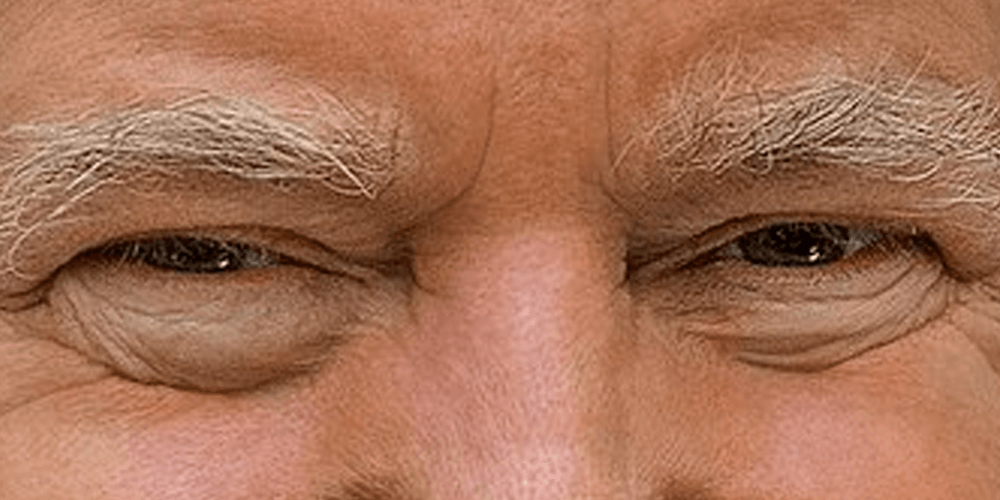 President Donald Trump isn't known for having the most, erm, convincing hair and skincare regimens. In February, commander-in-chief's shockingly orange complexion went viral after he was snapped on the South Lawn by White House photographer William Moon. As the wind blew back Trump's equally unconvincing combover, his sloppy bronzer job was unfortunately revealed.
The picture was quickly shared tens of thousands of times—and it didn't take long for it to likewise get the meme treatment. In just one example, the president's face was compared to "Tupperware after you store spaghetti in it." Ouch.
9) Billie Eilish's Oscars reaction meme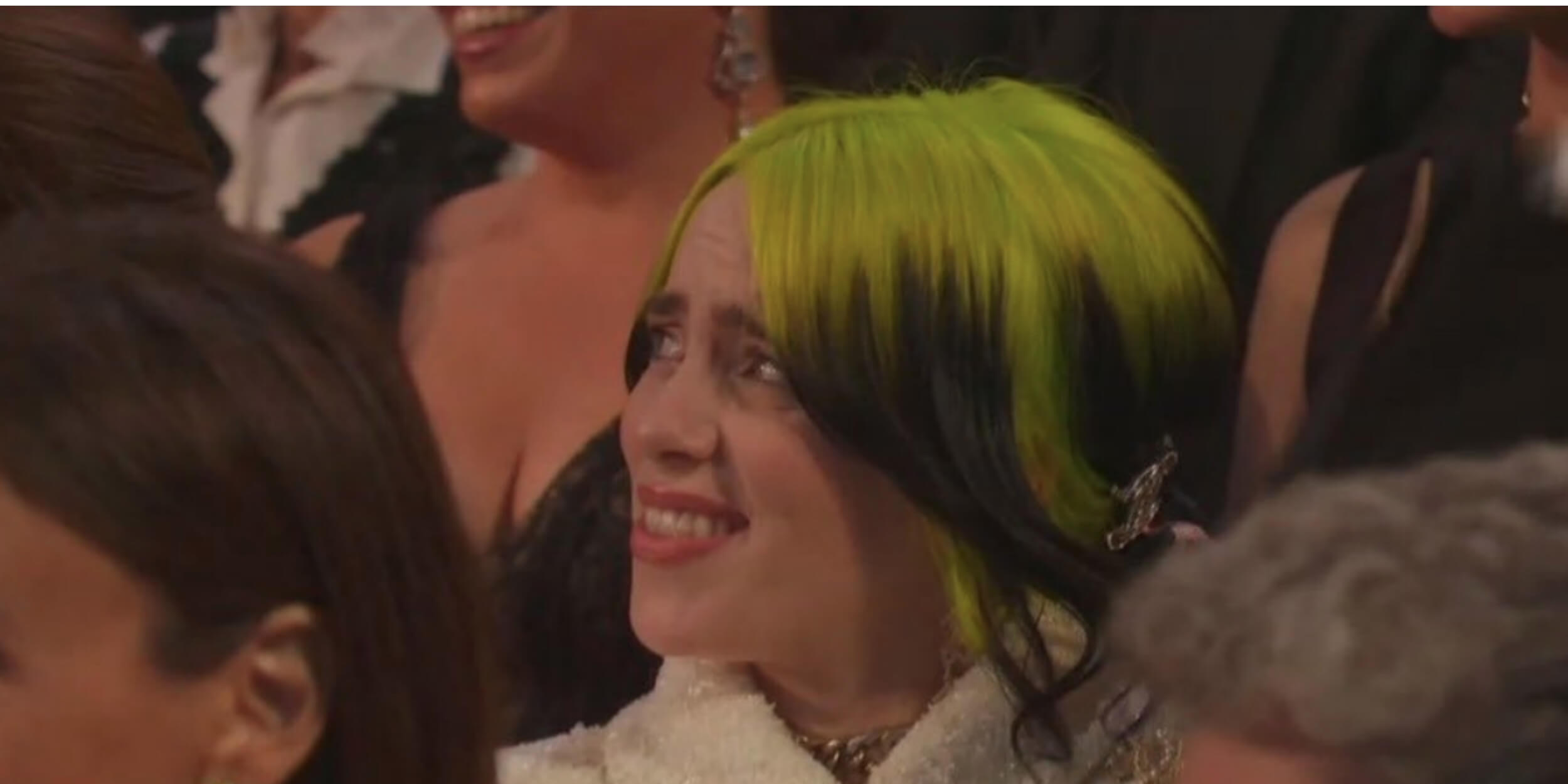 During the 92nd Academy Awards ceremony, singer-songwriter Billie Eilish was seated prominently in the audience, and the cameras just couldn't seem to get enough of her. Specifically, the 18-year-old's "WTF" face that seemed to mirror what a lot of viewers at home seemed to be thinking.
As Maya Rudolph and Kristen Wiig announced the best costume design and production design categories, the camera panned over to Eilish, capturing her baffled-looking expression. We may never know what was going through her head at the time—whether she was reacting to Rudolph and Wiig's bit, seeing herself on camera, or perhaps even wondering if she left the stove on. Either way, it quickly earned recognition as a reaction meme.
10) 'No one has the range' meme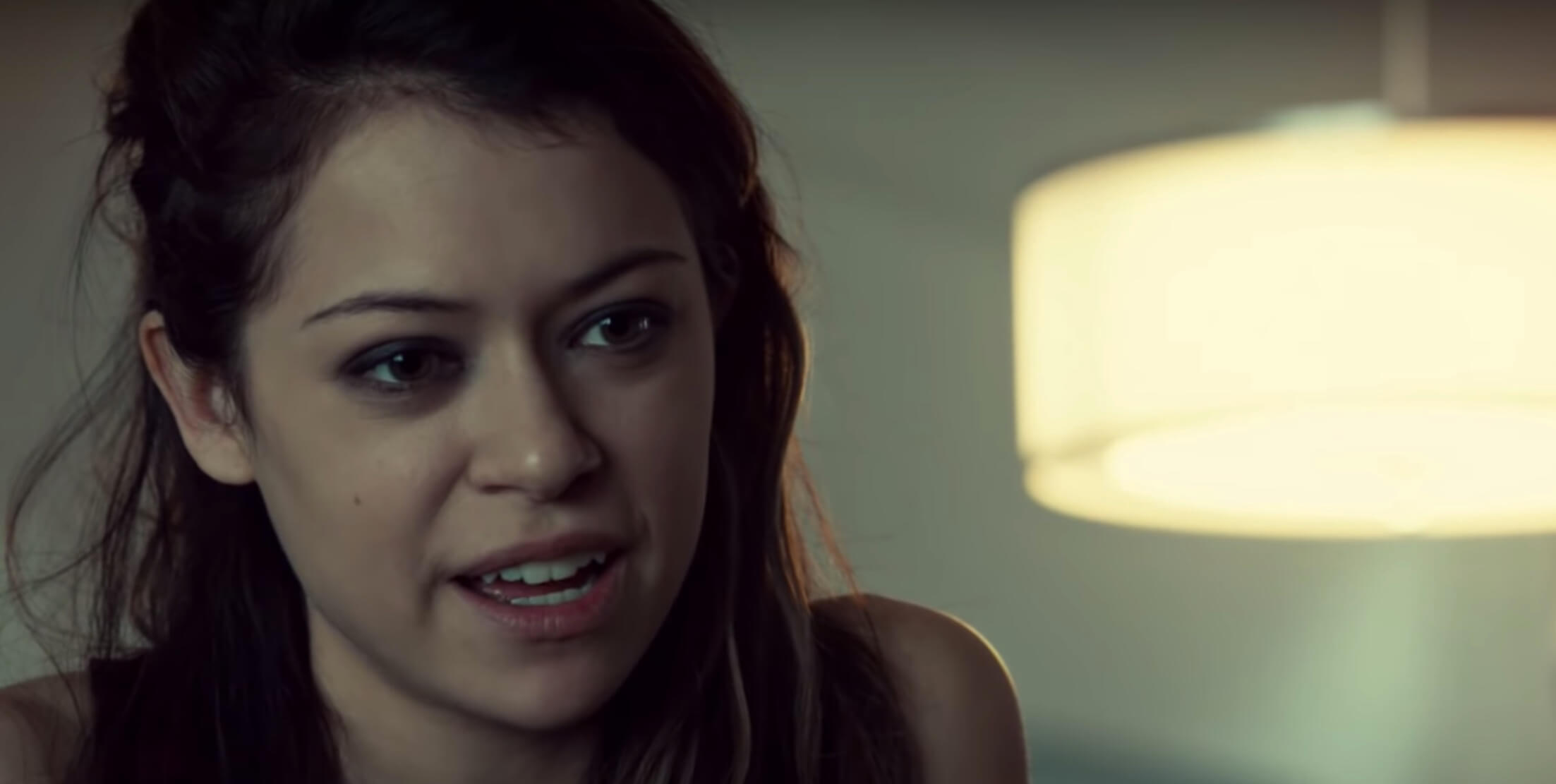 In February, a meme that began making its way around film Twitter made the case that the sign of a great actor is the ability to slip seamlessly into the skin of a litany of diverse characters. It was fairly simple. A user would take a number of still images of an actor or actress (often four, which is the maximum number Twitter allows) and then tweet them with "no one has the range" or "the range" or some variation of the phrase.
Popular choices were celebrated award-winning actors such as Cate Blanchett, Adam Driver, Brie Larson, and Christian Bale. And of course, Tatiana Maslany—who portrayed over a dozen characters on the BBC America series Orphan Black—got more than a few shoutouts.
11) The 'your music saved me' meme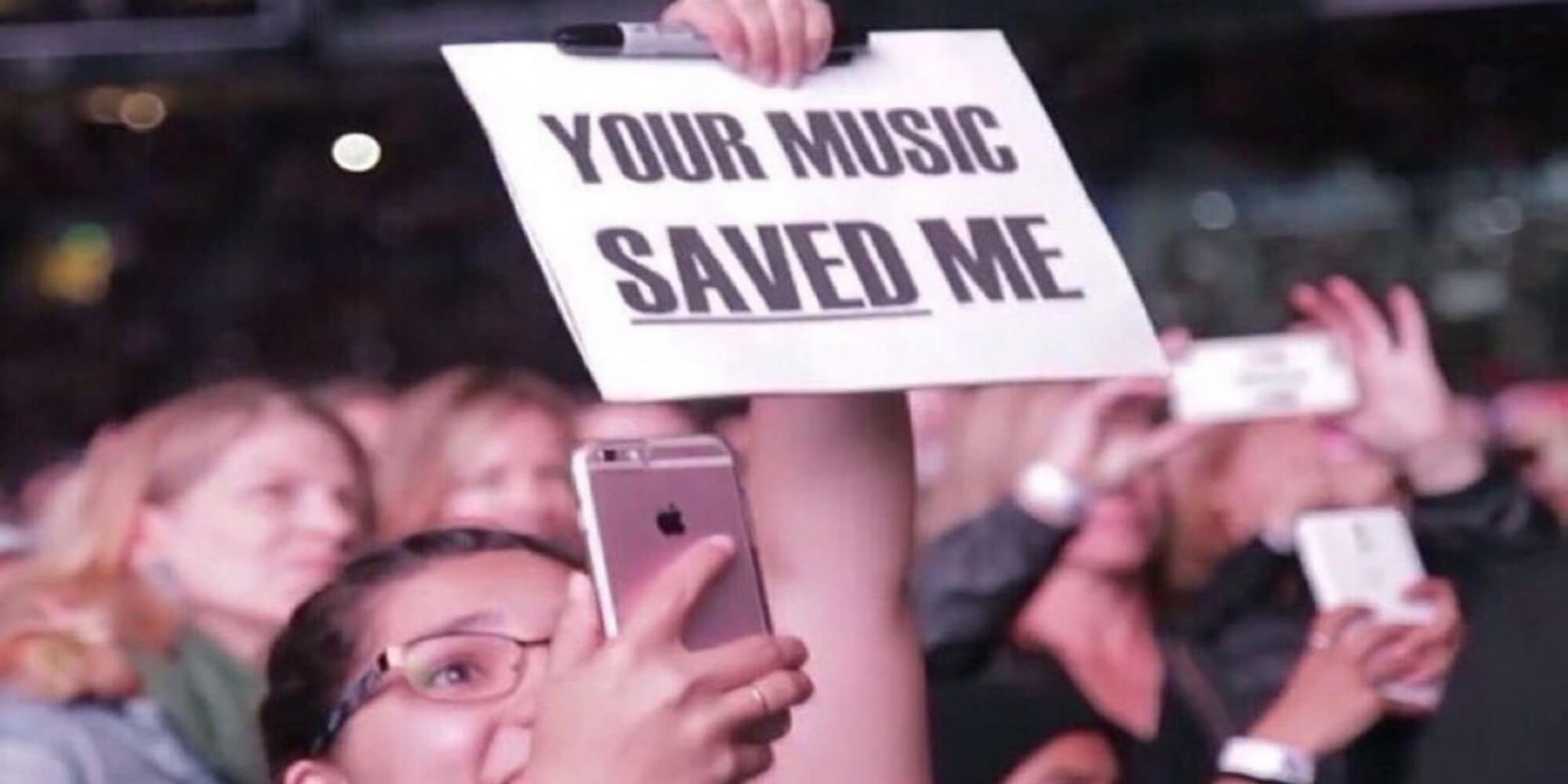 Twitter demonstrated once again, in late January, that it's still a great place for nostalgia when people began tweeting the "your music saved me" meme to express adoration for their favorite artists. It all started when a user tweeted a photo of an unidentified young girl at a concert holding a "your music saved me" sign, simply captioned, "bomboclaat."
Just what concert the girl was watching was unimportant, as the meme devolved into irony and people began using it alongside pictures of fictional characters and even animals playing musical instruments.
12) 'Oki Doki Boomer' TikTok memes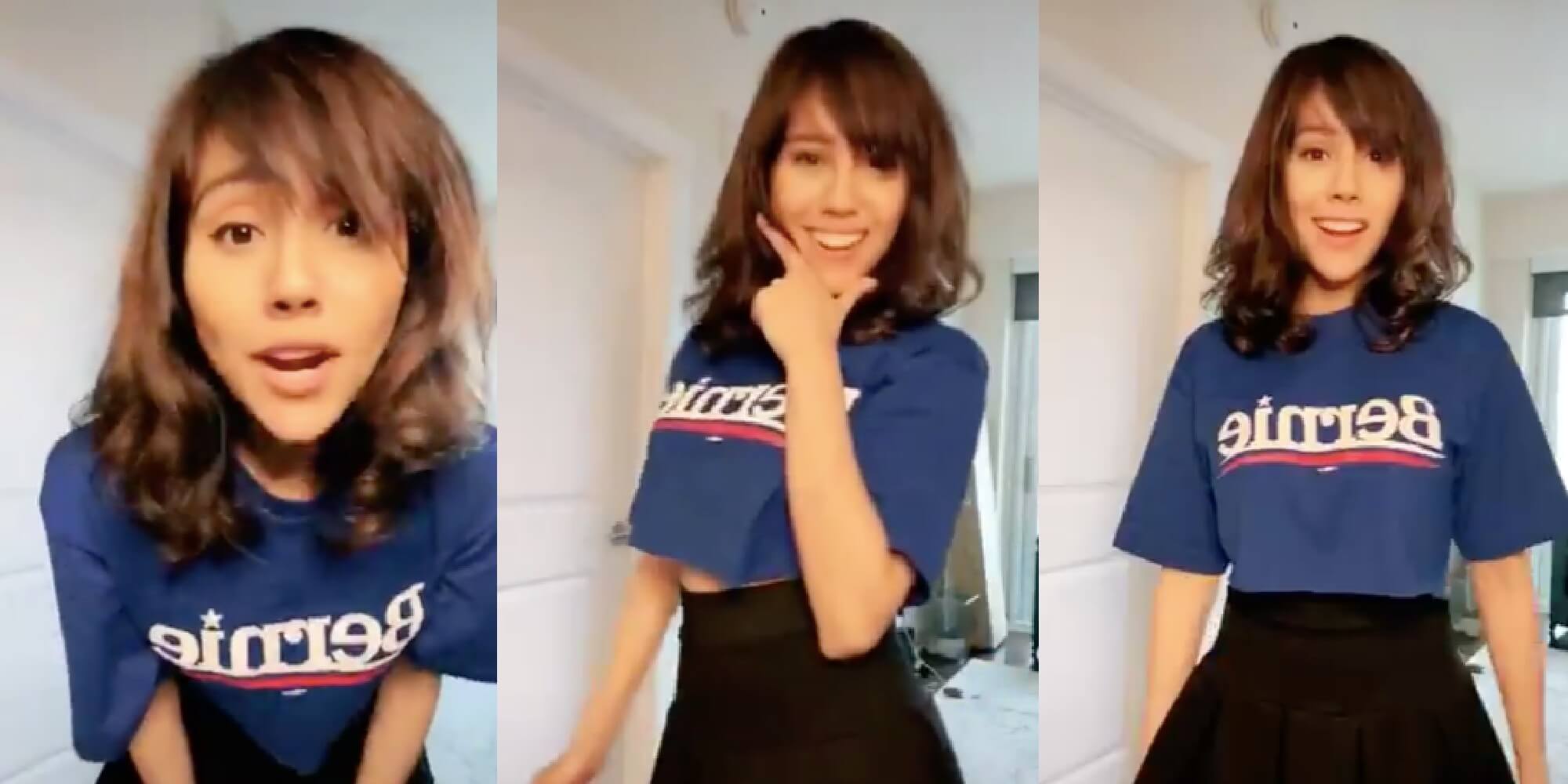 If there are two certainties in life, it is that Gen-Z'ers hates Baby Boomers and Baby Boomers hate Gen Z. This much was clear in early March when TikTok user Neekolul went viral for a video in which she lip-synced the boomer-taunting song "Oki Doki Boomer," which played off of the popular OK Boomer meme.
It didn't take long for the song to become a bona-fide anthem to Generation Z, typically as a way to blithely shut down boomer criticism about fashion or lifestyle choices. In the weeks and months that followed, TikTok became populated with literal thousands of uploads under the tag "okie dokie boomer."
13) Bernie Sanders looking up at sky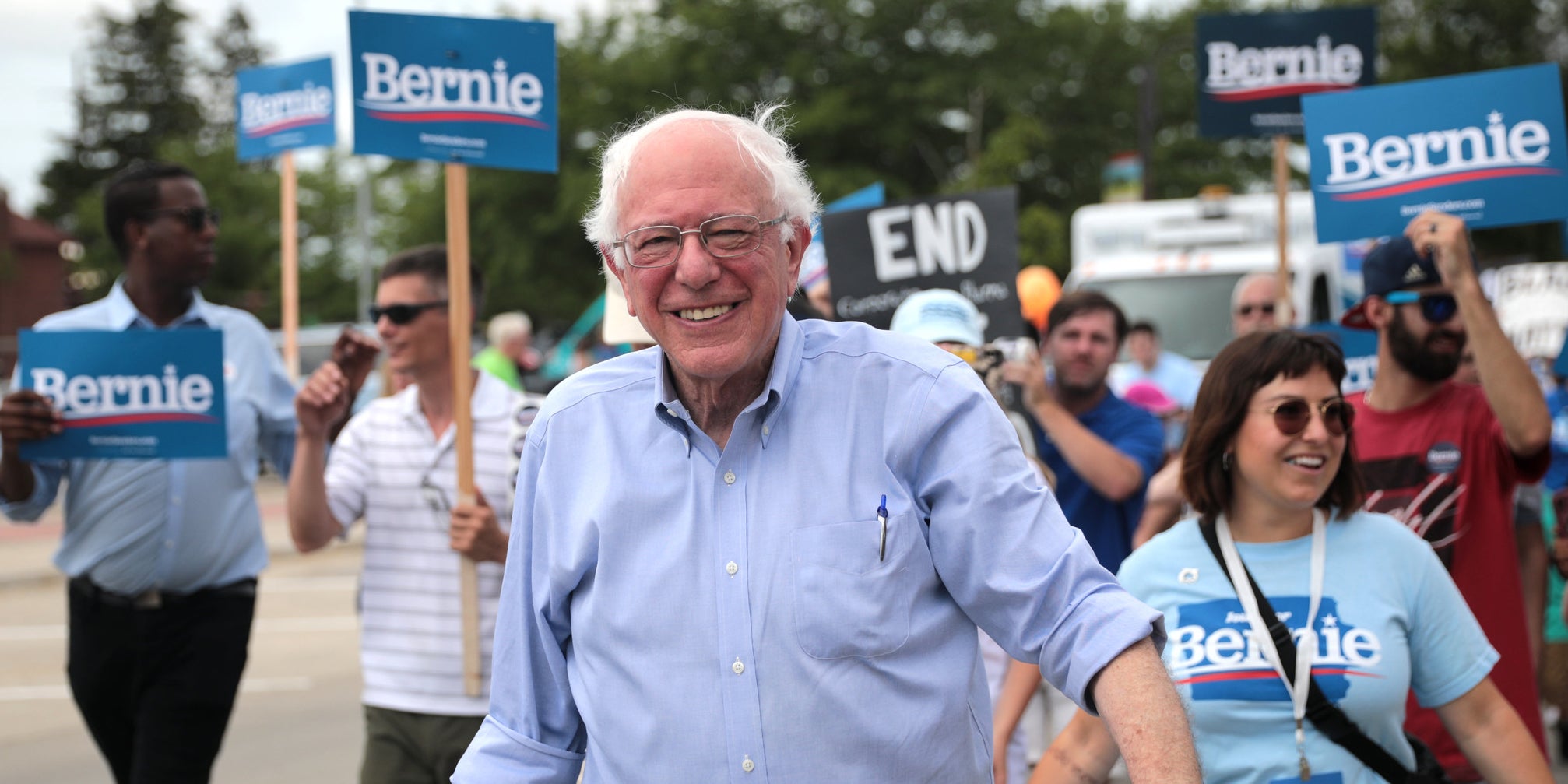 Sen. Bernie Sanders once again found himself the subject of a meme, when, in March, he could be seen looking up at the sky while talking on his cell phone while taking a stroll through a suburban neighborhood on his way to a rally in Phoenix, Arizona.
As the images began going viral, people began to speculate at just what Bernie was looking up at in the photo. It soon became a full-blown meme as jokesters on Twitter proceeded to add a second image to complete the narrative.
14) Eminem holding a rocket launcher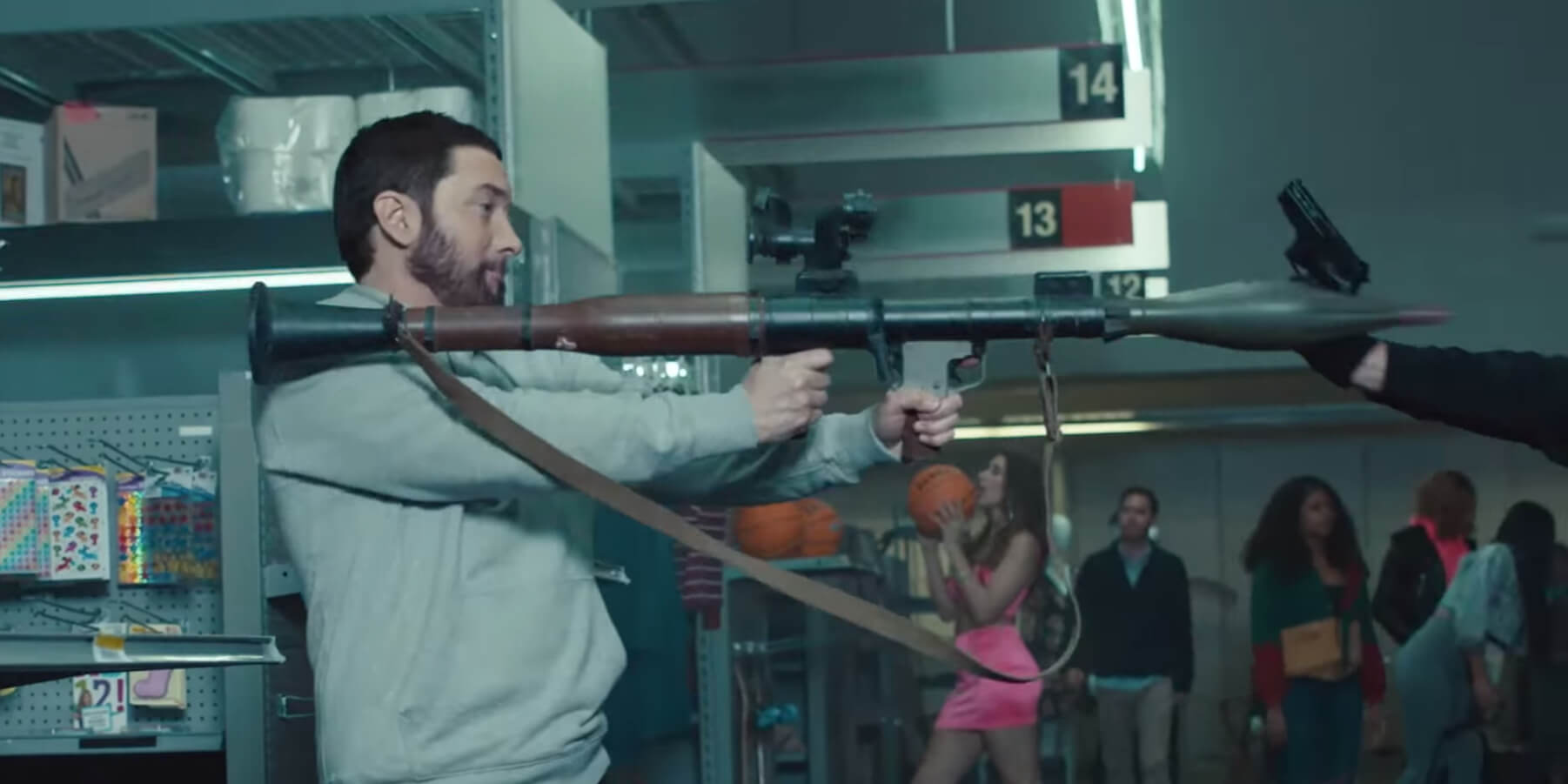 The music video for Eminem's single "Godzilla" featured, at one point, the 47-year-old rapper being confronted by a masked man who pulls a gun on him. In respose, Em produceed a freaking rocket launcher to blow his attacker away, and the ensuing images served as a perfect template for an object-labeling meme.
One of the first, most popular versions of the meme labeled the masked gunman as "my dad telling me that I'm adopted," only to have the rocket launcher-wielding Eminem respond with "me calling him a virgin." From there, it didn't take long before others began sharing their own interpretations on Reddit and other social platforms.
15) Self-distancing from the coronavirus memes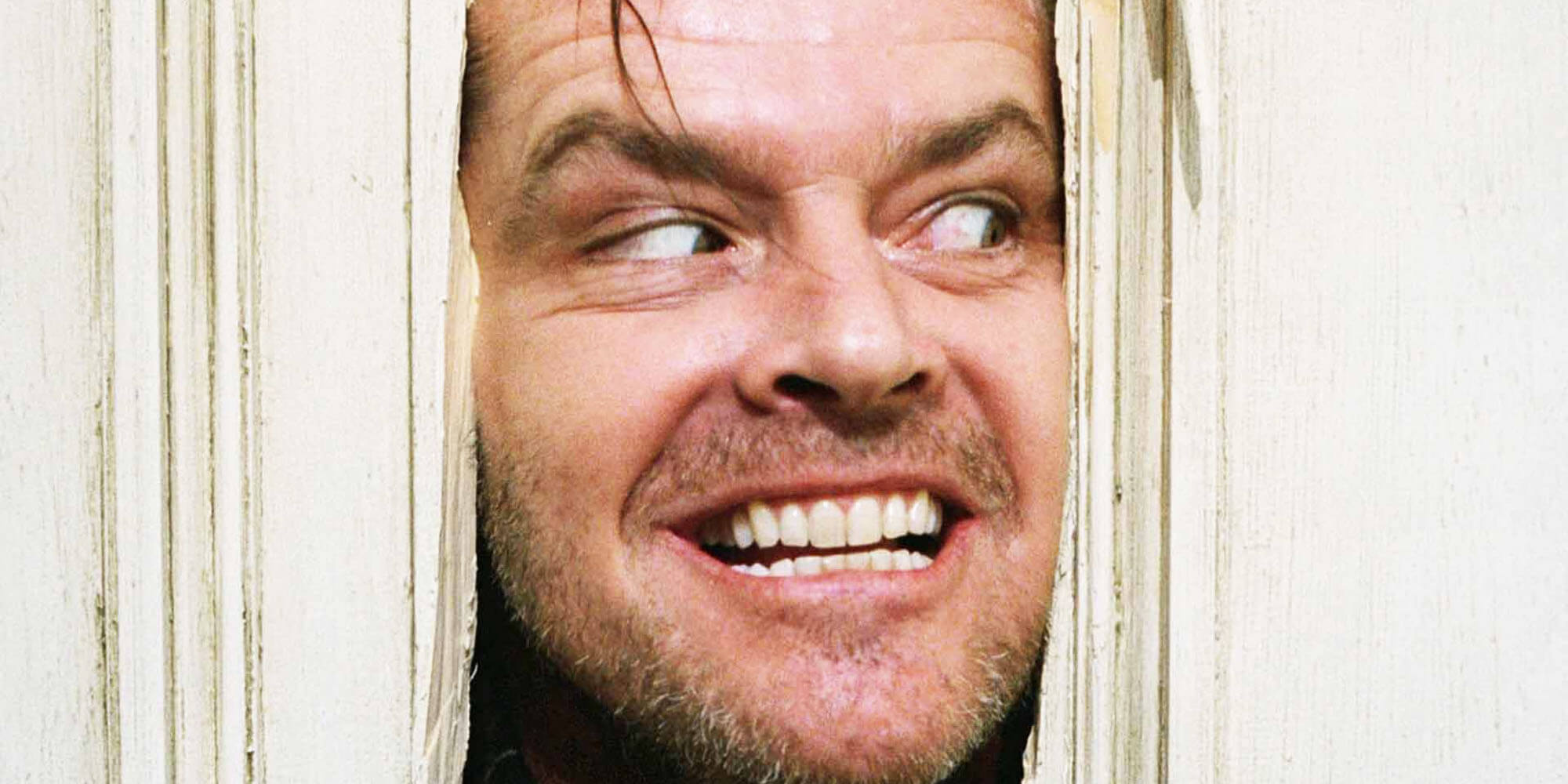 As the United States came under the grip of the coronavirus pandemic, it only took a matter of days before people hoarding face masks and hand sanitizer took to self-isolating and social distancing. And, the initial wave of boredom led to some pretty creative memes as those staying indoors began sharing coping mechanisms.
Though it was certainly fun and cute at first, as the weeks and months went on people were decidedly less enthused with their dystopian new normal.
16) 'Rick and Morty' 'he turned himself into a pickle' memes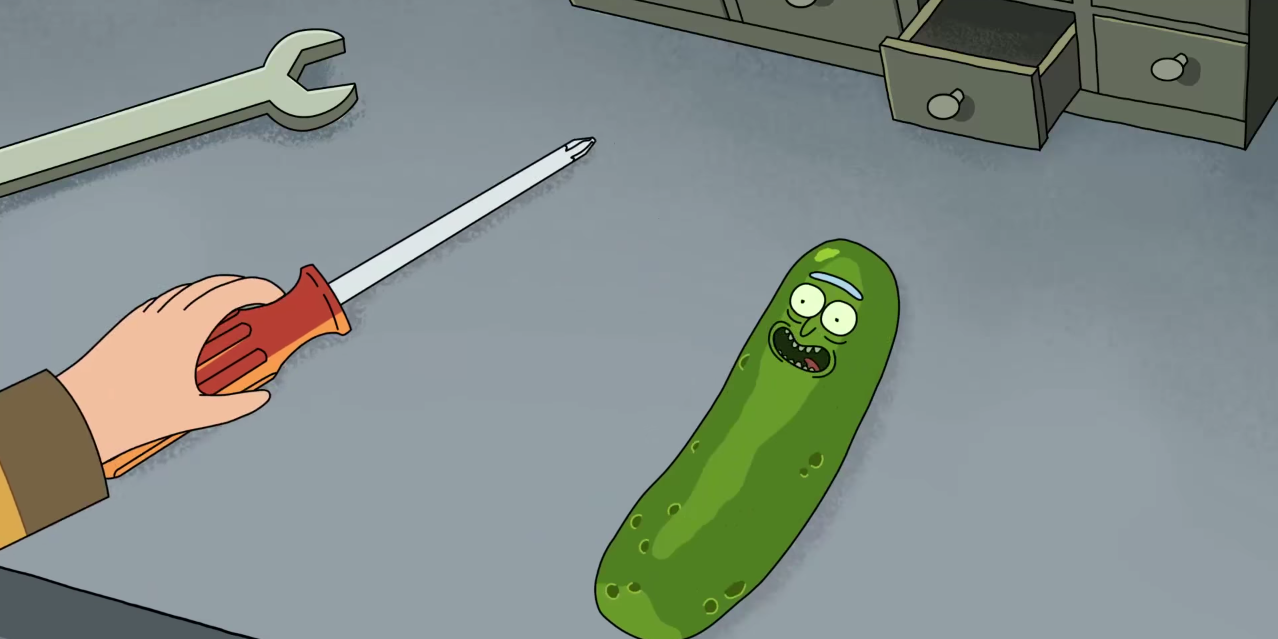 The 2017, season three, episode of Rick and Morty, "Pickle Rick," was an instant viral hit when it initially premiered. Nearly three years later, however, it found a second life on social media—but this time, the memes were not exactly being generated by fans of the show.
It all started in late 2019 and early 2020, when Redditors began evoking the plot of the episode with various versions of images paired with the text: "I kid you not, he turns himself into a pickle."
By early March, the meme had found its way to Twitter, where it began going viral in earnest, and people started pairing the text meme with screenshots from video games and movies. Often, but not always, the memes riffed on toxic masculinity—something that a few diehard Rick and Morty fans may or may not know a little something about.
17) 'Close the Beaches' coronavirus memes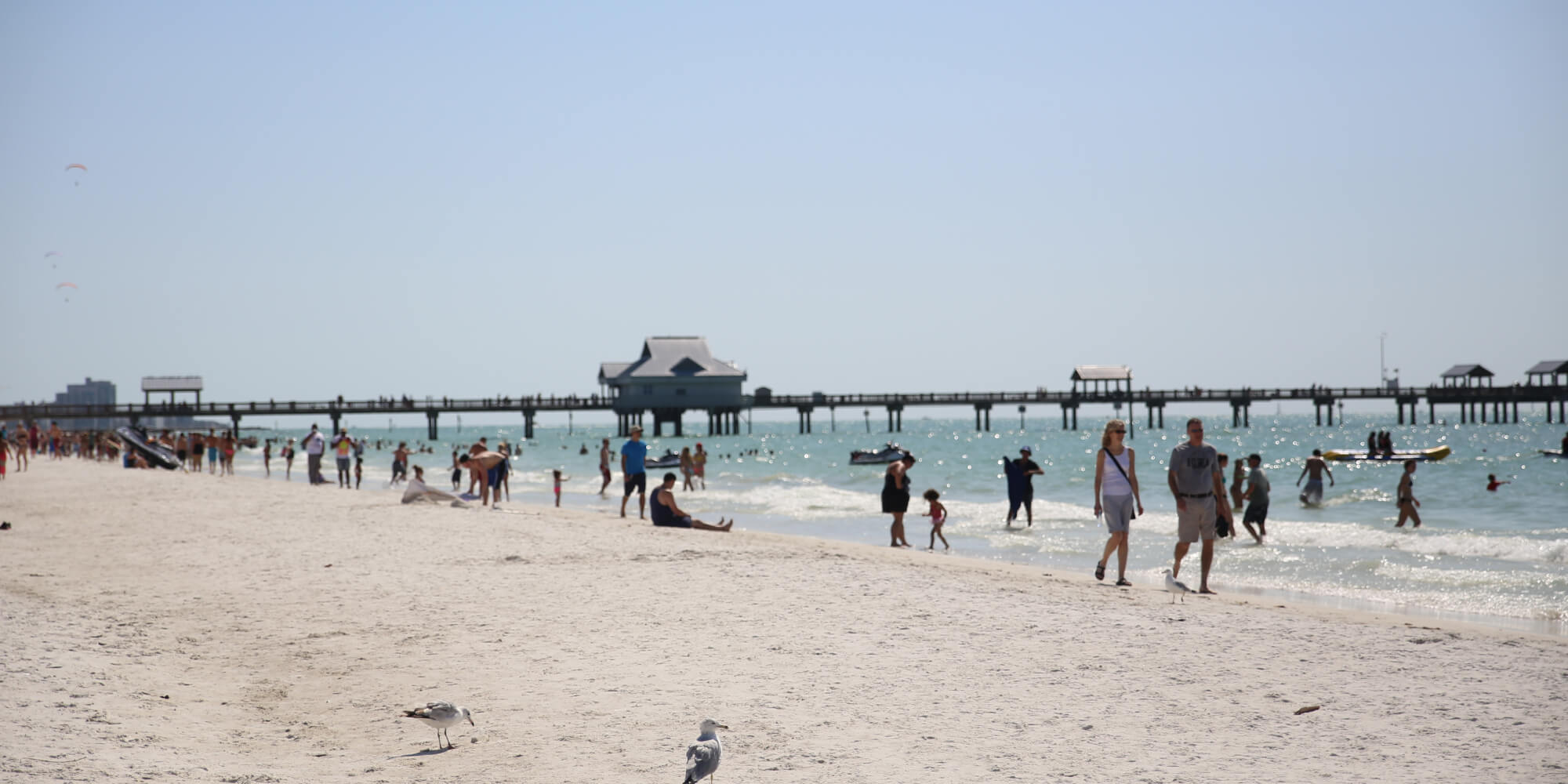 Even with the coronavirus quarantine and social distancing in full swing, it didn't stop hard-partying 20-somethings from flocking to beaches of Florida for spring break. Although Florida Gov. Ron DeSantis (R) eventually closed the beaches, it wasn't before people began ridiculing the state in memes, and comparing the scene to the plot of the 1975 blockbuster Jaws.
In the film, the fictional mayor of Amity Island refused to cancel the town's Annual Regatta—even after he was warned about the presence of the eponymous shark.
"I never actually finished Jaws but the mayor refusing to close the beaches was the right call, correct?" @iamchrisscott wrote in a tweet, and others were likewise quick to pile on.
18) 'Animal Crossing' under quarantine memes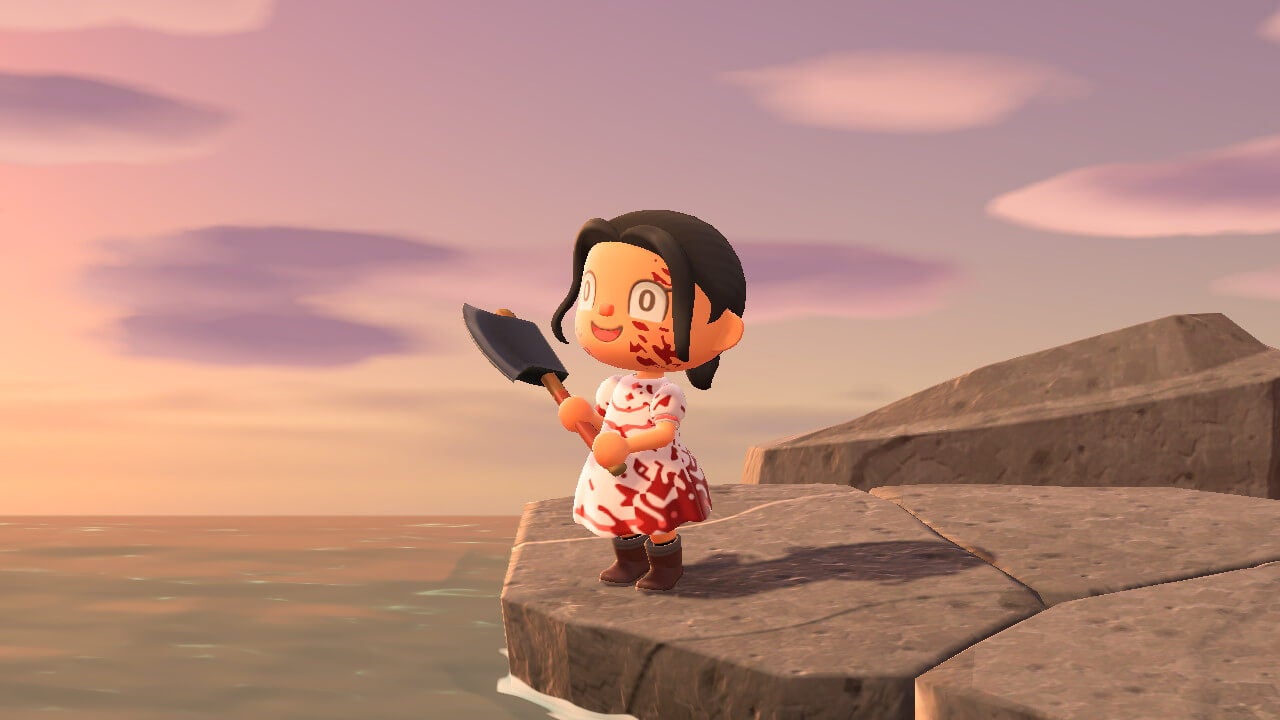 When the newest edition of the Animal Crossing game franchise dropped on March 20, Animal Crossing: New Horizons, it couldn't have come at a better time with most folks stuck at home due to the coronavirus pandemic. The perfect fantasy worth escaping into during a crisis, New Horizons lets players hang out with cute animal buds while also providing the opportunity to play cooperatively with friends. In other words, exactly what most people could use in the age of social distancing.
Suddenly, it seemed as though everyone was posting Animal Crossing memes on Twitter, Instagram, and other social media platforms and sharing their adventures.
19) 'Tiger King' memes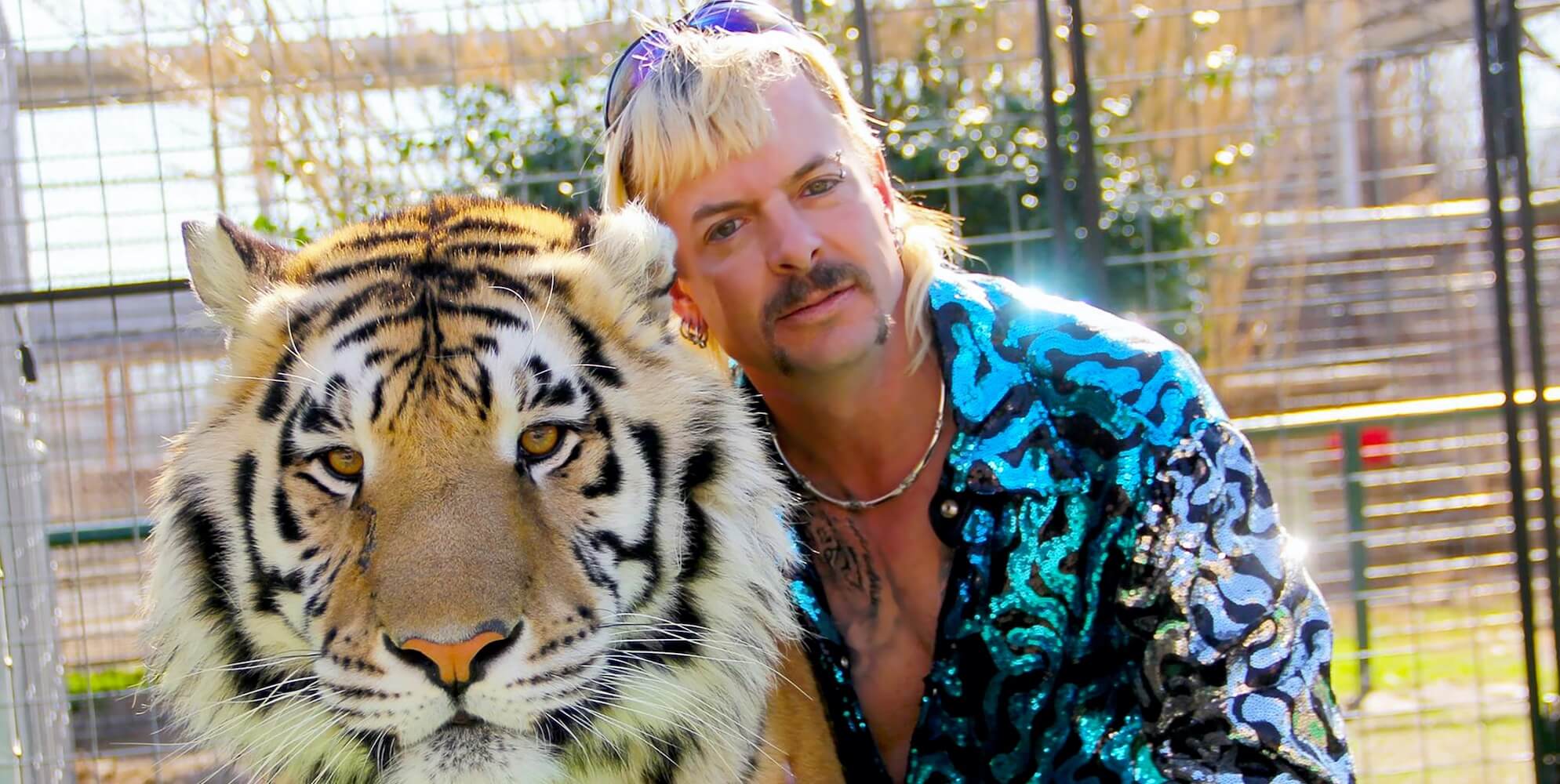 Another pop culture phenomenon that seemed to benefit from the coronavirus pandemic—when Tiger King: Murder, Mayhem and Madness dropped on Netflix, also on March 20, people were instantly riveted. The docuseries featured everything: a gay, gun-toting, Oklahoma private zoo owning redneck who was eventually convicted in a murder-for-hire plot. It had big cat sex cults, a same-sex throuple wedding, and a rival big cat enthusiast who is widely suspected to have killed her first husband and fed him to the tigers—and that's just the tip of the iceberg.
Not surprisingly, the docuseries quickly became a popular topic on social media, producing no shortage of meme content. Others began dream-casting a film or limited series—at least one of which in already in a production starring Kate McKinnon as would-be assassination target Carole Baskin.
20) Arthur pandemic meme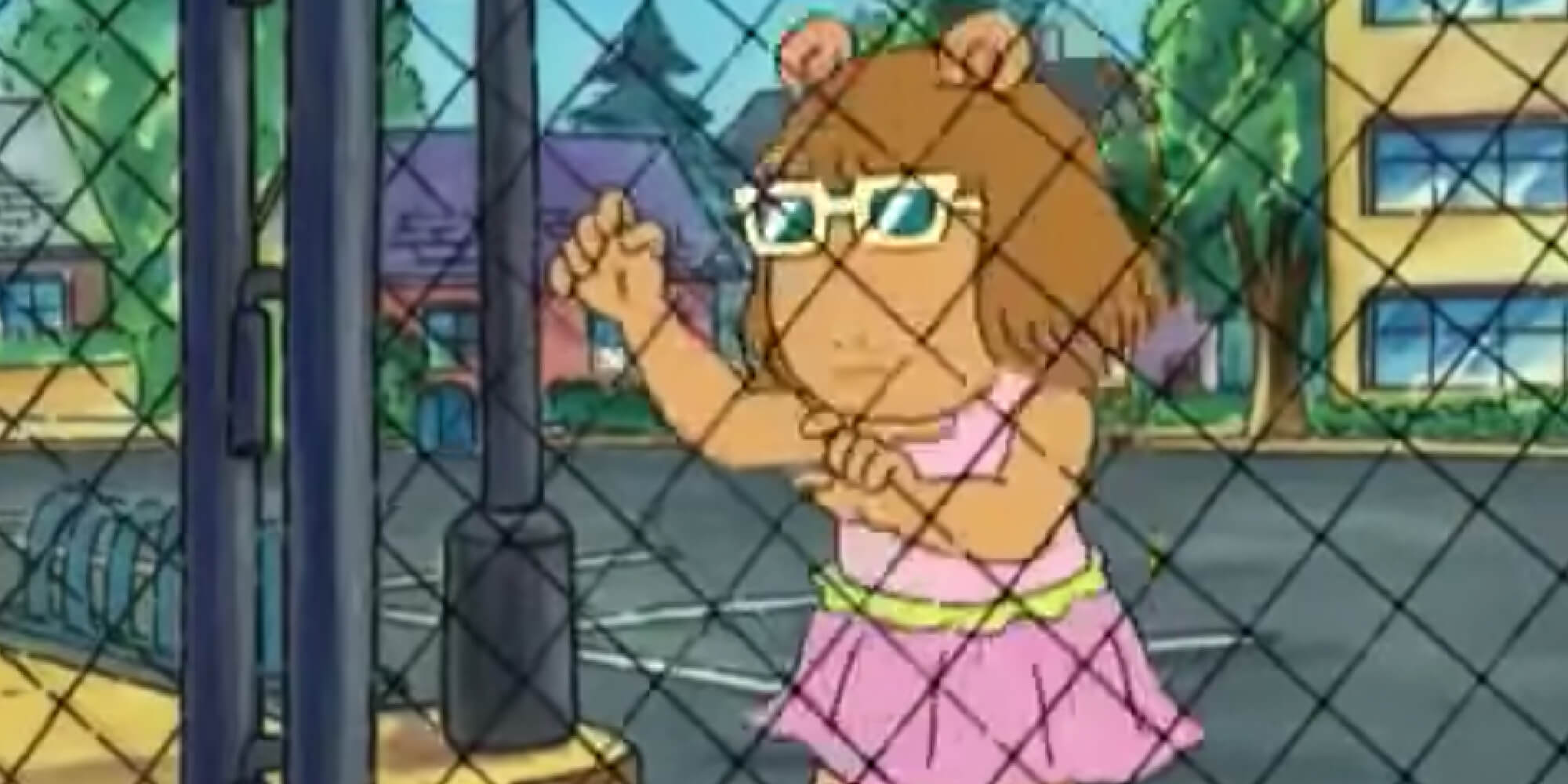 We were only a few weeks into coronavirus social distancing and self-quarantine (quaint times, looking back on it) and yet, by that point, people had already begun reminiscing about everything they missed, pre-pandemic. Nothing quite embodied that feeling better than this Arthur meme that began trending on Twitter, in which the character D.W. was captured in a screenshot holding onto a chainlink fence and staring longingly at whatever was on the other side.
In the instance of many Twitter users, this might entail getting your eyebrows done, stopping in your favorite taco shop for happy hour margaritas and nachos, or getting back to shopping at stores such as Marshalls, Ross, and T.J. Maxx.
21) Dancing pallbearers meme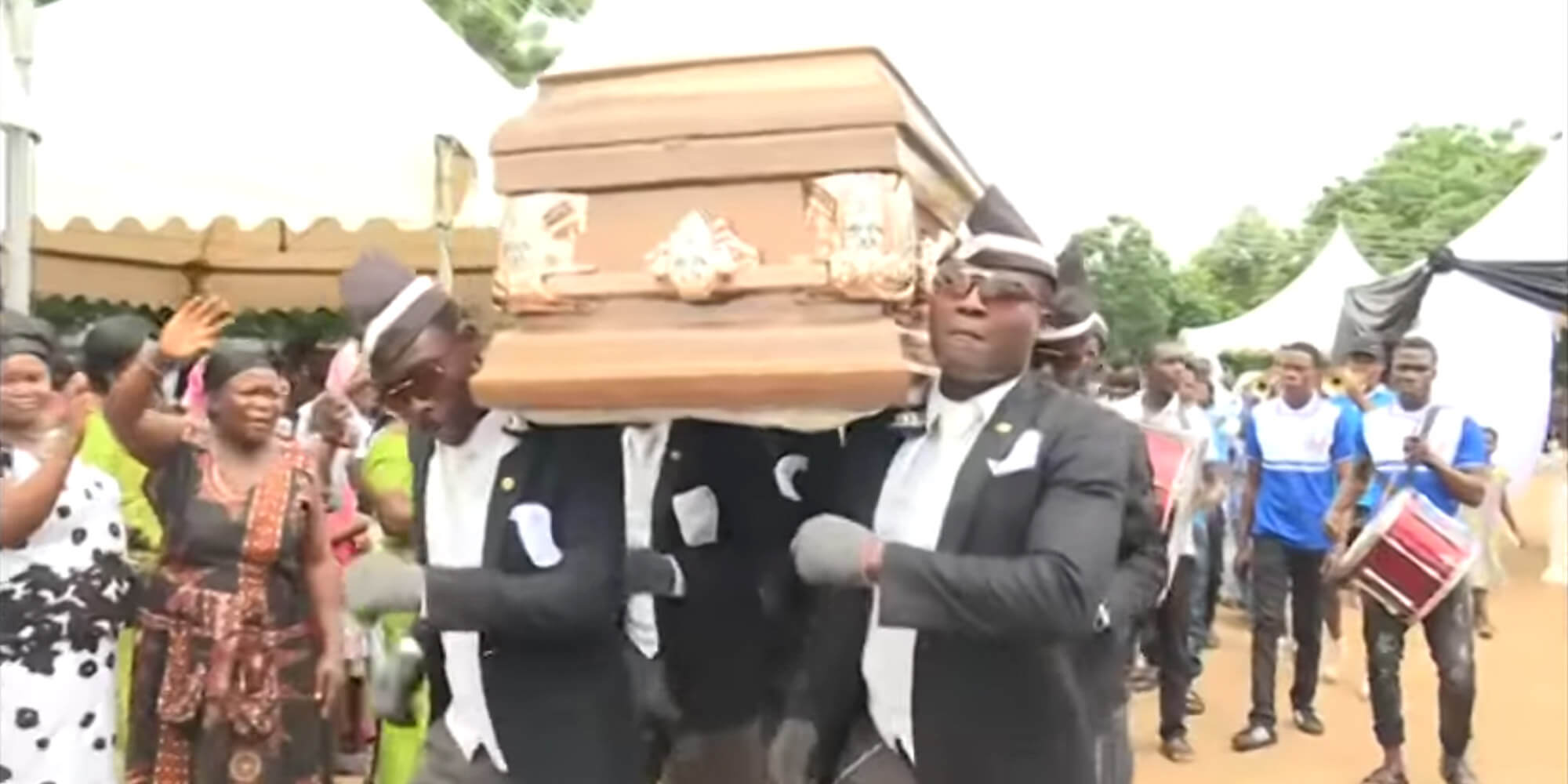 The dancing pallbearers of Ghana were hardly new to the internet, having first gained notoriety due to a 2015 YouTube video and later becoming the subject of a 2017 BBC News Africa report. However, the dancing pallbearers achieved instant meme status in April 2020, when footage of the group—who are known for lifting the mood at funerals by carrying caskets to a choreographed dance—became synonymous with roasting epic fails.
The meme really took off when someone had the brilliant idea to sync the footage to the EDM song "Astronomia" by Tony Igy. Failures of often life-threatening proportions are teased as the beat builds, and just as things go completely off the rails just as the footage cuts over to the group of dancers, popular among families wishing "to send their loved ones off in style."
Extended versions of the meme take it to a whole new level, which features the group standing patiently in line while waiting for the moment of failure to arrive. Let's just say it rarely disappoints.
22) 'The earth is healing, we are the virus' meme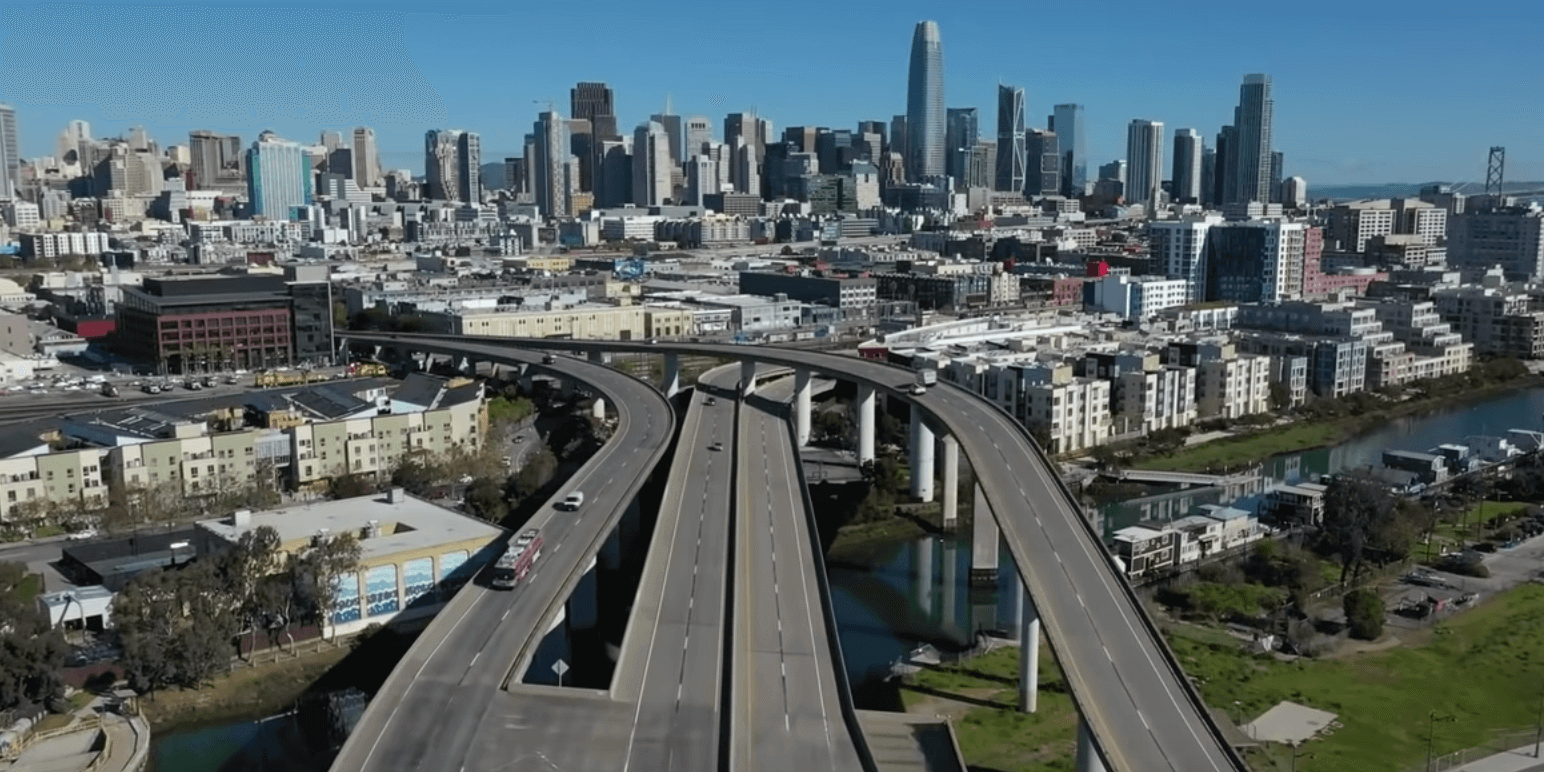 With the majority of people around the world forced to stay inside during the coronavirus pandemic, carbon emissions began temporarily decreasing. As such, the human impact on the earth's environment began to go viral in stark photos highlighting the lack of pollution on earth. Not to be outdone, soon after humans began circulating a snarky "the earth is healing' meme to roast the uptick in so-called Twitter optimism.
The meme typically photoshop juxtaposes absurd images into a photo of a city, such as wandering buffalo into Buffalo, New York. The memes then claim that the original habitat is returning after people have vacated, typically ending with the punchline: "the earth is healing, we are the virus."
Other examples joked about the "native emo species" returning to Camden Town in London, Furbies are returning to the forests, as well as your typical Florida shenanigans.
23) Leonardo DiCaprio pointing meme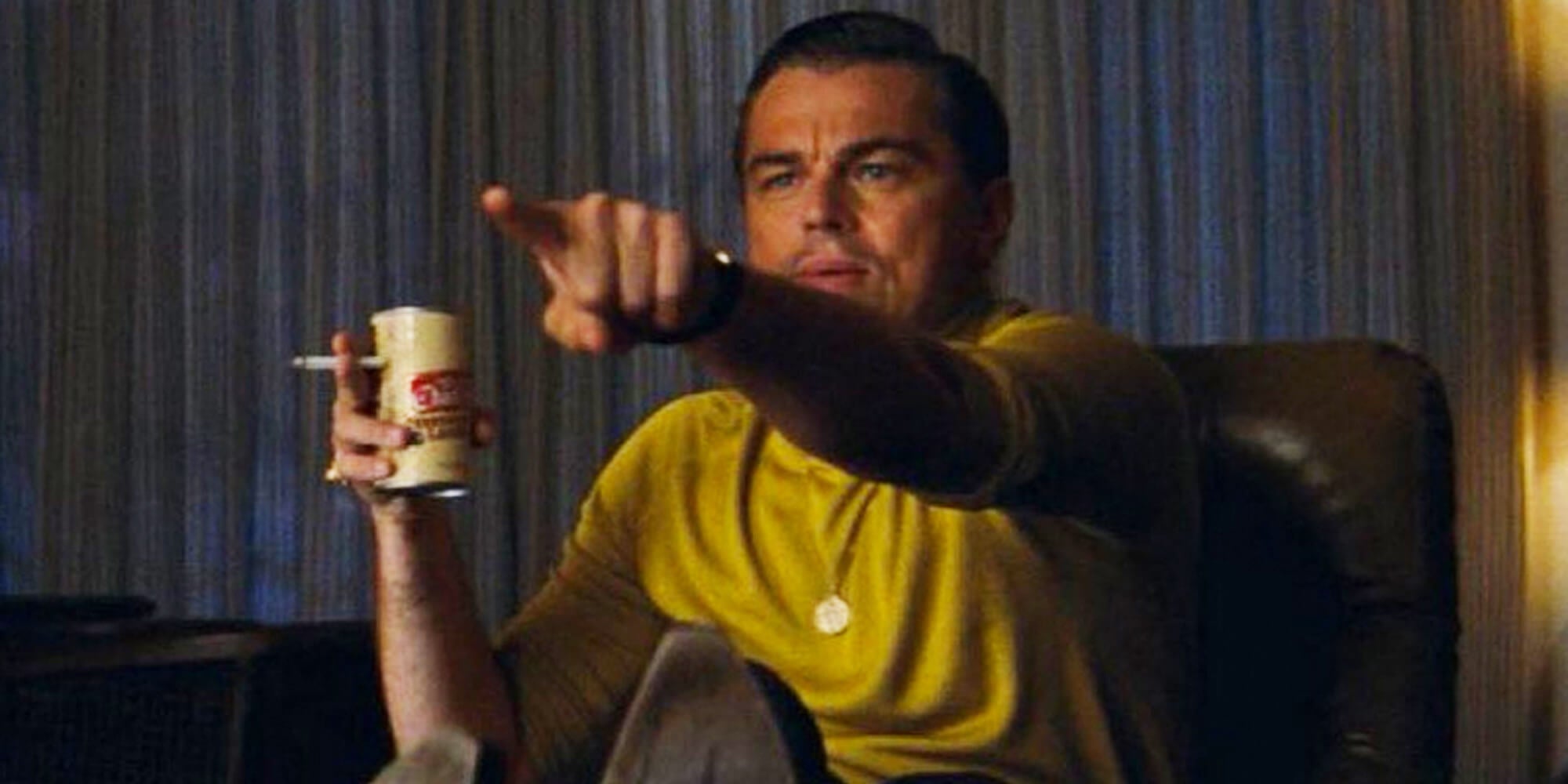 At one point in Quentin Tarantino's epic 2019 film, Once Upon a Time in Hollywood, Leonardo DiCaprio's character guest stars in an episode of The F.B.I. Later, while watching with his friend and stunt double Cliff Booth (Brad Pitt), he excitedly points at the television when his scene is about to come on. Leo pointing at himself seemed all but destined to become a meme, and finally, in April 2020 the internet made it happen.
The "Leo Pointing" (conversely, "Pointing Rick Dalton") meme first went mega-viral when Late Night with Seth Meyers writer Mike Scollins tweeted the image with the caption: "When someone says the title of the movie in the movie."
From there, others began adding their own contributions—as some roasted DiCaprio's penchant for dating much, much younger women, while others roasted their own viewing habits.
24) 'Gossip Girl' anagrams meme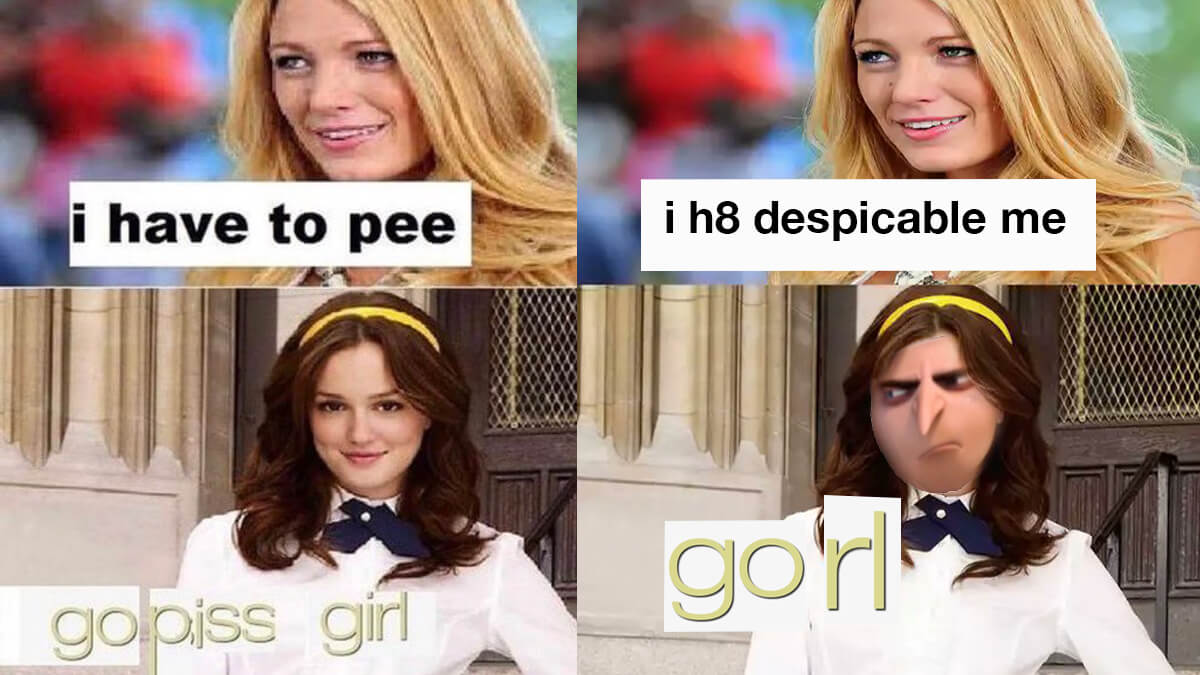 In 2019 it was announced that a Gossip Girl reboot/sequel would be headed to HBO Max in 2020—so with this new series impending, fans decided to revisit the original 2007 CW teen drama with a brand new meme. Like the "Three Words, Eight Letters" meme that made the rounds a few years back, this new meme once again has to do with letters—but this time, anagramming the show's title.
The meme format was fairly simple. The character of Serena van der Woodsen (Blake Lively) would ask a question in the top panel and Blair Waldorf (Leighton Meester) then proceeded to answer her by rearranging the letters in the show's title. Often the word "girl" is retained in full, but the longer the meme sticks around the weirder things get.
In true Gossip Girl fashion, there was naturally some shade thrown around, such as one user showcasing the meme to remind everyone that Blake Lively married Ryan Reynolds on a … yikes … plantation.
25) 'F**k, marry, kill' pop culture Twitter game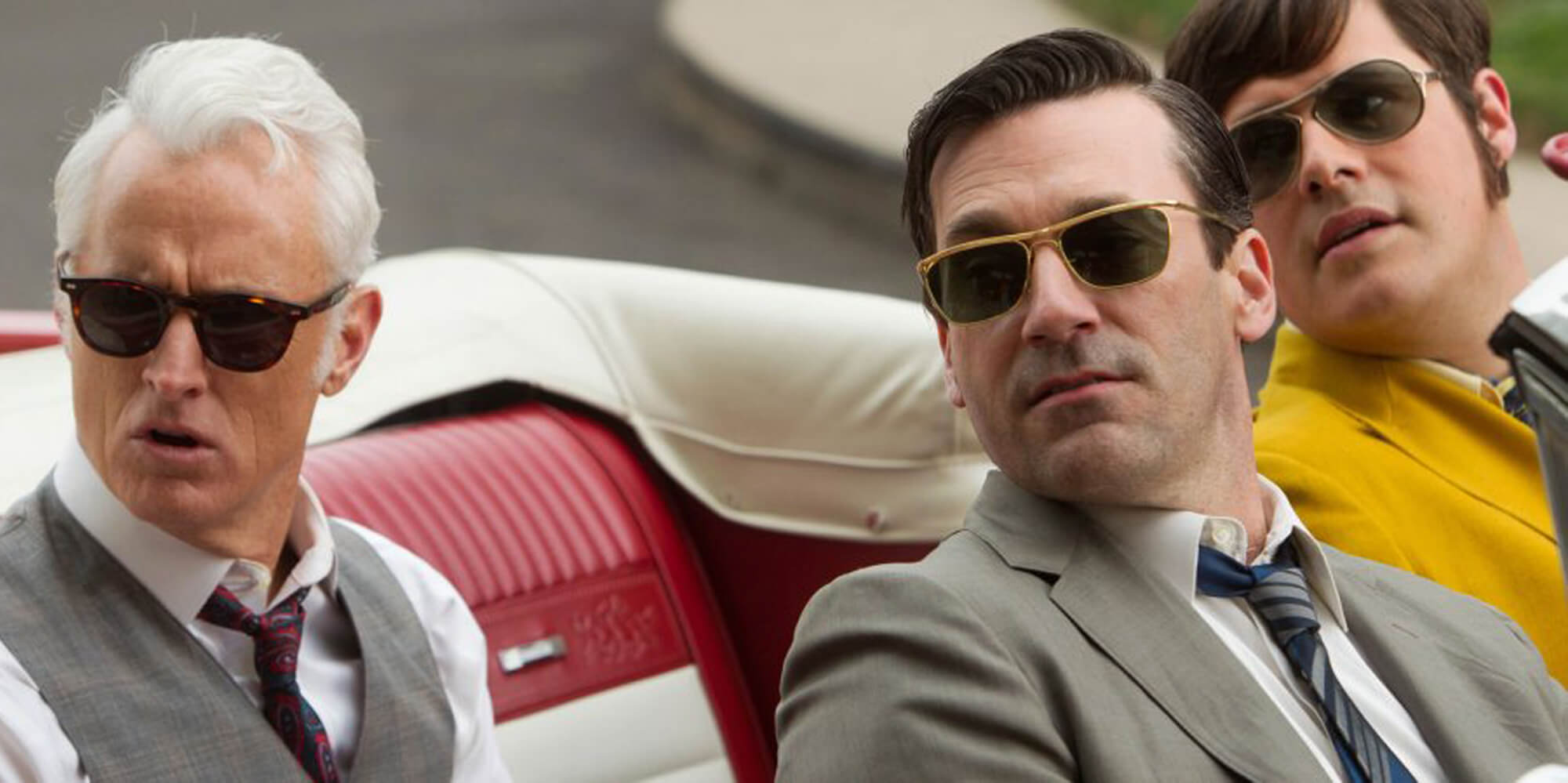 The popular social game "fuck, marry, kill," also known by other variations such as the much more polite "kiss, marry, kill," had been around for decades before this latest iteration made its way to Twitter. In this instance, however, many of the variations were rooted in pop culture—such as roles played by Jason Bateman and Kyle MacLachlan, as well as other various popular TV and movie show characters from Mad Men, Sex and the City, and so on.
it's not hard to see why the popular (if not cruel by very nature) game has endured over the years, and 2020 just seemed like the perfect time to bring it back.
26) 'Cultural reset' meme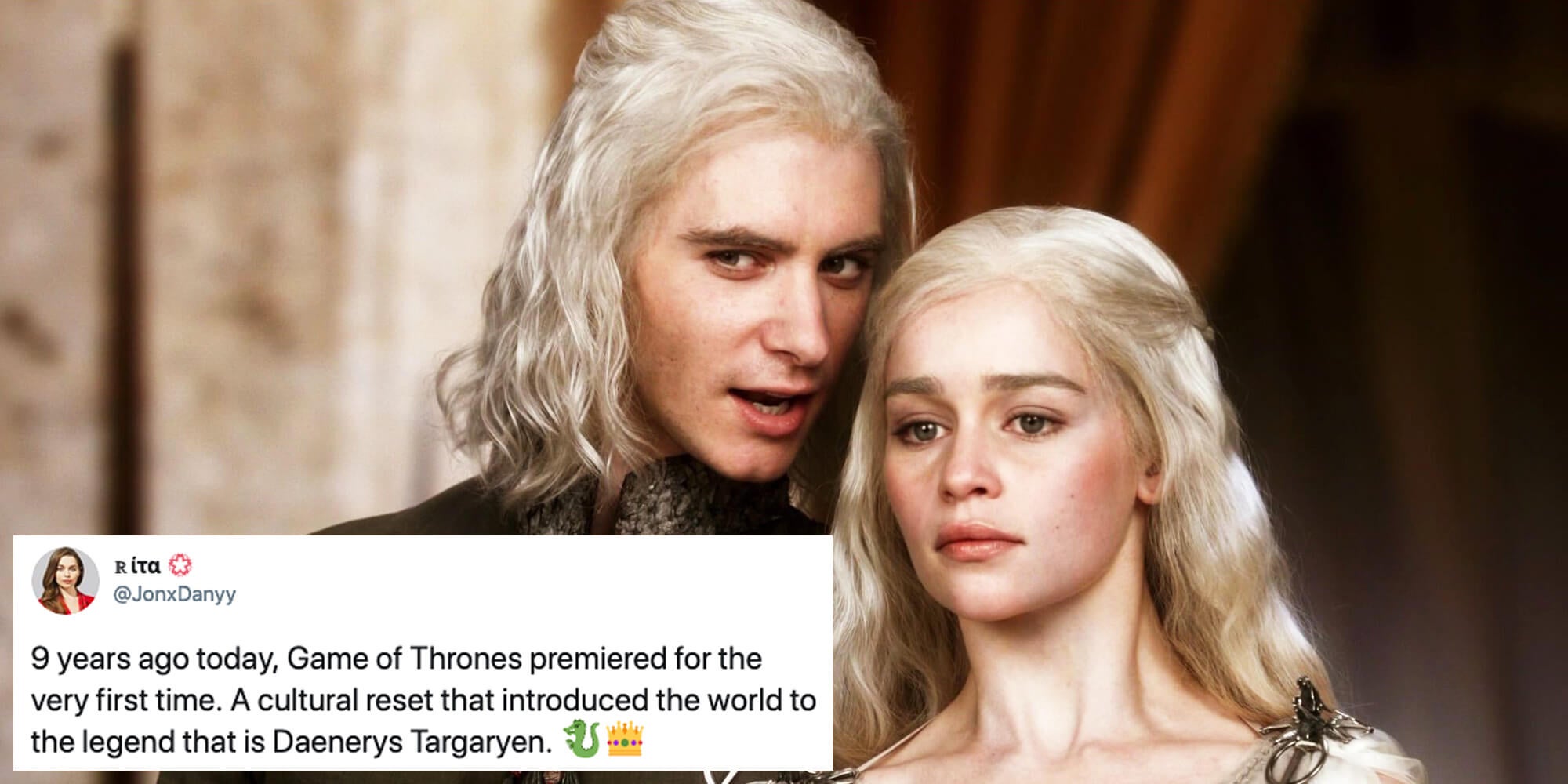 The fall of former film producer Harvey Weinstein, which paved the way to the Me Too movement in late 2017, is one of the most defining pop culture moments of recent years and also partially responsible for the "cultural reset" meme that went viral in April 2020. It all started when actress Rose McGowan, who helped spearhead the movement, sat down with ABC News Australia's Samantha Hawley on International Women's Day 2019 to discuss the global impact of Me Too.
"I've seen a huge change, it's really just like someone pressed a button on a cultural reset," McGowan told Hawley at the time.
However, "cultural reset" didn't evolve into a meme until nearly a year later, when a Twitter user used it to describe the video for singer-songwriter Caroline Polachek's single "So Hot You're Hurting My Feelings."
As the tweet began to go viral, others added their earnest contributions to the cultural reset meme, such as Shakira belly dancing to Arabic music at the Superbowl Halftime Show, Tonya Harding's broken skate lace (as portrayed by Margot Robbie in I, Tonya), the music video for Solange's "Losing You," and so on.
27) Ben Affleck pandemic smoking memes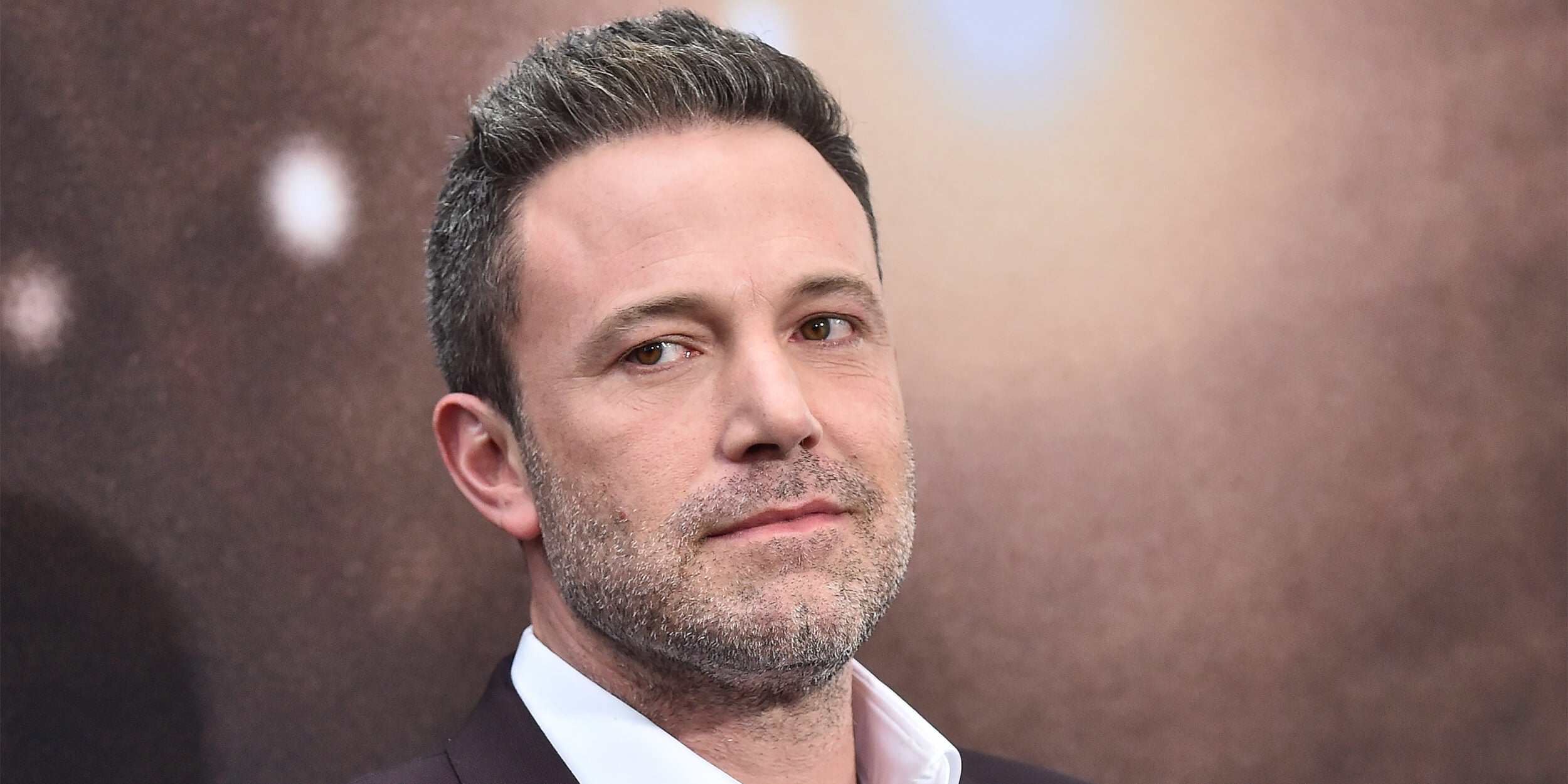 In the initial weeks following the coronavirus quarantine, Ben Affleck had been seen frequently out on walks out with his girlfriend, Knives Out star Ana De Armas. In one such instance, Affleck had been out wearing a face mask, as mandated by organizations such as WHO and the CDC—however, it seemed to be beside the point since he kept lifting it up over his nose so he could smoke a cigarette.
Paparazzi photos quickly surfaced online and were circulated on Twitter, where people had no shortage of jokes to make at Affleck's expense. It was considered a "mood," to be sure, but also a perfect illustration of our conflicting urges during a pandemic.
There had been conflicting info on the effect of coronavirus on smokers by that point, which definitely meant that people probably shouldn't be smoking. But the divorced dad had been in "fuck it" mode for quite a bit by that point, and it clearly showed—smoking hot (pun intended) younger girlfriend or not.
28) Bill Clinton playing records meme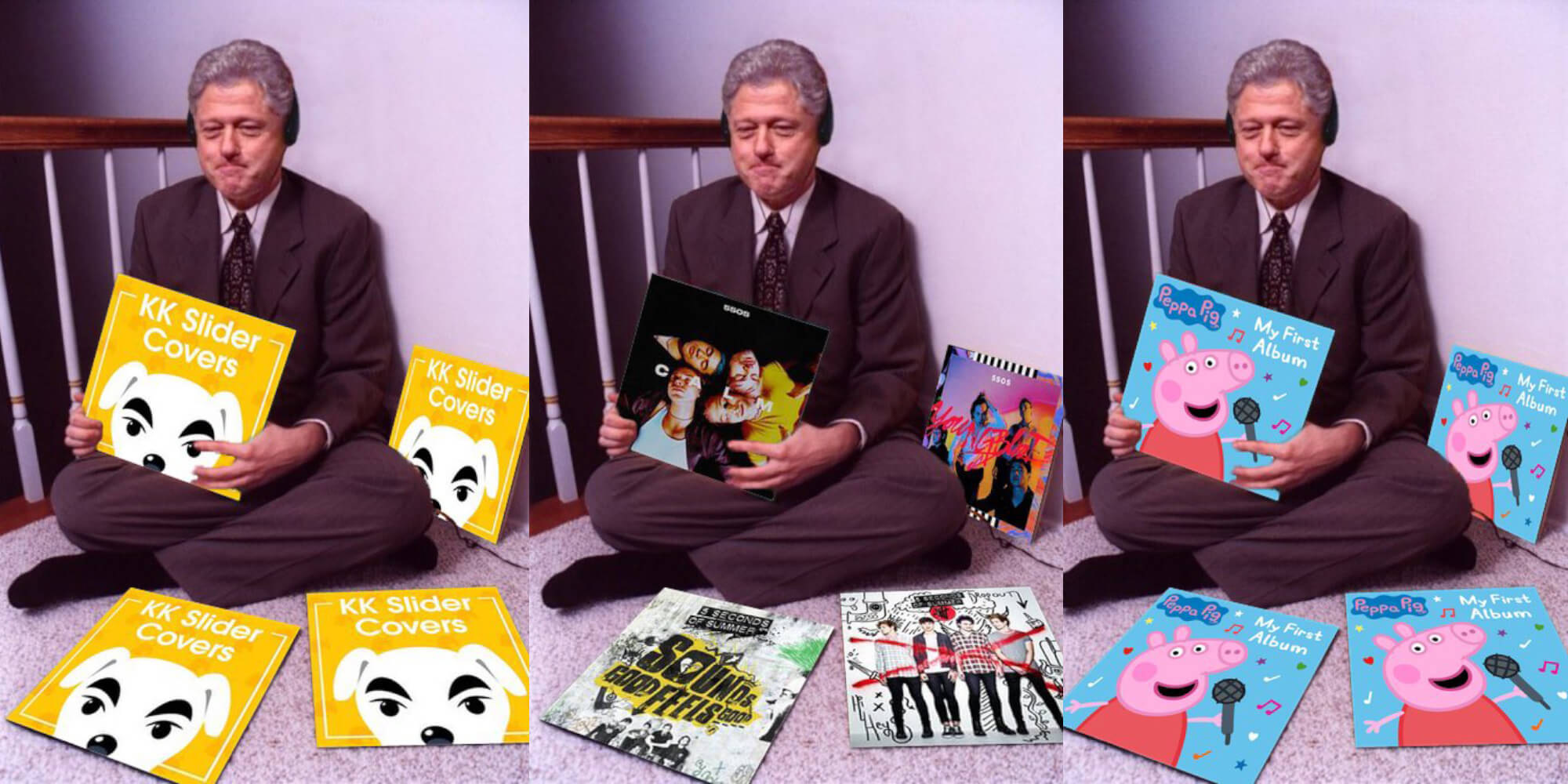 Of all the bizarre internet challenges that surfaced during quarantine, one of the stranger ones involved people sharing a photo of Bill Clinton that was edited to make it appear that he was playing their favorite records. That was literally it! Just former President of the United States Bill Clinton, holding some dang records.
Though some marveled at the Photoshop skills of their fellow Twitter users, as it turned out there was even a website that did it for you. Not a fan of the former POTUS? That's OK, because some people swapped out the photo entirely.
29) Michael Jordan The Last Dance Memes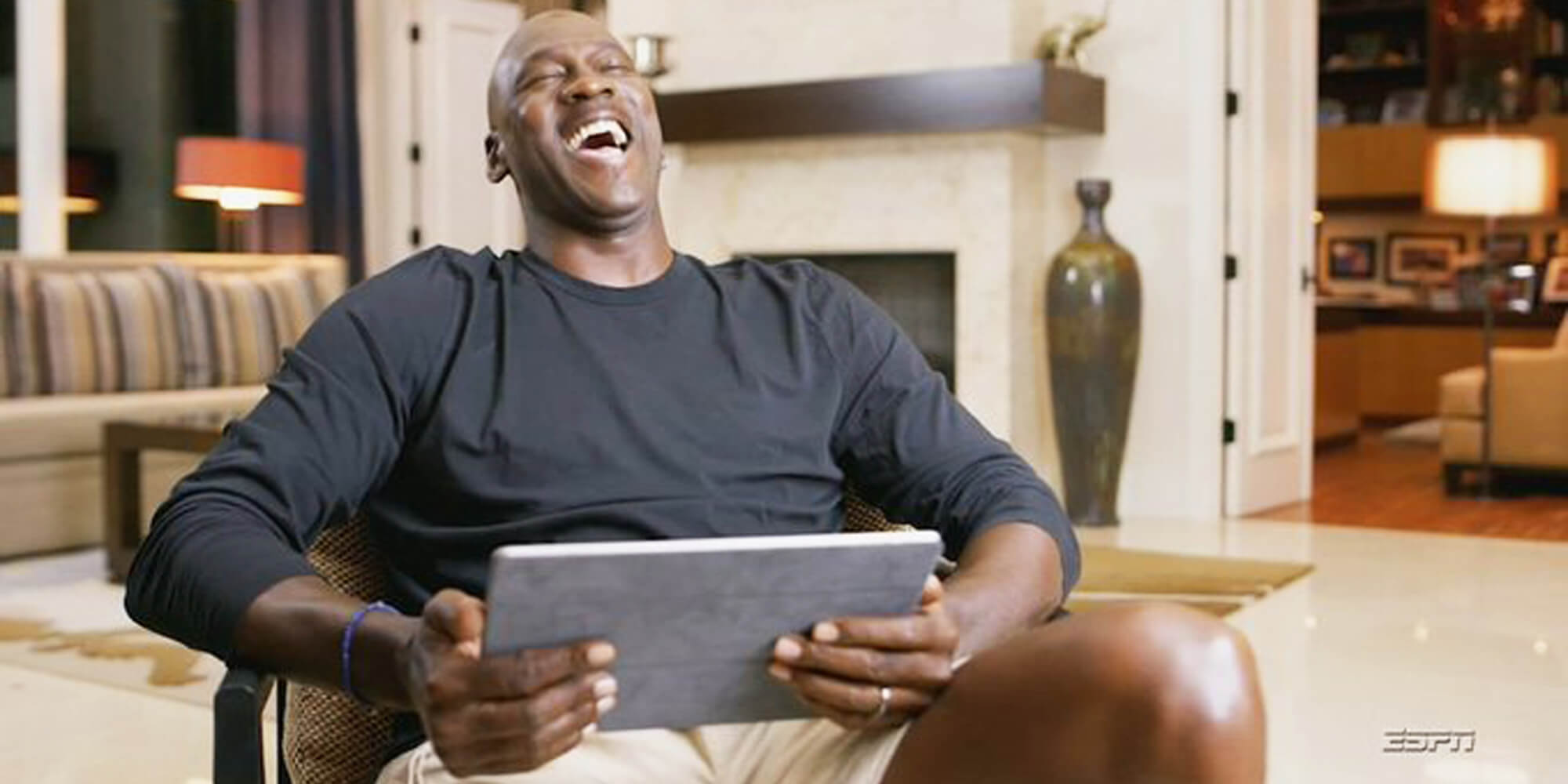 ESPN's The Last Dance, the docuseries about the career of Michael Jordan that looked back at the 1997-98 Chicago Bulls season, proved that "Crying Jordan" was no anomaly. In just 10 episodes, the 57-year-old former NBA player gave us several new reaction memes—including incredulously skeptic Jordan (working titled) and Laughing Jordan.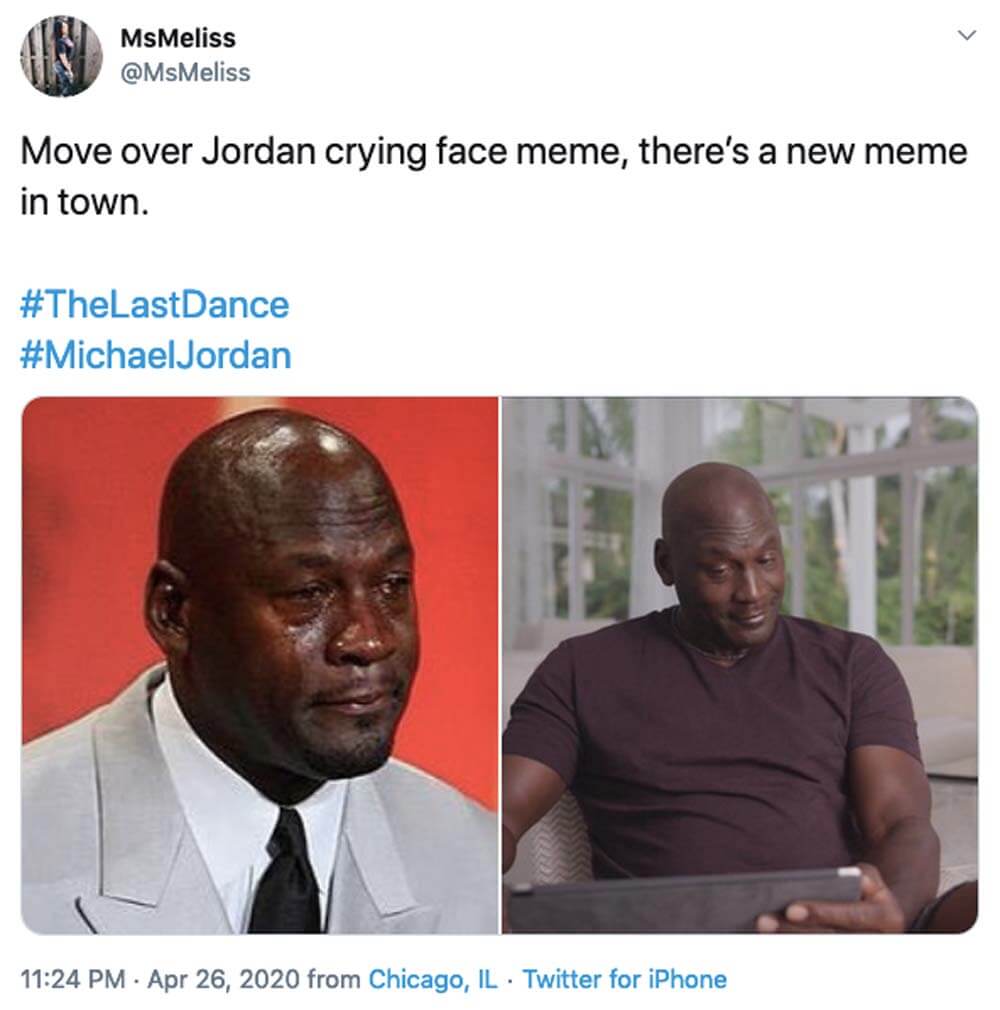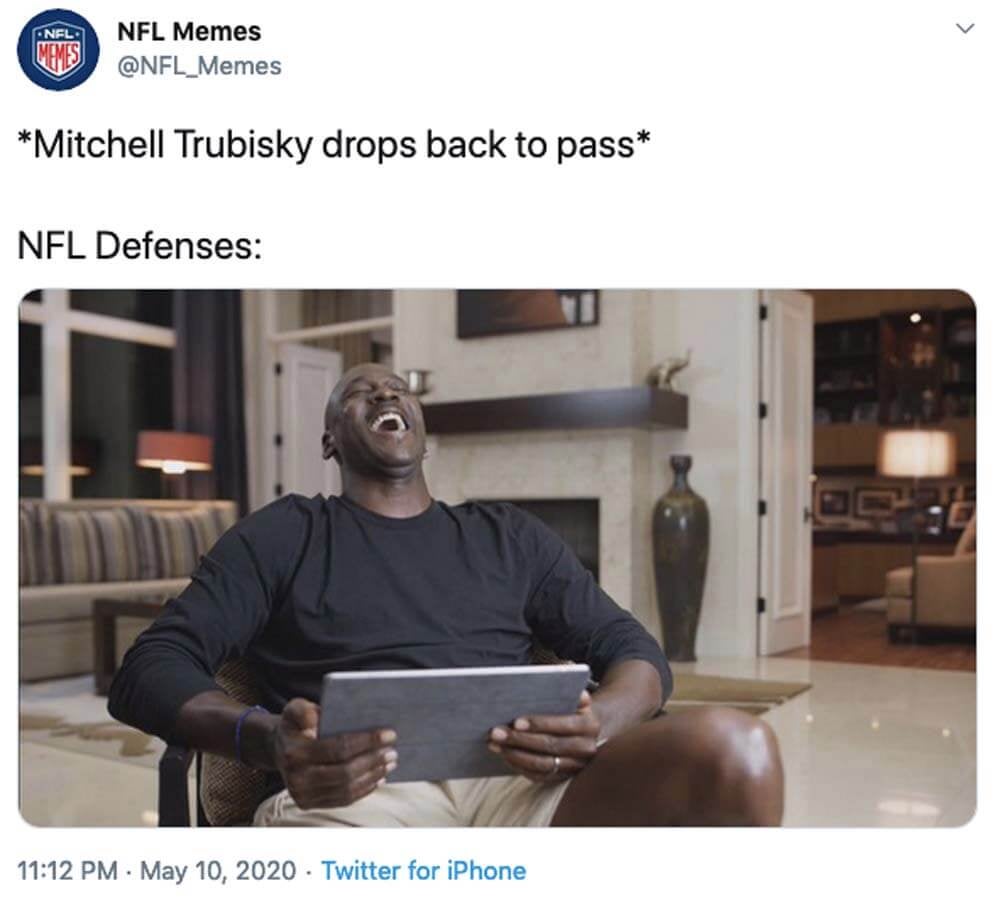 What can we say? The man was just born to be a meme. Oh, and we guess he's pretty good at that sports stuff, too.
30) Outdoor social distancing memes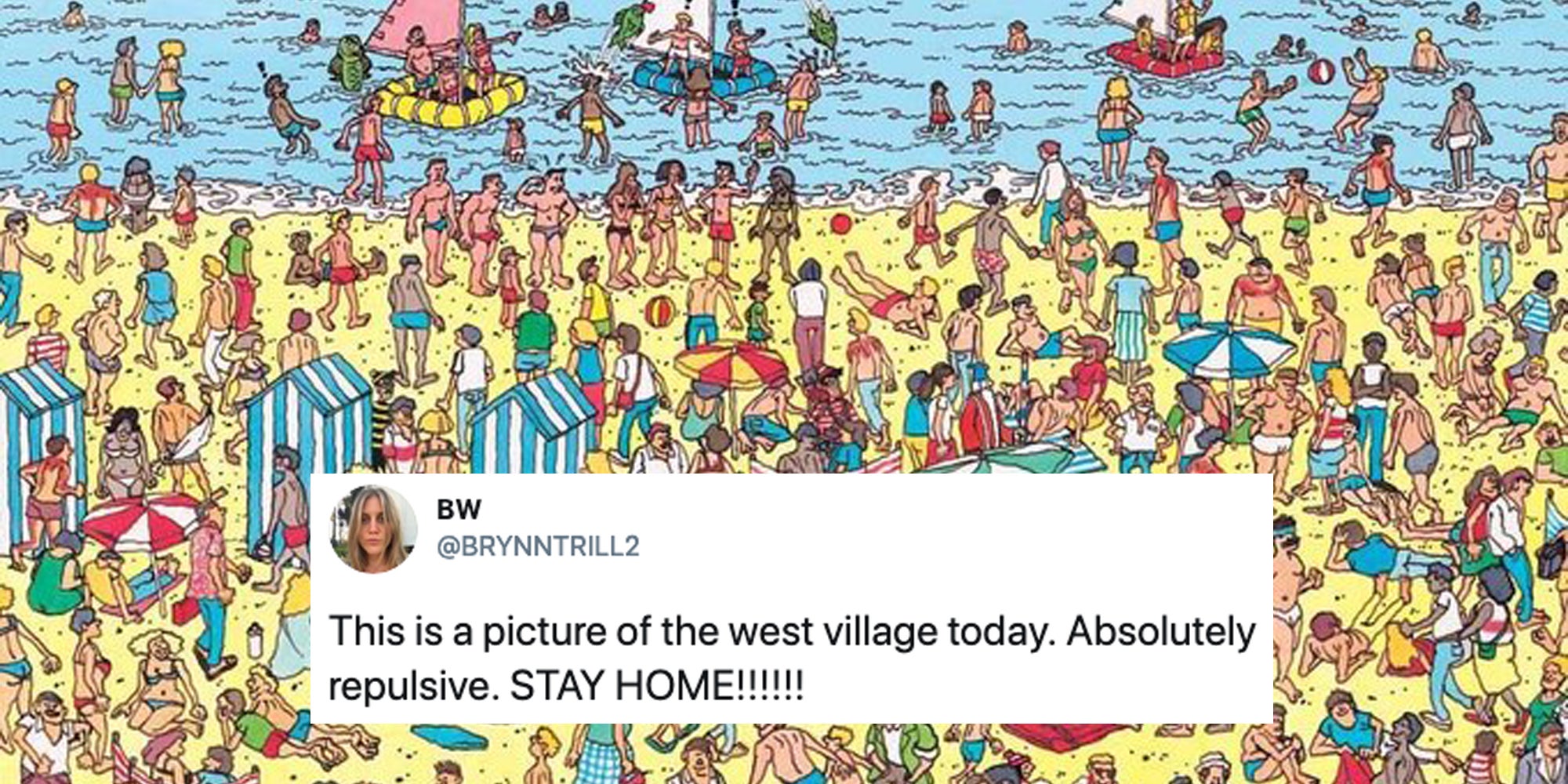 The first weekend of May gave much of the country—the east coast, in particular—the first real taste of springtime weather we had seen up to that point. And in the midst of the coronavirus pandemic, millions were coaxed out of quarantine to partake in a little outdoor social distancing and soak up some much-needed sunlight.
Unfortunately, some people got a little overzealous with their "outdoor social distancing," as photos began to go viral of literal hordes of people crowding into parks and other open spaces—particularly in large cities and other urban oases.
After New York City-based writer Celeste Yim shared one such image and her tweet quickly went viral, others joined in to add their own outdoor social distancing memes—evoking pop culture, film, and of course, Where's Waldo.
31) Can't wait to walk down the aisle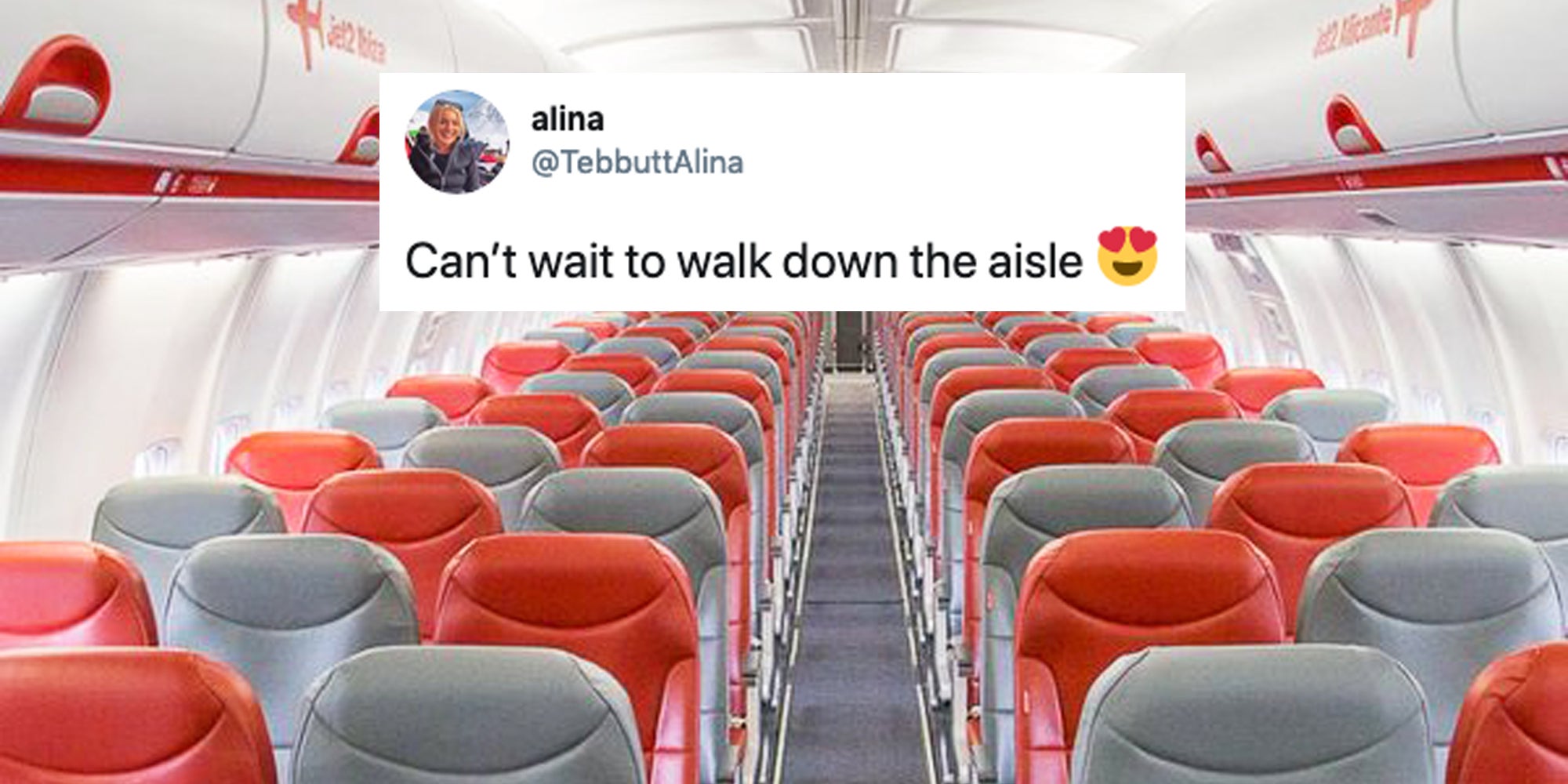 The coronavirus pandemic has left an untold number of couples who had been ready to walk down the aisle in 2020 in the lurch—with many having to postpone or even outright cancel their weddings. Though some engaged couples are opting for Zoom weddings, others decided to wait until post-COVID times to walk down the aisle.
However, a meme that began making its way around Twitter proved that you don't necessarily even have to be engaged to dream of walking down the aisle—or, "any aisle" really. After one user shared an image of an empty Jet2 flight, others soon began adding their own versions—whether walking down the aisle involved shopping for clothes, books, candles, or anything else involving an aisle.
32) 'The person' versus 'the personality' meme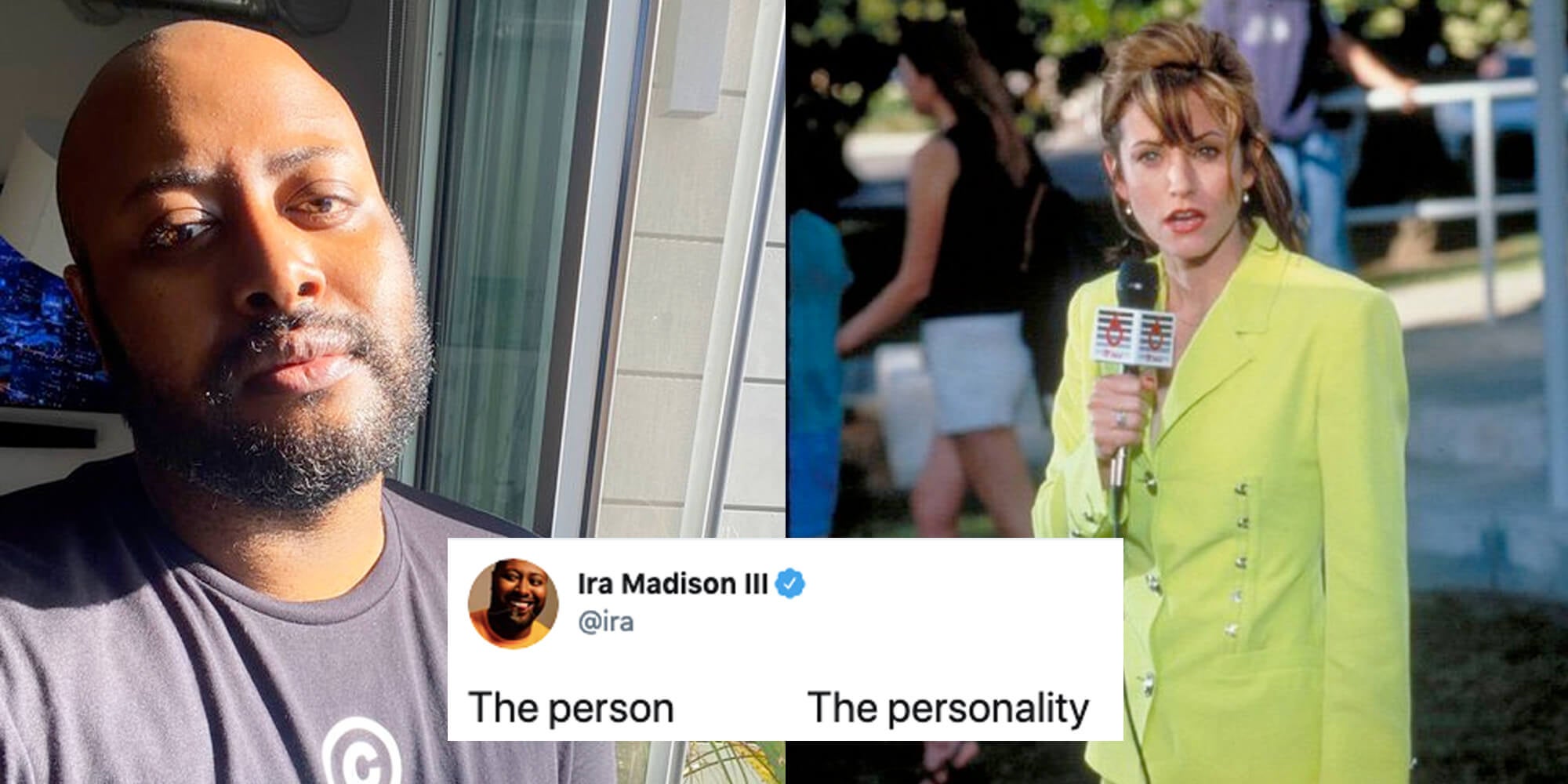 As Mark Twain once said, "It's not the size of the dog in the fight, it's the size of the fight in the dog." The quote generally means that fierceness is not necessarily a matter of physical size, but rather indicative of mental or psychological attitude. This sentiment could also be attributed to a popular "the person, the personality" meme that began trending on Twitter in early May.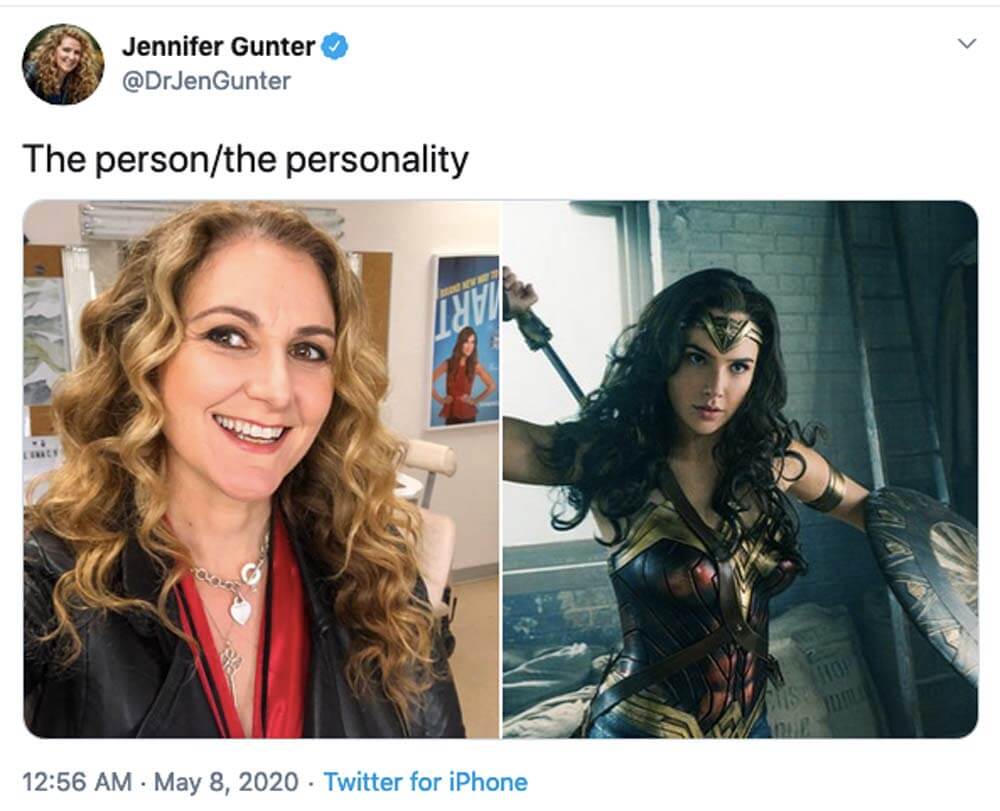 The meme gave people the perfect opportunity to show the world what's on the inside, with side-by-side photos, typically involving fictional characters found in pop culture.
33) Men, what is preventing you from looking like this?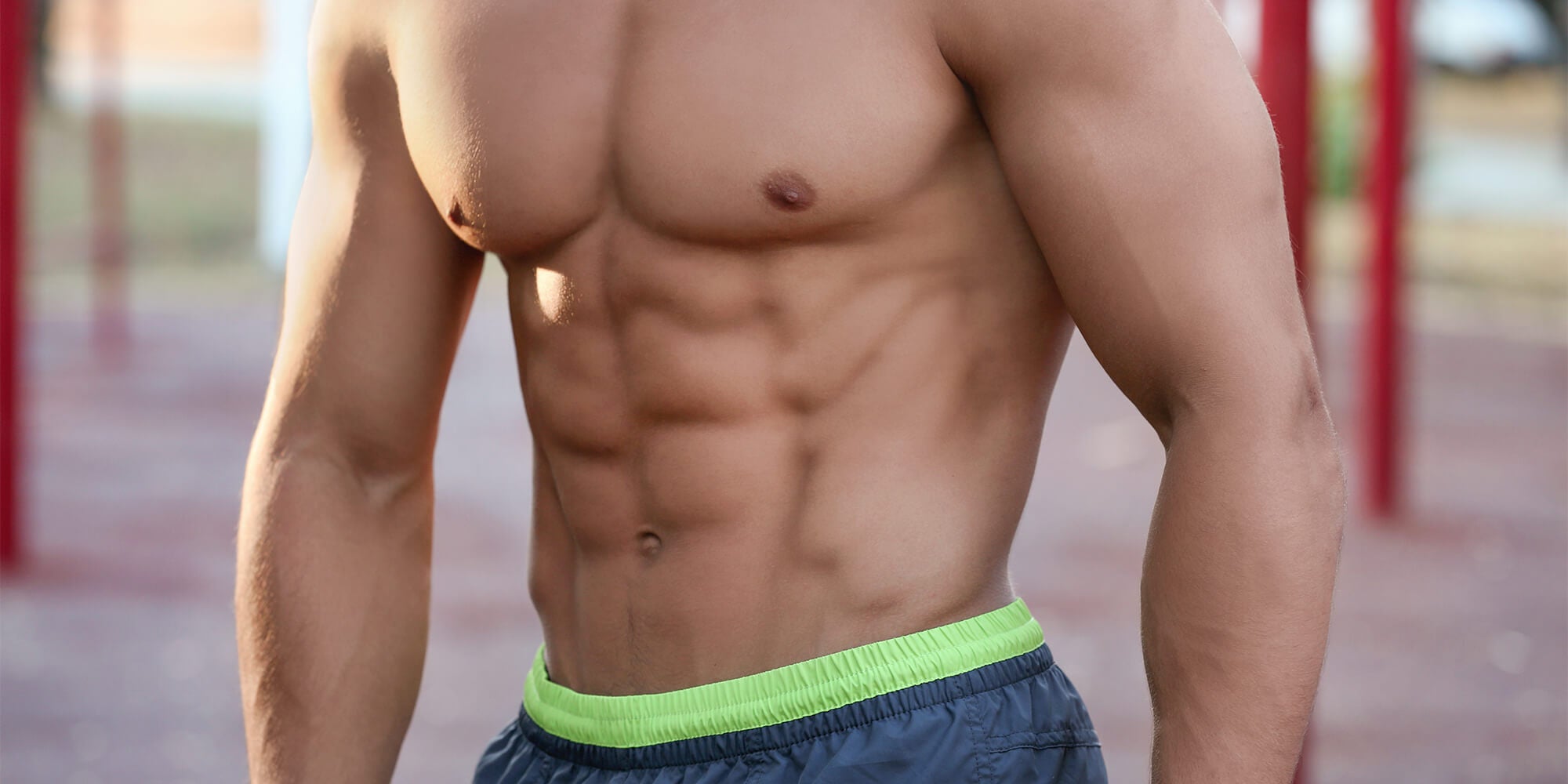 Sometimes all it takes is a simple question to start a veritable tidal wave of a meme. This was the case when one Twitter user shared a photo of a chiseled male torso with the caption: "What is preventing you from looking like this?"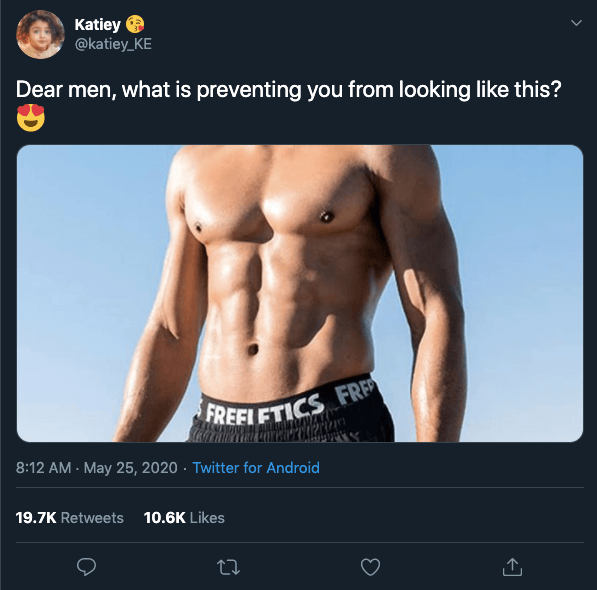 As it turns out, a lot of things are preventing most men from looking like that, given the 15,000 thousand or so responses. While some roasted the user's myopic view of attractiveness, others flipped the question and asked what was preventing women from meeting some arbitrary beauty standard.
And then, naturally, people got weird with it, asking the question while sharing photos of men who definitely don't fit an ideal standard of beauty.
33) My plans/2020 meme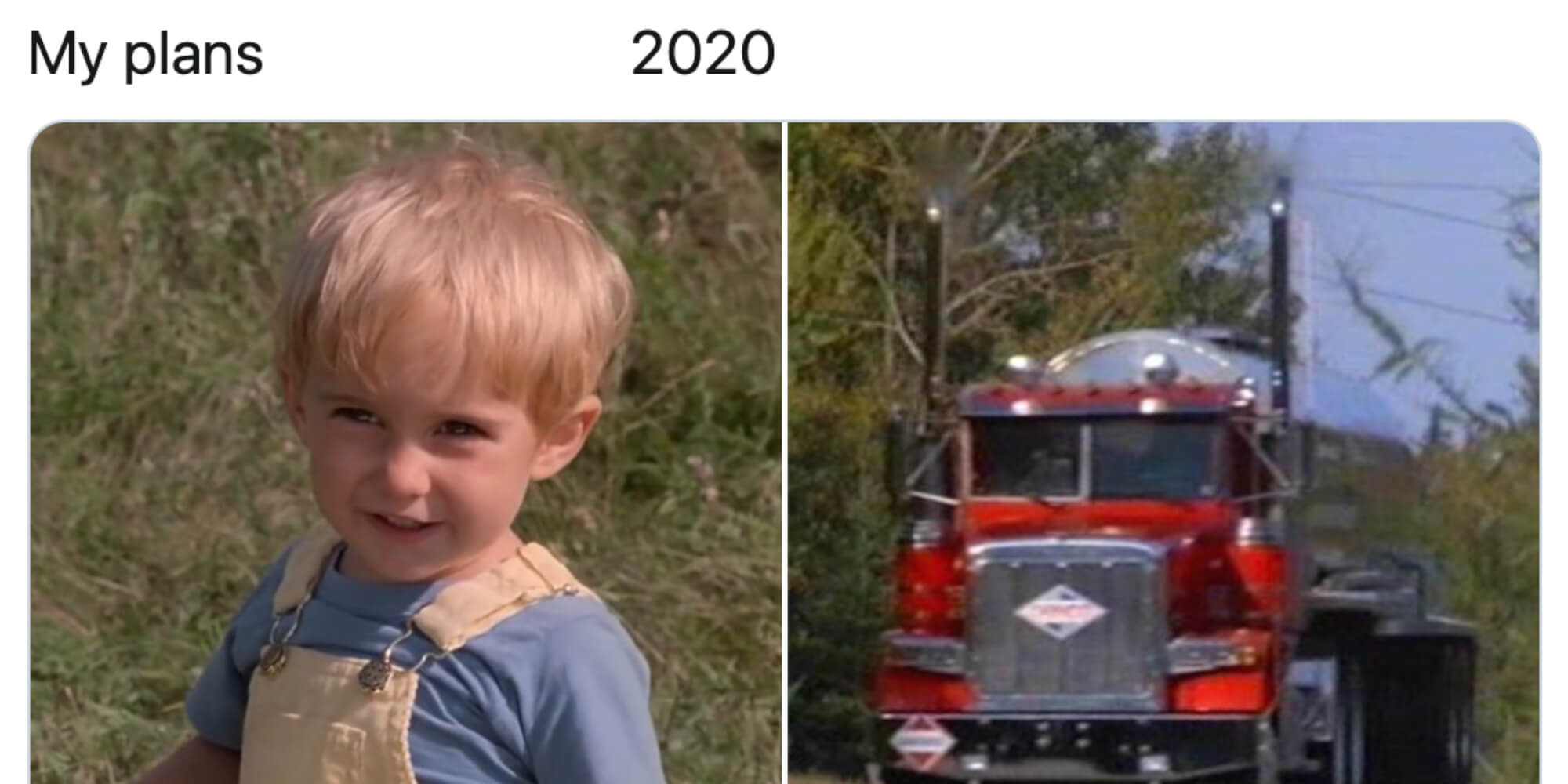 We've already seen plenty of memes dealing with the coronavirus pandemic on this list, but perhaps no meme summed up the absolute dumpster fire that is 2020 quite as succinctly as the "my plans/2020" meme. Not only did the meme grieve all the plans that the coronavirus had canceled in 2020, but it was perfectly adaptable to reference film, pop culture, and even other memes.
And yet, the year wasn't even halfway over at this point. If only we knew what was still coming for us!
34) You about to lose 'yo job remixes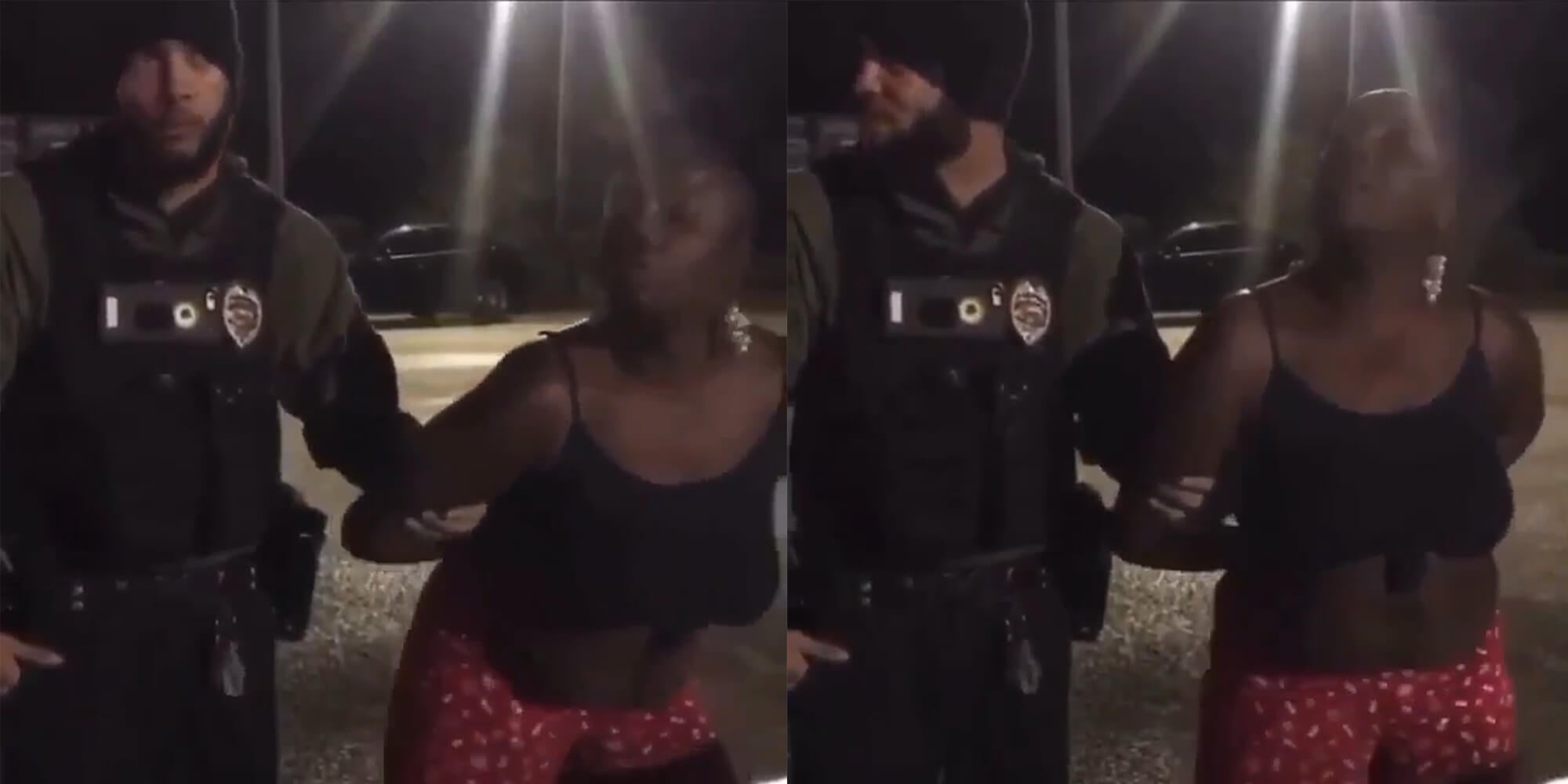 In the Black Lives Matter protests that emerged following the killing of George Floyd, police offers throughout the country responded with … more police brutality. Peaceful demonstrators were tear-gassed, shoved, maced, and detained without cause. One such woman who was apprehended and cuffed by a police officer refused to take the indignity quietly, and began mocking the officer with a chant she made up on the spot.
"You about to lose your job! You about to lose your job, because you are detaining me! For nothing!" she sang while dancing and twerking next to the cop. The defiant, hilarious chant practically begged to get remixed, and the internet certainly did not let us down. You can chalk it up to the triumph of the human spirit, but also it was just a really good song.
35) This you? Memes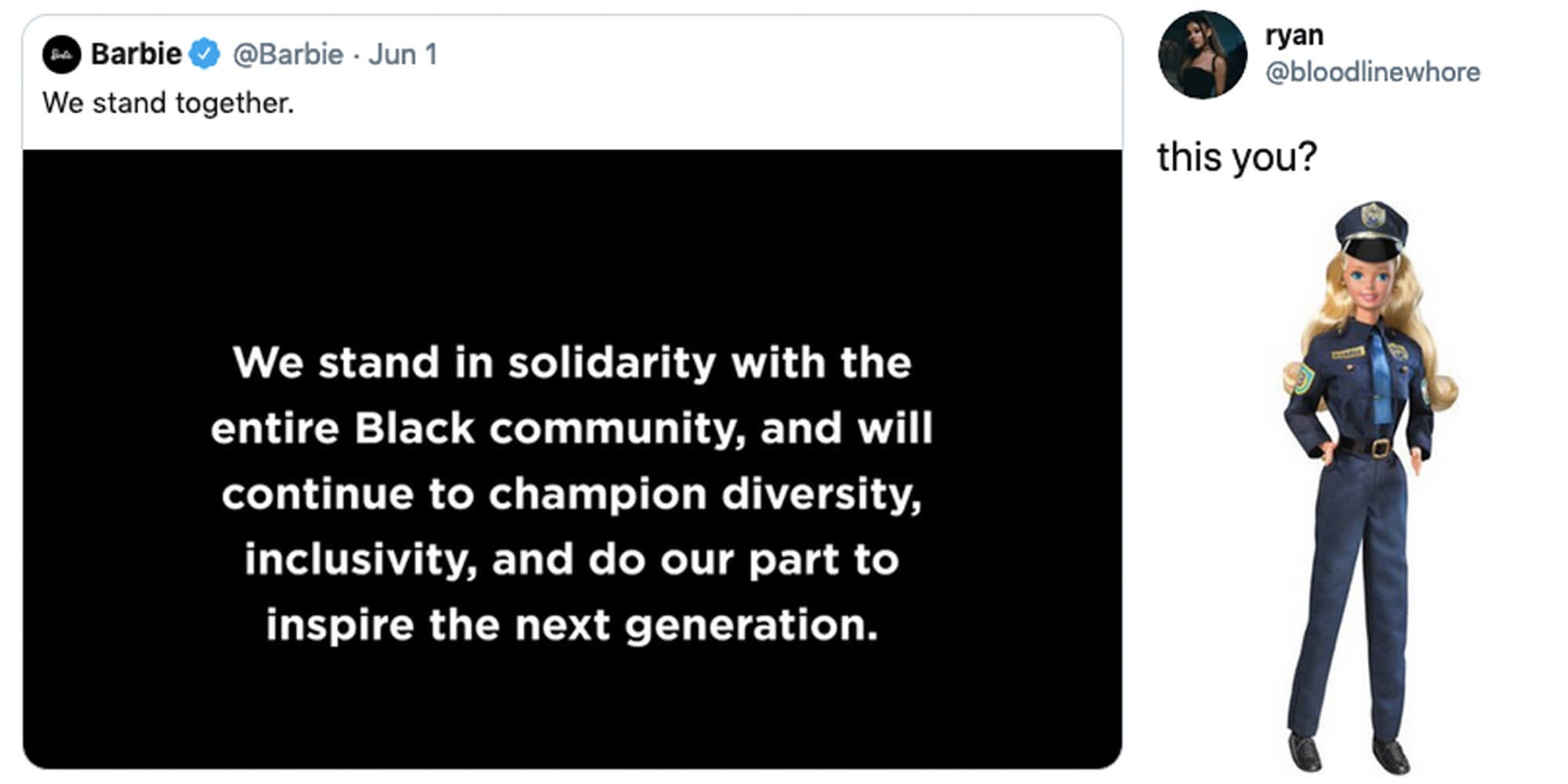 When addressing heavy subjects such as racism, police brutality, gun violence, and basic human rights, brands are often put into a precarious dilemma, of sorts. Finally, this dilemma was perfectly encapsulated in the new "this you?" meme.
These messages of solidarity often ring performative as best, or hollow and hypocritical at worst—given that many brands have problematic skeletons in their closet or are owned by corporations that actively lobby against the public's best interests.
The "this you?" meme took this hypocrisy to task by marrying a retweet with a contrasting screenshot for a devastating one-two punch.
36) Defeated Trump memes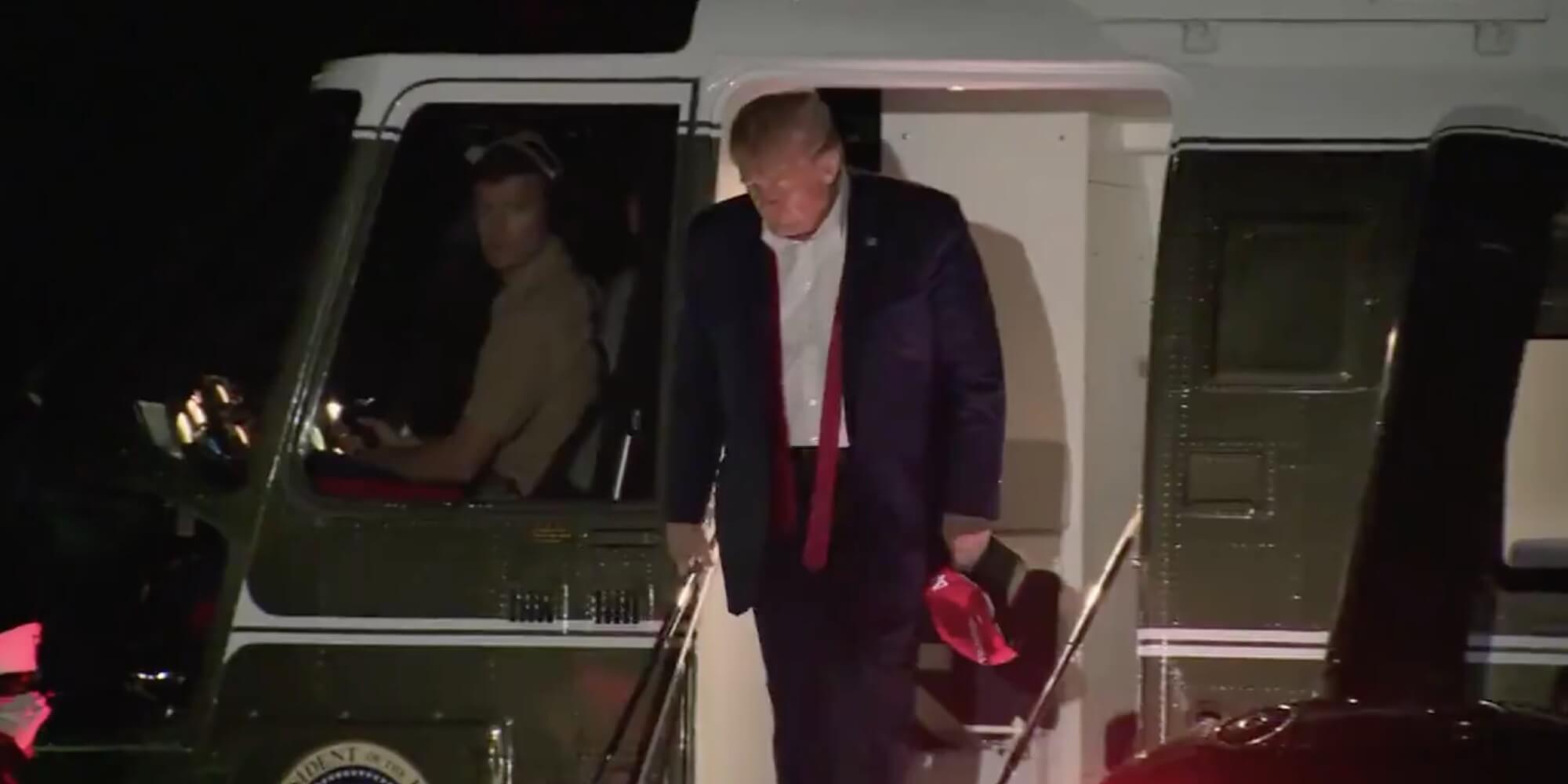 In mid-June, in the midst of a global pandemic that the United States is not anywhere close to being in control of, President Donald Trump held a rally in Tulsa, Oklahoma, in an attempt to breathe life into his reelection bid. Despite some folks lining up early, the rally was uh, not exactly well attended, and footage from inside the BOK Center showed sparse crowds and entire swathes of empty seats.
Following the rally, Trump returned to Washington D.C. looking disheveled and defeated, and the footage was subsequently paired with a wide-range of somber music to become a meme—such as the above example, which mashed up the iconic Charlie Brown theme.
37) St. Louis gun couple memes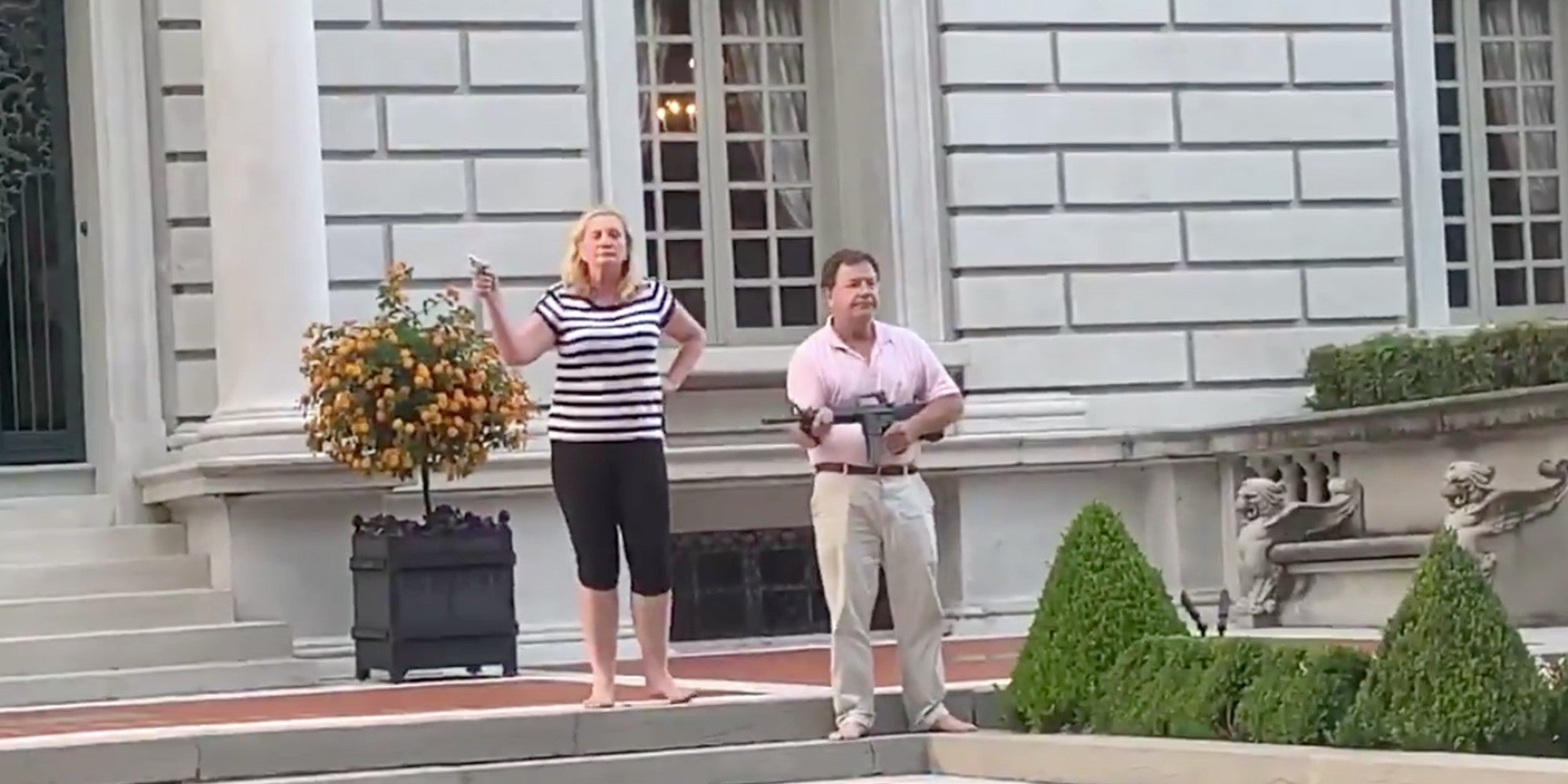 As protesters headed to St. Louis Mayor Lyda Krewson's house to demand that she resign after giving out the names and addresses of people advocating for defunding the police, a couple—who have since been identified as personal injury lawyers Mark and Patricia McCloskey—took it upon themselves to "intervene" while holding weapons.
The couple quickly became a meme for a number of reasons. Some poked fun at the fact that, during several points in the video footage, the couple accidentally pointed the guns at each other. Others got a kick out of them being barefoot. A subgenre of the memes focused on the number of movies that could be based on the video, causing "Ken and Karen" and "Mr. and Mrs. Smith" to trend on Twitter at the time.
38) Sad wife shredded cheese fajitas meme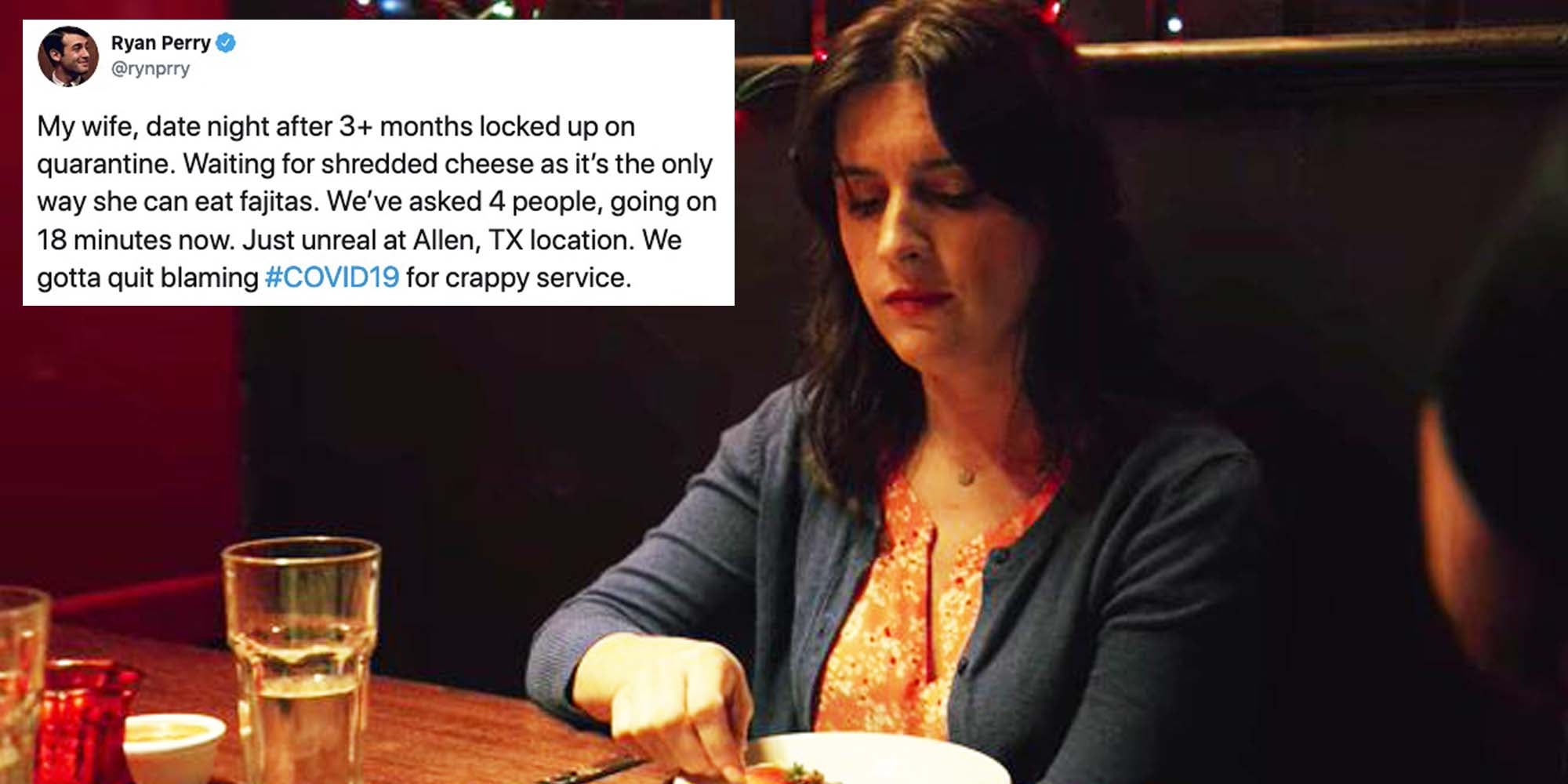 Restaurants that had closed due to the coronavirus pandemic began to open back up across the country over the summer, despite the fact that in some cases, servers were literally putting their lives on the line to wait on tables. Unfortunately, this message was lost on a Texas couple who went out for Tex-Mex one weekend, in what we can now call the great Shredded Cheese Incident of 2020.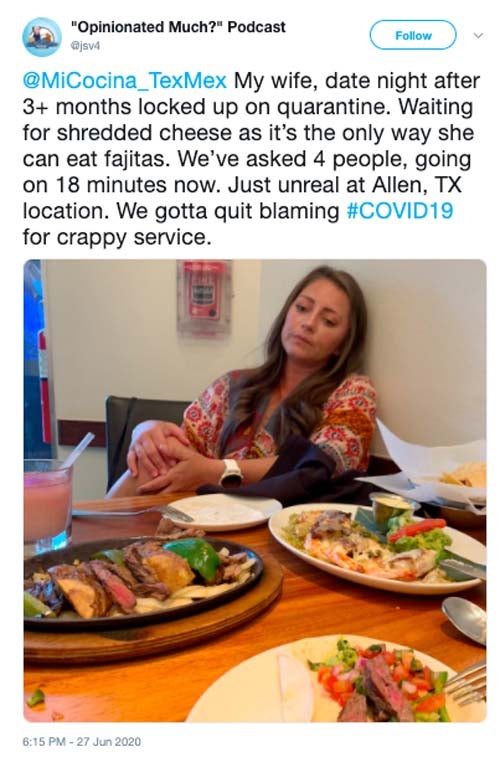 After tweeting his displeasure with the service at a popular chain restaurant, podcast host Jason S. Vicknair went viral as people ridiculed a photo of his sad-looking wife, who was distraught at not getting shredded cheese with her fajitas—and apparently no server would rectify this situation for her. Vicknair eventually deleted his tweet, but not before it went viral and became a full-blown meme as people began drawing absurd connections.
39) I know a spot memes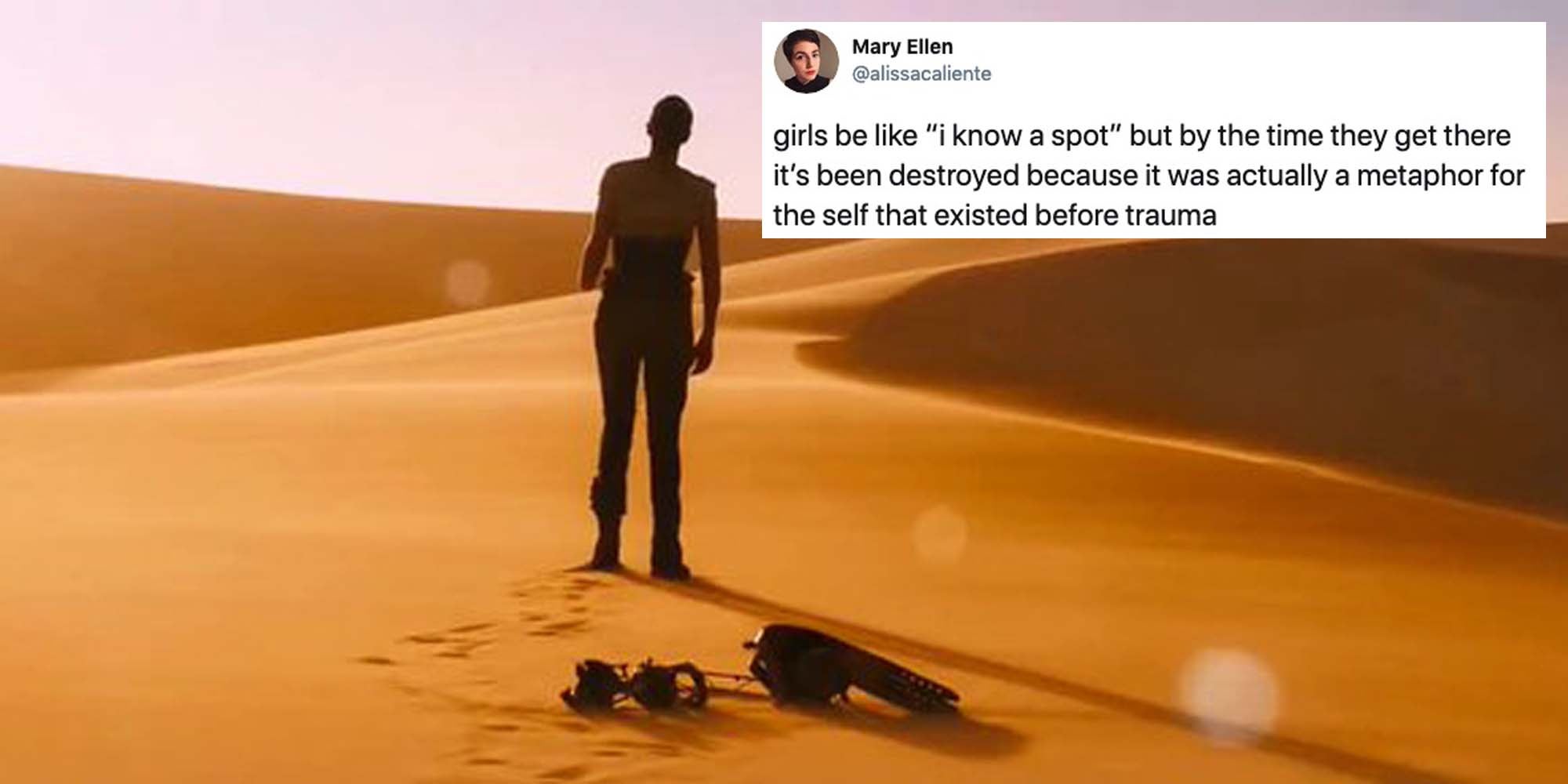 As the saying goes, beauty is in the eye of the beholder. And, as this meme dictates, so, therefore, is a "spot," when meeting up with someone for a date or other such romantic appointment. Anyone who has ever been told "I know a spot" only to arrive at a meeting place of dubious character definitely found this meme wholly relatable.

The meme originated when Twitter user Imane Kwan joked, "guys be like 'I know a spot' and then take u to Burnaby Mountain." As Kwan's tweet began to go viral, others began riffing off of it by quote-tweeting or adding their own variations. In many cases, these offerings even eclipsed the virality of the original tweet.
40) Actual villain memes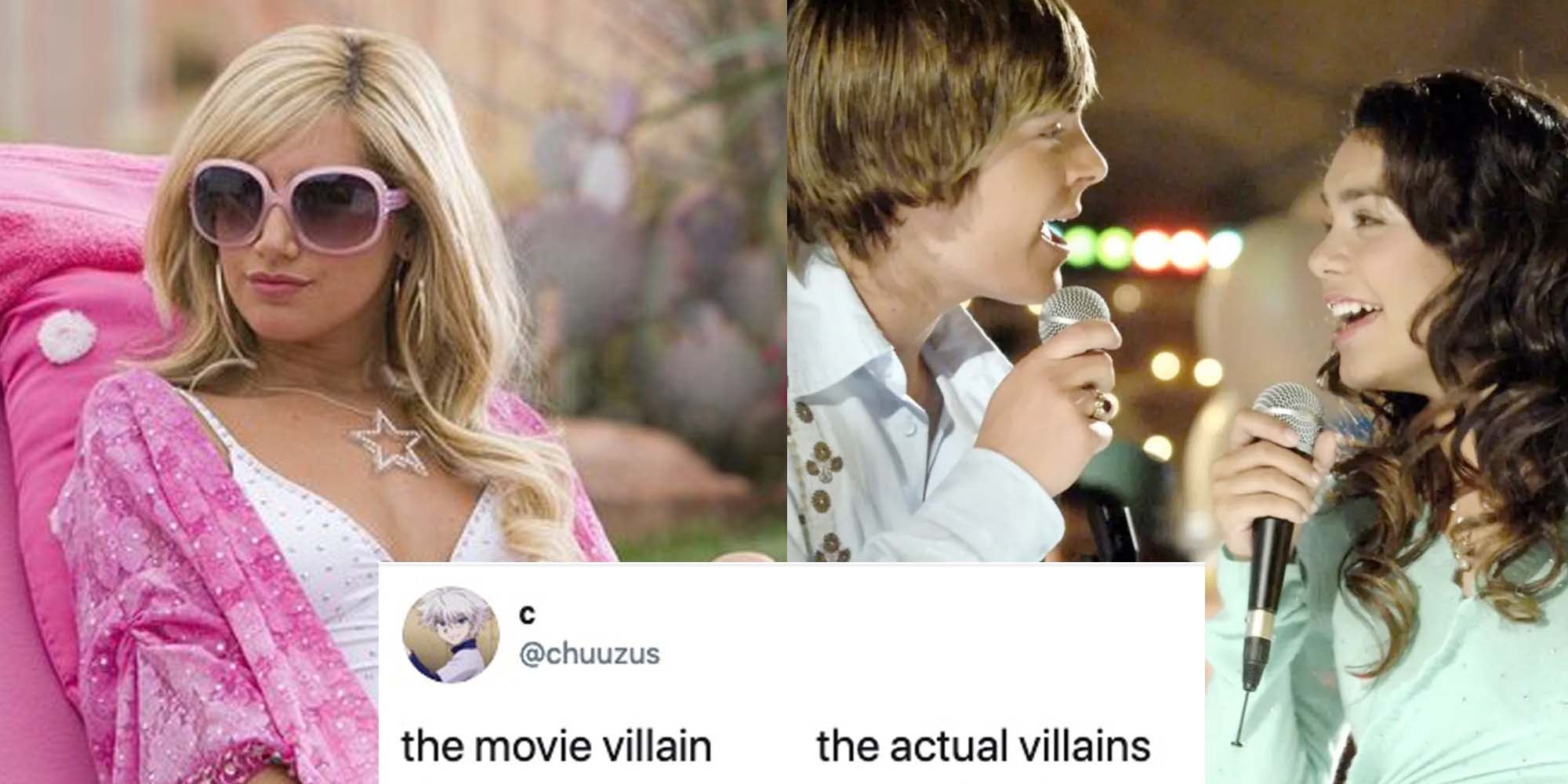 If you've ever felt that some of your favorite characters got a raw deal, an irreverent "actual villain" meme on Twitter pointed out the real villains of your favorite TV shows, games, and movies.
The meme originated on May 20, when Twitter user @chuuzus tweeted a photo of Sharpay Evans (Ashley Tisdale), the supposed villain of the 2006 Disney Channel movie High School Musical, alongside Troy Bolton and Gabriella Montez (Zac Efron and Vanessa Hudgens), who were ostensibly the protagonists. Only in a twist, they label Sharpay as "the movie villain" and the latter pair as "the actual villains."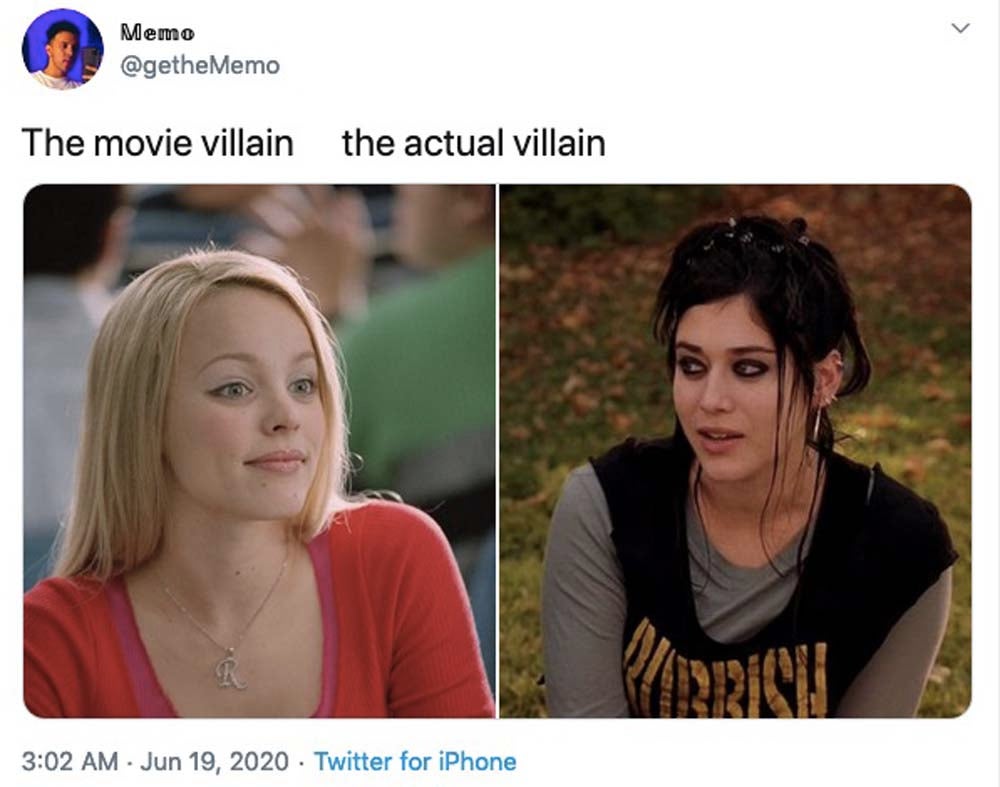 As the tweet began to go viral, others added their contributions—revealing the true villains in pop culture mainstays such as Mean Girls, Insecure, the Marvel Cinematic Universe, the Starz crime series Power, and the Fox musical comedy series Glee, just for starters.
41) Cake memes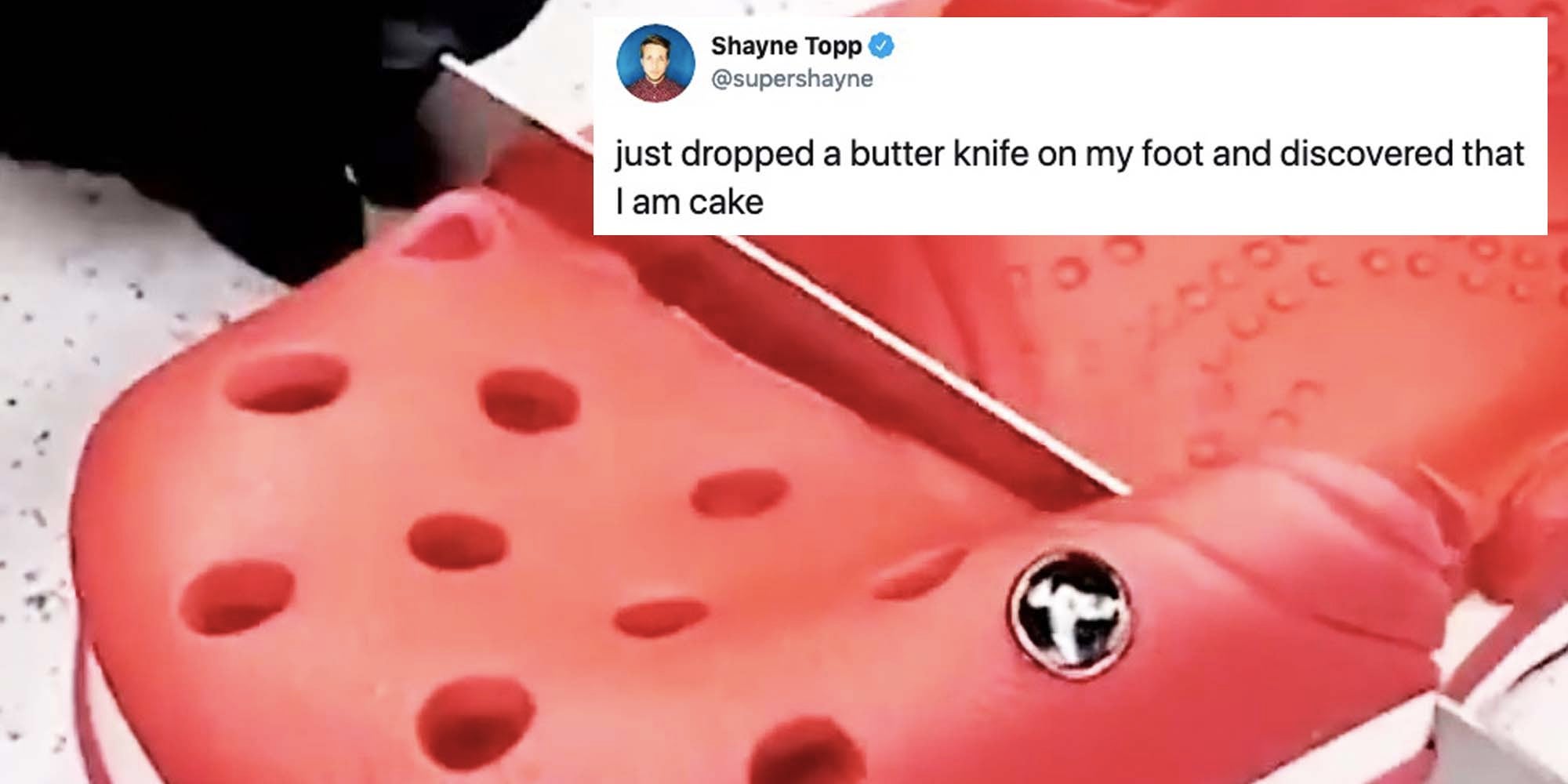 BuzzFeed's Tasty posted a Twitter video in July that ended up being responsible for launching a thousand cake memes. In the video, several everyday objects—such as a Croc, roll of toilet paper, slice of pizza, aloe plant, and so on—are revealed to be, well, cake, when cut into with a serrated knife.

You can't argue that the video isn't hypnotic—it's got almost a dreamlike quality. This, very rationally, led people to wonder if other things have been cake this whole time, leading to some experiments of questionable to dubious nature, and for others, full-blown existential crises or nightmare conspiracy theories.
42) Always has been memes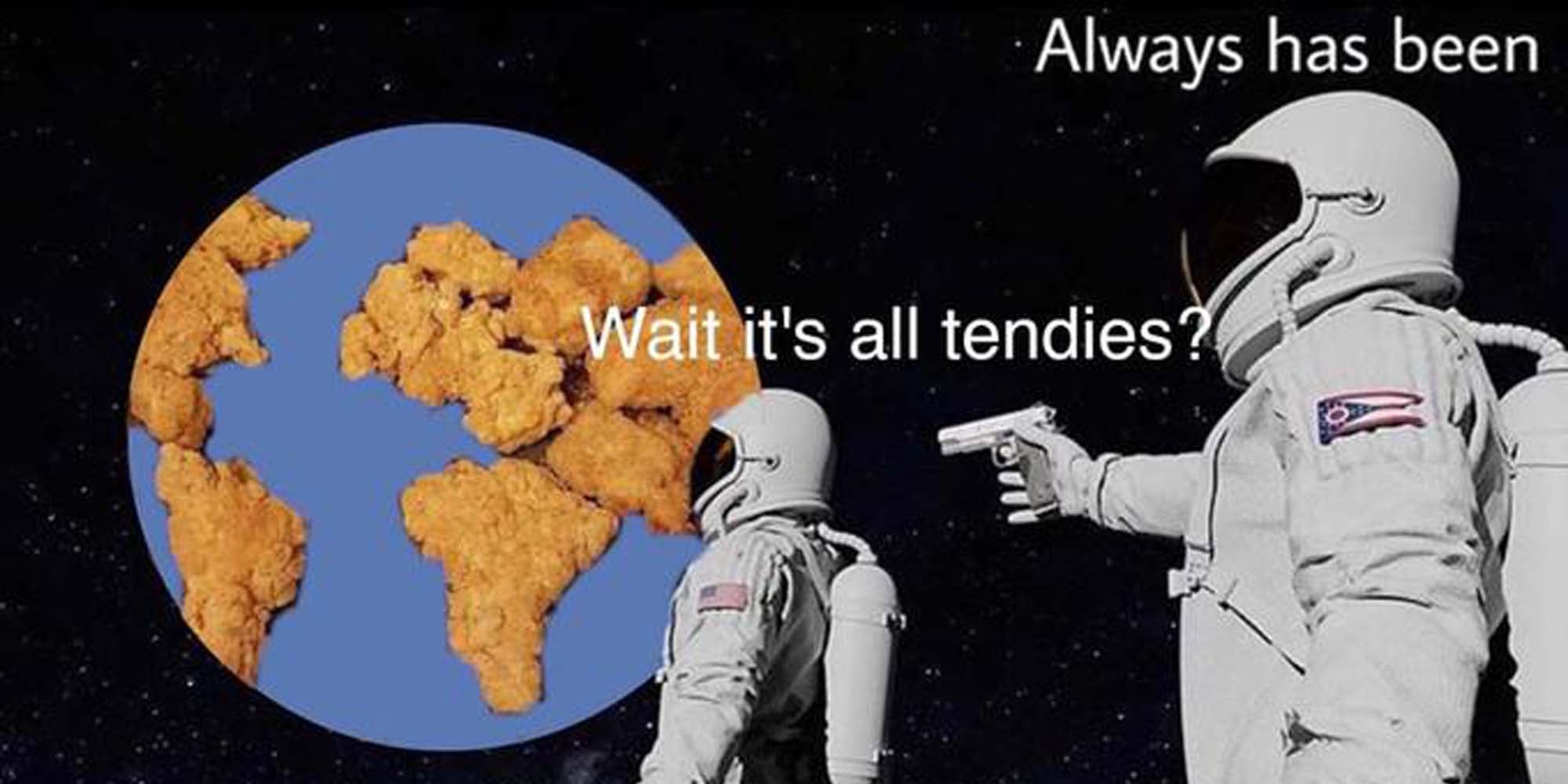 Two astronauts land on the moon. As they exit their craft, the first astronaut turns to look at the earth and gasps. "Wait, it's all … " Before he can finish, he's interrupted. "Always has been," says the second astronaut, slowly drawing his gun.
The scenario is not an unfamiliar trope, in which an innocent stooge inadvertently stumbles upon a vast conspiracy, only to be quickly silenced by a newly revealed conspirator. The "astronauts on the moon" adaptation, however, is so absurd that it could only have derived as a meme on the internet.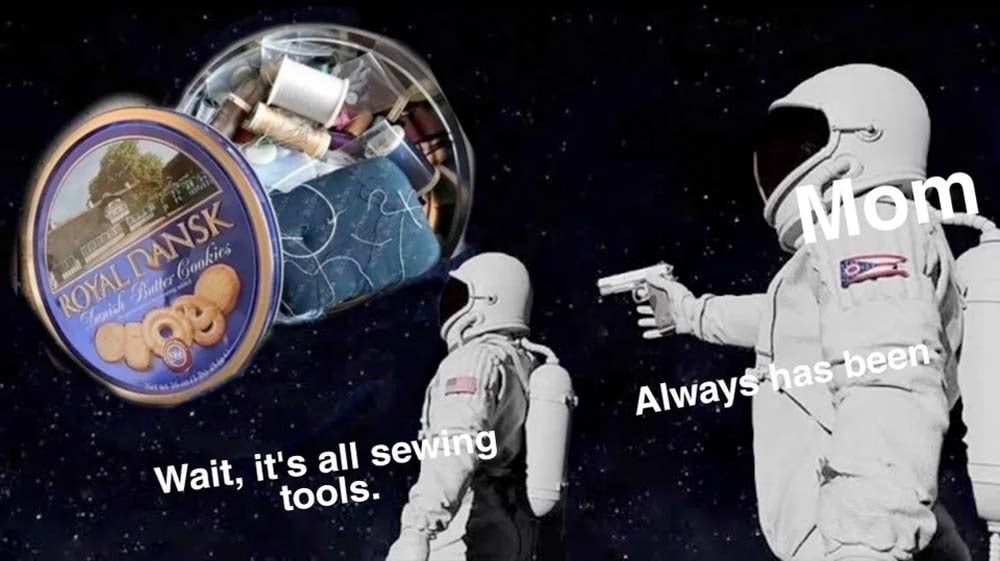 What started on a 4chan board a couple of years prior exploded as a meme in 2020, as people used the meme to reveal "earth" to have been anything from mom's sewing kit to Mountain Dew's Baha Blast.
43) Trump Instagrams his Goya beans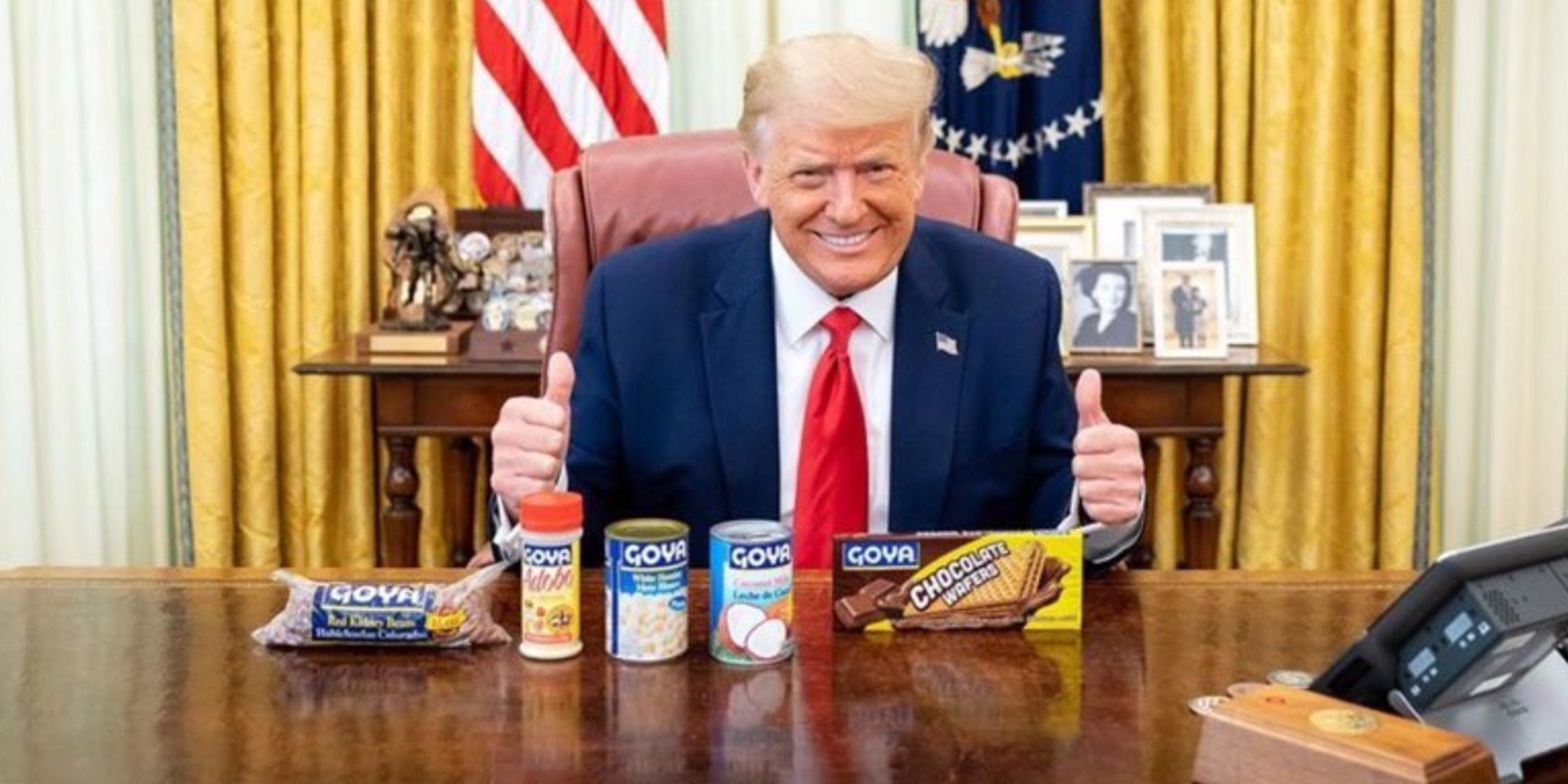 Goya Foods inadvertently found itself at the center of America's ideological war after CEO Robert Unanue praised President Trump during an event at the White House Rose Garden. "We're all truly blessed at the same time to have a leader like President Trump who is a builder, and that's what my grandfather did," Unanue said, at the time. "He came to this country to build, to grow, to prosper."
The incident led many to boycott Goya Foods, while Trump's supporters used the incident to purchase the company's products en masse.
And despite the fact that federal regulations state that "an employee shall not use his public office for his own private gain, for the endorsement of any product," both Trump and his eldest daughter, Ivanka Trump, likewise posed with cans of beans on social media.
The incident led to a number of memes created at both Trumps' expense. Even the Citizens for Ethics nonprofit organization piled on, tweeting, "Never thought we would have to analyze the ethics of promoting canned beans but here we are."
44) Thicc Mark Zuckerberg memes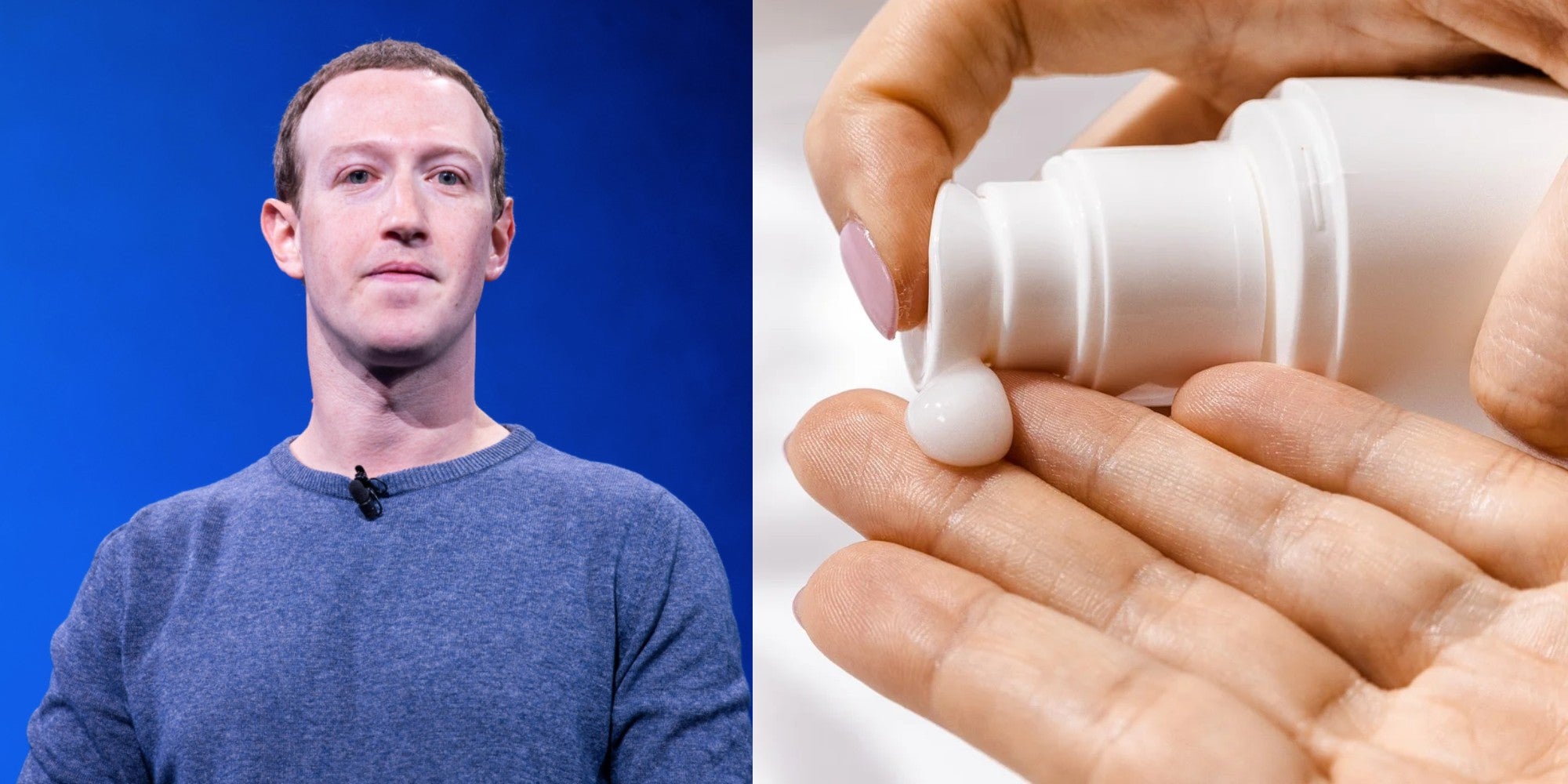 Facebook CEO Mark Zuckerberg became a meme once again, after being photographed with his face covered in a thick, pasty layer of sunscreen while riding on an electric surfboard in Hawaii. The billionaire appeared bewildered as his security team watched from a boat nearby.
Zuckerberg's appearance immediately spawned countless memes on Twitter, as he was compared to anything from mimes and clowns to iconic villains and even Mrs. Doubtfire. Others made jokes about his "mask" of sunscreen. "I will wear my mask and never complain once," wrote one Twitter user. "But I will not wear the mask Mark Zuckerberg wears and you can't make me."
Yet, it wasn't just Zuckerberg's face that garnered attention. Some Twitter users couldn't help but notice his thicc "dump truck ass" in those tight board shorts. Other than being one of the richest men in the world—oh Zuck, will you ever win?
45) A very "interesting" meme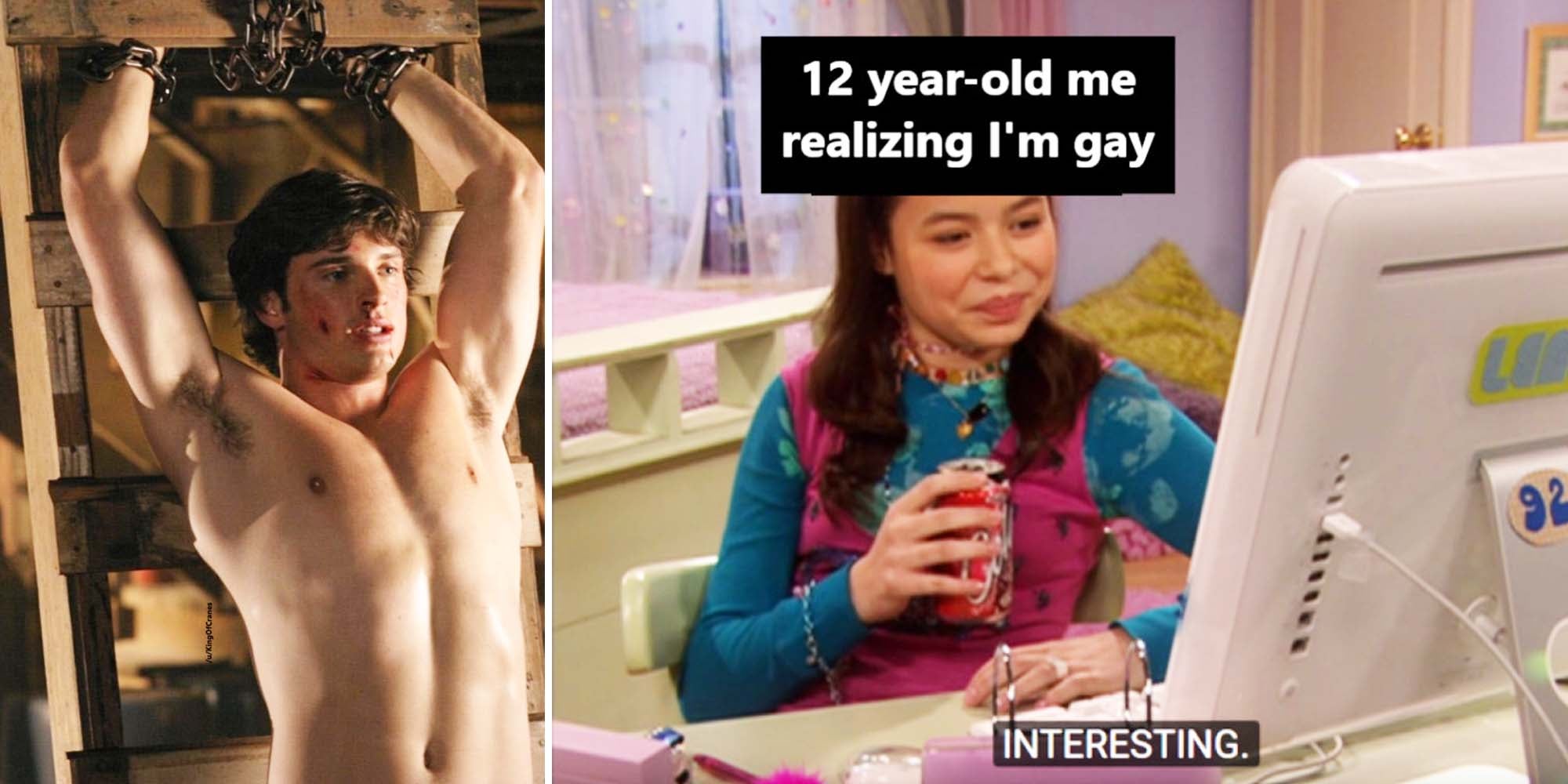 An "interesting" old meme from the Nickelodeon series Drake & Josh got new life breathed into it within the LGBTQ+ community. In the 2006 episode "Mindy Loves Josh," Mindy (Miranda Cosgrove) and Josh (Josh Peck) decide to end their newly established relationship after Mindy tells Josh she loves him, but he suspects she's just trying to distract him so she can win first prize in the school's annual science fair.
At one point in the episode, Mindy sits at her computer to look up skin disease symptoms and comments "interesting" as she takes a sip from her soda can. The moment initially gained traction as a reaction meme on social media in 2016, but went viral again in 2020 when a Tumblr user shared the image side-by-side with a still frame from the WB/CW series Smallville.
The scene featured Clark Kent (Tom Wellington) lustily chained with his arms over his head while shirtless, with the commentary "12-year-old me realizing I'm gay" superimposed over the "interesting" frame. A few days later, the meme surfaced on Twitter and continued to explode from there.
46) Trump Axios interview memes
President Trump demonstrated a constitutional inability to answer difficult questions in an Axios interview, which went on to inspire a tidal wave of memes. In the interview, Trump responded to his handling of the coronavirus pandemic, his feelings on Rep. John Lewis (D-Ga.), and his best wishes for Jeffrey Epstein's partner Ghislaine Maxwell.
But the president was no match for National Political Correspondent Jonathan Swan, who grilled Trump and backed him into a corner at nearly every turn. Between Swan's puzzled reactions and Trump's nonsensical and misleading answers, the meme inspiration was strong with this one.
47) Umbrella Academy Season 2 memes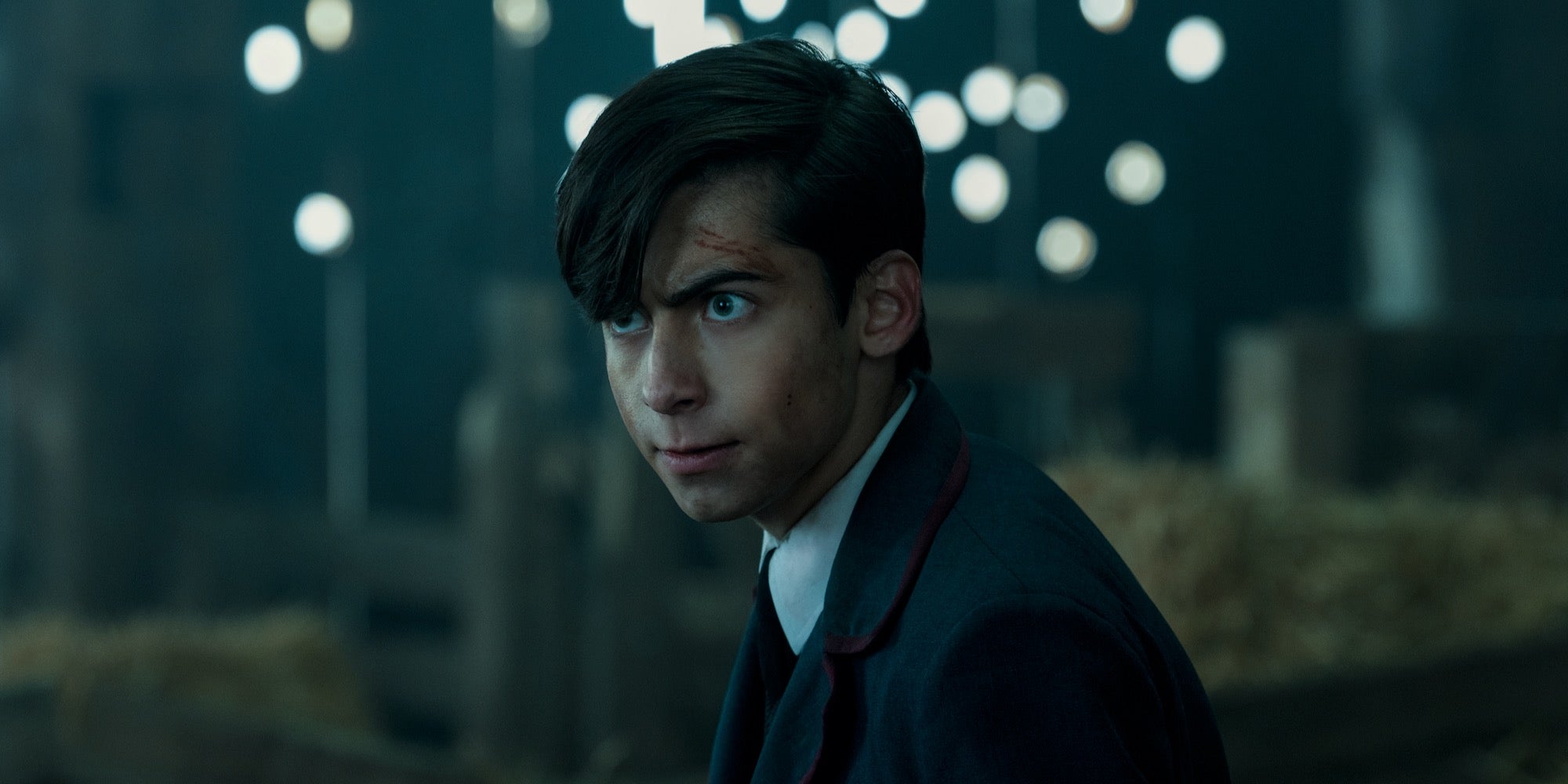 When the highly-anticipated second season of The Umbrella Academy premiered on Netflix in mid-August, it proved to be not only a big improvement over the first season—but also a meme goldmine. In season 2, the misfit Hargreeves siblings attempt to save the world after they end up scattered throughout '60s Dallas, but it doesn't come without a series of complications, messes, violence, and absurdity along the way.
Though there were plenty of highly specific plot-centric memes, many early memes simply offered vague, out of context spoilers for those who hadn't caught up yet. Is season 3 finished yet??
48) Reese Witherspoon's relatable calendar meme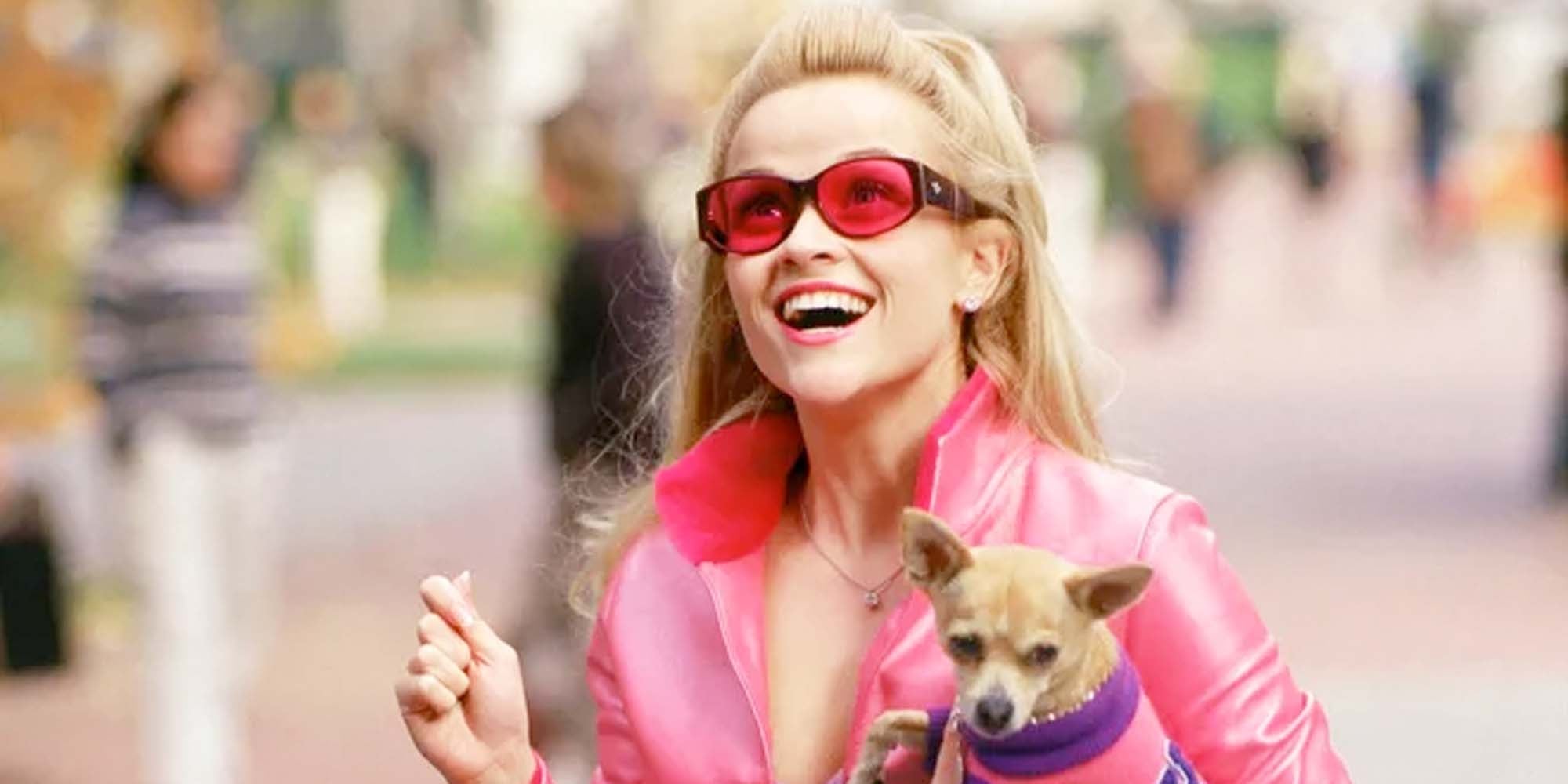 There has been no shortage of musings about what a tremendously bad year 2020 chalked up to, but Academy Award-winning actress Reese Witherspoon may have summed it up best with a popular meme format.
In a normal timeline, the weeks and months after New Year's are a frigid wasteland (depending on where you live) as we wait for the country to thaw out and look forward to spring and summer holidays, picnics, beach vacations, and so on. Of course, COVID-19 put a kibosh on most of that.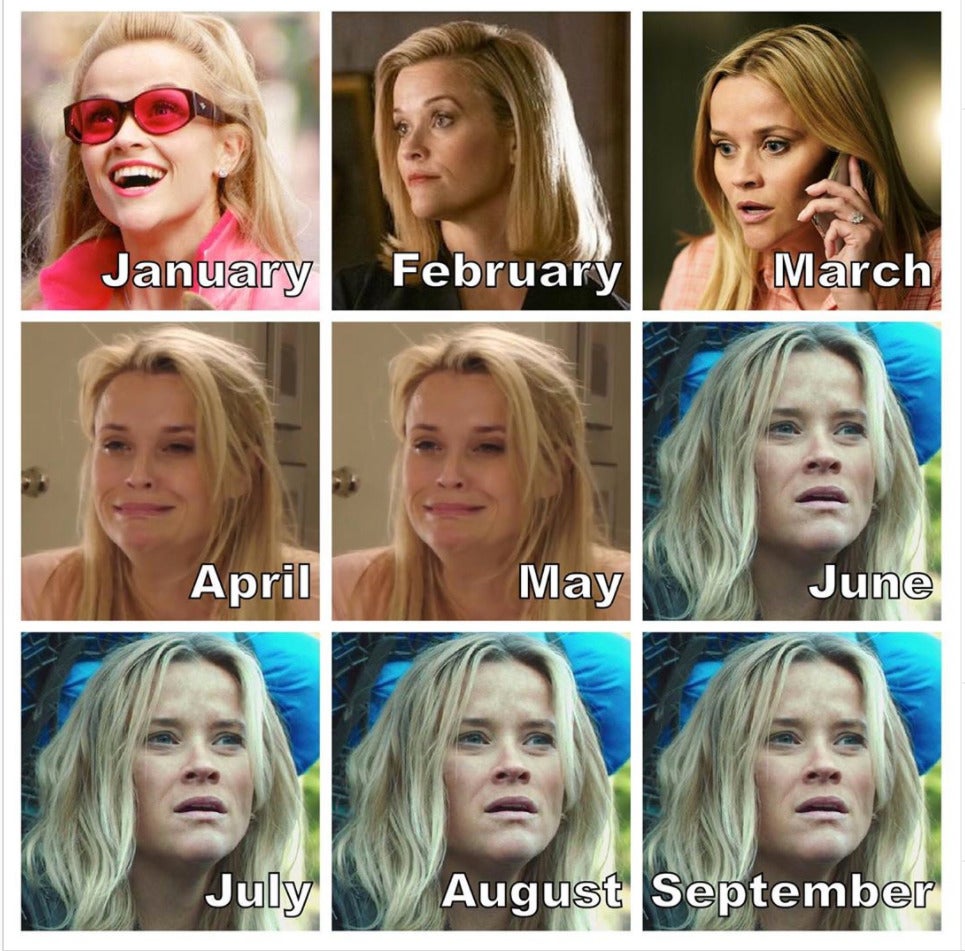 This feeling was perfectly encapsulated when Witherspoon posted the following grid meme to Instagram—in a similar vein to the Dolly Parton challenge that went viral before the bad thing happened. The first panel labeled "January" is represented by Witherspoon's perky and optimistic Legally Blonde character Elle Woods, while other characters she's played throughout her career sum up the feeling for the following months of the year through September.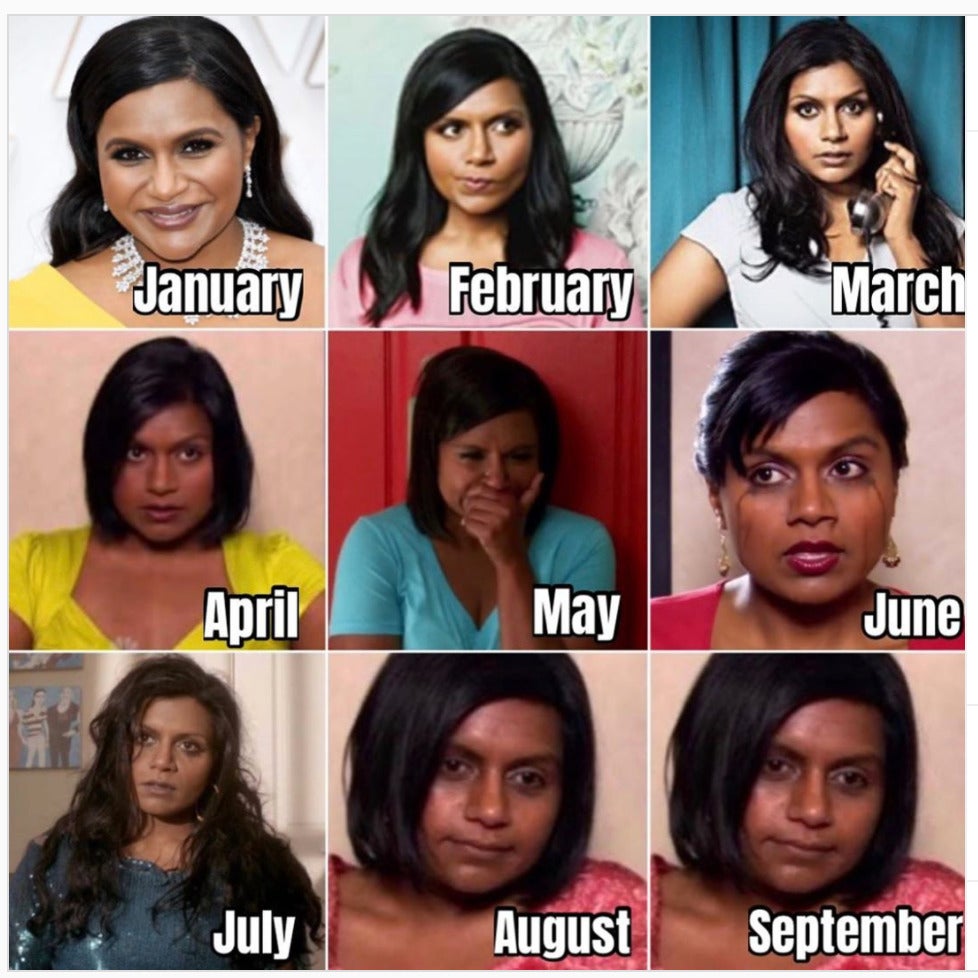 Witherspoon's celebrity friends were quick to get in on the meme, including Mindy Kaling, Jennifer Garner, Kerry Washington, Zooey Deschanel, Kristin Chenoweth, Charlize Theron, and The Marvelous Mrs. Maisel star Rachel Brosnahan. Some of the examples duplicated panels in the spring and summer months as Witherspoon did (such as Kaling, who managed to work in a couple "tired Kelly Kapoor" memes), or featured the character on the phone in March, ostensibly learning about the impending disaster.
49) 'You changed, bro' meme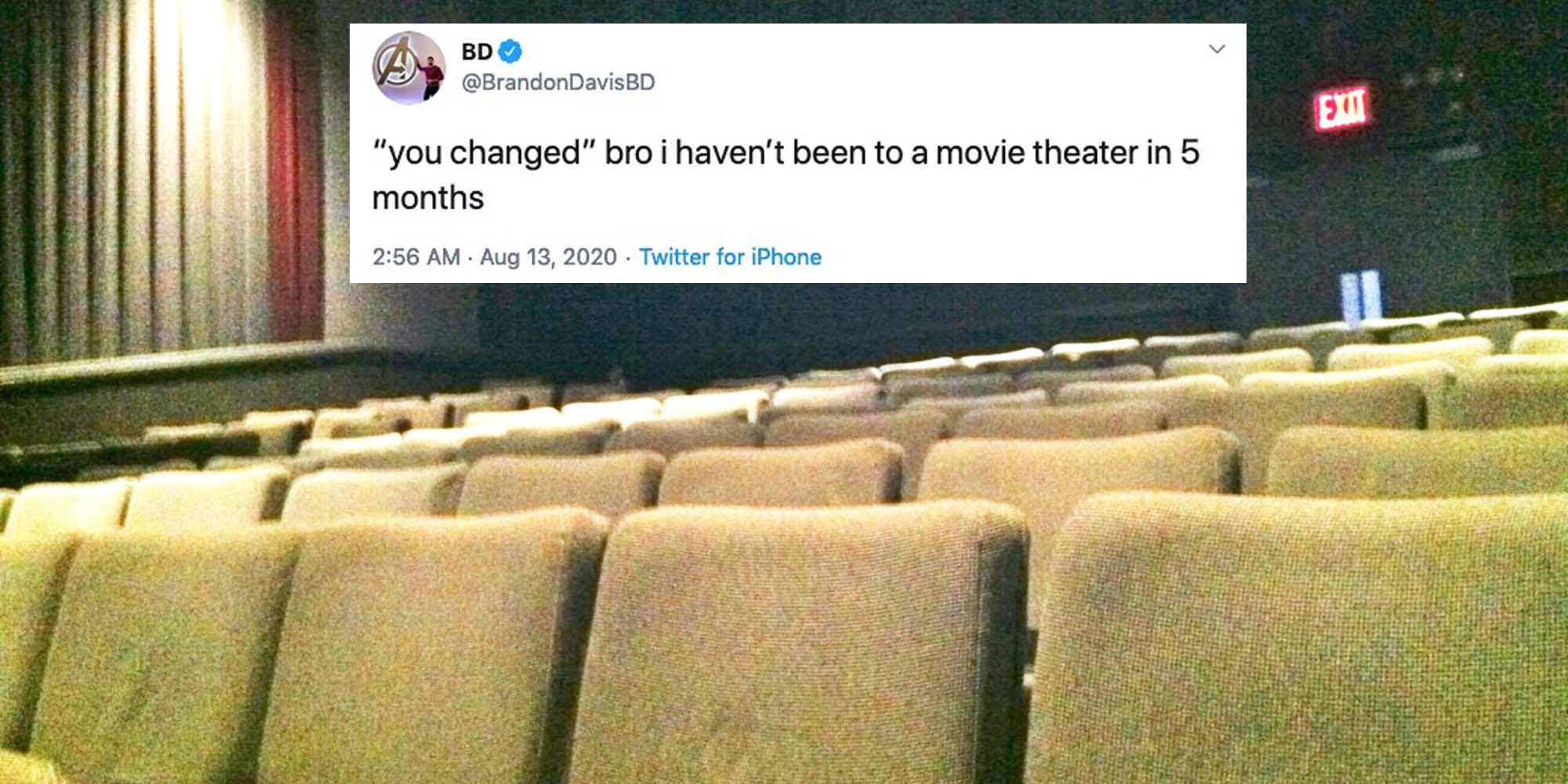 As human beings, we go through pivotal moments in our life that irrevocably change us—for better or worse. And these moments also happened to inspire this "you changed, bro" meme on Twitter.


The general format of the meme is that a person tweets "you changed," as if someone else is pointing out the fact, followed by the person ostensibly responding "bro," and then citing the reason for that change. In various examples, "you changed" could pertain to anything from crying to Frank Ocean to the Nickelodeon series Victorious never getting a season finale.
50) "Mentally I'm Here" meme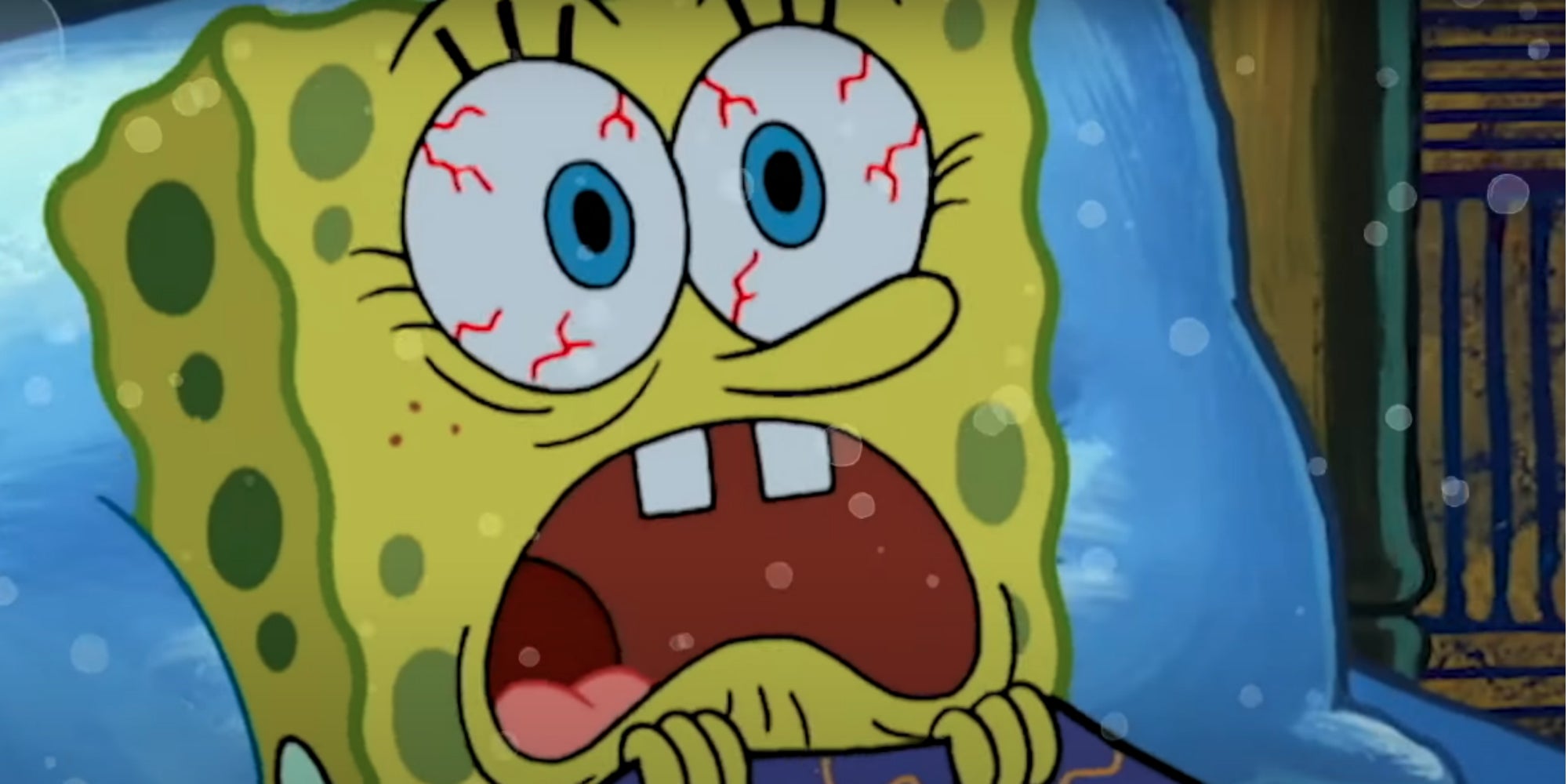 By the end of August, on top of a pandemic we had been dealing with bungled school reopenings, ongoing police violence against unarmed Black men and women, election fraud, a horrific lack of leadership, and nonstop Karen videos. It was enough to make anyone check out.
The "Mentally I'm here" meme was a visual representation of where we happened to be, at the moment. The meme started spreading widely on Twitter as people stated "Mentally I'm here," followed by an image of their safe space (or bad place). Some imagined scenes from SpongeBob SquarePants, and other sea-related images, while others conjured childhood comforts.
Others, on the other hand, evoked cursed images like the example above. 2020 has taken a toll on us all.
51) Trump Jr. "cocaine eyes" RNC memes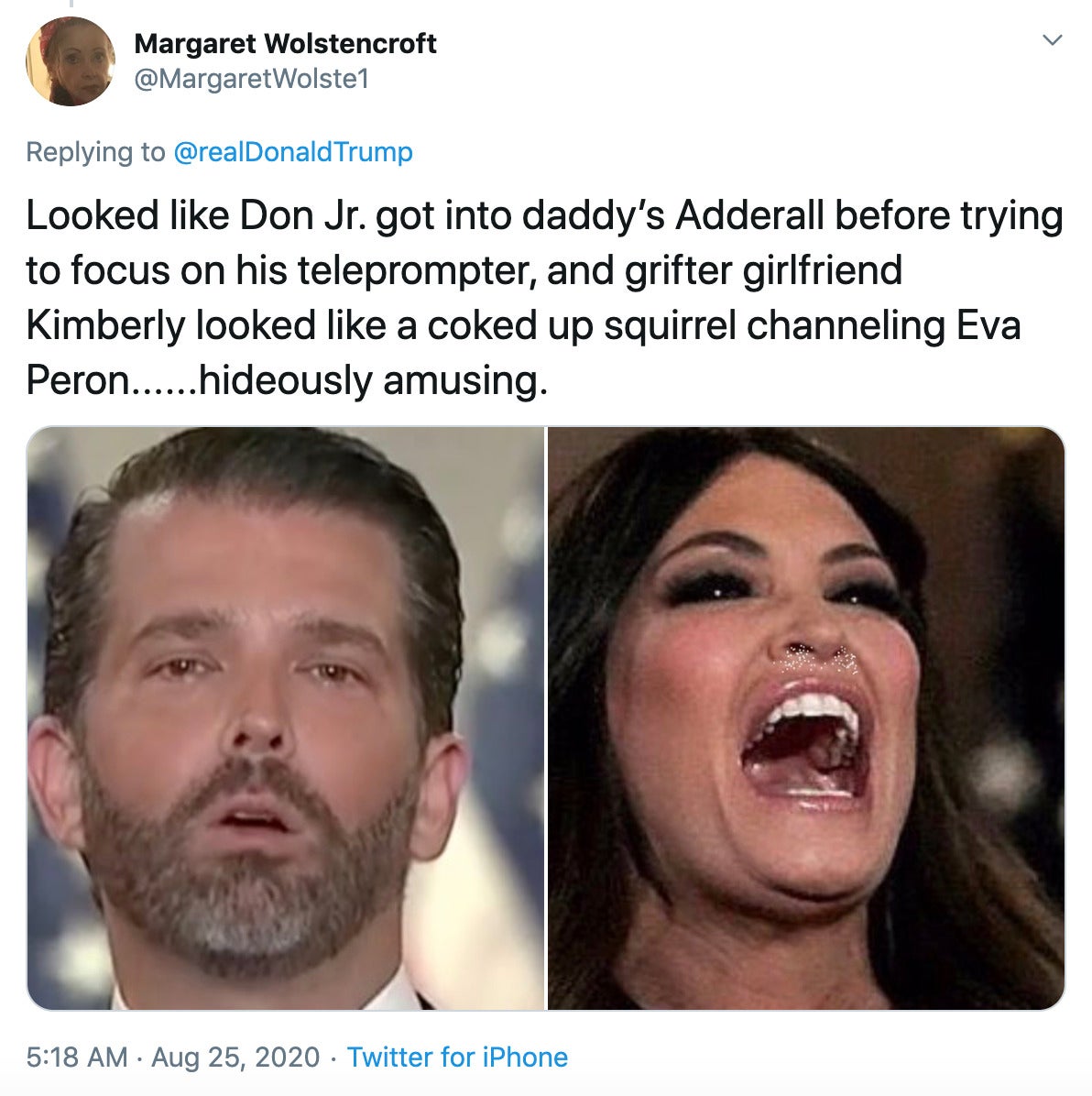 When the Republican National Convention kicked off on August 24, some people believed Donald Trump Jr. to be high on cocaine. "The Purge," "cocaine," "Adderall," and "The Hunger Games" were just some of the intensely worrying hashtags set off by the events of the first night of the RNC.
But much of it was inspired by Kimberly Guilfoyle, former San Francisco ADA, Fox News host, and current partner of Donald Trump Jr. Her speech evoked parallels to The Hunger Games, with one Twitter user even remixing her segment to play the Panem national anthem at the end of her speech.
Guilfoyle wasn't alone among RNC figures in giving off strong Purge vibes. Mark and Patricia McCloskey, the lawyers who were charged with a felony after pointing guns at Black Lives Matter protesters walking past their house, were featured as speakers, and Twitter immediately cast them as villains from the horror movie franchise.
By Tuesday morning, Joe Biden had a 73 in 100 chance of winning the presidential election, according to FiveThirtyEight.com.
52) Melania Trump's lime-green dress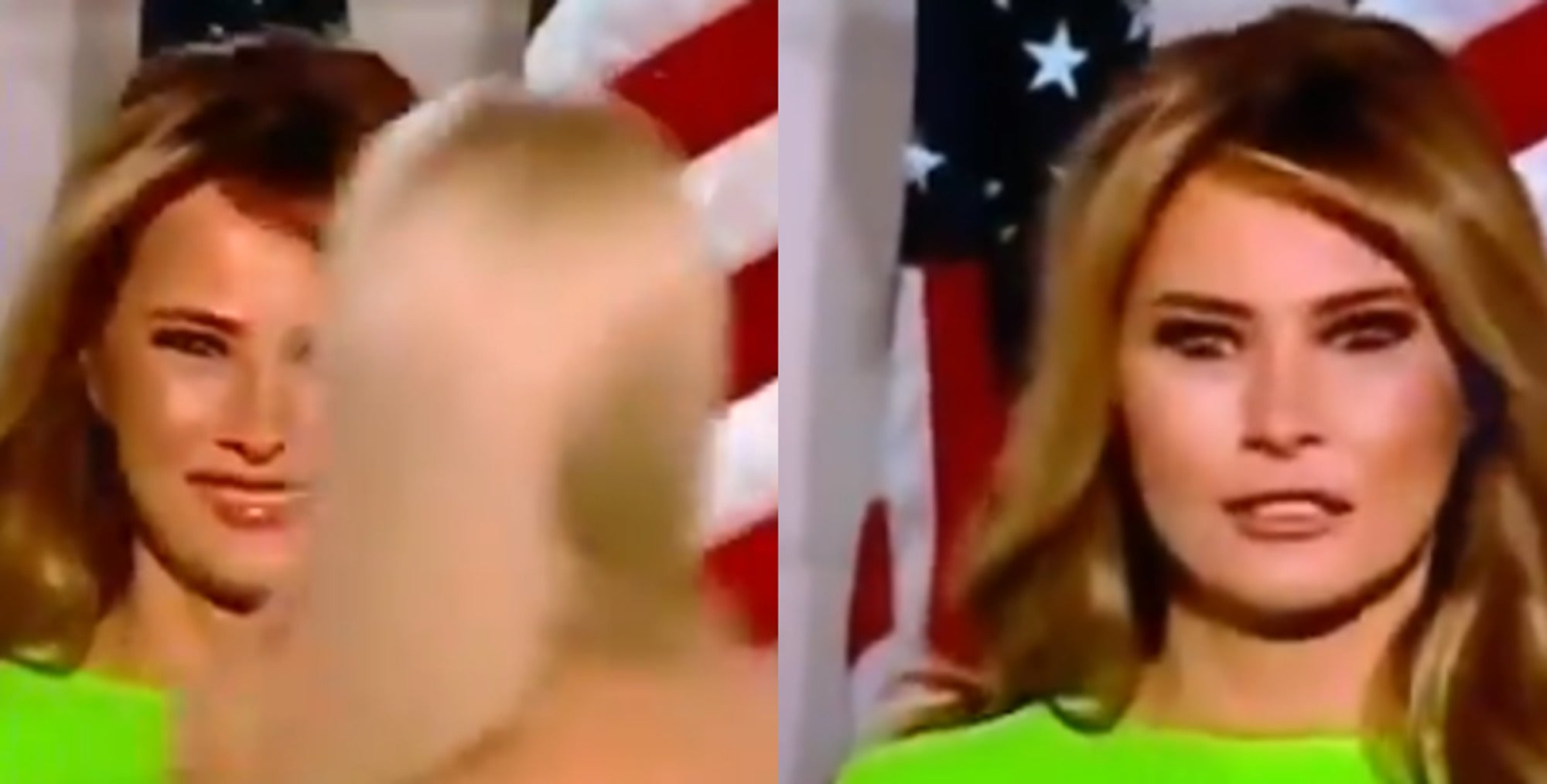 On the final night of the RNC when Trump accepted the Republican nomination for president, people around the nation tuned in to watch his remarks. Unfortunately, they ended up distracted by First Lady Melania Trump—and her choice of attire.
The first lady strutted into the convention in a striking lime-green dress that reached nearly to the floor. The color of the dress was certainly eye-catching, but it was the meme potential behind it that really got people excited. In no time, photos and videos of Melania's green screen gown had been overlaid with coronavirus statistics, jabs at the president, and footage of Biden and Sen. Kamala Harris (D-Calif.).
Some of the memes got dark. Videos of the riots spurred by recent police killings of Black men soon made their way onto her gown, as did children in cages and even Jeffrey Epstein.
53) January 2020 memes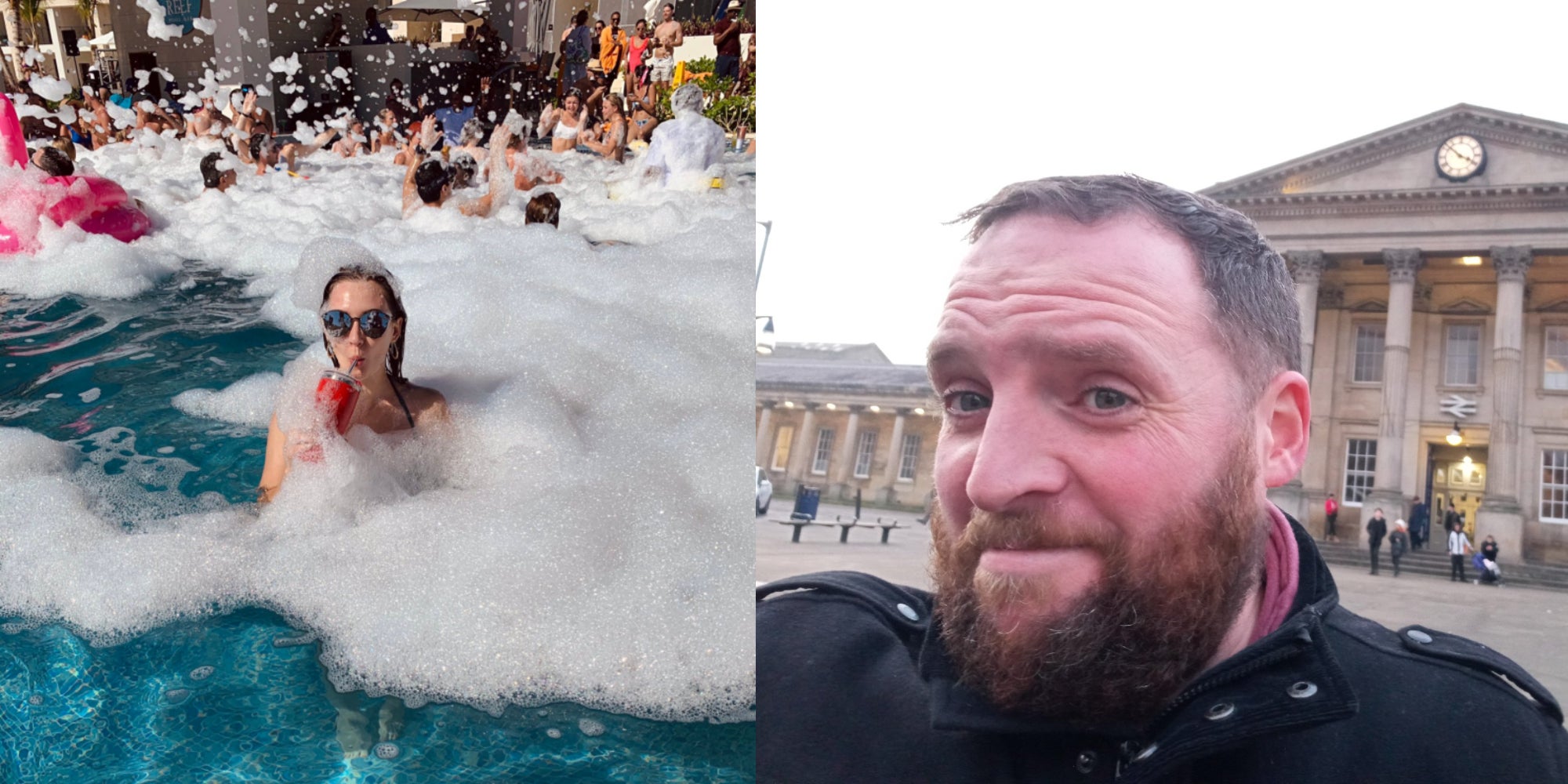 January was an optimistic time. The dawn of a new decade brought hopes of a restart. We tweeted #2020vision with goals and aspirations. But as the month progressed, reports about the coronavirus worsened. We lost a living giant. Kobe Bryant, his daughter Gigi, and six others were killed in a tragic helicopter crash. The world only slipped further and further into mayhem each day since.
Thankfully, social media has been there for us through it all. By early September, a new meme had emerged to remind us all how simple and quaint January was, compared to the dumpster fire that has since been unleashed.
As with "Mentally I'm Here" memes, calendar memes, and "You've changed, bro" memes, Twitter users began sharing "A photo of you in January 2020 without imagining what was to come." The meme perfectly captured the dichotomy of our January blissful ignorance and our current delusion.
54) "Sexual tension" meme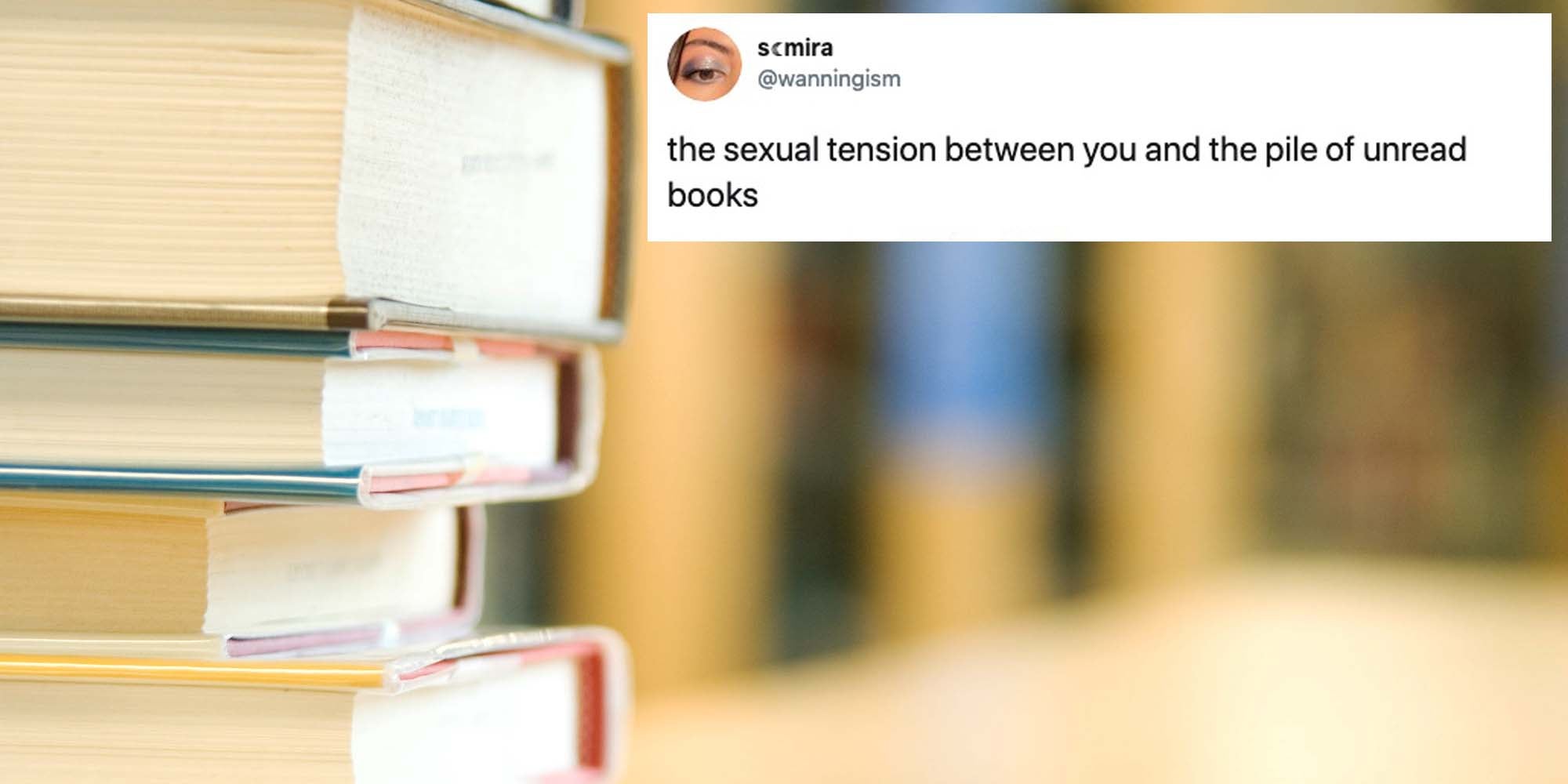 Who doesn't love a good "will they or won't they?" Sexual tension typically injects much-needed intrigue and anticipation into a narrative—although in the case of a meme that made the rounds in September, maybe not so much!
Evidently, not all sexual tension necessarily has to be "sexy," but can illustrate the awkward dynamic between two opposing forces in the universe. In one popular example, a Twitter user cites this as being an unseen force between themselves and a pile of unread books.
This sexual tension meme is hardly new, as it's been around in some form or other for the better part of a decade. Though, it picked up steam on Twitter again when users began applying it to everything from the more mundane struggles of life such as not getting enough sleep or financial struggles to full-blown existential crises.
55. Adam Carolla "stew" memes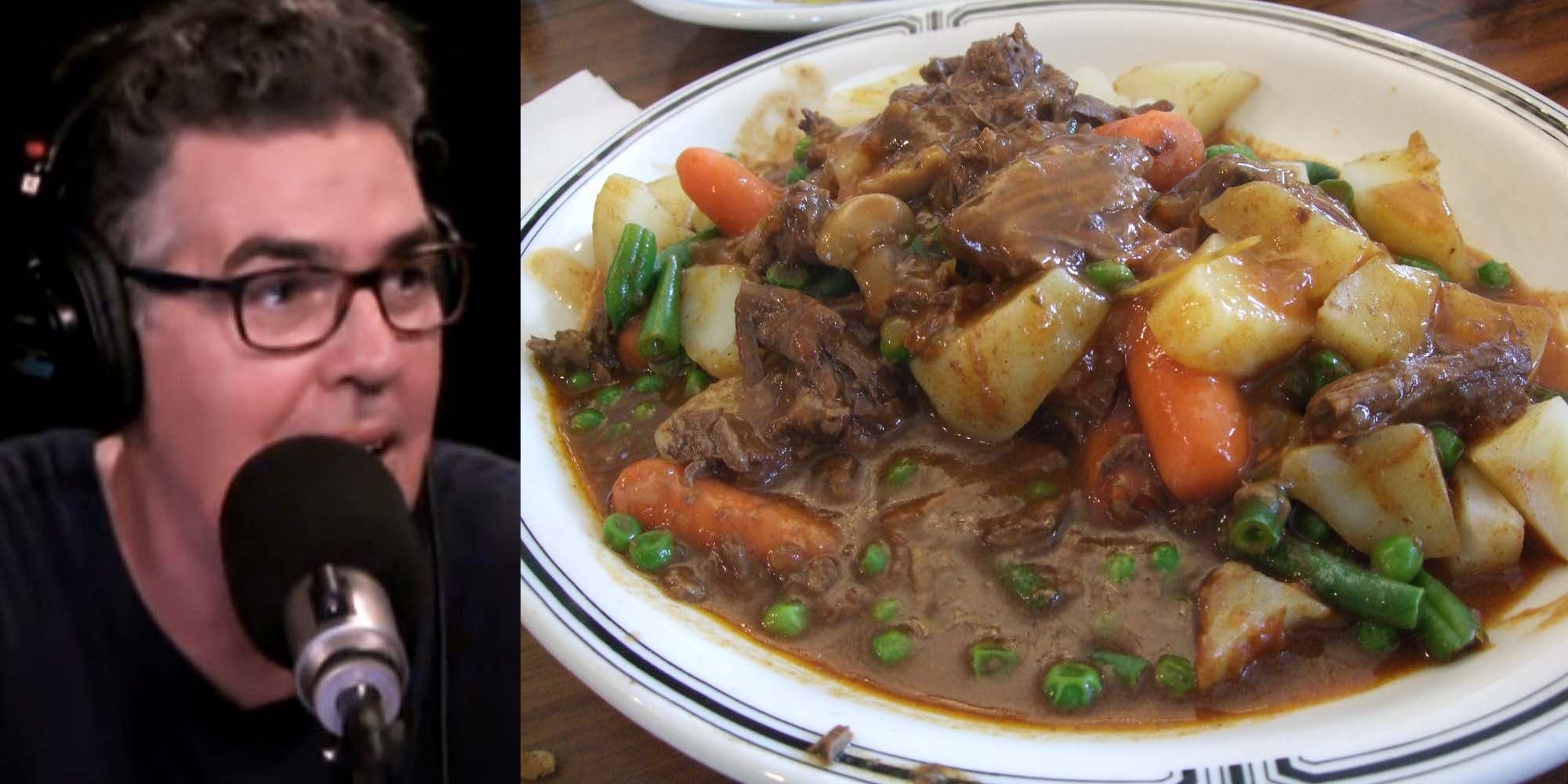 Former Man Show host Adam Carolla was widely ridiculed in early September when he tweeted that people taking the coronavirus pandemic seriously were "pussy's" who "got played." This led people to go down the rabbit hole of his Twitter feed, where an August tweet was discovered in which Carolla made the observation that "more American males now wear bracelets than eat stew."
It didn't take long for the internet to put a sharp laser focus on Carolla's hot "stew" take, and the resulting memes were delicious. "Men: reject the stew / bracelet binary," tweeted comedian Emily Heller, alongside an image of a bracelet with ostensibly pro-stew messaging.
"When you've been making stew and husband comes home with bracelet," quipped freelance writer Harron Walker. What can we say, the whole thing can be chalked up to toxic masculinity at its finest.
56. What's next for the Kardashians memes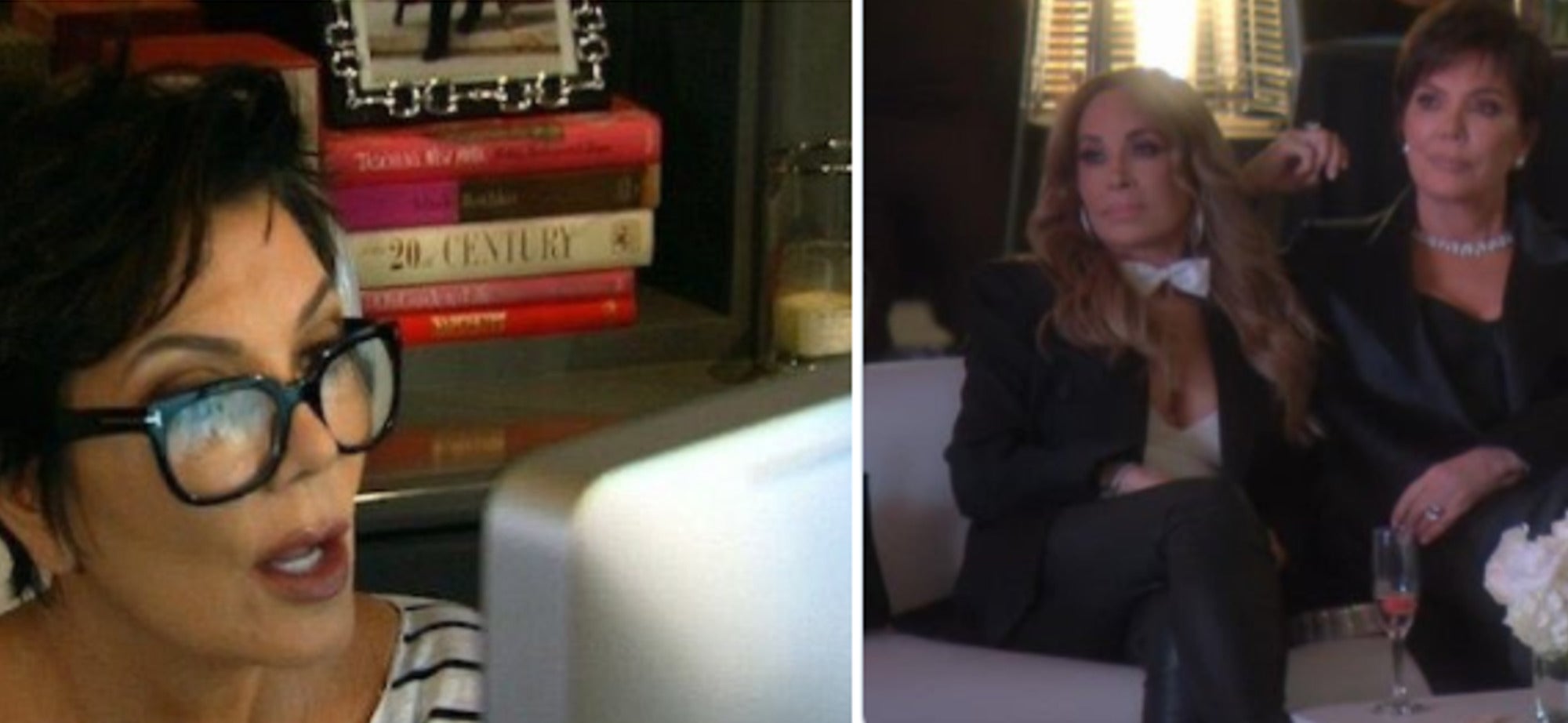 After 14 years of drama, laughs, and moments that framed pop culture in the 2000s, Keeping Up With the Kardashians announced in September that its upcoming season would be its final. Fans reacted with shock and disbelief that America's favorite reality TV family would be leaving the airwaves, while others made assumptions about what Kris Jenner would be planning next for her famous family.
Theories ranged from everything from Kris negotiating individual shows for each family member to jokes that the Kardashian and Jenner grandchildren will keep the original series running. One thing is for sure, the ending of the series is more of a "smell ya later" than goodbye.
57. Trump "forest cities" Star Wars memes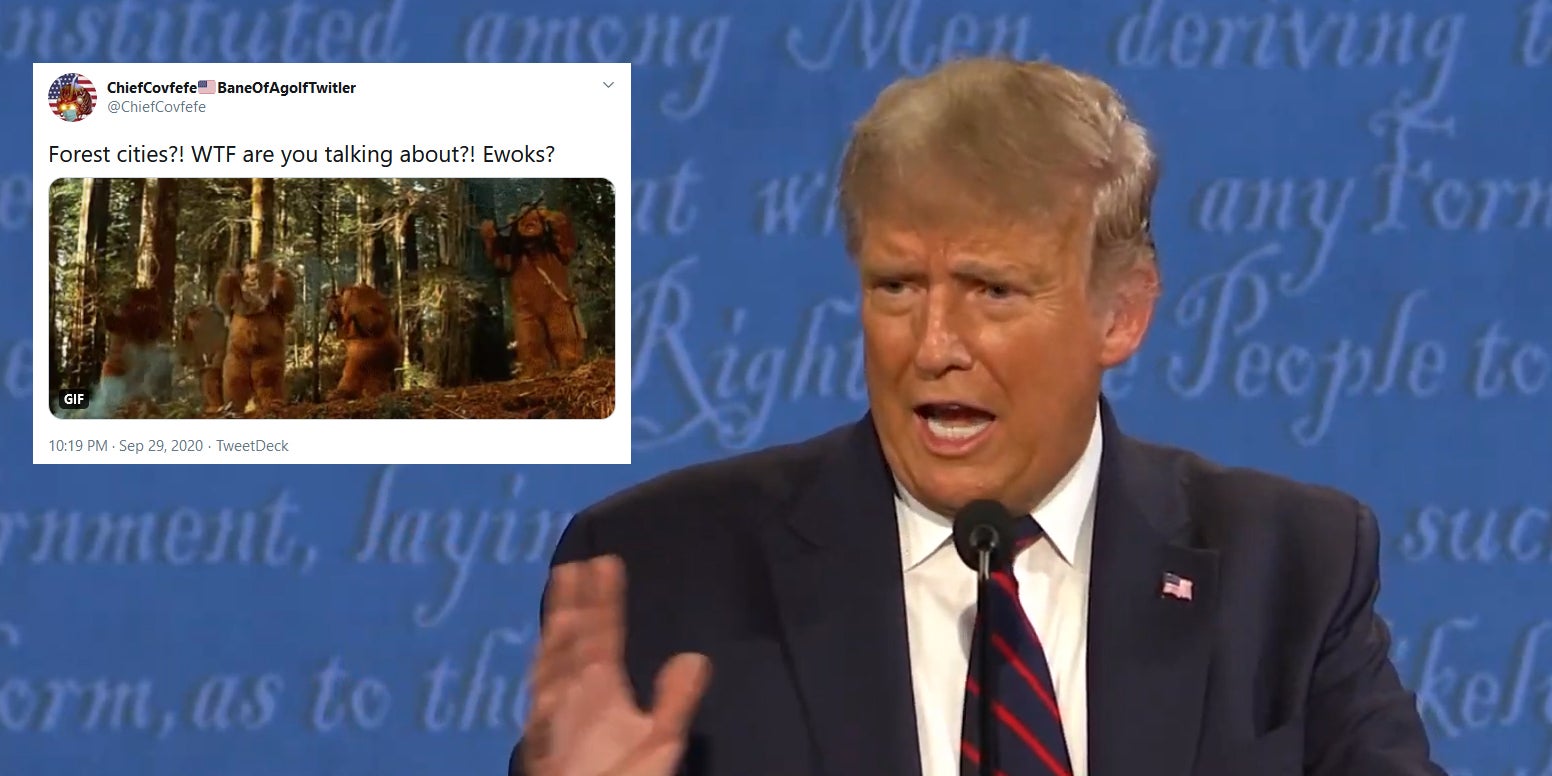 During a discussion that was purportedly about climate change during the first presidential debate, President Donald Trump spoke about "forest cities," leading everyone to make jokes about Star Wars. It all started when discussing states needing better "management" for forests as part of a solution for climate change, and he mentioned talking with the "head" of a "forest city."
"In Europe, they live, they have forest cities, they're called forest cities," the president inexplicably babbled. "They maintain their forest, they manage their forest. I was with the head of a major country, it's a forest city."
Trump's mention of "forest cites" sent Twitter into an Ewok-frenzy, and before long, everyone was proliferating Twitter with Ewok memes and GIFs.
58. A relationship should be 50/50' meme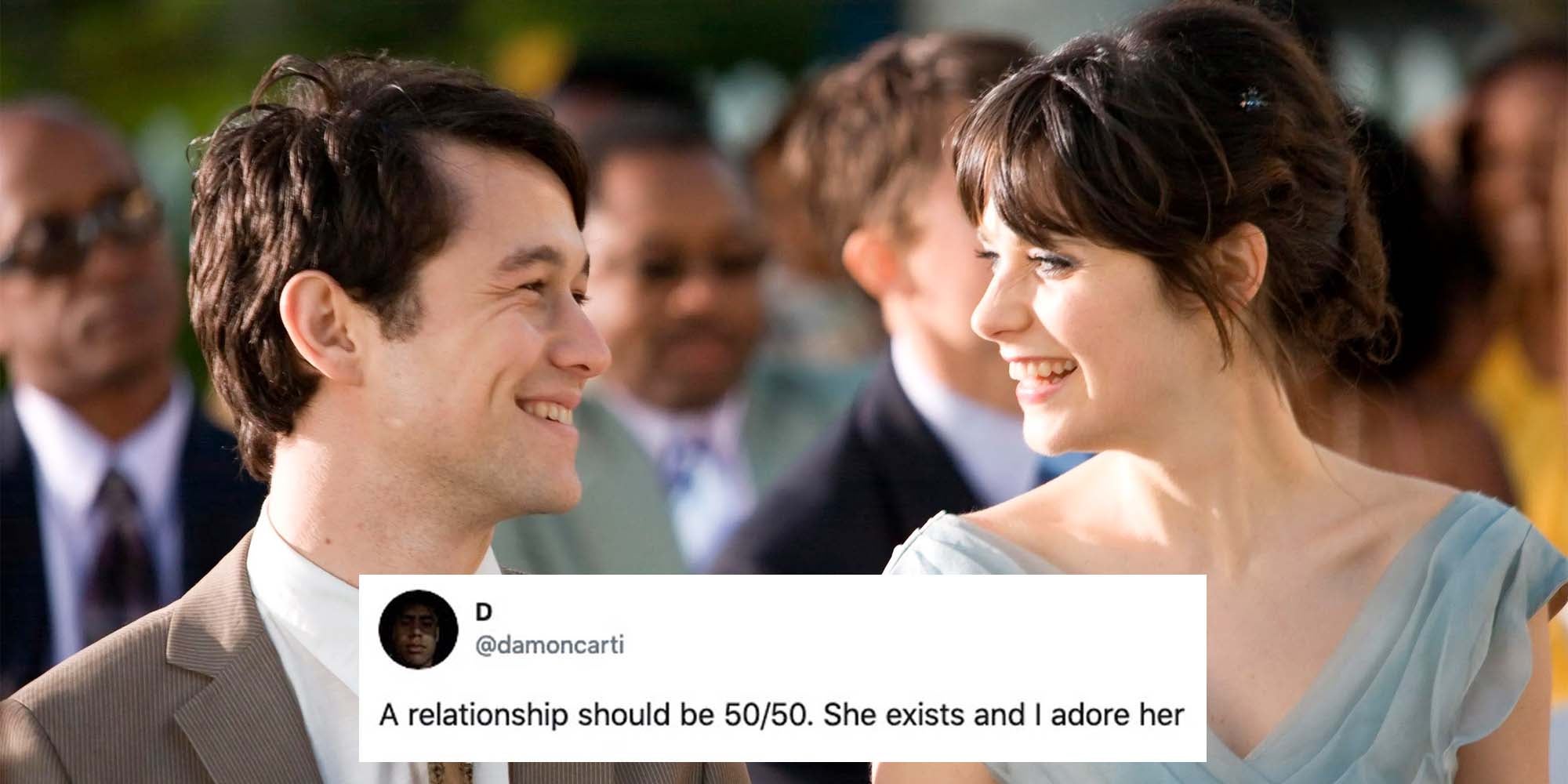 Relationships are hard work, and should ideally consist of mutual efforts between two partners to be successful. When it comes to emotional and physical needs, communication, trust, and so on—a relationship should be 50/50. If both partners aren't putting in an equal effort, they're basically setting themselves up for failure.


This meme, on the other hand, parodied that key principle and applied it to theoretically unhealthy relationships. The basic setup essentially starts out, "a relationship should be 50/50," and then followed with a twist that was anything but!
59. Regina George 'so you agree' meme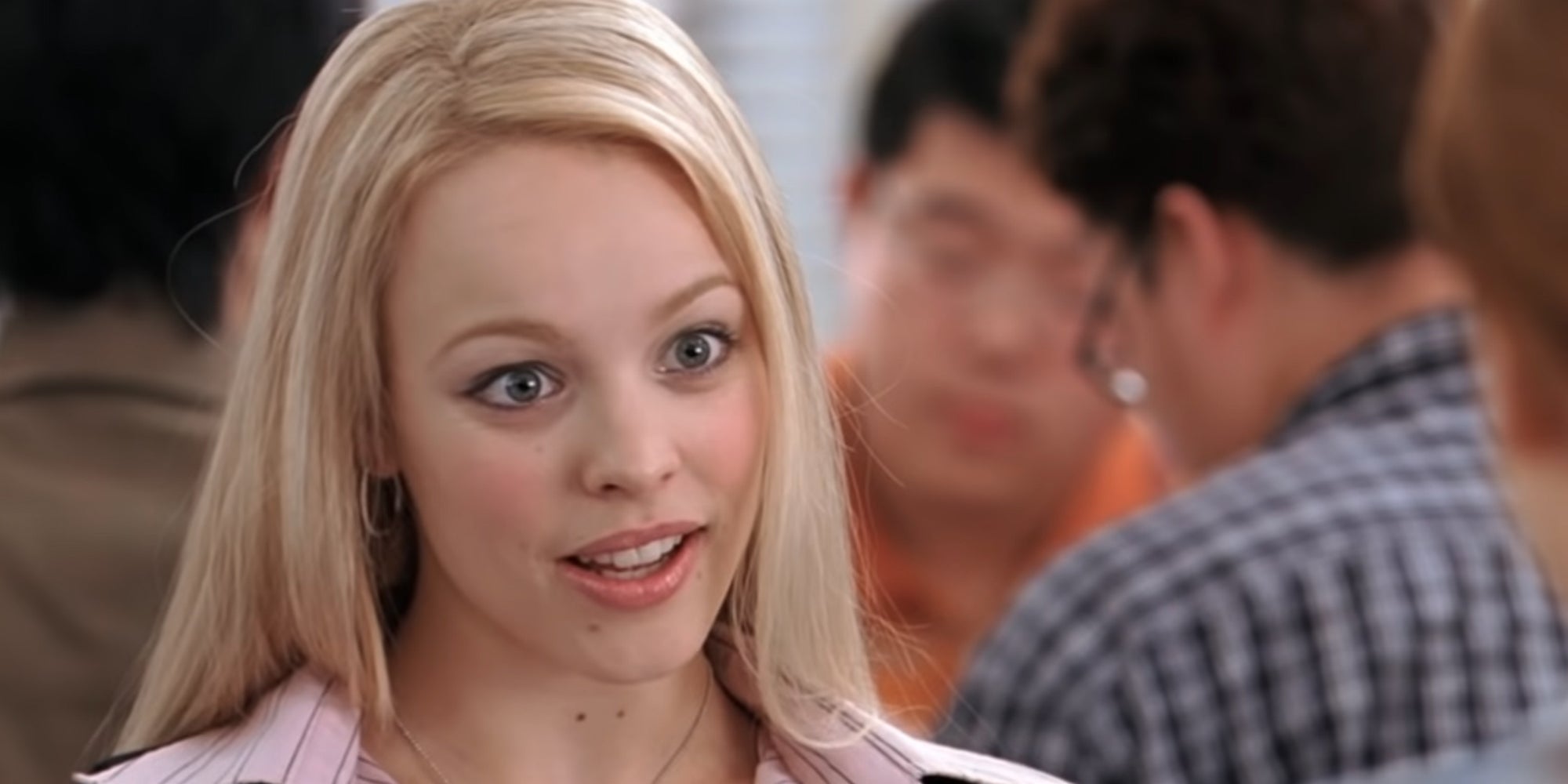 The 2004 comedy Mean Girls has produced several memes, but perhaps its most enduring contribution arrived in the form of this "so you agree" meme in October.
In the film, head mean girl Regina George (Rachel McAdams) grills new girl Cady Heron (Lindsay Lohan) on her past, then states: "But you're like, really pretty." Cady says thank you, and Regina swoops in: "So you agree? You think you're really pretty?"
The textbook manipulator move is meant to be a trap. The scene was already a reaction GIF, but it was subsequently reformatted to sum up hypocrisy about politics, racism, and sexism, or poke holes in an argument. Take, for example, this tweet that used the template to comment about how people on unemployment are making more than people who are still employed.
60. 'How it started' meme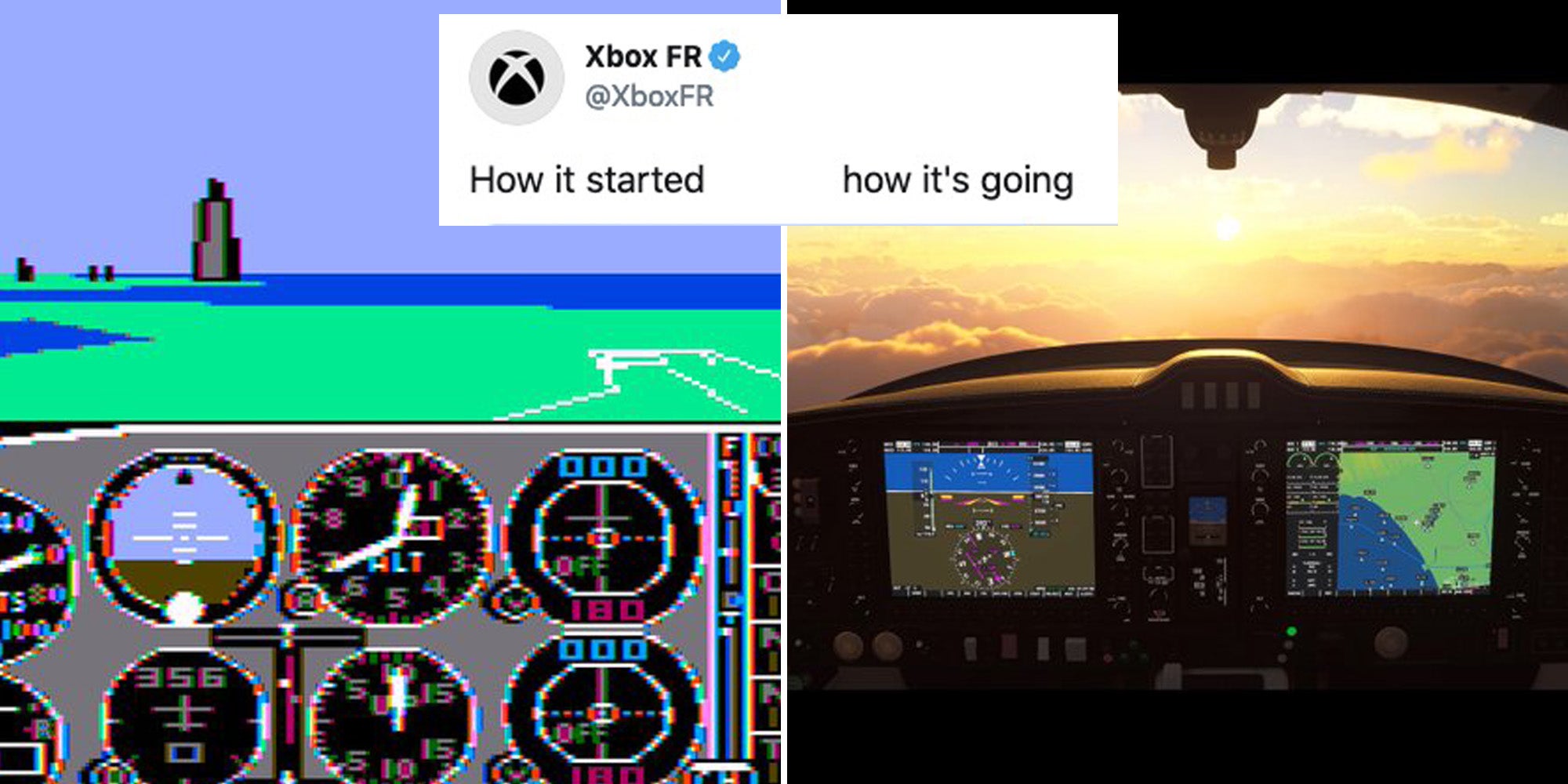 Behind every great relationship or old married couple, there's a wholly unique origin story. Of course, in this day and age, most origin stories begin by awkwardly sliding into the object of your affection's DMs.
This "how it started" meme initially began making the rounds on Twitter to riff about how people began their relationships versus where they are now. But eventually, the meme made it to mainstream Twitter. Some users also began replacing the "how it ended" verbiage with "how it's going," to indicate that these stories are far from over!
South Carolina Senate candidate Jaime Harrison employed the meme to show off his humble beginnings. Likewise, Young Money posted a throwback featuring a fresh-faced Nicki Minaj, Lil Wayne, and Drake. Started from the bottom, indeed.
61. 'E-girl and her podcaster boyfriend' meme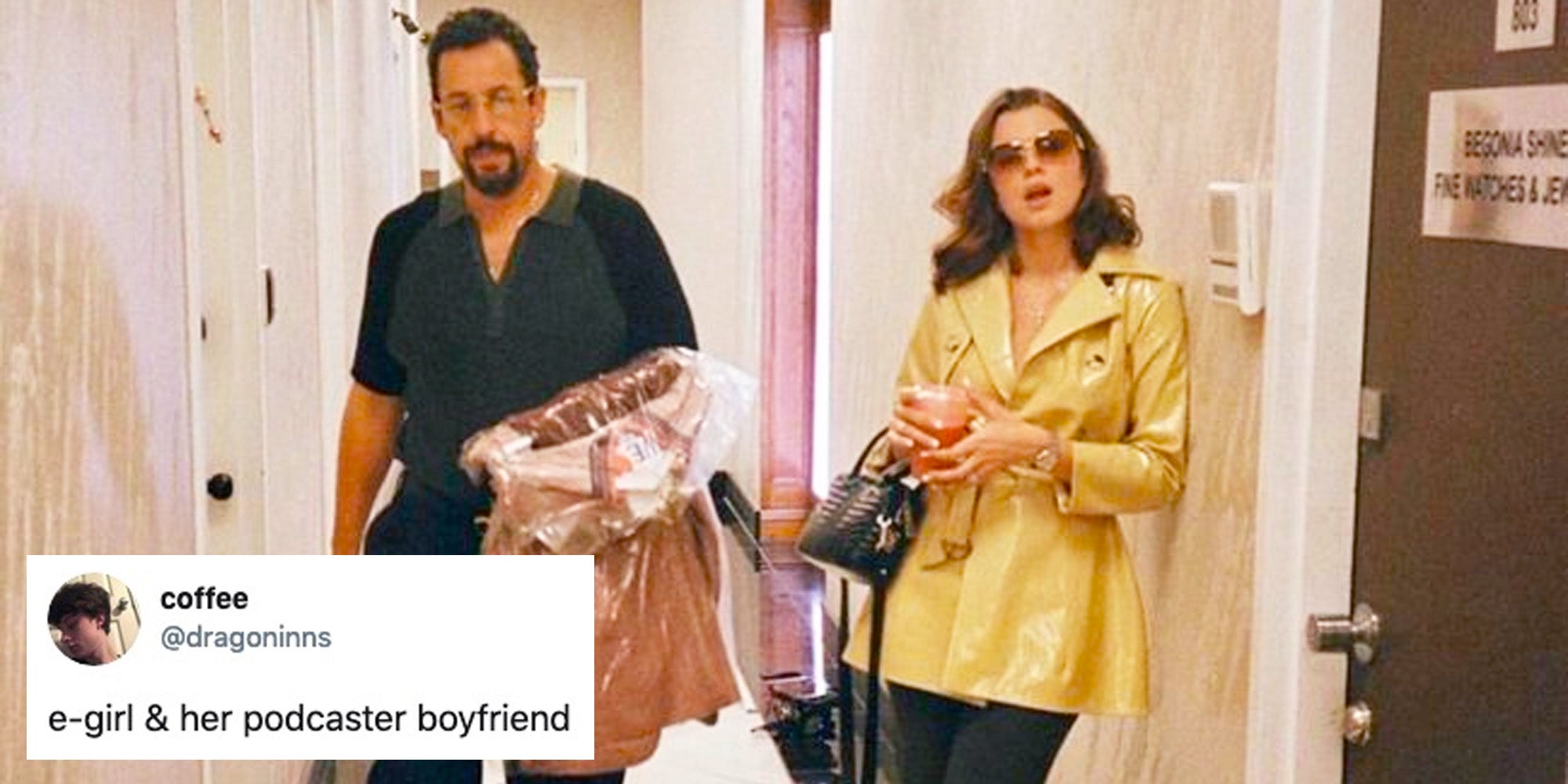 In film and television, even the most mediocre, generally unappealing, and overwhelmingly white men, in particular, always seem to level up out of their league. But in real life, this phenomenon manifested as the "e-girl and her podcaster boyfriend" meme going around on Twitter in October.
The meme gained popularity thanks to one viral example, which riffed off of Adam Sander's character in Uncut Gems alongside his much younger, attractive employee girlfriend.
Others paired examples of these cinematic couples with the "e-girl" stereotype—as in, attractive young women with twee aesthetics such as vivid makeup, blunt bangs, and alternative style—dating down to nerdy "podcaster" type boyfriends.
62. Appropriate father/son interaction meme
A ratioed tweet from conservative media pundit John Cardillo was turned into a meme after he captioned a photo of Joe Biden kissing his son Hunter on the cheek with the question: "Does this look like an appropriate father/son interaction to you?"
Many people were quick to respond that yes, that looks like a father expressing love for his son, you freaking weirdo. Cardillo's caption was likewise applied to other examples, such as scenes from Back to the Future, The Empire Strikes Back, The Fresh Prince of Bel-Air, and more.
63. 'One has to go' meme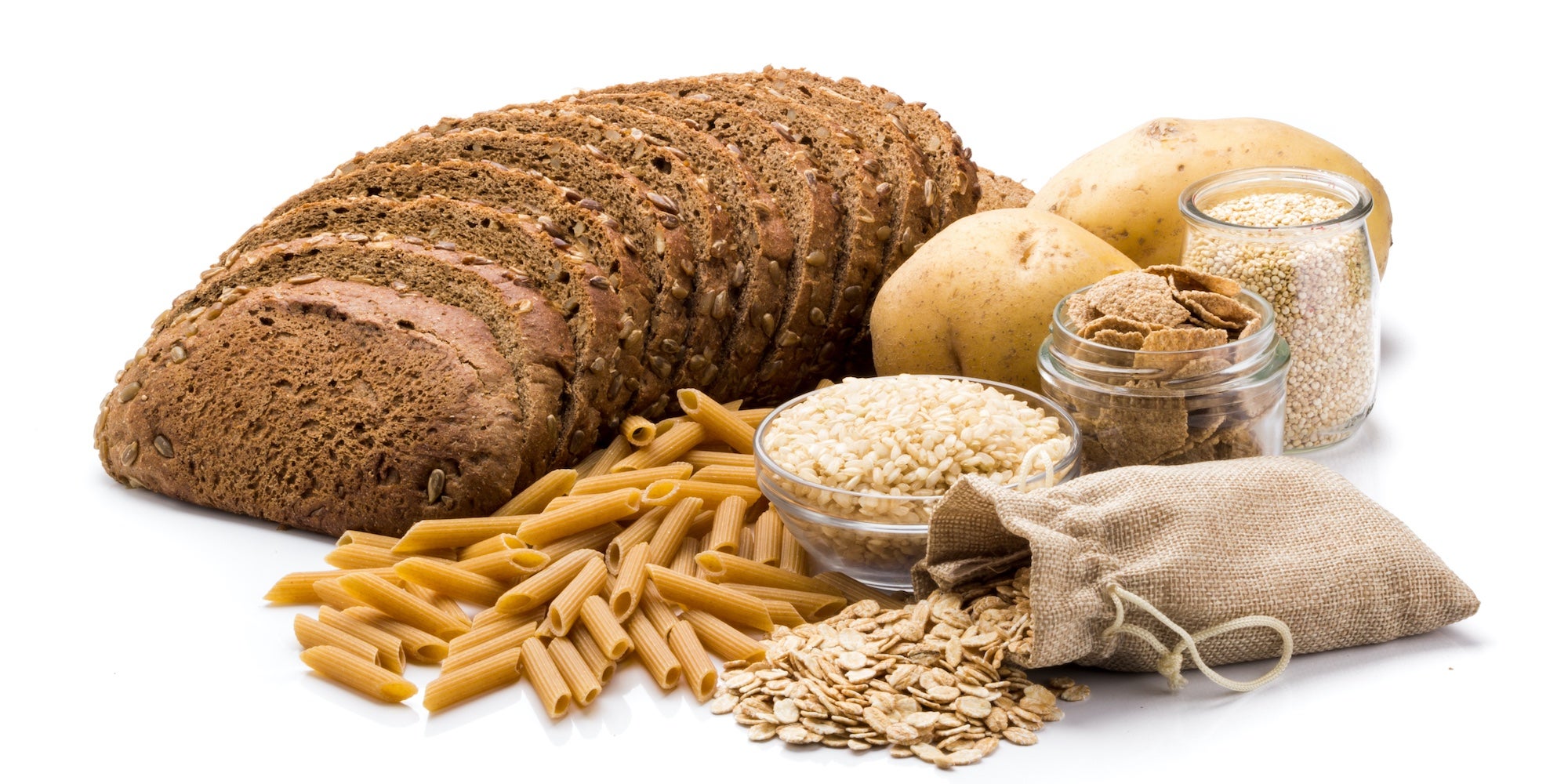 After, once again, the internet began debating which one of the four famous Chrises had to go (it's Pratt, the answer is always Pratt) the "One Has To Go" meme reemerged to list four food items and then stand back as people proceeded to lose their absolute cool over the responses.
The various examples took on everything from bread and carbs to breakfast foods, fast food, Bulgarian food, and more.
63. Kamala Harris' 'We did it, Joe' meme
When the 2020 presidential election was finally called for Joe Biden after the former Obama-era veep clinched the win in Pennsylvania, audio of Vice President-elect Kamala Harris congratulating her running mate proceeded to go viral on TikTok.
"We did it. We did it, Joe. You're going to be the next President of the United States," said Harris, in a phone call to President-elect Biden she also tweeted out. On TikTok, however, people quickly recreated the moment or used the audio for their own celebratory gestures.
64. Twitter 'This claim is disputed' label meme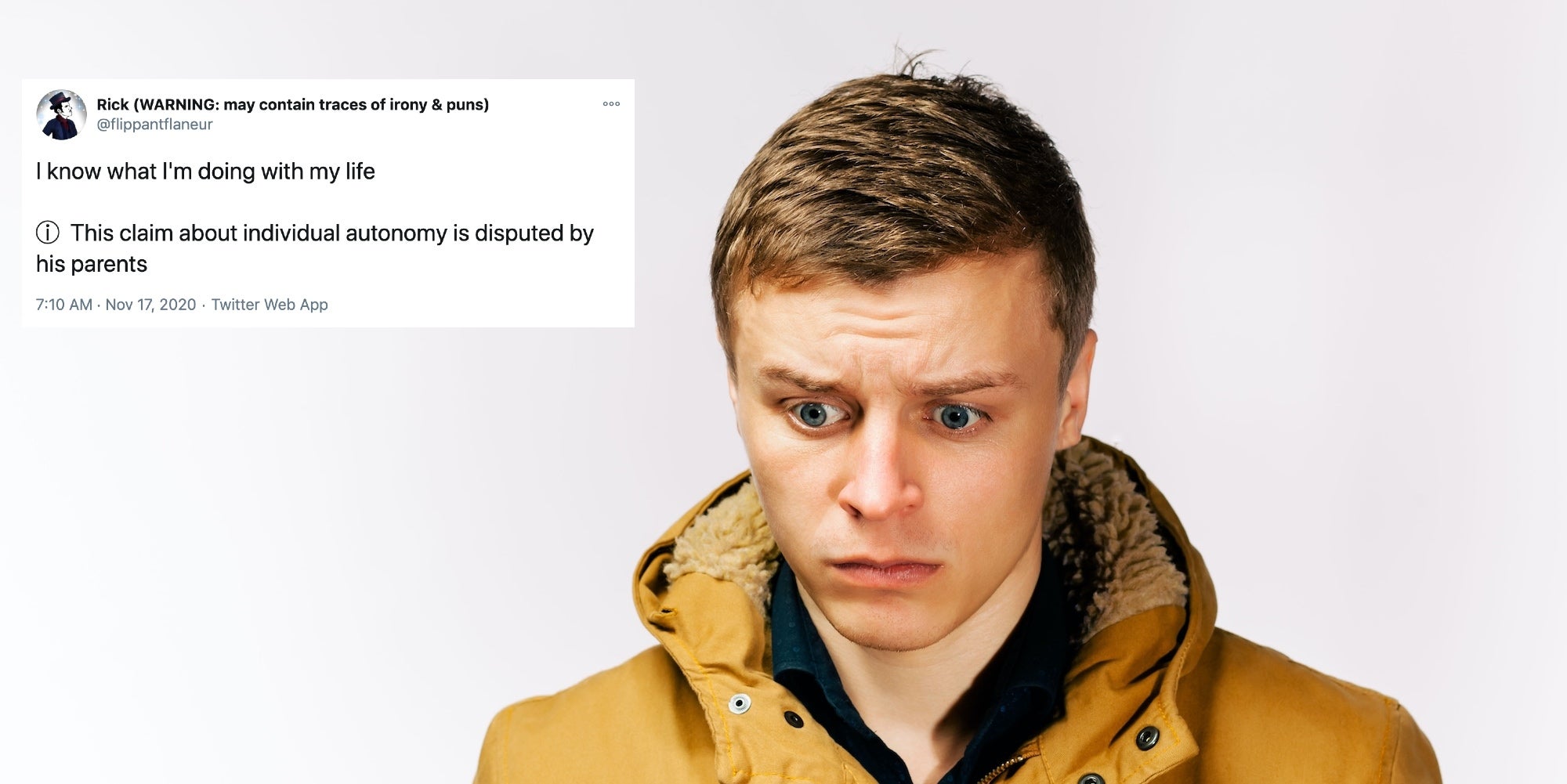 As President Donald Trump continued to contest the results of the 2020 presidential election which he ultimately lost by more than six million votes, Twitter began adding the fact-checking warning label "this claim is disputed" to his tweets that were believed to contain misinformation, Naturally, this went to become a meme mocking the president.
Examples of the meme touched on everything from brands and filthy dogs to personal existential woes and more. Eh, it could be worse? At least you're not a one-term president facing inevitable criminal charges the moment you set foot out of the White House?
65. Diana's awkward smile on 'The Crown' meme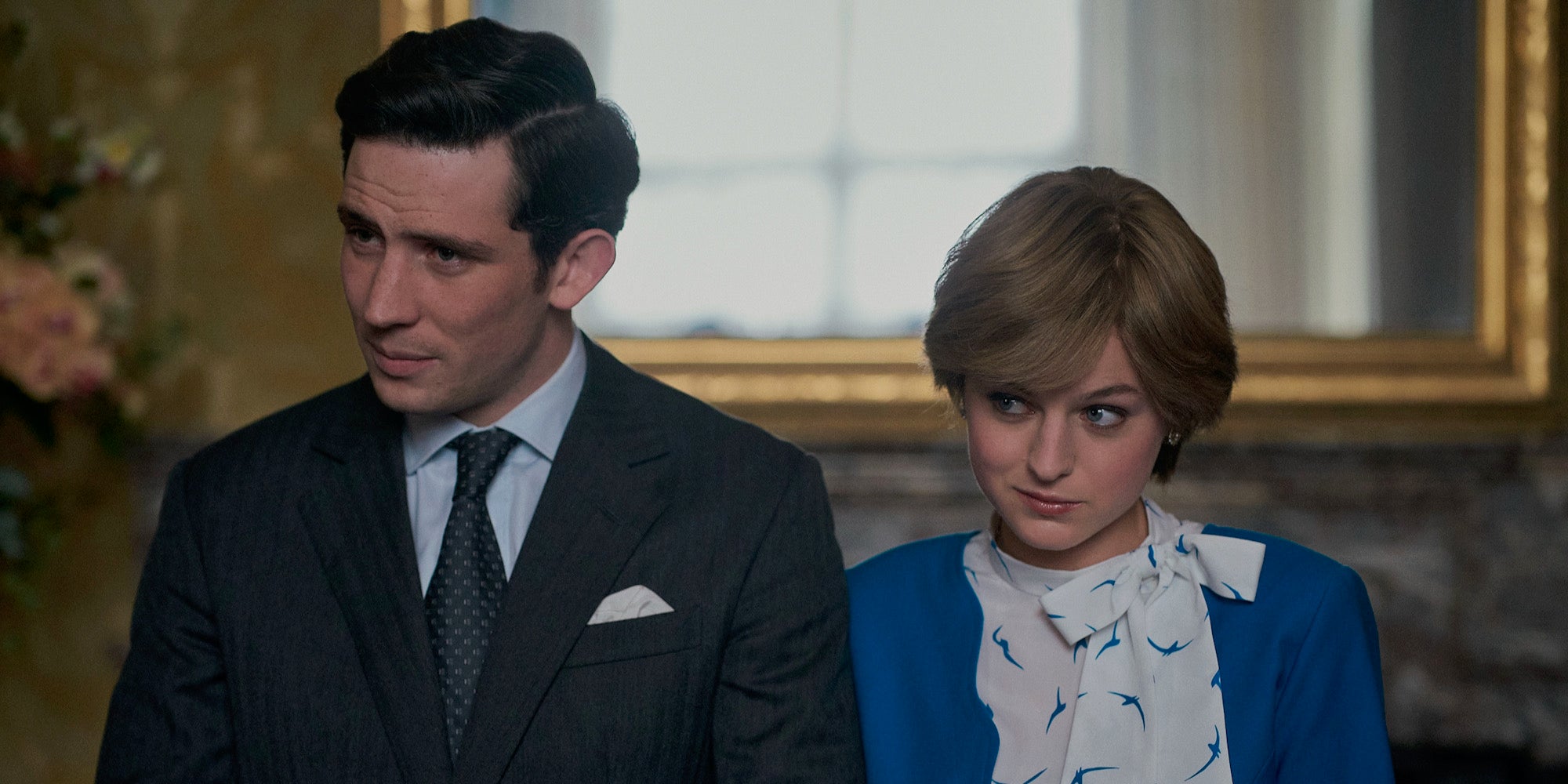 The fourth season of The Crown has provided some startling insight into the terrible treatment Princess Diana received from the Royal Family—particularly Prince Charles and Camilla Parker-Bowles. But those who hadn't watched were still able to witness the awkward discomfort, as a new meme remixed it into something extremely relatable.
The third episode of the season, "Fairytale," recreated Charles and Diana's joint press conference to announce their engagement in February 1981, and—though it may not have been 100 percent historically accurate—Diana's body language was palpable. The meme first went viral when part-time, London-based DJ Wayne David compared it to trying to decide what to have for dinner, and soon others piled on.
READ MORE: