The Friends reunion special was released on HBO Max last week, serving up nostalgia and a version of Matt LeBlanc—who played Joey on the series—that Irish Twitter has turned into a meme.
A couple of screengrabs from the 104-minute special of LeBlanc sitting on a couch while talking to the rest of the cast went viral on Twitter over the weekend. Essentially, he looks like someone's dad or uncle, between the posture and his striped button-down short-sleeved shirt. People began sharing the images with a line of dialogue, creating a new, endearing Friends character.
"I enjoyed Matt LeBlanc's "Da' sitting on the couch during a quick stop at your grans" performance," Twitter user @wretchedmorgan wrote.
Over at BuzzFeed, writer Tanya Chen asked for some clarification as to what this means, since it resonated so strongly with the Irish audience.
One user wrote in reply to Chen that LeBlanc's posture and demeanor were just so "typical Irish."
"Every Irish family has at least one of those uncles or great uncles -extreme salt of the Earth characters, full of dry wit and just a drop of cynicism," @noclarity74 wrote. "Matt looks like a typical Irish uncle in the photos from the reunion from his his arms are folded, to his facial expressions."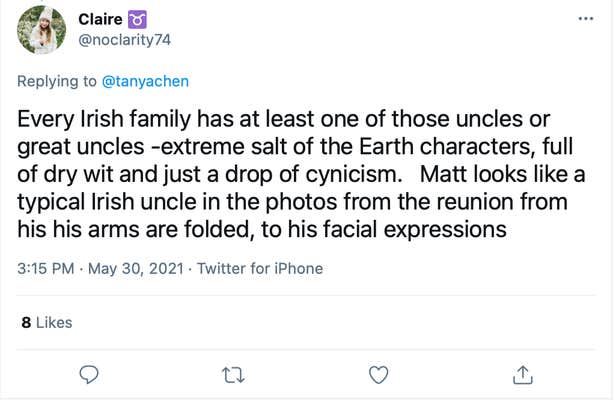 Another user said he's fulfilling an archetype of a relative who's just behind the times but ultimately well-intentioned.
"It's like he's the classic slightly ~behind the times but ultimately wholesome and well intentioned older country man you get stuck chatting to at a family wedding," @dervlamcniece wrote. "He's a bit cheeky but like…..in a nice dad way."
Matt LeBlanc memes
Here is a sampling of the best "Irish Uncle Joey" memes from Twitter: