Dirty Delete is a weekly column that goes deep into the social media history of politicians that runs on Thursdays in the Daily Dot's web_crawlr newsletter. If you want to get this column a day before we publish it, subscribe to web_crawlr, where you'll get the daily scoop of internet culture delivered straight to your inbox.
Analysis
Donald Trump tweeted himself into power. He may have also tweeted himself into prison.
The former president is the most notorious Twitter user of all time.
Trump's Twitter era was really something. It gave us new words—covfefe, hamberder—nasty nicknames for his many enemies, nearly started a nuclear war, and, prosecutors say, inspired the Capitol riot.
Bigots everywhere were emboldened by the racism Trump peppered the internet with. Would Charlottesville have happened if he hadn't called Mexicans "rapists," blamed Black and Hispanic people for crime, and pledged to ban all Muslims from entering the country—all before he was president?
Given his history, it shouldn't have come as a surprise that he said white nationalists who attended the deadly riot were "very fine people." Yet it was so appalling that over a quarter of his cybersecurity council quit in protest.
His comment section alone launched the careers of multitudes of reply guys and gals. (It was also fertile ground for the bot networks that sprouted in his wake.)
And the memes, oh the many, many memes.
His presidency was terrible for the country, but it was great for Twitter, which now desperately wants you to call it X. (Never gonna happen.)
It was probably a bitter day in Market Square when Twitter finally suspended him after the Capitol riot. Other platforms also gave him the heave-ho in the wake of the violent attempt to overthrow democracy.
Today the septuagenarian ex-POTUS is still lying through his thumbs on the ironically named Truth Social. But that MAGA echo chamber doesn't have the same je ne sais quoi.
Trump has resumed using Facebook, Instagram, and YouTube, which reinstated him earlier this year. He also maintains accounts on Truth Social and Rumble.
He must still be salty over that Twitter suspension, though. The platform lifted its ban last year, but to this day, he hasn't returned to his once-favorite platform, no matter how much Elon Musk probably wishes he would.
Dirtiest Delete
Trump has made some seriously bad posts in his time online. He's got something of a gift for it.
In one of his worst missives, he castigated former Vice President Mike Pence for lacking the "courage" to violate his oath of office by overturning the 2020 election.
The tweet was so bad even Trump had the sense to delete it. It's one dirty delete that may come up in a criminal trial someday soon.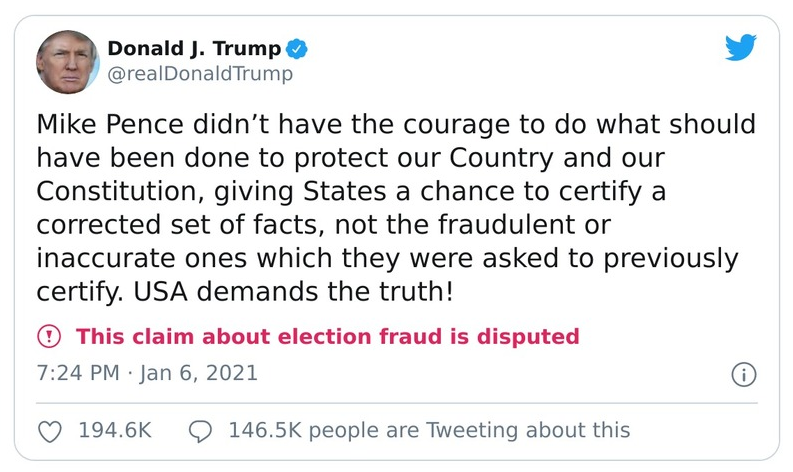 Like what you are reading?
Sign up to receive web_crawlr, a daily newsletter
from the Daily Dot, in your inbox each morning.