Donald Trump's most innovative quality as president is undoubtedly his ability to bestow nicknames upon his political opponents.
The president's passion for belittling titles predates his political career, but it has remained colorful and sometimes even witty as he's ascended to the highest office. It's such a familiar habit that there's even an extensive Wikipedia page dedicated to the nicknames that Trump uses.
Unfortunately, the president isn't always very creative and some of his nicknames repeat themselves, like his constant use of"crazy"
Here are the stats.
Donald Trump nicknames
Trump referred to Speaker of the House Rep. Nancy Pelosi (D-Calf.) as "Crazy Nancy" in at least 28 different tweets.
He first decided to brand her "Crazy Nancy" in December 2019—before that, he was calling her "Nervous Nancy."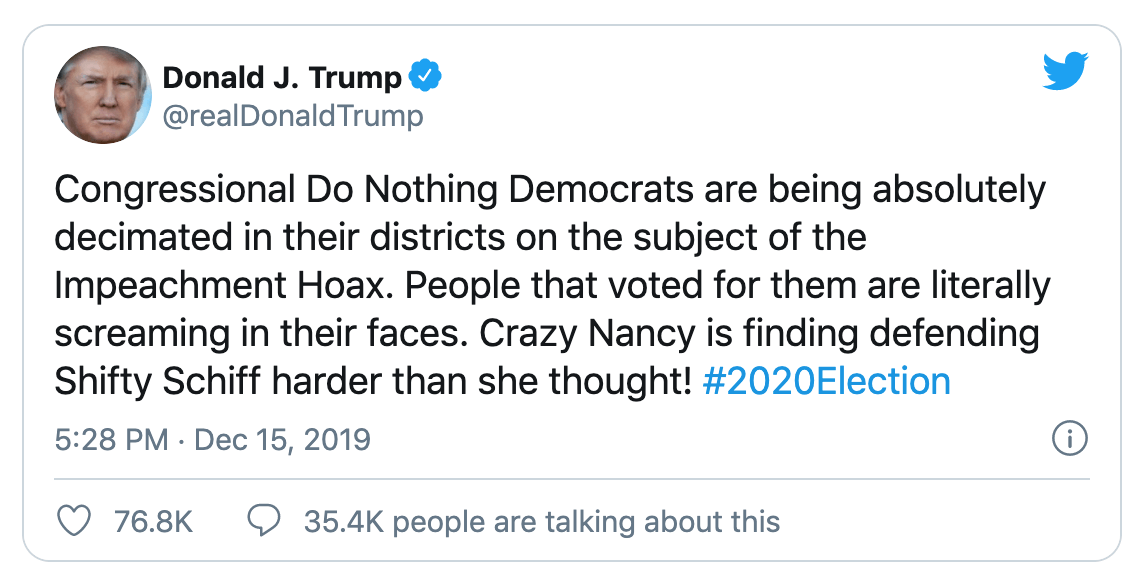 But Pelosi is not the first politician to earn Trump's "crazy" moniker.
Long before Pelosi, Trump was frequently referring to Sen. Bernie Sanders (I-Vt.) as "Crazy Bernie." Sanders first got that treatment in May of 2016 and Trump has blasted out tweets referring to Sanders as "Crazy Bernie" on at least 39 occasions.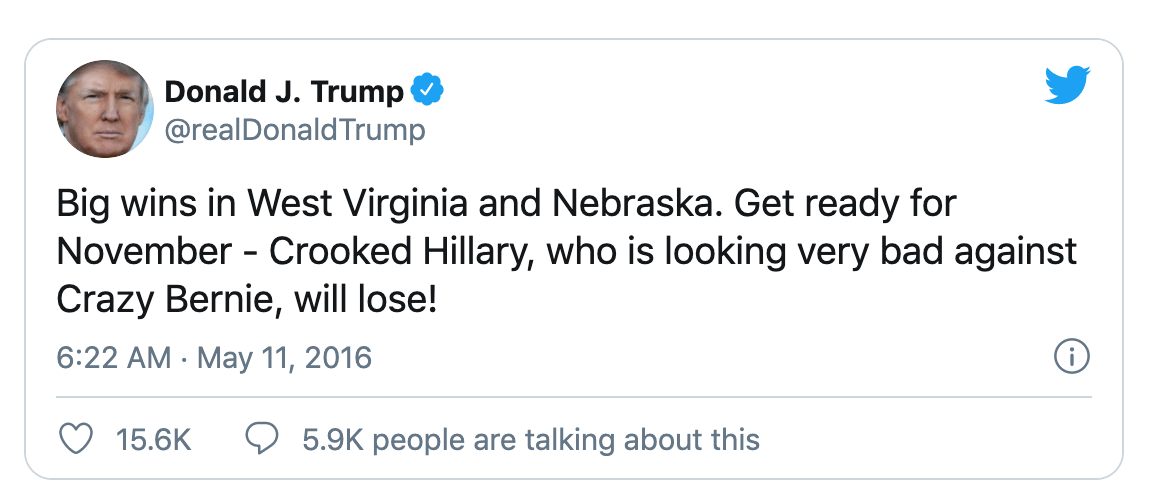 "Crazy" is of course on of Donald Trump's favorite words. Along with jabs like "sad!", you'll find that "crazy!" is one of his preferred ways to end a tweet. Online remarks often go like: "The Democrats do not want us to detain, or send back, criminal aliens! This is a brand new demand. Crazy!"
Sometimes, like in September of 2018, "crazy" is a catch-all for Democrats, abbreviated to "crazy Dems."
And plenty of other politicians and even journalists have earned that title.
Among those who Trump has referred to as crazy are Rep. Maxine Waters (D-Calif.), Joe Biden, Jim Acosta, Joe Scarborough, New York Times columnist Maureen Dowd, and Megyn Kelly. Before he was president he used the adjective on "crazy Dennis Rodman" and "crazy Eliot Spitzer." 
Another of Trump's favorite nicknames is of course "lying," which he usually abbreviates to "lyin'". He didn't use the term before his political career.
The first figure to branded as lyin' was Sen. Ted Cruz (R-Texas). That first appeared in a tweet in March of 2016 and then "Lyin' Ted" was featured in over 30 subsequent tweets.
After Trump trounced Cruz in the primary, he passed "lyin'" down to other foes including James Comey and NBC anchor Brian Williams.
On a few occasions, Trump has termed Rep. Adam Schiff (D-Calif.) as "lyin'" but he has also has a number of different nicknames for the West Hollywood congressman.
The president's favorite nickname for Schiff is "shifty," which he used dozens of times throughout impeachment. Other nicknames for Schiff include "corrupt Adam Schiff" and "liddle' Adam Schiff" and "sleazy Adam Schiff."
Trump's branding for his primary challenger is "Sleepy Joe Biden," a term he first coined in April of 2019 and since then, he's been on a roll. Since then, he's used "Sleepy Joe" or "Sleepy Joe Biden" in over 40 tweets.
Other politicians that have nicknames include "cryin' Chuck Schumer," "Mini Mike Bloomberg," "Al Frankenstein," "Dummy Beto," "Little Marco Rubio" and "Psycho Joe Scarborough"
But there is one crown jewel in Donald Trump's arsenal of nicknames: "Crooked Hillary."
Trump has tweeted about "Crooked Hillary" on over 350 occasions. The first appearance of the remark came on April 17, 2016, when Trump tweeted "Crooked Hillary Clinton is spending a fortune on ads against me. I am the one person she doesn't want to run against. Will be such fun!"
While most of his nicknames sound like dotty ramblings, Trump has accidentally stumbled onto some decent monikers over the years.
Among his better works is "Wild Bill" Clinton, a nickname that appeared in tweets in 2016 and 2018.
Trump's also ripped on "Sloppy Steve" Bannon, his former master strategist.
Yet the nickname loses much of its luster when you consider that Trump was using "sloppy" before Bannon came along. He simply re-purposed it for his advisor. In 2017, it was "Sloppy Michael Moore" and in 2015, it was "Sloppy Graydon Carter"—when Carter was then the editor of Vanity Fair.
He and Trump have a decades-long feud, which dates back to Carter describing Trump's hands as "small and neatly groomed" in a GQ story in 1984.
And then there's his nickname for Senator Doug Jones (D-Ala.). Trump calls him "Puppet Jones," which sounds like perhaps a gunfighter or a punk rock frontman.
That too loses his steam when you realize Trump is simply saying Jones does whatever the Democratic leadership says.
But with 2020 approaching, and dozens of new Democrats enter races, there will certainly be a plenty to come.
READ MORE: