PBS has a hit on its hands with Polkdark, a period drama about a Revolutionary War Redcoatvet who returns home only to discover the life he left behind in ruins. Based on Winston Graham's Poldark novels, this Masterpiece Theater series is full of beautiful sets and dark twists. But you don't have to wait to catch episodes on PBS. Thanks to streaming media, it's easy to watch your favorite 18th-century period drama from the comforts of your 21st-century home. Here's how to watch Poldark online for free.   
How to watch Poldark online for free
While PBS—and thus Poldark—aren't available on most major live streaming TV services, you still have great options to watch Poldark online. PBS lets you watch recent episodes for free, and Amazon Prime Video's PBS Masterpiece subscription comes with a free seven-day trial.

Cost: $8.99 per month (after a 7-day free trial) for PBS Masterpiece | $119.99 per year for Prime
Devices: Amazon Fire Stick, Fire TV, Fire tablets, and Fire phone; Roku, Google TV, TiVo, Nvidia Shield, PlayStation 3 and 4, Xbox One, Nintendo Wii
Good news for Amazon Prime subscribers: The first three seasons of Poldark are streaming now as part of your membership. If you're already caught up, Amazon can still help you catch new episodes each week. It's possible to buy new episodes individually for $2.99 apiece, but you'll get the best deal with the PBS Masterpiece Prime channel. For just $5.99 per month, you can watch Poldark online along with all the other great Masterpiece Theater programming on the app. You're already invested in a period piece with Poldark, so why not subscribe to PBS Masterpiece and get involved in a few more?
---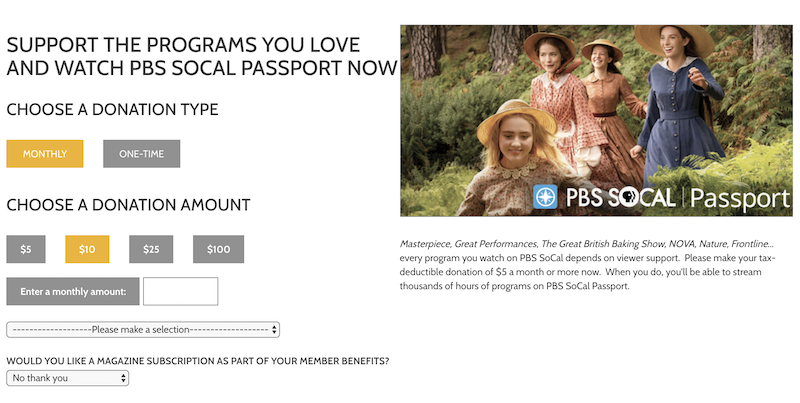 Cost: Free (most recent episodes only) | $5 per month or $60 per year for everything if you support PBS
Devices: PC, Android TV, iOS, Android, Roku, Apple TV, Amazon Fire TV
If you're boycotting Amazon, you can go directly to the source to get your Poldark fix. PBS offers free streams of the most recent episodes of Poldark on its website. However, if you missed any of the earlier episodes, you'll need to cough up some dough. The good news is, the money you spend is technically a tax write off. PBS allows access to its Premium content for the cost of a donation to your local PBS station. To access this stream, simply visit the PBS website and follow the links for PBS Now. When you're done, you'll be able to access PBS content on any of the nonprofit's apps. You'll also unlock over 1,500 episodes of other PBS programming.
New to cord-cutting? Here are our picks for the best movie streaming sites of 2018 and free live TV apps and channels. If you're looking for a specific channel, here's how to watch HBO, Showtime, Starz, Sundance TV, ESPN, ESPN2, ESPN3, ESPNU, Willow, AMC, FX, Fox News, Freeform, MSNBC, CNN, CNBC, FS1, TBS, TNT, Tennis Channel, Golf Channel, Syfy, HGTV, Cartoon Network/Adult Swim, Bravo, Lifetime, Discovery, PBS, the CW, BBC, CSPAN, NBA TV, MTV, Comedy Central, Food Network, TLC, HLN, A&E, Animal Planet, National Geographic, the Weather Channel, the History Channel, and NFL RedZone without cable, as well as free movies on YouTube. If you're on the move, here's how to watch Fox Sports Go and live stream NBC Sports.
The Daily Dot may receive a payment in connection with purchases of products or services featured in this article. Click here to learn more.