The NCAA brackets are officially set, and Duke, Virginia, Gonzaga, and North Carolina are this year's top seeds. Prepare your brackets now and pray lady luck is on your side. 
Whichever team you pick, you don't have to miss a moment of March Madness. Here's everything you need to know to watch March Madness 2019 online for free. 
What channel is March Madness on?
Games will be broadcast across a handful of channels including CBS, truTV, TBS, and TNT. 
How to watch March Madness 2019 for free: Live stream every game
CBS, TNT, TBS, and truTV are available on many of the popular online streaming services. When deciding which one is best for you, you'll want to weigh the cost, the other channels you'll receive, and the compatible devices for streaming. No matter which service you decide to try, you'll be able to start with a one-week trial, so you can watch most of March Madness 2019 for free. For a more complete rundown of streaming services, check out our guide to Sling TV competitors.
Cost: $44.95 per month (after a 7-day free trial)
Hulu devices: Roku, Apple TV, Google Chromecast, Amazon Fire Stick and Fire TV, Xbox One, Xbox 360, Nintendo Switch, and iOS and Android devices
Local channels: ABC, CBS, Fox, NBC, the CW (check your local availability here)
Hulu with Live TV is one of the most popular ways to stream live TV. In addition to all the necessary March Madness channels, you gain access to a massive library of on-demand content including classic and current TV shows, movies, not to menti0n Hulu's original programming. As far as live-streaming goes, you'll have almost 60 channels to flip through, including HGTV, a full suite of ESPN channels, Cartoon Network, FX, and even deep cuts like Nat Geo Wild and Syfy. (Here's the complete list of Hulu Live TV channels.)
READ MORE:

---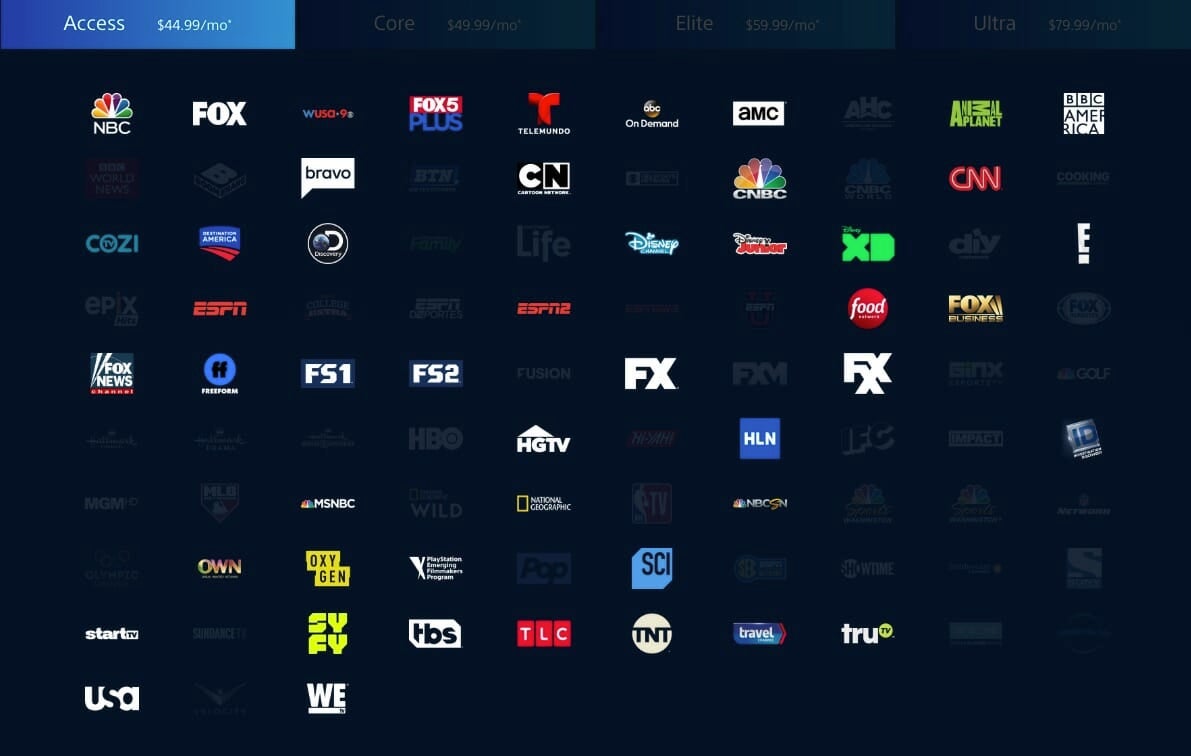 If you have a PS4 and are into the idea of having your gaming and streaming needs met in the same place, PlayStation Vue is made for you. Jumping from your favorite game to the March Madness tournament is seamless, and controlling it is as intuitive as playing an actual game. Still, you don't need a PS4 to enjoy this service. You can also use a Roku, Amazon Fire devices, and Kodi. Plus, you'll get awesome channels like AMC, BBC America, and Bravo in PlayStation Vue's entry-level package. One subscription works with up to five devices, all with unlimited cloud DVR storage making it one of the most binge-friendly solutions. (Here are all of PlayStation Vue channels.)
---
FuboTV was built with sports fans in mind. There are different channel packages available whether you're looking for basketball, soccer, golf, and even outdoor sports like rock climbing.It comes with Fox, so you'll be able to live stream March Madness 2019. Plus, you get all the great cable channels too, including AMC, Bravo, TBS, and IFC.  (Here's the complete FuboTV channels list.)
---
Cost: $49.99 per month (after a 7-day free trial)
YouTube TV devices: Google Chromecast, Roku, Apple TV, Android TV, Xbox One, iOS, and Android devices
Local channels: NBC, CBS, Fox, ABC, the CW (enter your ZIP code here to check your availability)
YouTube TV is a great solution for families because one subscription can add up to six accounts. Each account comes with unlimited cloud DVR. There are sports channels like NBCSN, NBA TV, and four ESPN channels. Disney, Disney XD, Disney Junior, and Cartoon Network will keep any kid (or kid at heart) busy for hours. It also comes with a few Spanish-language channels like Telemundo and NBC Universo. AMC, BBC America, and IFC are there too, so you won't miss out on all that prestige TV. (You can find the full list of YouTube TV channels here.)
---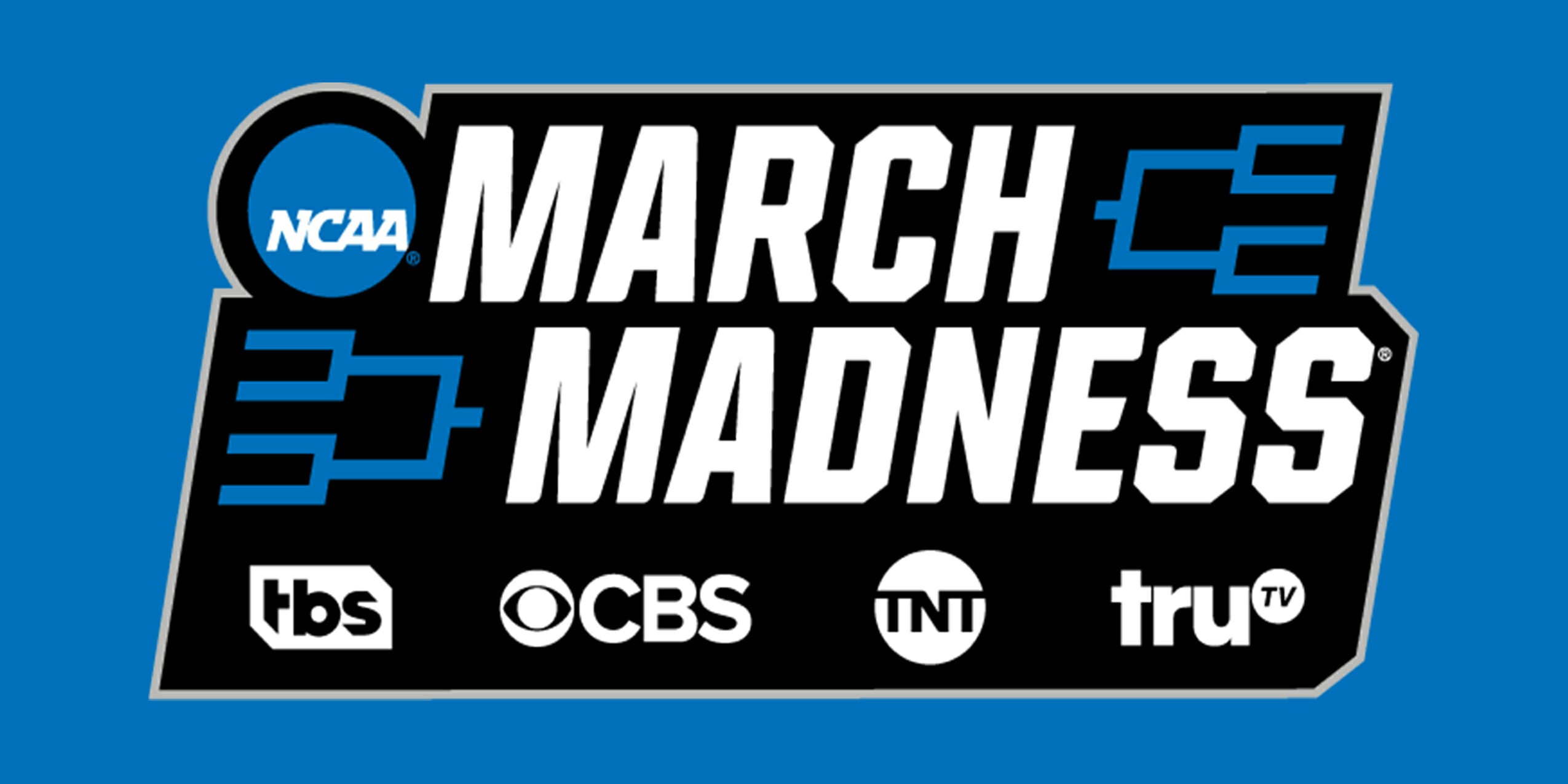 All March Madness 2019 games will be broadcast through the official NCAA hub for the basketball tournament. To access the stream, you will need to provide login info from a qualifying cable provider. Logins from Hulu, PlayStation Vue, or YouTube TV will gain you access. There's also a companion app so you can stream on Roku, Google Play, Fire TV, Apple, and a handful of other places where you normally stream. But if you're at work and trying to sneak a peak when your boss isn't looking, the website may be your best bet. There's even a "Boss Button" you can click in case your employer gets wise to your shenanigans. 
---
March Madness 2019 schedule
March Madness kicks off on Tuesday, March 19 and runs through Monday, April 8. All times listed below are in EST, and listed with the channel they will be airing on.
We'll update this schedule with the advancing teams as the 2019 NCAA tournament progresses.
First Four, Tuesday, March 19
Fairleigh Dickinson 82, Prairie View A&M 76
Belmont 81, Temple 70
First Four, Wednesday, March 20
North Dakota State 78, NC Central 74
Arizona State 74, St. John's 65
First round, Thursday, March 21
Minnesota 86, Louisville 76
LSU 79, Yale 74
Auburn 78, New Mexico State 77
Florida State 76, Vermont 69
Michigan State 76, Bradley 65
Maryland 79, Belmont 77
Kansas 87, Northeastern 53
Murray State 83, Marquette 64
Florida 70, Nevada 61
Kentucky 79, Abilene Christian 44
Villanova 61, Saint Mary's 57
Gonzaga 87, Fairleigh Dickinson 49
Michigan 74, Montana 55
Wofford 84, Seton Hall 68
Purdue 61, Old Dominion 48
Baylor 78, Syracuse 69
First round, Friday, March 22
Iowa 79, Cincinnati 72
Oklahoma 95, Mississippi 72
Texas Tech 72, Northern Kentucky 57
UC Irvine 70, Kansas State 64
Tennessee 77, Colgate 70
Virginia 71, Gardner-Webb 56
Buffalo 91, Arizona State 74
Oregon 72, Wisconsin 54
Washington 78, Utah State 61
Duke 85, North Dakota State 62
Houston 84, Georgia State 55
Liberty 80, Mississippi State 76
North Carolina 88, Iona 73
UCF 73, VCU 58
Ohio State 62, Iowa State 59
Virginia Tech 66, Saint Louis 52
Second round, Saturday, March 23
LSU 69, Maryland 67
Kentucky 62, Wofford 56
Michigan 64, Florida 49
Florida State 90, Murray State 62
Gonzaga 83, Baylor 71
Michigan State 70, Minnesota 50
Purdue 87, Villanova 61
Auburn 89, Kansas 75
Second round, Sunday, March 24
Tennessee 83, Iowa 77 (OT)
North Carolina 81, Washington 59
Duke 77, UCF 76
Texas Tech 78, Buffalo 58
Virginia Tech 67, Liberty 58
Virginia 63, Oklahoma 51
Houston 74, Ohio State 59
Oregon 73, UC Irvine 54
Regionals, March 28-31
South Regional March 28/30 
West Regional March 28/30 
East Regional March 29/31 
Midwest Regional March 29/31 
Final Four, Saturday, April 6
6pm – Final Four (CBS)
8:30pm – Final Four (CBS) 
National Championship, Monday, April 8
9pm – National Championship (CBS)
---
March Madness 2019 bracket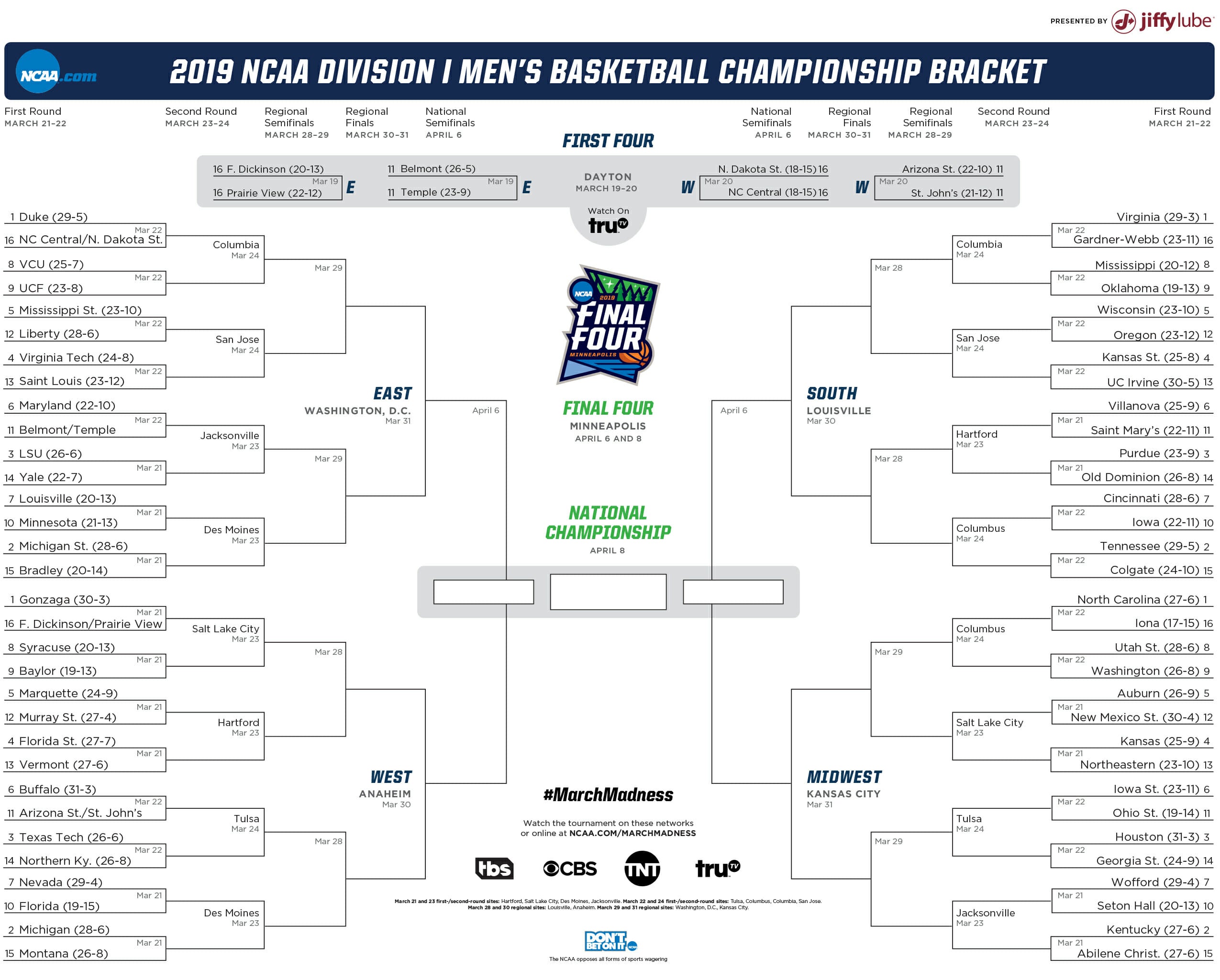 The Daily Dot may receive a payment in connection with purchases of products or services featured in this article. Click here to learn mor