If you're a South American soccer fan, you're ready to stream CONMEBOL World Cup qualifiers. Fanatiz lets you do that through a pay-per-view package.
On Tuesday, all 10 teams are in action. Brazil and Ecuador have won each of their first three matches to take the CONMEBOL lead.
How do CONMEBOL teams qualify for the 2022 World Cup?
CONMEBOL, the soccer federation governing 10 major South American soccer teams, uses a home-and-away, everyone plays everyone approach to World Cup qualification. That means that qualification starts in October 2020 and continues through March 2022. (The range was supposed to be March 2020 through November 2021, but the pandemic pushed the schedule back.)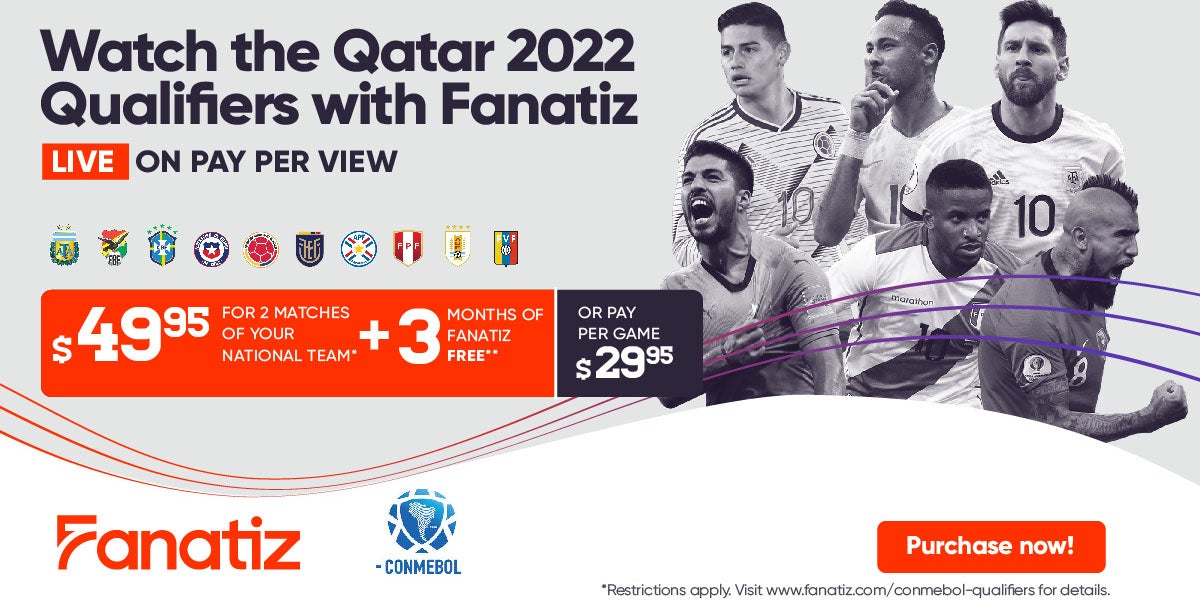 How to stream CONMEBOL World Cup qualifiers on Fanatiz
Fanatiz allows you to stream the South American qualifiers for the World Cup, available in the U.S. as pay-per-view matches. They've softened the blow of paying nearly $30 for an individual match, by offering a $49.95 two-match package featuring the team of your choice. For Brazil fans who want to hear the match in Portuguese, that option's available.
Fanatiz is also throwing in three months of the service free when you buy a two-match package. That will bring you La Liga, Ligue 1, Copa Libertadores, and other engaging soccer competitions.
---
Available two-match packages for the November 2020 international break
Argentina (Albiceleste bundle)
Bolivia (La Verde bundle)
Brazil (Canarinha bundle)
Chile (La Roja bundle)
Colombia (Cafeteros Bundle)
Ecuador (La Tri bundle)
Peru (La Blanquirroja bundle)
Uruguay (La Celeste bundle)
CONMEBOL World Cup Qualifiers
(standings after matches on Nov. 13, 2020)
CONMEBOL World Cup Qualifier schedule: Matches on Fanatiz
Thursday, Nov. 12
Ecuador 3, Bolivia 2
Argentina 1, Paraguay 1
Friday, Nov. 13
Uruguay 3, Colombia 0
Chile 2, Peru 0
Brazil 1, Venezuela 0
Tuesday, Nov. 17
Ecuador vs. Colombia: 4pm ET
Uruguay vs. Brazil: 6pm ET
Peru vs. Argentina: 7:30pm ET
---
CONMEBOL World Cup Qualifier schedule: Broadcast matches
Two CONMEBOL matches on Tuesday will be available via broadcast. Venezuela vs. Chile will be available on BeIN Sports Xtra. Paraguay vs. Bolivia will be available on Fox Deportes.
Tuesday, Nov. 17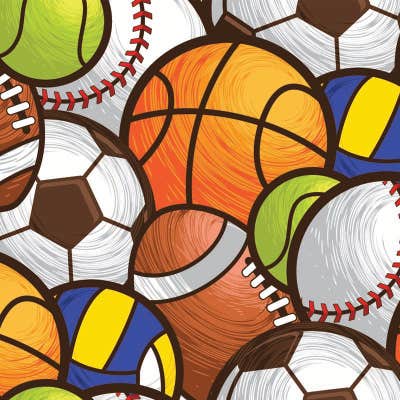 Best sports on TV today and this week: Upcoming sports live streaming events
Daily Dot Sports Streaming Guides
---
Sports Channel and Streaming Service Guides
Live TV Service Guides
Streaming Device Guides