Netflix's She-Ra reboot arrives later this year, reimagining the beloved 1980s cartoon for a new generation. The showrunner is none other than Lumberjanes and Nimona creator Noelle Stevenson, who began her career in the world of Tumblr fanart. Now, she's one of the most celebrated cartoonists of her generation. After writing a few episodes for animated shows including Ducktales, She-Ra is her first time as showrunner.
She-Ra and the Princesses of Power is an offshoot of the classic Masters of the Universe franchise. Originally introduced as He-Man's twin sister, the title character is the alter ego of Princess Adora. She's an epic fantasy hero with a talking unicorn and an indestructible Sword of Protection. The new show teams her up with a supporting cast of other princesses.
Here's everything else we know about Netflix's She-Ra reboot.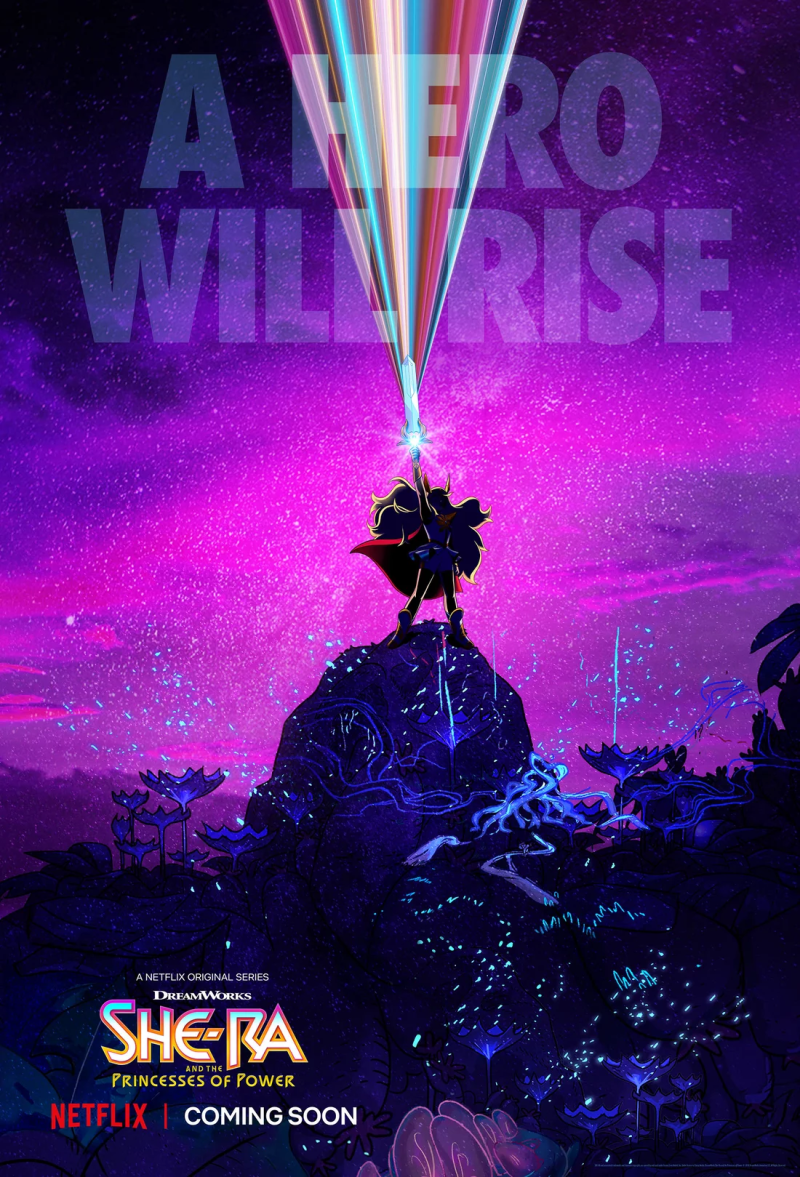 Netflix's She-Ra plot
The San Diego Comic-Con issue of Entertainment Weekly revealed She-Ra's costume on July 16, which is a cute twist on the original. She wears white and gold armor and a red cape, with shorts under her skirt in a possible homage to the sword-dueling anime Revolutionary Girl Utena.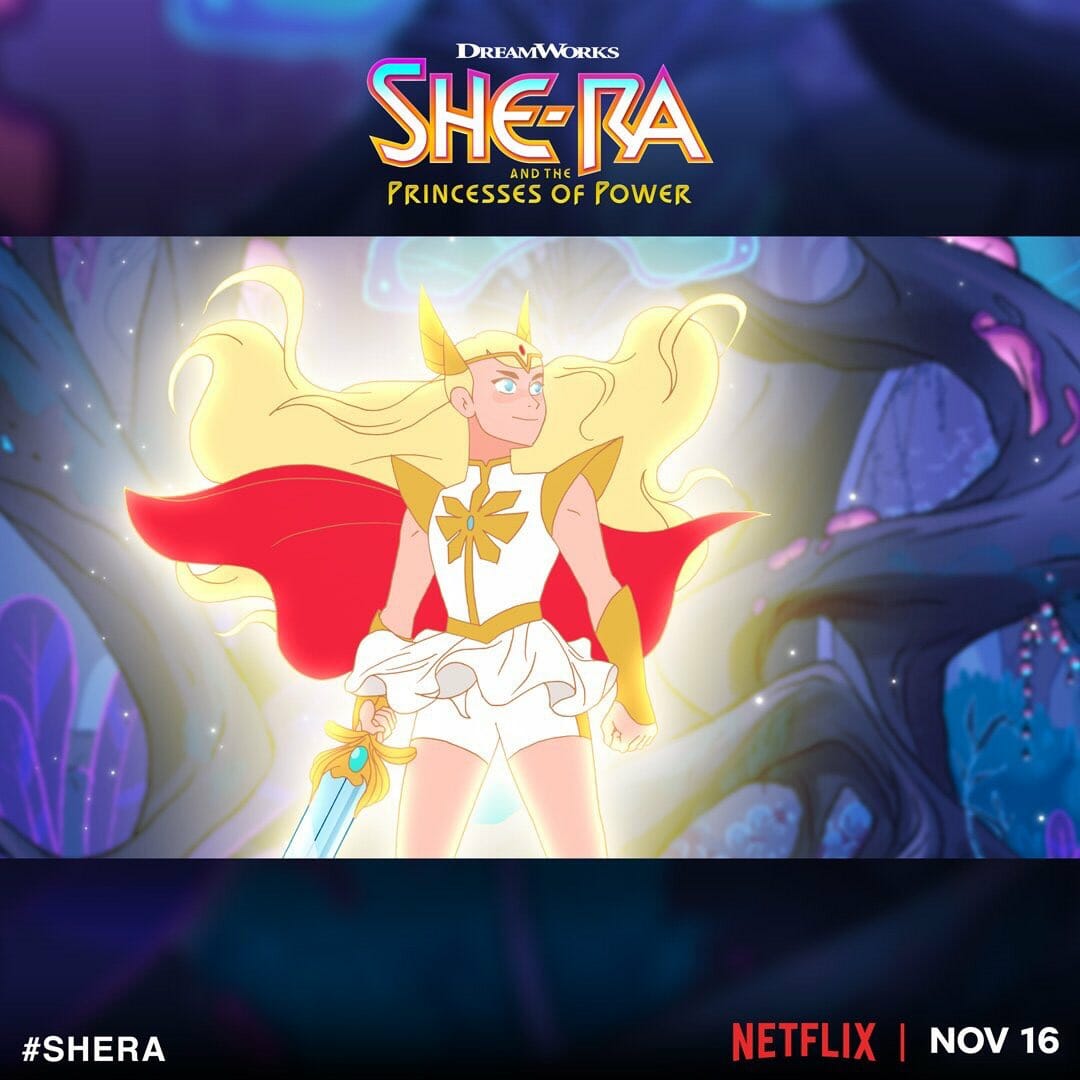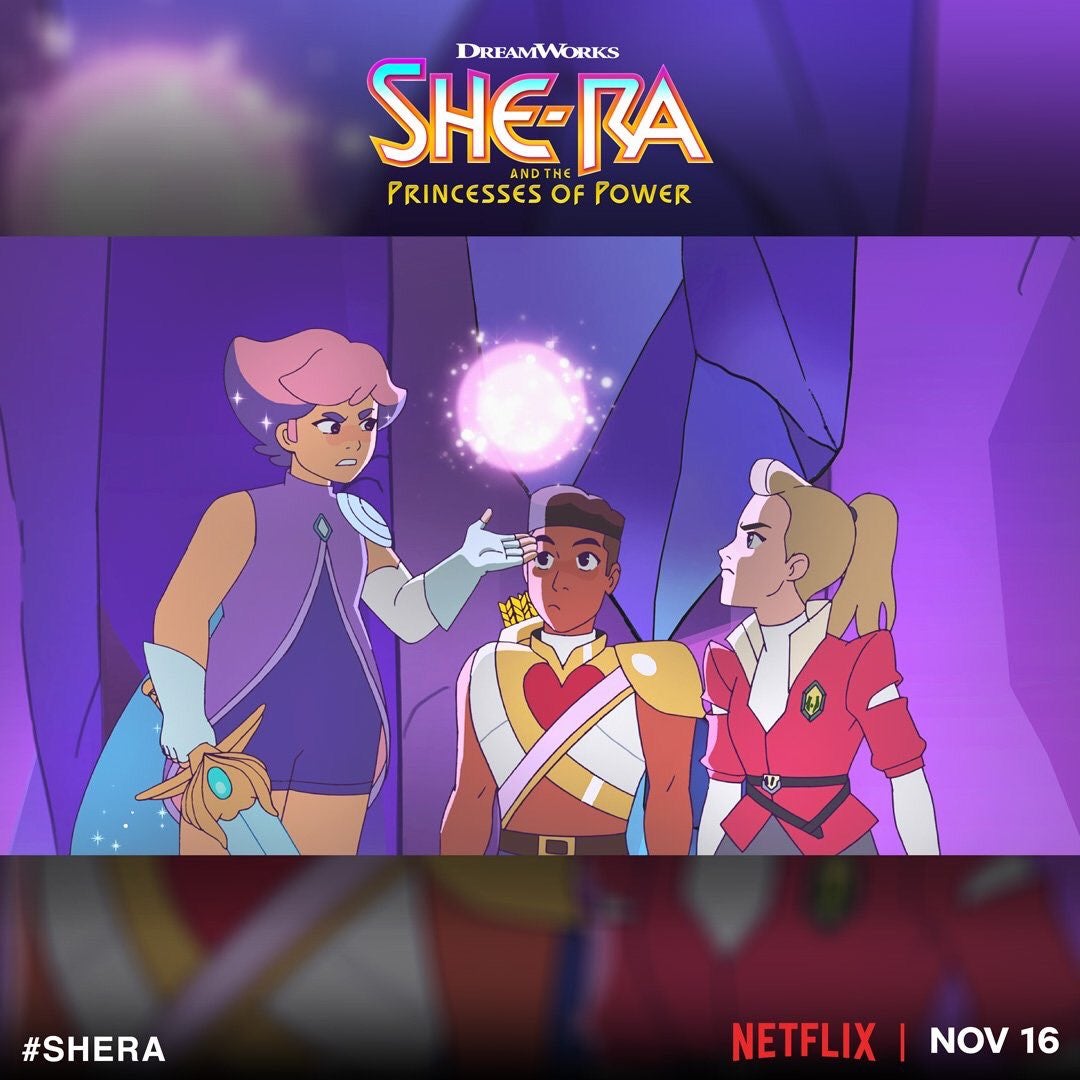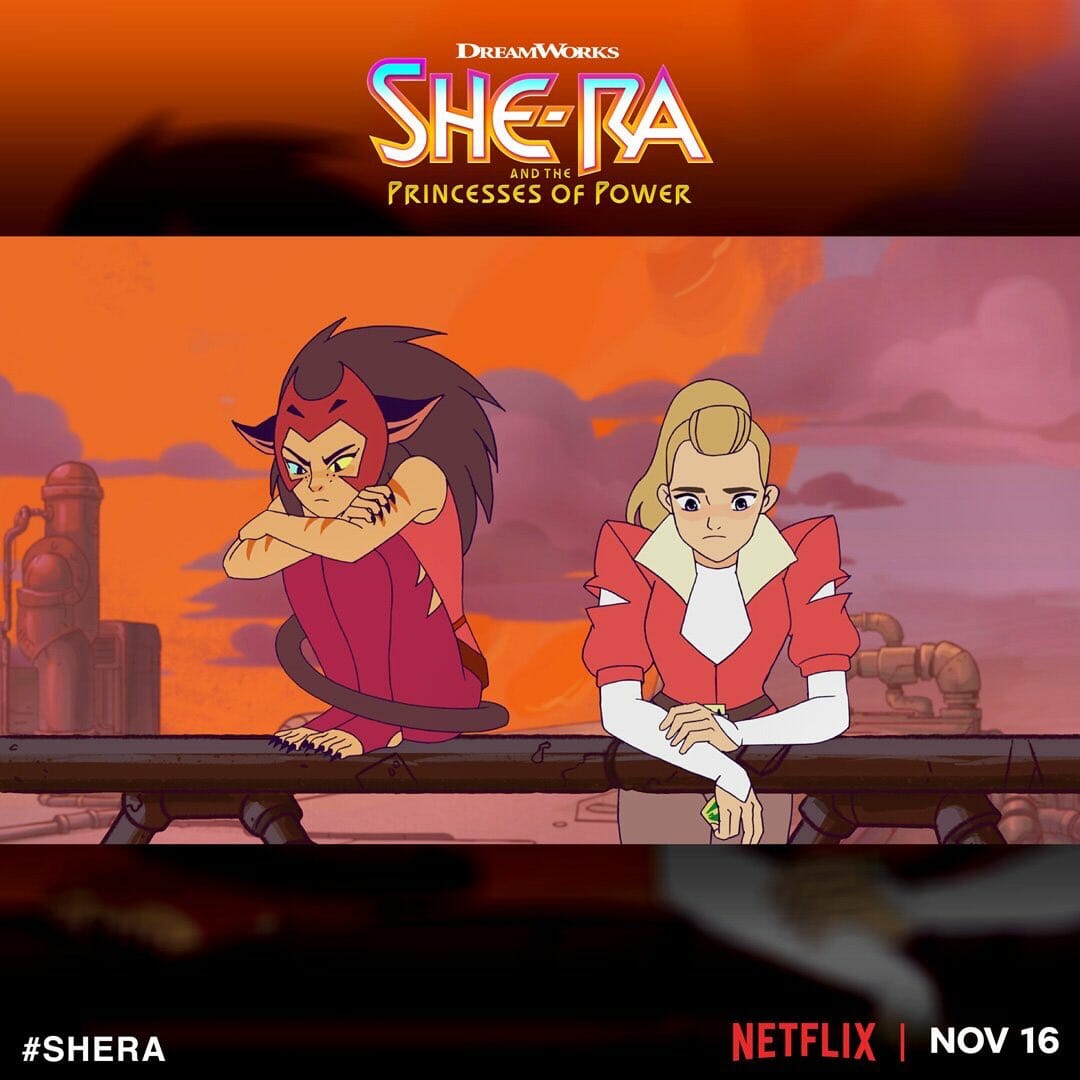 You can see photos from the magazine here, but you may be better off with this semi-official fanart from Rae Geiger, a member of She-Ra's character design team.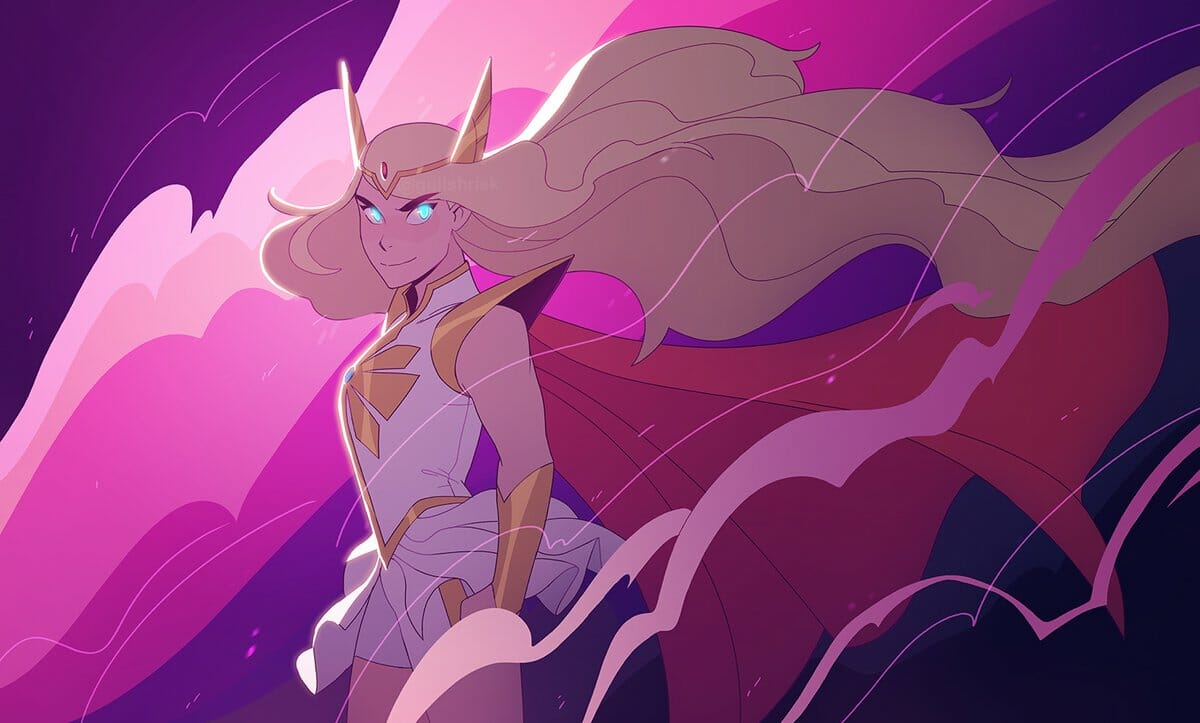 Speaking to Entertainment Weekly, Stevenson celebrated She-Ra's feminist credentials. "I was always looking for the female characters in sci-fi and fantasy who were more than just the girlfriend," she said. "I love the female characters in She–Ra. There isn't another show quite like it." The original series combined cheesily sincere fantasy adventures with an aesthetic that appealed to pre-teen girls.
To put She-Ra front and center, the reboot will introduce her as an orphan. It reimagines her origin story, where she and her twin brother were separated at birth. While He-Man grew up as the prince of Eternia, Adora suffered a terrible fate. Kidnapped by the evil Hordak, she became a member of his mind-controlled horde. From the official Netflix synopsis:
She-Ra and the Princesses of Power is the story of an orphan named Adora, who leaves behind her former life in the evil Horde when she discovers a magic sword that transforms her into the mythical warrior princess She-Ra. Along the way, she finds a new family in the Rebellion as she unites a group of magical princesses in the ultimate fight against evil.
Netflix's She-Ra cast
Aimee Carrero (Elena of Avalor) will star as Adora. The voice cast also includes Sandra Oh as the sorceress Castaspella, and Orange Is the New Black's Lorrain Toussaint as the evil Shadow Weaver.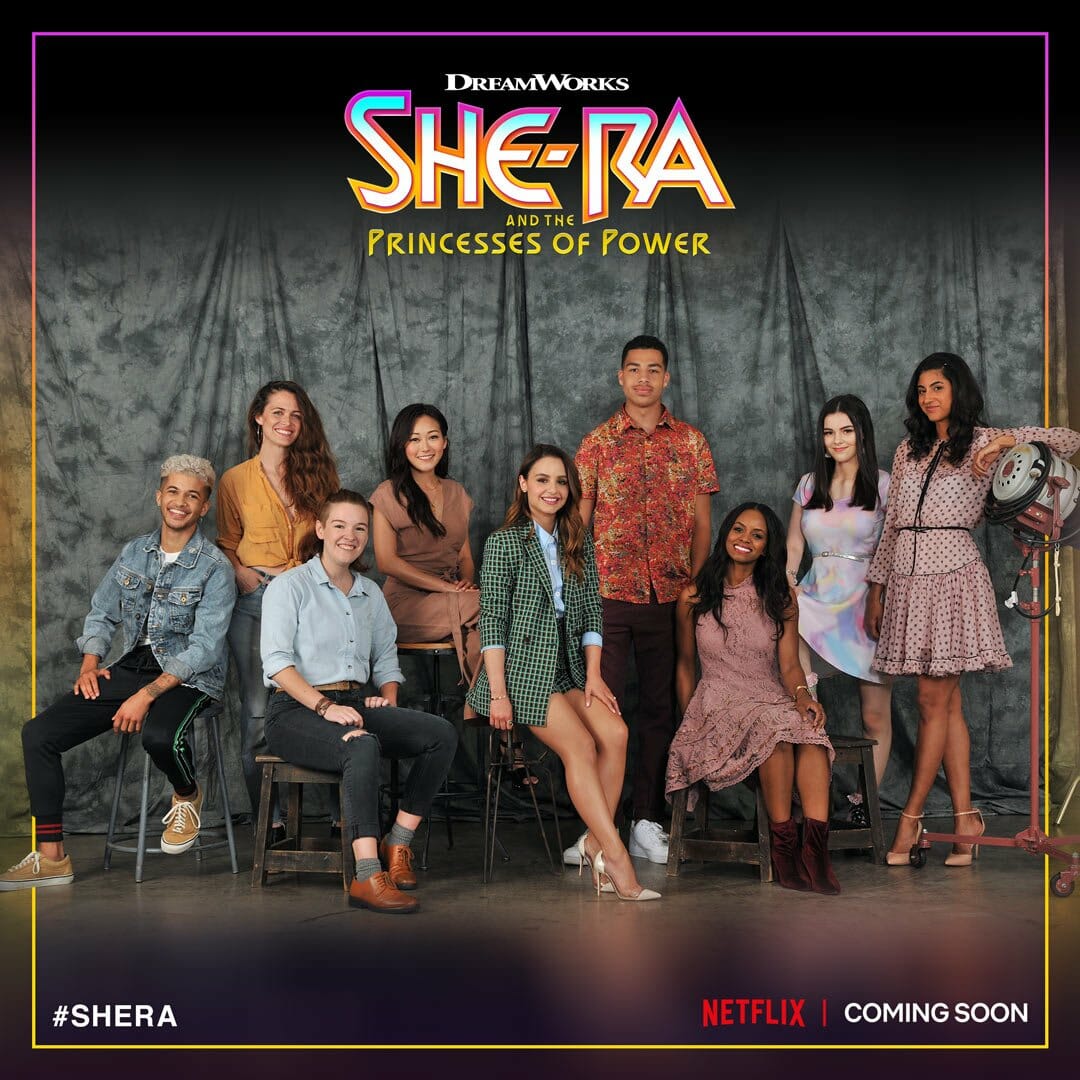 From left to right, this photo shows the rest of the supporting cast. Jordan Fisher (Seahawk), Christine Woods (Entrapta), showrunner Noelle Stevenson, Karen Fukuhara (Glimmer), Aimee Carrero (Alora), Marcus Scribner (Bow), Krystal Joy Brown (Netossa), Merit Leighton (Frosta), and Vella Lovell (Mermista).
READ MORE:
Netflix She-Ra trailer
The first full-length trailer for Netflix's She-Ra dropped on Oct. 4. The trailer shows a teenage Adora from the planet Etheria coming to terms with her alter-ego identity as a Princess of Power.
Per an official description: "As the legendary warrior princess, She-Ra, it's up to her and a spirited group of rebel princesses to restore balance in Etheria by defending it from the place she once called home."
An initial teaser trailer from September was definitely more teaser than trailer, offering some audio clips and a Magical Girl transformation sequence for She-Ra but no real scenes from the show.
Will you answer the call? #DreamWorksSheRa pic.twitter.com/HxrKozYxdc

— She-Ra and the Princesses of Power (@DreamWorksSheRa) September 10, 2018
To jog your memory of the franchise, here's She-Ra's vintage 1985 opening credits. Will the new show feature the same theme music? We're expecting to hear a modern cover of the original.
READ MORE:
Netflix She-Ra release date
The first season of She-Ra and the Princesses of Power will debut on Netflix Nov. 13, three days earlier than the original premiere date of Nov. 16.
The show will air in 23-minute episodes. It's produced by Dreamworks Animated Television, whose other Netflix shows include Voltron: Legendary Defender and Guillermo del Toro's Trollhunters.
She-Ra hasn't released any clips or character designs yet, but the poster suggests a retro-infused neon fantasy aesthetic. It will be interesting to see how older fans handle the reboot. Masters of the Universe commands a lot of nostalgic affection, a phenomenon that recently landed the ThunderCats reboot in hot water. A cadre of ThunderCats fans objected to the new show's "childish" style (yes, it's a show for children), and remain vocally mad about it online. While She-Ra probably won't go for that kind of Steven Universe style, it will obviously make some changes.
Regardless of She-Ra's critical response or popularity with new viewers, it's likely to face some kind of backlash, particularly since it's a female-led show with a female showrunner. Such is the state of internet fandom in 2018. But if you're not an embittered fan from the 1980s, you have plenty of reason to be optimistic. The showrunner's previous work suggests she's an ideal choice to reboot She-Ra, embracing genre-savvy fantasy (Nimona) and a longtime love of the original series. Plus, it's hard to go wrong with a magic sword and a cast of superhero princesses.
Still not sure what to watch tonight? Here are our guides for the absolute best movies on Netflix, must-see Netflix original series, documentaries, docuseries, and movies.
Looking for something more specific? Here are our Netflix guides for the best war movies, documentaries, anime, indie flicks, true crime, food shows, rom-coms, LGBT movies, alien movies, gangster movies, Westerns, film noir, and movies based on true stories streaming right now. There are also sad movies guaranteed to make you cry, weird movies to melt your brain, old movies when you need something classic, and standup specials when you really need to laugh. Or check out Flixable, a search engine for Netflix.
Editor's note: This article is regularly updated for relevance.