Halle Berry says that Drake asked her permission to use a photo of Berry covered in slime for his new single with SZA, "Slime You Out"—and when she didn't give it to him, he did it anyway.
Last week, Drake released an album cover for "Slime You Out" on his Instagram account by posting an image of Berry from the 2012 Nickelodeon Kids' Choice Awards in the immediate aftermath of having slime dumped on her head. The photo, taken by photographer Christopher Polk, shows Berry having a visceral reaction to the slime covering much of her face.
In Drake's cover for the single, the only thing added was a parental advisory warning.
However, there's at least one person who didn't like it: Berry herself.
On Saturday, Berry posted a text image about being the bigger person and moving on from something.
"Sometimes you have to be the bigger guy…even if you're a woman!" she wrote while tagging the musician beabadoobee.
Many interpreted it as a vague and cryptic comment toward Drake's use of Berry's slime photo for the album cover of his new single, which Berry confirmed when directly asked her thoughts on him using it in the comments. According to Berry, Drake asked her permission to use the photo, but she said no.
"didn't get my permission," she replied. "That's not cool I thought better of him !"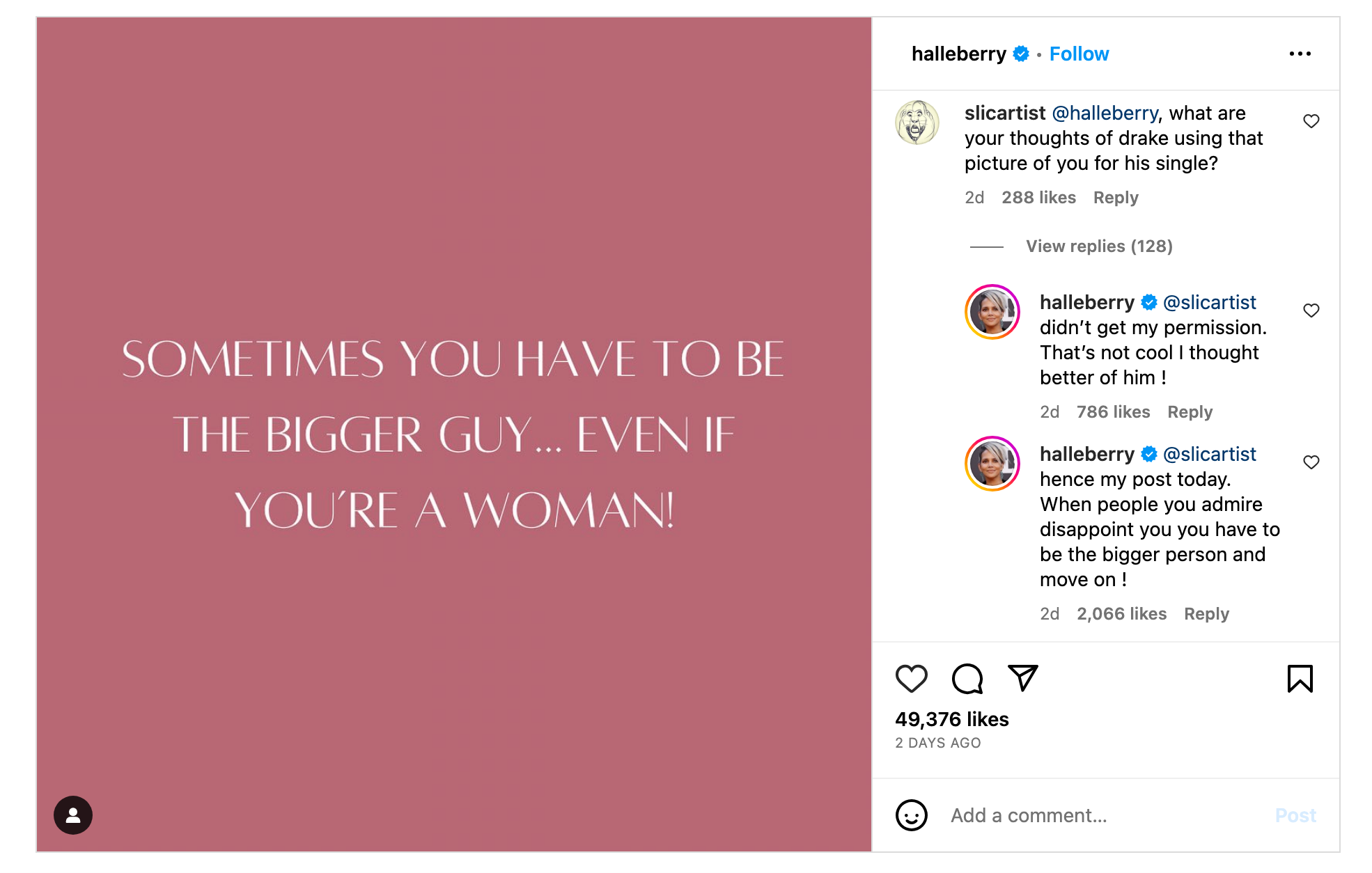 Other commenters were confused about what she had to be mad about because she didn't own the copyright to the photo. For Berry, it was the principle of the thing.
"Cuz he asked me and i said NO that's why," she wrote. "Why ask if you intend to do what you want to do ! That was the f*uck you to me. Not cool You get it? ❤️"
Many of Berry's fans took her side when arguing that she had every right to be upset about Drake using the photo without her permission.
"If Halle Berry was mad at me, I would simply perish," Heben Nigatu wrote.
But the internet's wrath on Berry's behalf grew even more when one user, in a now-ratioed tweet, suggested that Berry should be grateful for the "free clout" that Drake gave her by featuring her photo on the cover. They not only posted pictures of Berry holding her Oscar and her numerous accolades over the decades, but they also pointed to her long and storied career in Hollywood, one that spans nearly Drake's entire life.
In the end, even with the controversy brewing over the album cover image, it's not the one associated with "Slime You Out" on music streamers. If you look up the song on apps like Spotify or Apple Music, it uses the same album cover as Drake's upcoming album, For All the Dogs, which was illustrated by Drake's son Adonis, instead.


We crawl the web so you don't have to.
Sign up for the Daily Dot newsletter to get the best and worst of the internet in your inbox every day.