Back in the '80s, four senior ladies sharing a house in Miami stole our hearts. The women of Golden Girls have brightened our living rooms with their friendship ever since. 
While the show was primarily a sitcom, Golden Girls certainly wasn't a "show about nothing." It tackled tough subjects, like same-sex marriage, elder care, homelessness, HIV/AIDS discrimination, and even assisted suicide—all while dishing out countless classic sitcom moments, not to mention one of the best theme songs in television history.
Golden Girls was packed with comedy heavyweights with sage-like wit and serious character acting chops.  You had Rose Nylund (Betty White), the Midwestern widow who's a bit simple, but always has a funny story in her pocket for any occasion. Blanche Elizabeth Devereaux (Rue McClanahan), a pretentious Southern belle who leads the pack when it comes to the number of gentleman callers. Dorothy Zbornakher (Bea Arthur), the unofficial matriarch of the house, and Arthur's most memorable role since Maude. Then there's Sophia Petrillo (Estelle Getty), who is the hardest little lady you'll ever meet and the source of countless laughs. 
Here's everything you need to know to watch Golden Girls online for free, along with information about the cast and the series.
How to watch Golden Girls for free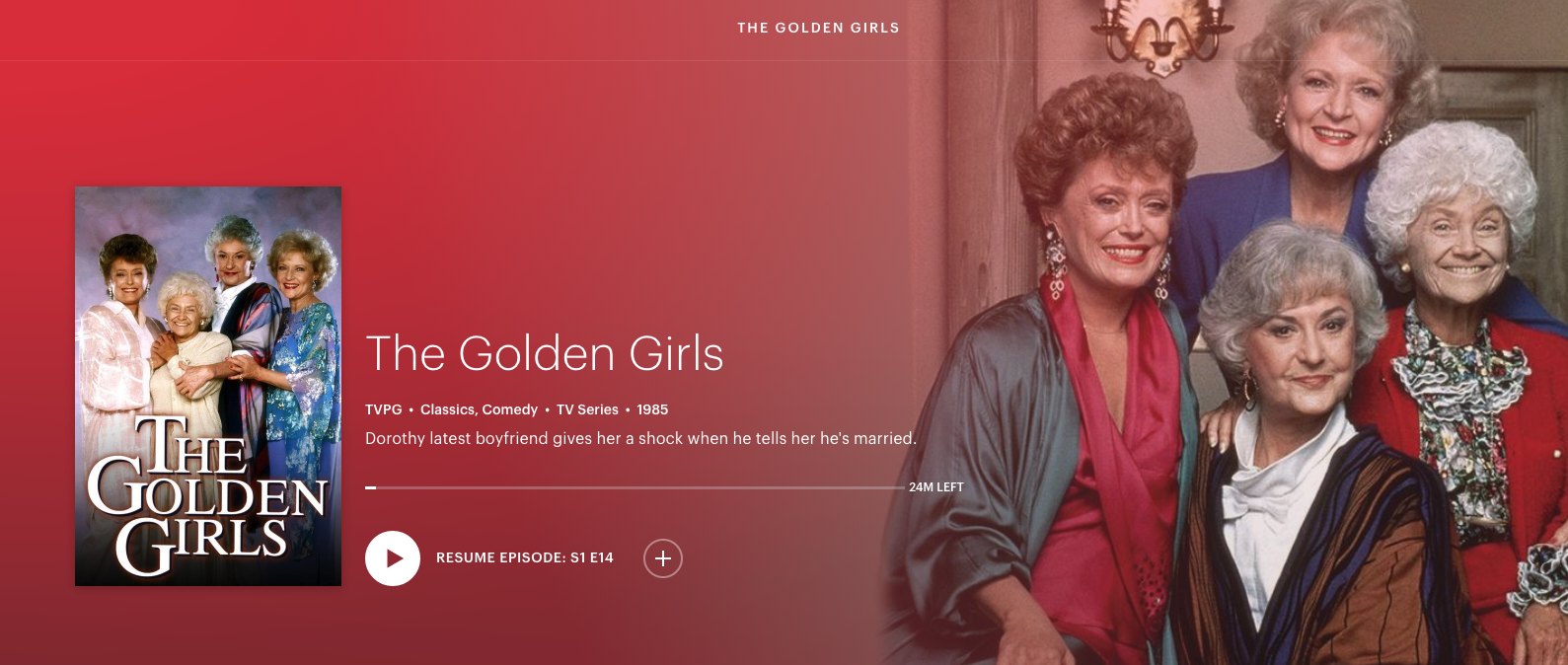 Cost:

$5.99 per month

(after a 7-day free trial)

Hulu devices:

Roku, Apple TV, Google Chromecast, Amazon Fire Stick and Fire TV, Xbox One, Xbox 360, Nintendo Switch, and iOS and Android devices
If you want to watch episodes of Golden Girls in one place, there's no better option than Hulu. The streaming service, which just slashed the cost of its ad-supported version to a mere $5.99 per month, offers all of the Golden Girls episodes on-demand. In fact, when it comes to classic sitcoms, you can't beat Hulu, which also offers Seinfeld, Cheers, and plenty more. You can also upgrade to Hulu No Commercials for $11.99 per month. Plus, since you get a week-long free trial before you have to spend a penny, it's a great place to watch Golden Girls for free. You can watch the entire series in a little under 70 hours, so feel free to have a binge. You can also upgrade to Hulu with Live TV, which costs $44.99 per month and comes with ESPN, ESPN2, the CW, HGTV, TNT, and CNN—not to mention complimentary access to Hulu's back-catalog. 
---
How to live stream full episodes of Golden Girls  for free
Golden Girls has been in syndication for nearly three decades now, and it's available on many channels, both locally and on cable. But Hallmark Channel airs Golden Girls every weekday, which means you'll want to make sure you have it accounted for. Hallmark Channel is available on a handful of the major live TV streaming services. When trying to decide which one is best for you, you'll want to weigh the cost, the other channels you'll receive, and the compatible devices for streaming. Thankfully, no matter which service you pick, you'll start with a one-week trial, so you can watch Golden Girls for free.

Sling TV offers two basic cable packages, Sling Orange and Sling Blue, both of which cost $25 per month. If you grab them both (Sling Orange + Blue) you can save $10 per month. Sling Blue offers more bang for your buck with over 40 channels, including sports necessities like FS1, NBCSN, and NFL Network. You'll also gain access to the usual cable mainstays like Food Network, Discovery, Cartoon Network, SYFY, and FXX. To gain access to Hallmark Channel, you'll need to pay an additional $5 per month for the Lifestyle Extra collection, which you can add to any of the packages described above, but the Sling Orange version also includes Hallmark Movies & Mysteries, Hallmark Drama, and Lifetime Movies. (Here's the complete guide to Sling TV channels and our Sling TV review.)
---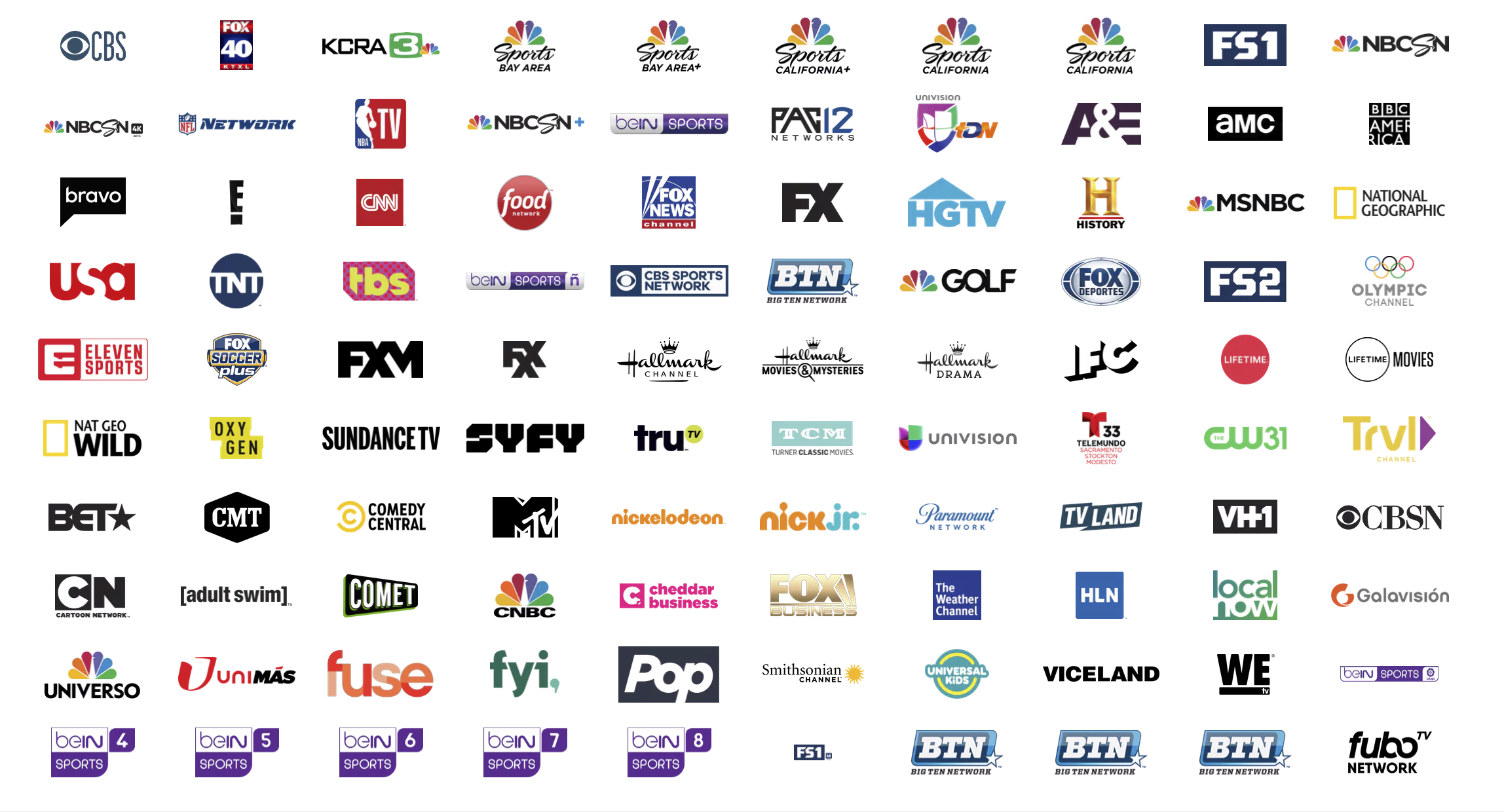 FuboTV was built from the ground up with sports fans in mind. There are different channel packages available whether you're looking for basketball, soccer, golf, and even outdoor sports like rock climbing. But no worries, all the great cable channels you're after are present too, including Viceland, Bravo, TBS, and IFC. More importantly, you'll get Hallmark Channel, Hallmark Movies & Mysteries, and Hallmark Drama, along with the History Channel, USA, BBC America, and plenty more. (Here's the complete FuboTV channels list and our comprehensive FuboTV review.)
---

Philo is the least expensive streaming service, but it has some limitations. You won't find the sports channels that dominate other packages or local channels. However, it's the cheapest way to gain access to Hallmark Channel at only $16 a month. You will also find the best deal on popular channels like Animal Planet, IFC, AMC, Lifetime, and even deep cuts like ID. You also get free cloud DVR, but shows recorded are deleted after 30 days, so binge responsibly.
---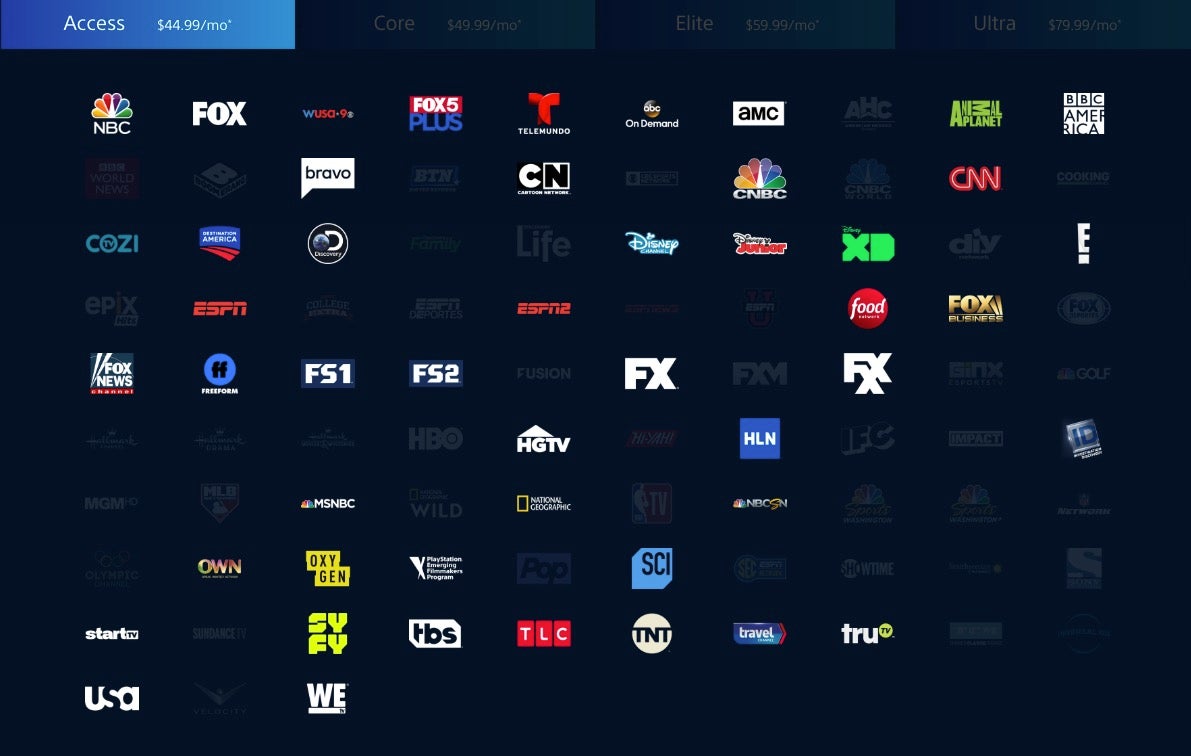 Don't worry: You don't need a PS4 to enjoy this service. You can also use a Roku, Amazon Fire devices, and even Kodi. Plus, you'll get awesome channels like AMC, BBC America, and Bravo in PlayStation Vue's entry-level package. To get Hallmark Channel, you'll need to upgrade to the Core package, which costs $49.99 per month and adds Big Ten Network, CBS Sports Network, NBC Golf, and NFL Network to the mix.One subscription works with up to five devices, all with unlimited cloud DVR storage, which makes it one of the most binge-friendly solutions. (Here are all of PlayStation Vue channels.)
---
How to watch Golden Girls episodes

Cost:

$1.99/episode, $14.99-19.99/season

Devices: 

Amazon Fire Stick, Fire TV, Fire tablets, and Fire phone; Roku, Google TV, TiVo, Nvidia Shield, PlayStation 3 and 4, Xbox One, Nintendo Wii
This is by far the costliest option, but you have the permanence of owning the shows. Every episode of Golden Girls seasons 1-7 is available for purchase à la carte from Amazon Video. Single episodes are available for $1.99 while entire seasons range from $14.99-$19.99.
---

Golden Girls cast
Beatrice Arthur as Dorothy Zbornak 
Betty White as Rose Nylund 
Rue McClanahan as Blanche Elizabeth (Marie) Devereaux 
Estelle Getty as Sophia Petrillo
Are the Golden Girls still alive?
Sadly, as of May 2019, Betty White is the only member of Golden Girls still with us. Estelle Getty died in 2008, followed by Bea Arthur in 2009, and Rue McClanahan in 2010.
On what channel did Golden Girls originally air?
Golden Girls aired on NBC from 1985-1992.
How many seasons of Golden Girls were there?
Golden Girls ran for seven seasons, which consisted of 180 episodes. The show ran from 1985-1992.
The Daily Dot may receive a payment in connection with purchases of products or services featured in this article. Click here to learn more.