The main selling point of Netflix's The Old Guard is the image of Charlize Theron wielding a battle-ax. An appealing prospect, let down by an otherwise downbeat tone. Theron stars as Andy, leading an elite squad of immortal warriors played by a startlingly acclaimed cast. Kiki Layne (luminous in If Beale Street Could Talk) is the rookie of the team, a U.S. marine called Nile. The other three are played by actors known for their work in international indie dramas: Marwan Kenzari (Wolf), Luca Marinelli (Martin Eden), and Matthias Schoenaerts (Rust and Bone). Then we have Chiwetel Ejiofor in a supporting role, and Harry Melling (who you may recognize as Dudley Dursley from the Harry Potter franchise) as the villain. Most of these actors are wildly overqualified for a film whose dramatic scenes feel like they were written by an action movie generator.
The Old Guard

RELEASE DATE:
July 10, 2020
DIRECTOR:
Gina Prince-Bythewood
STREAMING:
Netflix
Charlize Theron and Kiki Layne star as immortal warriors in this forgettable action thriller, featuring decent combat scenes but threadbare storytelling.
I recently read an interview where Mel Brooks and Carl Reiner described their love of a very specific subgenre: mediocre action movies where someone inevitably yells "Secure the perimeter!" These films often star someone famous, but in the pre-Netflix era, they were the kind of thing you found in the DVD bargain bin. The Old Guard is one such film, requiring minimal attention to enjoy the well-choreographed fight scenes, sandwiched between less-engaging moments of flimsy plot and emotional development.
Directed by Gina Prince-Bythewood (Love and Basketball) and written by Greg Rucka (who co-created the original comic with Leandro Fernandez), The Old Guard is light on characterization and worldbuilding. This would be easier to forgive if it embraced a silly, high-octane tone like the Fast and Furious franchise. Instead we get lots of scenes where Andy is sad because she's lonely and immortal, or Nile is pissed off because she's been press-ganged into a superpowered hit squad. (Fair! At least in the marine corps, you get paid!) The team's modus operandi is also kind of hard to swallow, because none of them seem exactly happy to spend centuries living off-grid in order to hunt Bad Guys, repeatedly getting shot or stabbed in the process.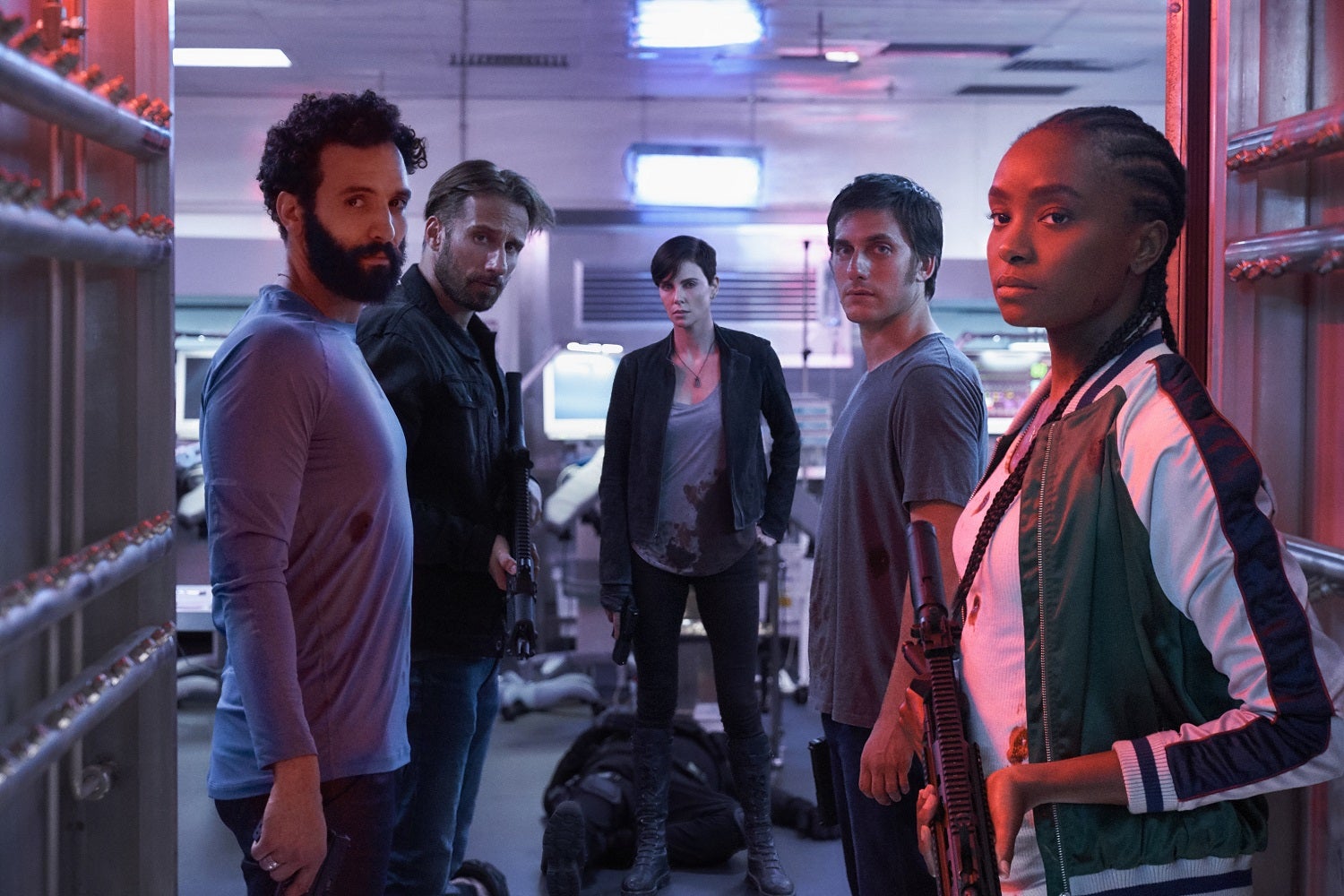 You have to wonder why the Old Guard squad decided this was the best way to use their immortality. Like, couldn't they be the world's toughest firefighters? Couldn't they focus on saving people from natural disasters, or plugging holes in faulty nuclear power plants? But that wouldn't make for such an easily-assembled action flick, so instead we get various fight sequences where people in grey T-shirts murder each other. In fairness, Theron is very good at this: an accomplished action star after Mad Max: Fury Road, Atomic Blonde and The Fate of the Furious. Her close-combat scenes are thoroughly satisfying, combining elegance and competence while avoiding too much realistic gore.
Netflix seems to be prioritizing this kind of film right now: Extraction, Spenser Confidential, Triple Frontier, Point Blank. None of these movies are exactly "good," which almost seems to be the point. They're easily accessible, they star familiar actors, and you can watch them with your brain switched off. The Old Guard diversifies the genre somewhat, starring a white woman as the grizzled old leader, a Black woman as the rookie co-protagonist, and featuring a gay couple among the main team—directed by a woman of color. It's honestly encouraging to see this happen in a genre dominated by actors like Mark Wahlberg and Bruce Willis, because you know what? All sorts of people enjoy these movies, not just middle-aged white men.
Not that The Old Guard is making any great strides in politically progressive filmmaking, of course. Like so many American action films, it's based on a thoughtlessly colonialist concept where a team of military heroes massacre faceless goons amid a backdrop of poverty and war in the Global South.
Nile is introduced as the friendly face of the U.S. marines in Afghanistan, offering candy to children and protecting flinching Muslim women (who don't receive names or meaningful dialogue) from terrorists. The African and Middle Eastern locations are exoticized by the dusty crowd scenes and much-criticized yellow color filters that Hollywood often uses for so-called Third World countries. Then when we go to France or England, it's all picturesque landscapes and gleaming tower blocks. As for the fantasy elements, writer Greg Rucka barely delves into the experience of these characters living for hundreds of years – some surprisingly shallow storytelling, considering how long he must have worked on the comic and screenplay. But perhaps this doesn't even matter. If you just want to watch Charlize Theron and Kiki Layne obliterate some villains in a tough, non-sexualized manner, The Old Guard delivers.
The Old Guard comes out on Netflix on July 10.
Daily Dot Netflix Guides
---
Best Movies on Netflix
---
Best Shows on Netflix
---
---