This review includes no major spoilers for Daredevil season 3.
Since the concept of an "objective review" is a nonsense myth, I'll happily admit to being biased about Daredevil. Specifically, I'm biased in favor of Wilson Fisk. Three seasons in, Vincent D'Onofrio's monologuing crime boss is infinitely more watchable than Matt Murdock, no matter how good Charlie Cox is at looking handsomely tragic while sporting a head wound.
Continuing on from the lackluster Defenders miniseries, Matt is missing and presumed dead by his friends Foggy and Karen. Nursed back to health by the nuns who raised him as an orphan, he's at his lowest ebb. Although really, "lowest ebb" is par for the course for Daredevil. His longterm character arc is more like a repetitive downward spiral, propelled by guilt and a self-destructive savior complex. That's a perfectly coherent motive to become a vigilante, but it's not very entertaining when you're on season 3 of relentless misery. That's part of why I'm so glad to see Wilson Fisk return: He's fun.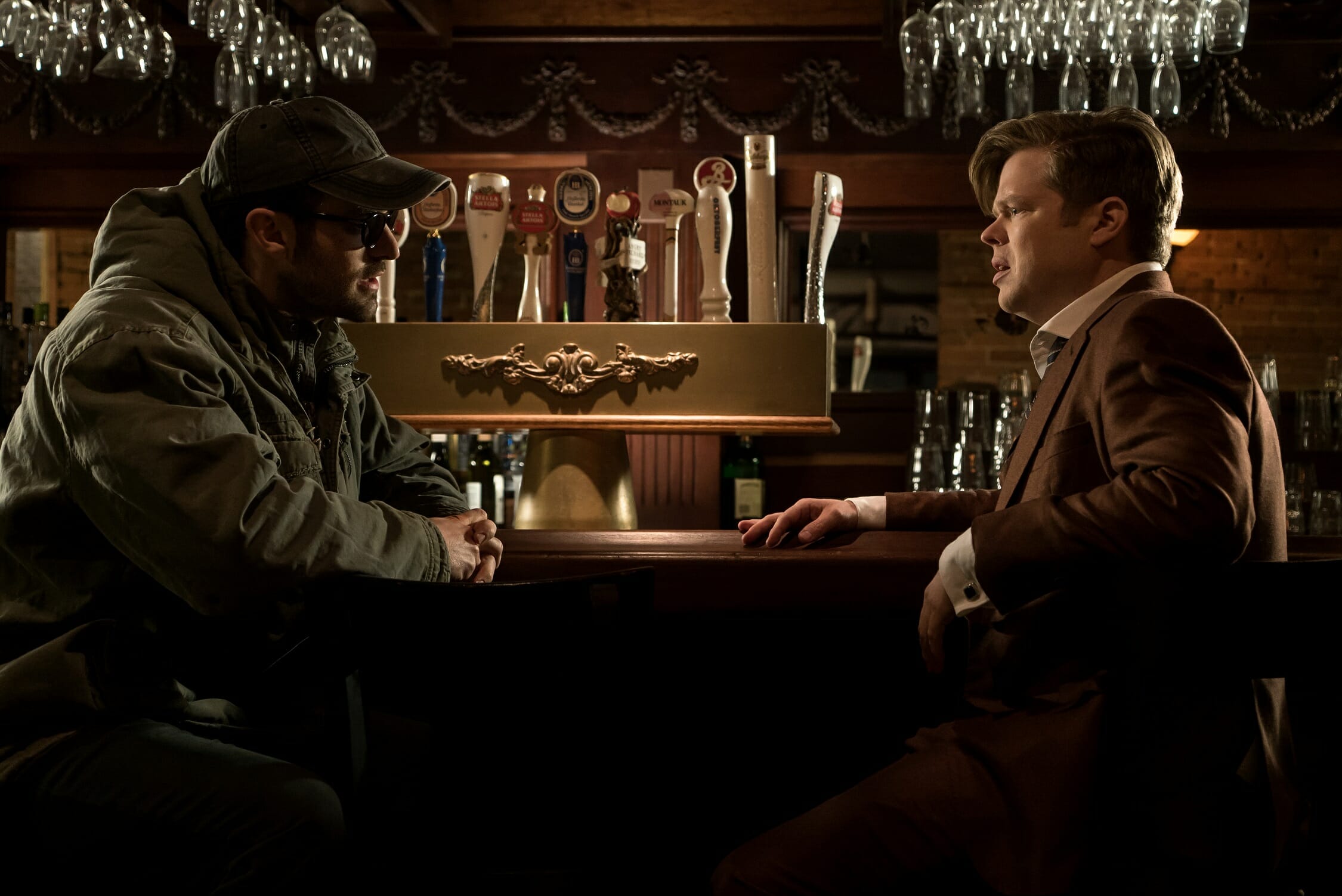 In another of Daredevil's not-so-subtle nods to Hannibal, Fisk is now manipulating Hell's Kitchen politics from inside FBI custody. Previously content to bide his time in jail, he's newly motivated by threats aimed at his wife Vanessa—currently hiding overseas. Their relationship was a highlight of season 1, a tender romance that showed a softer side to Fisk's ruthless nature. And herein lies the most frustrating element of season 3: In the episodes made available for review, Vanessa never appears onscreen. She's simply used as a reason for Fisk's comeback.
READ MORE:
It's a clumsy misuse of one of Daredevil's best female characters—a short list now that Elektra is out of the picture. Deborah Ann Woll brings another intense performance as newspaper reporter Karen Page, with near-equal angst and screentime to Daredevil himself, but it's annoying to see the show resort to stock characters elsewhere: two banal Concerned Wife roles in the supporting cast, and one forgettable woman whose only job is to be stalked by a second-tier villain.
Daredevil season 3 delivers more of the same
As Marvel's flagship show, Daredevil now feels like the basic template behind the later, more interesting spinoffs. It also hasn't evolved much since season 1. It's still dominated by workmanlike scenes where lawyers and FBI agents explain the plot to each other. The directors still inexplicably shoot everything in the dark, often obscuring the excellent fight choreography. And thanks to the show's obsession with organized crime and print journalism, it still feels like it should be set in the Taxi Driver New York of the 1970s.
Essentially, Daredevil remains very Daredevil, without correcting its earlier flaws. The strengths remain the same—those heart-pounding long-form action sequences continue to impress—but as someone who watches every Netflix/Marvel series, I wish Daredevil would take more creative risks. Season 3's marketing campaign leans heavily into Matt's Catholic faith, but in practice, this just means some longwinded debates from Bible Study 101. (Honestly, I'd love to see Daredevil adopt more of the gothic religiosity of its own marketing materials.) Even the new antagonist, Bullseye, feels like a retread of Nuke's toxic masculinity in Jessica Jones.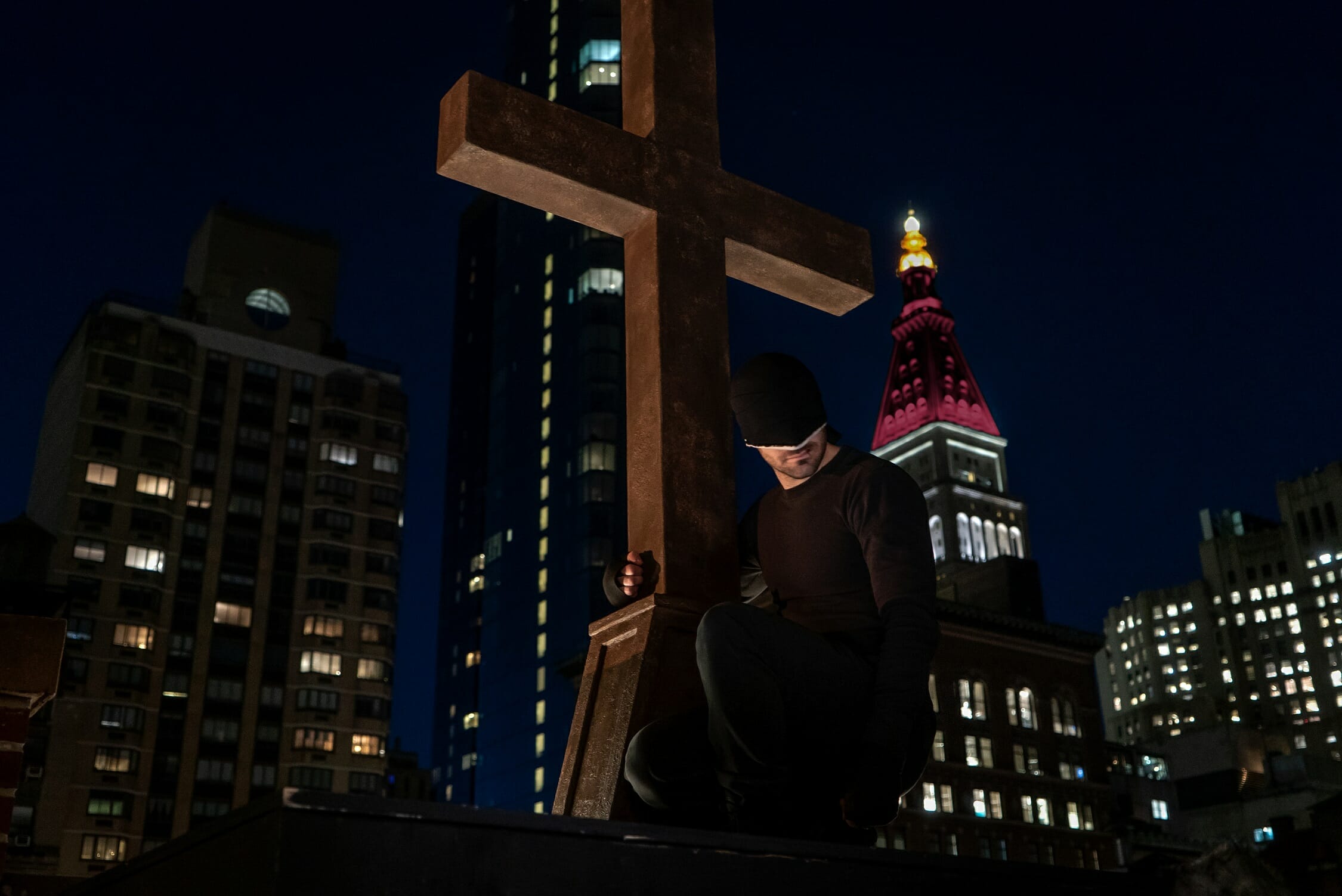 I'd be more inclined to overlook these gripes if Daredevil weren't so humorless. It's one thing for Matt Murdock to be (understandably) stressed and miserable, but it's another for the whole show to be gloomy. It buys into the idea that serious, gritty stories can't have jokes (which is obviously false, as Daredevil's creators should know, because they clearly watched Hannibal). Erik Oleson (Arrow) is the showrunner this season, with input from the original creator Drew Goddard, but there's no sign of the self-aware humor Goddard displayed when writing Buffy or The Martian. They even manage to sidestep some genuinely absurd moments that ought to be played for laughs. One scene involves the dramatic use of a neti pot (an intrinsically hilarious prop!), played completely straight; it's a crime against comedy.
READ MORE:
And then there's Fisk, whose booming speeches bring joy to my heart and often seem to exist in a completely different show. In one episode he responds to a simple, impersonal question with a three-minute monologue about how "love is a prison," inching toward supervillain self-parody. Yet the show never hints that this pompousness might be funny (which it is!), because of course we have to take Wilson Fisk very seriously. Never mind the fact that you can both be impressed by Fisk's brutality and laugh when he delivers a needlessly intense speech to a baffled goon. Right from the start, his appeal stems from that combination of fearsome power and awkward pathos.
With a new showrunner each season, Daredevil has less personality than Marvel's more acclaimed Netflix shows, Luke Cage and Jessica Jones. Defined by its thrilling fight scenes and competent-but-unmemorable crime storytelling, it's stuck in a rut. So as Marvel continues to expand into TV, it's hard to see how Daredevil can be essential viewing for anyone except dedicated fans.
Still not sure what to watch tonight? Here are our guides for the absolute best movies on Netflix, must-see Netflix original series, documentaries, docuseries, and movies.
Looking for something more specific? Here are our Netflix guides for the best war movies, documentaries, anime, indie flicks, true crime, food shows, rom-coms, LGBT movies, alien movies, gangster movies, Westerns, film noir, and movies based on true stories streaming right now. There are also sad movies guaranteed to make you cry, weird movies to melt your brain, old movies when you need something classic, and standup specials when you really need to laugh. Or check out Flixable, a search engine for Netflix.