We are in the era of Dabo Sweeney, and Clemson has now been established as the town the ACC runs through. Who can challenge these guys?
Clemson's most recent rival was Mark Richt's Miami, a school now rebuilding under first-time head coach Manny Diaz. With Florida State weakened, can the Syracuse Orange stand in the way of Dabo's fifth-straight ACC title? Or will another program emerge?
Here are 10 ACC football games that will determine how this season plays out—and what you need to know about streaming them.
A word about ACC Network
As of late August 2019, the ACC Network is live and available to cord-cutting sports fans—just as the college football season kicks off. Like streaming networks from the other power conferences, ACC Network offers conference games and in-house programming.
If you have a cable subscription or if your live TV package includes ESPN, you can use your login credentials to watch college football games on ESPN (not to be confused with ESPN+, the network's new standalone app). You can either download the app or just click the Watch tab on the main ESPN site. The best ACC games will be shown on ESPN, ESPN2, and ESPNU.
The ACC Network has deals with Dish, Spectrum, DirecTV, and Verizon Fios, as well as the live TV services below.
How to stream ACC football

Sling TV provides two base channel package options, each priced at $25 per month. Sling Orange includes three ESPN channels, while Sling Blue includes sports channels like NFL Network, FS1 and FS2, NBCSN, and local channels. If you're Team "Why Not Both," Sling Orange + Blue combines the two for just $40 per month. Sports Extra: Sling Blue ($10 per month) also includes NFL RedZone.
ACC Network is available in two of Sling TV's packages: the $25-per-month Sling Orange (seen below) and $40-per-month Sling Orange + Blue, which has everything below and quite a few more cable sports channels. (You can see a full list of Sling TV channels here.) The best part of this introductory package is that it contains ESPN, ESPN2, and ESPN3, the latter of which is actually quite difficult to find in online TV packages. You'll be grateful for it too because a lot of ACC football games end up on the channel.
How to use AirTV with Sling
AirTV solves one of the Sling's biggest problems: The inability to receive all of your local channels. By purchasing a basic AirTV for $79.99 or the AirTV Player for $119.99, you can merge those local channels into your Sling TV, (or on your mobile device if you have the basic AirTV). As the Daily Dot wrote in its AirTV review, "it's practically magic."
The basic AirTV is a dual-tuner streaming device, while the AirTV Player is basically an upgraded Chromecast that has Netflix preinstalled. You'll still need to own an HD antenna because even though AirTV gets you access to your local channels, it doesn't actually physically show them to you.
But AirTV—which has no monthly fee—serves to strengthen one of Sling's biggest weaknesses compared to other live streaming services like Hulu with Live TV, YouTube TV, and PlayStation Vue. All those services have plenty of local channels.
---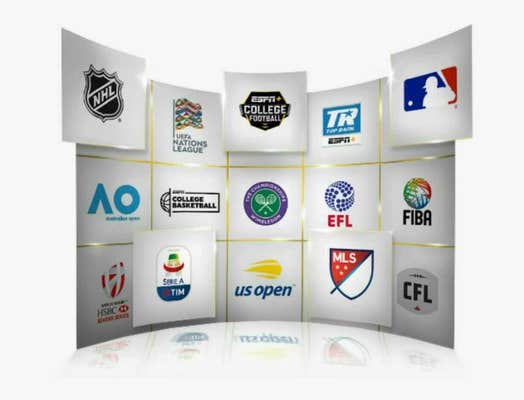 Cost: $4.99 per month or $49.99 for 12 months
Devices: Chromecast, Amazon Fire Stick and Fire TV, Apple TV, Android TV, Roku players and TV, Oculus Go, Xbox One, PlayStation 4, Samsung smart TVs, and iOS and Android devices
ESPN+ is a subscription service that extends ESPN's existing website and app, and it's essential for soccer fans, in particular, carrying all MLS matches not on ESPN or FS1, as well as Serie A+, USL, Copa America, and FA Cup matches. It encompasses other sporting events as well, including 20 exclusive UFC Fight Night events per year, 180 NHL games, at least one MLB game a day for every day of the season, and a cornucopia of college sports.
ESPN+ also features the network's sports talk programming, and it features original series starting with the entire 30 for 30 catalog ESPN made its name on. It also unlocks more content and fewer ads on the ESPN site.
---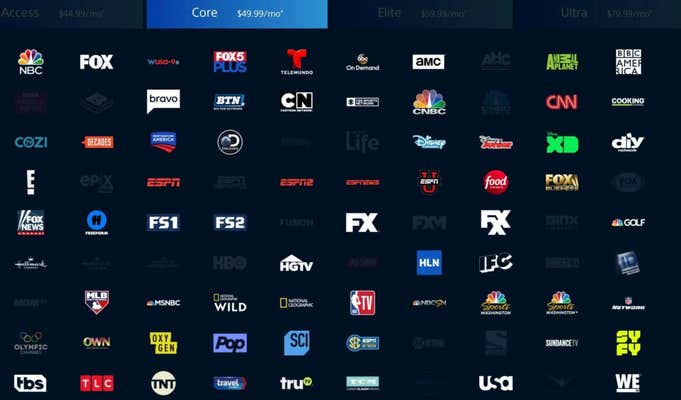 PlayStation Vue is a fantastic option for soccer fans who already own a PlayStation console, but this streaming platform is available on a variety of devices. ESPN and FS1 are part of the Core package of channels, and the options increase at the Elite and Ultra levels.
---

Cost: $44.99 per month (after a 7-day free trial)
Hulu devices:

Roku, Apple TV, Google Chromecast, Amazon Fire Stick and Fire TV, Xbox One, Xbox 360, Nintendo Switch, and iOS and Android devices

Hulu local channels:

ABC, CBS, F

ox, NBC, the CW (check your

local availability here

)
Hulu with Live TV includes sports programming among its offerings, including ESPN and FS1, and as a subscriber to the service, you'll get free access to Hulu's sizable on-demand library. (Check out the full list of Hulu Live TV channels.)
---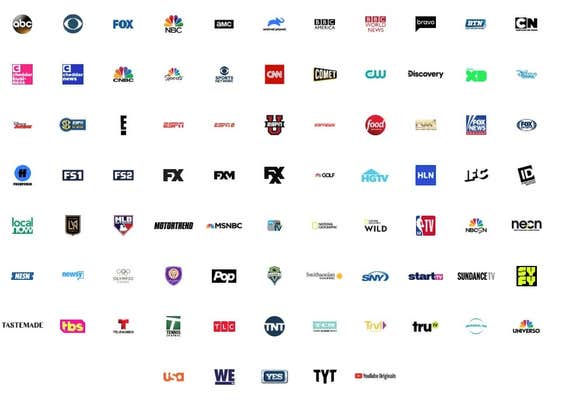 YouTube TV is a great option for college football fans, including ESPN and FS1. (Take a look at the full list of YouTube TV channels here.)
---
ACC football 2019: 10 can't-miss games
1) Just a reminder: (No. 8) Florida beat Miami 24-21 on Aug. 24
Manny Diaz got his career off to a rocky start in Orlando, with his quarterback Jarren Williams being sacked 10 times. Florida has an elite defensive line, but the Gators haven't enjoyed 10 sacks in a game in more than a century. The Canes' QB battle is solved for now, but they have more pressing questions, like how to not have 14 penalties for 118 yards. 
2) (No. 12) Texas A&M at (No. 1) Clemson, Sept. 7, 3:30pm ET | ABC
Clemson's first major test comes in Week 2, as the Tigers host former Florida State coach Jimbo Fisher and the Aggies. If Clemson doesn't run the table, its "best" loss would be against a talented SEC program. But don't count on it: Clemson has won 11 consecutive games by 20 points or more.
3) (No. 1) Clemson at (No. 22) Syracuse, Sept. 14, 7:30pm ET | ABC
The biggest road hurdle in the ACC this year, Clemson's trip up to Syracuse comes just a week after the Texas A&M game. This two-game stretch will be pivotal for Clemson's season; two wins could put them in the driving seat already. 
4) Virginia Tech at Miami, Oct. 5 | TBD
Formerly one of the conference's best rivalries, Virginia Tech and Miami will be battling it out for good ol' fashioned bragging rights. There are scenarios where this game could mean a lot; and then there is reality. 
5) Florida State at (No. 1) Clemson, Oct. 12 | TBD
Florida State is still rebuilding from the Jimbo era, so while a win in Clemson is unlikely, if FSU wins it would be a jolt of adrenaline to the season. This is FSU's best shot to be nationally relevant in 2019.
6) Miami at FSU, Nov. 2 | TBD
Twenty years ago this was supposed to be our yearly ACC championship matchup, right? Miami in the ACC certainly hasn't been a success, but the opportunity to beat an in-state rival is the ACC's best perk for the Canes. 
7) Va Tech at (No. 9) Notre Dame, Nov. 2, 2:30pm ET | NBC
Notre Dame's halfway football affiliation with the ACC has always been confounding, but this win would be a great resume boost for the Fighting Irish's CFP bid. Would Notre Dame getting to the playoff be a win for the ACC? I know what the other schools would say. 
8) (No. 1) Clemson at South Carolina, Nov. 30 | TBD
Clemson's final test is a trip to Sout Caroline, and those living in Clemson know how much a win in this game means. It's not as eternal as a national championship, but a year of relentless banter is no small prize.
9) (No. 3) Georgia at Georgia Tech, Nov. 30 | TBD
Georgia Tech hosts Georgia and will try to spoil the Bulldogs season yet again, but this time the Yellow Jackets won't be running their infamous triple option. It's currently August, so they may change back to their old ways if Tech has a bad start, but this edition of Clean, Old-Fashioned Hate should have actual quarterbacks on both teams. How 'bout that!
10) FSU at (No. 8) Florida, Nov. 30 | TBD
Having already beat Miami, Florida will make sure there are no slip-ups against a relatively weak Seminole squad. These three Florida schools don't all play every year, so the Gators will be under a lot of pressure to go 2-0 in-state.
READ MORE:
The Daily Dot may receive a payment in connection with purchases of products or services featured in this article. Click here to learn more.