When Disney purchased Lucasfilm a few years back, some fans viewed the move with trepidation. But Star Wars has not only thrived, it's rejuvenated a fandom while simultaneously bringing in a new generation of fans. And like everyone else, they're impatiently awaited the next installment.
Star Wars: The Last Jedi news
On May 23, Vanity Fair debuted four different covers with the cast of The Last Jedi to celebrate 40 years of Star Wars. The covers feature Rey and Luke Skywalker on Ahch-To, group shots of the First Order and the Resistance, and one of General Leia Organa.
Leading up to @StarWars's 40th anniversary, Vanity Fair introduces the next chapter in its saga: #TheLastJedi https://t.co/jLLif1n8L4 pic.twitter.com/41Yb5GVMES

— VANITY FAIR (@VanityFair) May 23, 2017
The covers have a few hints about the characters and give us a look at Captain Phasma (Gwendoline Christie) without her helmet, Kylo Ren's scar, and Kelly Marie Tran, whose character was revealed at Star Wars Celebration in April. According to Vanity Fair, Tran's Resistance maintenance worker is the "new character with the most screen time in Episode VIII" and she now has a full name: Rose Tico.
The Resistance cover also features Finn, who's no longer comatose, and Poe Dameron, who's debuting a new outfit that noticeably resembles the one worn by Han Solo in Empire Strikes Back, although it's too soon to tell if it's another Resistance uniform or more of an homage.
Vanity Fair's cover story on The Last Jedi revealed even more details about the film. Fans got their first look at Laura Dern's character, Vice Admiral Amilyn Holdo, and the "shifty" character that Benicio del Toro will portray, who's only being referred to as "DJ" for now.
Among the new tidbits is that Finn and Rose will go to Canto Bight, a casino full of wealthy inhabitants that director Rian Johnson described as "a playground for rich assholes."
Lucasfilm confirmed that, as far as marketing goes, the blue lightsaber that once belonged to Anakin and Luke Skywalker now belongs to Rey. Lightsaber ownership is usually determined by the Jedi who built the lightsaber, but the blue lightsaber called to Rey in The Force Awakens. What's less clear is whether the lightsaber believes it's hers or senses that it'll return to Luke, according to Lucasfilm's Pablo Hidalgo.
What won't be explored just yet is whether Finn is Force-sensitive, which some fans expected after Finn was able to hold his own to an extent in a duel against Kylo Ren. Finn's new weapon for The Last Jedi will be more on the traditional side. John Boyega posted an Instagram video May 28 featuring Finn's new weapon in The Last Jedi.
Given the Star Wars release schedule, we'll be getting new films for the foreseeable future. Nearly two years after being introduced to The Force Awakens, we'll finally be able to pick up the main story, which ended on something of a speechless cliffhanger.
Like Rey, we're all waiting for the next move with baited breath.
But what's next? Fans have waited for more than a year until Episode VIII, and Lucasfilm has been mum on details, which is pretty standard. With Rogue One now released, Lucasfilm can gear up for the next film in the series.
Following the film's first big junket on Dec. 3, the Star Wars press tour is now in full swing. That means plenty of cool moments like Laura Dern hanging out with BB-8, along with more details from behind the scenes. In this new video, you can see how the cast trained for their physically demanding combat sequences. As you might expect, Adam Driver is the most intense actor during fight training. While Daisy Ridley and the others are definitely giving it their all, Driver looks like he's actually trying to kill the stuntmen.
In an interview with Jimmy Kimmel, Rian Johnson revealed a not-so-Earth-shattering secret about The Last Jedi's script. Apparently, the first word in the film is "We're."
Star Wars: The Last Jedi release date
Star Wars films in the "Skywalker saga"—the name used by Lucasfilm to differentiate episodic titles from spinoffs like Rogue One and the Han Solo movie—are usually referred to numerically at first. The title isn't announced until closer to the release date. The Force Awakens debuted as the film completed production, but Lucasfilm waited until after Rogue One's release to reveal the name of Episode VIII: The Last Jedi.
Johnson made it official the following day after adding the title to the film's opening crawl, a staple of the main Star Wars.
The Last Jedi is set to be released Dec. 15, 2017, after its initial date was pushed back from May 2017. The date adjustment basically guarantees that Star Wars becomes an annual holiday tradition.
The Last Jedi is 152 minutes long, making it the longest Star Wars movie to date.
Star Wars: The Last Jedi cast
The majority of the cast that we saw in The Force Awakens will return for The Last Jedi. We saw Mark Hamill and Daisy Ridley in the production announcement video, but we'll see numerous familiar faces in the film. That includes John Boyega (Finn), Oscar Isaac (Poe Dameron), Adam Driver (Kylo Ren), Lupita Nyong'o (Maz Kanata), Domhnall Gleeson (General Hux), Gwendoline Christie (Captain Phasma), Anthony Daniels (C-3PO), and Andy Serkis (Supreme Leader Snoke).
We'll also see Carrie Fisher, who completed filming prior to her death and is reported to have a major role in The Last Jedi. Disney CEO Bob Iger made a point of clarifying Fisher's performance wouldn't be tweaked with CGI in the wake of her death.
"When we bought Lucasfilm, we were going to make three films—Episodes VII, VIII and IX," said Iger, according to the Hollywood Reporter. "We had to deal tragedy at the end of 2016. Carrie appears throughout VIII. We are not changing VIII to deal with her passing. Her performance remains as it is in VIII. In Rogue One, we had some digital character. We are not doing that with Carrie."
While initially excluded from the official announcement, Peter Mayhew is returning as Chewbacca (although he had help in The Force Awakens).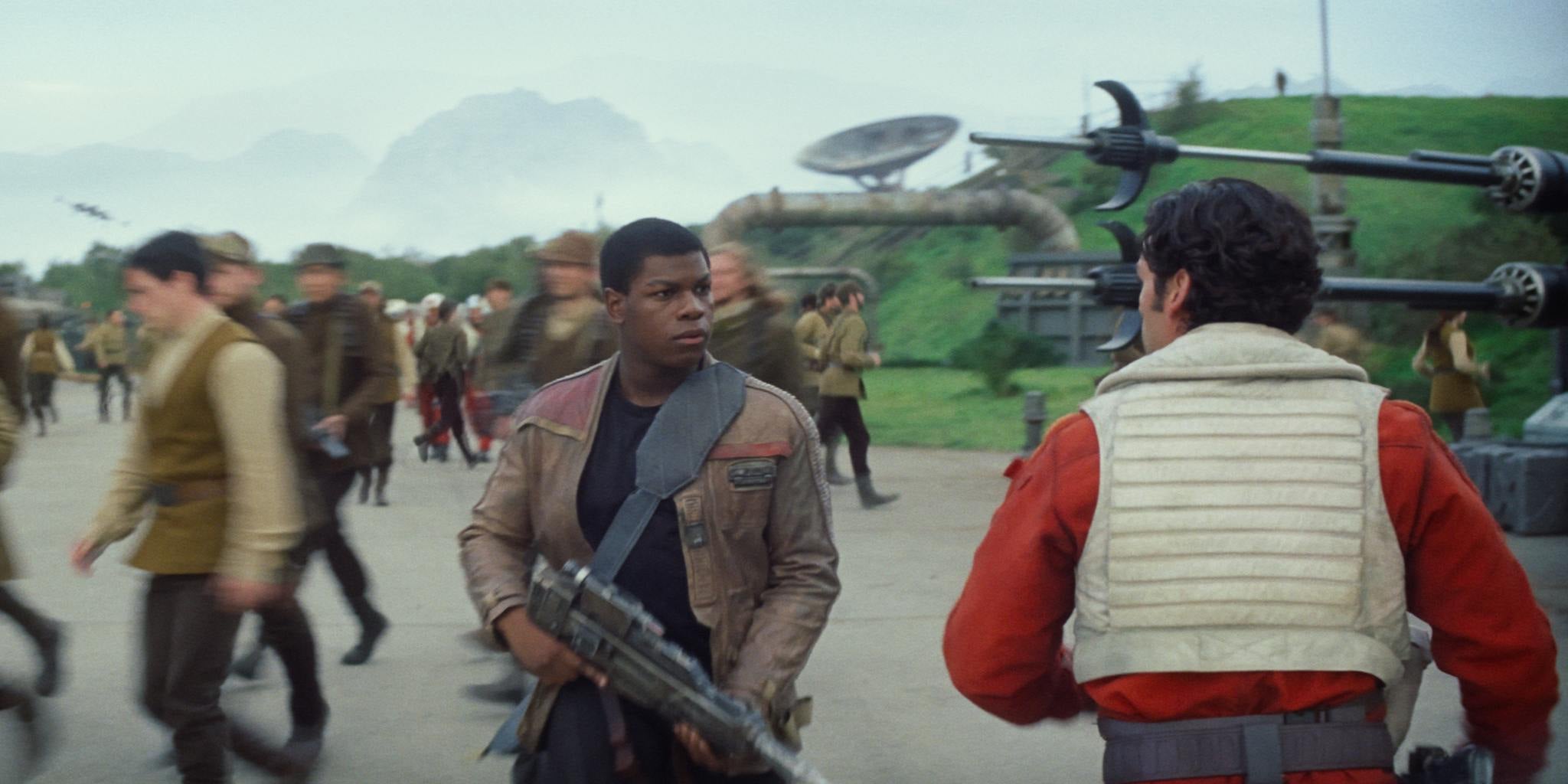 Benicio Del Toro, Laura Dern, and newcomer Kelly Marie Tran are the only confirmed new members of the cast. While not much is known about their roles right now, Del Toro is rumored to play a villain. Gugu Mbatha-Raw was reported to have joined the cast in a leading role in 2015, but Lucasfilm has yet to confirm it.
Director Rian Johnson revealed on Sept. 11 that Joseph Gordon-Levitt has a voiceover role in The Last Jedi. This marks their fourth collaboration since Levitt starred in Johnson's debut feature film, Brick. He's reportedly voicing an alien, but it's likely to be a subtle cameo like Daniel Craig's stormtrooper role in The Force Awakens.
READ MORE:

Star Wars: The Last Jedi rumors
The Force Awakens was filled with cameos, and chances are we could see (or hear) some big names of people who want to be in a Star Wars film cast in minor or unrecognizable roles. While we won't know most of them until after the movie hits theaters, Tom Hardy is already rumored to play a stormtrooper. When asked about the rumor Hardy responded, "I don't know if I can even say that. Where did you hear that?" He remained coy, calling the internet "a glorious web of deceit and misinformation."
Star Wars: The Last Jedi trailer
Lucasfilm released a teaser trailer for The Last Jedi on April 14 at Star Wars Celebration.
Lucasfilm released a full trailer for Star Wars: The Last Jedi during Monday Night Football in early October, and fans have been rewatching it ever since.
READ MORE:
The Last Jedi theory: Who is the Last Jedi?
Once fans learned that the title of Episode VIII was The Last Jedi, many of them already started to theorize with what little information they had. The Force Awakens was fairly open-ended, but The Last Jedi sounds like it will refer to either one person or a few people—because, as Star Wars grammar nerds are apt to remind us, "Jedi" is both singular and plural.
Luke Skywalker is the obvious choice, given that he's already a Jedi. But could it be Rey as well—or Rey on her own if something happens to Luke. Others have thrown out Kylo Ren, who was training under Luke before turning to the dark side of the Force; Finn, who some believe is Force-sensitive; or a collective group of Jedi. (Some have even joked it's secret Sith Lord Jar Jar Binks.)
One person who definitely won't tell you who the last Jedi is? Ridley herself.
The Last Jedi theory: Who are Rey's parents?
Although we've been left with the lingering question of Rey's parentage and many other mysteries for more than a year, we're still no closer to learning just who they are. The only thing we do know is that Rogue One ruled out Jyn Erso completely.
Luke, Han, and Leia have all been suggested as potential (and possibly secret) parental candidates for a variety of reasons. She's Force-sensitive like the Skywalker siblings, Han and Leia were the main confirmed couple going into the new trilogy (and they did have a son together), and fans floated the idea that she may have been a young padawan when Kylo Ren killed the next generation of Jedi under Luke's tutelage. Some even think she might be Obi-Wan Kenobi's granddaughter, but it's unclear who Rey's parents or her grandmother would be.
At a shareholders meeting on March 8, Disney revealed a preview clip of the movie that could include Luke's first words to Rey. The potential spoiler gives fans plenty to chew on when it comes to speculating about Luke and Rey's possible connections.
Whoever Rey's parents are, it looks like we'll find out in The Last Jedi, according to Ridley.
"We will see in a year," Ridley told Vulture after being asked if Rey was a Kenobi. "Just sit tight on that question."
And with one question down, we'll be able to focus on many more once the speculation for Episode IX begins.
Star Wars: The Last Jedi review
Star Wars: The Last Jedi debuted to mixed reviews—so mixed, the contentious rection became a conversation unto itself. Critics loved the daring plot choices made by writer-director Rian Johnson as well as his savvy character building, but some fans balked at Luke's characterization, misplaced jokes, and the lack of deference to nostalgia.
According to the Daily Dot's review: "In the hands of director Rian Johnson, The Last Jedi is dark but easily the funniest Star Wars movie to date, building on familiar themes with a powerfully lovable cast." Read the full review here. 
Editor's note: This article is regularly updated for relevance.