Laura Dern has magenta hair in the next Star Wars movie, and it isn't just a cute fashion choice. According to the Lucasilm Story Group's Pablo Hidalgo, that hair has something to do with her "cultural background."
This vitally important detail was revealed in Vanity Fair' new cover story, introducing The Last Jedi's main characters with a photoshoot by Annie Leibovitz. Laura Dern's role was under wraps until now, but the photoshoot announced her name as Vice Admiral Amilyn Holdo.
Read More: Everything we know so far about The Last Jedi
We also got our first look at Benicio Del Toro, playing a character who can best be described as "extremely Benicio Del Toro." Vanity Fair calls him "shifty," and he's wearing a grungy costume and a hungover expression. The filmmakers refer to him as "DJ," but his real name is still unknown.
https://twitter.com/ComicFade/status/867354322249580544
The gallery mostly consists of (very cool) photos of characters we already know and love, like Leia, Luke, Finn, and Rey. However, it also introduces an intriguing new location from The Last Jedi: the city of Canto Bight, which Rian Johnson described as "a playground for rich assholes." We see an array of glamorous aliens from a Canto Bight casino, giving Queen Amidala a run for her money in the realm of Star Wars fashion.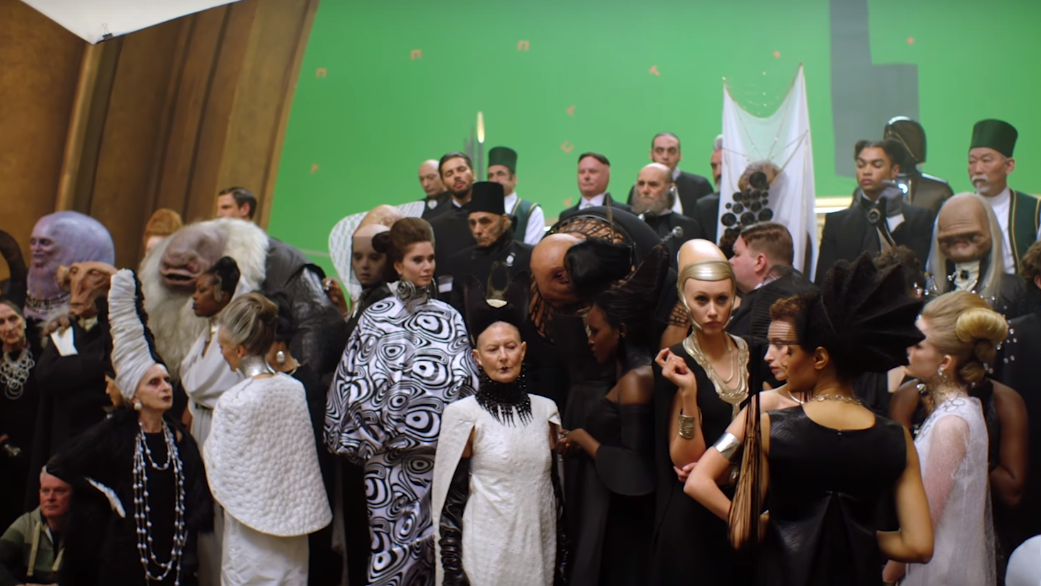 The photoshoot also hints at which characters will appear together in the movie, splitting up the main trio from The Force Awakens. Rey appears alongside Luke Skywalker and Chewbacca, while Poe and Finn are pictured beside Leia and the new lead character Rose Tico (Kelly Marie Tran). The villains Hux, Kylo Ren, and Captain Phasma are obviously pictured together, showing Phasma with her helmet off for the first time, and carrying a retractable spear.
The cover story shares a few more interesting tidbits from the movie, including the fact that Luke Skywalker has been living on Ahch-To with "an indigenous race of caretaker creatures." It's otherwise light on detail about the film's actual content, focusing on behind-the-scenes interviews with cast and crew—including some heartfelt reminiscences about Carrie Fisher.
Vanity Fair's The Last Jedi issue arrives nationally on June 6, with digital editions (including "lightsaber effects," apparently) already available online.