Local Now, an offshoot of the Weather Channel, offers localized news and weather to more than 200 cities across the country. For those who chose streaming, it sometimes comes at the expense of getting local news and weather from network affiliates.
Local Now is an American news and information streaming service which is made to complement whatever streaming service you're using. The complimentary service offers local news and weather for over 100 US cities, as well as lifestyle content like wellness tips and recipes. There's even a growing library of free movies, available to stream on Android, iOS, Roku, and other premier streaming destinations.
Compatible Devices
---
Local Now, as its name suggests, provides up-to-date news, weather, traffic, and sports updates geared to each specific city it serves. In fact, if you watch from the website, it'll prompt you to enter your zip code before you start watching, to make sure you're getting your local news.
There's even a Local Now Plus variant, available with some of the services below, that throw free movies into the mix.
---
Stream Local Now: 9 ways to watch local news and weather online
FuboTV was built from the ground up with sports fans in mind. There are different channel packages available whether you're looking for basketball, soccer, golf, or even outdoor sports like rock climbing. But no worries, all the great cable channels you're after are here too, including Viceland, Bravo, and IFC.
---
---
Hulu Live TV is one of the most popular ways to stream live TV, perhaps because you gain access to a massive library of on-demand content including classic and current TV shows, movies, not to mention Hulu's original programming. As far as live-streaming goes, you'll have a ton of local, entertainment, and sports channels to flip through, including HGTV, a full suite of ESPN channels, Cartoon Network, FX, and even deep cuts like Nat Geographic and Syfy.
---
For a more à la carte service, look to Sling TV. It offers two cable packages, Sling Orange and Sling Blue, each of which costs $35 per month. If you grab them both (Sling Orange + Blue) you can save $10 per month. Sling Blue offers more bang for your buck with over 40 channels, including sports necessities like FS1, NBCSN, and NFL Network. You'll also gain access to the usual cable mainstays like Food Network, Discovery, Cartoon Network, SYFY, and FXX. Whichever package you choose, you can save $10 on your first month. Here's the complete guide to Sling TV channels.
---
YouTube TV is a great solution for families because one subscription can add up to six accounts, and each account comes with unlimited cloud DVR. You can't beat the variety, either: There are sports channels like NBCSN, NBA TV, and four ESPN channels, while Disney, Disney XD, Disney Junior, and Cartoon Network will keep any kid (or kid at heart) busy for hours. It also comes with a few Spanish-language channels like Telemundo and NBC Universo. AMC, BBC America, and IFC are there too, so you won't miss out on all that prestige TV. (You can find the full list of YouTube TV channels here.)
---
---
Amazon Fire TV is Amazon's line of digital media player consoles, which cover whatever your streaming needs may be. Not only are these devices one of the easiest ways to stream Amazon's massive Prime Video library, but it hosts a large number of channel apps including Netflix, Hulu, Disney+, HBO Now, Crackle, Showtime, YouTube, iHeartRadio, and many more. Fire TV comes with an easy-to-use remote complete with voice commands. It's a great first-time cord-cutter's must-have.
---
If you have an Amazon Fire device, you can go to Amazon and order Local Now Plus, which gives you access to select movies as well as the news and weather.
---
Roku may just be the most ubiquitous brand in streaming in large part because it's both user-friendly and its many models satisfy even the tiniest budgets. The quick and easy setup lets you get your stream on right out of the box, simply plug and play. You can build channel profiles based on your watch habits, with apps for everything from Disney+ to Prime Video, and of course, Netflix and Hulu. It works fantastic as a portable grab-and-go device like Roku Express or Roku Ultra or as built-in operating system like Roku-enabled TVs.
---
Google Play is the internet search giant's massive online store which is host to a myriad of applications, software, music, and streaming media. For those on netbooks and Android-powered phones, tablets and streaming devices, it's a universal hub to download streaming channels including Netflix, Prime Video, Disney+, Hulu, and many other popular streaming destinations. Many popular TV shows and films can also be purchased on-demand and streaming across any Google-enabled device.
---
If you have an Android device or a Google device that handles Google Play apps, Local Now Plus is an option. In addition to all the music, TV shows, movies, and audiobooks that Google Plus provides, it's an easy download process to get on the on-ramp to Local News Plus.
---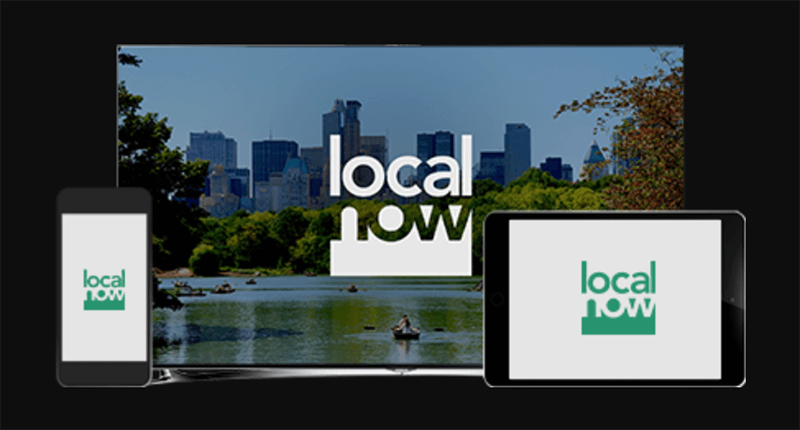 Local Now's also streamable through its website. The site will prompt you for your zip code, so it can take you to the correct option for your local news from more than 200 choices. You can also select other markets to peek in on, which is a great feature if you're traveling and want to get a sense of what awaits you weather-wise and traffic-wise once you get there.
---
The Daily Dot may receive a payment in connection with purchases of products or services featured in this article. Read our Ethics Policy to learn more.