President Donald Trump is known for his prolific use of Twitter—but now his favorite social media platform is beginning to flag and fact-check him.
The Trump Twitter saga kicked into high gear in recent weeks, eventually leading to the president signing a social media executive order that targeted the liability shield afforded to all websites.
Twitter introduced a fact-checking feature in March that flags manipulated multimedia content "if it is likely to cause harm." Twitter also marks tweets that violate their policies, such as glorifying violence, as well.
Trump's Twitter had been excluded from being flagged for violating the company's rules for the first few years of his presidency.
Several of Trump's tweets have now been flagged by Twitter, either for a fact-check or for violating the social media giant's rules. The labels attached to the tweets range from abusive behavior, manipulated media, copyright infringement, and glorifying violence, while others have faced fact-checks.
Here's a list of tweets from the president that have been flagged. The most recently labeled tweets appear first in the list. The Daily Dot will update this list if more tweets have labels attached to them.
Trump Twitter: Tweets from the president that have been flagged
1) Trump permentantly suspended from Twitter
President Donald Trump finally pushed Twitter over the edge in early January, bringing an end to the running list of flagged tweets.
Twitter permanently banned Trump from his favorite app after his supporters forced their way into the Capitol on Jan. 6. The company cited two tweets posted on Jan. 8 during its announcement that the president had been suspended.
"The 75,000,000 great American Patriots who voted for me, AMERICA FIRST, and MAKE AMERICA GREAT AGAIN, will have a GIANT VOICE long into the future. They will not be disrespected or treated unfairly in any way, shape or form!!!" Trump tweeted.
"To all of those who have asked, I will not be going to the Inauguration on January 20th," he then posted after.
Amid the riots at the Capitol, Twitter said that Trump's account was suspended because of "the risk of further incitement of violence."
"Due to the ongoing tensions in the United States, and an uptick in the global conversation in regards to the people who violently stormed the Capitol on January 6, 2021, these two Tweets must be read in the context of broader events in the country and the ways in which the President's statements can be mobilized by different audiences, including to incite violence, as well as in the context of the pattern of behavior from this account in recent weeks," Twitter wrote in the blog post.
After the ban on the @realDonaldTrump account, Trump attempted to send a tweet to his followers on his @POTUS account. That tweet was also immediately removed.
The suspension brought an end to a flurry of flags and labels that Twitter had attached to Trump's tweets.
2) Over a month since Election Day and Trump is still tweeting fraud claims
Since Nov. 17, Twitter has flagged 244 tweets on Trump's account for misleading information regarding the election. It brings Trump's total of election fraud tweets to 357 since the election was originally called for President-elect Joe Biden.
Recent election tweets primarily focus on the president's legal attempts to change the results. His legal team alleges that Republican poll watchers were banned from polling locations, ballot machines were rigged, and votes for Trump were thrown out. Judges, including the Supreme Court, denied the validity behind the lawsuits.
During this post-election saga, Trump has yet to concede the election to Biden.
The Electoral College certified Biden's 306 votes on Monday.
Flagged tweets containing misinformation vary from retweets to his normal Twitter rants. He also posted various news clips from OAN and Newsmax which earned the "disputed information" tag from Twitter. OAN and Newsmax are right-wing news outlets that favor the president.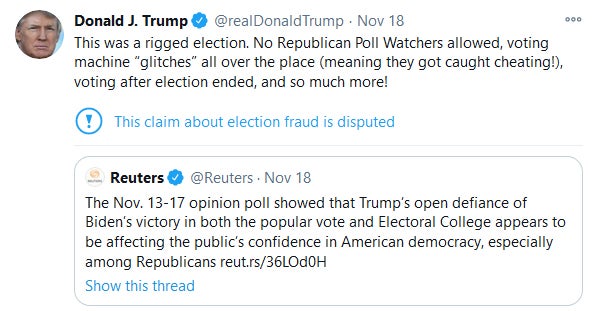 3) Dozens of Trump's election tweets get flagged
Trump put Twitter on overtime around the election, as he tweeted and retweeted content that violates Twitter's guidelines.
The president has claimed, without evidence, a number of conspiracies ranging from illegal mail-in ballots to improper poll watching. News stations called the election for president-elect Joe Biden on Nov. 7, but Trump and his administration have yet to concede. Each flagged tweet leads to a info page that provides support to why the inaccurate claim is treated as misinformation.
More than 113 tweets were flagged by Twitter for containing misinformation. The most common notice was "this claim about election fraud is disputed" with over 80 tweets flagged in this category.
The other tweets were marked for sharing results of a race that was yet to be called by election officials or naming the wrong winner. Finally, Twitter marked three tweets that undermine the integrity of the election. The social media platform labeled the tweets with "learn about US 2020 election security efforts."

4) Trump's tweet about the flu and coronavirus flagged for violating misinformation policies
Only a few days after Trump tested positive for COVID-19, he began telling his Twitter followers to not fear the virus.
In his latest flagged tweet, Trump compared the coronavirus to the common flu, saying that the flu kills more people than the newer virus.
While the two viruses share similar symptoms, experts have concluded that the coronavirus is more contagious than the flu. Not to mention that the flu has a vaccine, while coronavirus does not.
"Flu season is coming up! Many people every year, sometimes over 100,000, and despite the Vaccine, die from the Flu. Are we going to close down our Country? No, we have learned to live with it, just like we are learning to live with Covid, in most populations far less lethal!!!" Trump tweeted.
Twitter labeled the tweet for "spreading misleading and potentially harmful information related to COVID-19." But, users can press "view" to still see the content of the tweet. An identically worded post on Facebook was removed by the social media giant from Trump's page.
Trump tested positive with the virus on Friday, spent several days in the hospital and left for the White House on Monday.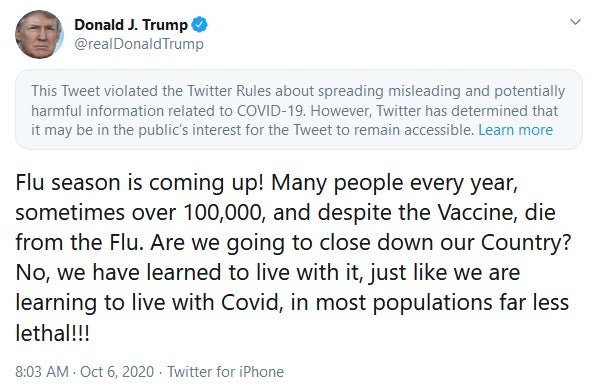 5) Trump's claim that ballots can't be 'accurately counted' gets education label
With the election looming, Trump continued to attack mail-in ballots.
In late September, Trump made yet another claim, without evidence, that the election will somehow be tainted because of the rise of mail-in ballots due to the coronavirus pandemic.
"The Ballots being returned to States cannot be accurately counted. Many things are already going very wrong!" Trump tweeted.
His claims against the integrity of the election have made opponents believe that Trump won't concede the election if he loses.
Twitter labeled the tweet with a tag that says "Learn how voting by mail is safe and secure."
6) Twitter blocks yet another Trump tweet about mail-in ballots
In mid-September, Trump made unsupported claims on Twitter that ballots are not being sent to legal voters. He also said the election results may never be accurately calculated.
"Because of the new and unprecedented massive amount of unsolicited ballots which will be sent to 'voters,' or wherever, this year, the Nov 3rd Election result may NEVER BE ACCURATELY DETERMINED, which is what some want. Another election disaster yesterday. Stop Ballot Madness!" he tweeted.
Yet again, Twitter flagged the tweet. The notice says "learn how voting by mail is safe and secure" with a link to their info page on the topic.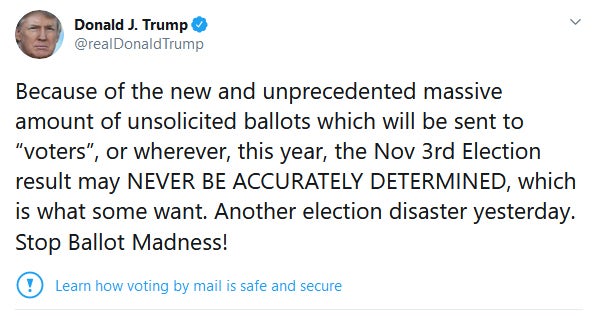 7) Trump shares an edited Biden video labeled as manipulated media
In mid-September, Trump quote-retweeted a video (twice) that replaced Joe Biden playing the song "Despacito" on his phone with "Fuck Tha Police" by N.W.A.
In the actual clip, Biden played "Despacito" on his phone at a campaign event in Florida. The edited one played "Fuck Tha Police" instead.
In his first quote-tweet, Trump added: "What is this all about?"
Trump's tweet was labeled saying that it included manipulated media.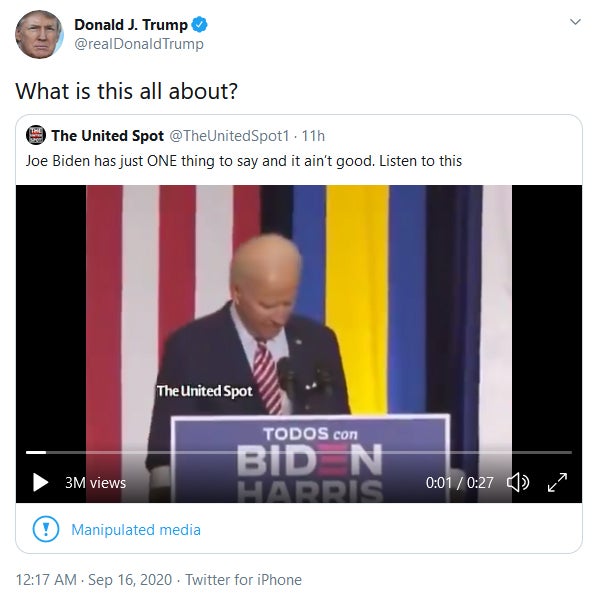 8) Tweet calling to vote twice in North Carolina flagged for voter integrity
Twitter flagged one of Trump's tweets where he urged North Carolina voters to vote twice. Once through the mail, and again by going to the polls.
Mail-in ballots have become widely popular as the pandemic extends into election time as a safe way of voting.
Trump says he doesn't want votes to get lost in the mail, thus suggesting the second vote. But, voting twice in every state is illegal including swing-state North Carolina.
Twitter not only flagged the tweet, but also explained in a thread where users could find legal and safe voter information.
"We placed a public interest notice on this Tweet for violating our Civic Integrity Policy, specifically for encouraging people to potentially vote twice," Twitter wrote.
In the thread it noted that voting twice in North Carolina is illegal.
The tweet remains visible for its "relevance to the ongoing public conversation." Users can only engage with the tweet by retweeting with comment.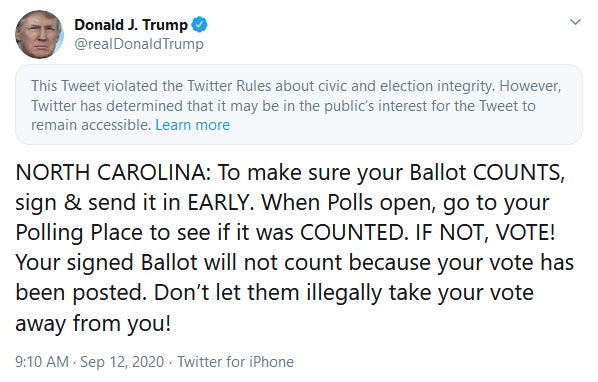 9) Suggestions to vote twice violates 'civic and election integrity'
Twitter flagged another set of Trump tweets regarding voting on Sept. 3. This is the third time Trump's mail-in ballot tweets have been blocked by the platform.
Trump told voters to send in early mail-in ballots—contradicting his past denunciation of mail-in ballots—while also going to the ballot box and voting again.
"….after you Vote, which it should not, that Ballot will not be used or counted in that your vote has already been cast & tabulated. YOU ARE NOW ASSURED THAT YOUR PRECIOUS VOTE HAS BEEN COUNTED, it hasn't been 'lost, thrown out, or in any way destroyed'. GOD BLESS AMERICA!!!" Trump wrote in one of two tweets flagged by Twitter.
Trump repeatedly attacked mail-in voting by saying ballots will be inaccurately counted. Now, he is telling his followers to purposely vote twice.
Twitter blocked two tweets in the thread noting that they "violated the Twitter Rules about civic and election integrity." The tweets are still able to been seen after clicking through the label because the platform said it "determined that it may be in the public's interest for the Tweet to remain accessible."
In a tweet explaining the decision, Twitter said its goal is "to prevent people from sharing advice about voting twice, which may be illegal."
He wrote the same thing on Facebook, which now has a label from the social media giant explaining that "voting by mail has a long history of trustworthiness in the US and the same is predicted this year."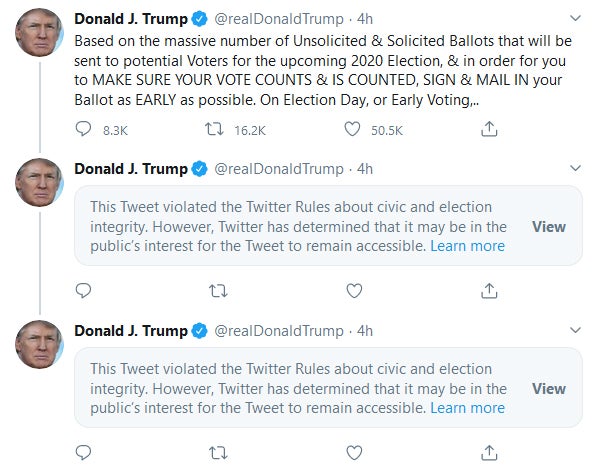 10) Video with "Electric Avenue" song removed after copyright claim
In early September, Twitter removed a video posted by Trump that included the song "Electric Avenue" by Eddy Grant.
Grant filed a copyright lawsuit against Trump's campaign for the song being used in the video, which Trump posted on Aug. 12.
The video shows Biden rolling a cart with a Trump 2020 train whizzing past to the tune of Grant's 1980s song. The tweet stayed up for several weeks until Grant issued the lawsuit.
Now, the contents of the tweet are blocked from view. The tweet has a message on it stating "this media has been disabled in response to a report by the copyright owner."
A Twitter spokesperson told the Daily Dot the video was removed because the company responds "to valid copyright complaints sent to us by a copyright owner or their authorized representatives."
A copyright notice for the tweet was posted on the Lumen Database, which tracks copyright take down requests, according to Twitter.
This is the third tweet from Trump that's been removed for copyright reasons.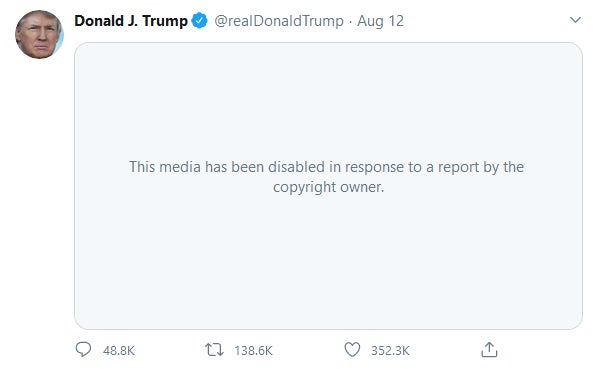 11) Mail-in ballots tweet fact checked—again
Twitter flagged another one of Trump's tweets that attacked the mail-in ballot process on Aug. 23.
In the still visible tweet, Trump accuses mail drop boxes used to collect ballots as a "voter security disaster." Trump himself voted by mail this month.
Along this line, he said that voting by mail will allow for people to vote more than once. But, experts have refuted this claim as mail-in voting has been a long time part of the voting process.
He continued to criticize mail-in ballots by questioning in what districts they would be placed in and if they would be sanitized amid the coronavirus pandemic.
Twitter tagged on a message above the tweet that states Trump's tweet is in violation of Twitter's guidelines for "civic and election integrity."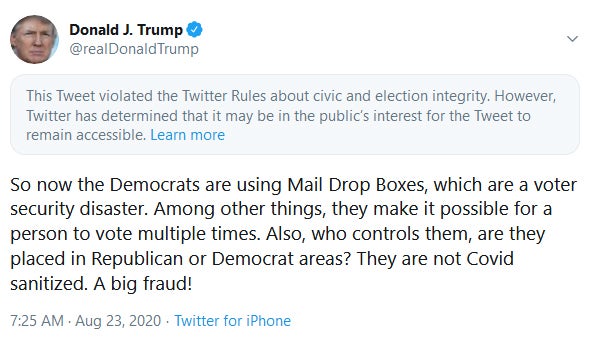 12) Hydroxychloroquine video removed as 'potentially harmful' video
Twitter removed a video retweeted by Trump in late July that recommended hydroxychloroquine as a treatment for the coronavirus. They also froze Donald Trump Jr.'s account for posting the same video.
The president's account now has a message that reads "this tweet is no longer available."
The hydroxychloroquine debate is almost as old as COVID-19 itself. The drug has repeatedly been brought up by Trump, and in May he even said he was taking it as a preventive measure for coronavirus. However, most studies have found no benefit in using the drug to combat the virus.
Breitbart News first posted the video of doctors who said the studies disproving use of hydroxychloroquine as "fake science."
After Donald Trump Jr. posted the video, Twitter suspended his account for 12 hours as it violated the "policy on spreading misleading and potentially harmful information related to COVID-19."
The suspension banned the president's son from posting, retweeting and liking, but he was still allowed to scroll and DM.
Facebook and YouTube also removed the video.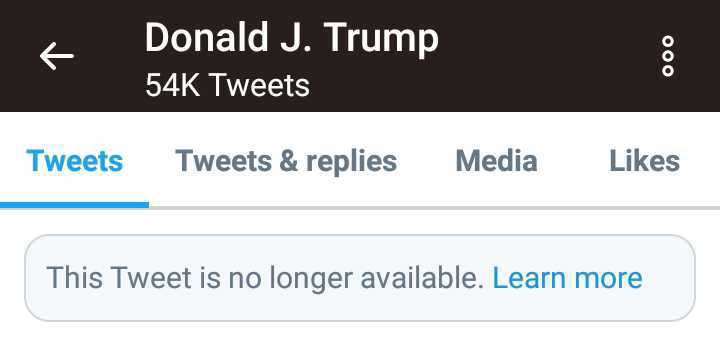 13) Video with Linkin Park audio removed for copyright infringement 
In mid-July, Twitter removed one of Trump's tweets after Linkin Park issued a copyright infringement request. The band's song "In The End" was used in a video originally shared by Dan Scavino, the White House's deputy chief of staff for communications.
Trump retweeted Scavino's original tweet.
It wasn't up for long before the official page for Linkin Park demanded that it be removed.
"Linkin Park did not and does not endorse Trump, nor authorize his organization to use any of our music. A cease and desist has been issued," the band tweeted.
Twitter blocked the contents of the video soon after citing a copyright violation.
They joined other artists like Neil Young, the Rolling Stones, Tom Petty, and more who have publicly denounced the president from using their music.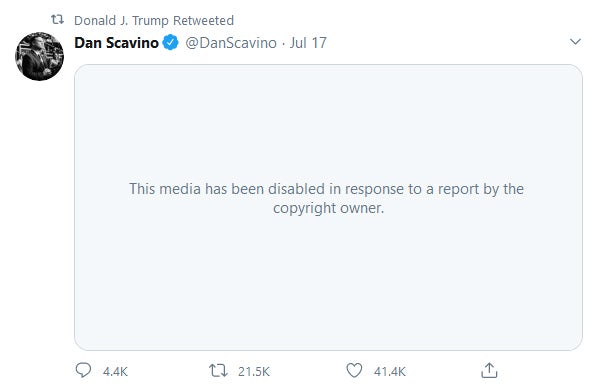 14) Meme photo removed after copyright claim
Trump posted a meme of himself that Twitter that included a photo that was hit with a copyright claim on July 1.
The original photo was an image of the president taken by the New York Times in 2015. The portrait was turned into a meme with the words "they're not really after me, they're after you, I'm just standing in their way" added to it.
The Times submitted a complaint to Twitter.
"Per our copyright policy, we respond to valid copyright complaints sent to us by a copyright owner or their authorized representatives," a Twitter spokesperson told the Daily Dot.
The tweet remains live but the image is blocked with a warning that states: "Media not displayed. This image has been removed in response to a report from the copyright holder."
15) No 'Autonomous Zone' in Washington, D.C. flagged for abusive behavior
On June 23, Twitter placed a warning on a tweet Trump sent earlier that day.
The tweet from the president promised "serious force" for any protesters who set up an "autonomous zone" in the nation's capital like one in Seattle, Washington.
"There will never be an 'Autonomous Zone' in Washington, D.C., as long as I'm your President. If they try they will be met with serious force!" Trump tweeted.
Twitter determined that the tweet violated its rules for abusive behavior. If users look at Trump's timeline they have to click through the warning to see the original tweet.
Comments and likes were turned off for Trump's tweet.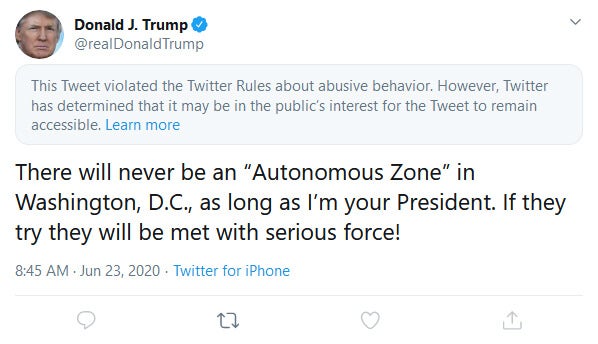 16) 'Racist Baby' tweet labeled manipulated media
In mid-June, Twitter labeled a doctored CNN video of two babies that the president shared as manipulated media.
The original video showed a white toddler and a Black toddler running towards each other for a hug.
However, on Trump's Twitter, the doctored video showed the white child chasing the Black child with tense music in the background. Then, the screen says "what actually happened" and shows the two children hugging along with a warning about "fake news." It also included fake CNN chyrons calling the baby a Trump voter."
"CNN did cover this story – exactly as it happened. Just as we reported your positions on race (and poll numbers). We'll continue working with facts rather than tweeting fake videos that exploit innocent children. We invite you to do the same. Be better," CNN responded to Trump's now unavailable tweet.
Trump's tweet was labeled as "manipulated media" and the video can no longer be played.
When a user clicks on the video it now reads: "This media has been disabled in response to a report by the copyright owner" with a manipulated media tag underneath it.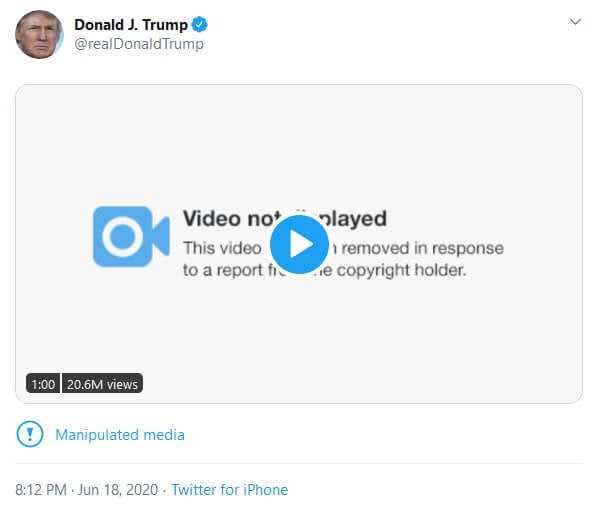 17) 'When the looting starts, the shooting starts' flagged for glorifying violence
In late May, Twitter also blocked a Trump tweet during the Black Lives Matter protests that the social media company said incited violence against protesters.
The tweet came just days after the death of George Floyd, a Black Minnesota man, who died after police knelt on his neck for almost nine minutes. His death has spurred protests against police brutality and racism across the country.
"…These THUGS are dishonoring the memory of George Floyd, and I won't let that happen. Just spoke to Governor Tim Walz and told him that the Military is with him all the way. Any difficulty and we will assume control but, when the looting starts, the shooting starts. Thank you!" Trump tweeted.
Trump used the euphemism "when the looting starts, the shooting starts" which was coined by Walter E. Headley, the police chief of Miami, in 1967 to justify lethal force against race riots. Trump later said he did not know the history of the phrase.
However, Twitter placed a label on the presidents tweet that said it violated the company's rules about "glorifying violence."
Users can't see the tweet on his profile, but can click through a warning to view it.
18) Mail-in ballots tweets fact-checked
Just a few days before the "shooting starts" tweets, another set of tweets were flagged by Twitter. This time the president made incorrect claims about mail-in ballots.
Trump tweeted in response to California Gov. Gavin Newsom's (D) move to send mail-in ballots to allow Californians to vote-by-mail amid the coronavirus pandemic.
Trump said the voting method is unsafe despite what experts like researchers at the Brennan Center, a nonpartisan law and policy institute, say.
This time the social media site marked Trump's tweets as disinformation.
"There is NO WAY (ZERO!) that Mail-In Ballots will be anything less than substantially fraudulent. Mail boxes will be robbed, ballots will be forged & even illegally printed out & fraudulently signed. The Governor of California is sending Ballots to millions of people, anyone….." Trump tweeted last month.
Twitter labeled these two tweets with a "get the facts about mail-in ballots" link.
The link leads users to a page that debunks the president's tweets.
"On Tuesday, President Trump made a series of claims about potential voter fraud after California Governor Gavin Newsom announced an effort to expand mail-in voting in California during the COVID-19 pandemic. These claims are unsubstantiated, according to CNN, Washington Post and others. Experts say mail-in ballots are very rarely linked to voter fraud," Twitter's post stated.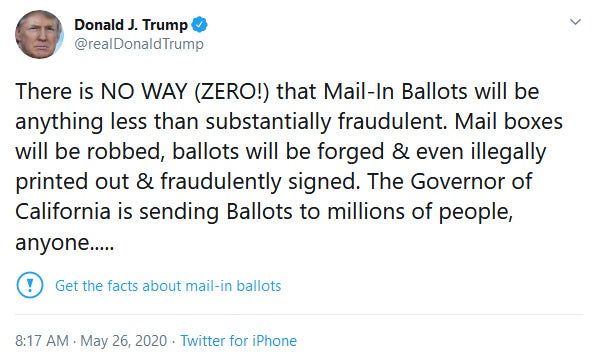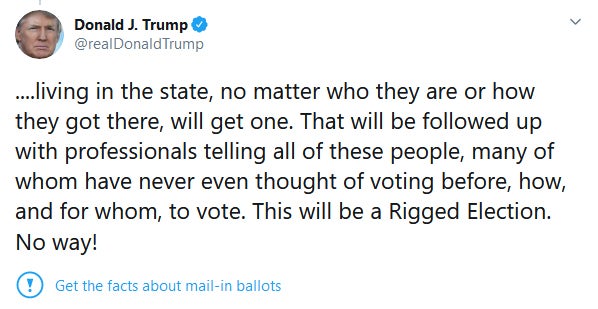 19) 'We can only re-elect Donald Trump' edited video labeled manipulated media
The first Trump tweet to be labeled by Twitter was actually a retweet in March.
Dan Scavino, White House social media director, posted an edited video of Joe Biden stating "we can only re-elect Donald Trump." The video was shortened from a speech the former vice president gave where he stumbles over his words.
Twitter flagged the video because Biden's full statement read: "Excuse me. We can only re-elect Donald Trump if in fact we get engaged in this circular firing squad here. It's got to be a positive campaign."
Twitter flagged the video as manipulated media. Facebook also flagged it as "partly false information."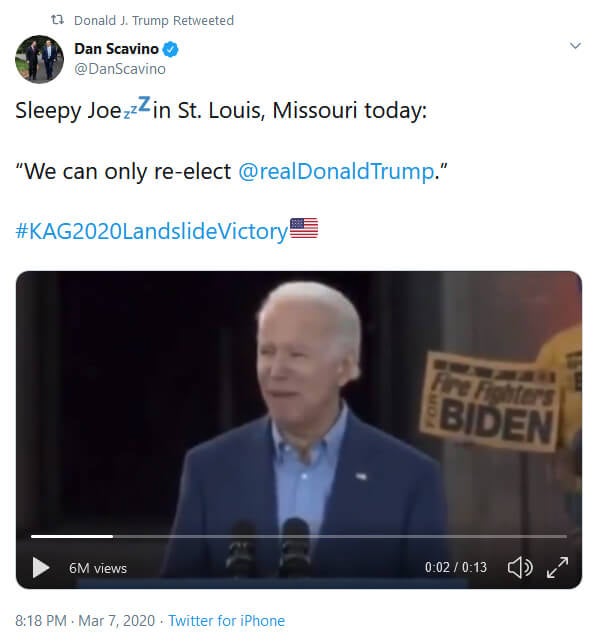 The president has responded to the fact-checking and glorifying violence tags by pushing a social media executive order that targets Section 230 of the Communications Decency Act, a law that shields websites from being liable for what is posted on them by third parties.
The executive order is already facing a legal challenge, claiming that it is unconstitutional.
Given that tweets of his have still been flagged following his signing of the order, he is likely to continue to claim social media has a bias against him.
This post will be updated if Twitter flags more tweets from Trump.
READ MORE: