Yesterday, President Donald Trump told supporters that they should illegally vote twice. Today, he doubled down on Facebook.
Trump has spent years falsely claiming that voter fraud is rampant, particularly among Democrats. Voter fraud is extremely rare and there is no evidence it is more likely among members of one party.
Meanwhile, Trump himself and his current press secretary have been accused of voting illegally, such as by claiming residence in a state where they don't actually live.
Yesterday the president added a new move to his voter fraud song and dance. He told supporters to vote by mail and in person.
"If you get the unsolicited ballots, send it in, and then go—make sure it counted. And if it doesn't tabulate, you vote. You just vote. And then if they tabulate it very late, which they shouldn't be doing, they'll see you voted, and so it won't count. So, send it in early, and then go and vote. And if it's not tabulated—you vote. And the vote is going to count," he reportedly said at a Wilmington, North Carolina airport.
This would be a felony in North Carolina, NPR reports. Inducing someone to vote twice is also a felony in the state.
He repeated this suggestion in a Facebook post this morning.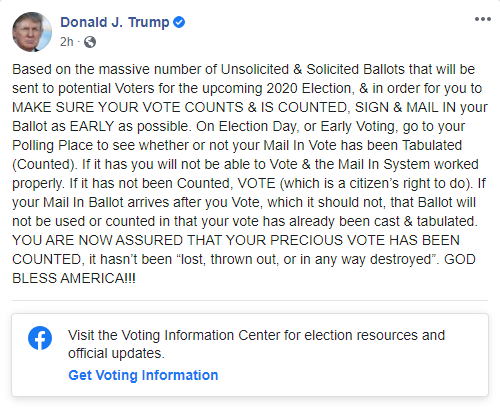 The post incorrectly implies that the only reasons an absentee ballot wouldn't be counted on Election Day are because it was lost, delayed, or rejected. Several states don't begin counting mailed ballots until polls close, the National Conference of State Legislatures reports.
So the post, like yesterday's comments, arguably urge people to illegally vote twice.
Facebook's policies prohibit content that spreads misinformation about elections or encourages voter fraud. Today the company announced new election policies, including adding labels to posts that try to delegitimize elections or "discuss the legitimacy of voting methods." The label links to Facebook's voting information center.
Several have said that Facebook is slapping this label on all posts about voting, irrespective of their veracity.
"If you label everything about voting, the warning language slides into meaninglessness," New York Times tech reporter Mike Isaac tweeted.
In the statement, Facebook said that Trump's remarks in North Carolina violated its policies and would be removed "unless it is shared to correct the record."
Facebook did not immediately respond when the Daily Dot pointed out that the two statements are essentially the same. A spokesperson had previously said that the post and video were "slightly different."
In a development that will surprise no one, a few months ago, Trump said the exact opposite of what he's now saying.
In an interview on Fox Business in May, he said, "The level of dishonesty with Democrat voting is unbelievable. If you told a Republican to vote twice, they'd get sick at even the thought of it."